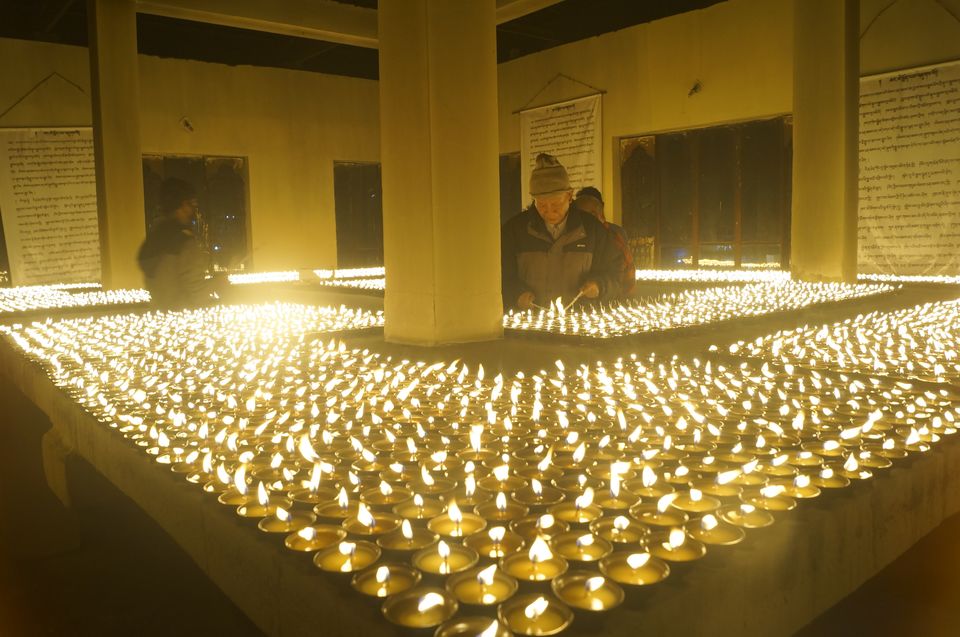 In the month of December, amidst the din of delayed and cancelled trains, I boarded the notorious Magadh Express on my journey to Patna. Magadh Express, just like Bihar, had a glorious past and was known to be a fast and reliable train in some age. However, today it has become an epitome of Indian Railways' lack of punctuality and a 10 hour delay is considered normal on this train. So besides my plan to travel to Bihar, the fact that I was doing it in Magadh Express, drew both alarm and amazement from my Patna friends. I wasn't surprised when a 16 hour journey turned into a 28 hour crawl through East UP and Bihar, with regular unscheduled stops in the middle of nowhere.
The plan was to reach Patna on the afternoon of Dec 8 and attend my friend's wedding on Dec 9. This was supposed to be followed by a one day exploration of Patna on Dec 10. After Patna, I had planned a tour of Buddhist towns of Bodhgaya, Rajgir and Nalanda till Dec 13, when I had to be back to catch the same notorious Magadh Express from Patna Junction in the evening. As happens in most travel journeys, not everything went according to the plan. I entered Patna not on the afternoon but on the midnight of Dec 8 and made my way to the venue where my friend was set to be married next day.
Anyone's first impressions of Patna are mostly similar. It is a crowded city, full of traffic jams and chaos. The city has no inner public transportation system and shared autos is the only medium to commute. While autos do a decent job of connecting different parts of the city, the autorickshaw pilots (sarcasm intended) cram as many humans as possible to make an extra buck. So, until and unless one is okay to squeeze himself/herself in a corner of a crowded open auto, it's better to take a cab. I took the auto.
Bihar, however, has a dignified resilience behind all the decadence and one can feel it while traveling around. The people are hospitable and can laugh away all their troubles with a nice sense of humor. I had a great time at my friend's wedding and as she departed with her husband next morning, it seemed strange that my arrival in Patna should coincide with someone's departure.
I was too tired from the wedding to venture outside on the Dec 10, the day after wedding. The whole day was spent resting at my friend's house and feasting on some delicious home cooked food.
However, next day I packed my backpack and leaving my suitcase and comfort behind, boarded the bus to Bodhgaya from the Mithapur bus stand in Patna at 8:15 in the morning. I enjoy bus rides as it gives a chance to look at the inner cities and towns of new states and absorb the land as a whole instead of looking at some isolated sites.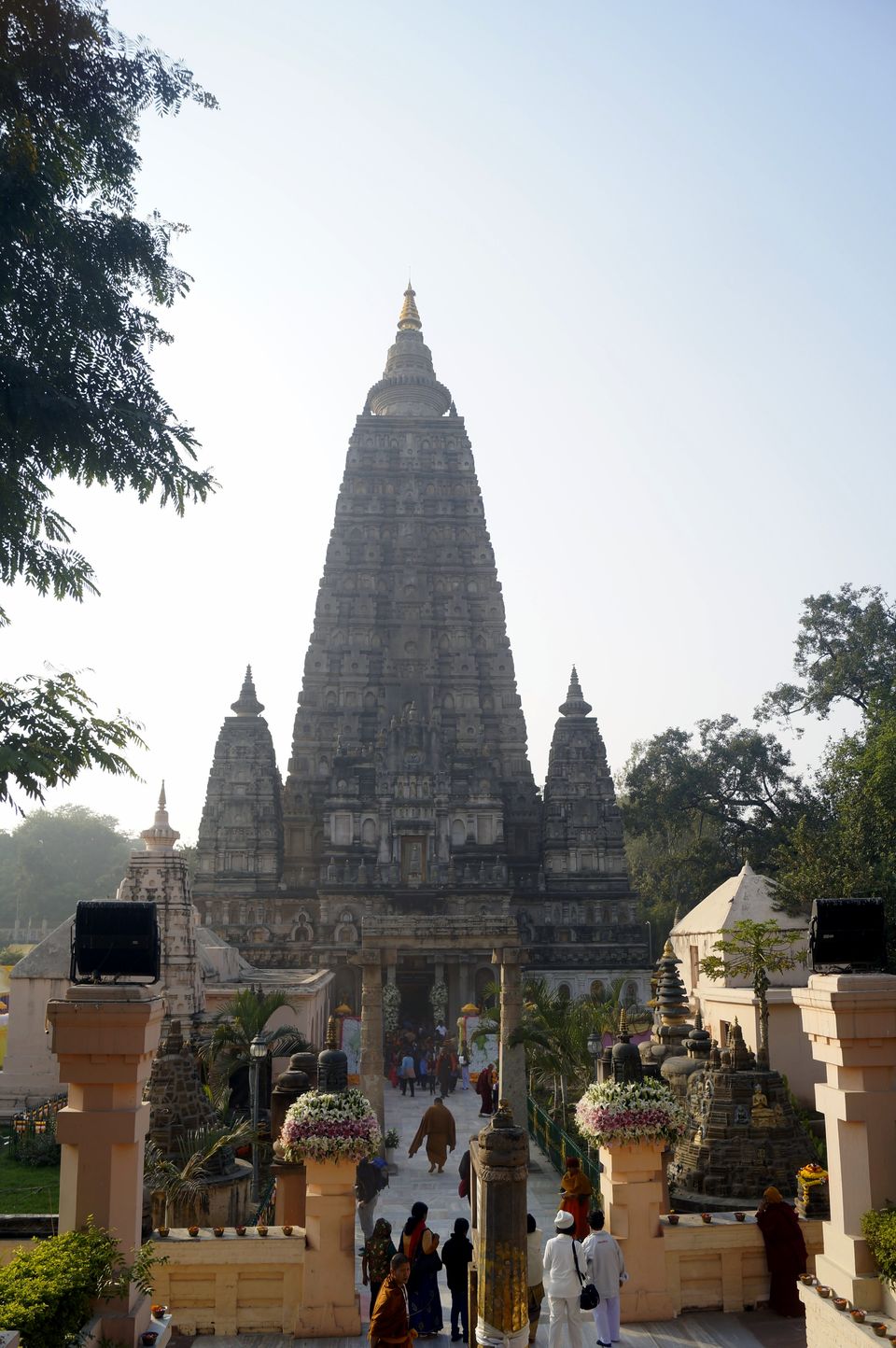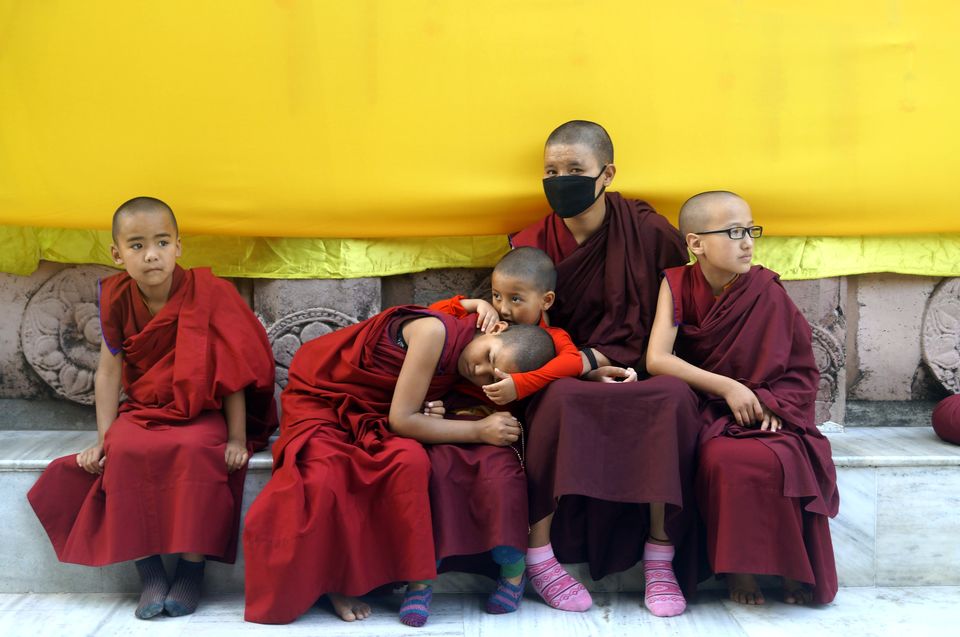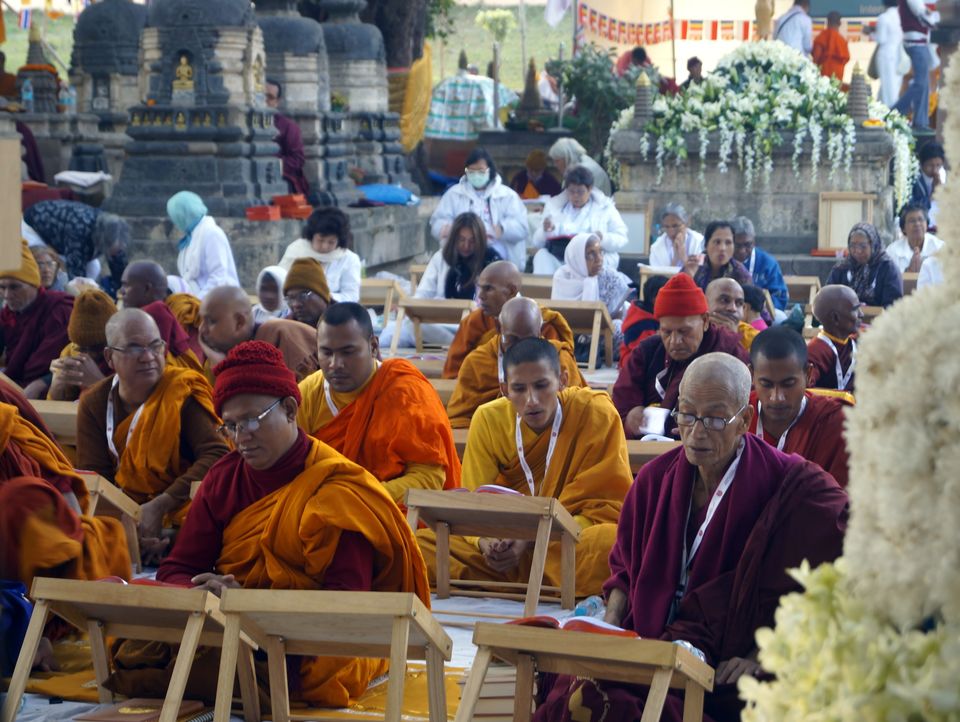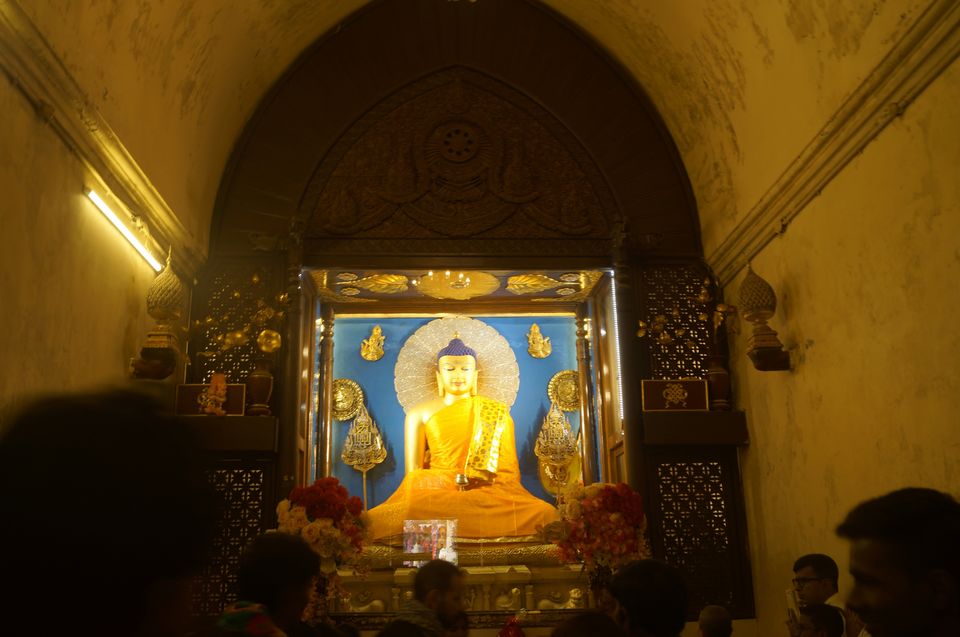 Bodhgaya is a small town situated in the Gaya district and can be easily covered on foot. All the major sites are in the walking distance of each other and can be covered in a single day. Mahabodhi temple is world's most sacred Buddhist site as it has the Bodhi tree under which Buddha attained enlightenment. The temple was built by Ashoka in 3rd century B.C. The Mahabodhi temple nearly fell apart by the beginning of 18th century due to continuous decline of Buddhism in India. It was only after conservation was started by British archaeologist Sir Alexander Cunningham in 1883 that it is now regaining its old glory. Its status as a cultural center got a big boost in 2002 when it was chosen by UNESCO as a world heritage site.
As I entered the complex, what really caught my eye were the calm monks attired in red robes, meditating at various corners and lawns. The complex has huge green lawns as well as a pond, making it apt for reflection or contemplation. The bodhi tree is at the back side of the main temple and there is always small group of people meditating below it. There are carpets piled near the tree and anyone can sit below the tree to try their luck on enlightenment.
After the Bodhi temple, I walked over to the Archaeological Museum which is second most important place to find Buddhism's antiquated past. Its prize collection is the ancient stone railing pillar that surrounded Bodhi tree from 1st century B.C. to 7th century A.D. It also houses a large collection of ancient sculptures of Buddha and Bodhisattva that were excavated from Bodhgaya.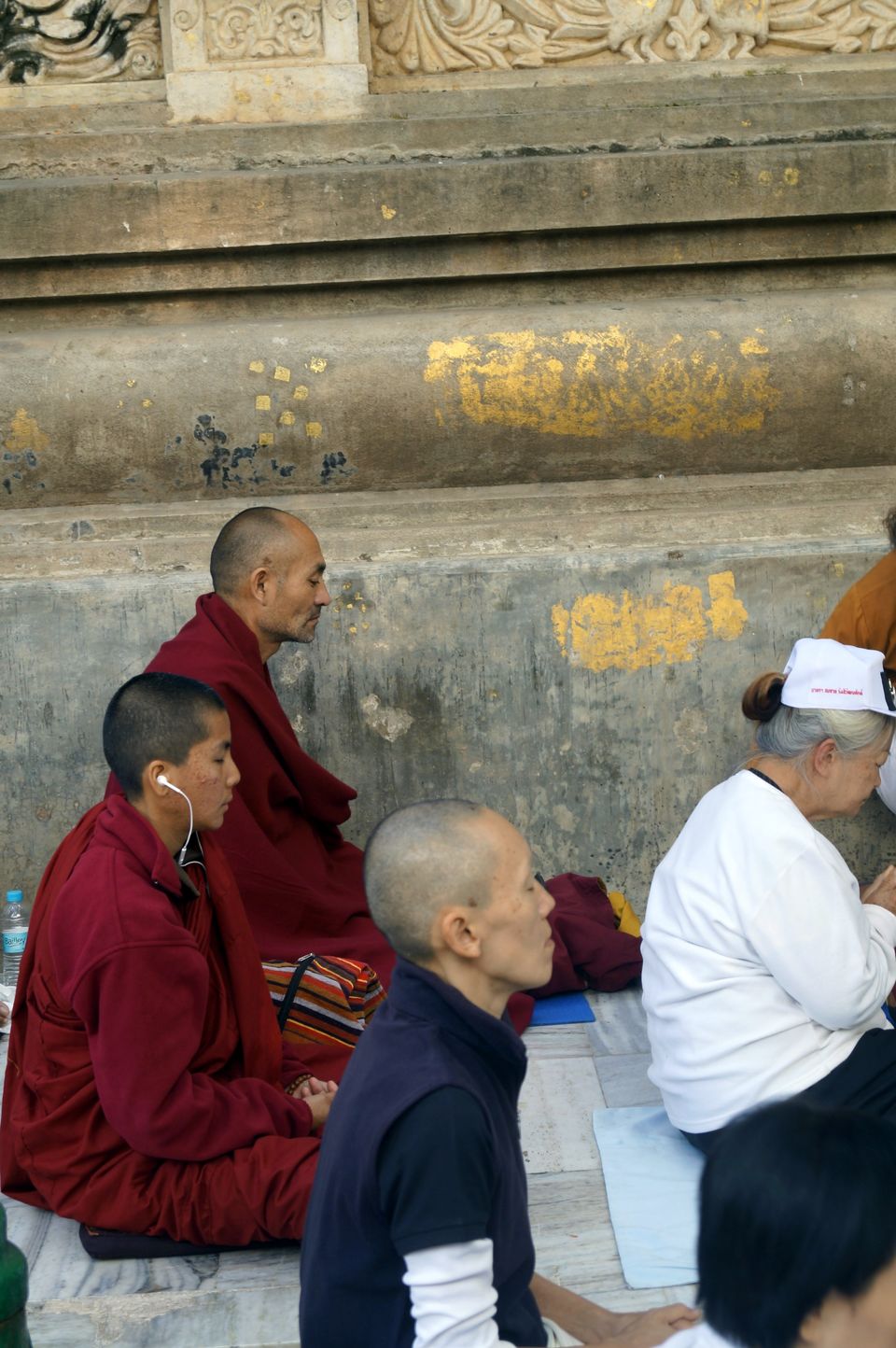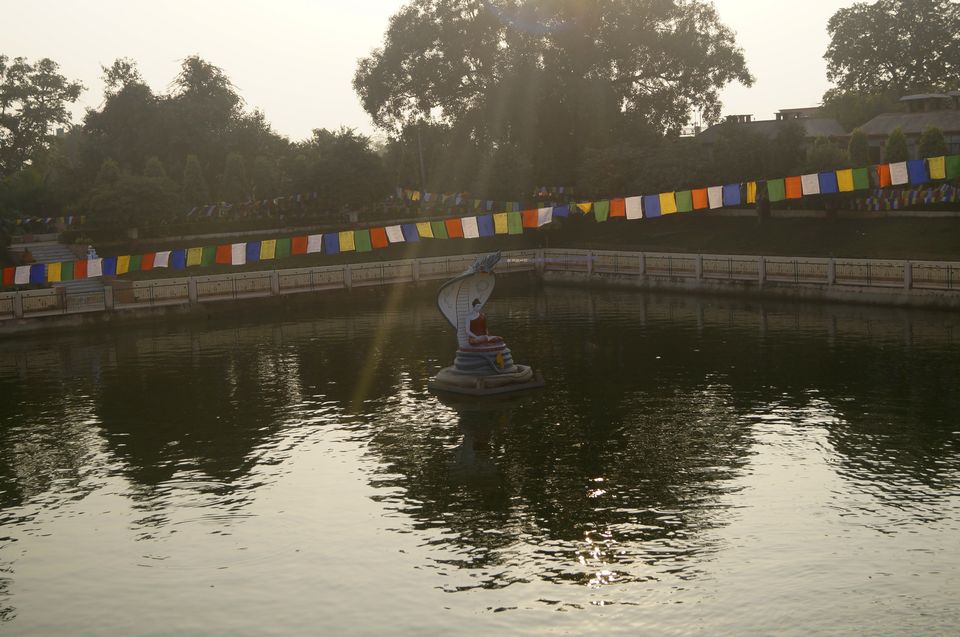 After covering these two important historical places, I visited various monasteries constructed by different countries where Buddhism is the dominant religion such as Bhutan, Thailand, China, Vietnam etc. The beauty of Buddhist monasteries lies in their simplicity. Monasteries mostly comprise of a single prayer hall which has innate painting work on roof and walls along with a large open space area to sit and pray. They are constructed to be approachable and make people feel at ease.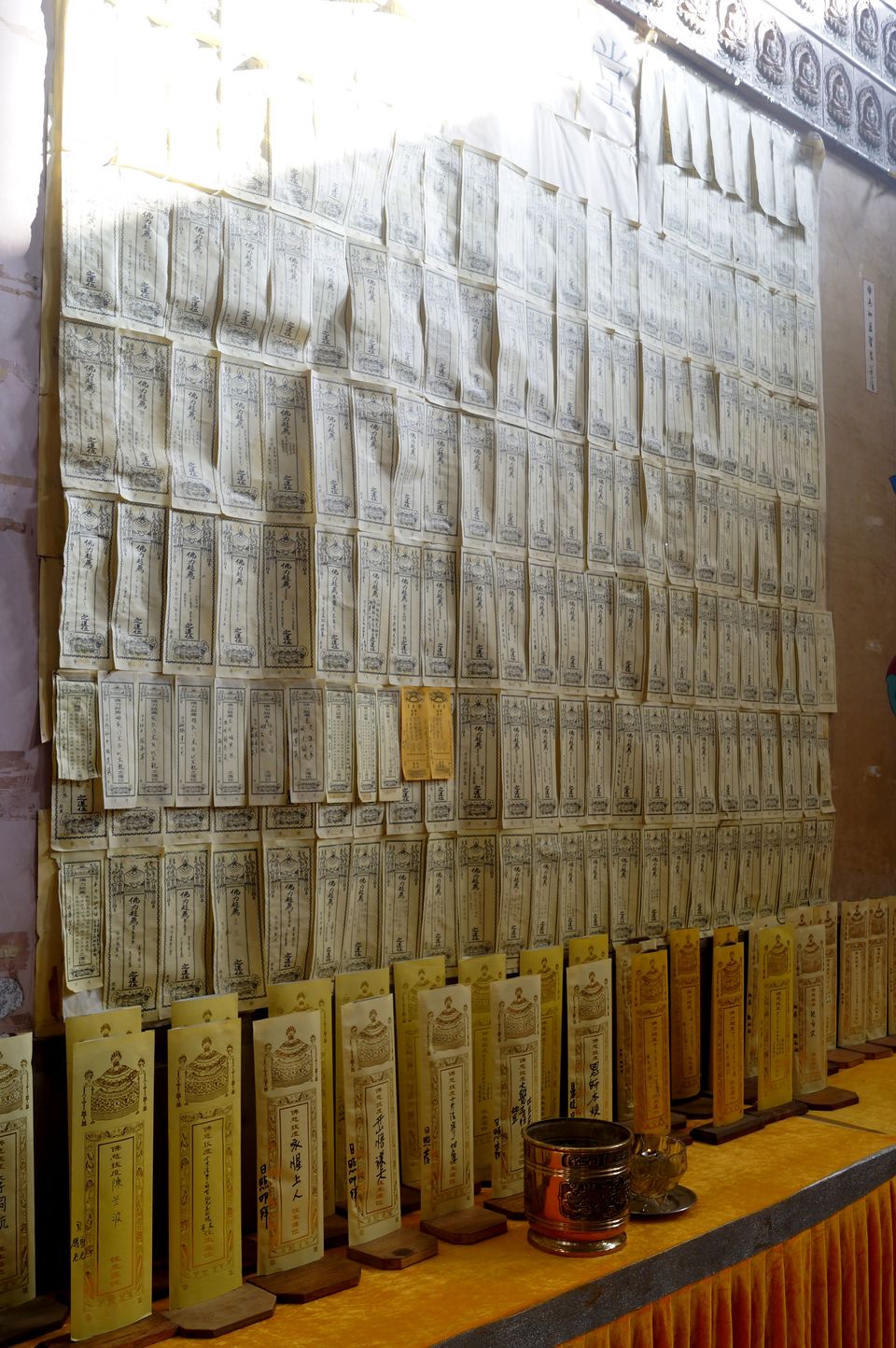 Of all the monasteries, Thai and the Bhutanese monastery are most grand. While Bhutanese monastery has great interiors, the Thai monastery is notable for its exterior design. As one ascends the steps, two huge dwarpala (gatekeeper) figures greet you on the entrance and I couldn't help but stand and admire them for few minutes.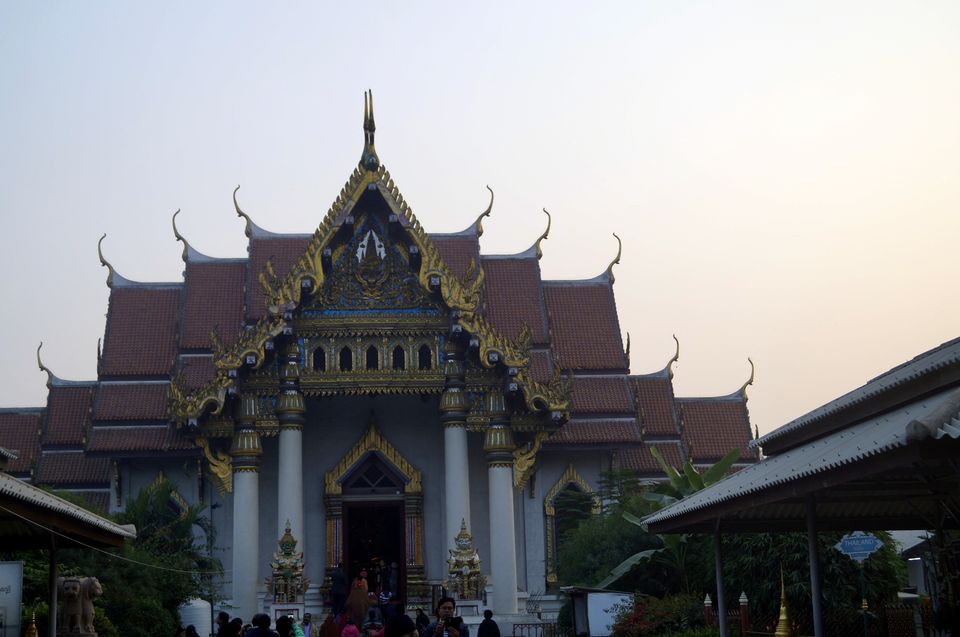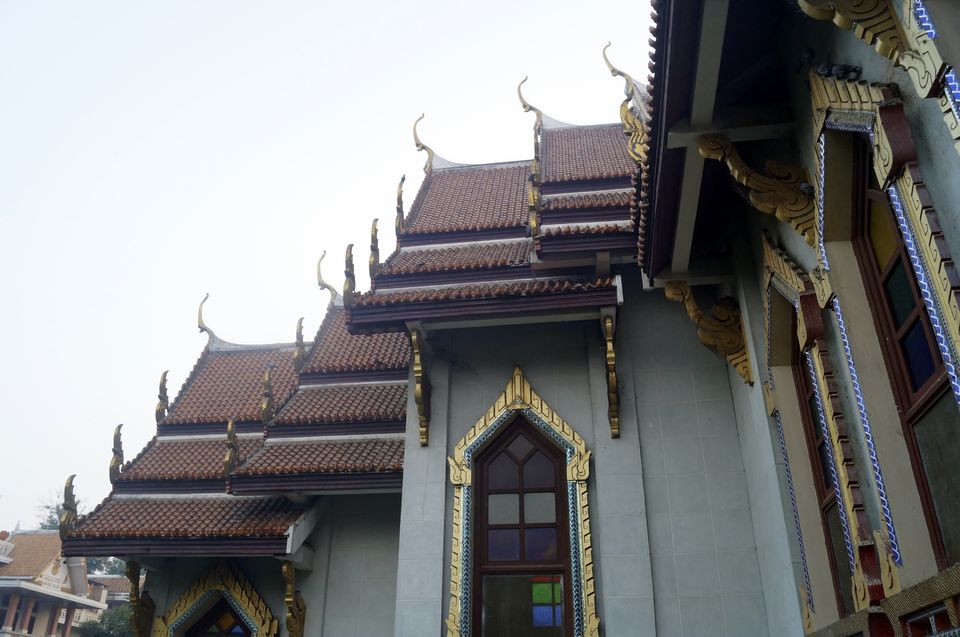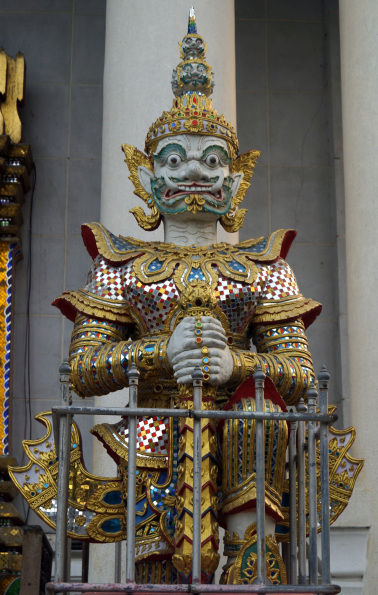 In the Royal Bhutanese Monastery I had the chance to witness the monks praying together. Their chanting reverberated in unison in the grand hall, which was followed by high pitched sound of gongs. However, unlike in Indian mythology where they herald the beginning of a battle, the gongs seemed to be calling for balance. They added to the grandeur of the monastery's beautiful walls which had numerous paintings depicting Buddha's life. The wall paintings looked like paper art and to witness them with monks chanting in the background was exhilarating.
As it started getting dark and the Bhutanese monastery was closing I started walking to the gate. But just before the exit, in the darkness, I saw a room filled with candle light. I was curious and went to the room's door. The caretakers, who were closing the complex, allowed me to have a peek inside. What I saw inside was breathtaking as a large number of candles were burning together to create a mesmerizing pattern. The warmth inside the candle lit room was in contrast to the cold breeze outside and I felt as if I have entered some other world.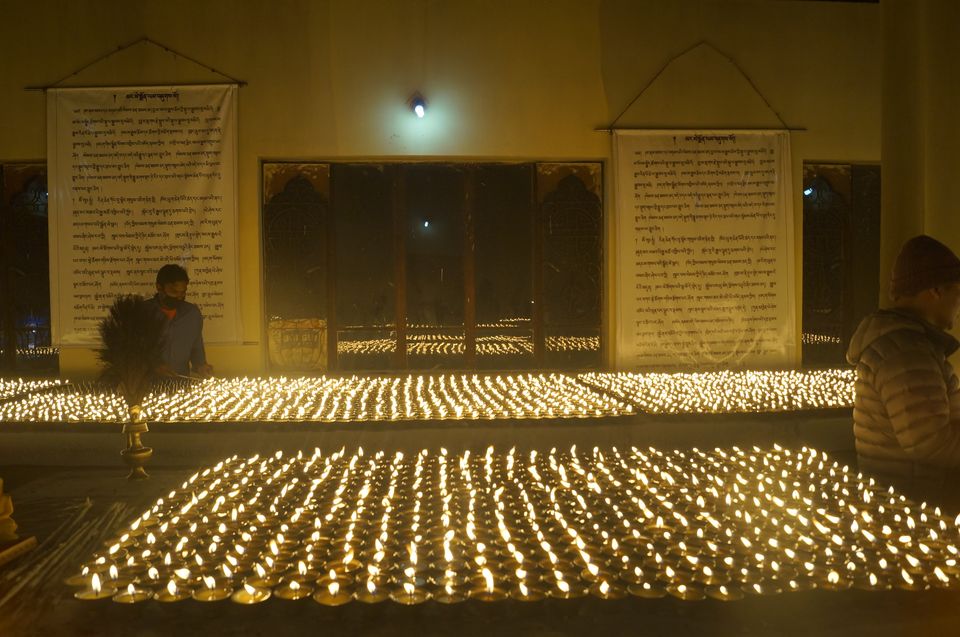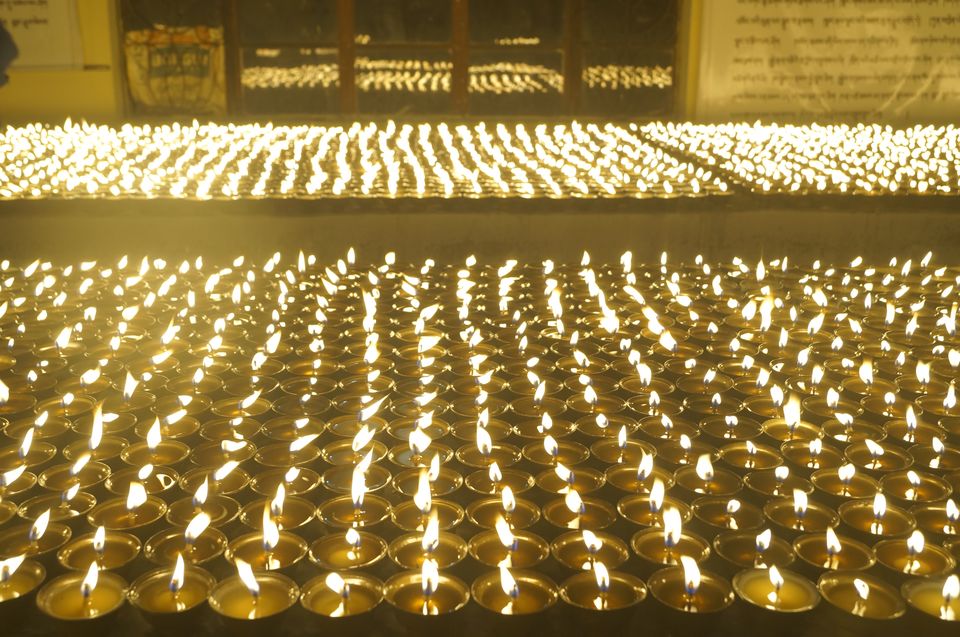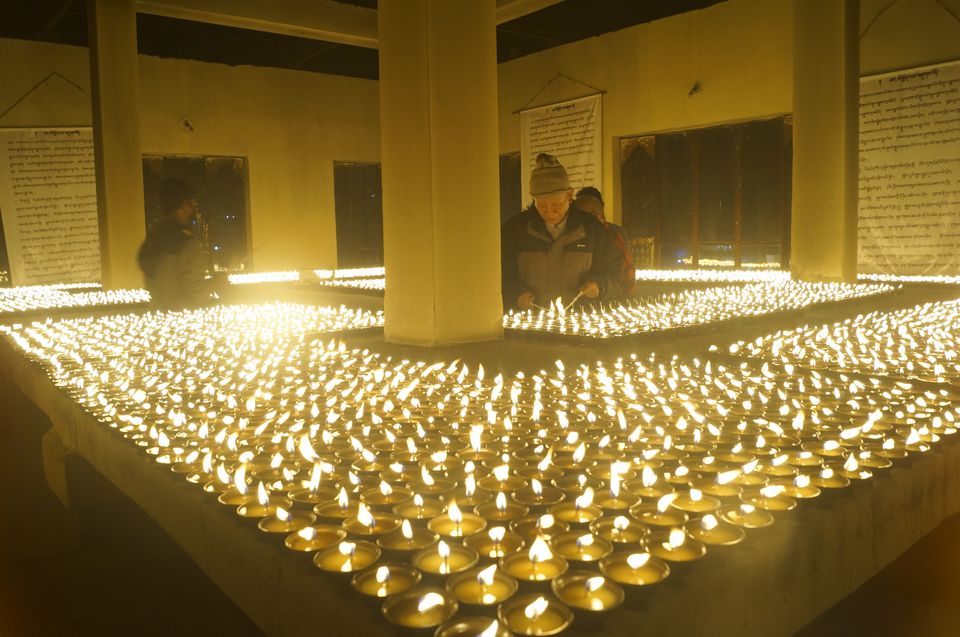 I also gave a visit to the Buddha statue which sits near Bhutanese monastery. The giant statue, surrounded by Bodhisattva, looked majestic in the fading light.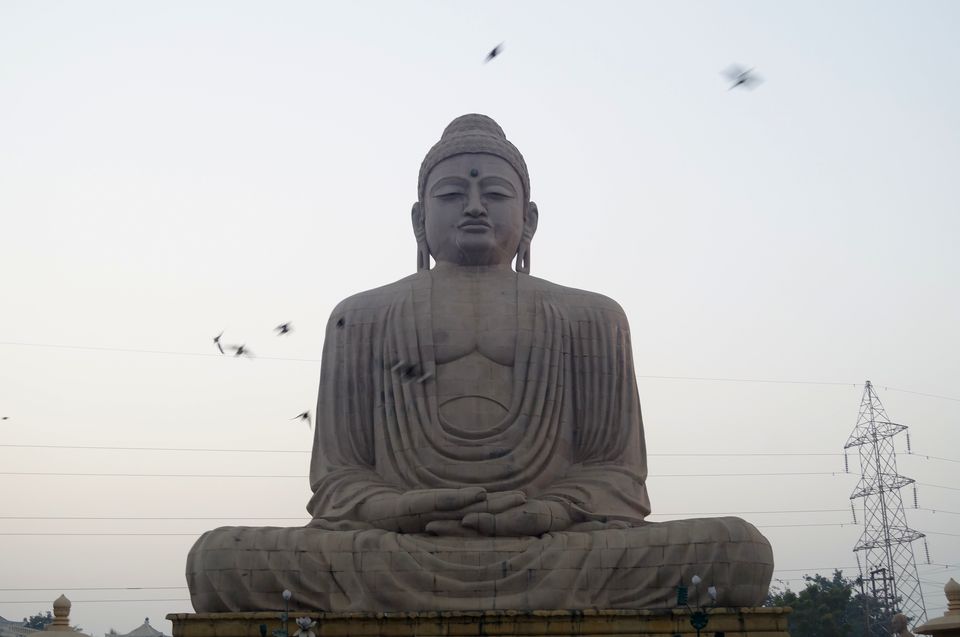 Still warm from the view at Bhutanese monastery, I began my search for a room to spend the night in the town. Bodhgaya has hotels and guest houses in all price range. After inquiring at several hotels, I found a decent room for Rs 350 for a night. I went outside at 8:00 pm to explore the market area. However, to my disappointment, most of the shops had shut down by then and I had to come back empty handed. I advise others to explore the markets before 8 p.m. to buy best handicraft goods. The Buddhist sites start closing around 5 pm and one can explore these markets between 6-8 pm. The famous 'refugee market' has stalls from Tibetan refugees, who I was told are lot less susceptible to duping tourists with high prices in comparison to locals. Although, I couldn't buy anything to take home, I slept with the satisfaction of witnessing a great combination of faith and architectural beauty in a short span of time.
Too comfortable in my bed, I didn't wake up early next day which delayed my plan. Having checked out 8 am, I took an auto to Gaya bus stand in order to catch a bus to my next destination, 'Rajgir'. Trembling from the cold wind rushing into open auto, I saw two monks sitting besides me, barefoot in their red robes. I couldn't help myself and asked them whether they didn't feel cold in that outfit. One of them smiled and said that the point of this dress is to feel cold, to witness the reality and feel it pass. The cold and pain can't be understood without one feeling them and it brings one closer to nature and reality. These monks had traveled from Maharashtra to Bodhgaya to get closer to their faith. Taking some courage, I stopped cribbing about the cold and concentrated on the journey ahead.
On my way to the bus stand, I passed the GB road market in Gaya and it being 9 am in morning, the market was slowly springing to life. After seeing some interesting faces in the market, I couldn't hold back and left the auto to take click some photograph of the everyday life in the town of Gaya.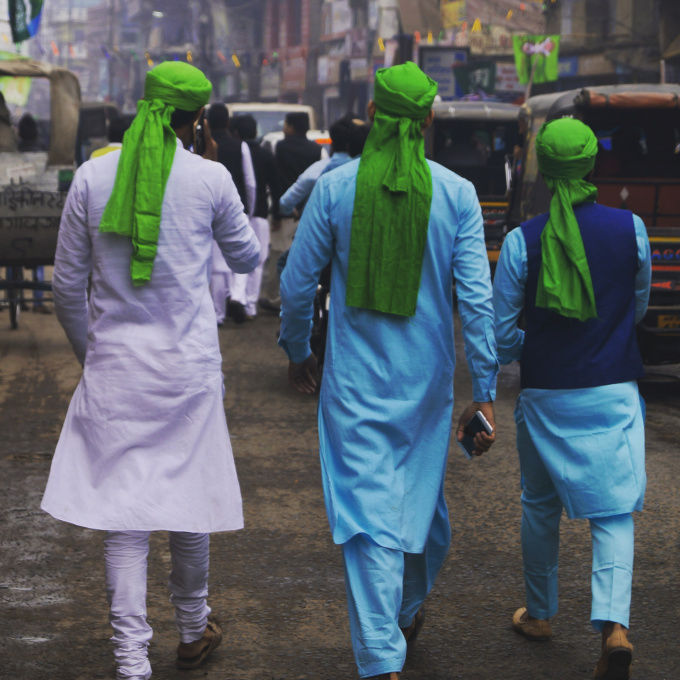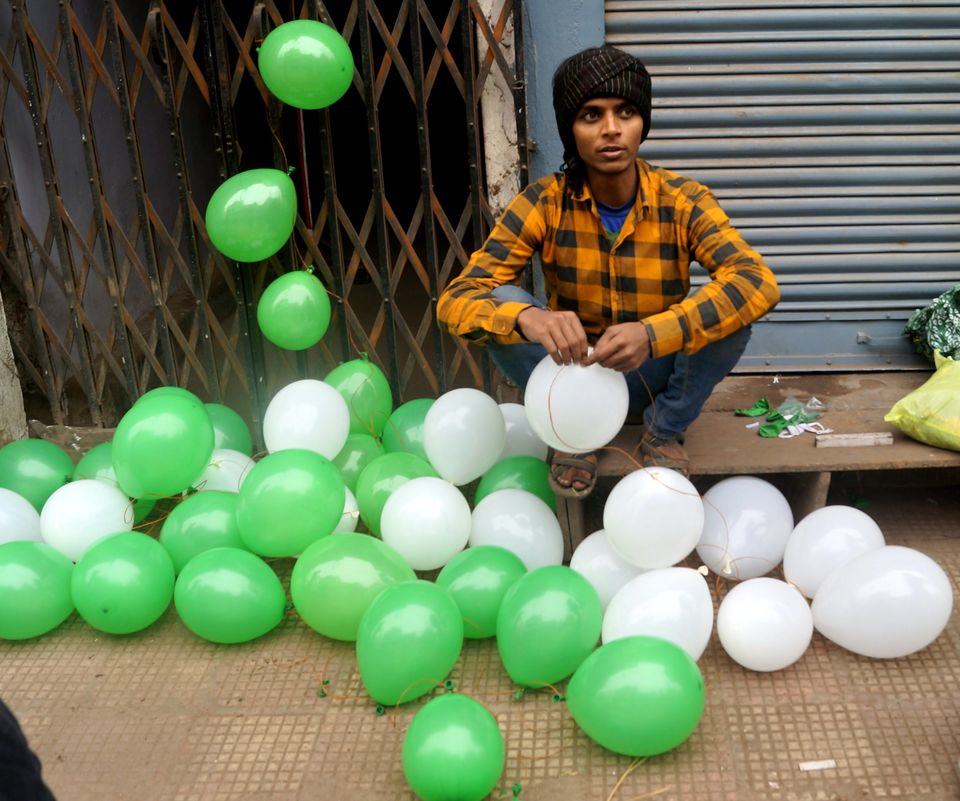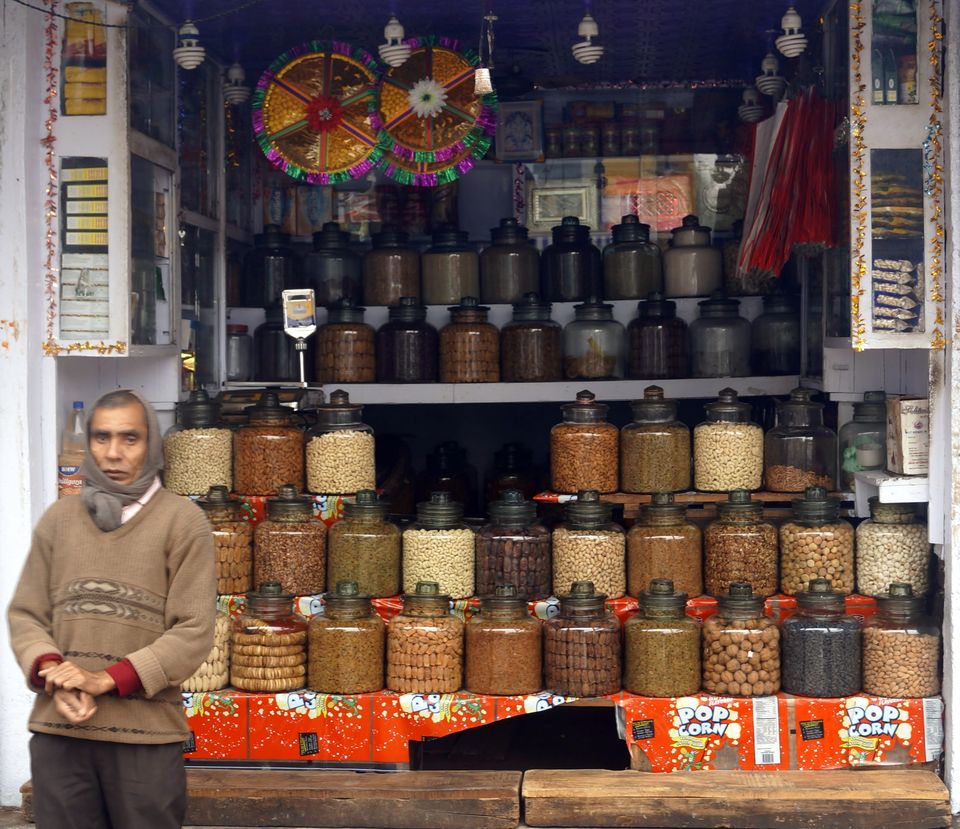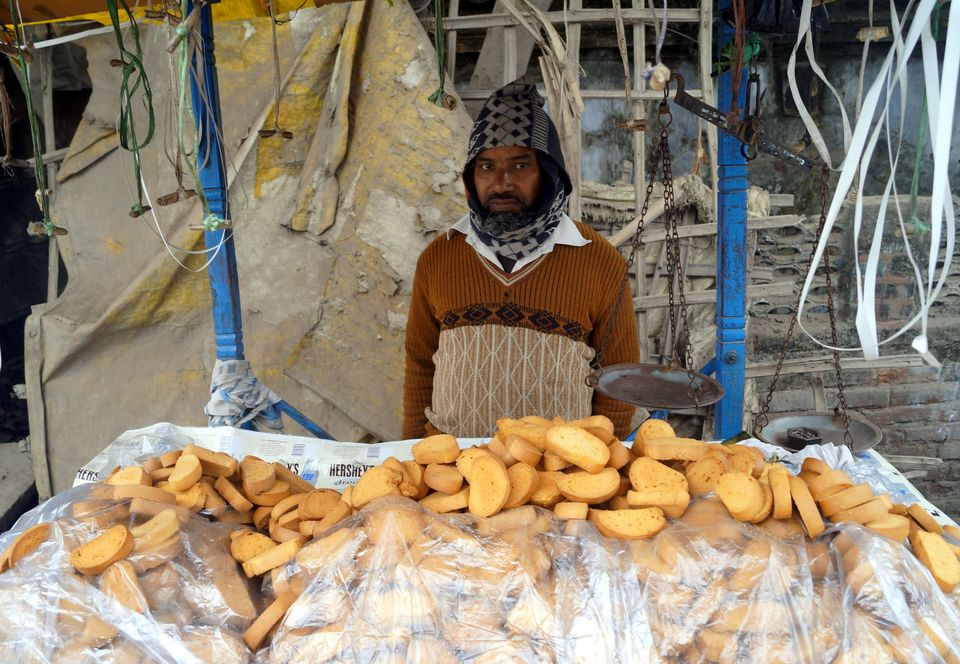 The photography attempt delayed me further and it was only at 10:30 am that I could board a bus to Rajgir from Manpur bus stand in Gaya. I reached Rajgir around 1:00 pm and immediately took a bus to Nalanda to visit the the Nalanda University ruins and the Nalanda museum. Nalanda is just 14 km away from Rajgir and regular buses run between the two towns. The bus will leave you on the main road and from there tongas, also called 'tum tum', as well as rickshaws are available to reach the university ruins. The Hsuan Tsang memorial built by the Chinese government falls on the same road, few kilometers after the ruins.
I reached the university ruins at around 2:00 pm and bought the entry ticket. While leaving the ticket window, an old man asked me to hire a guide as it may be difficult to grasp the place's key features without some guidance. When I asked, where can I find one, he pointed to himself and showed his government authorization card. Since my schooldays, I have read about Nalanda in my history books and later, more elaborately, in newspapers and journals. With all that history behind, I was really looking forward to witness the remains of this glorious learning center and wanted to do it right. I decided to take the guide and a deal was struck for the standard rate of Rs 200. Mr R B Prasad, the guide, didn't disappoint me.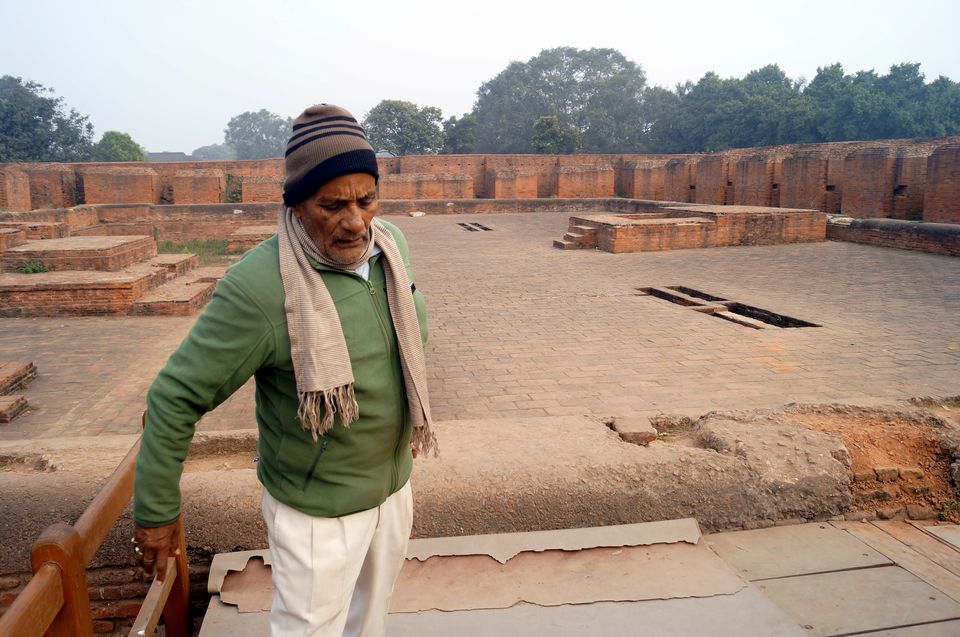 Mr Prasad was an old man and walked with a limp. He quit his job as a teacher in government school and underwent government training to provide the services of a guide in Bihar. While he had a lot of knowledge about the university ruins, he also had some of his own theories. For example, he said the university had books on martial arts and nuclear technology which were taken by Hsuan Tsang to China. When I asked him to elaborate on nuclear technology, he said it was used in wars earlier but Ashoka stopped its use. I couldn't help smiling and even as I made my disbelief apparent he didn't seem to be troubled and simply moved on to more believable facts.
Mr. Prasad informed me that more than half of the university ruins are still buried under the nearby village. The cost of moving the village is too huge and that part of university may be never be excavated. The complex is well maintained and has large, well mowed lawns before the ruins start, giving a peaceful aura to the place.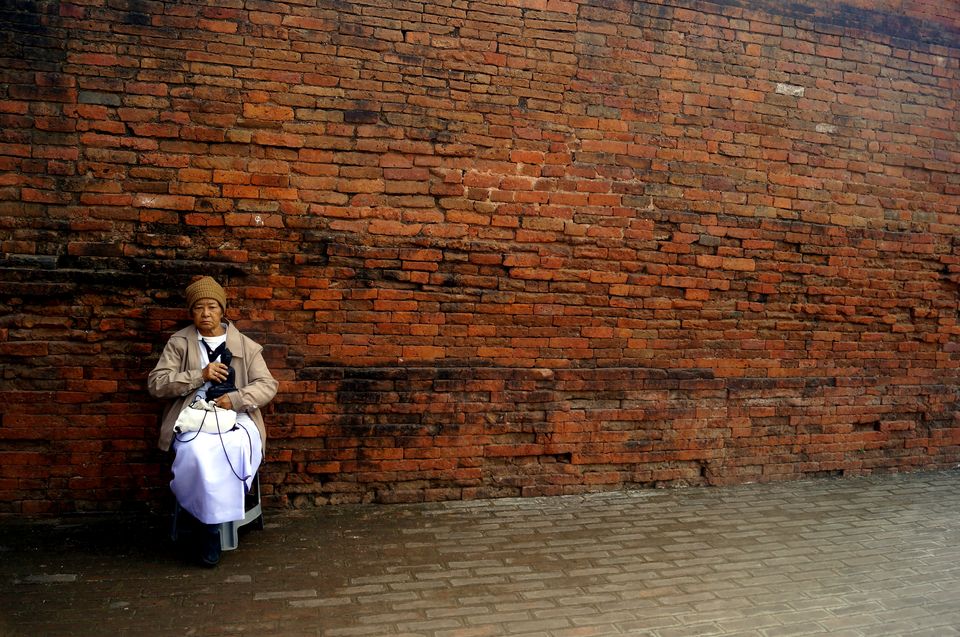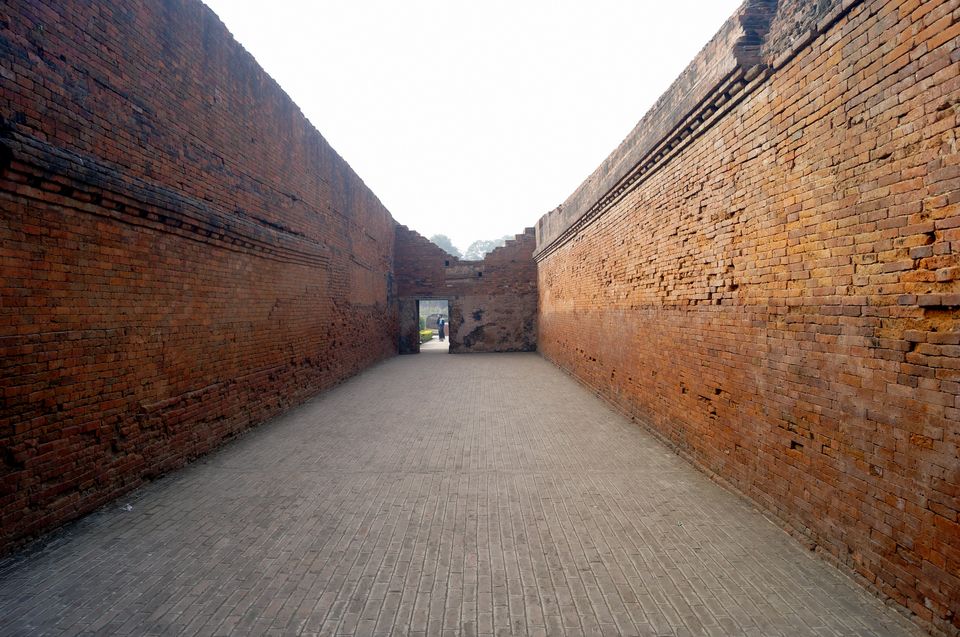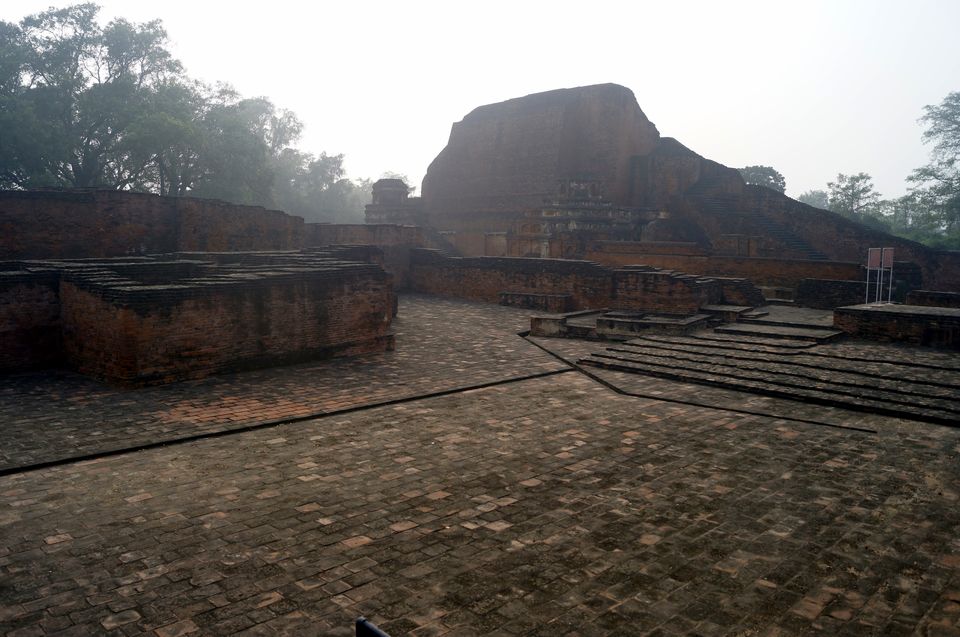 The ruins are divided into large monasteries and a stupa which was built by Ashoka. The monasteries are all of similar pattern. There is a large courtyard in the middle where the students would sit and listen to lectures, with each student having his own small room on the edge of the courtyard. There is a well at the edge of the monastery for water supply and a big wood fueled chulha in the middle to make food. There are remains of the pillars on the edge of these courtyards which must have held the now vanished roof.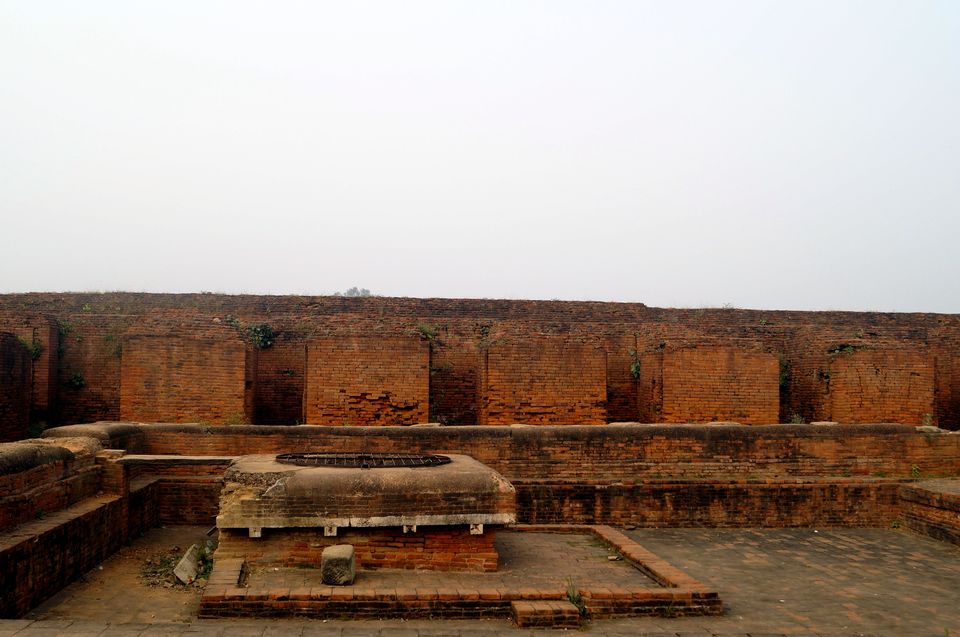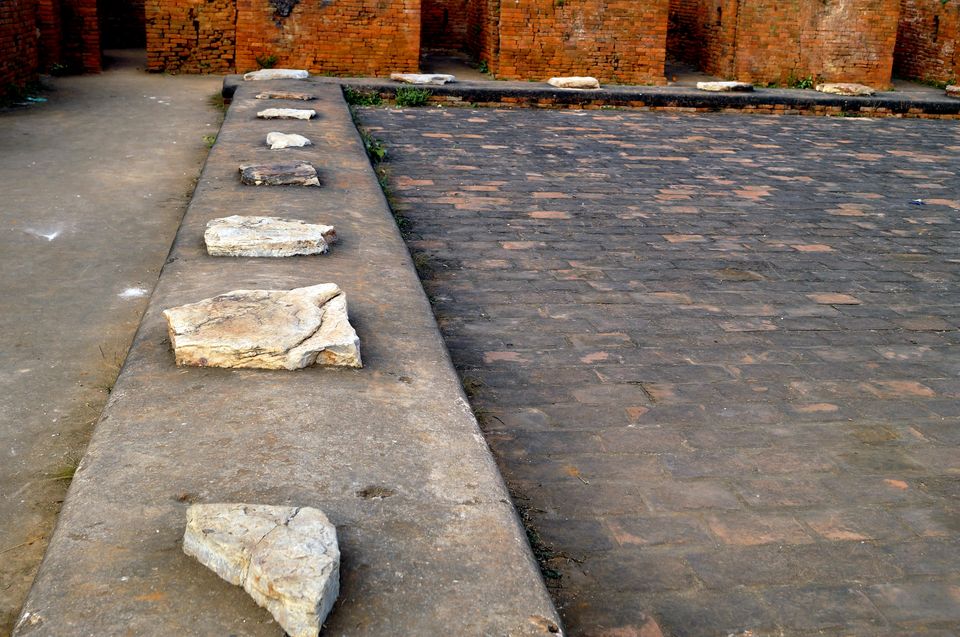 The university was set up by the Gupta king Kumaragupta I in 5th century AD and flourished under the patronage of various subsequent kingdoms. The university's fortune started to decline along with waning influence of Buddhism in India. The final blow came with the invasion of Bhaktiyar Khilji who attacked and destroyed the university in 1200 AD. It was only after the British headed Archaeological Survey of India (ASI) started excavations in 1915 that the university's physical existence was discovered.
Many parts of ruins which were destroyed by an earthquake, have been rebuilt by new bricks which bear ASI's name on them. However, most of the area was part of the original structure. Mr. Prasad also pointed me to the blackish bricks in the walls. He informed me that the black color is from the destructive fire that was used to burn down the university after Khilji's attack. Keeping in mind the measures used to destroy the complex, the resilience of the structure amazed me. It's a pity that most of it will remain unseen under the ground, just like some folded page of history.
I walked around the complex which also had a lot of foreign tourists and made my way to the museum situated opposite to the ruins. The museum, just like university has large green lawns and had a nice simple building with a lot of empty space for tourists to sit and relax. The museum houses artifacts recovered from the excavation and one can easily relate to them after having visited the ruins. While am not the one to rue the loss of old heritage, I wish I could get a glimpse of Nalanda in all its glory.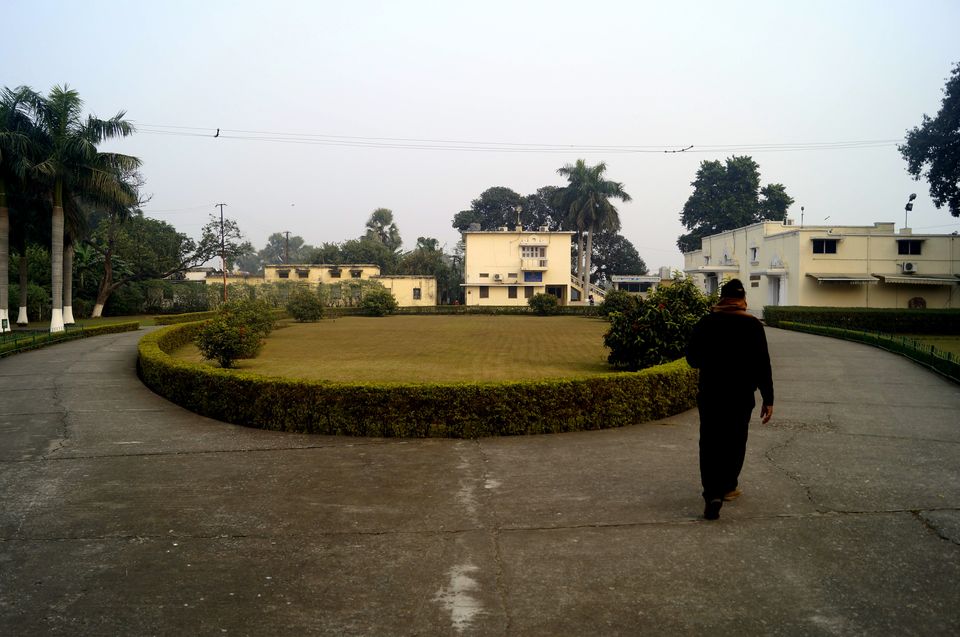 It was already 4:00 pm by the time I was done with Nalanda museum and ruins. The next step should have been to proceed to Hsuan Tsang memorial, but sadly I didn't know its exact location at the time and I was still under the impression that it was somewhere in Rajgir. So, helped by Mr. Prasad, who was looking for more customers outside, I found a tum tum and came back to Rajgir by 5:00 pm.
For the dinner, I bought a marwari thali for Rs 100, which offered unlimited chapatis and multiple gravies. While the thali filled me to the brim, it also made me sleepy. The restaurant was in a guest house and I negotiated a room there for Rs 300 to spend the night.
Since my priority had been Nalanda and I had also arrived late, I couldn't visit any other place in Rajgir that day. Next day, I had to leave for Patna and catch my train in the evening at 6:00 pm. Since I also wanted to visit the famous Takht Harmandir Sahib ji in Patna, I would have to leave Rajgir early. Therefore, I decided to wake up early next day to visit Rajgir's most famous spot, the Vishwa Shanti Stupa. I could finish that in the morning and then leave for Patna early. With all this planning going on in my head, I slipped into a slumber.
Next day, I woke up early at 6:00 and walked to the bus stand by 6:45 pm. From there, I hired a tum tum for a return ride to Vishwa Shanti Stupa. Now, when it comes to these tum tum drivers, you will have to negotiate hard as they will try to overcharge. Nothing better if you are in a group, but if you are alone, wait for a tum tum that has some riders. Since I was too early and in a hurry, I could only bring him down to Rs 250.
The shanti stupa is around 5 km away from Rajgir and there is big gateway to mark its location, which one see while coming from Gaya. You can either get down from the bus there or come back in a tum tum as I had done. There are many other historical and tourist spots on the way to stupa such as Bimbisara's prison, Ajatashatru's fort as well as a small lake called 'ghora katora'. For travellers short of time, these can be given a miss.
Built by the Buddha Sangha of Japan, Vishwa Shanti stupa is perched atop 400 meter tall Ratnagiri hill. Buddha is supposed to have frequented this hill for three months to preach many of his disciples.There is a trolley service available to take tourists up but I preferred hiking up to the top. The climb isn't very difficult and took about 25 minutes.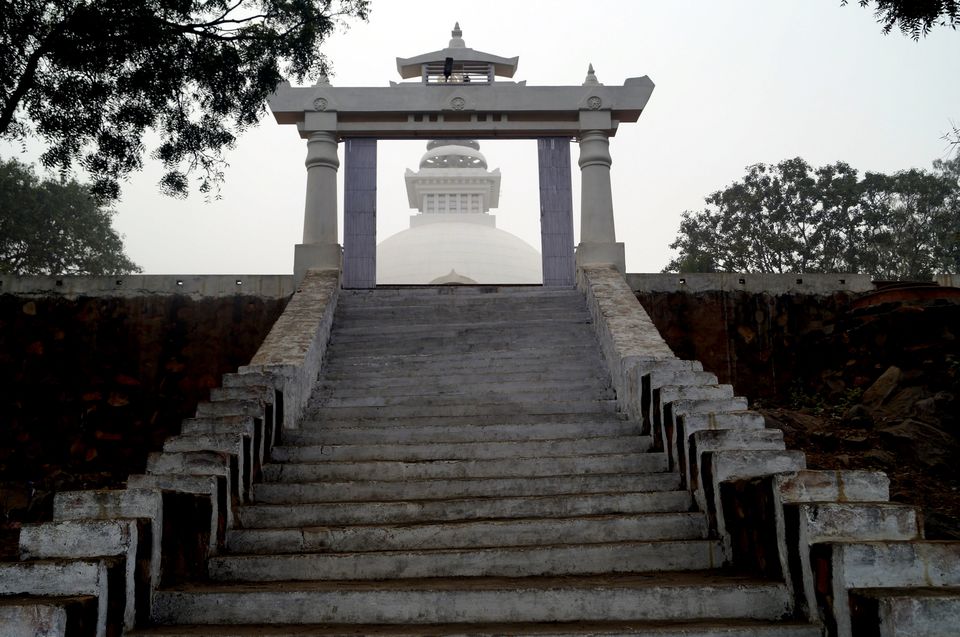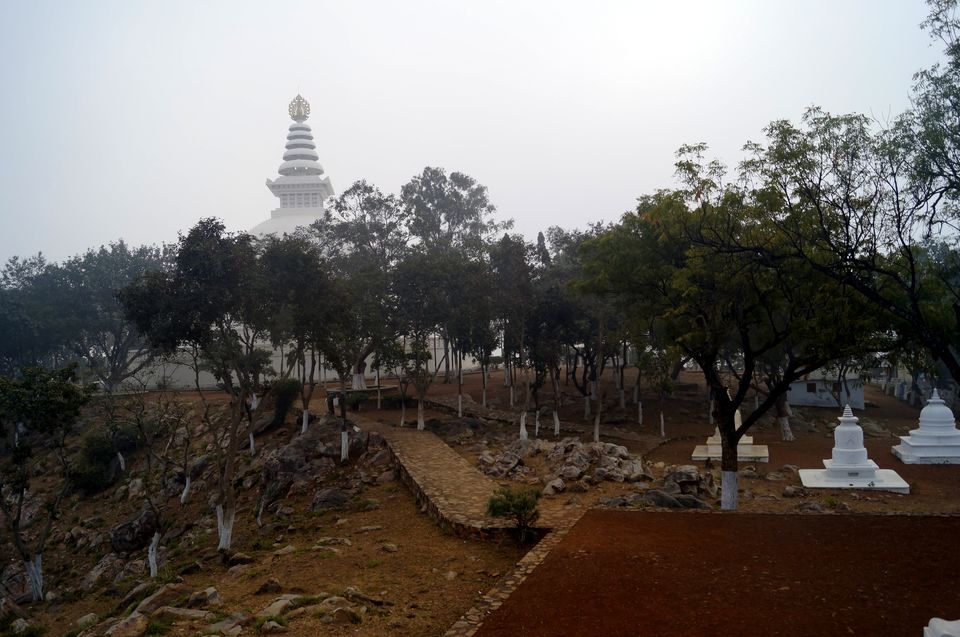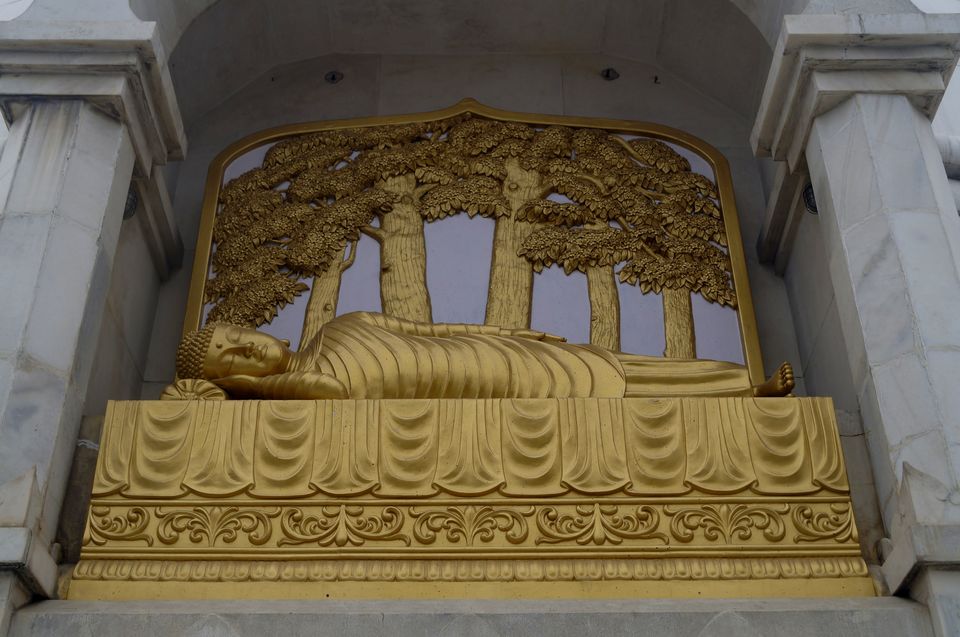 The white colored stupa has in its dome three golden statues of Buddha in different poses. It is surrounded by trees and benches and as I walked towards the edge of the hill, I came across samadhis of buddhist monks. I was lucky to visit the site in early morning as it was quiet and devoid of any tourist crowd. I sat near the the most important samadhi of Japanese monk Nichidatsu Fuji, who was also a follower of Mahatma Gandhi and collaborated with him in India's non violent independence movement. I had rarely come across such peaceful and soothing environment. The only thing audible was the the chirping of birds, chatter of monkeys and the soft mountain wind. No wonder, Buddha chose this spot to share his knowledge.
Soon a large group of school students came up and the place was swarming with children. Having no further expectations of peace, I made my way down. While descending I encountered a large group of Chinese Buddhist followers, attired in white clothes, climbing up the hill by prostrating after every step. I have seen this being done by Shiva devotees during Shivratri when they cover more than 100 km from Ganges to their native place by prostrating after every step.
It made me realize the importance that Rajgir and the stupa has in the Buddhist world. While most Indians will shrug at the name of these sites, foreign tourists from South East Asian countries cue up to have a glimpse of these places.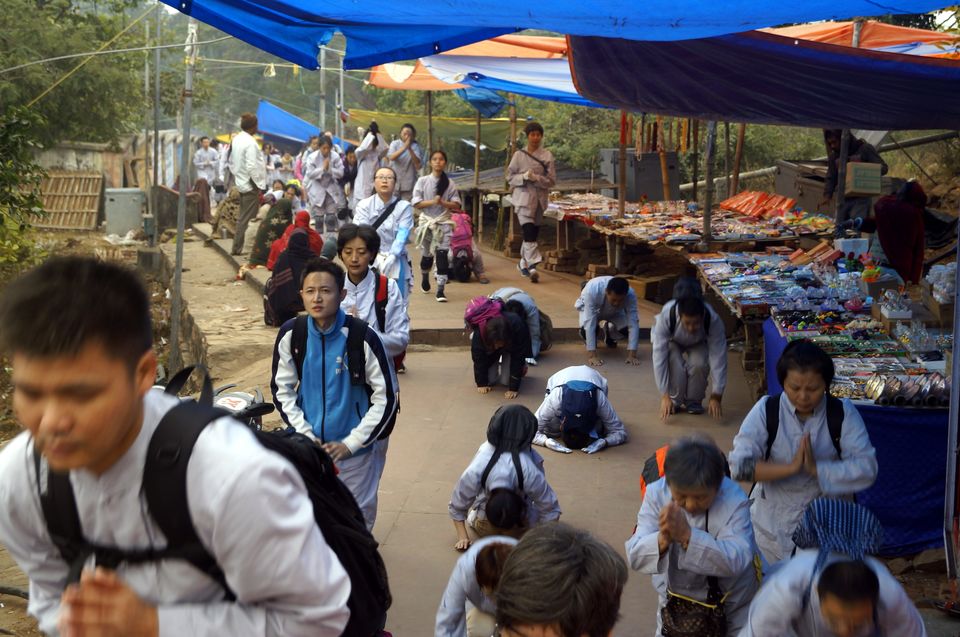 From the stupa, I directly reached bus stop and took a bus to Bihar Sharif from where there was a connecting bus to Patna. I was disappointed that I couldn't see more of the place and even missed the Hsuan Tsang memorial. I took heart from the thought that Hsuan Tsang was also a traveler and if I continue my travels, maybe I will come back some day to visit the place built in his honor.
I reached Patna around 1:00 pm and got down at the Mithapur bus stand. From there I took an auto to the railway station and from there another auto to Patna Sahib. By the way, if you want to know how I found out about the right autos and buses, I did what every clueless person would do; ASK. I asked my fellow bus travelers, auto drivers, locals as well as the supreme 'Google' and they were all happy to guide me.
I had to rush as my train, although expected to be late, was set to arrive at 6:00 pm on the Patna Junction and I was yet to retrieve my suitcase from my friend's house. It was simply a race against time. From Patna Sahib, one can either walk to the gurdwara or take another auto. The final road resembles any crowded old city such as Sadar bazar in my home town of Meerut or Chawri Bazaar in Delhi. There are all kind of shops and a great many tea stalls.
Takht Shree Harmandir Sahib ji is one of the five holiest sites in Sikhism, as it is here that the tenth sikh guru Gobind Singh was born. It isn't as majestic as Golden temple in Amritsar but is worth visiting once. It is undergoing a major makeover and once that is finished, it will be able to match upto the golden temple in its grandeur. Still, the white main building is beautifully constructed and the inside sanctum was open to devotees to pray.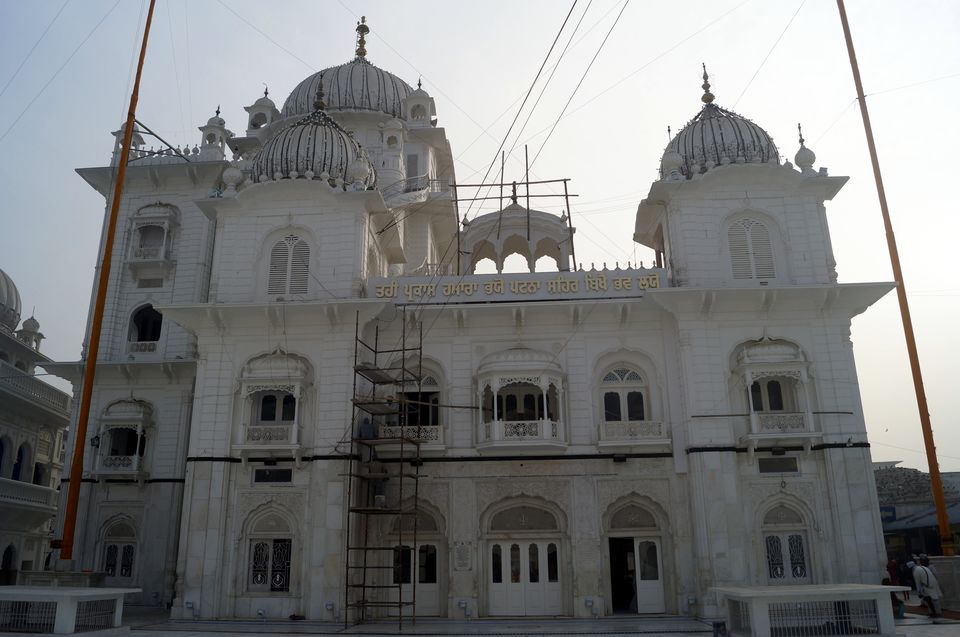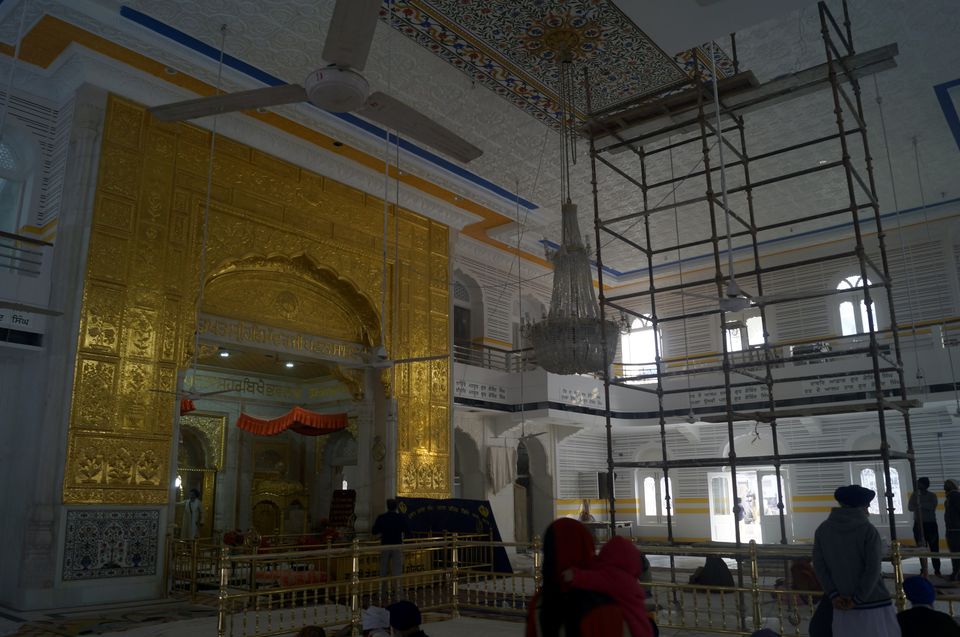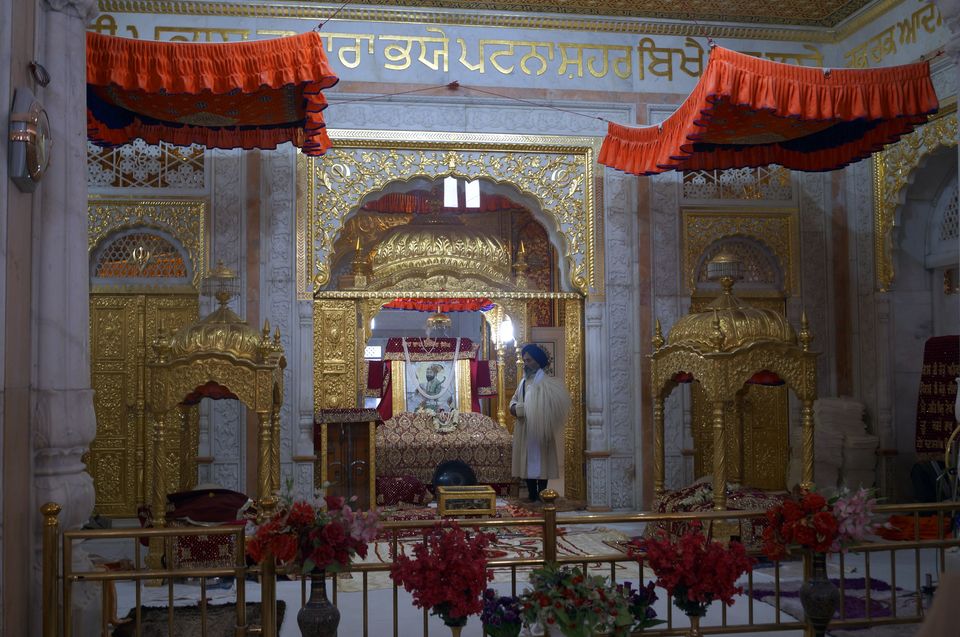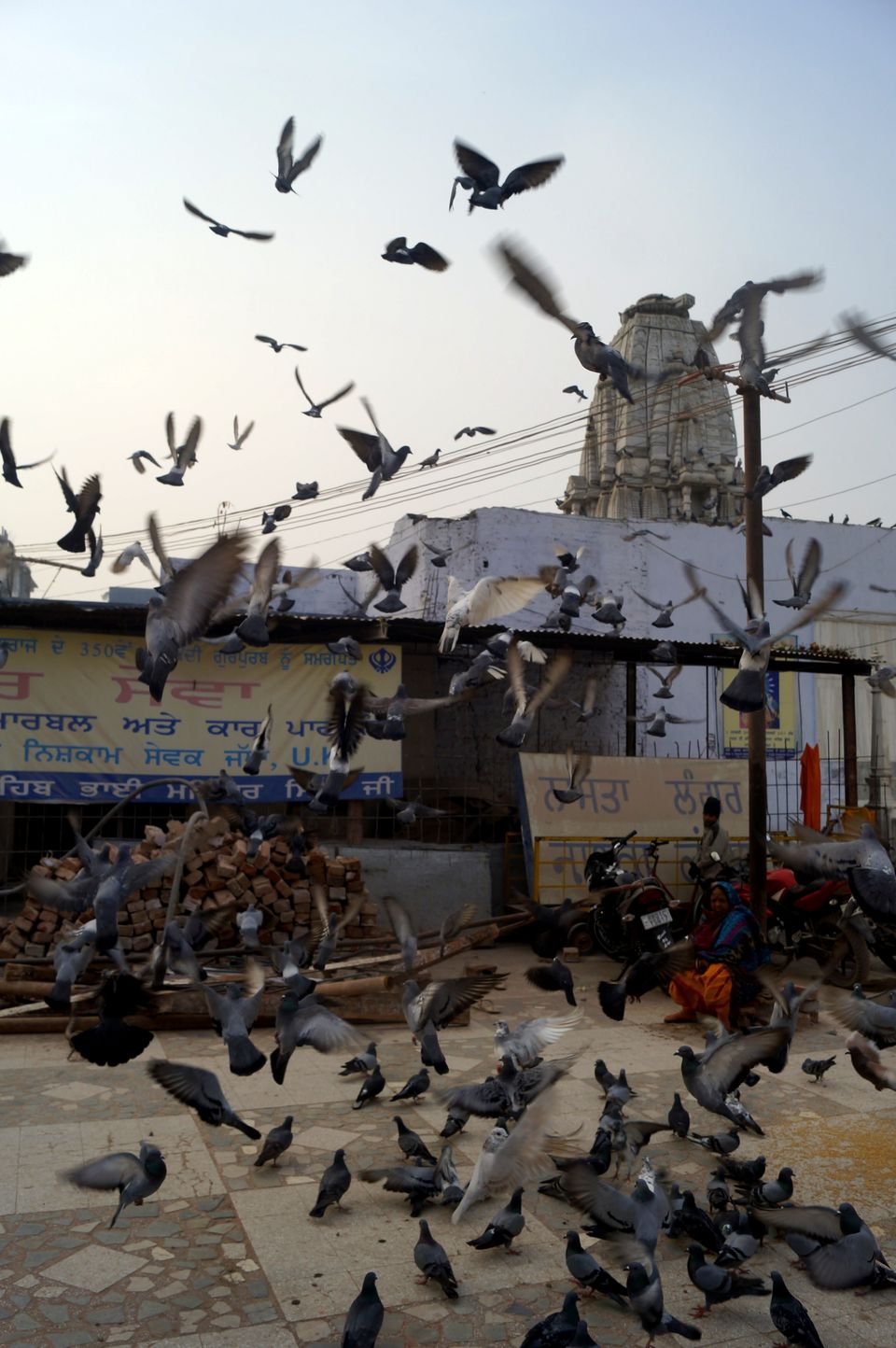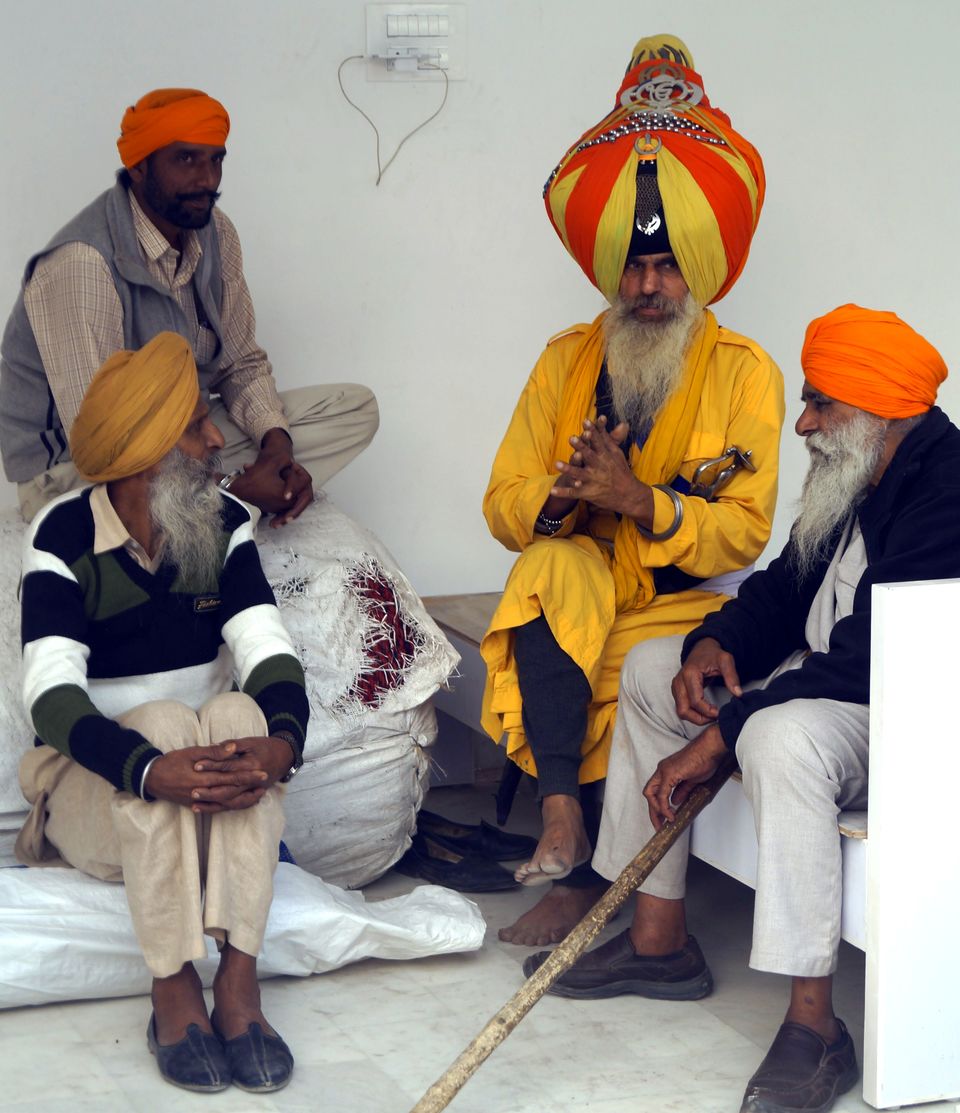 I roamed around a little bit and on my way out saw a sign for Kangan Ghat. Since, it was just 500 meters from the Gurudwara., I decided to check it out. It was already evening and the view of Ganga from the ghat was breathtaking. When it comes to experiencing Ganga, Gandhi Ghat is Patna's most famous spot, however, Kangan Ghat is way less crowded. Around the same time I got the text message that my train, which was supposed to leave by the night, had been cancelled due to fog. Free from the need to rush, I sat on the ghat watching boats slowly disappear behind the bend in the holy river.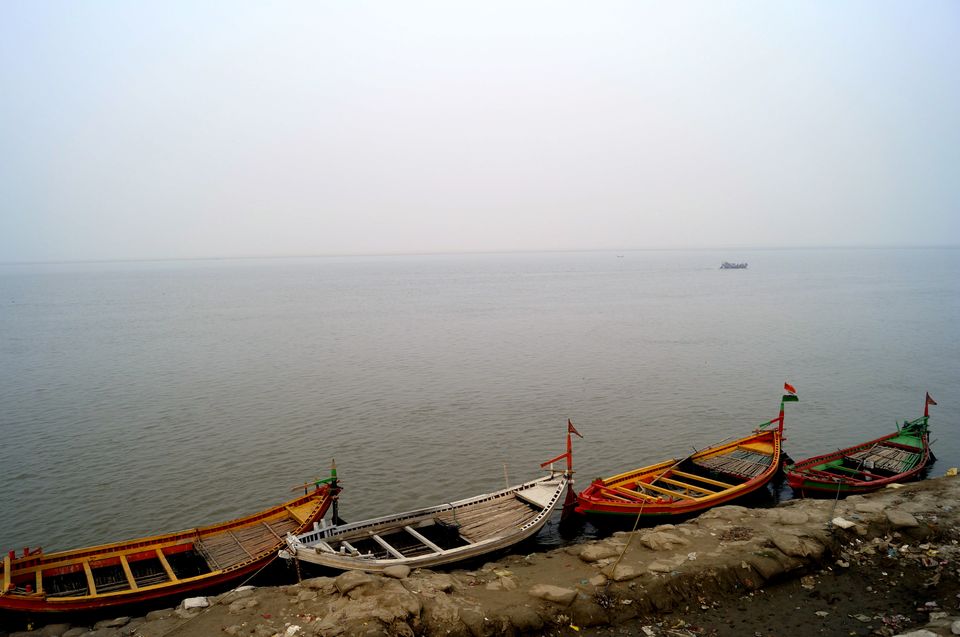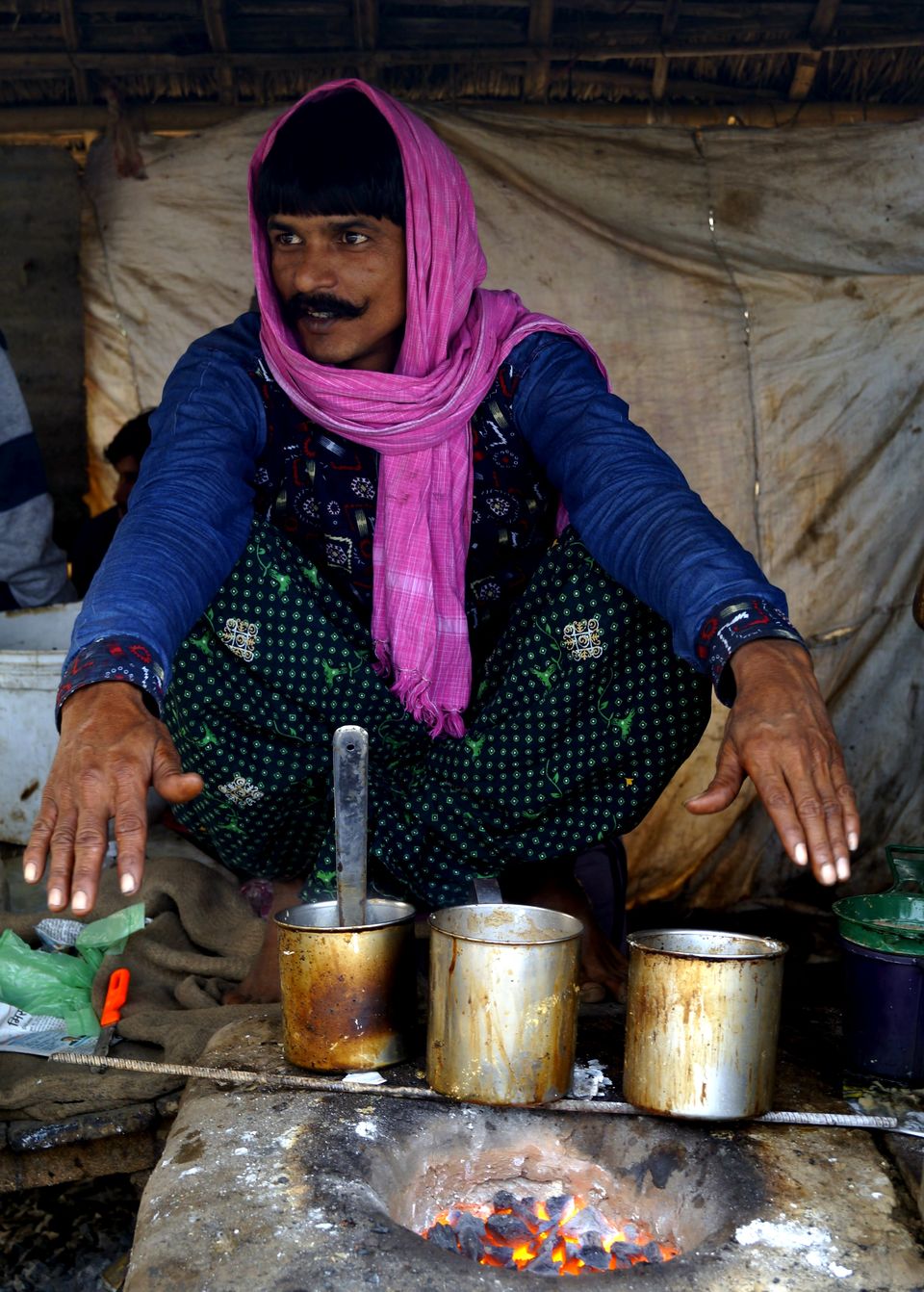 Mulling my options, I headed back to my friend's place to rest and try for a tatkal ticket next day. It was great to meet her parents again and have some good homemade food. Next day I visited the Patna Museum while at the same time another Patna friend helped in booking a train ticket through an agent. Patna Museum is walking distance from the Patna Junction railway station. The museum is housed in a palace like red building and has a good collection of ancient stone and bronze buddhist statues. It won't take more than a couple of hours to complete its tour.
However, there are a row of sweet shops opposite the museum and having heard a lot about local sweets, I couldn't hold back. I tried all the sweets one by one including Tilkut, Khaja, Anarsi, Gaja and Khajoor. Tilkut and Khaja are the most famous and while they may not be as delicate as a Bengali 'rasgulla', they fill the stomach very quickly. Unlike other states, Bihar has a simple man's diet. I had even found the option of 'saada khana' (simple food) on the menu of one restaurant near the Mithapur bus stand. The food and sweets here are cheap to make and do a great job at fueling the body to labour for the rest of the day.
After filling myself with sweets, I headed back home to close another day in Bihar. Around the same time I got the good news that a railway ticket has been arranged and this time I will be going by the much faster and punctual 'Sampoorna Kranti Express'.
Next day, I woke up for my last day in Bihar and was treated with a tasty breakfast cooked by my friend''s mother. On the way to the railway station, I bought some Tilkut for my flatmate as a souvenir from the trip. The train surprisingly arrived at the exact time and the crowd rushed to it as if it was their last chance for a timely escape. I too grabbed my bag and dashed for the gate. Bihar is a state where you will find both peace and chaos. I enjoyed my moments of both.