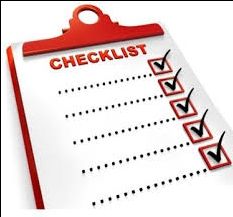 TRAVEL CHECKLIST
1. Identity card(Original and Xerox),
4 passport size photos (in case
of emergency)
2. Wallet( Some cash and lots of change)
3. Phone ,charger,power bank
and earphones.
4. Clothes and personal wears
(depending on number of days)
5. Toiletries-Toothbrush,paste,facewash,
face cream,sunscreen,wipes
(rest are available in most hotels).
6. Medication- Mosquito repellent,
Vomiting,Stomach pain,Headache,
Cold, Volini,Painkillers,Fever,Eno,
Pudin-hara.
7. Camera with charged batteries.
8. Pen and paper
9. Water bottle,dry fruits
and chocolates ,biscuits,cake.
10.Slippers,Sunglasses,Hat or
cap, Poncho(for monsoon)
and jacket( for winter).
11.Few extra packets or a folding bag .
12.Tourist Map of the place on your phone or print out.