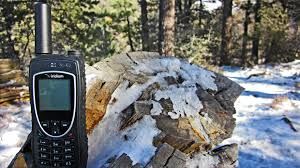 Staying connected when travelling international is more important today than ever. Satellite phone rental makes it easy. There is a wide range of wireless products available that eliminate the worry over whether your domestic cell phone will work as you travel and, if it does, what it will cost. Whether you're traveling for business, leisure or both, Canada Satellite delivers the reliability, security and peace of mind of having a phone at your fingertips—no matter where your travels take you.
How Satellite Phones Work
A satellite phone is a telephone that transmits and receives messages from orbiting satellites that provide coverage for the entire world or only specific regions.
The phones used for satellite communication are often larger in size than the ones that are used for terrestrial applications. These phones can be to the cell phones that were used during the latter part of the 1980s and '90s. These phones also have a large retractable antenna.
Iridium satellite phone use Low Earth Orbit satellites for communication. These satellites orbit the earth at high speeds at low altitude. These satellites fly complete orbits and guarantee complete coverage over every area by at least one satellite at all times.
When a call is made with the satellite phone, the call signal goes up from the satellite phone handset up to a satellite hundreds of miles in orbit. The signal then goes to one of the many satellites in the low earth orbit. The signal then goes down to one of the ground stations, from where the signal is finally delivered to the destination handset.
The 5 Reasons Why You Need a Satellite Phone
Now that you know what your satellite phone can do, can you really manage without it? Read on to find the true value of your satellite phone.
1. Emergency Calls
You can always get help if an emergency should arise during your trip. Your satellite phone gives you the peace of mind that you can always make that essential call if you should need to.
2. Calls Home
There is no need to sacrifice personal contact with your loved ones while you are away. Your satellite phone allows you to make an important call home letting friends and family know that you have arrived safely at your destination and keeping their minds at rest while you are away.
3. Stay Contactable
Receive your satellite phone number in advance of your trip to distribute among friends, family and colleagues. They can contact and easily on one phone number.
4. Coverage in Remote Areas
As long as you are in the correct coverage area for your satellite phone and you have a clear line of sight to the sky, you need not worry about making and receiving calls. No need to worry about poor network signal strength as with cellular phones. Have the confidence that your satellite phone has great coverage in a wide area–no matter how far from civilization you may be.
5. Confidence and Peace of Mind
Satellite phones are used all over the world to keep in touch. They are an essential part of the communication strategy for many travel enthusiasts, government departments, including the US Department of Defense. They are used by the Military; Search and Rescue organizations and NGOs on emergency missions; out at sea on cruise ships and vessels; by remote oil, gas and mining organizations; and in many other situations by individuals and alike. Have the confidence that your satellite phone is linking you to an established, trusted communications network.
Now you can communicate anywhere, at any latitude. You are no longer isolated from the outside world in your vessel. Canada Satellite provides you with clear communications whether you are or accessing the Internet from your cabin or deck. There are no dead zones, no latitude restrictions, no eavesdropping. Through Iridium, Globalstar and Inmarsat's all digital satellite technology, you will experience a reliable connection. Stay connected!