Chitradurga is a fairly well known destination, specifically for the famous fort. The fort itself is a photographer's delight and offers plenty of opportunities to make good images. On a visit earlier this year, we explored some of the fort's areas in the early morning hours. Having reached the fort by 6:00am, we found only local people on their early morning walking/exercise/socializing routine. Being more interested in landscapes, we had put in some time researching the fort's areas on Google map and naturally gravitated towards a body of water inside the fort called as " Thuppada koLa" - this translates to "pond of ghee". On reaching the spot, we found a few enterprising locals, who were swimming in the pond - looking at the paraphernalia of the photography gear we were brandishing, they took it upon themselves to not let us go just having visited only the very common areas . They enlightened us about other nearby places which are less touristy and better - Jogimatti and Chandravalli. We made a mental note to ourselves about these places for a later visit. The visit to Chandravalli materialized last week, during the long weekend for Deepavali and Karnataka Rajyotsava.
Before we get ahead to Chandravalli, here are the views from the top of hillock adjoining the pond in the Chitradurga fort. I've missed posting these on my blog earlier, so clubbing them here. I'm skipping a whole lot of other images of common structures in the Chitradurga fort.
I would not have got these images:
Had we not come across the said group of locals, mentioned above.
Had the locals not seen us with photography gear and volunteered to take us to the top of this hill where, "the view is awesome", they said - in fact they coaxed us.
If one of us didn't get tempted and started the climb, which in turn, tempted me too.
Had I not got rid of my sandals and made the climb barefoot - no way, I'd have been able to climb this steep stone monolith with mere sandals, that too when there was a slight drizzle, which was making the surface slippery.
Overall, I am glad I did the climb. The top offered panoramic views on all sides.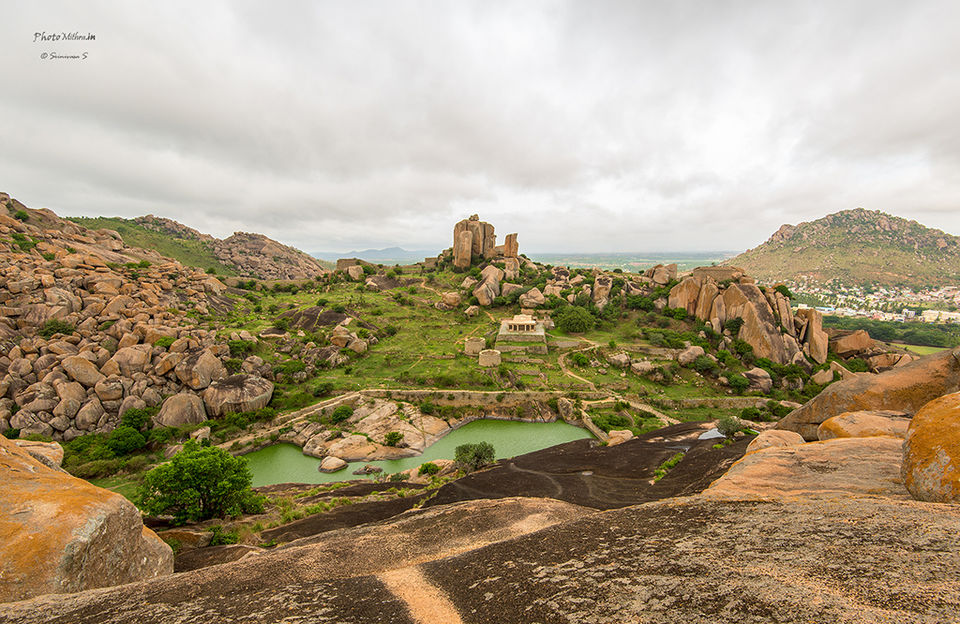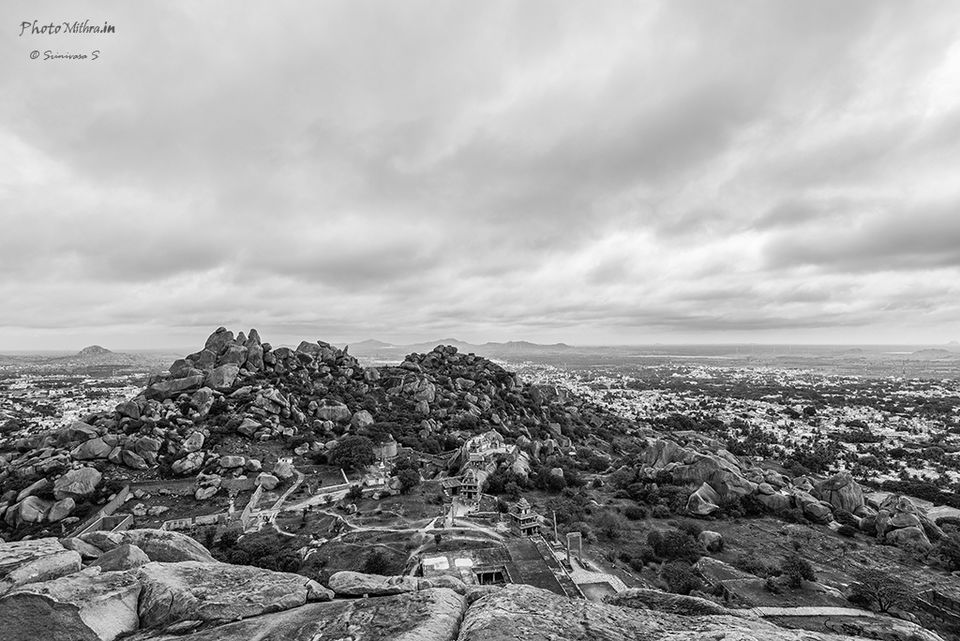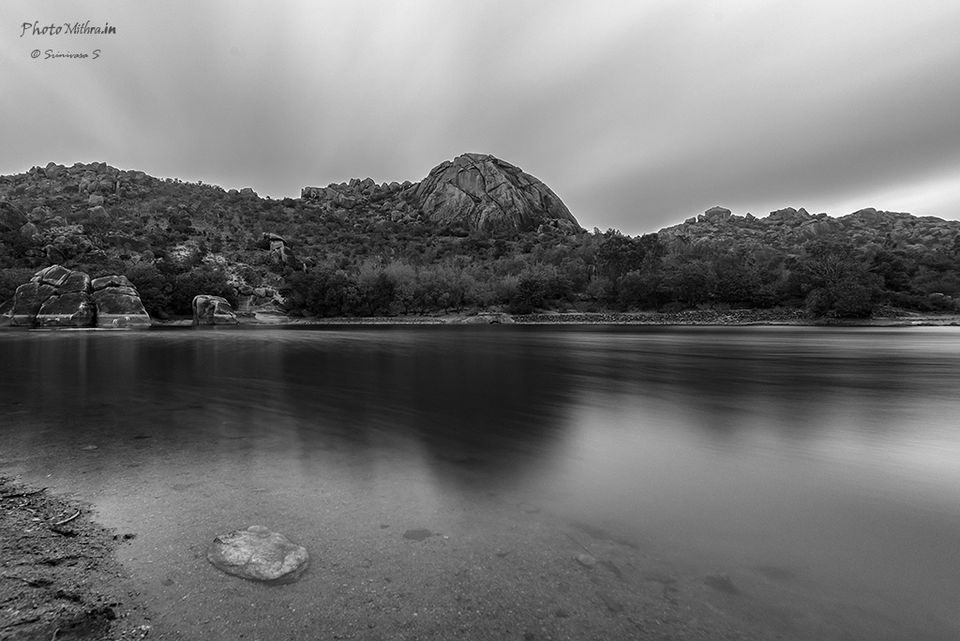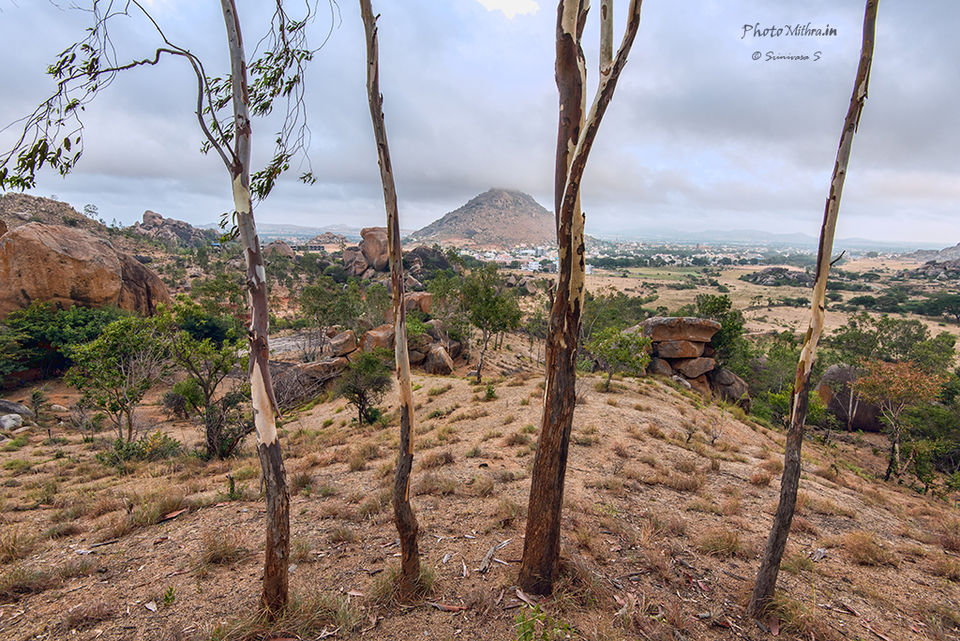 Fast-forward to the last weekend, we were again in Chitradurga. We reached by 9:00pm, on the eve of Karnataka Rajyotsava. After dinner, we went to explore places where we could find night skies free of light pollution, which might be near one of the several windmills in the area. This was just an exploratory visit, since not much planning had been done. It turned out to be hard to get close to any one particular windmill - we did not want to stretch past midnight, since we had plans to start by 5:00am the next day. We had to settle for a place where we found a bunch of windmills neatly lined up nearby. Unfortunately, we could not line up the milky way from this spot - not the way we'd have liked. Also did not get a lot of time to setup and shoot here - it started to get cloudy. Here's one representative image from the visit: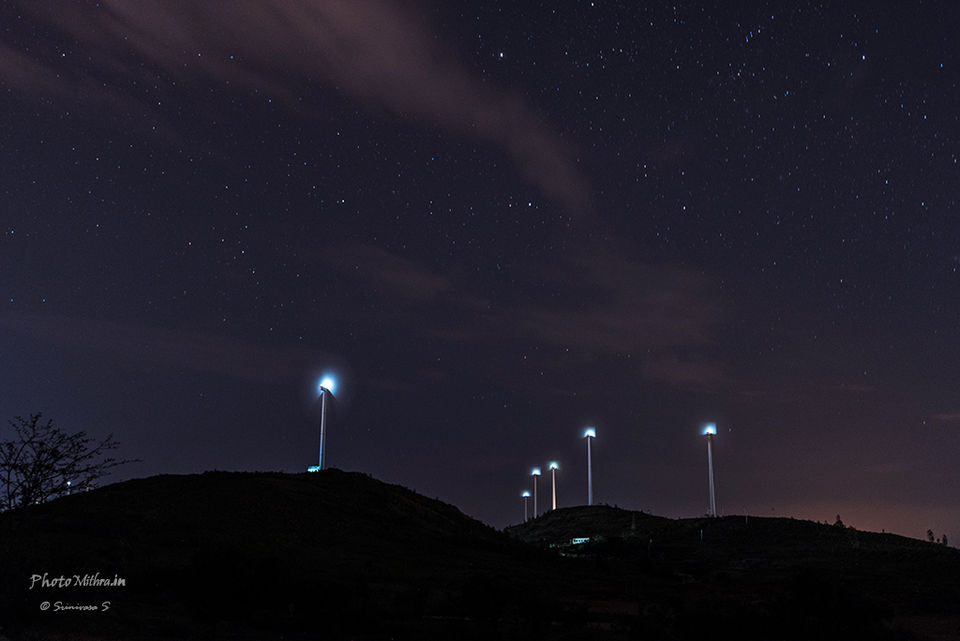 Early next morning, we reached Chandravalli. En route, we got to know that this spot too is frequented by locals for morning walks, etc. Being winter, it was still dark and we saw a few flashlights making rounds. According to Google maps, there was a lake there, but we could not see anything in the dark. We did a round of walking with the locals, learning more about the place. As the visibility began to improve, we got the first glimpse of the lake. The lake is surrounded by hills on one side and the Chandravalli archaeological site on the other. Weather played a bit of spoilsport here - we had expected near clear skies, but it was cloudy and hazy. Here are a few images of the lake: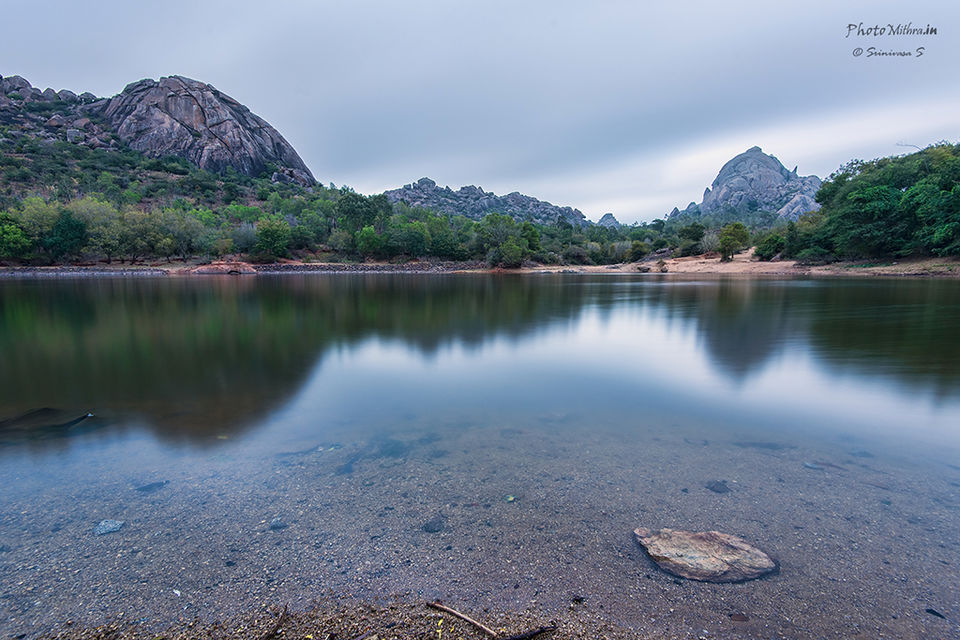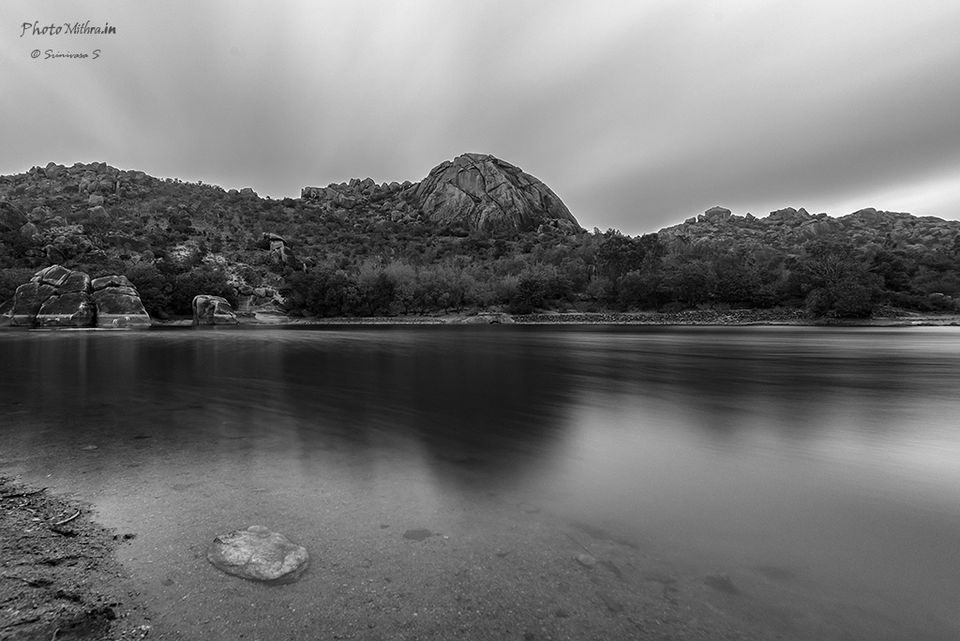 We explored a bit nearby. Found a path leading up from the place where the Chandravalli caves start - the cave entrance was as yet closed, and we had not much interest in exploring the caves. We ended up on the other side of a gentle rise, which offered vantage views of the nearby areas. Here are a few images of the kind of scenes we were faced with: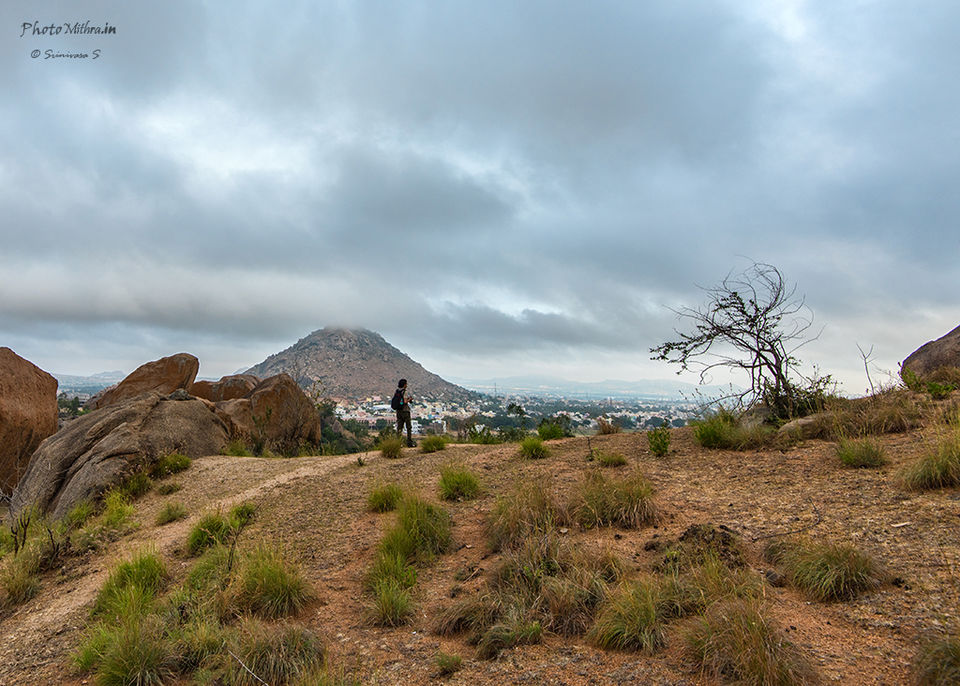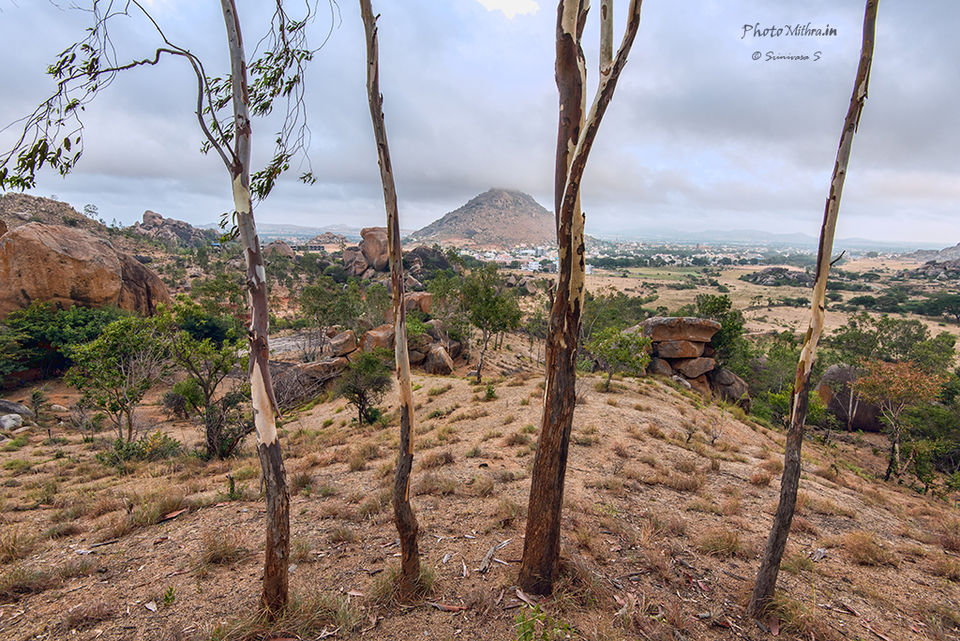 After this, we headed towards Jogimatti - but we had to turn back disappointed. It was a Tuesday and a weekly holiday. With these visits, I learnt that Chitradurga has a lot to offer in terms of photography opportunities and I should plan better for a more fruitful future visit. Until then...
This blog was originally published on 'photomithra.in'