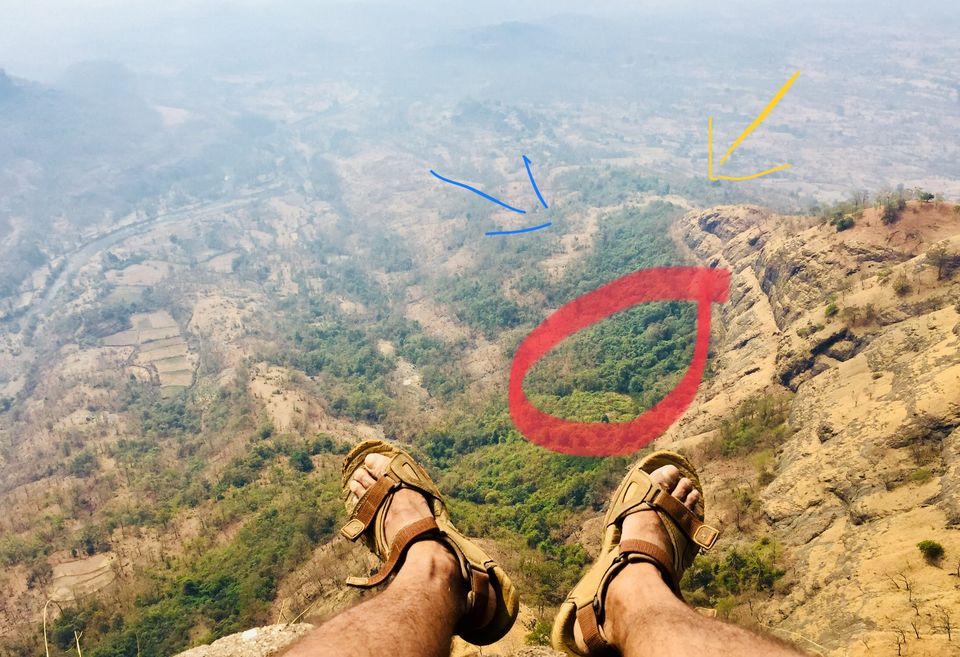 Name: Sudhagad
Location : Thakurwadi, Near Khopoli
Height : 590m (1947ft)
Difficulty: Easy from Thakurwadi , Difficult from Dhondse
Best Season : Monsoon and Post- Monsoon
Terrain: Plateau , gradual ascent, Ladders.
How to Reach: Sudhagad Fort is situated in 11 kilometres east of Pali in Raigad District. One can reach Pali by State Transport Buses. From Mumbai, take the local train upto Khopoli which is a bit ahead of Lonavala then take ST bus to Pali. From Pali you can either look for ST buses to Thakurwadi or rent a auto rickshaw. One can directly drive from Mumbai to Khopoli and further, but the roads from Pali to Thakurwadi are a bit confusing and in poor condition.
The Journey from Mumbai: Opting for a night trek we left relatively late compared to other one days treks which start early morning. Me and my friend took the 3.42pm local train from Kurla to Khopoli. We met our remaining friends on the way(total 5 people). Khopoli is a 2hr journey so at ~5:45pm we reached Khopoli station and took an auto to Khopoli ST stand (takes around 15mins). The ST bus to Pali was at 7:15pm so by the time we had our food , the ST arrived. It takes about 1:30 to 2 hrs to reach Pali. Pali is famous for Pali Ganpati Mandir, Vardayini Waterfall so you have a number of options to explore here. But the place has limited transportation at night so we talked to a couple of locals and they arranged a small pickup truck till Thakurwadi. The driver charged 600Rs for 6 people which was quite high but we had to agree as we had no other option.We reached Thakurwadi village at about 10:30pm. Follow the trail which leads from opposite of the school.
Trek Starts : Half lit from the natural light of the moon and from our Rs20 Torch picked up from Kurla station , the trail seemed well laid and easy until we reached a plateau and took a wrong turn(Blue Arrow in fig below).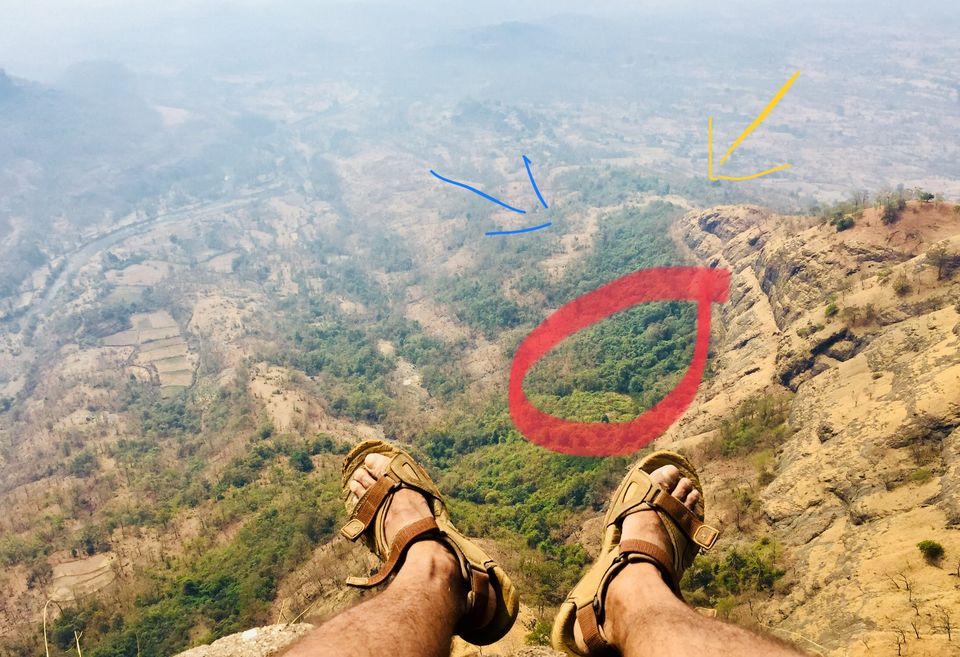 None of us had been to Sudhagad before , info from numerous blogs said that "after a patch with dense vegetation there will be a ladder". But the ladder never arrived. For 2hrs we thought that the RED circle marked above is our "Dense Vegetation" patch.Dead end after dead end, Karambit shaped thorns sticking up from underneath my footwear,drawing scratches on my arms and legs.After many futile attempts of finding the right way,we gave up and decided to retreat. But from where? We couldn't trace back our path.We knew we were lost,panic was creeping in. Somehow we found the way marked by blue.Regrouping on the plateau at 12:30am,we decided to go back to the village and call for a local guide to show us the way but luckily we found the correct "well laid" trail marked by YELLOW and we were certain that this is it.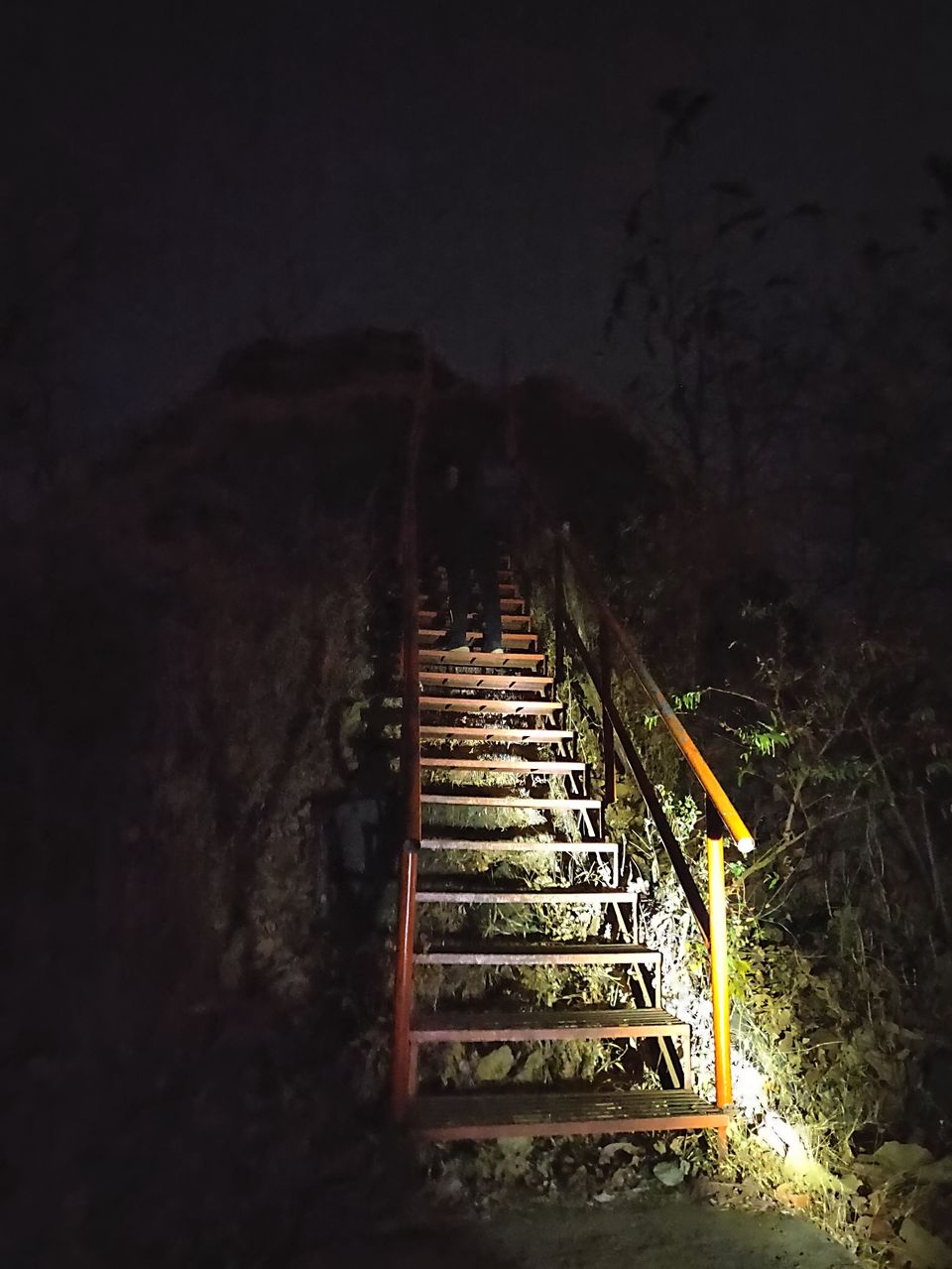 We found the dense vegetation , found the ladder we were looking for and by 2:30am we were on the top. Once you find the right trail the trek is very easy.No sudden inclination , moderate rock patches except the time where you reach the main gate of the fort.There the step are pretty high and the angle is almost vertical.
At The Top: You will see a Shiva Temple backed by a lake. Keeping the lake to your left walk straight and you will come across some establishments. You can approach Rama the caretaker who stays at the top for shelter mostly(We didn't ask for food as we had maggi).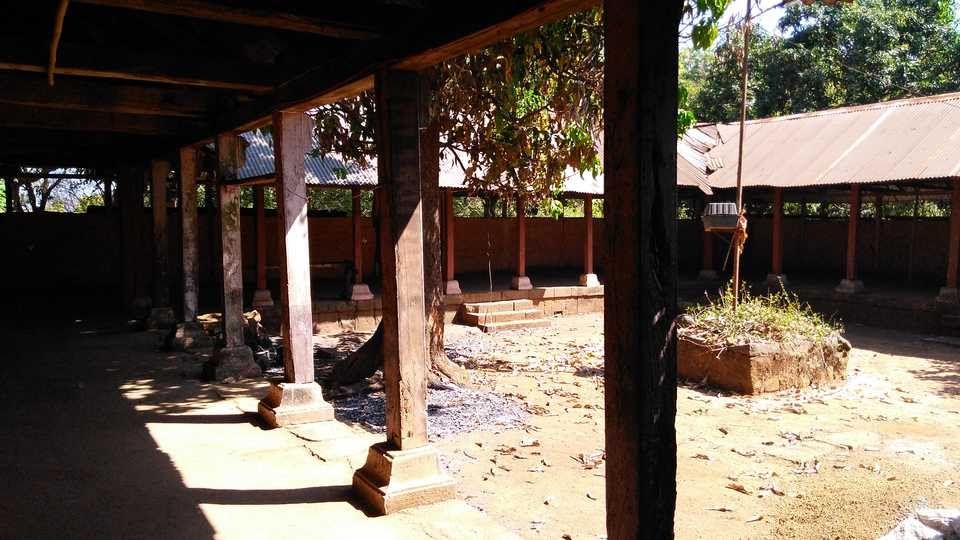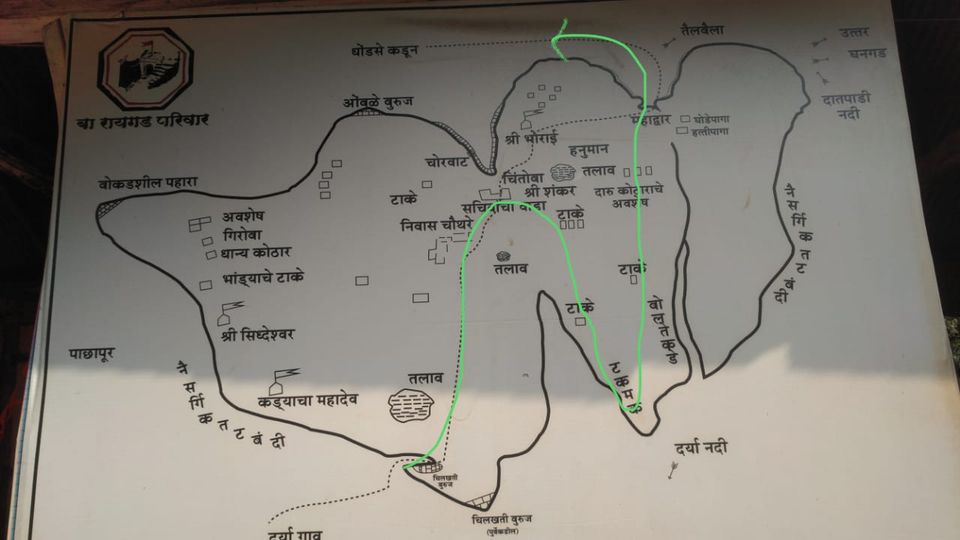 The Tak-Mak Point is must see point at the top offering a terrifying yet spectacular panoramic view. You can trace your path which you came from once you sit on the edge staring down 2000ft below. It's like a mini version of Konkankada.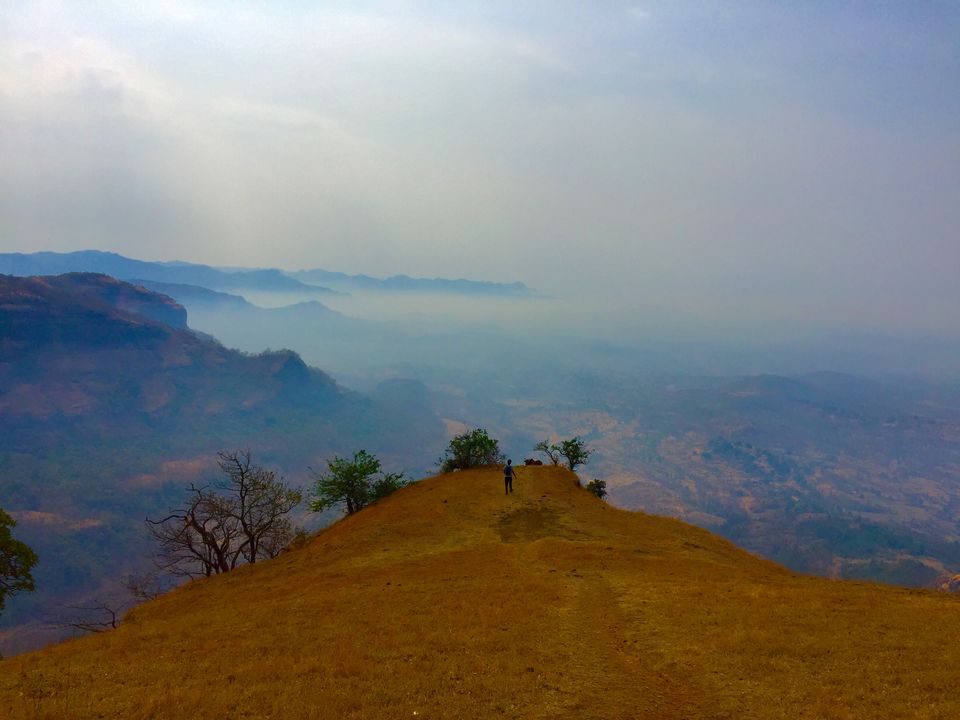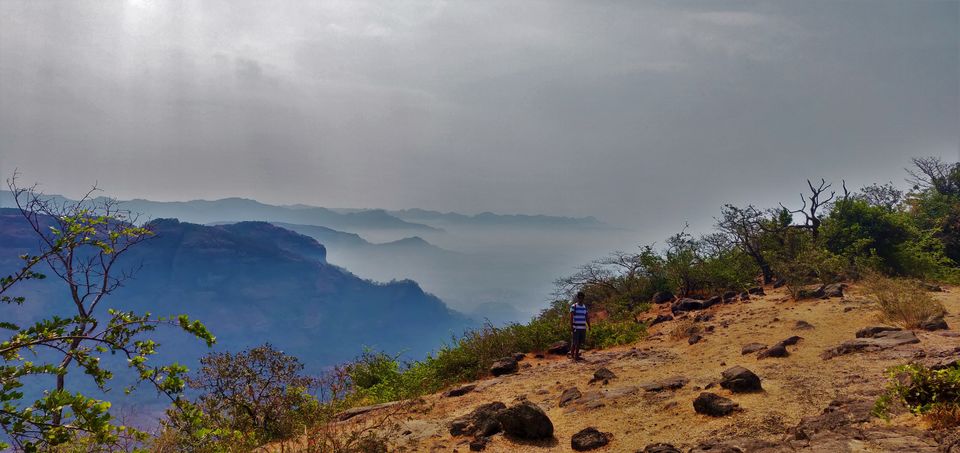 Descent: The path through Dhondse village is very fatiguing not only physically but also mentally. With the sun bearing down on us hard, it took us nearly 4hrs to reach that village where it only to 2hrs to climb from Thakurwadi and it would have taken around half that time from the same route to decent.Our initial plan to catch the 4:28pm train from Khopoli to Kasara was down the drain. Infact ,we reached the base village at 4:30pm. Frustration building up after every turn of the trail and not even a single hut in the far distance also with limited water it was turning out to be a major problem. Thankfully , blue colored boards with arrows towards Sudhagad gave us the general opposite direction in which we had to go. I suggest you don't take this path for either for your journey. Thakurwadi route is the best and easiest route to climb Sudhagad.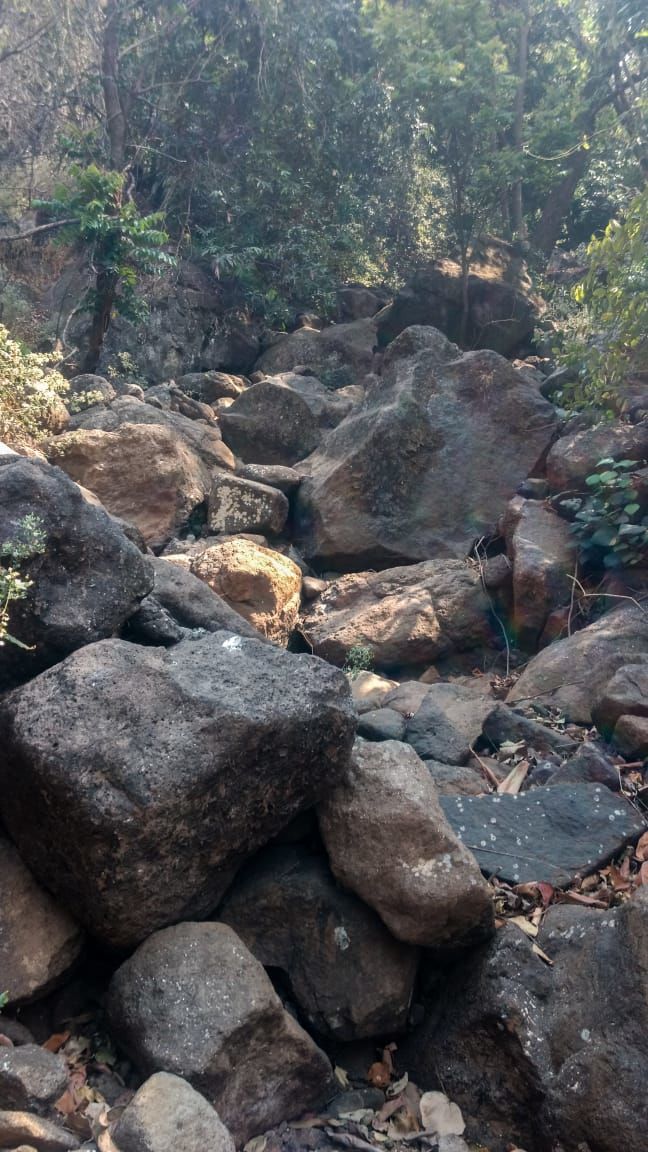 The Reverse journey is the same Thakurwadi/Dhondse to Pali to Khopoli, we ended up catching the 8pm train to Karjat then proceeding to Kurla from Karjat. Initial plan was to reach kurla by 6pm but ended up at 10pm.
All in all, the experience was everlasting, from the thorny cuts to the sweaty descent to the frustrating walk to the base village which lasted for ages to the relief when we saw the first establishment to the satisfaction which came from the first few gulps for cold water provided by the locals. It's like these types of experience which stay with you forever!