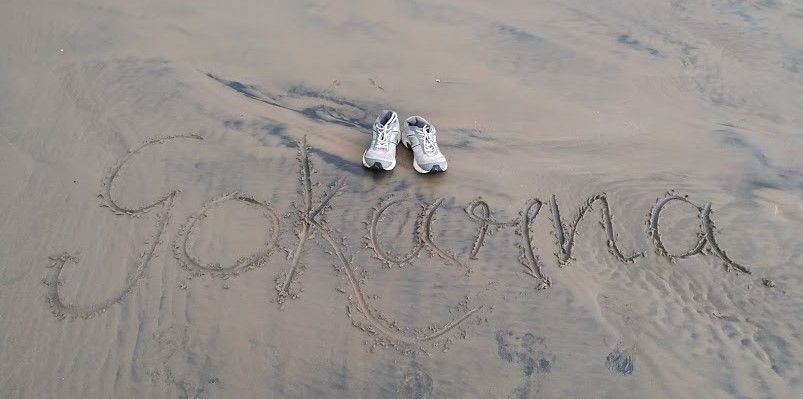 Let me share my experience but first a famous little tale about this place. Demon king Ravana was tricked here in Gokarna by Lord Vishnu and Ganesh. This is a famous legend that to stop Ravana from delivering Atmalinga to his mother, Lord Ganesh disguised himself as Brahamin and tricked Ravana to put the Atmalinga on Earth. Once put on earth, it was unable to be lifted. Mahabali Ravana put his whole strength but Linga did not even budge. Not even a little. Ravana called it Mahabala (with great strength). Thus, temple called Mahabaleshwara.
Also, angry and depressed King while trying to recover it from Earth threw the coverings of Linga on four different places. This resulted in the birth of "Pancha Kshetras", named by Lord Shiva himself. These five holy places are.. Dhareshwara, Gunavanteshwara, Murudeshwara, Shejjeshwar and Gokarna.
Now back to the trip. Gokarna, was actually in wish list and due to different reasons it took almost a year to visit here. Among all the places I have travelled, this is the most beautiful place.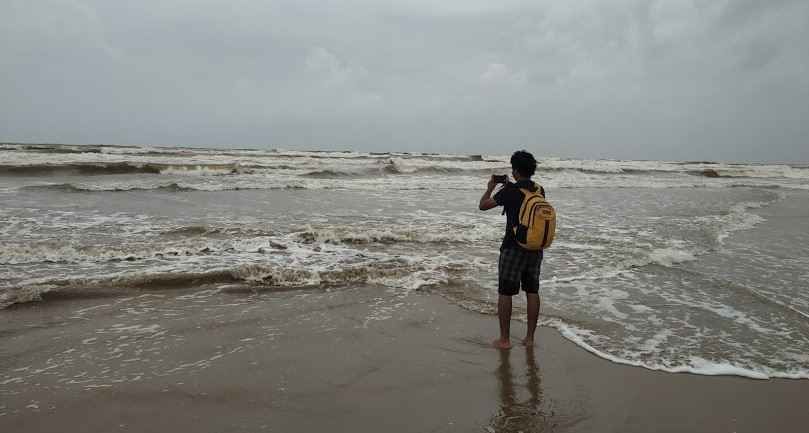 HOW FAR AWAY! Gokarna is 450+ kms away from Bangalore and it's easy to reach there as buses are available on daily basis. An overnight journey and you directly land to the God's city. Gokarna is very famous for it's temples and beautiful beaches.
HIGHLY RECOMMENDED! Most people do not prefer but I highly recommend to visit Gokarna when it's raining heavily and use a scooter instead of a four wheeler to travel. Scooters and bikes are easily available under Rs 1000 a day. Depends on how much you can bargain.
The most fun part was that for two days, my bother and I drove the scooter in non stop rain. The intensity was so high that it was almost impossible to watch the roads clearly. We put our mobiles, shoes in scooter and focused on enjoying the drive. One more benefit of rain was that there were very less people on streets. Some beaches were empty. Lock, Stock and Barrel. Less humans means less traffic, less pollution, less garbage.
GOKARNA MAIN BEACH - Day started well when we reached the destination. After booking a scooter we headed towards Gokarna beach. Even in the early morning there were a lot of people there.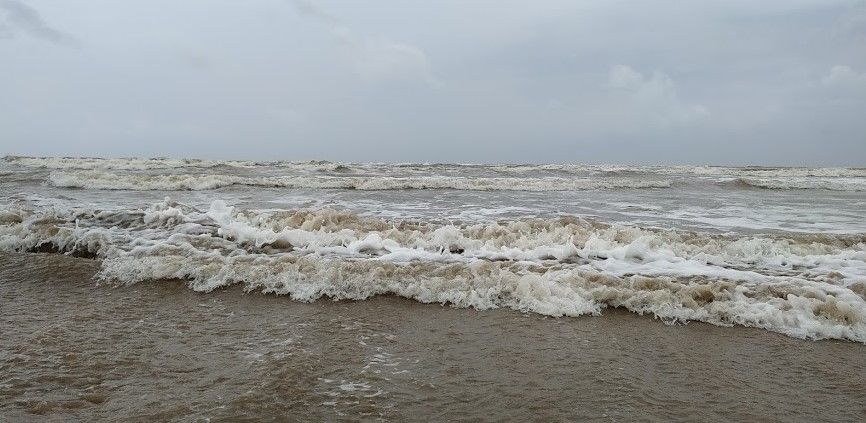 After spending some good hours there search for hotel started. Warning: confirm the price and booking from hotel after booking from any online portal. We paid the heavy price by squandering our 2 hours for the same mistake. These online portals show very cheap prices on portal but when you reach, hotel person denies that how they can give my hotel on this rate. Or worst that we don't have any connection with the mentioned facility provider. Gokarna and Shimoga were the places were I faced these problems. Well, as it was off season, so we got a room for a day in just Rs 700.
GOD'S OWN BEACH - God has created this place with lots of attention and benevolence. There was my jaw. And it dropped it. It was so mesmerizing that I just wanted to be there forever. It's worthy to be called God's Own Beach.
This beauty isn't very far from main bus stand. It hardly takes 30 minutes to reach here and you can spend hours by just sitting and looking at richness of nature.
KUDLE BEACH - I don't remember exactly but it's almost 10 kms away from main bus stand. Gokarna doens't stop surprising you by it's beauty. This is the place where we first time felt fear. There was no one on this beach and rain and the water level started rising. Better, without taking chances, we decided to leave the beach and reach somewhere where we can be among people.
This was the end of the day one and start of the day two. Because of rain, unfortunately, we couldn't take good pics.
MAHABALESHWAR TEMPLE - Day two started with Lord Shiva's Worship at Mahabaleshwa Temple. The Mahabaleshwar Temple, Gokarna is a 4th-century CE temple. It does not allowe to wear shorts and any t shirt, shirt or any upper body cloths. However, you can keep them on your body but can't wear them. Unfortunately, we couldn't click any good picture of the temple.
OM BEACH - As I mentioned earlier, Gokarna never stops astonishing you by it's beautiful landscapes. We reached Om beach early morning and stayed there for hours and clicked a lot of pics.
There is a reason why it's called Om beach. Reason is because it's shaped like Om (ॐ) symbol. The sea water was almost looking like boiling and there was never ending battle between angry sea and stubborn rocks. I could sit and simply look at that tug of war for many moments.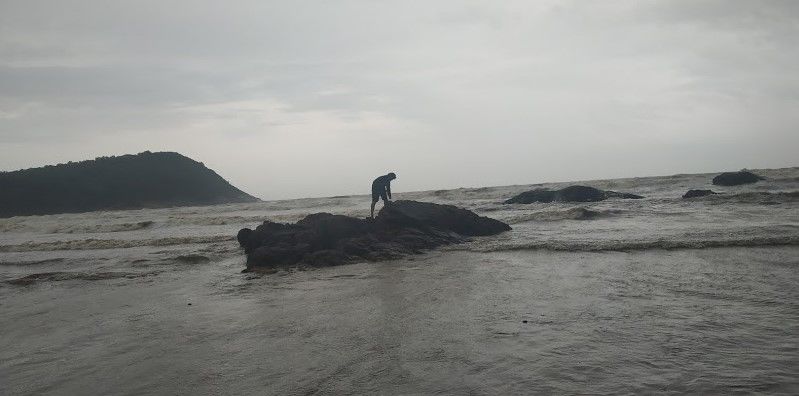 Don't Miss NAMASTE CAFE! View from Namaste Cafe is awesome. That's not the only reason to go there. Food is also delicious. YUMMMMY.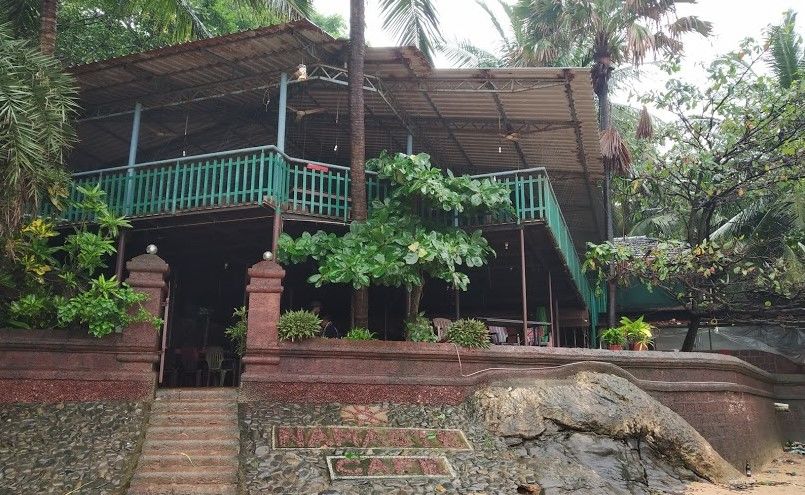 Namaste Cafe is located at Om Beach. We sat there and enjoyed the view and saw the spot and the rock where we were clicking pics were gone under water. That was terrifying yet beautiful experience. I remember for a time I thought we are going to stuck here and the whole place will drown. Haha!
SHIVA CAVE - Cave is on way from Om Beach to Main Bus Stand. We suddenly found it while waiting at a restaurant for rain to stop. It's a little trek which can be completed in few minutes. We did not dare to go inside cave as there was water inside.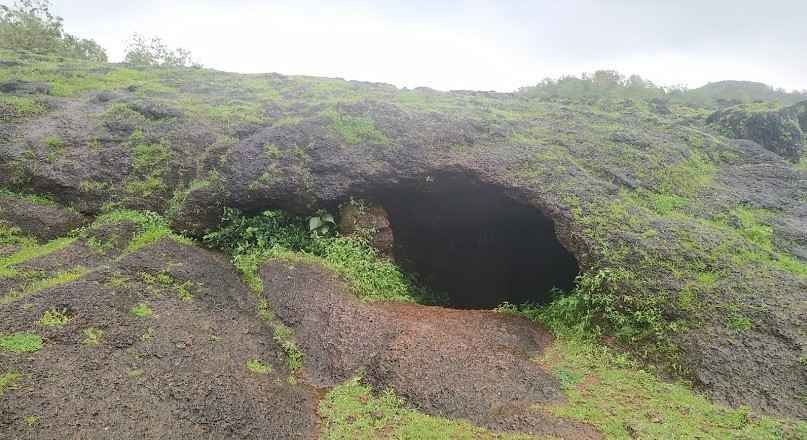 From Shiva Cave we decided to go to Paradise Beach but due to lack of time and tight budget we had to skip it. One more time before leaving we spend sometime at God's Own Beach again. IT WAS REALLY THAT GOOD. From there we reached back to main city and returned the scooter and after having a good bath and food we headed back to the same mundane work life at Bangalore.
There were some famous places which we could not travel. Hopefully, someday we will try to cover the whole.
This is it from my side for this trip. Keep travelling, keep sharing memories.