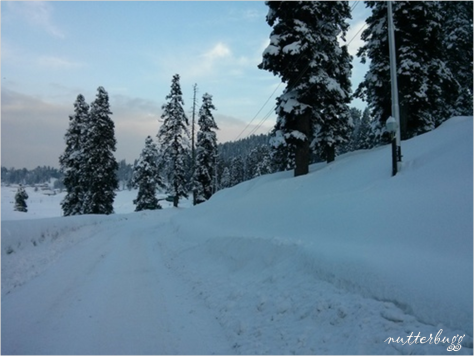 If there is heaven on Earth, it is here...it is here... it is here. The words of the Mughal emperor besotted by Kashmir immediately came to mind as we drove into Gulmarg. In a landscape that could inspire fairytales, every bit of Gulmarg is like a postcard. A thick layer of pure white snow covered every inch of the ground, every roof, with a little left over dotting pine trees, making it the perfect white and green landscape. The sun peeping through the mountains added to the perfection making it not too cold for us city dwellers.
TO DO:
Ski, walk around (with trekking shoes and many layers of clothing), drink some yummy kava (Kashmiri tea), repeat. With some of the best natural slopes in the world, regular snowfall, and economical trainers, Gulmarg is an excellent ski vacation. Adventure seekers the world over choose Gulmarg as their ski spot, we met tourists from New Zealand, Australia and Canada who had come for month long ski trips in the hills of Gulmarg.
With ski-instructors and bunny slopes for novices, as well as steep expert slopes, you had a variety for all levels of skiers. We were only in Gulmarg for 3 days, but we found this enough time to visit the slopes, see the main market place and enjoy a couple of sled rides.
It was the first time we attempted skiing. Since we had only 2 full days, we decided being on a bunny slope would be a waste of time. I know this sounds like a silly decision, but one trip down the intermediate slope with an instructor in tow, we realised it was the most fun way to begin. From a novice like me, here's lots of advice:
Skis are available for rent on the top of every slope you would want to ski down, so there is no need to rent skis in advance and carry them around everywhere
The best time in the day to ski is between 10am and 4pm. Most ski lifts shut for lunchtime, and end their day at 3.30pm.
Water-proof clothes are a must, just make sure your final cover-up is water-proof, even if you don't have fancy ski clothes
You need an instructor to teach you. It is perhaps more sensible to learn on the bunny slopes, rather than an intermediate. But if you prefer a bit of thrill like us, make sure you have an instructor to be by your side throughout to help you through the difficult parts. Our instructor would hold our ski sticks from behind on a very steep slope, slowing us down the right amount.
The bunny slopes involve lots of waiting time, because of scores of people learning along with you, and long lines before the ski lifts
Phase 1 from the Gondola is a must do when you have learnt to ski a little bit, this is a beautiful slope with some steep sections, a few pine trees, and lots of soft snow around to break a fall
If you're going too fast and can't seem to stop, try to make yourself fall gently. Make sure you fall into some soft snow so you don't hurt yourself (I did this 5 times)
For walking in the snow when you are not skiing, wear a good pair of waterproof, high ankle trekking shoes, or gumboots. Gumboots are available for rent at most ski stores
TO GO
Gulmarg is beautiful throughout the year. Skiing is possible from Jan to May, depending on the amount of snow. We were lucky to choose the perfect time- while still snowing, early March was not too cold the way January is. Temperatures ranged from -4 degrees celsius to 4 degrees celsius and with light flurries of snow falling every day, it was the perfect time to make a snowman. Or given the beautiful mountainous landscape, the best time to go skiing.
TO REACH:
Srinagar is the closest airport, and the drive from the airport to Gulmarg is approximately 2 to 3 hours, depending on traffic and the arrival time.
Snow season makes the Gulmarg road very icy, and other than needing an experienced driver, you must ensure to reach Gulmarg well before sunset. If you choose a morning flight out of Srinagar, it makes sense to stay in Srinagar the night before, given the icy roads, and the required 2 hour check-in time for flights out of Srinagar.
SAFETY:
Our biggest fear was safety given the unrest in Kashmir in the recent past. What we realised once we were there was that there are parts of the cities which are unsafe, but a tourist destination like Gulmarg is untouched. The only specific security process we encountered was a 2 hour advance arrival time before flights out of Srinagar. Security is strict here, and you need adequate time, given that even checked-in luggage, and the car you arrive in need to go through the security scanners.
Having said that of course, do stay in touch with the events in Kashmir before your trip, it's always better to stay safe.
TO STAY:
There are 2 clear winning options for staying in Gulmarg- the quaint but newly renovated Highlands Park, or the modern 5 star Khyber. Both are relatively expensive options- Highland Park at INR 14,000 per night, and Khyber at INR 16,000 per night. The difference is Khyber is all in 1 building, and far more kid friendly, while Highland Park has a number of separated cottages, and you need to cross the snowy path to reach the restaurant or your room. We chose Highland Park, because of its fantastic view and proximity to the slopes. The rooms were well heated, and with heated beds we had no winter worries when inside the room.

TO SPEND:
This is one of the cheapest ski vacations you can have. Besides our stay which was a little expensive at INR 14,000 per night, the rest of our vacation was quite economical. Guides are available at INR 600 per day, and they can take you to all the key tourist spots. Skis + ski the instructor cost approximately INR 1,500 per day after bargaining. Reaching up to Phase 1 on the Gondola was INR 400, and unlimited ski lift usages were INR 100 for half a day.