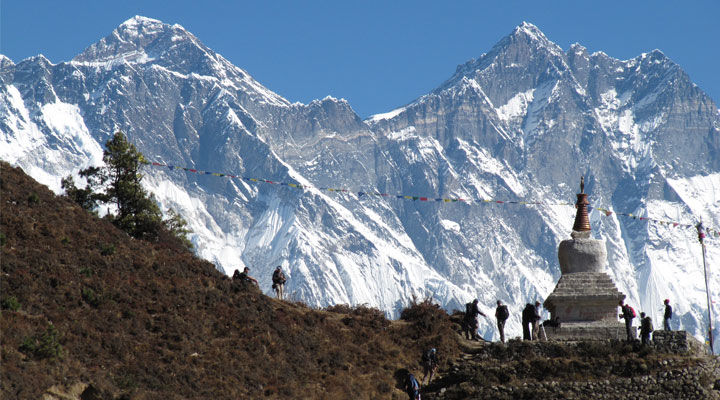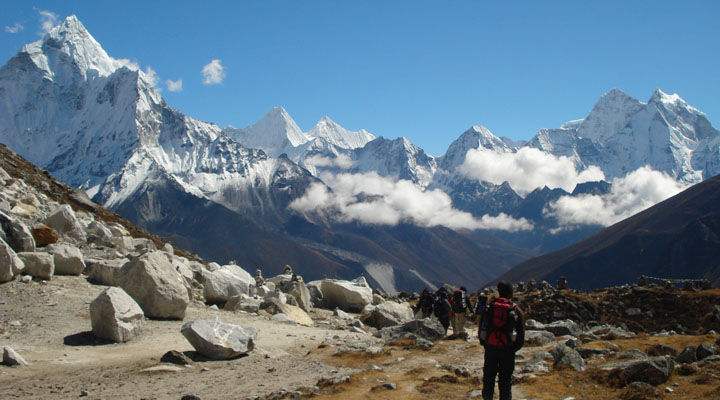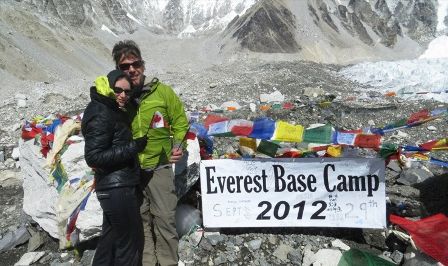 Rising to the unsurpassed height of 8,848m, Mount Everest evokes admiration in climbers and non climbers alike. Many trekkers from around the world call Everest Base Camp their dream destination, and rightly so. Offering both the challenge of the harsh high altitude environment and a reward of the finest scenery, this neighborhood of the highest peaks in the world will leave you with memories to treasure for a lifetime.
If you want to walk in the footsteps of past explorers and experience the excitement of such expedition, our Everest Base Camp Trek is right for you.
Starting from Lukla (2,860 m) we will trek along the Dudh Koshi river valley to Namche Bazaar (3,440 m). Being the largest village of the region Namche offers many amenities you won't find higher up. You can find a karaoke bar here as well as internet cafes and numerous gear and souvenir shops. We will take an acclimatization day in Namche before continuing towards Kalla Pathar (5,545 m) and Everest Base Camp (5,364 m). But before we reach our destination the trail will lead us through numerous villages and your guide will point out many interesting facts about the local people and their culture.
For many a journey to Everest Base Camp is a trek of a lifetime; however, this route is not suitable for everybody. Walking along this trek involves many ups and downs on uneven rocky trails which becomes increasingly harder with gaining altitude. You have to be reasonably fit to attempt this trek. Every year, many people have to turn before reaching their final destination because they underestimated the challenge of this trail. We don't want this to happen to you. If you are concerned about the difficulty of this route, please contact our office or any of our worldwide representatives who will be happy to share their own experiences and give you tips on what training you might consider before you set your foot on this trail to increase your comfort and chance of success.
Detail Itinerary;
Day 1 : Arrival at Kathmandu Airport

Our representative will greet you at Kathmandu Tribhuvan International Airport and transfer you to a hotel we reserved for you. When you have had time to settle in and freshen up after your long fight, you will be invited for a visit to our office. In the evening we will offer you a welcome dinner at our own restaurant. Overnight at hotel.

Day 2 : A full day sightseeing tour of Kathmandu

The very next morning, after breakfast you will be taken for a full day sightseeing tour of the Kathmandu valley. You will visit the center of pilgrimage Pashupatinath Temple and Swyambhunath, Boudhanath and Kathmandu Durbar Square a World Heritage site. This day we will also finalize all documents for issuing a trekking permit and settle your balance due. You will meet your guide who will provide all the information and details about your trek. On your way back to the hotel, you can explore the local areas, gullies and lifestyle. After your dinner, you can perhaps take leisurely stroll through the famous streets like Thamel and Durbarmarg. Overnight at Hotel.

Day 3 : Flight to Lukla and trekking to Phakding (2652m)

In the early morning we will take a scenic flight of about 40 minutes from Kathmandu to Lukla. If the weather is clear we will get fantastic views of the mountains, including Everest as we enter the deep gorge of the Dudh Kosi valley. After breakfast in Lukla we will begin our trek. There will be a gentle climb up the mountainside on the left bank of the Dudh Koshi River, during which you can see the typical

Nepal

terrace culture, slate roofed houses and views on Kusum Kangaru (5 579 m). We will then take an easy walk for about two hours to Phakding village for the overnight stop at a Local lodge.

Day 4 : Phakding trekking to Namche Bazzar (3440m)5-6hr

From Phakding the trail follows the Dudh Koshi valley North, meandering through the pines. The river is crossed twice on small suspension bridges before reaching the village of Monjo, the entrance gate of the Sagarmatha National Park. Here a slight climb to Jhorsalle awaits. The trail passes waterfalls and other culturally and naturally occurring items of interest. Villages are interspersed with magnificent forests of Rhododendron, Magnolia and fir. Along the way to you will be rewarded with your first glimpse of Kusum Kangru (6369m) Thamserku (6608m), Everest (8848m) and Nuptse (7879 m). The final steep climb to the beautiful village of Namche Bazaar (3440m) will afford you further spectacular views. Overnight at guesthouse.

Day 5 : Acclimatization day in Namche

You will have a choice to either walk to the Sherwi Khangba Sherpa Culture Museum or day hike to the Hotel Everest View in

Khumjung

village (3 700 m) and Khundi Hospital in Khundi Village, the first hospital builds in Khumbu Region by Sir Edmund Hillary and Himalayan Trust in 1966. Afterwards you will have ample of opportunity to explore Namchee and enjoy its atmosphere. Overnight at guesthouse.

Day 6 : Namche Bazzar trek to Tengboche (3867m) 5-6hr

We will continue our trek with pleasant walk through a forest with magnificent views of the surrounding mountains. The climb becomes more sustained later and will take us through a forest of tall, mature rhododendrons. The start of the Tengboche (3870m), the village is scattered across a wide, grassy saddle below a crescent-shaped ridge covered by scrub pines and firs. From the viewpoint at the top of the hill, there are awe-inspiring views of distinctive peaks like Amadablam (6856m), standing proud of the massif containing Everest (8848m), Nuptse (7861m), Lhotse (8501m) and inspiring views of Himalayan giants. In the evening we will visit the Buddhist Monastery at Tengboche, the largest in Khumbu region. Overnight at guesthouse.

Day 7 : Tengboche trek to Dingboche (4360m) 5-6hr

In the morning views of mountain and monasteries are spectacular in Tengboche. After taking a moment to soak them up we will start our journey heading North and soon we will cross the Dudh Kosi River on a small suspension bridge which spans a deep chasm in the river valley. During the hike to Dingboche the trail makes a gradual descent through scrub junipers and around Mani stones as it follows the hillside. Pangboche Gompa is the oldest in Khumbu; a visit will be well worth it. Overnight at guesthouse.

Day 8 : Dingboche trek to Lobuche (4940m) 5hr

Today we will view the beautiful Himalayan ranges which amongst others include Makalu and Everest.. The trail continues along the lateral moraine of the Khumbu Glacier and passes by stone memorials for climbers who have perished on nearby summits. After yet another steep ascend the trail climbs over the terminal moraine of the glacier. Tawoche and Nuptse are particularly spectacular from Lobuche towering. Overnight at guesthouse.

Day 9 : Trek to Everest Base Camp (5365 meters) then back to Gorak Shep (5180 meters) 7-8hr

The most challenging day of our trek will greet us today. We will have to cover ample of distance and gain decent amount of elevation while already being in high altitude. High winds and low temperatures are frequently encountered throughout this region. We will leave Lobuche early in the morning and walk Khumbu Glacier up to Everest Base Camp at 5365 meters. This is the closest you can get to Mt. Everest without having mountaineering equipment and skills how to use it. We will explore the base camp and its surrounding glacier, then return back to Gorakshep, the very last settlement en route, where we wil enjoy some rest after the taxing day.. Overnight at guesthouse.

Day 10 : Trekking to Kala Patthar (5545m) and back to Pheriche (4940m) 5-6hrs

Early in the morning we will climb Kala Patthar, a non technical peak near Gorak Shep, which provides the most wonderful sight of sunrise over Mt. Everest and other Himalayan peaks such as Nuptse, Ama Dablam and Pumori. It is a sight you would not want to miss. The ascent takes on average 2 hours, be prepared for a very early morning. After viewing around Kala Patthar we will retrace our steps to Gorak Shep and then continue descending towards Pheriche. Overnight at guesthouse.

Day 11 : Trekking Pheriche to Tengboche (4940m) 5-6hrs

Today will bring us back on a familiar turf as we will proceed back to Tengboche. The trail descend down the alpine desert into the greenery of pine forests before bringing on the challenge of the steep uphill climb into Tengboche. Overnight at guesthouse.

Day 12 : Tengboche to Namche Bazzar

Not always we take the time to look back while we have our mind set on a destination that lies ahead. Retracing our steps to Namche Bazaar will give us opportunity to view this amazing part of the route from a different angle, and find those views that might have gotten missed. Overnight at hotel.

Day 13 : Namche Bazzar to Lukla

Hiking downhill can be just as challenging as going up. Today we will feel a proof of that as we descent on a steep uneven path from Namche. Brace your knees for the descent during which we will once again experience the thrill of crossing suspension bridges and dodging trains of yaks during their supply runs. Overnight at hotel.

Day 14 : Lukla to Kathmandu (40 min flight)

We will have an early day as the conditions for flights in and out of Lukla are most favorable in the early morning hours. Early arrival will allow for additional sightseeing in Kathmandu Valley (we can arrange a private guide if you desire to have one), or for the last minute gift shopping. Thamel is a great place for that. In the evening we would like to invite you for a farewell dinner in our restaurant. Overnight at Hotel.

Day 15 : Final Departure

Our representative will pick you up according to your flight schedule and drop you off at the international airport.