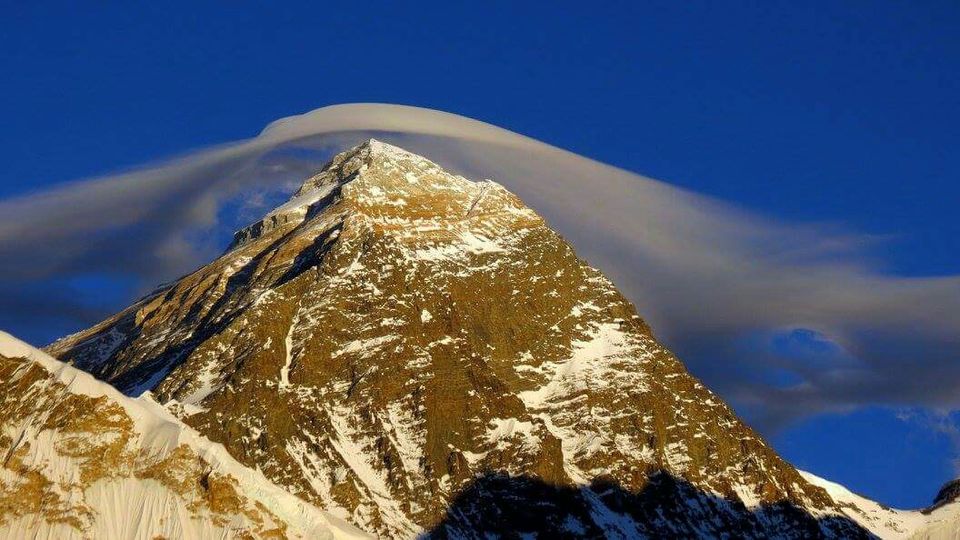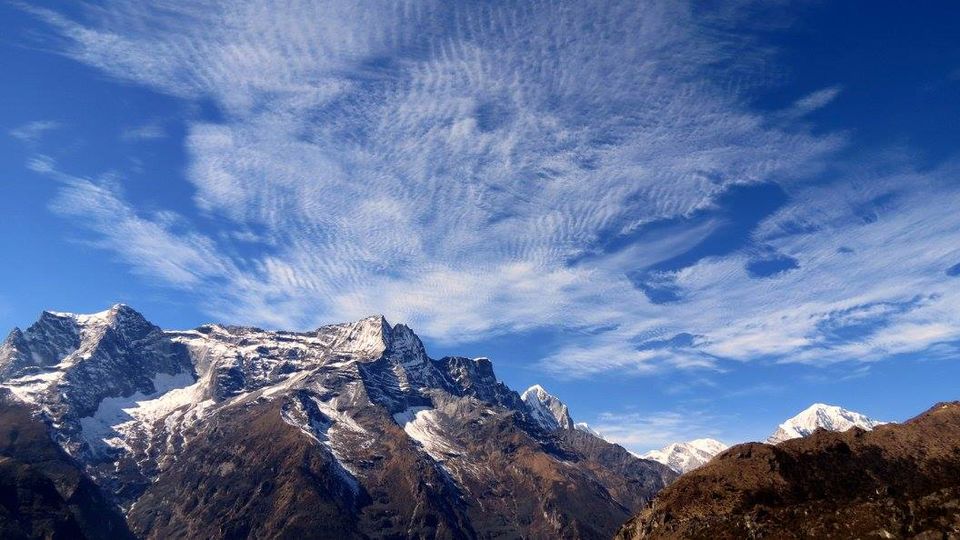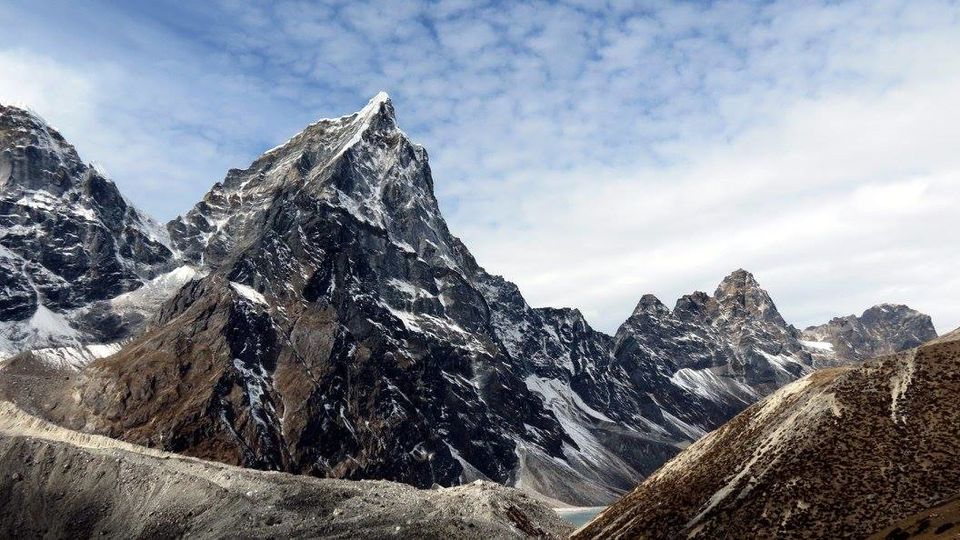 A guy who never travelled much in his 23 years of life, all of a sudden decides to trek to Everest Base Camp, one of the most difficult treks in Himalayas.
"Are you on drugs" ?? My Mom's first reaction when I informed her about my plan. It started in July 2015 when I started dreaming about this. I knew how difficult its going to be for a lazy IT guy like me, but in the end if you want something you've never had then you've got to do something you've never done
Total Expenditure - 1 lakh
Duration: 12-14 days
How to Train for EBC Trek
For EBC Trek, one must be equally fit both physically and mentally, its not the trek that is difficult but the Altitude which is really a concern. You don't need to be a top class athlete or a gym freak to complete EBC, I have seen 12 year old kid and also 78 years old lady doing this trek.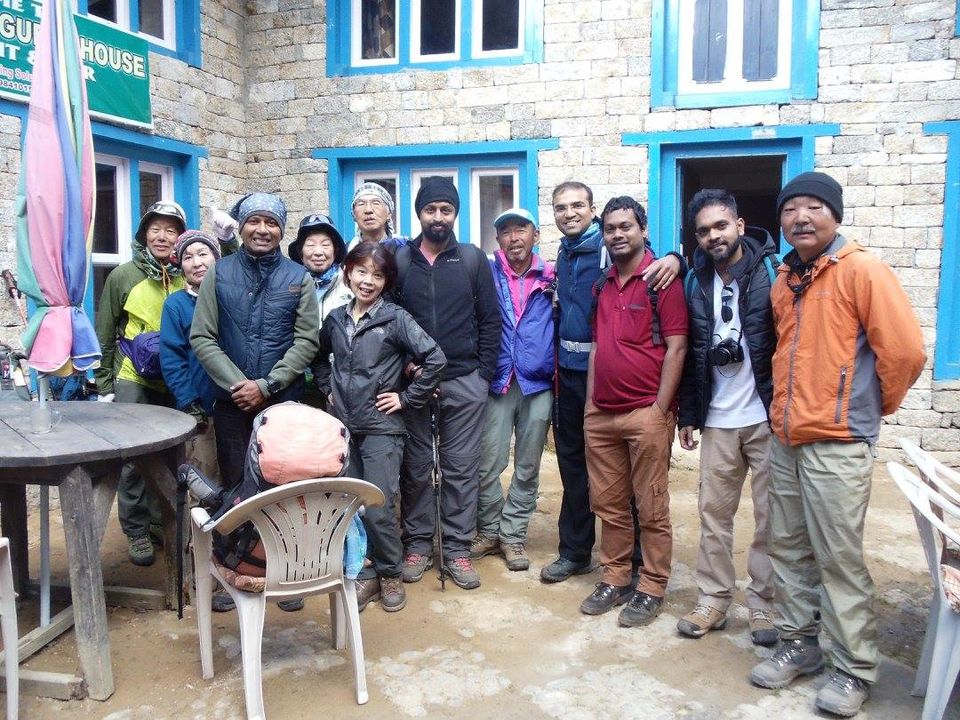 Its not a technical climb and you don't require any previous experience in trekking (its an added advantage if you already have one), I never had so it was difficult for me to start off but I had 4 months time prior to this trek so all I did was a high endurance weight training which made my trek easy.
How I prepared for the trek:
Started with 1km run (4 days a week) and extended gradually to 8-10 km in 4 months
Walk for 1hr on Inclined Treadmill with a backpack of weight 5-7 kg
Weight training included pull-ups,push-ups,dead lifts,squats,military press,leg press,lunges etc.
Things to carry:
Trust me guys packing for the trip is one of the happiest moments, you feel like dumping all your wardrobe into backpack and Yes as it was my first trek, like a fool I carried almost 15+Kg of weight and in the end realized PACK LIGHT AND TRAVEL FURTHER!!
Here is the list I would prefer for a Himalayan Trek.
1. Backpack 45L
2. Hiking Shoes (ex Quechua Forclaz 500)
3. Crocs
4. Thermals
5. Down Jacket
6. Half Sleeve T-Shirts 2 & Full Sleeve T-Shirts 2
7. Trousers 2

8. Sunblocks

9. UV Protected Sunglasses
10. Trekking Pole
11. Water Purification Tablets (you can get it in Kathmandu)
12. 5 passport photos for permit.
13. Passport
14. Toilet Paper & Wet-Tissues (many)
16. Gloves
17. Trekking Socks
18. Dry Fruits and Chocolates
And The Journey Begins!
The day finally arrived, I was going through many emotions, First Step to Himalayas and officially this was my First International Trip, was so exited about it and also deep inside there was this small fear, of things getting screwed up on my first trip but yes if something excites and scare you at the same time, trust me its worth trying!

07:00 AM Hyderabad to Delhi, met my trek mate who was waiting for me in Delhi, we finished our check-in and security check but was really confused about visa as it was an International Flight.
"Indians do not require visa to enter Nepal, if you travel by ground you won't require passport. However, if you travel by flight you will need one."
11:00 AM Delhi to Kathmandu, I fell asleep as soon as I boarded the flight, and when I woke up there was this Majestic Himalayas stretched all over, that was the most beautiful view I have ever seen from a flight window.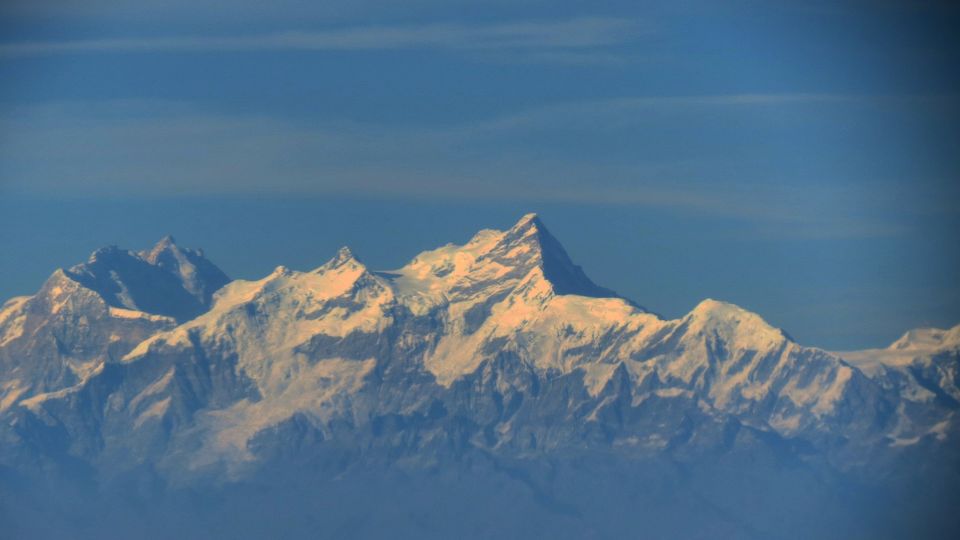 Tip: On the flight from Delhi to Kathmandu check-in early and grab a window seat on left side (Try to avoid the seat near the wings)
Nepal:
Nepal is a land of Mountains and Sherpas, geographically 8 out of 10 highest peaks in the world are in Nepal, it is truly a Trekkers Paradise.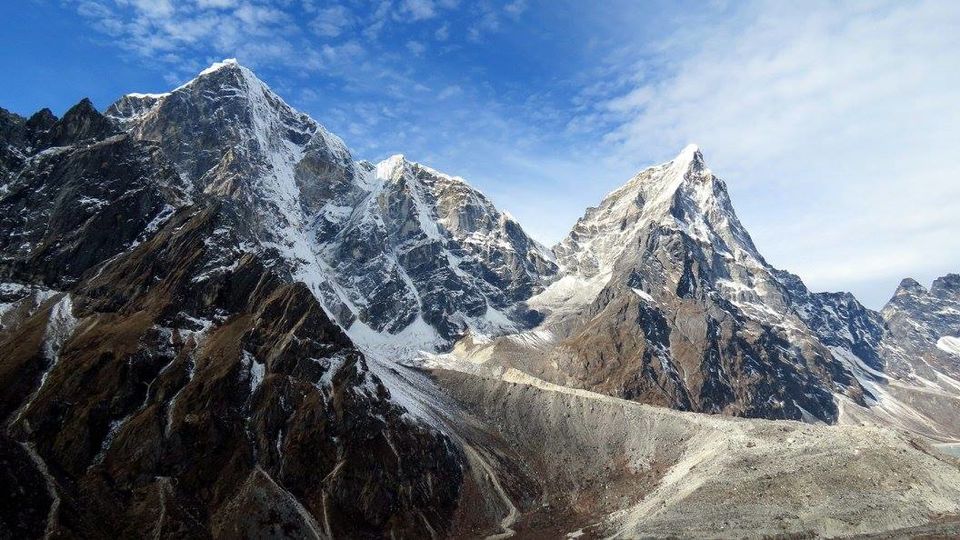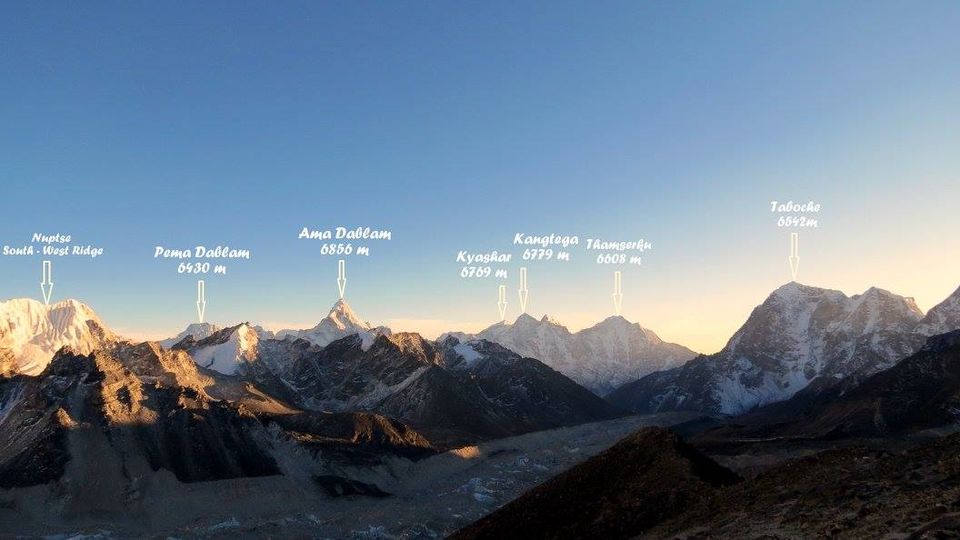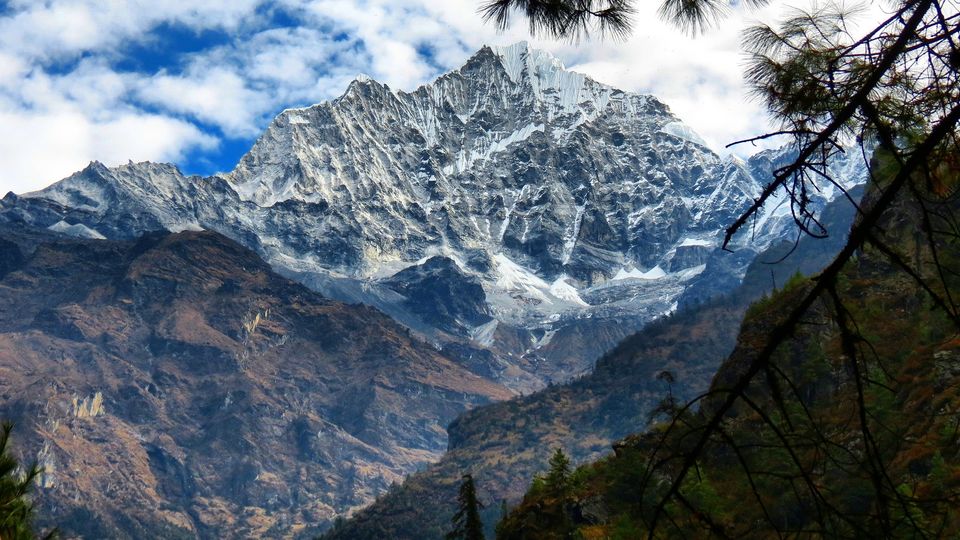 Day 1: Kathmandu
We finally reached Tribhuvan International Airport at Kathmandu, as visa is not required for Indians, immigration process completed quickly and we were received by our trek coordinator and were moved to hotel
Four things to do as soon as you reach Kathmandu:
Check with your hotel for exchange of currency from INR to NPR or you can directly withdraw cash from ATMs which accept most of the international cards
(not sure of the exchange rate).

Get a sim card, preferably Ncell as it has good network coverage.
If you have missed something to pack, do not worry we have Thamel Street. It is a maze kind of street with many cuisines, trekking stores, hotels, fashion accessories , book stores, paintings of Himalayas etc, one can find a complete trekking gear with reasonable prices (it all depends on your bargaining skills).
Get a TIMS Card (Trekkers Information Management System)

Day 2: Kathmandu to Lukla
We had a wake up call at 5am, packed our stuff and reached airport by 6am and finished our check-in but our flight was delayed by an hour. After a long wait we finally boarded a baby flight with 18 seat capacity.
As flight capacity is very less the main baggage limit is only 10KG and beyond that may be charged.
The total flying time is of 35 minutes and the experience of flying in this route will be one of your best. The flight will be passing through beautiful valleys with some breathtaking views of the Himalayan mountain ranges.
Tip: Grab a seat on left side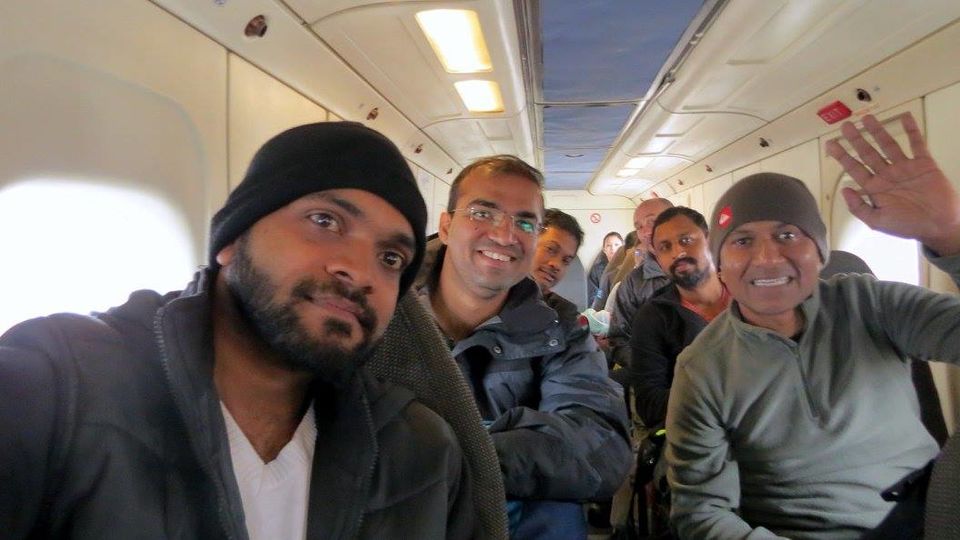 Tenzing–Hillary Airport, Lukla

This is considered as one of most dangerous airport in world and named after Tanzing Norgay and Sir Edmund Hillary who were the first people to summit Everest. This is typically a table top model at an altitude of 2,860 m.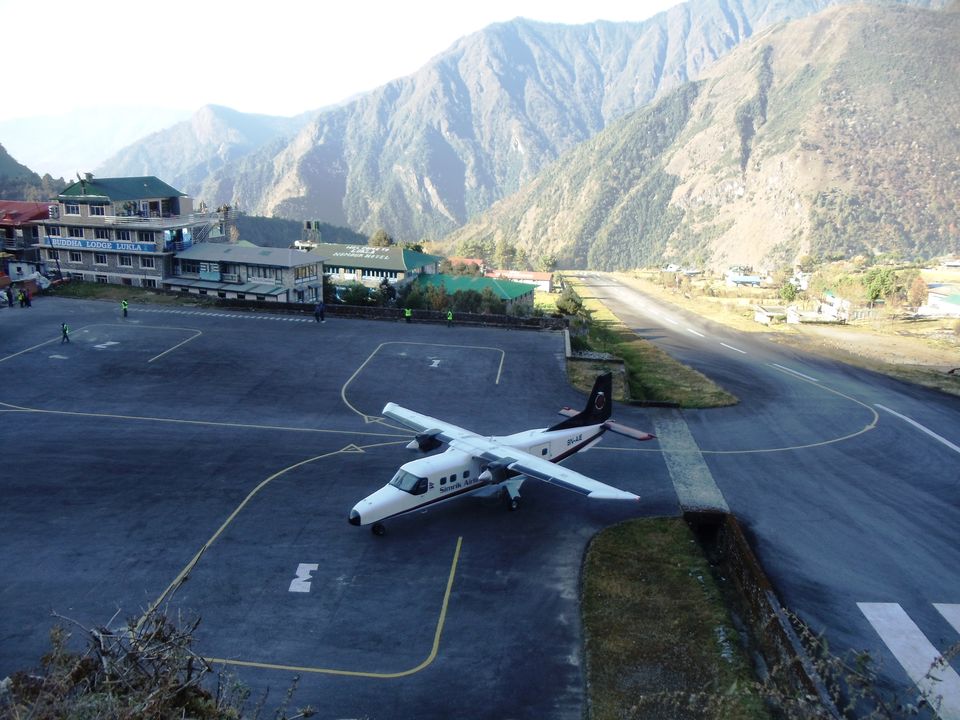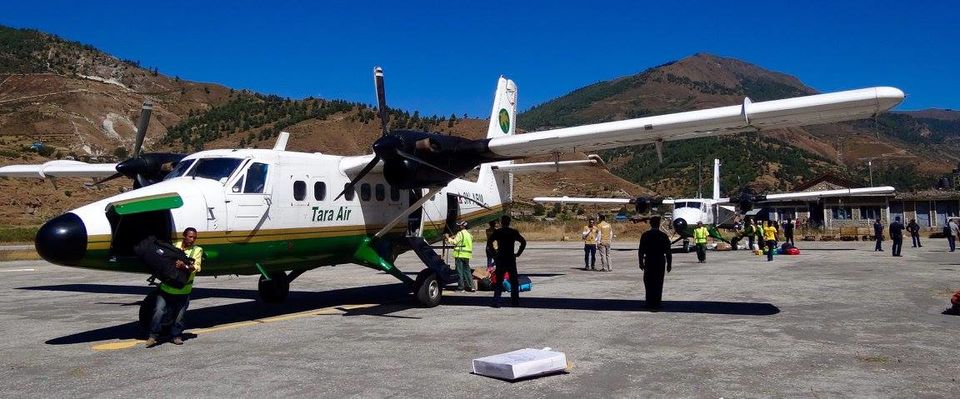 Lukla to Phakding

As soon as we reached Lukla we met our guide and after breakfast we started our trek to Phakding which is at altitude of 2652m. It is a simple hike, trail will be passing through small villages and lush green mountains. It took 3hrs for us to reach Phakding, post lunch we explored this small village and overnight stayed at the hotel.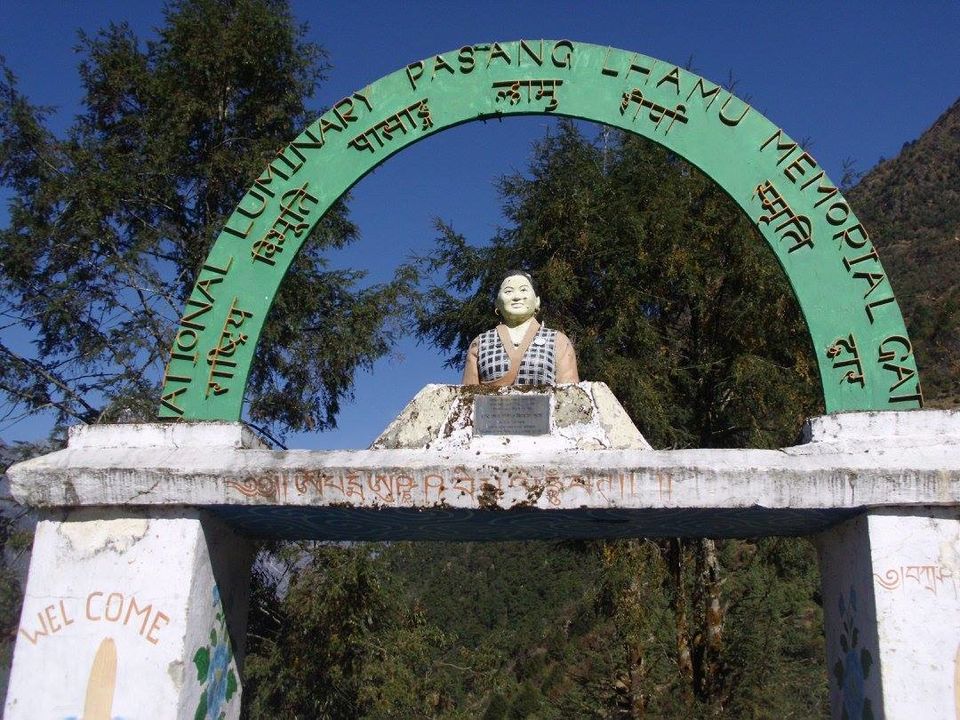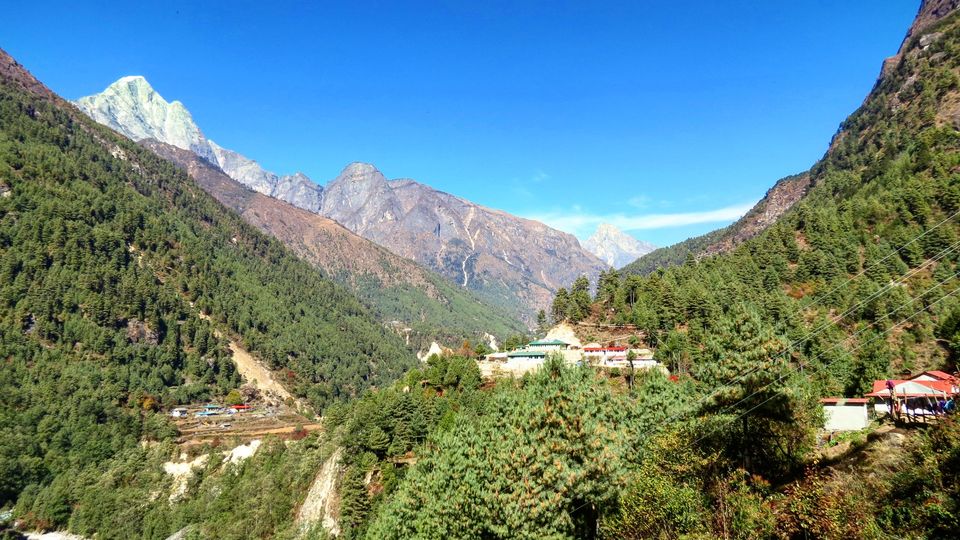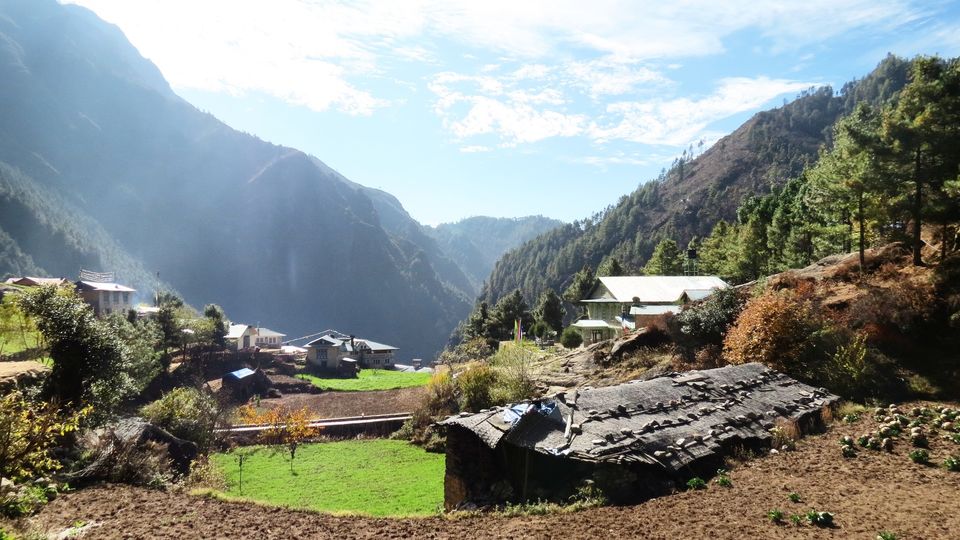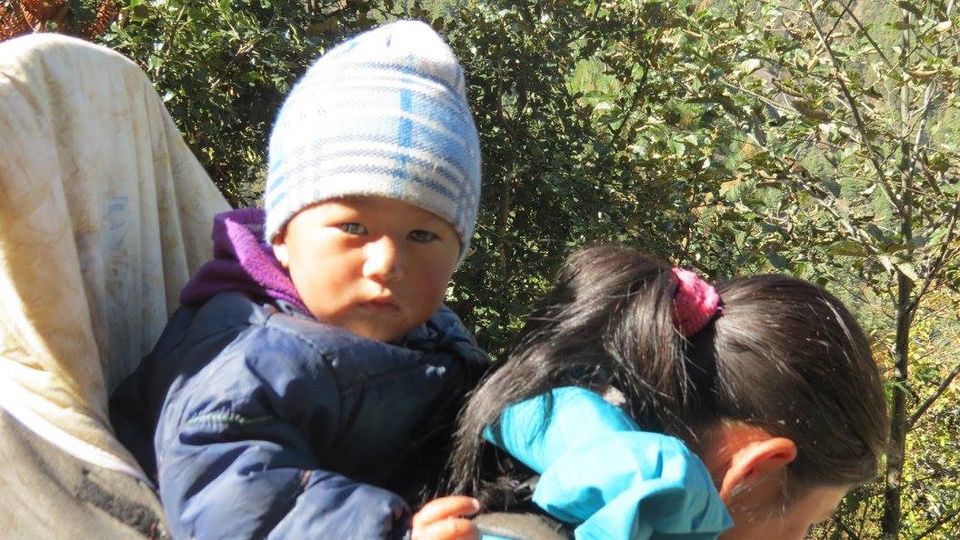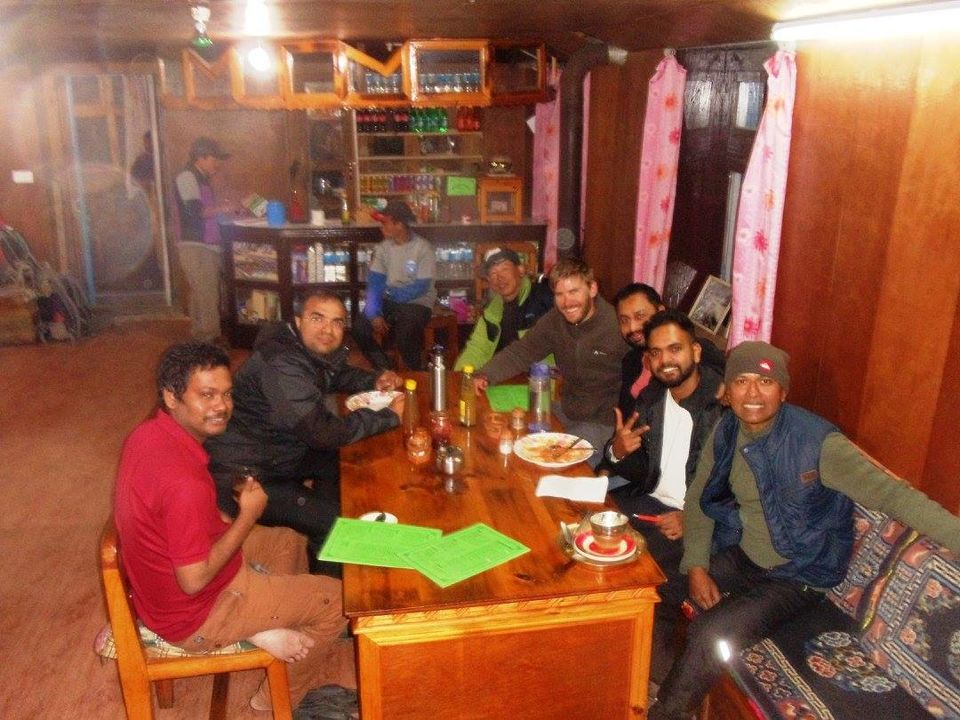 Day 3: Phakding to Namche Bazaar
Post breakfast we started out trek to Namche which is at an altitude level of 3440m. The route is surrounded by huge mountain ranges. We will meet Dudh Kosi river which is considered as highest river in terms of elevation. The water is so pure as it is born in Khumbu Glacier.

We stopped at Monjo for Sagarmatha National Park permit which is essential for continuing EBC trek. The route between Monjo and Namche is a gradually inclining trail amidst thick green forest and one of the most challenging day of EBC.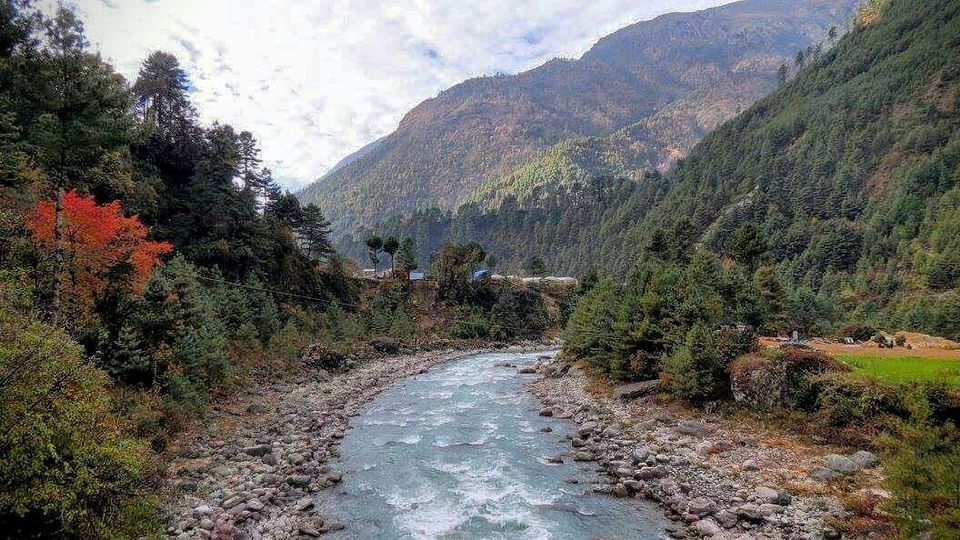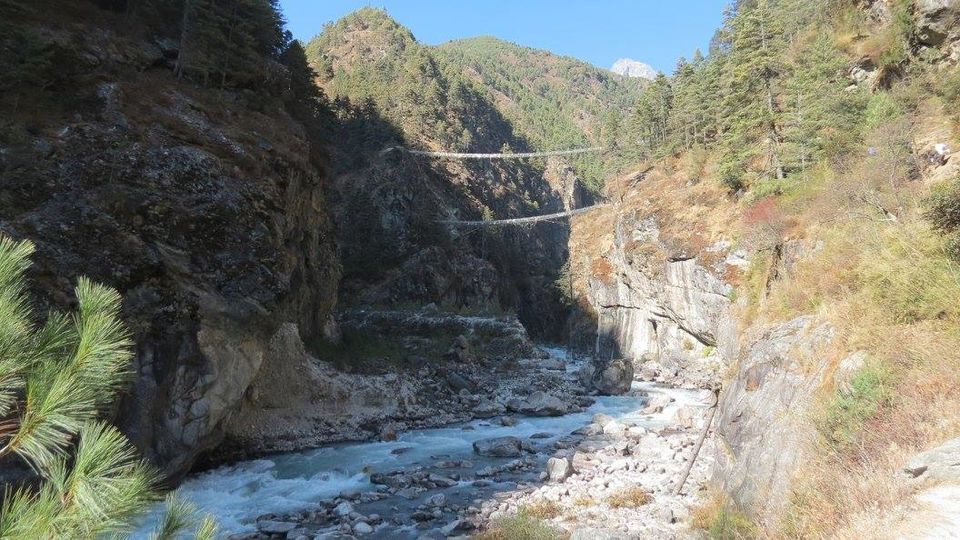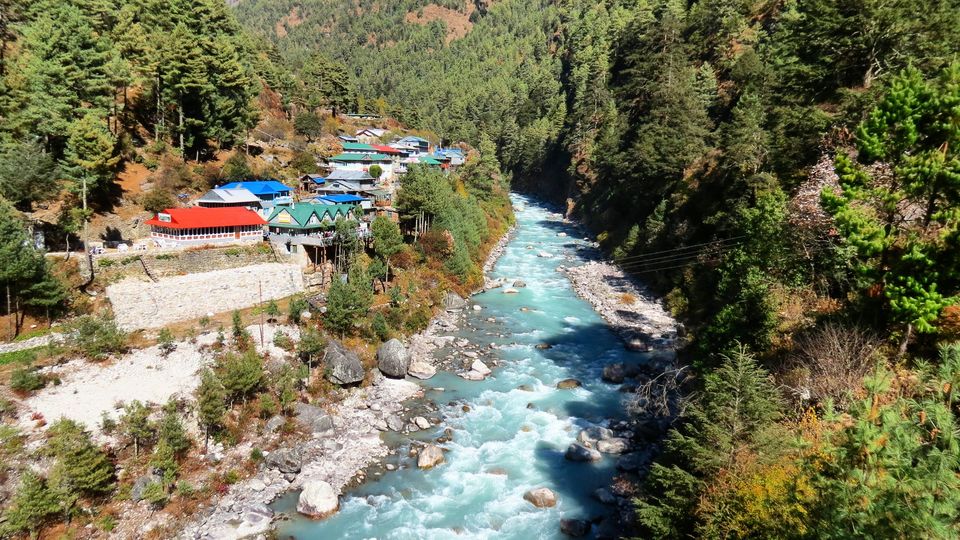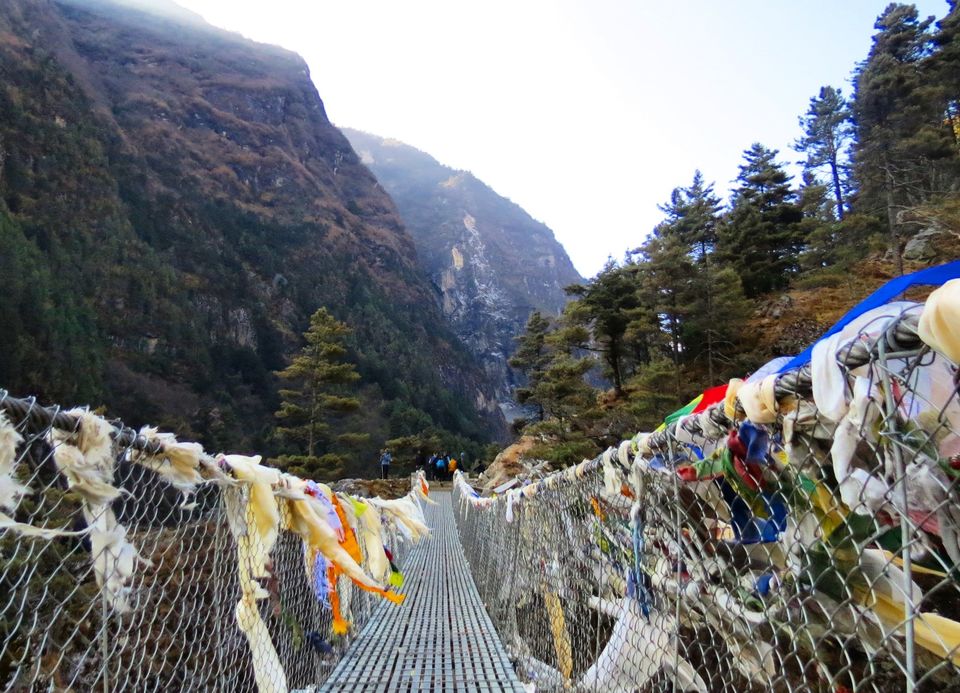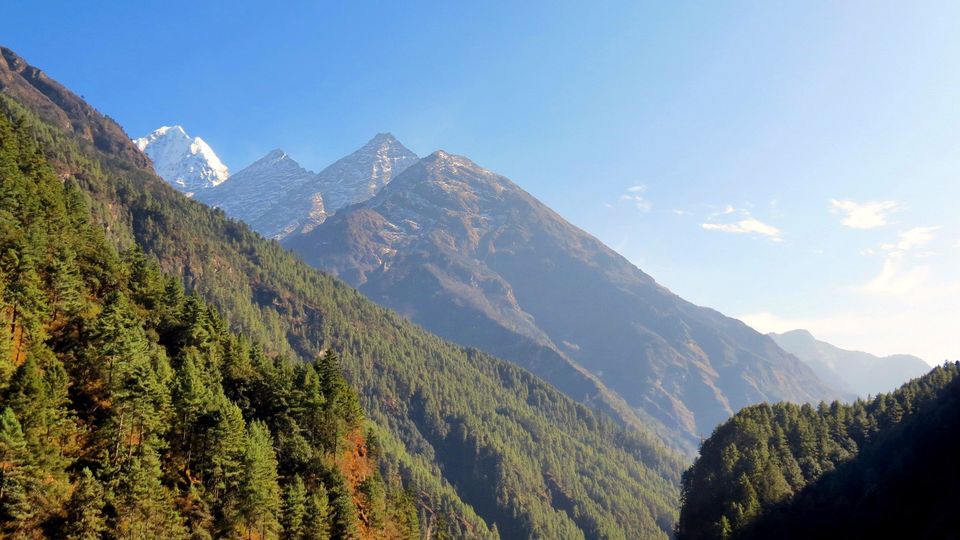 I never believed in Love at First Sight until I saw her, This is the first time we get to see Everest and Lhotse (depends on climate).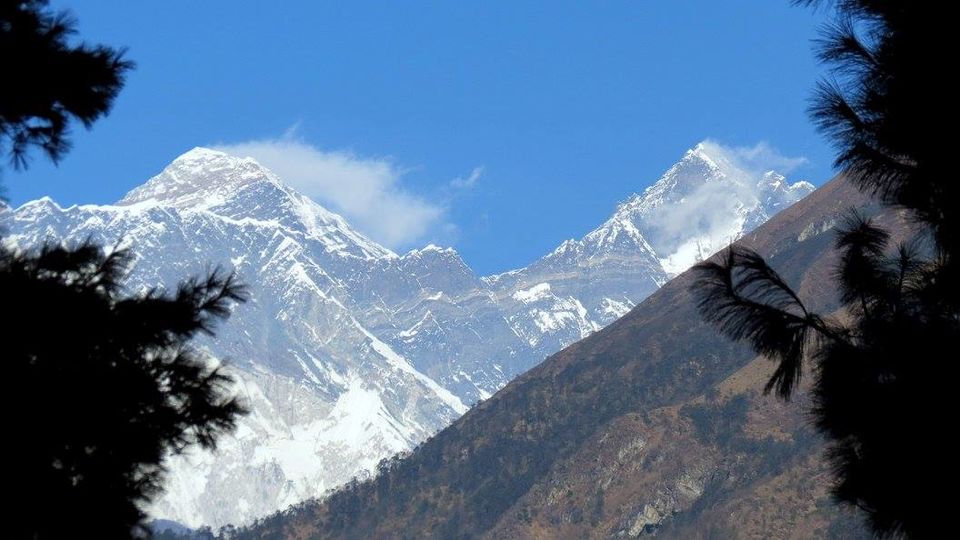 After this magnificent view we continued our trek, it took 3hrs from here to reach a check-post which is just before you enter Namche, permits must be shown and the necessary details needs to be filled. Post check we finally reached Namche and It was a strenuous trek of 6hrs.

Day 4: Namche Bazaar (Acclimatization day)

Namche is the largest town in the Khumbu Valley and called as a Gateway to Everest. It is a place that has everything one can wish for. Coffee shops,Irish Bars, Restaurants, Stalls of Trekking gear and hand looms, Internet cafe etc.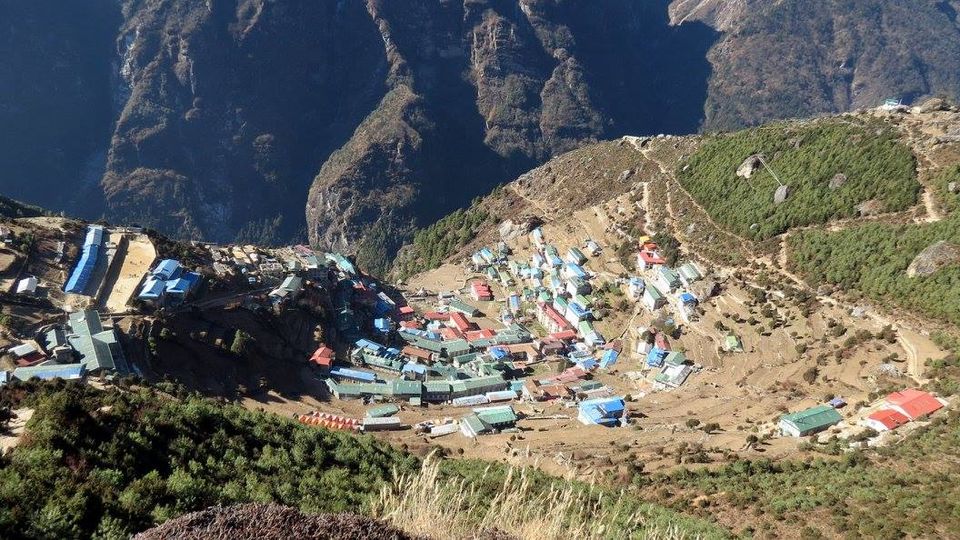 This was the first view of the day my eyes captured as soon as I woke up, Beautiful Sunrise on Thamserku.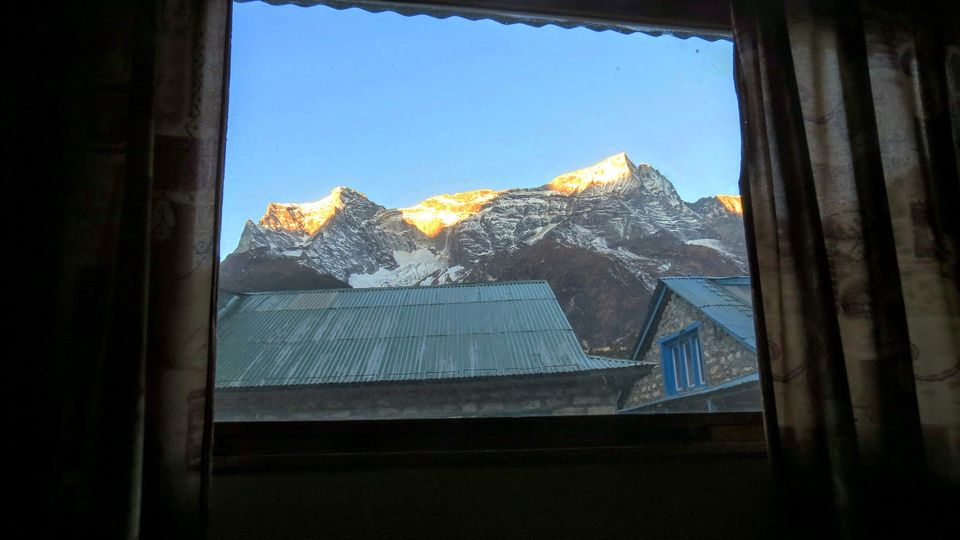 Today was a rest day but technically it was the acclimatization day so we took a short hike of 30min to Everest View Hotel above Namche, one can capture a spectacular view of Everest, Lhotse, Ama Dablam, Thamserku mountains from here.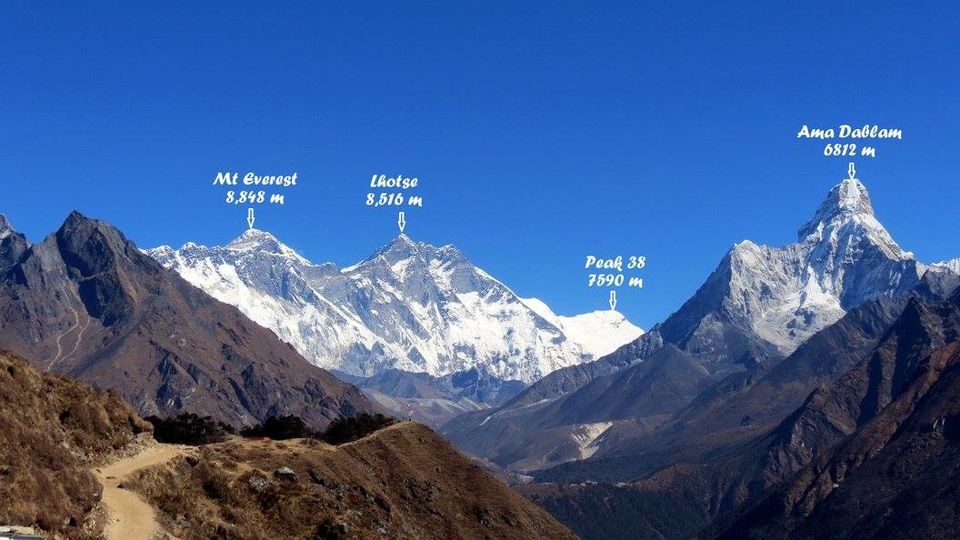 After spending 2hrs watching this breathtaking panoramic view we headed back to our hotel, Post lunch I decided to take a tour to bazaar, if you are visiting here on Saturday then you must visit this local bazaar where you can find some of the antique Tibetan collection. Other must do things in Namche are:
- Mountain beer or a local drink rakshi in Cafe Danphe bar
- Billiards in Irish Bar
- Cakes in Namche Bakery or Herman Helmars Bakery
- "Sherpa" movie in Cafe de 8848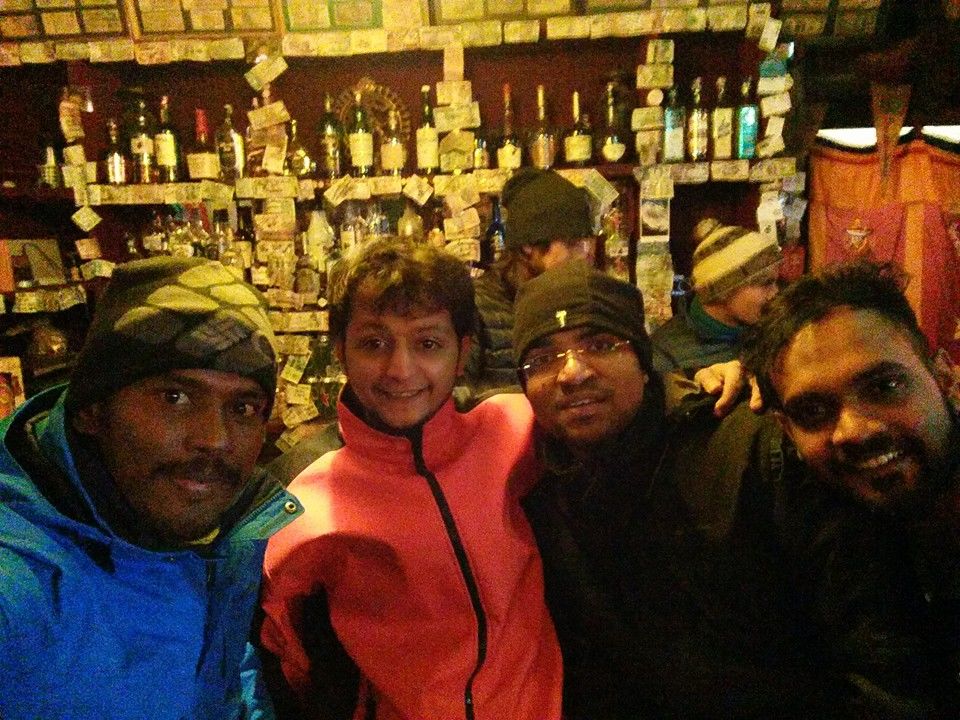 Day 5: Namche Bazaar to Deboche
After a relaxing day we started our trek which was a simple walk of 2-3hrs, we descended gradually to a valley where we get to cross dudh kosi again, the route post lunch passes through thick forest, this is a deadly inclined trail, after a serious climb of 3hrs we finally reached Tengboche which is a small valley at an altitude level of 3860m. It is one of the most beautiful places of entire trekking route. The Tengboche Monastery is a famous and beautiful place, worth visiting.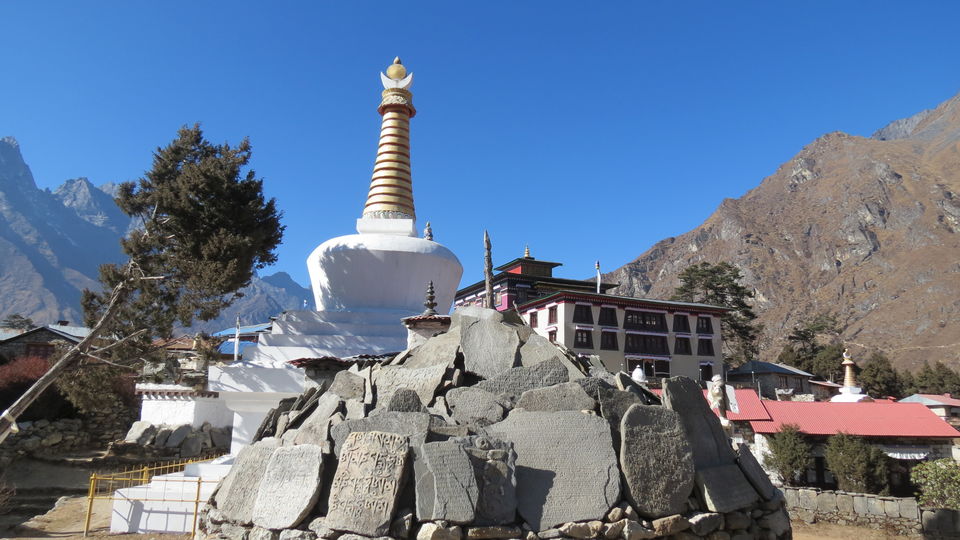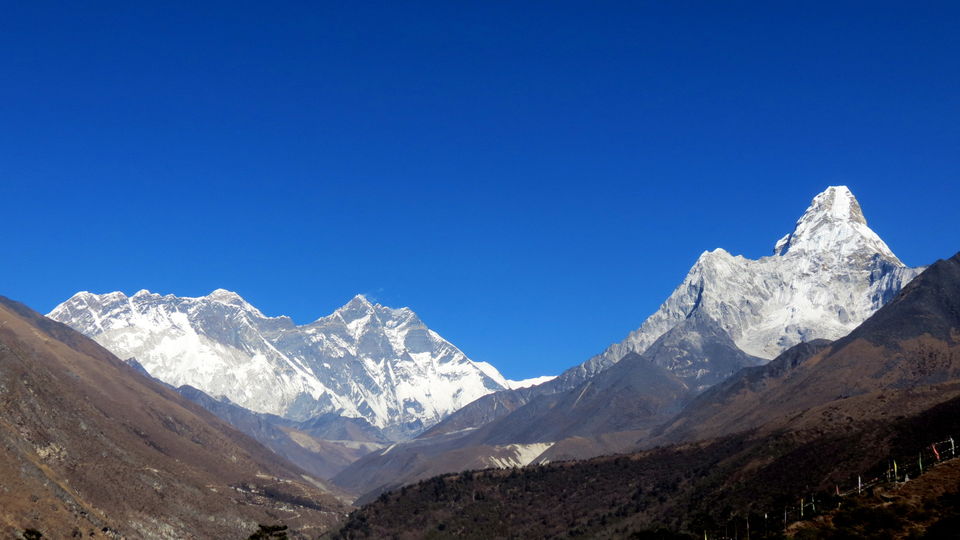 After spending 30min at the monastery we continued to Deboche which was an easy decent passing through some spectacular views. We stayed overnight at Deboche.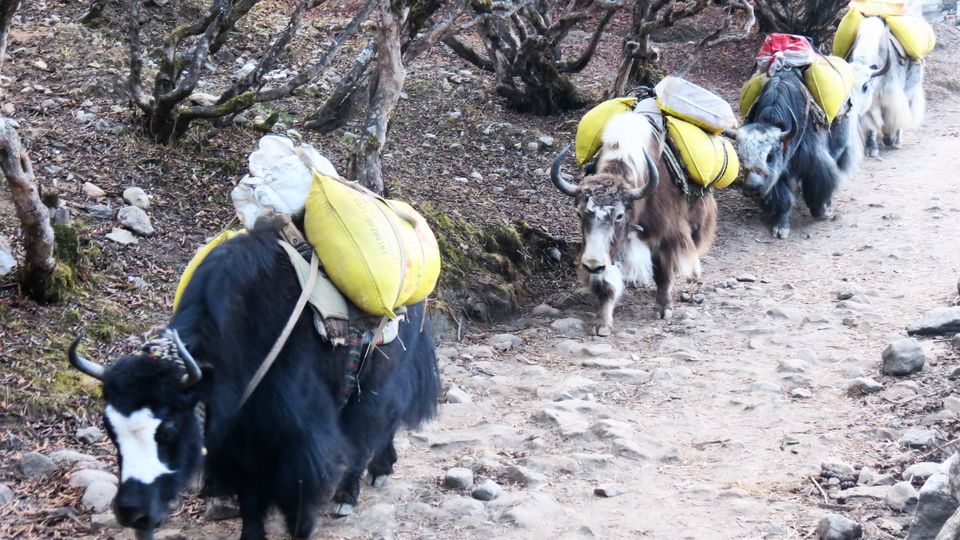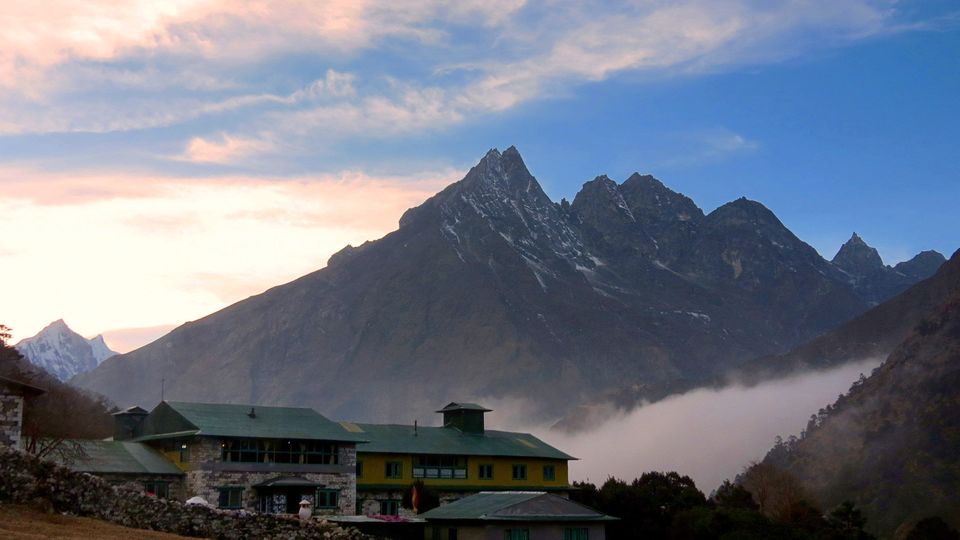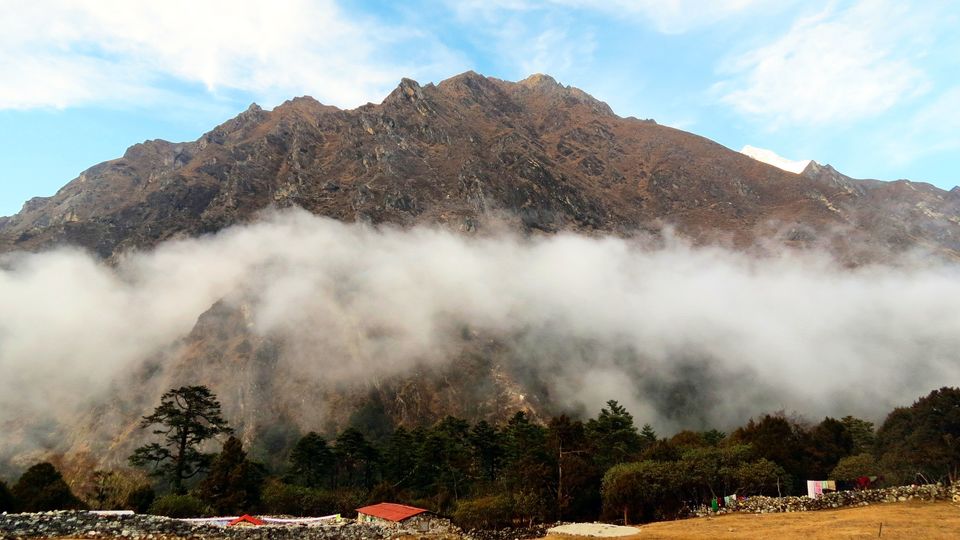 Day 6: Deboche to Dingboche (4360m)
After a cozy stay at Deboche we started our trek, this day we get to see magnificent view of Ama Dablam which is one of the most beautiful mountain in Everest region. Trail passes through Pangboche and Pheriche and continues to reach Imja valley. We will be able to see the Lobuche River and will pass through it and take steep hike to Dingboche.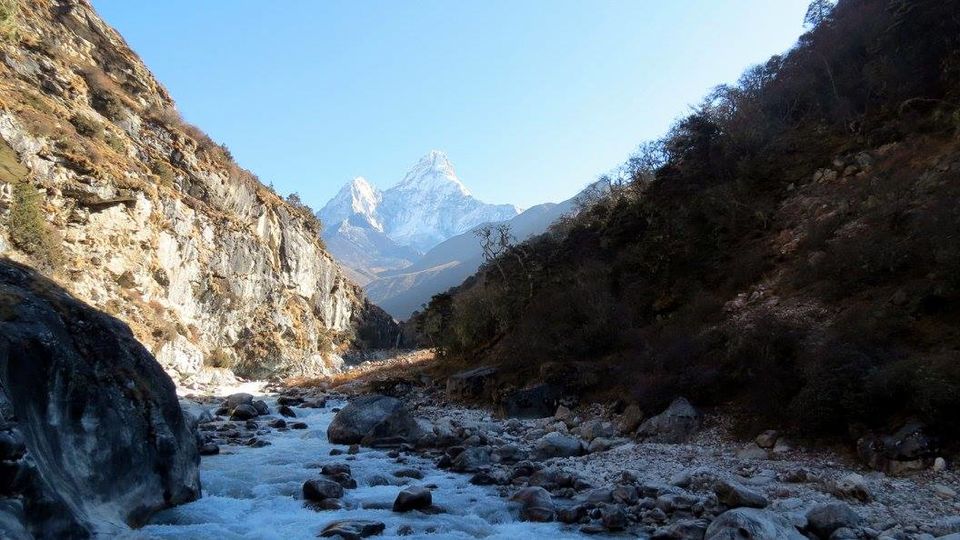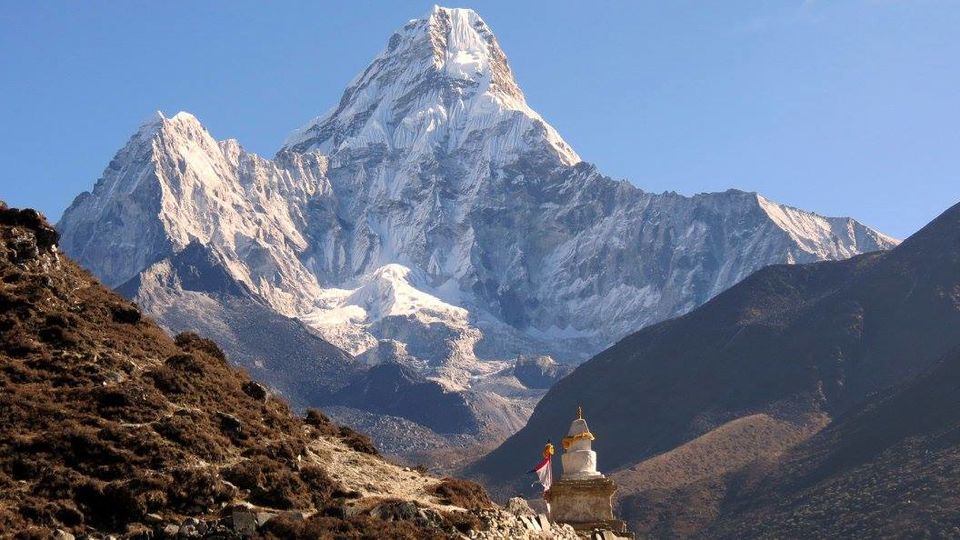 Day 7: Dingboche (Acclimatization day)
Dingboche is a small and beautiful village adjacent to Ama Dablam with limited number of hotels. It was a rest day so we decided to take a short hike uphill to get a view of world's three top mountains, Mount Lhotse, Mount Makalu and Mount Cho Yu. There is no network coverage in the village and only limited signal is available when you hike uphill.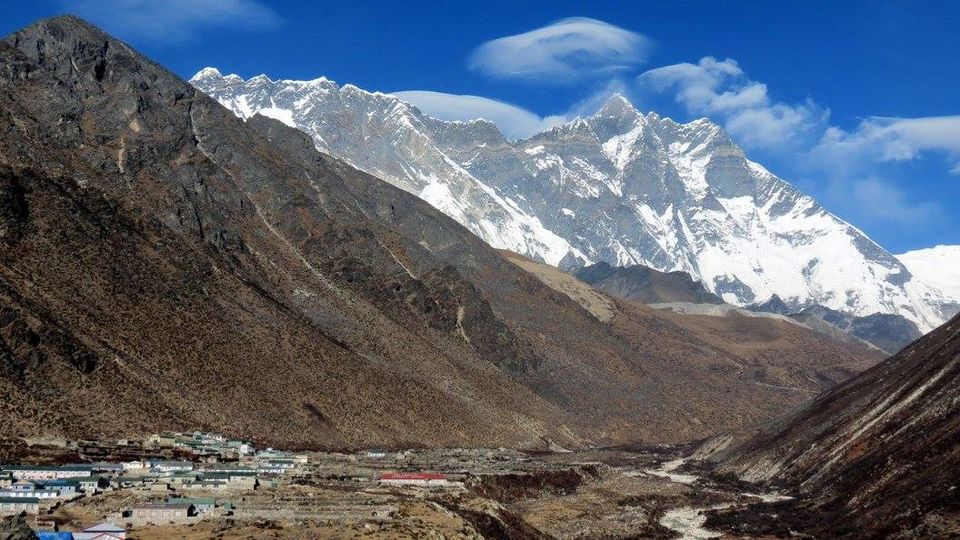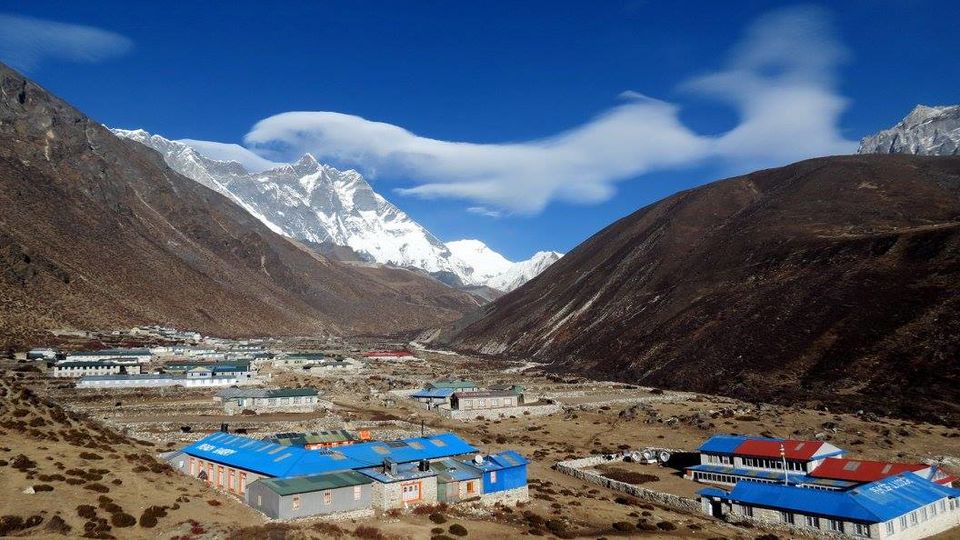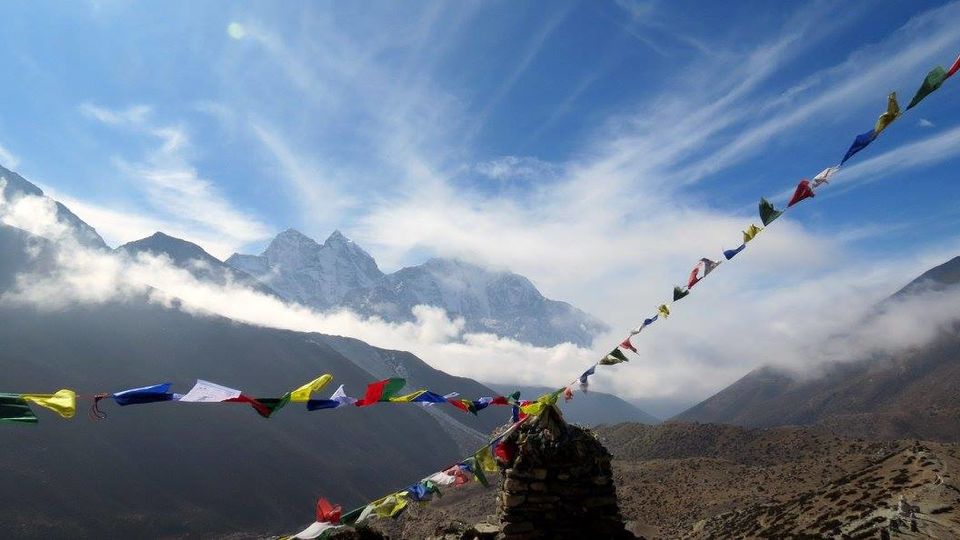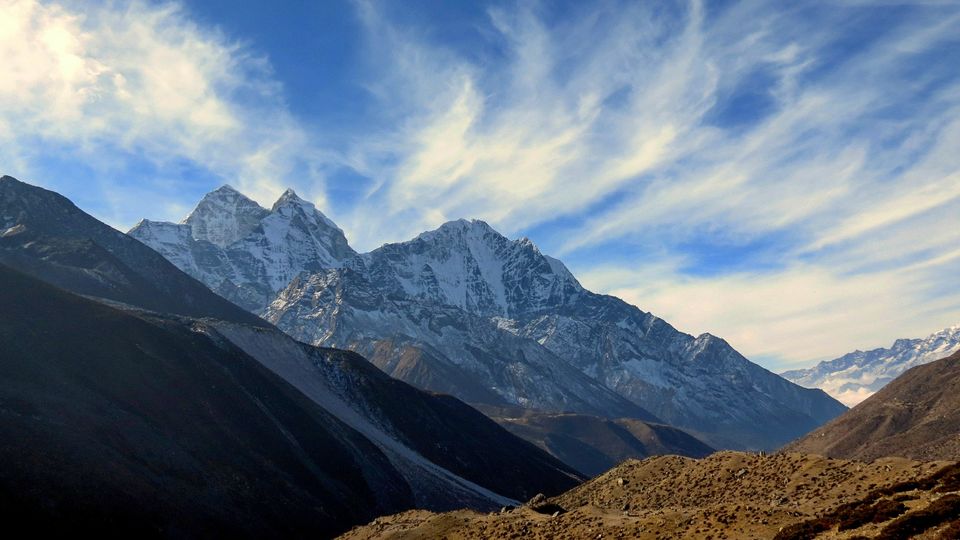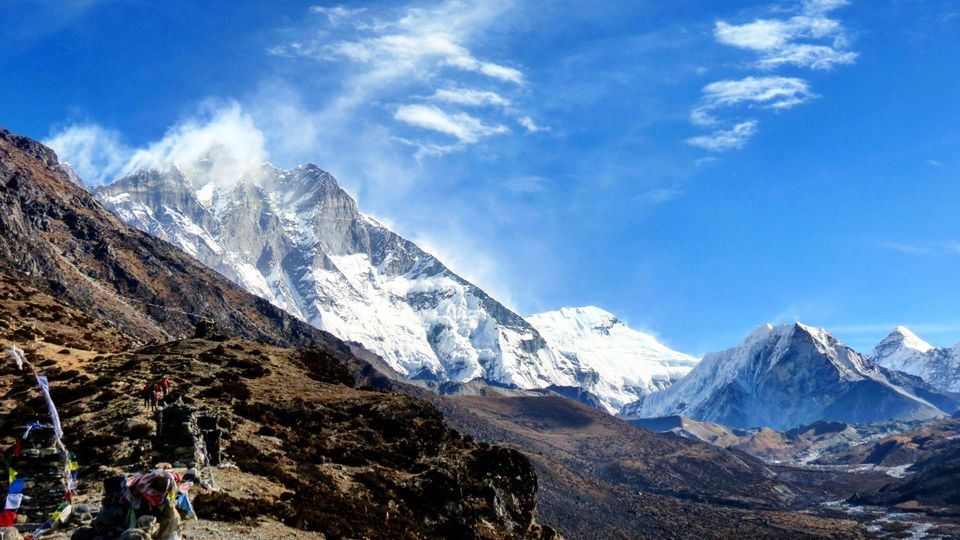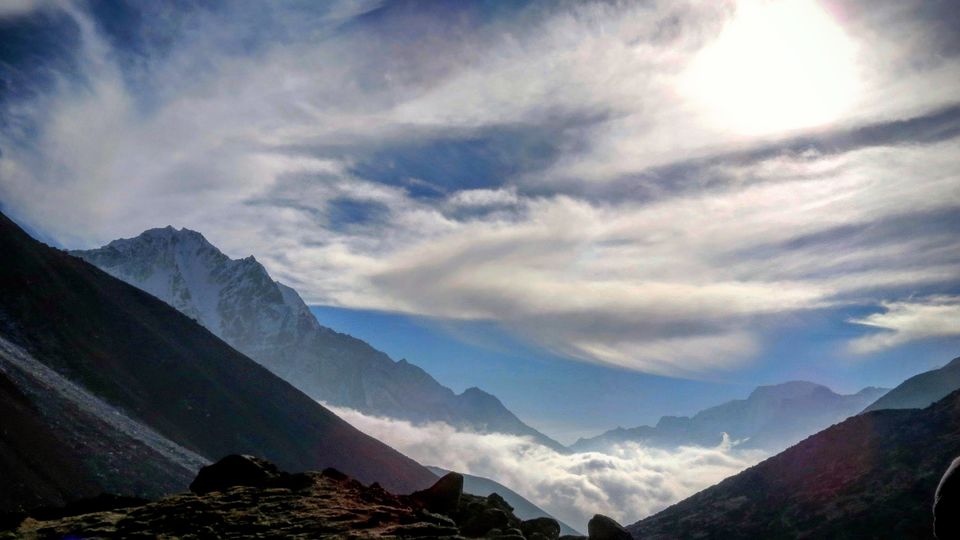 Day 8: Dingboche to Lobuche (4940m)
Post breakfast we started trekking towards Dughla Pass (4600m), This was the most toughest trail I had experienced in my 8days of EBC so far. On this route we will get to see a huge stream and many mountain peaks including Mount Pumori (7138m), Mount Nuptse, Mount Cholatse and Mount Thamserku. Once we pass the Khumbu Glacier we will get to see the highest peaks such as Khumbutse, Lingtren, Pumori and Mahalangur. Total trekking time was 8hrs.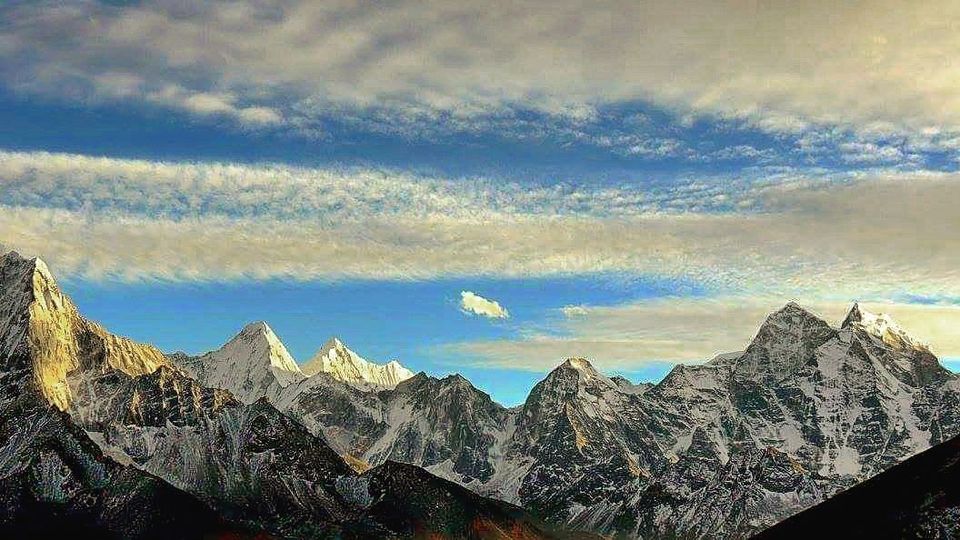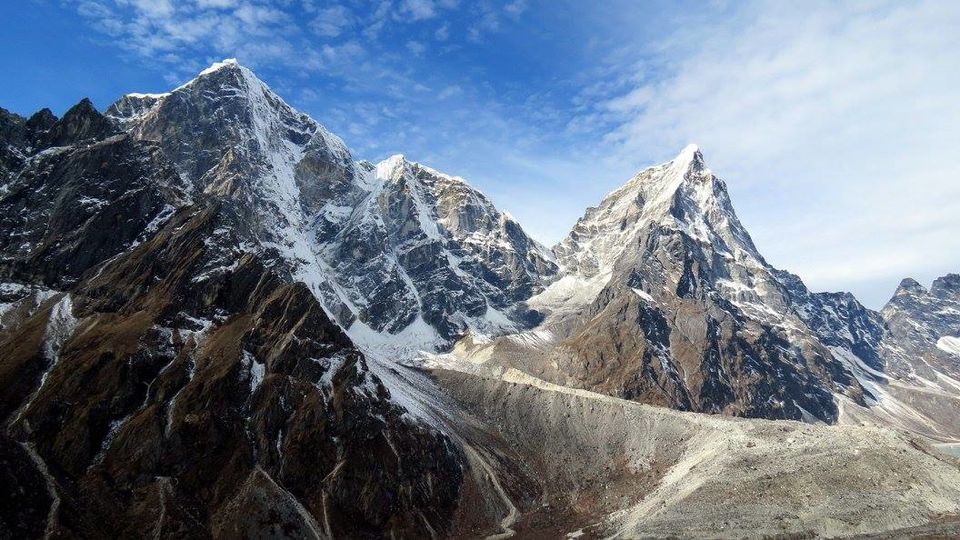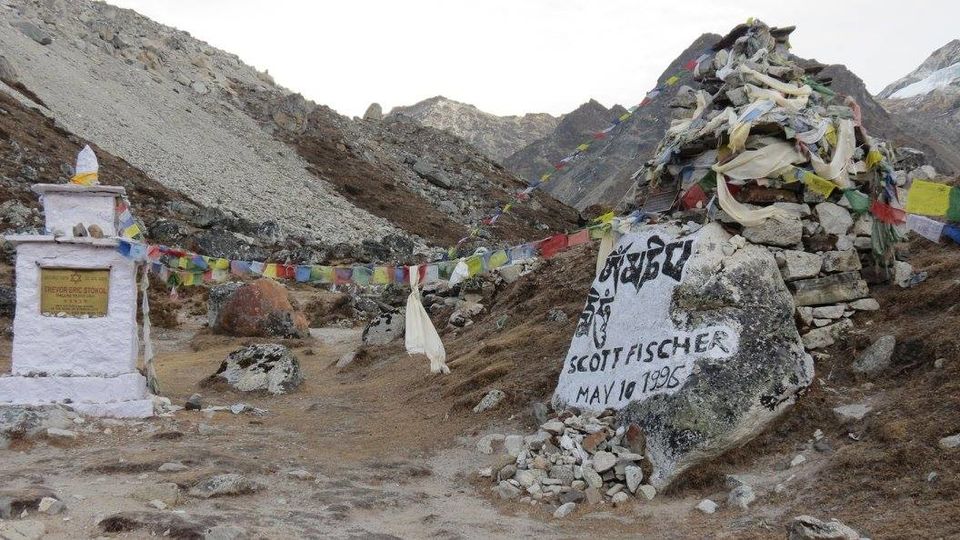 Day 9: Lobuche to Gorakshep (5170m)
I had breathing problems the whole night and my head was also aching, these are the common symptoms of AMS (Acute Mountain Sickness).

After a sleepless night it was difficult for me to start off in the morning but the only thing motivated me was Everest, The complete trail to Gorakshep involves walk on Khumbu Glacier. This part of the trek will surely feel like you are in heaven amidst the glaciers, it took 3-4hrs to reach Gorakshep which is the last village on EBC.

Kala Patthar: (5,644m or 18,519 ft)
As the name implies Kala (Black) Patthar (rock) is a black rock formation with
Mt Pumori in the background, this place is well known for its magnificent view of Everest and Khumbu Glacier.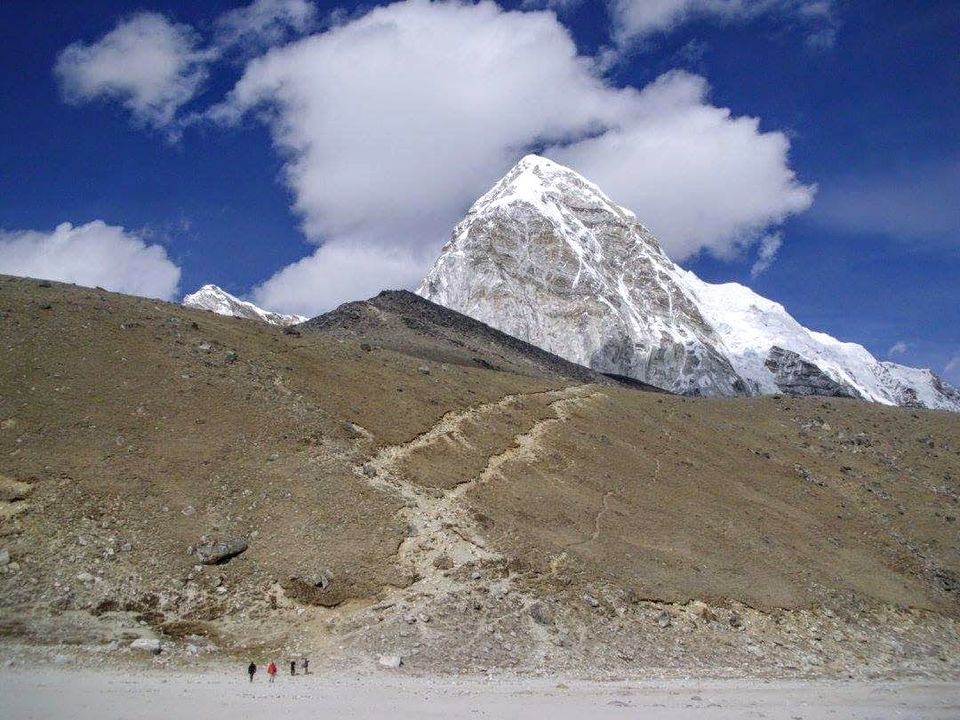 Kala Patthar is a visual wonder during sunset, witnessing Sun's last rays of the day fading away on Everest is the most beautiful and an emotional feeling which really can't be expressed in words, panoramic views of Himalayas and Khumbu ice fall drives you to the state of Nirvana, one should really experience this magical feeling which is a once in a lifetime moment.
It is at an altitude of 18,519 ft making the hike really difficult. It took 3hrs for us to reach summit of Kala Patthar. It was freezing temperature on the summit so my team headed back to Gorakshep after spending 15min. I didn't want to go back without witnessing Sunset so I decided to stay back, waited for 2hrs to witness this magical moment on Earth.
And THE SHOW BEGAN after a wait of 2 hours!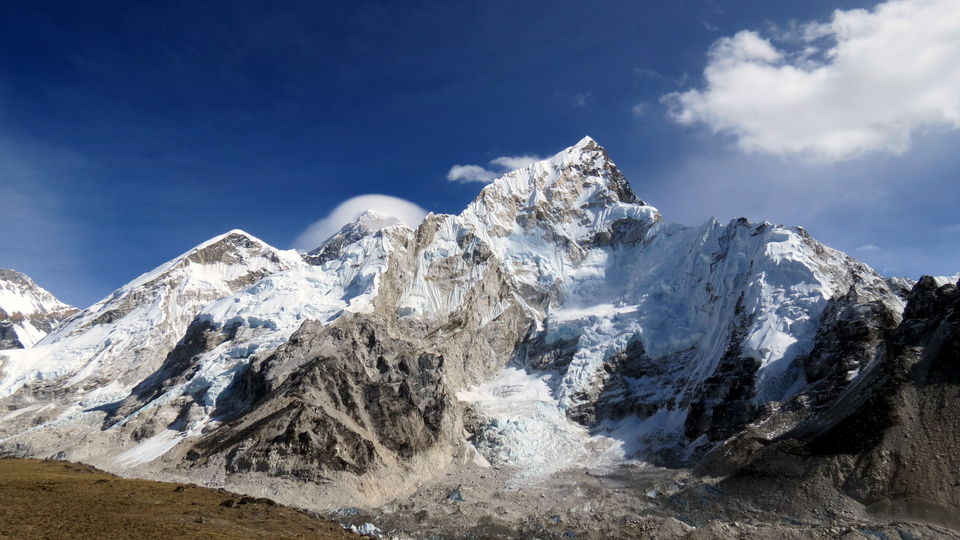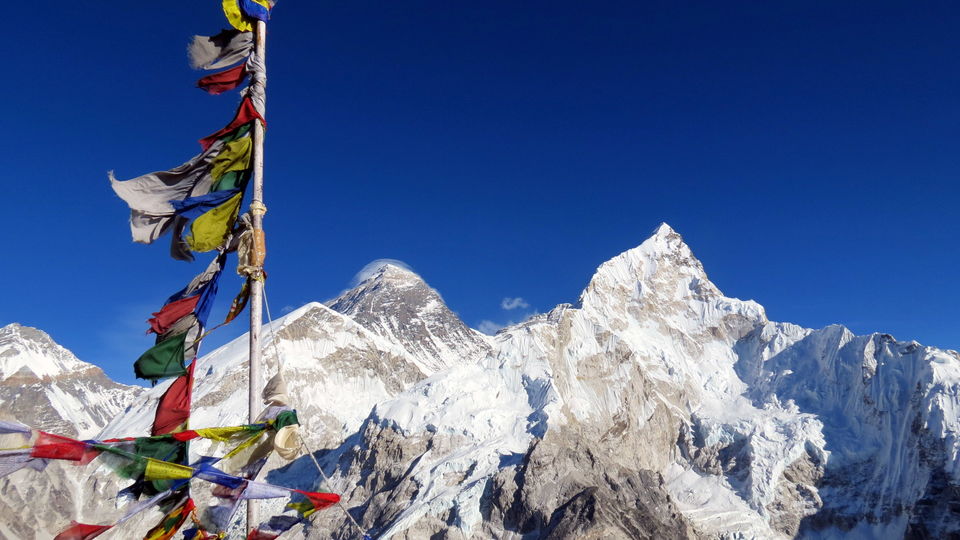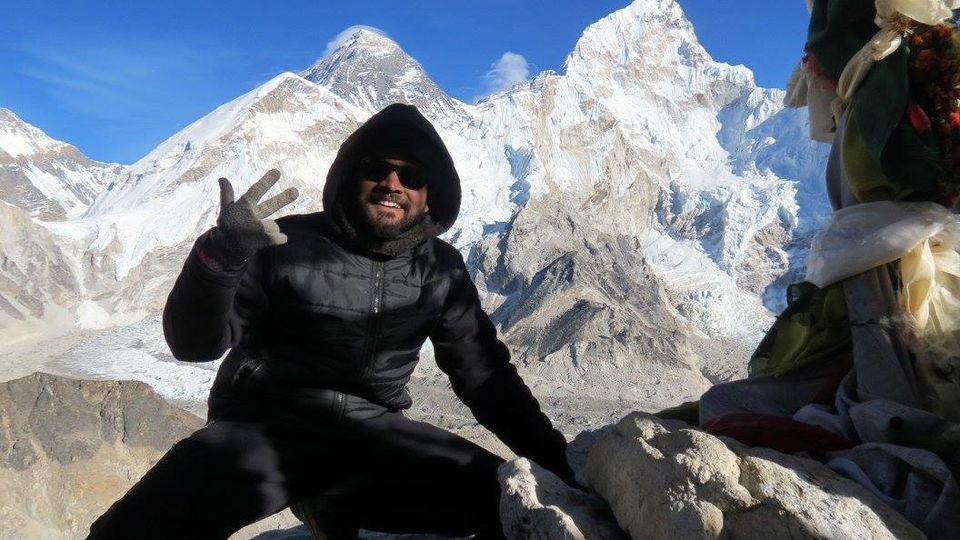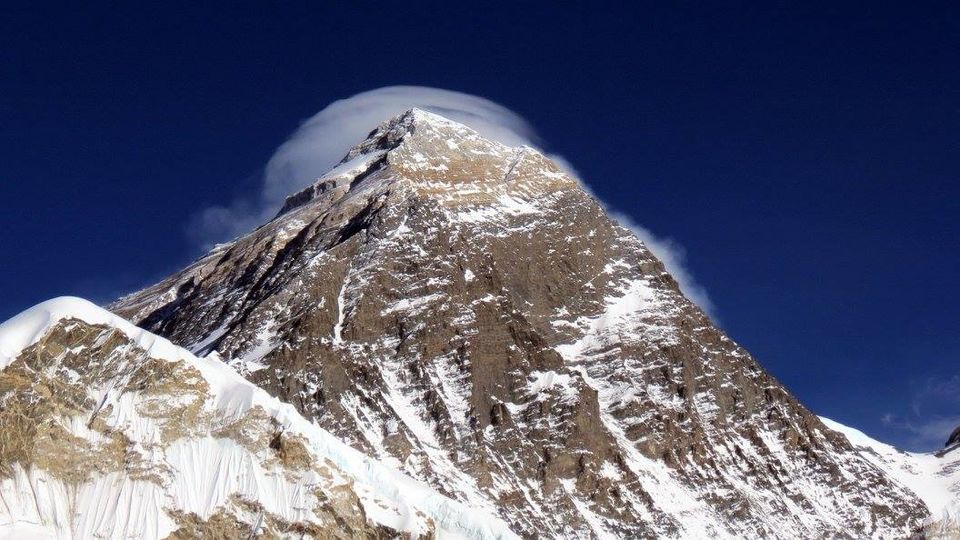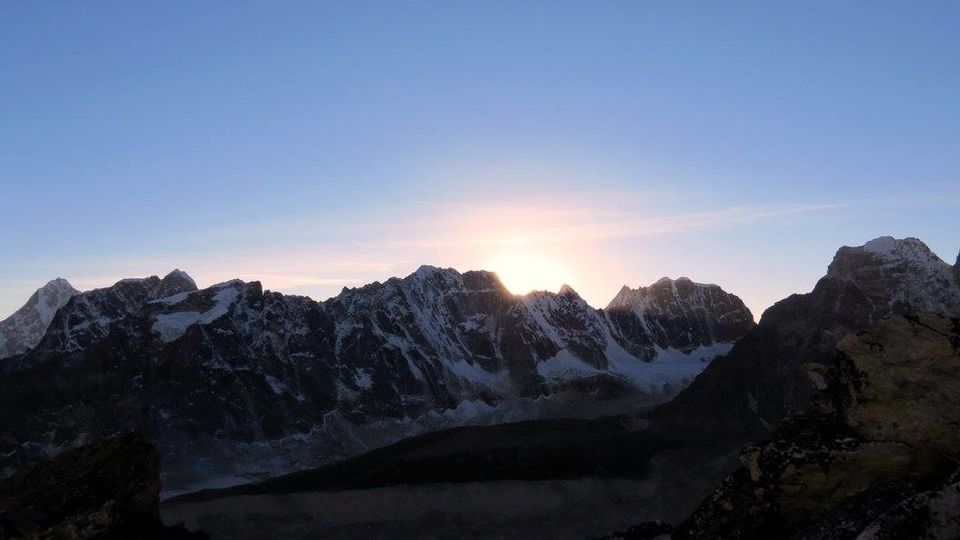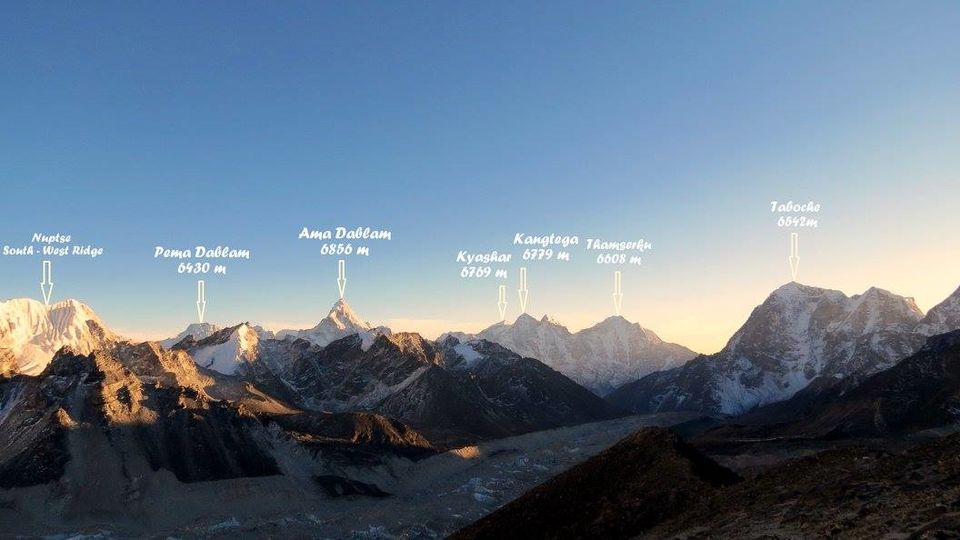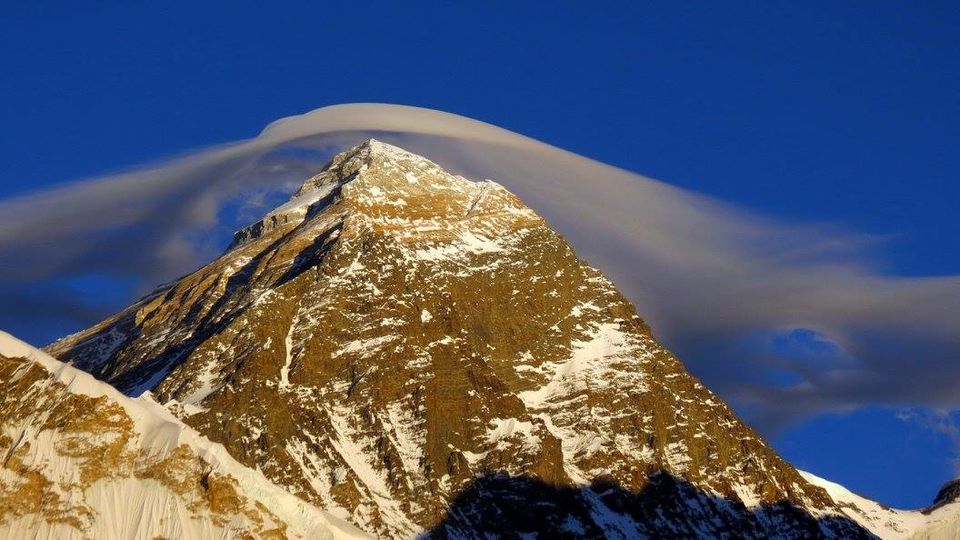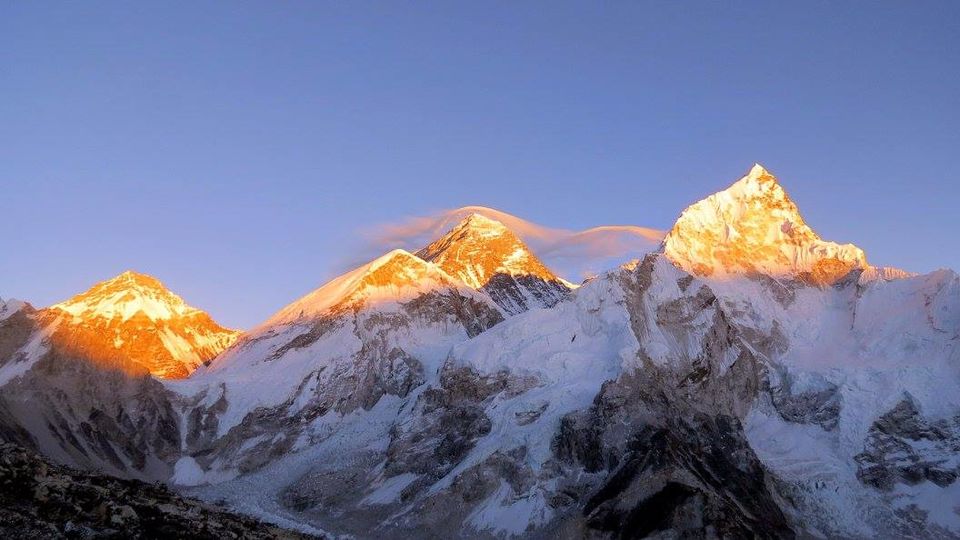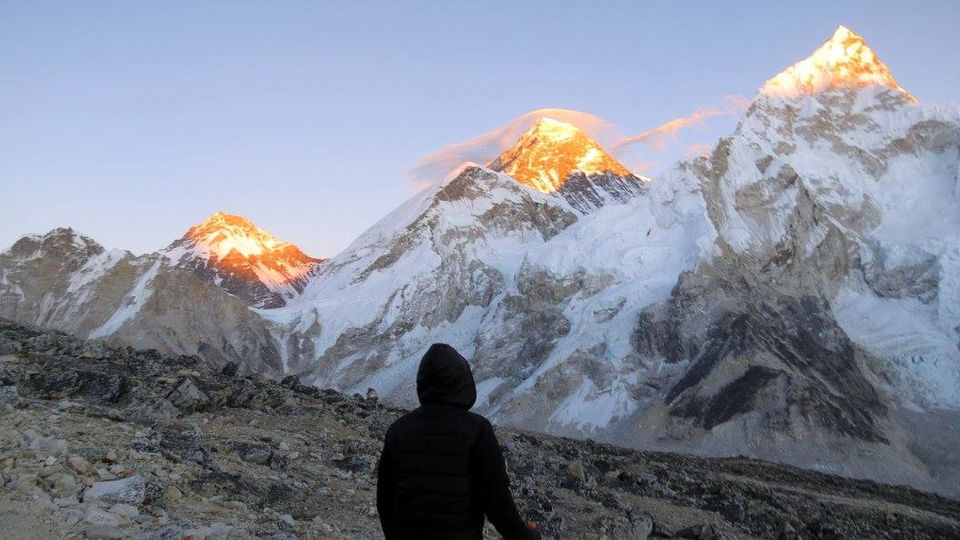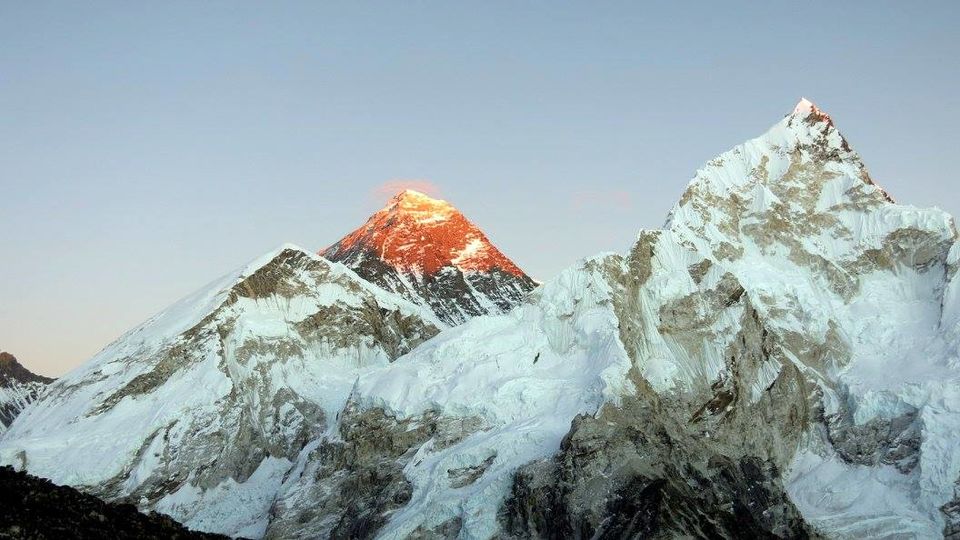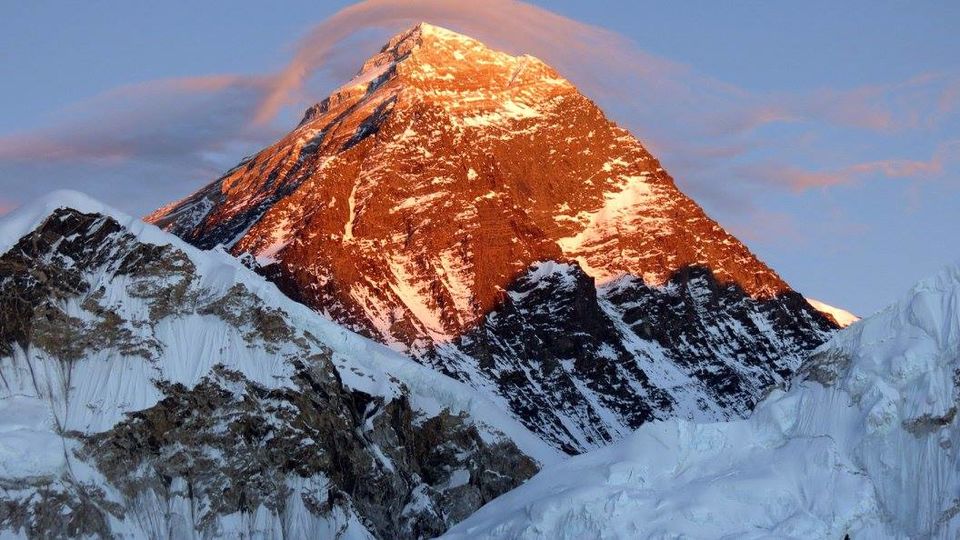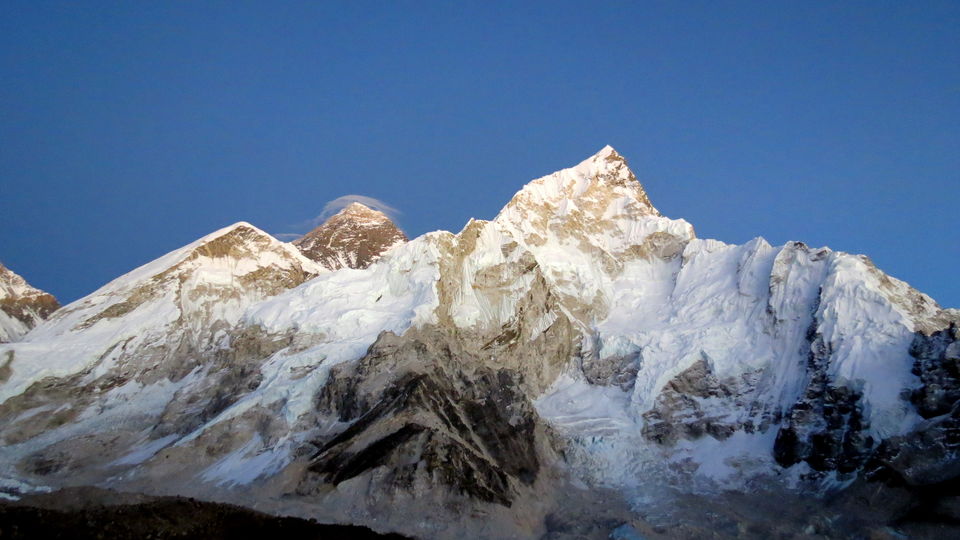 My hand was frozen and the temperature was dropping really low and I had to rush back to Gorakshep.
Day 10: Gorakshep - Everest Base Camp to Pangboche
And the big day finally arrived, After a strenuous walk on Khumbu Glacier of 4hrs we finally reached Base Camp of Everest. The path was completely destroyed because of Earthquake in April 2015. Climate was getting worst hence we had to head back after spending 20min on base camp.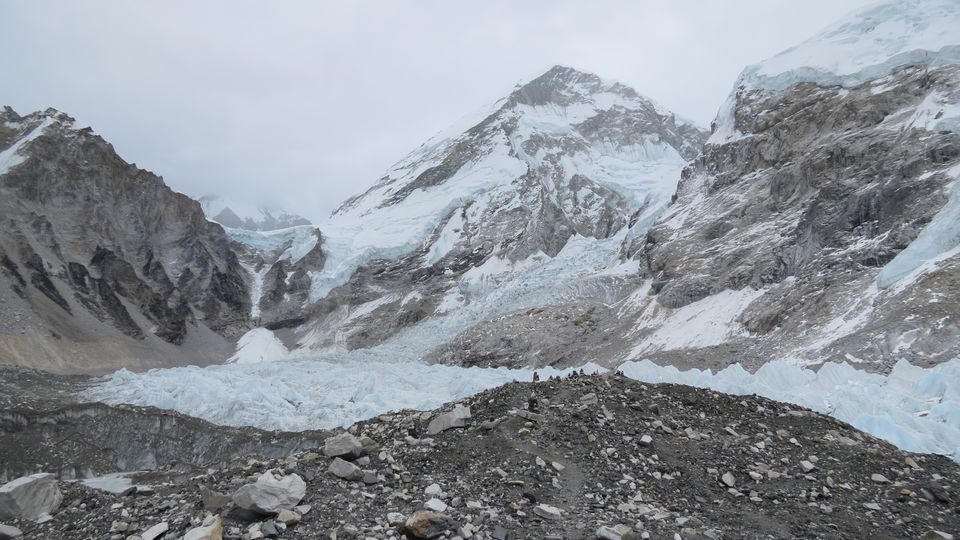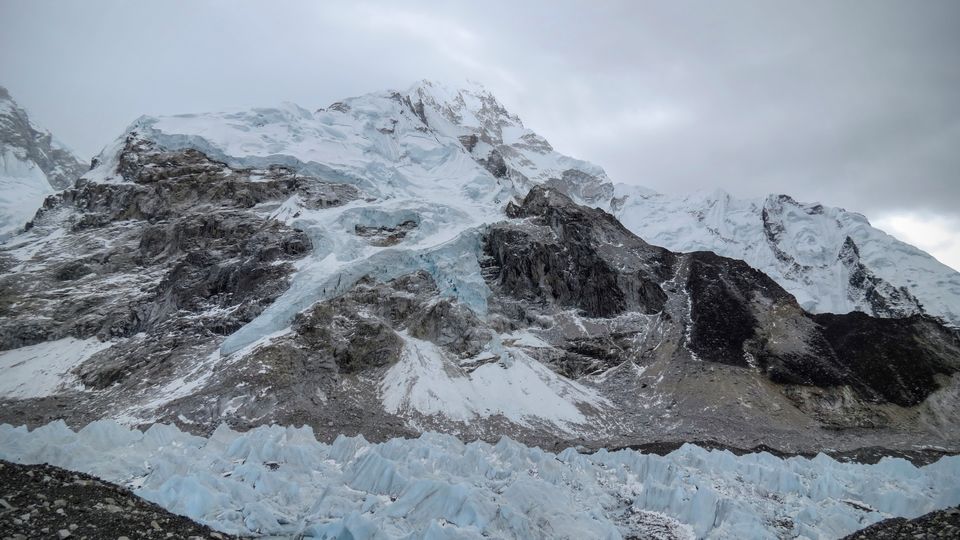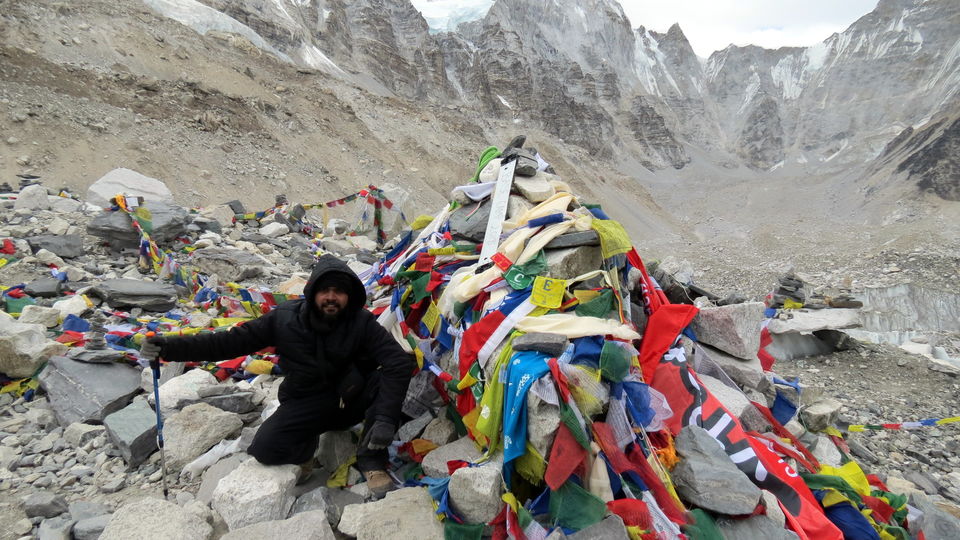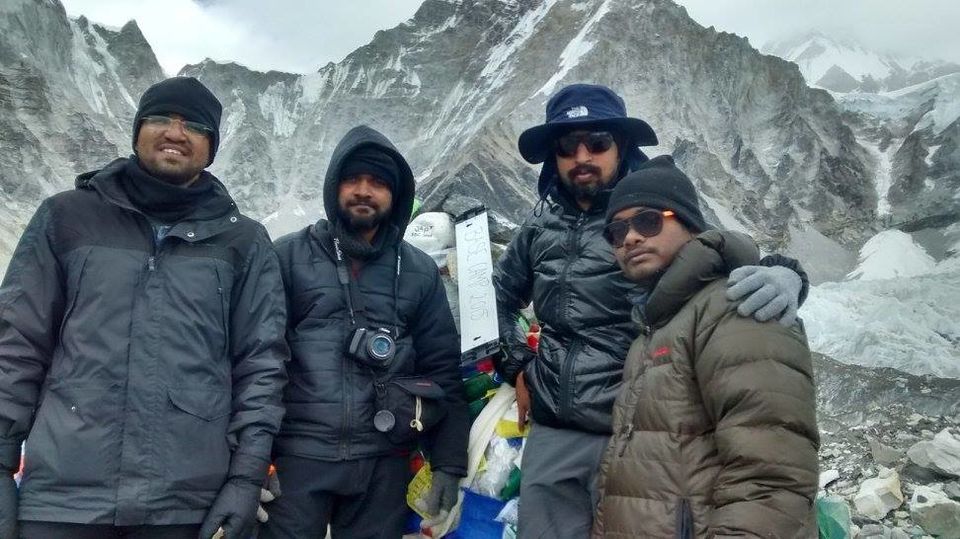 Post lunch at Gorakshep we started our decent, after a 7hrs continuous hike we finally reached Pangboche.

Day 11: Pangboche to Namche

Next day we decided to extend the hike till Namche as we were in celebrations mode, during this trail we were lucky to witness another beautiful sunset over Ama Dablam. We reached Namche passing through Deboche and Tengboche.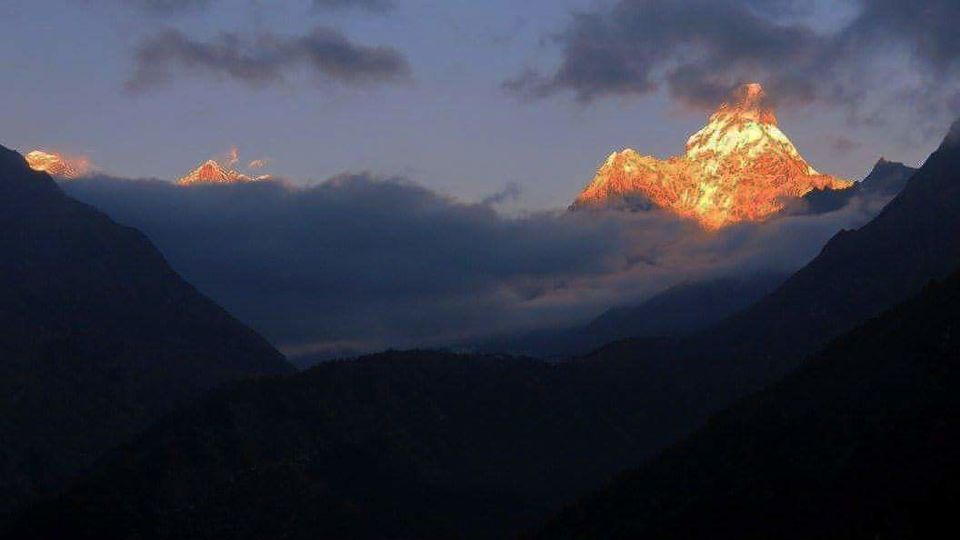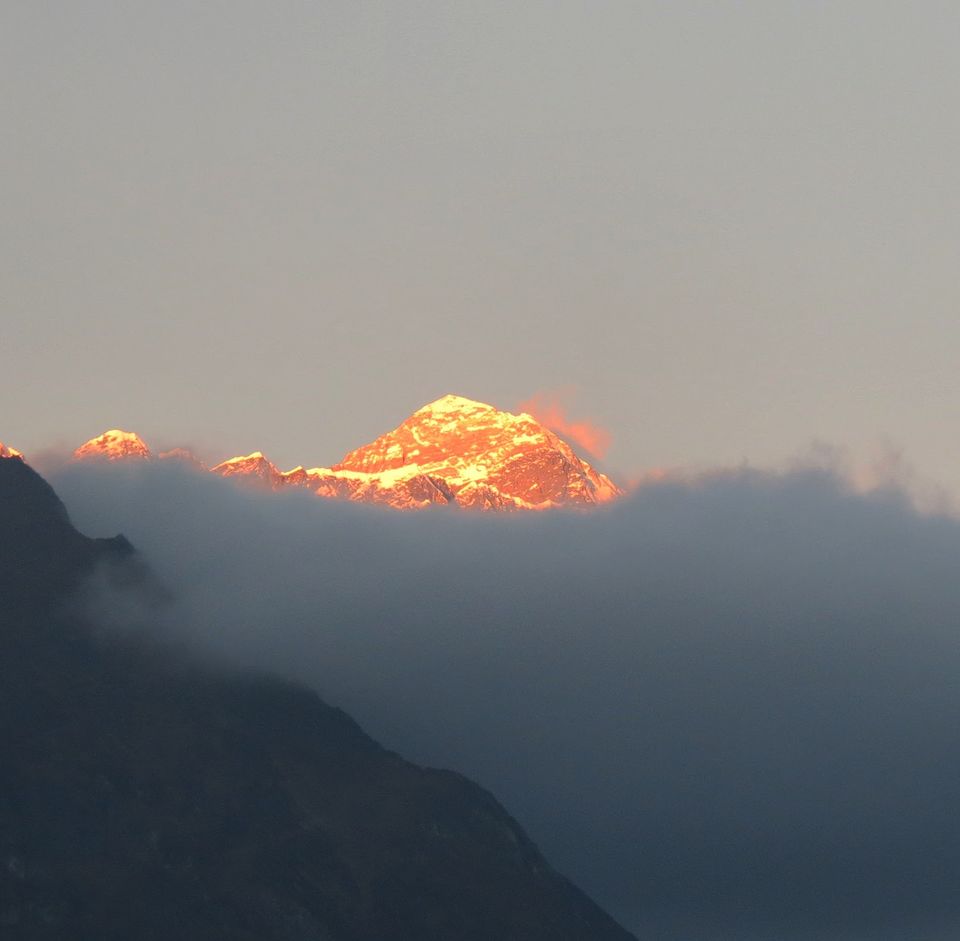 Day 12: Namche to Jorsale
It was an easy decent of 3hrs to Jorsale, do not forget to collect a Certificate issued by Nepal government for completing EBC at the check-post near Namche.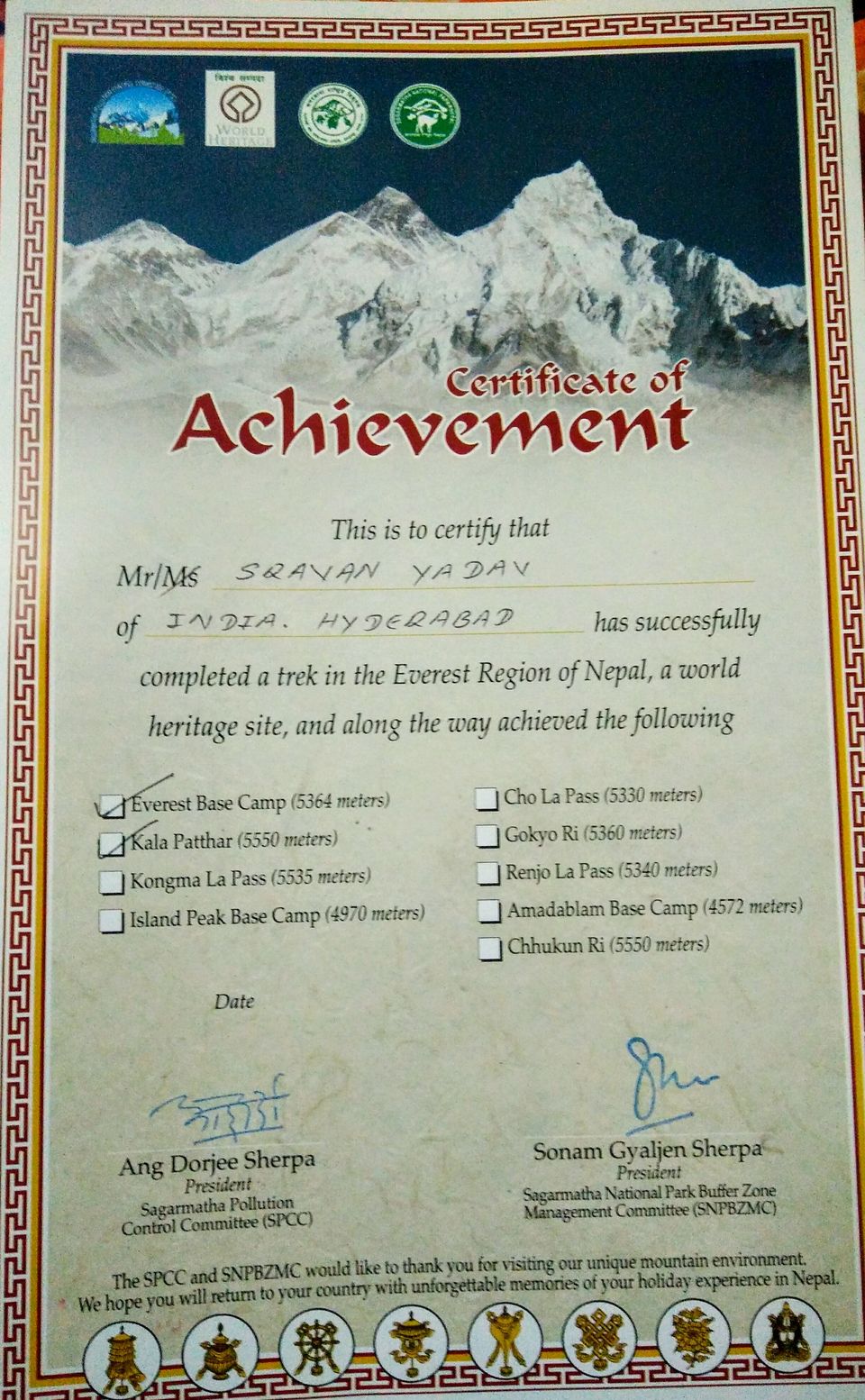 Day 12: Jorsale to Lukla
We finally completed EBC successfully in 12 days, it took 4hrs to reach Lukla and next day we had a flight to Kathmandu so its was a Party Time!
Day 13: Lukla to Kathmandu

Next day we took first flight and reached Kathmandu, been to Pashupatinath Temple and Swayambhunath Temple that day.
Day 14: Kathmandu to Delhi
Finally an epic journey of 14 days, 160Km in Himalayas came to an end, no matter where I travel in future, this will be my First and The Best one because it was this journey which taught me how to travel and made me realise that its not the things that are important in life but memories which will last with you forever.
Stop Dreaming and Start Living!!