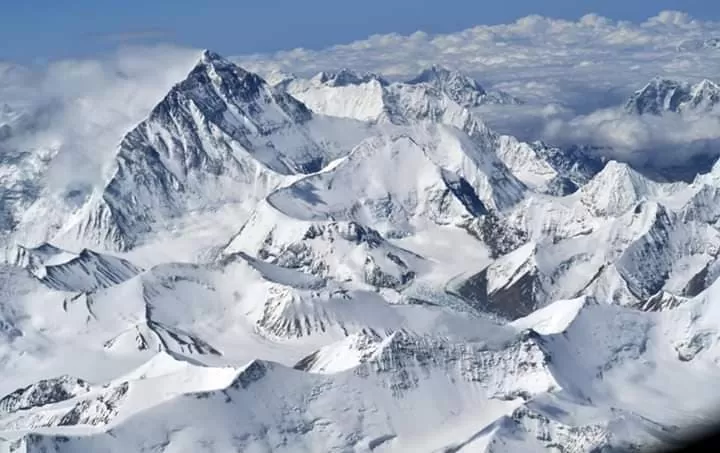 Trip Highlights
Seizing the opportunity to walk in the footsteps of the great climbers who have summited Everest.
Led up the mountain by my good friend Santosh. He is the best sherpa on Everest!
Eating, sleeping and drinking in native guesthouses along the way and feeling the warmth and love from the people of the Everest Region restores hope in the human spirit and inspires us all to be better stewards of the environment.
Thrilling mountain flight to & from Lukla.
Hike up to Kala Patthar (18,205 ft), Everest Base Camp (17,600 ft) & traverse through Khumbu Glacier.
Inspiring views of Mount Everest & other 23,000 - 26,000 ft peaks along with the Khumbu Icefall.
Walk past the scenic Sagarmata National Park & experience Sherpa culture.
Trip Information
This Trip Is 14 Days Plus 2 Days Of Travel On The Front And Back End. Unlike The Trek Through The Everest, There Is Very Little Time Spent In Kathmandu On The Everest Base Camp Itinerary With More Time Spent In The Everest Region. While Travel Is Hectic And The Miles Are Many, And As Fruitful As It Is To Reach Such Hallowed Ground And A Place Of Such Beauty And Inspiration, The Memories Are Found In Each Step, In The Overnights At The Teahouses, In The Camaraderie Of Your Trek-Mates And In Knowing You Made A Choice To Leave Your Comfort Zone And Find Adventure On The Other Side Of The World.
The trek to Everest Base Camp (EBC) gives adventurers a once-in-a-lifetime opportunity to visit some of the high-altitude destinations that only a small percentage of the world's population ever gets to visit. Following the trail blazed by Edmund Hillary and Tenzing Norgay, the groups will get a chance to trek along the foothills of the Himalayan mountains including the world's highest, Mount Everest (8848m).
Stand beneath their blanketing shadows and feel the energy that these giants give off. En route experience tea houses, Sherpa hospitality, Buddhist culture and spiritualism and the amazing mountain scenery. The trek begins in Lukla, also known as the "Gateway to Everest" and groups will follow their experienced guide through different villages culminating at Everest Base Camp. Challenging hikes will test participants endurance level but will reward trekkers with up close views of Mt. Everest (29,029 ft), Mt Pumori (23,500 ft), Thanserku (21,730 ft), Ama Dablam (22,350 ft), Nuptse (25,800 ft), Cho Oyu (26,860 ft), Lhotse (27,940 ft), Imja Tse/Island Peak (20,200 ftm) and several other peaks. Located in the Sagarmatha National Park and surrounded by tumbling glaciers and giant walls of snow and ice, EBC is the first campsite for climbers trying to scale Mount Everest.
A THING TO BE NOTED:
Before or during the trip, there are certain factors like weather and political situations that are unexpected barriers and out of our control, which will compel us to change your itinerary. In such a case, please try to understand these barriers, but our purpose will always be to follow the itinerary that has been listed in this website that you have gone through before booking the trip.
Mountain Ascend Treks For Social Causes
Mountain Ascend Treks works in cooperation with local porters and tea-houses by giving them jobs and using their services and in this way, it uplifts the economic conditions of the people.
Day 1: Arrival In Kathmandu (1400 M) (Overnight At Hotel With Breakfast)
After your arrival in Tribhuwan International Airport, you will find us outside the airport with the banner of Mountain Ascend Treks. If you arrive in the evening or at the middle of the night, we take you straightly to the hotel by vehicles, such as car, van, depending on the number of passengers. If you arrive in the day, we will take you to our office, where we will talk about your trip in detail, telling you about do's and don'ts. If you have a free time in the day, then you can use it to visit the places that are around your hotel, most probably, you will be staying in Thamel, which is a lively town for the tourists. You can also ask any questions related to your trip. If you have made a half-payment to us then you are requested to pay the remaining balance now. As you come to our office, please bring your passport, which has a validity of 6 months, including three copies of passport-sized photos, and a readable copy of your travel insurance paper. This is followed by the signing of the paper of your trip, as well as non-liability disclaimer paper.
Day 2: Fly To Lukla And Trek To Phakding (2652m, 3 Hours) (Overnight At Hotel With 3 Meals)
From Kathmandu, you fly to Lukla, the gateway to Mt. Everest. There are 18 to 20 flights per day to Lukla in a good weather, and the airport was renamed as the Tenzing-Hillary Airport in the name of Sir Edmund Hillary and Tenzing Norgay Sherpa. Only pilots, who have experienced of 7 years in aviation, are permitted to fly small aircrafts to Lukla, from where, you head off to Phakding through lush forest, hills, and valleys, seeing the beautiful view of mountain called Kusum Kangru.
Day 3: Trek To Namche Bazaar (3440m, 6 Hours) (Overnight At Hotel With 3 Meals)
From Phakding, you head off to Namche by following the Dudh Koshi River, and the trekking route passes through pine and cedar forest, wherein you come across ethnic Sherpa villages, eventually, you reach Namche, which is a meeting point of the Tibetean and the Nepali traders, who deal in salt, dried meat and textiles, and this village is the largest Sherpa village in Nepal and has lots of shops and restaurants.
Day 4: Namche Bazar And Everest View Hotel (Overnight At Hotel With 3 Meals)
Today is an acclimatization day, and we will hike to the Syangboche Airport (3700 m), probably the highest airport in the world, and then we hike further to Everest View Hotel to see a breathtaking view of mountains, such as Everest, Lhotse, Amadablam, Tawache, and both named and unnamed mountains. While returning, we visit a museum, known as Sherpa Culture Museum, wherein you see dresses and musical instruments of the Sherpa people, including the photos of Mt. Everest.
Day 5: Trek To Tengboche (3860m, 5 Hours) (Overnight At Hotel With 3 Meals)
The trekking route that we are going to walk on today, descends into the Dudh Kosi Valley and then ascends, eventually reaches Tengboche. This is a village, which has a famous monastery of the Everest Region, and it is a 5 hr journey to it, and most of the time, you will be ascending, so you might be tired, but this is a trek, wherein you might forget your tiredness by looking at the world's most beautiful mountain, called Ama Dablam. In addition to these, you will see Everest, the world's highest mountain.
Day 6: Trek To Dingboche (4410m, 5 Hours) (Overnight At Hotel With 3 Meals)
While trekking today, you come across forest, Imja Khola (river) and Pangbocje, a village, and the view of the mountains keeps on coming to your sight. You see the famous mountains of the Everest Region, such as Ama Dablam and Lhotse, in addition to other peaks. There is a pasture ahead, which is known as the Summer Valley, from where you walk further to reach Dingboche.
Day 7: Dingboche To Nagerjun And Back (5100m, 6 Hrs) (Overnight At Hotel With 3 Meals)
From Dingboche, you head off to Nagerjun, which sits on the flank of the Chukkung Valley, and Nagerjun is a hilly village, and we can say it is just above Dingboche. The route to it is steep, so it is tiring. From the top of the hill, you can see a breathtaking view of mountains, such as Lobuche East (6119m), Lobuche West (6145m), Taboche Peak (6367m), Thamserku (6608m), Kangtega (6685m), Ama Dablam (6856m) Makalu (8463 m) the fifth highest mountain in the world.
Day 8: Trek To Lobuche (4910m, 5 Hrs) (Overnight At Hotel With 3 Meals)
From Dingboche, we climb upward and reach the Khumbu Glacier and see prayer flags and the memorials of the mountain climbers and climbing guides. We continue our trek to reach moraine, where we will be surrounded by great peaks, such as Khumbutse, Lingtren, Pumori, and Mahalangur Himal and then descend to the yak pasture, which is in the adjoining area of Lobuche.
Day 9: Trek To Everest Base Camp And Gorakshep (5181m, 8 Hours) (Overnight At Hotel With 3 Meals)
We walk by Gorak Shep Lake. We walk upward, where the air is thin. We come across rocky dunes, moraine and streams before reaching Everest Base Camp. From the camp, we can see a spectacular view of mountains, such as Nuptse, Khumbuste and Pumori. We will also see the Khumbu Glacier and Icefall. These are some of the highlights of Everest Base Camp Short Trek. We spend a night at Gorak Shep.
Day 10: Hiking To Kalapathar (5545m And Gorakshep And Pheriche (4210m, 7 Hrs) (Overnight At Hotel With 3 Meals)
Hiking to Kalapathar means reaching the best viewpoint in the Everest Region and seeing the best view of Mt. Everest. As the sun's rays strike the snow-capped mountains, including Everest, they become golden in color and look incredible. From there, we descend to Gorekshep and Pheriche. Other mountains that come to our eyes are Lingtren, Khumbutse, and Changtse. You will take a lot of photos from Kalapathar because of the panoramic views of Everest, and taking this kind of photos is it is the moment to enjoy.
Day 11: Trek To Namche (3440m, 7 Hours) (Overnight At Hotel With 3 Me)
Today's trek is not only moderate but also easy in nature and scenic in sight because it goes downhill through rhododendron, pine, and juniper trees, reaches the Dudh Koshi River and the Dudh Koshi gorge and takes you into the areas of pheasants and mountain goats and then extend to reach Sansa from where you can see a beautiful view of mountains, such as Ama Dablam, Thamserku and Nuptse, but before reaching Namche, the trekking route becomes winding.
Day 12: Trek To Lukla (2800m, 7 Hrs) (Overnight At Hotel With 3 Meals)
The trekking trail descends to the valley and takes you to the suspension bridges over the Dudh Koshi River and is easy to do, and we will be walking most of the time along the Dudh Kosi River. Later this trail joins with Lukla, from where we catch a return flight to Kathmandu, the city of temples. And it is in Lukla, we feel that we have done the world's best trek in 14 days.
Day 13: Fly To Kathmandu And Farewell Dinner Overnight At Hotel.
We catch an early morning flight from lukla to Kathmandu. After reaching Kathmandu, we can take a rest or do some souvenir shopping. If you are interested, then Mountain Ascend Treks help you in souvenir shopping. Later in the evening, you will have a farewell dinner in a Nepali restaurant, where you can see Nepali dance. Also, there will be Nepali music and songs. Along with these, there is a lot of tourism activities that you can do in Nepal. Some of these are jungle safari, biking, and mountain flight.
Day 14: Departure From Kathmandu (Breakfast Is Included And Transportation Is Provided)
Today is the last day of your adventure travel. We make sure that you reach the Tribhuwan International Airport on time for departure. We will take you approximately 3 hours before your scheduled flight. We will keep in touch with you through emails. Since Nepal is the cheapest tourist destination in the world for any tourism activities, Mountain Ascend Treks is always ready to provide you service.