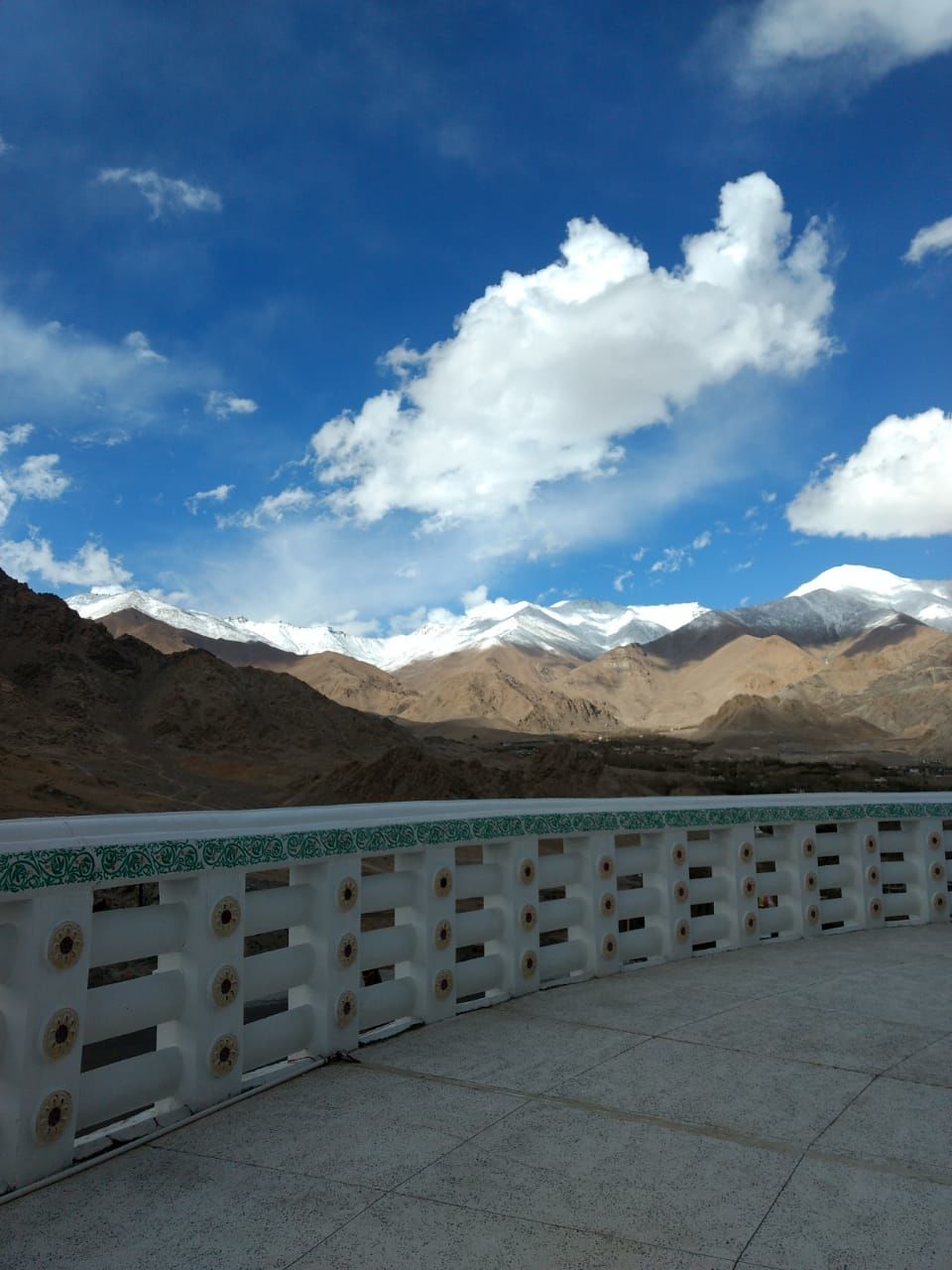 Procastination. It's the slayer of all things great. This is true even when it comes to travel. It's time you take that Eurotrip that you've been talking about with your friends. And it's time you went on that trek to the Everest Base Camp to test your endurance.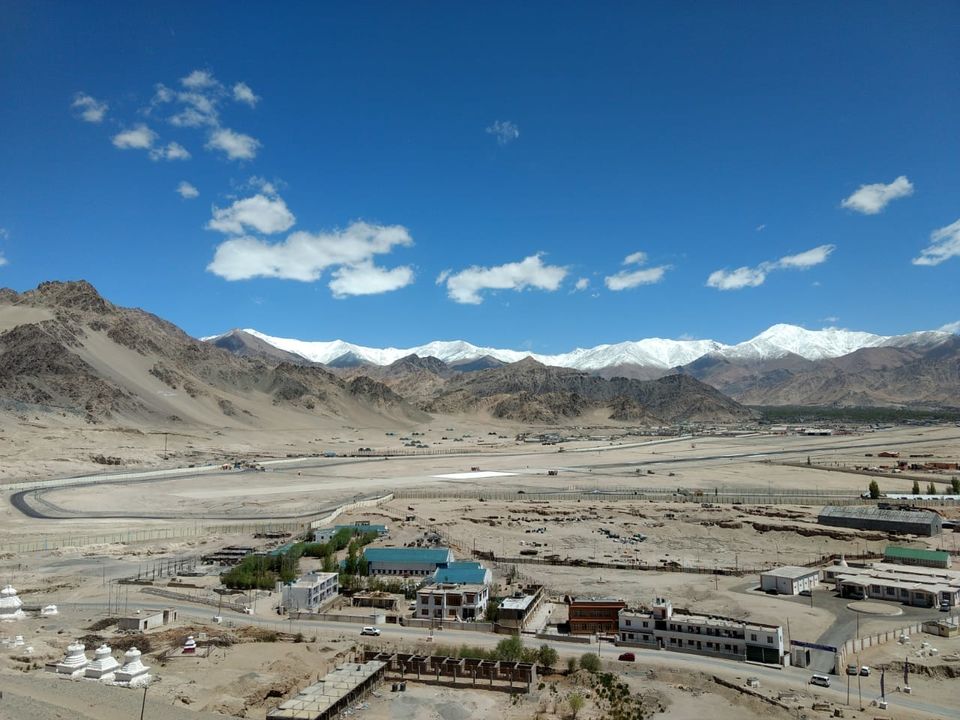 For my folks and I, Ladakh was what we were procrastinating about. Since 2015, we had been thinking of visiting this cold desert in the east of Jammu and Kashmir, to witness the glory of the snow-covered peaks. May 2018, that changed. And it was only apt that I took this trip with my mum.
Earlier this year, my mom quit her job after 35 years of working in corporate communications and coincidentally, I was home too, waiting to start my masters. She's the reason I made a career in marketing and she's mostly the reason that I became an independent, fiery young woman. One lazy evening, while sipping hot, ginger tea and watching a chick flick, I said - it's time we go to Ladakh. Those words caught her attention and she asked me to check for packages right away. Immediately, I booked this package on Yatra.com called the Ladakh Outing for 2 people. It covered the flight tickets and transfers, accommodation and most of the meals. Mind you, it did not cover transportation and sight-seeing during the trip, even though they seem to showcase an itinerary on their package details, which is a story for later.
So, just like that, my mum and I left for Ladakh on 9th May. We took a Vistara flight from Delhi to Leh, got received by Mr. Anand, a Yatra representative and were dropped off at our hotel in Leh – Eco Poplar Resort. The resort was lush green, filled with Poplar trees that are characteristic of Leh.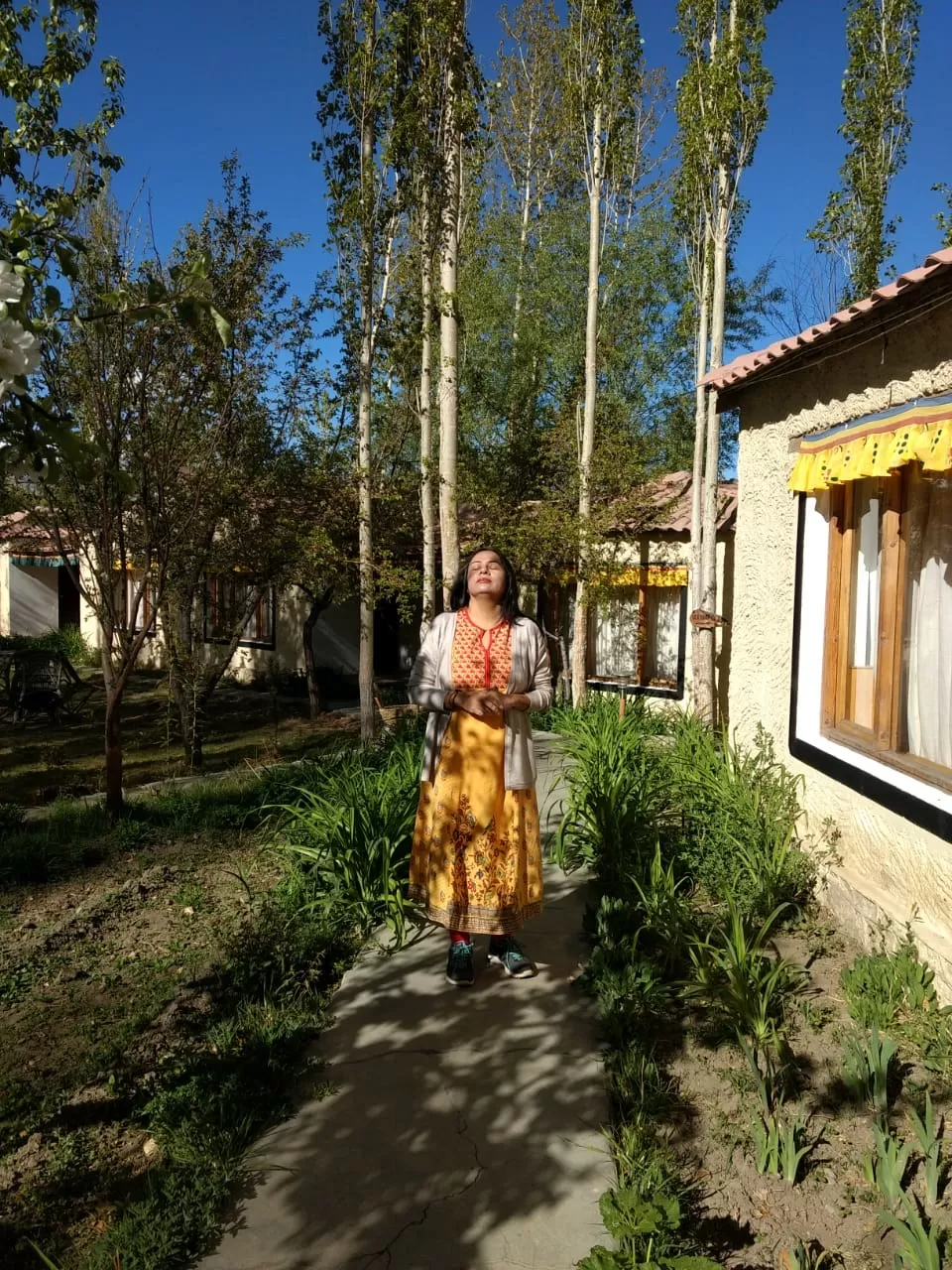 Day 2 of our trip was packed with the Leh sight-seeing itinerary. We went around the Hall of Fame – a war museum dedicated to the martyrs of the Indian Army, Spituk Monastery – one of the most spectacular monasteries of Northern India with a new Gompa within it, Sangam – the confluence of the blue Zanskar and the green Indus river (colours subject to the season visited in) and Pathar Sahib Gurudwara - built in 1517 to commemorate the visit of Guru Nanak Dev to Ladakh.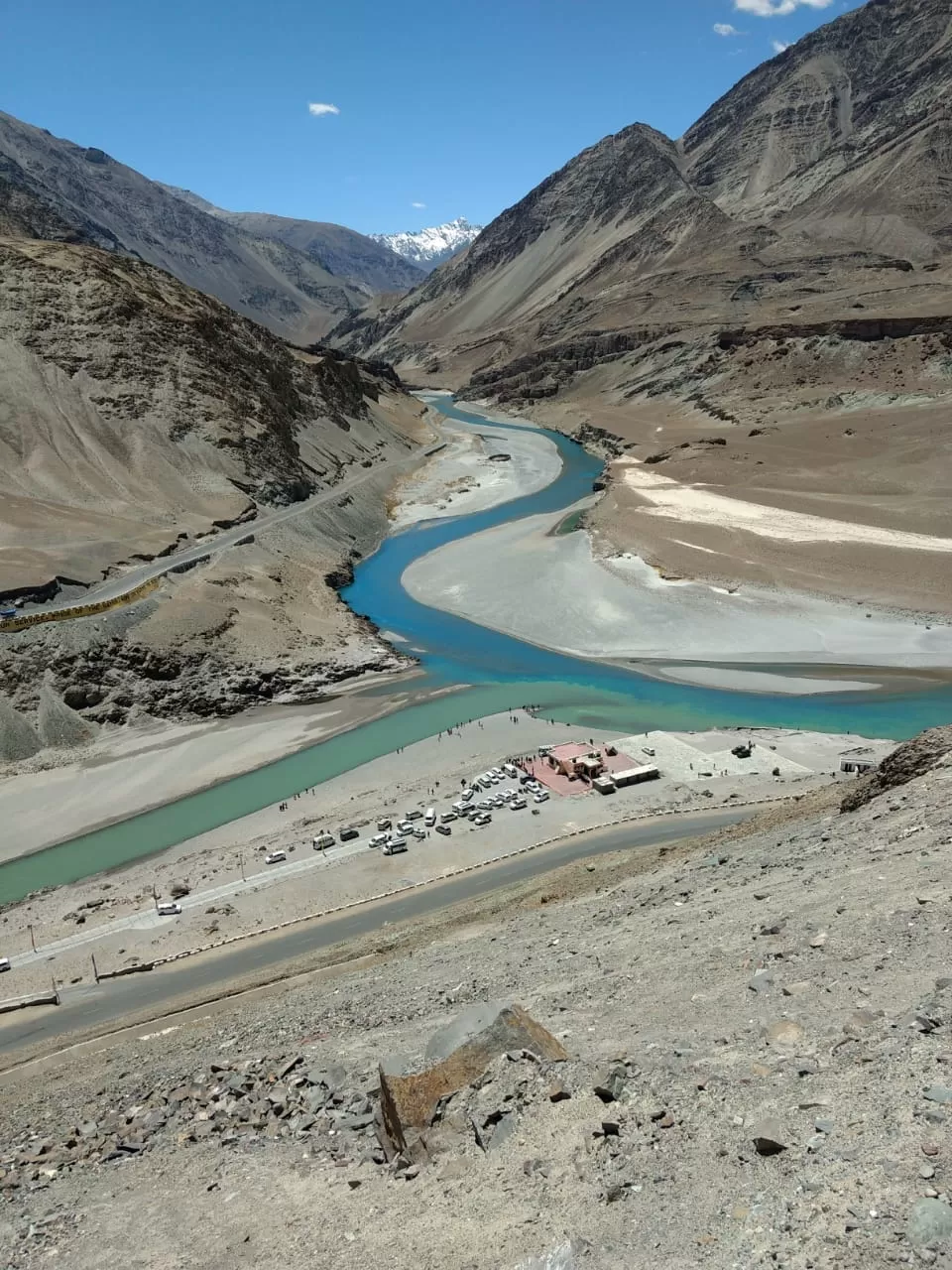 On Day 3, we made our way to Nubra Valley, in our quest to visit the sand dunes of Ladakh. Unfortunately the couple who were travelling with us were not able to join, given that the wife had shown symptoms of AMS and vomited some blood in the night. It was a conscious decision owing to the following –
1. While Nubra Valley is located at a lower altitude than Leh, the drive from Leh to Nubra takes you from 11,480'(Leh) to 18,380'(Khardung La Pass) to about 9,600'(Nubra Valley), all in a 4-5 hour span. This rapid change in altitude can worsen AMS.
2. There are much better medical facilities in Leh than in Nubra Valley.
On our way to Nubra, we encountered both good and bad terrain – and the drive from North Pully to Khardung La Pass and from Khardung La Pass to South Pully was a bit bumpy.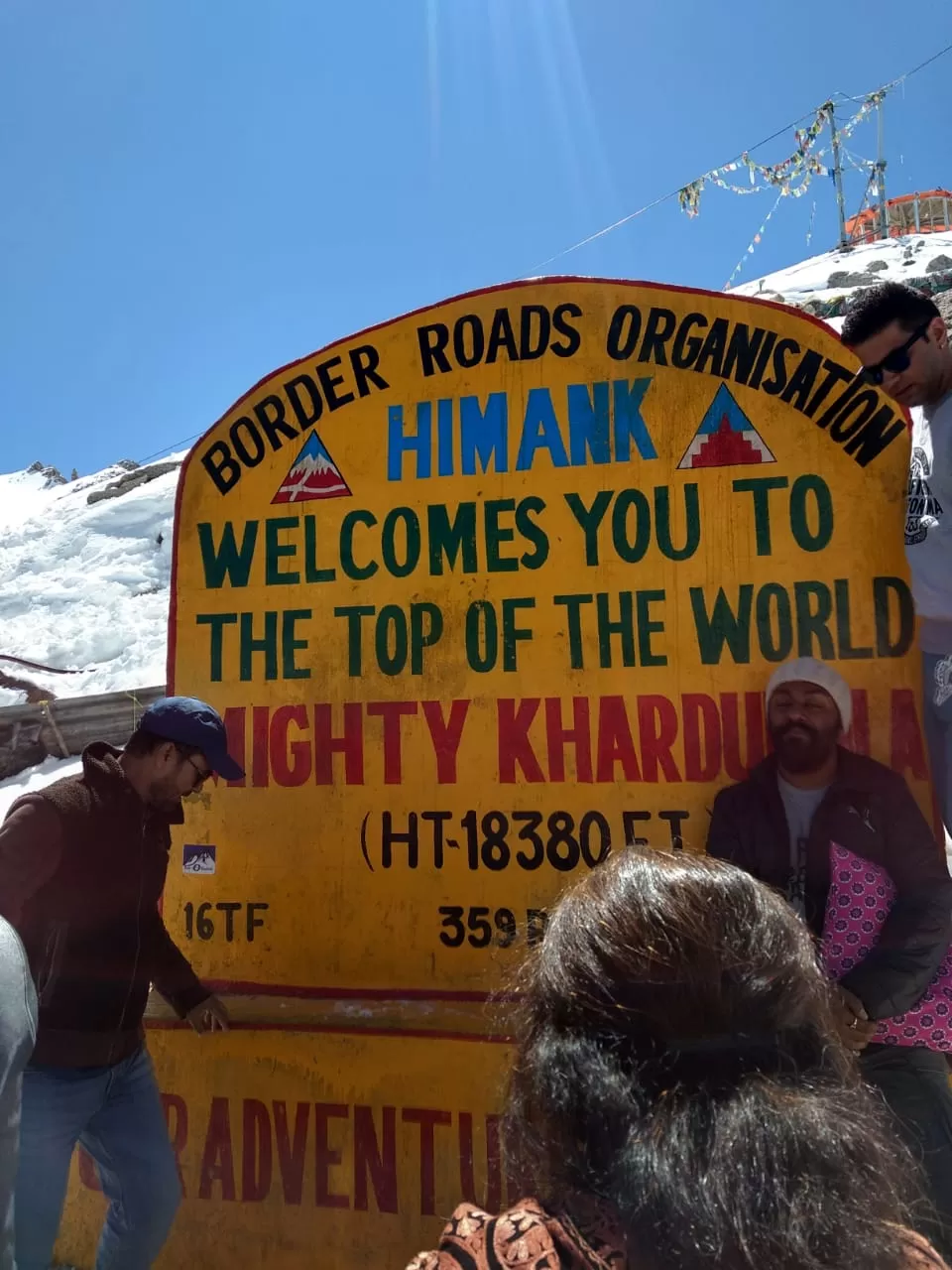 The next morning, which was the morning of Mother's Day, we were scheduled to go to Pangong Tso lake – the 3 Idiots lake that is. The road to the lake was very bumpy and seemed like an endless drive. But the view as we got close to the lake was incredible. It was pristine and demanded silence to hear the song of the birds and the rustling winds. After watching the sunset, we headed back to our camp – the Pangong Sarai - and spent the night there.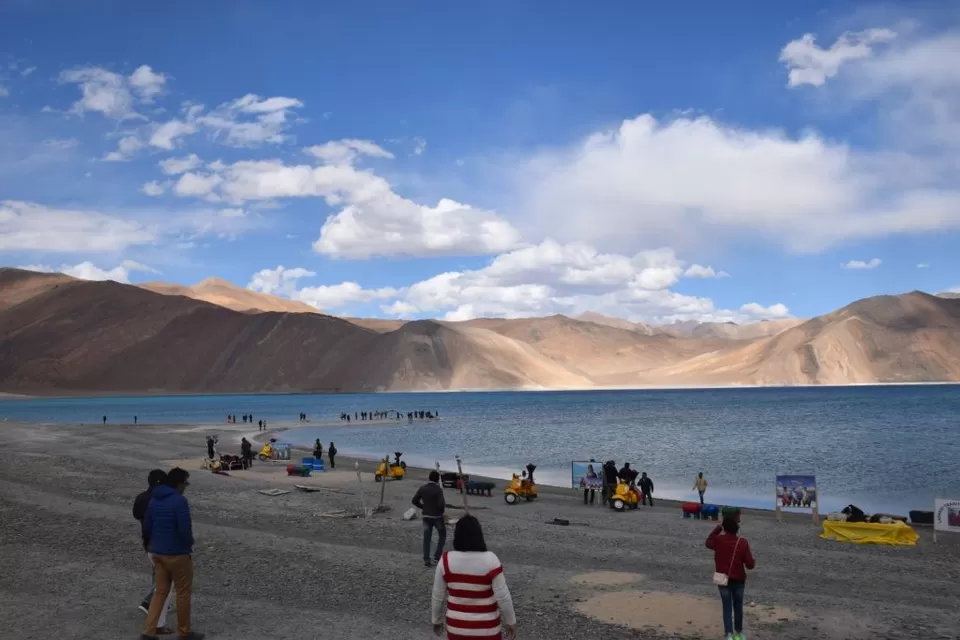 The following day was again a tough ride back to Leh, and the rest of the day went lazing around our crib. For those considering travel to Ladakh, specially with an elderly person, you should consider the following:
1. Altitude Mountain Sickness (AMS) is real.
2. Diamox is the medicine that is suggested as prevention/cure of AMS, but you should consult your family doctor before taking it. My mum and I didn't need it.
3. Sip water every 10-15 mins and drink atleast 3-4 litres of water to avoid AMS.
4. Every small activity that involves oxygen including eating, walking and talking can leave you breathless. Keep sipping water and you should be fine.
5. High blood pressure medicines don't entirely work in high altitude.
6. Alcohol and smoking/up should totally be avoid.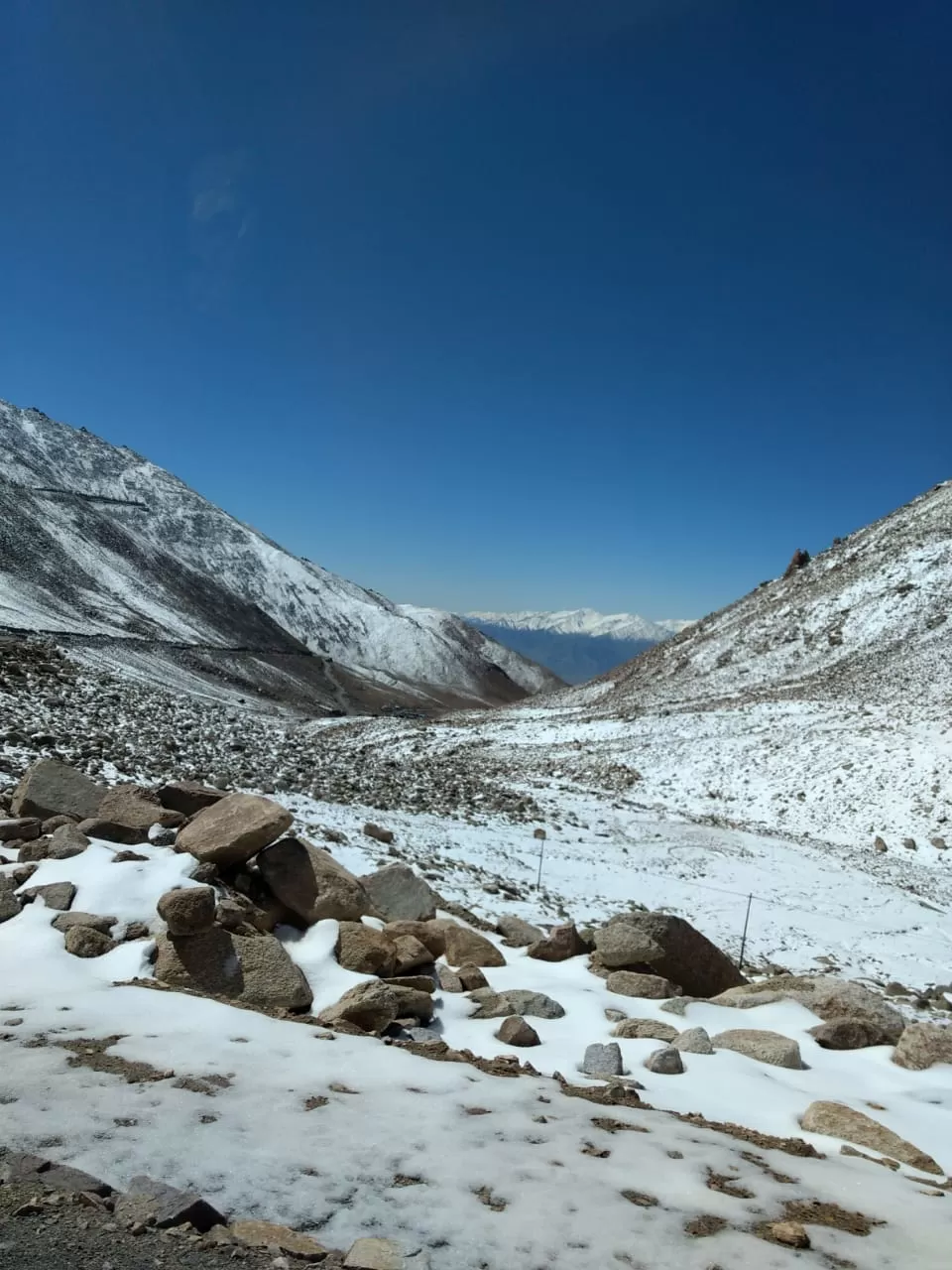 We were all pepped up for our last day in and around Leh. We decided to travel in a 40km radius to Hemis Monastery (one of the wealthiest Buddhist Monasteries, and rightly so), Thiksey Monastery (a Monastery you can stay in), the Rancho School (where Chatur, from 3 Idiots, got electrocuted) and Shey Palace (remains of the Namgyal Dynasty).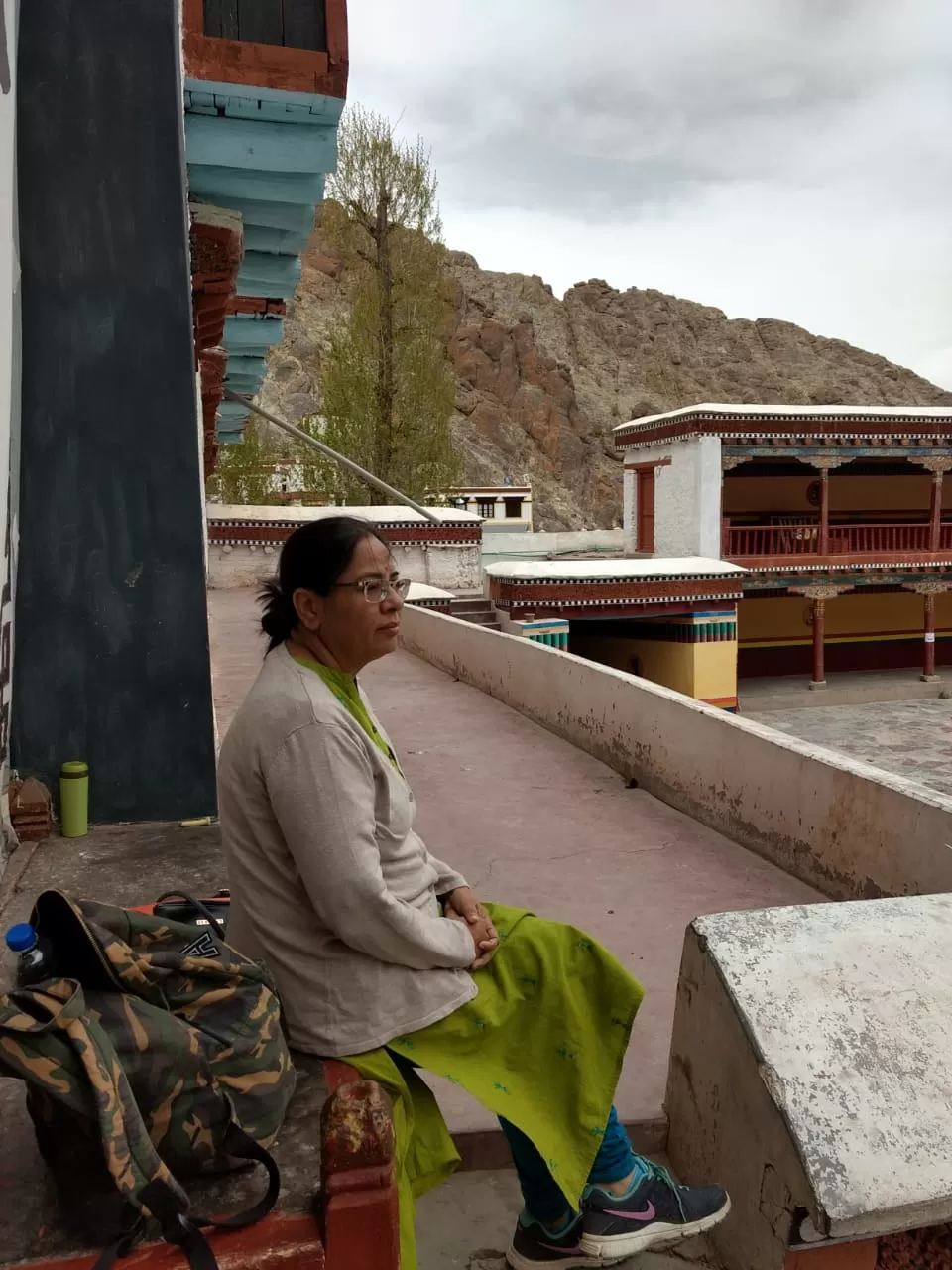 It was also a brilliant place for bird-watching and we were lucky to see a few Magpies right outside our window. We got a cottage which was equipped with all the necessities – including a TV and some emergency lights. As was instructed to us, our first day in Leh was all about acclimatisation and taking complete rest to avoid any symptoms of altitude mountain sickness (AMS). By the time we freshened up, Mr. Anand had made a few calls and figured out a transportation and sightseeing package for us that was arranged with a couple, 5-6 years elder to my parents, from Uttarakhand. As part of that, we were to visit two local spots in Leh that afternoon.
The car was arranged for 3 in the afternoon which is when the couple arrived to pick us up. We greeted them and headed to Shanti Stupa.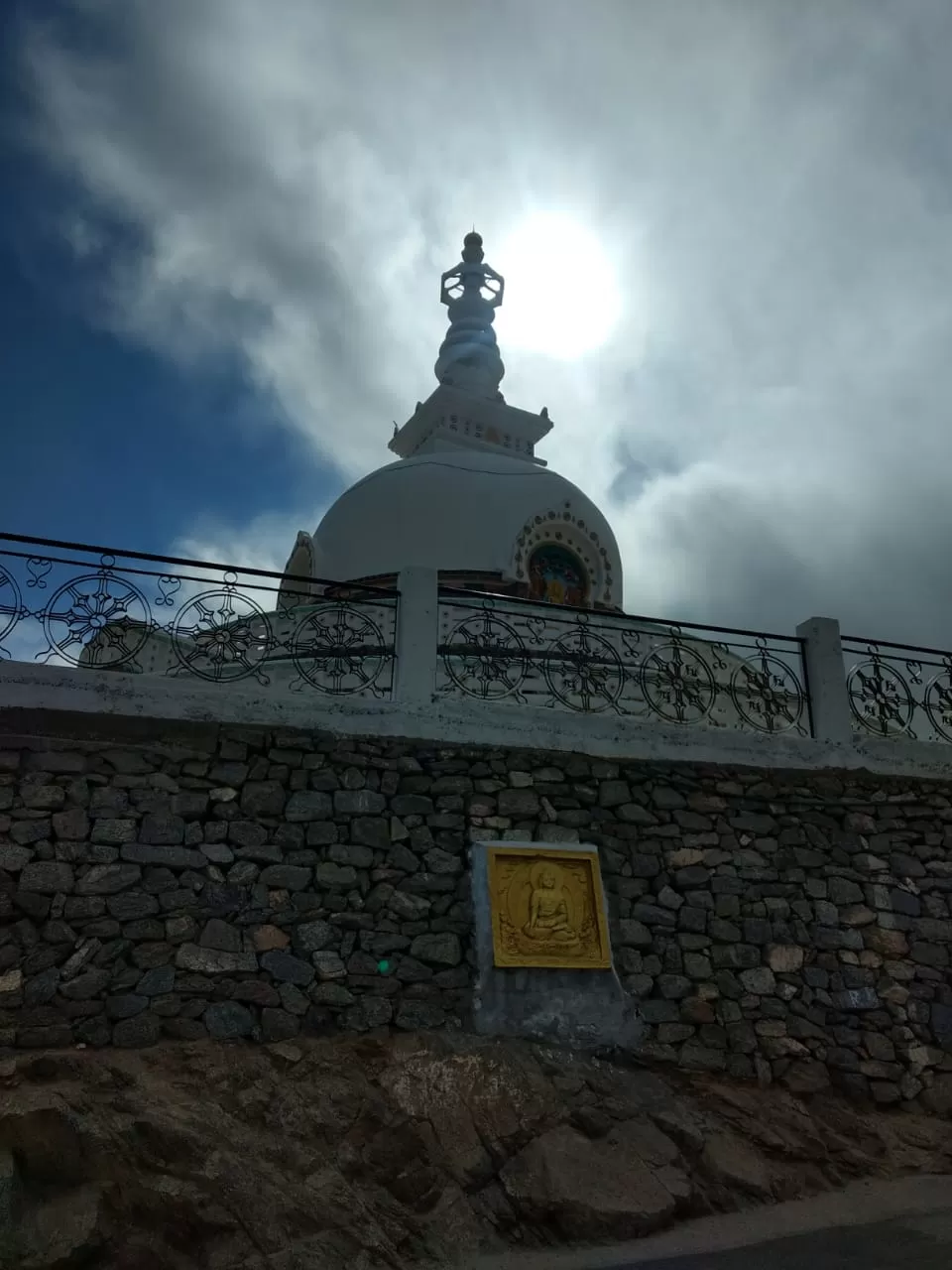 It holds the relics of Buddha at it's base, enshrined by the 14th Dalai Lama. Stupas, as you might already know, have religious significance in Buddhism. A 360 degree circle around a Stupa is said to bring good Karma to the individual taking it, much like a rotation of the Mane. After a 15 minute drive, we reached the Stupa, which was standing upright on the plateau, surrounded by massive peaks all over. It was a short flight of stairs up, which left us breathless, since we were still acclimatizing to the low levels of oxygen, but it was definitely worth the effort. Reaching the second level of the Stupa, we saw a panoramic view of the surrounding landscape, part of which was the intricate, mud-architecture of the Leh Palace. After taking a few pictures, talking to some foreigners and having a mint tea and maggi, we got on the road again to get to our next destination – the Leh Main Bazaar. It was like the mall roads you would see in Gangtok, Shimla or Manali – full of Tibetan trinkets, metal artefacts, woolens, dry fruits and the like.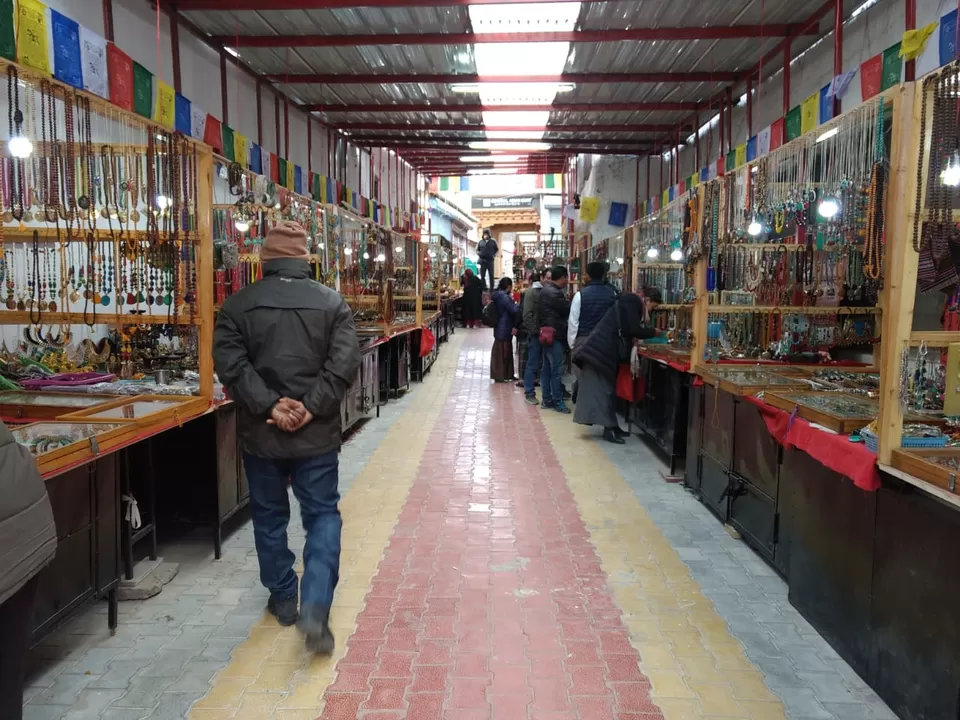 My mother raided the Sonu dry fruit shop and came out with practically everything there was in there – including the Kashmiri Kahwa and some Saffron – #DesiMoms. By 5pm, it was time for us to head back to our resort and continue the acclimatisation process.
The good folks at the resort – Mr. Vicky and his team, served us a massive, lip-smacking buffet dinner, before we retired for the day.
Some highlights from Day 2 were posing in the center of the wide and perfectly engineered NH1, sitting at the bank of Indus watching the green and blue coloured water merge among the sounds of Floyd, having the Kadha Prashad and Langar at Pathar Sahib and taking the blessings of Kali Maa in the Spituk Monastery (yes, there's a small Kali temple inside the Monastery). Yet, what's ingrained in my memory is the letter that a 22 YO from the Indian Army wrote to his family before getting martyred in the war, that we saw at the Hall of Fame. It's a shame how little we know of the determination of the Indian Army in protecting the nation.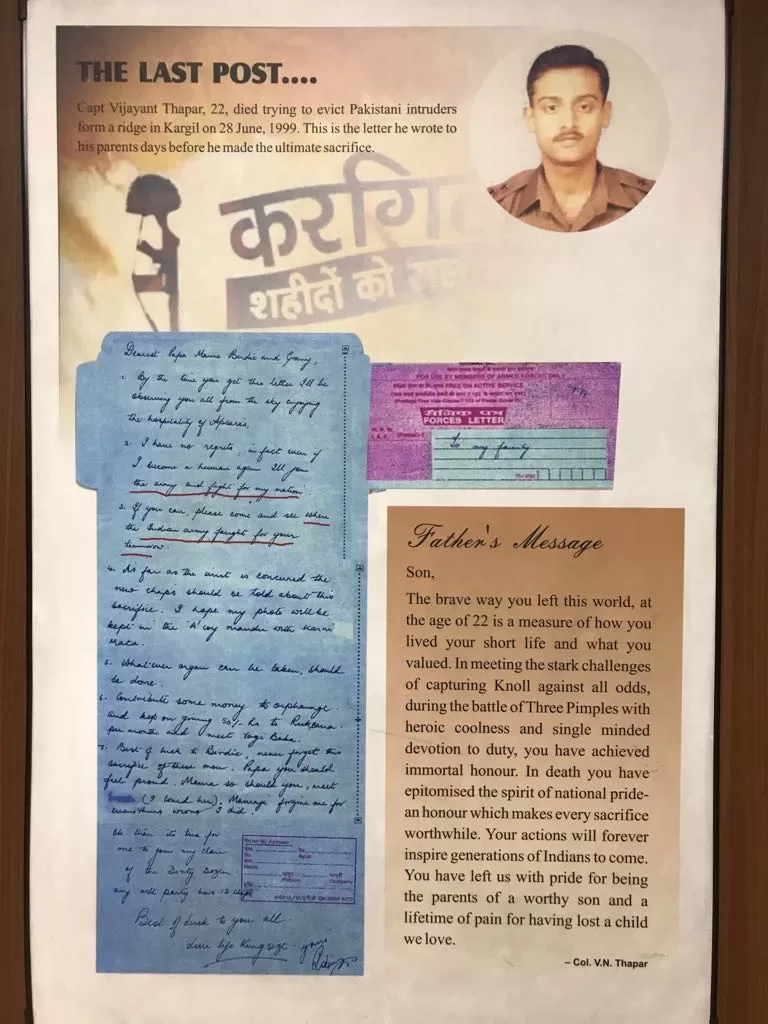 When we reached Khardung La Pass, the highest motorable road in the world, it was literally like being on top of the world, surrounded by snow-laden mountains. While you're advised to stay there only for 10-15 minutes (due to the lack of oxygen), those 10 minutes were a memory to cherish. We came across fleets of bikers, feeling a sense of accomplishment in reaching the top, which reminded me of my 8veetil biking gang back in Bangalore. Much love to those boys!
On our descent to Nubra Valley, we came across an ATV riding spot, and I had a blast doing the 4 km stretch on the sand dunes. Soon after, at around 2 pm, we reached our resort – Imperial Eco Cottages. It was a small camp site with about 12 bamboo cottages complete with all the amenities, including toilet paper. It's important to note that Nubra Valley gets electricity only from 7-11pm in the night and because of this, most cottages do not bother keeping television. So this day was a real opportunity to connect with nature or just stay away from technology (given that no operator other than BSNL works there) and I decided to sway on a hammock, play some music and immerse myself in a Ruskin Bond read. My mum, on the other hand, decided to take a nap since the rough terrain and her high blood pressure had taken a toll on her.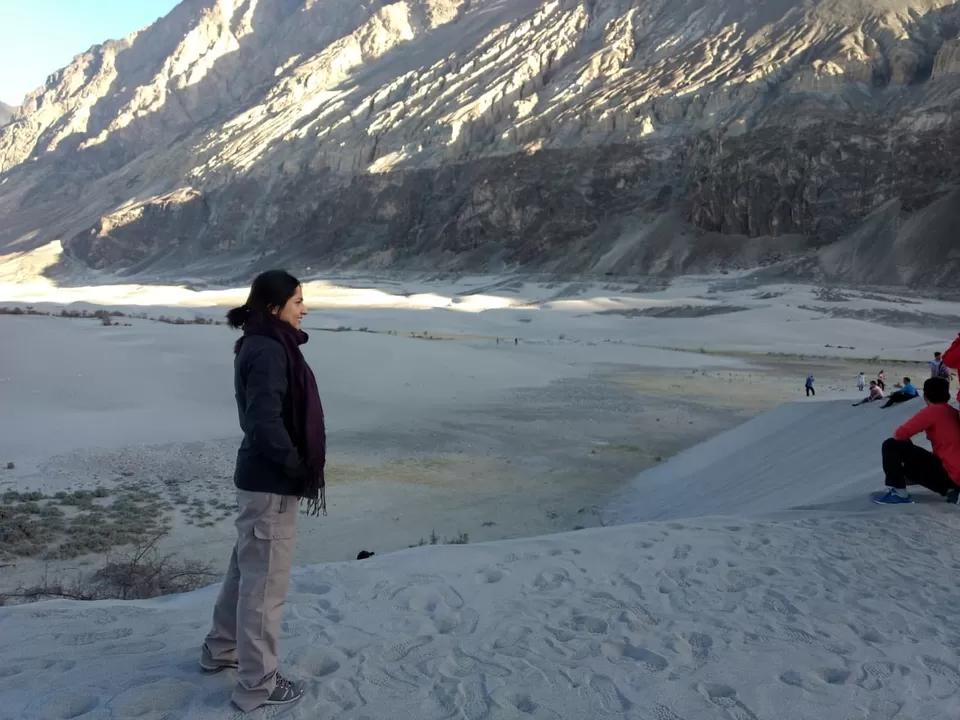 It was around 4 in the evening that our guide asked to take us to two more places in Nubra. One was to the sand dunes for a ride of the double-humped camel (unique to Ladakh) and to a Ladakhi culture show which showcased the various dances of Ladakh. While we did not take the ride on the camel, we did take a stroll in the desert where there was sand for miles together. And it was a lot of fun to sway with the Ladakhi dames.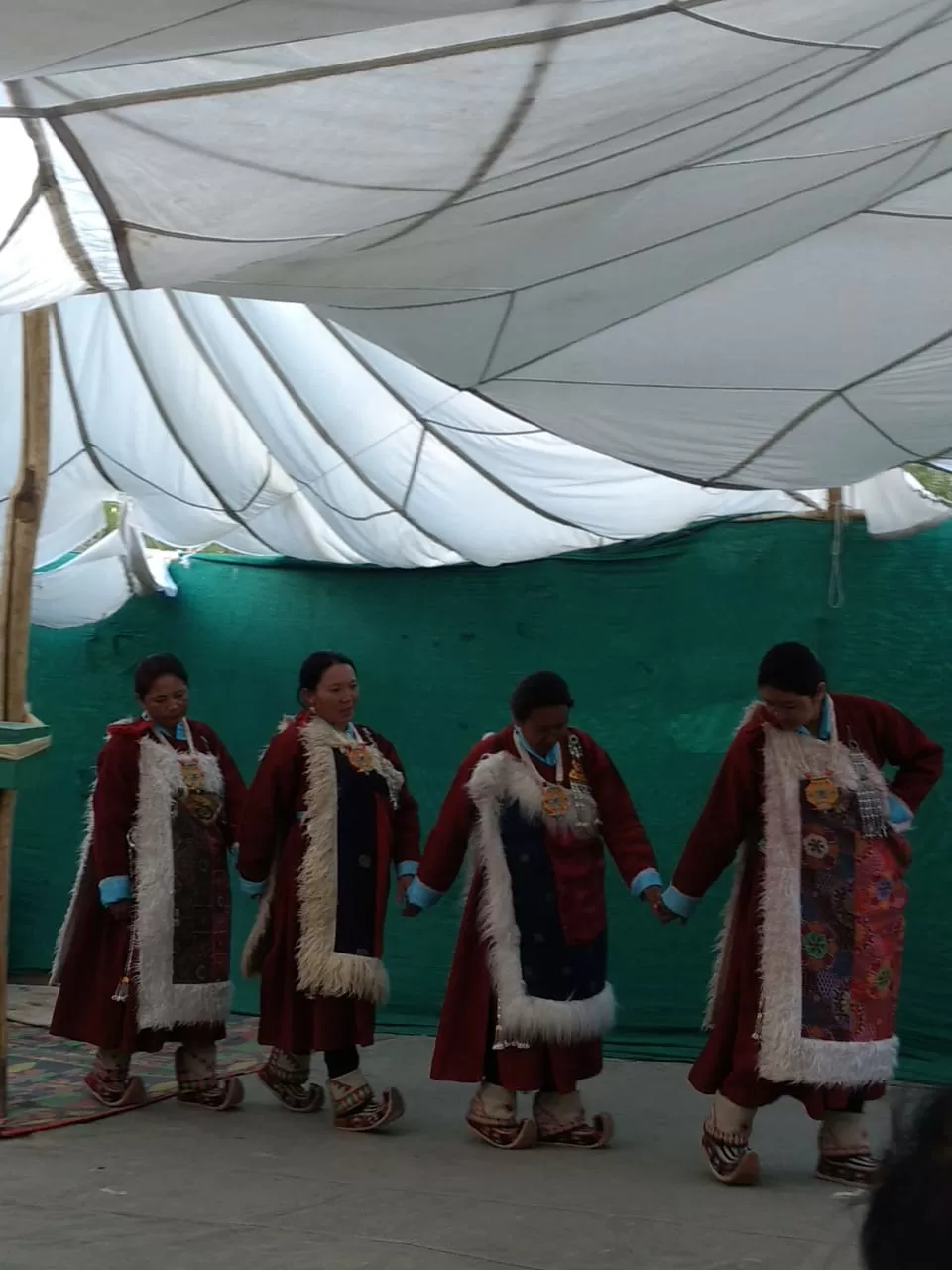 A hectic but adventurous day ended with a Lafa and apple crumble at Gesmos German Bakery in the Leh Bazaar. We spent a comfortable night at Eco Poplar with some friends like family and took the morning flight back to Delhi.
It's funny how we think we have so much time left with our folks, until one day we don't. So seize the day, and make some memories with those who love us more than anyone in the world. So to my momma, I hope you had a lovely Mother's Day!