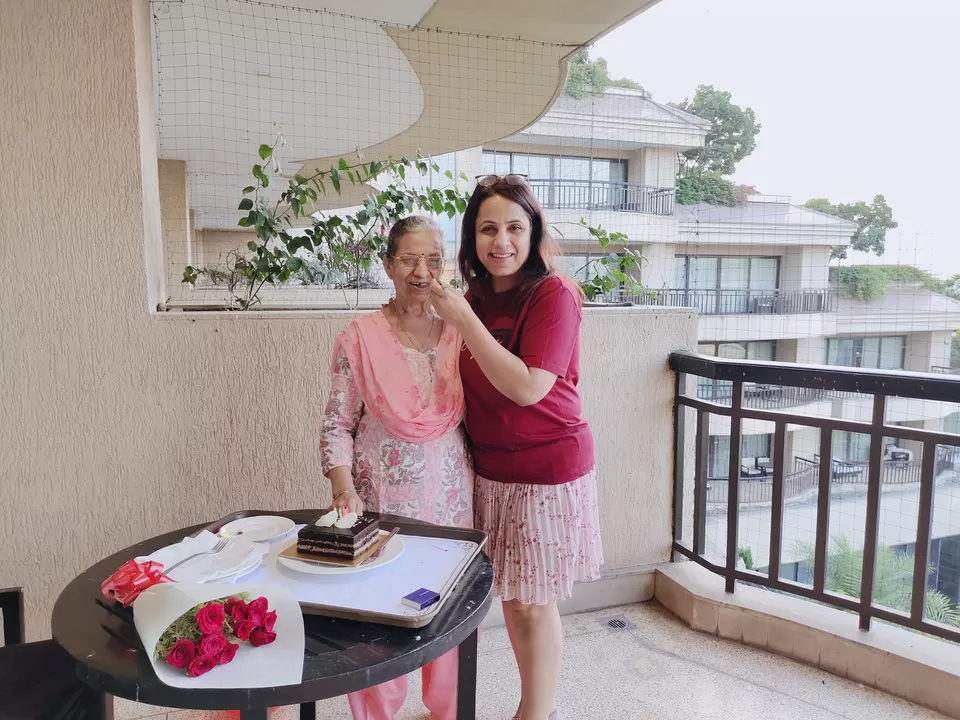 On 2nd October, i told my mom and day to pack their bags, we are going somewhere and they had no idea where we are going, I called the driver, I started capturing all the moments since morning, as my mom's birthday was on 3rd October, since the journey started, I captured all the moments. Mom was surprised as she was like...Where is she taking us...
We landed up to Vivanta by Taj, Surajkund...I already booked a surprise for her birthday.A 1 NIGHT ALL INCLUSIVE PACKAGE ....YEYYYYY.
My mom dad entered into the room and they saw all the red color balloons are there and red color flowers were there in the room. The mesmerising smile on her face was breath taking and I was so happy to see the happiness on her face. Then I took them to Lunch in Paranda Restaurant, we ordered the best of the food...We went to swimming pool, did clay pot making...clicked plenty of pictures and in the night we had lavish buffet dinner...
In the night at 12 midnight, the bell rang...guess what? The house keeping guy came with a big chocolate truffle cake for her birthday...YESSSS...That's the icing on the cake..She loved it too much.
We wake up in the morning and had a lovely lavish buffet breakfast...we ate soooo much and were like too much full...
We explored the hotel and enjoyed each and every corner..
Then its time to go back...AWWWW
We were set to go with lovely, unforgettable and mesmerizing memories...
That's how I celebrated my mom's birthday in luxury way.