After my recent weekend trip to Kashmir,my boss in office commented,"People are scared of even going to markets and you are making trips to Srinagar!!!"
True...Covid should not be taken lightly.But that does not mean you should not travel at all.We should travel but responsibly.In this article I would share the details of my recent weekend trip to Kashmir.
Tour Duration
2nights and 3 days(Long weekend Trip)
Our flight was from Delhi on Saturday Morning.If you are planning to travel by flight from Delhi to Srinagar,try to get a window seat on the Right hand side and while returning take the seats on the Left.You would get some wonderful views of the snow covered Himalayas.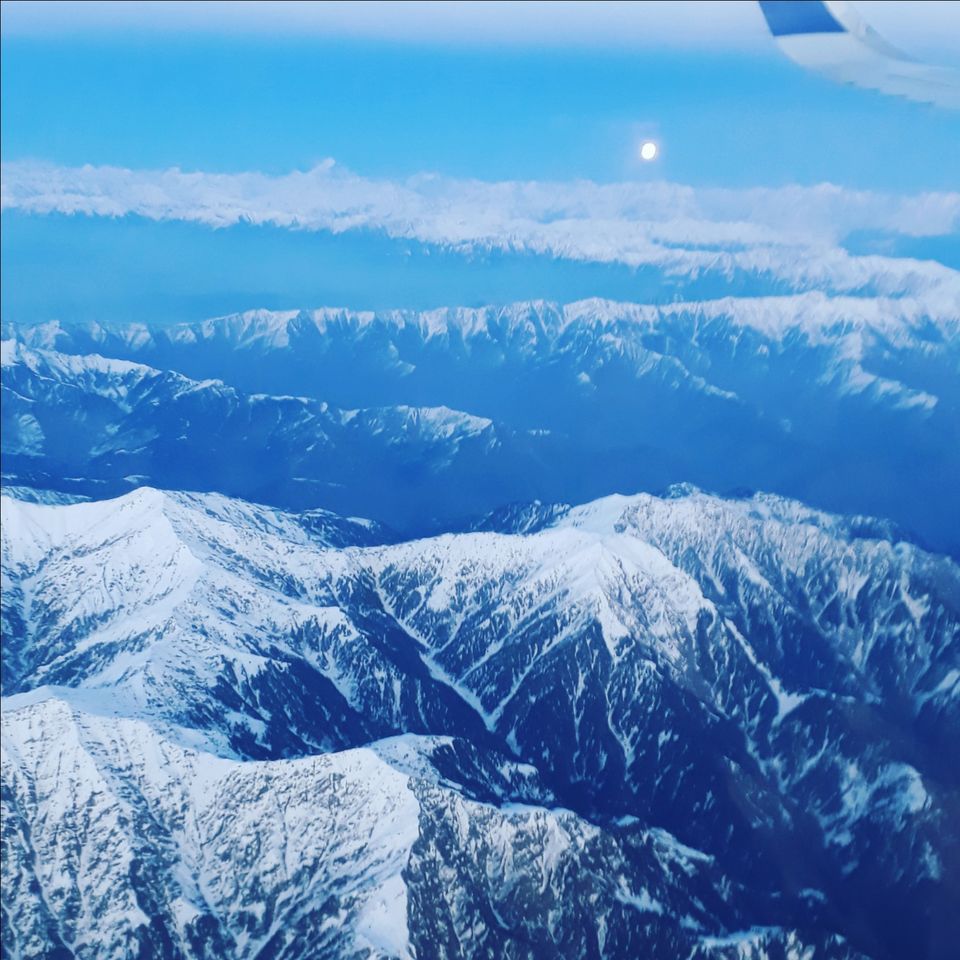 Brief Itinerary
Saturday: Check in at hotel & Half day Tour of Srinagar.Night Stay in Srinagar.
Sunday: Day trip to Gulmarg.Night stay in Srinagar
Monday: Check out from hotel after breakfast and visit the remaining tourist spots in Srinagar + shopping
What to Pack:
Since this is Pandemic era,we need to be extra careful regarding our health.So,these are a few things I would recommend you to carry
1.Face Masks
2.Sanitisers for hands and a spray bottle and a small handwash bottle.
3.Tissue papers ( so that you can use your own tissues and not have to use the ones from hotels and restaurants.)
4. personal face towel
5.Steamer(yes I would recommend you to carry this and use this in the evening.)
6.All general medicines and required clothes.
7.Own pair of waterproof boots,gloves and a clothing for the snow(These are available available for rent in Gulmarg but since this is pandemic time,it is better if you can use your own things.)
8.ID card (of course)
Formalities at Srinagar Airport
At Srinagar airport we had to give our details like Name,Phone numbers,where we were coming from,local staying address etc.After this we were given a sealed testing kit and samples for testing were collected from our noses at the temporary booth erected at the airport itself.We were allowed to go out and we were told that we would receive a message in 10 minutes only if we tested positive.Thankfully,we never received a message.
Places to see/Things to Do/Detailed Itinerary
Saturday
After checking in at the hotel and after having some meal we started our sight seeing at around 12.30pm.We had already booked a cab for the three days at the Airport.
1)Our first destination was the Shankaracharya temple.This temple was high up on a hill and our cab drove us up along the twisted roads to the hilltop.The views of the Dal lake and the valley below was beautiful!At the hilltop,we had to climb around 200 steps to reach the ancient temple dedicated to Lord Shiva.The temple was carved out of huge blocks of stones and the ambience was very peaceful.However,No camera or mobile was allowed in the premises and we had to go through security checking at the entrance.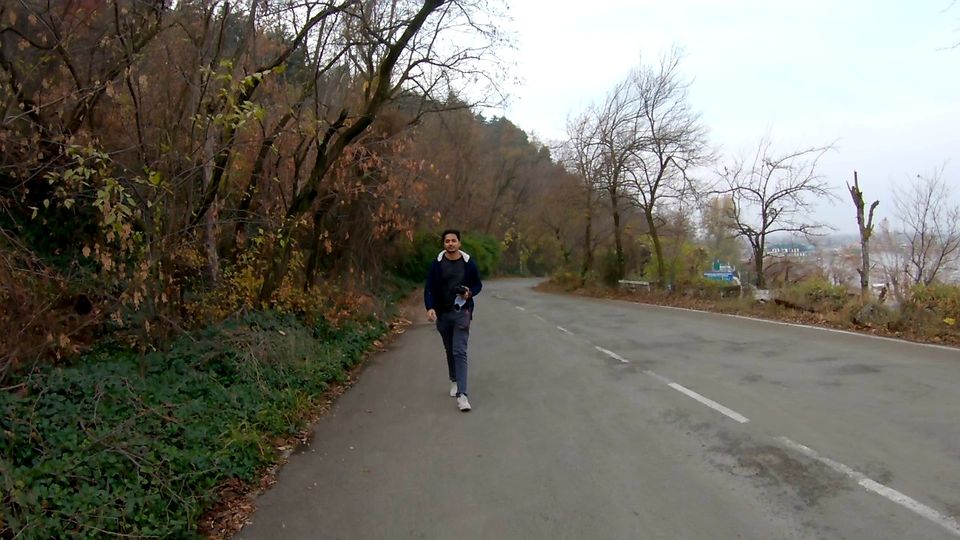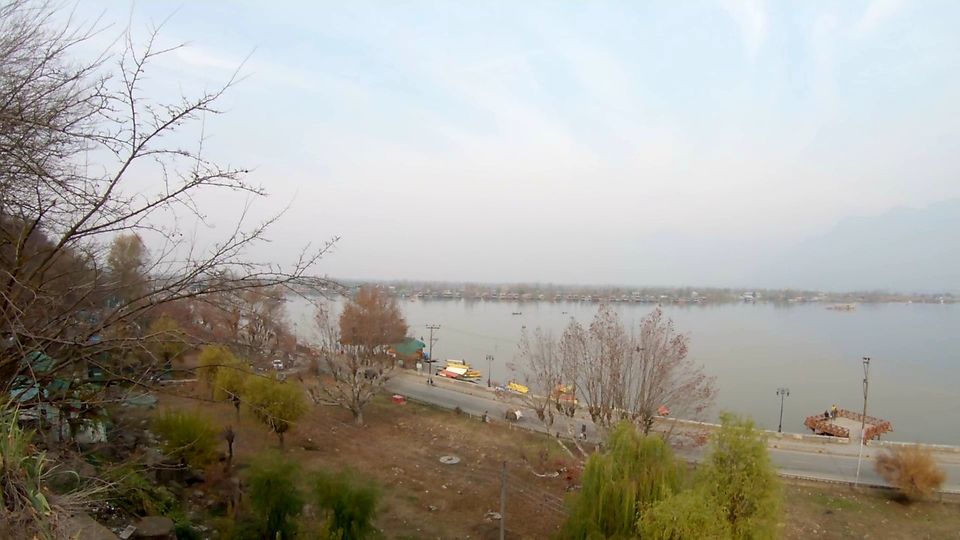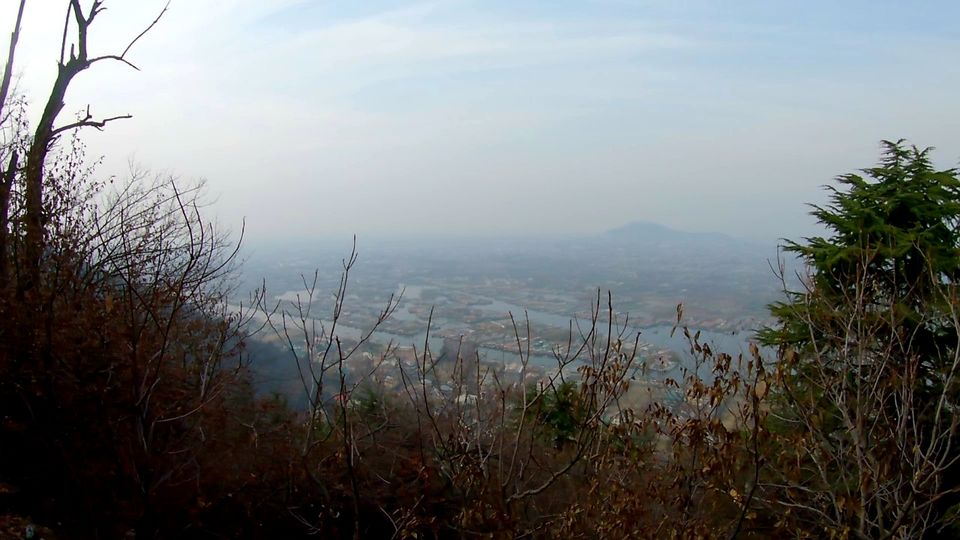 2)After our Visit to the Shankaracharya temple ,we went for a Shikara ride at the Dal lake.The 45min ride took us around the locality of Dal lake.I was surprised to see that the lake was a complete residential ecosystem in itself.There were house boats where people lived and engaged in day to day activities.There were Lotus gardens(now dried up because of the winters), floating Vegetable gardens,House boat hotels,boutiques and handicraft centres,medicine shops,grocery shops etc.There were everything one would get to see in a residential area on land with Shikaras as means of transport in place of Autos,buses,cycles and scooters.While we were on the ride a lot of shikaras came up to us to sell saffron ,handicrafts,wood crafts and silver jeweleries.There was a shikara selling barbeque meats and fishes and we enjoyed a plate of delicious roasted trout (cost:Full plate Rs400 and half plate Rs 200).
The 45 minutes shikara ride cost us Rs 1000,after a lot of bargaining.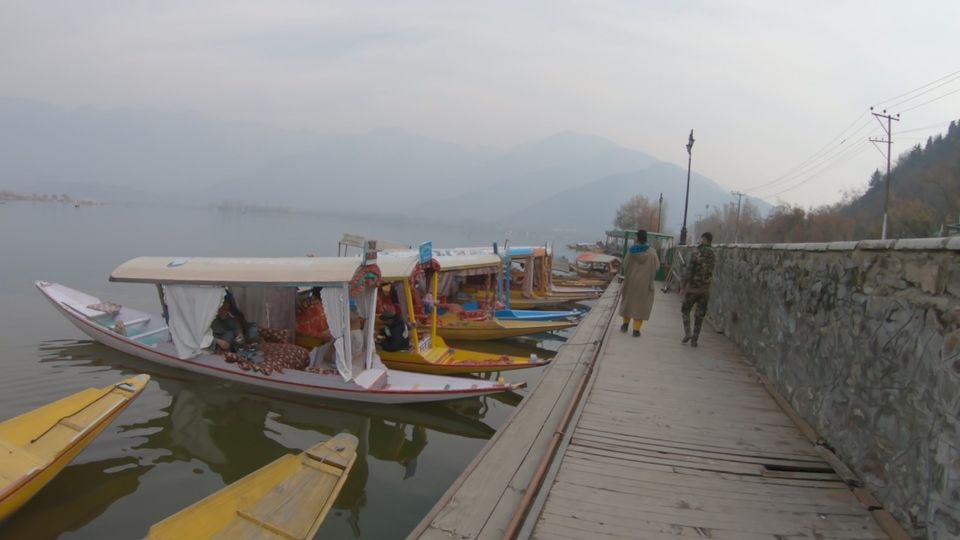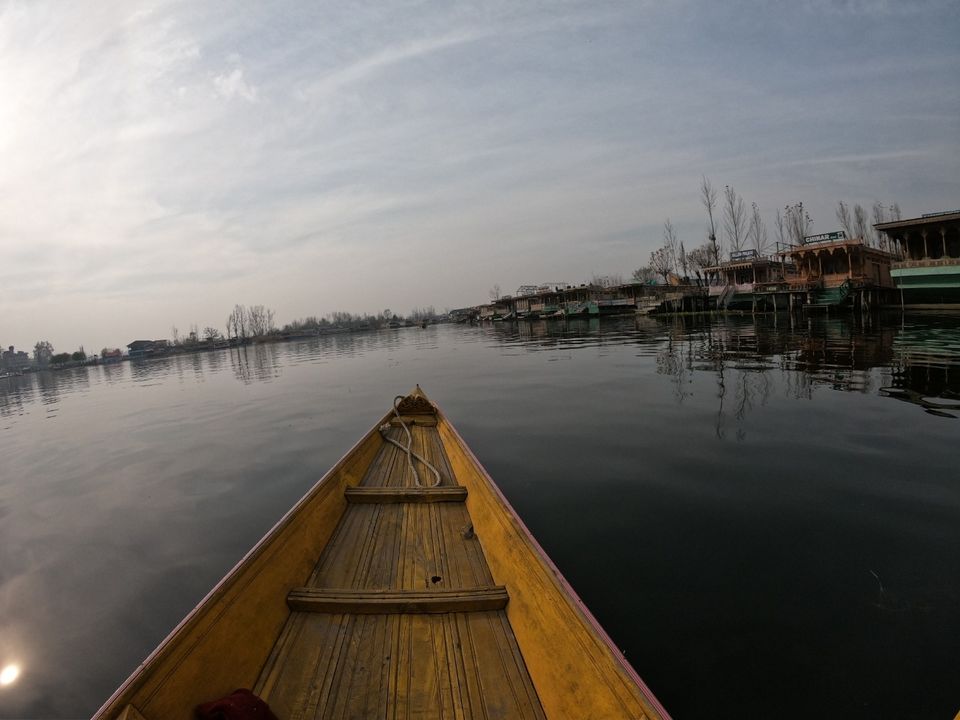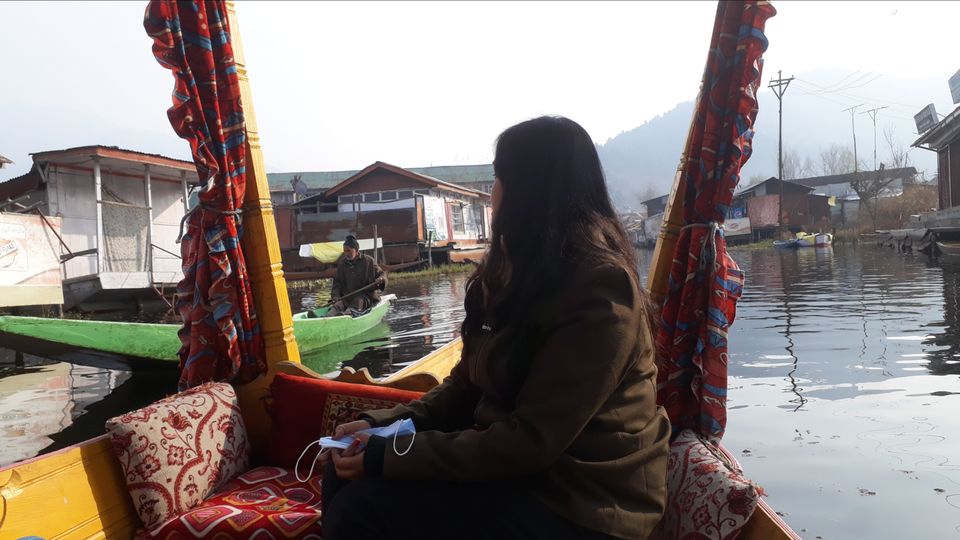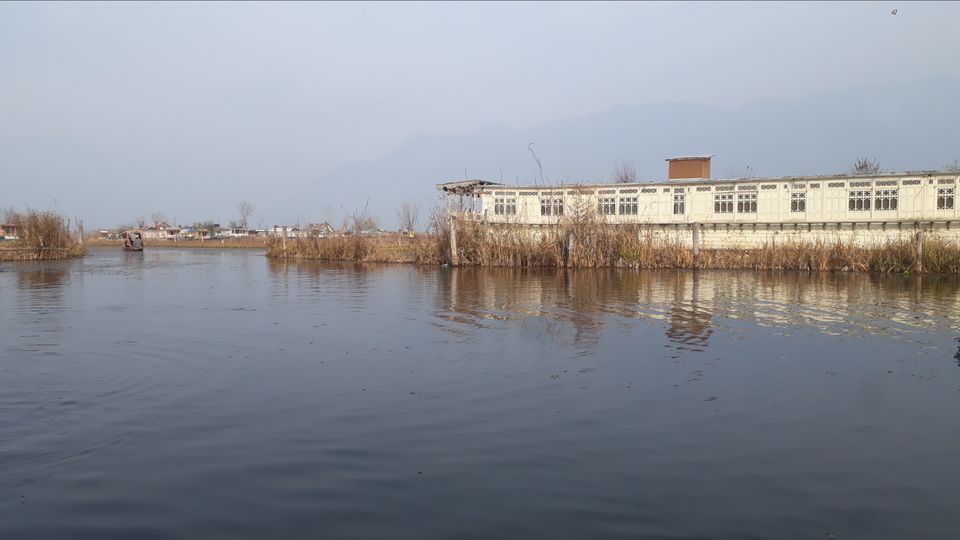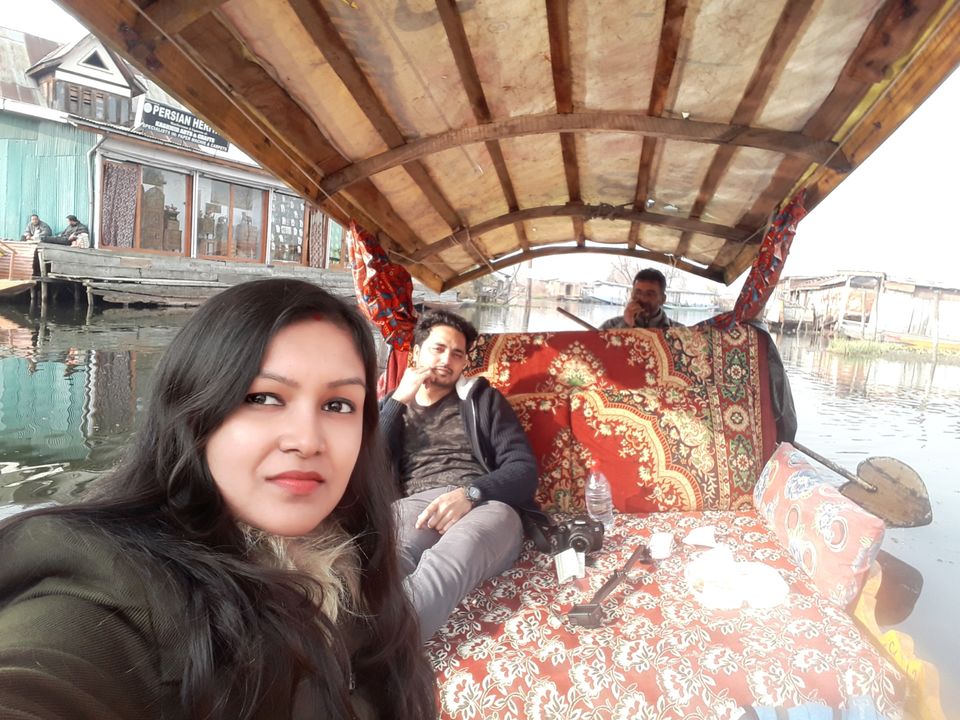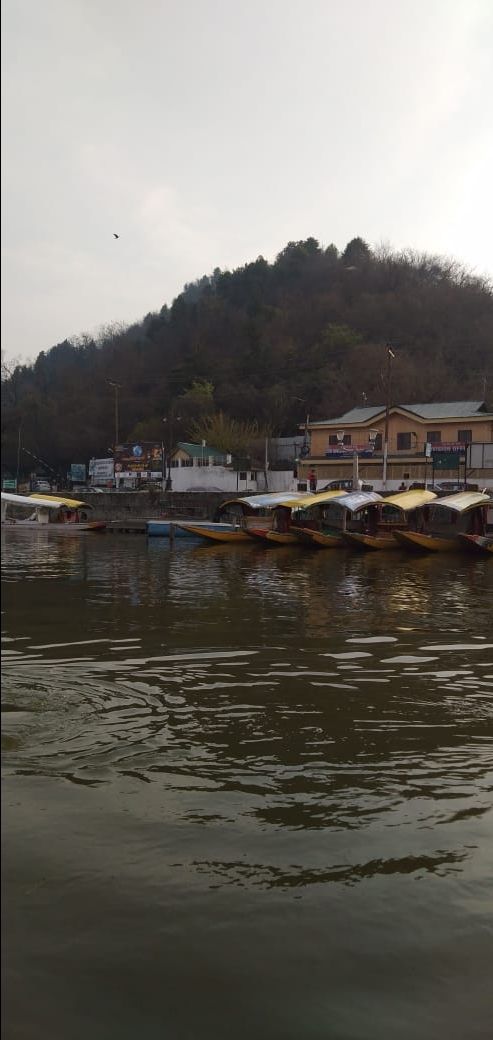 While on the shikara ride we got down to visit a small park built on the Dal lake.The park had facilities for water sports and had a lovely cafe.We had some samosa and hot chocolate at the Gulshan books and coffee shop.The shop had a huge collection of books on a lot of subjects.The sitting area also had books for people to read while enjoying snacks at the coffee shop.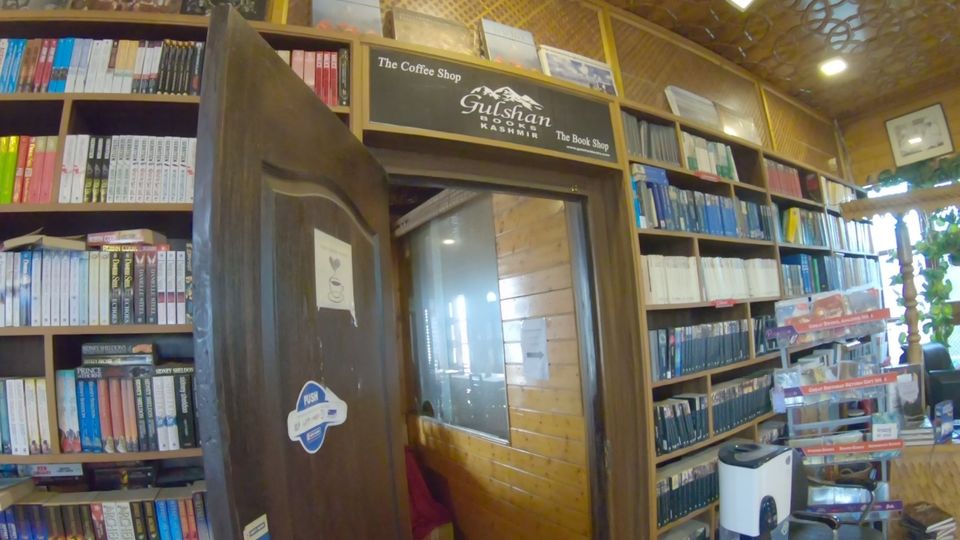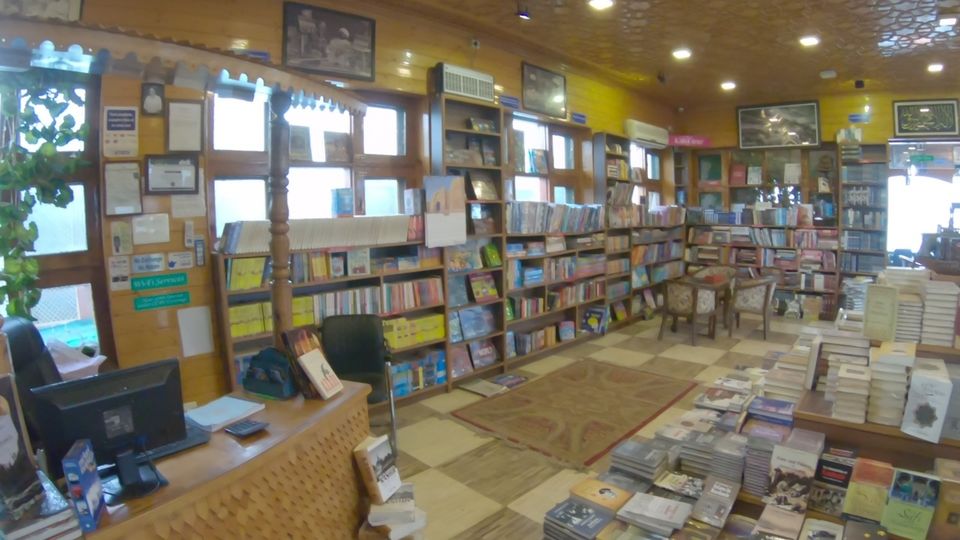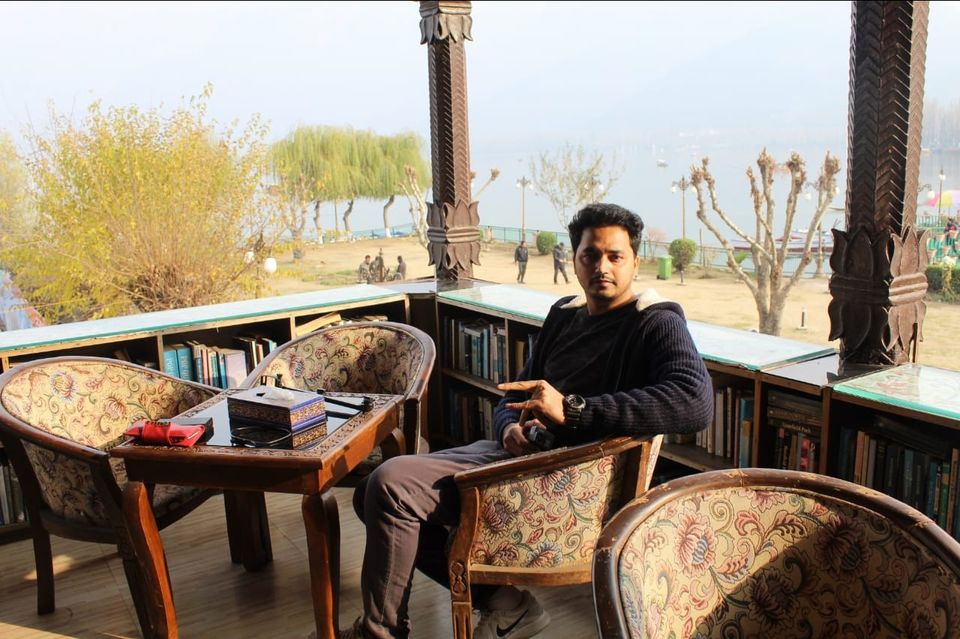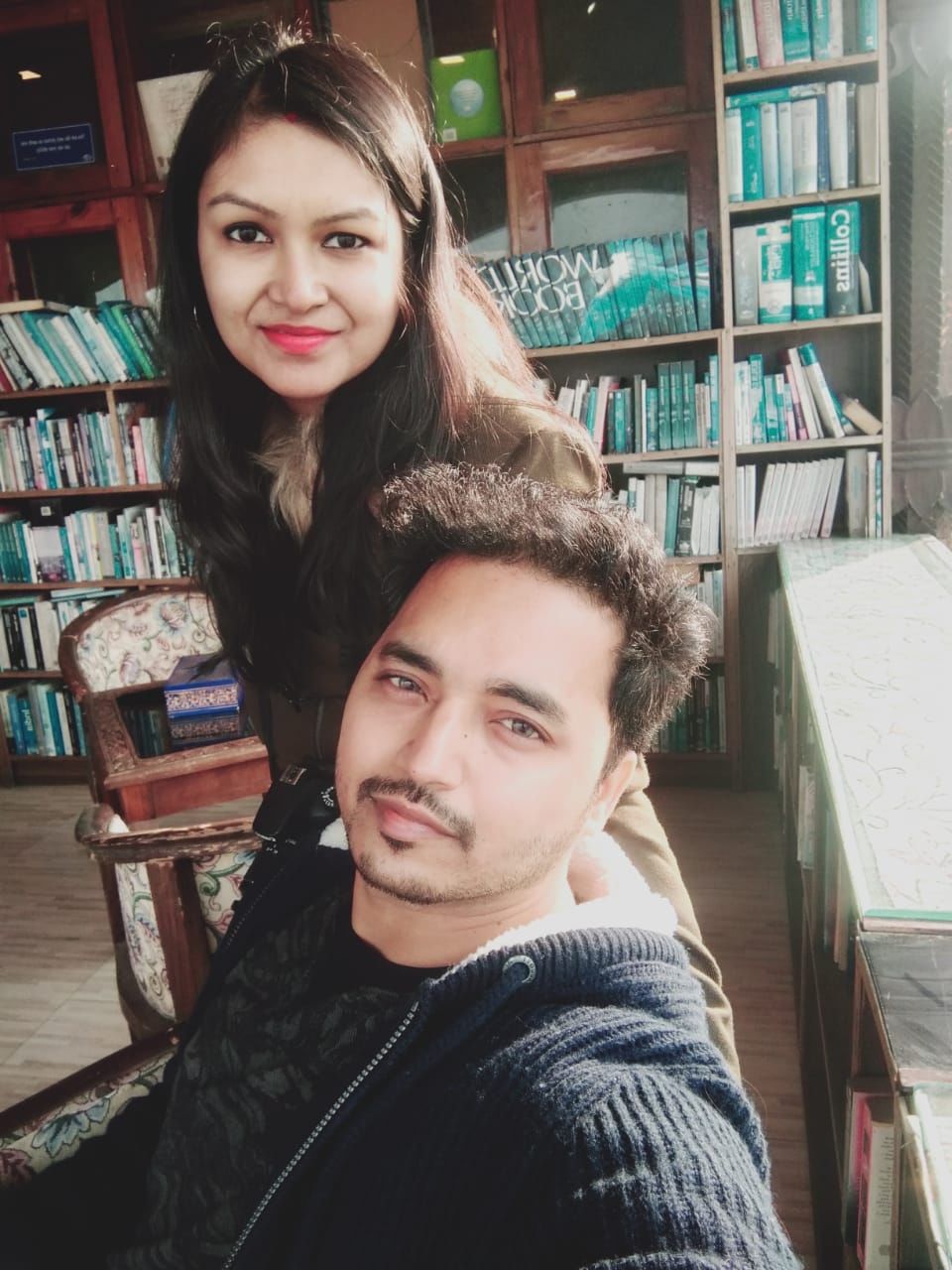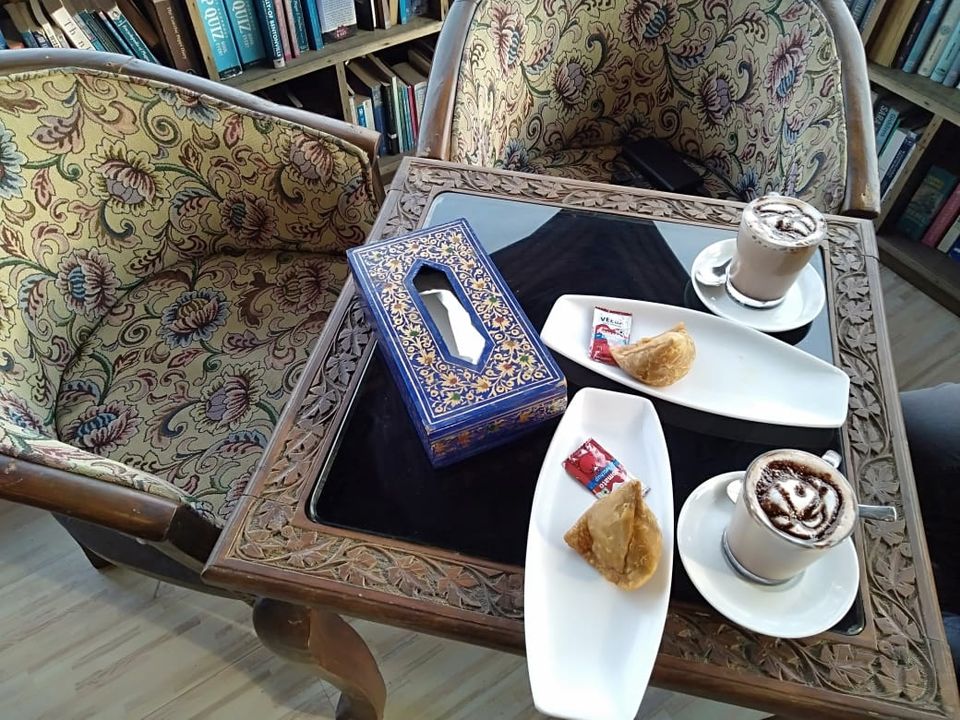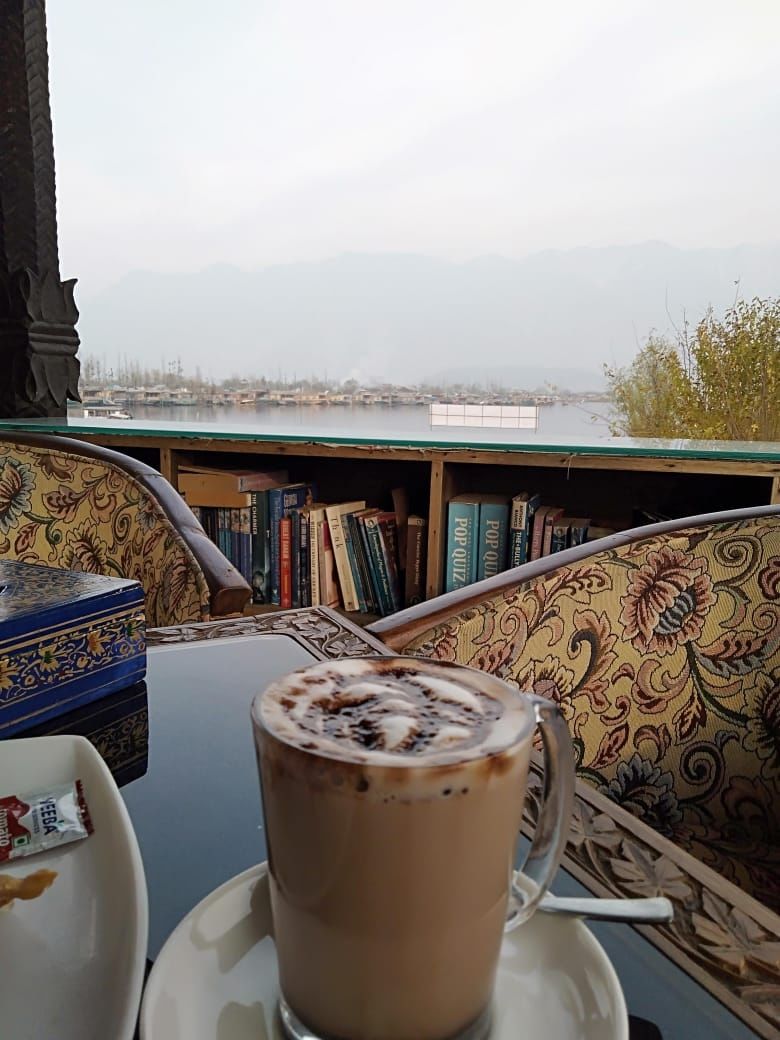 3)After our Shikara Ride we headed to the botanical gardens.The garden was beautifully laid with many trees.Some of which had turned into bright yellows and reds at the onset of winter.It felt so peaceful to walk around.The entrance fees to this garden was Rs 24 per person.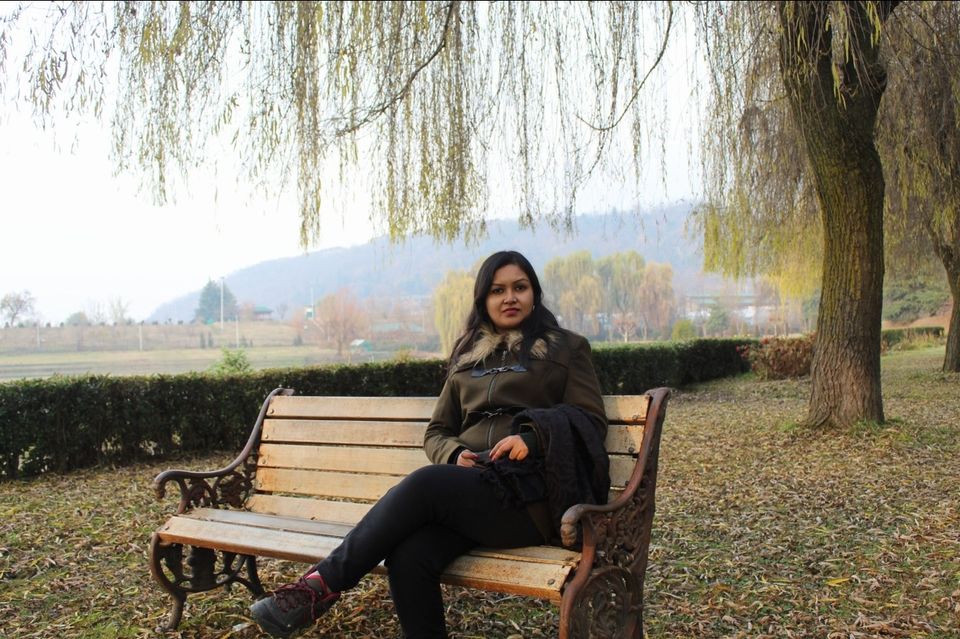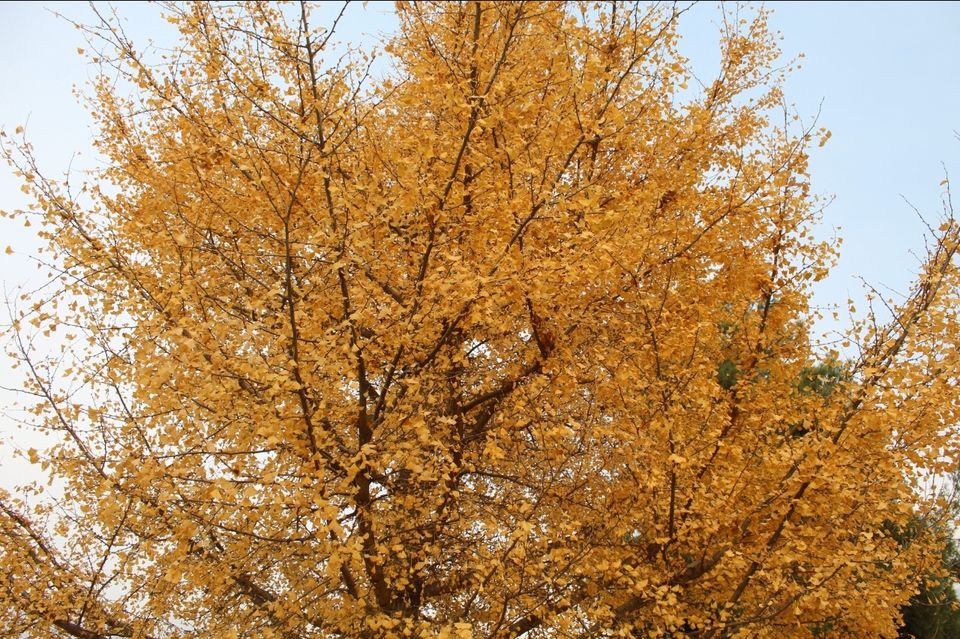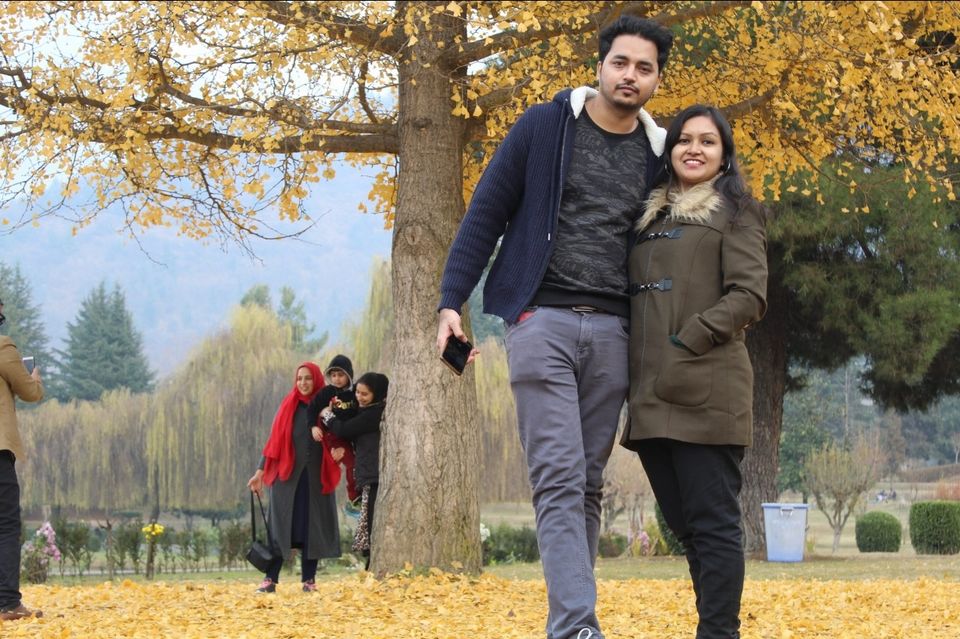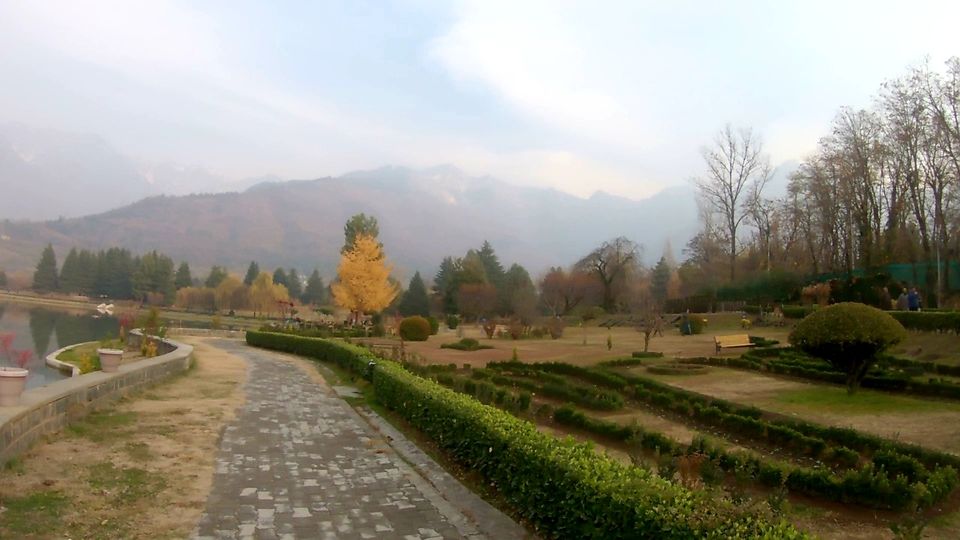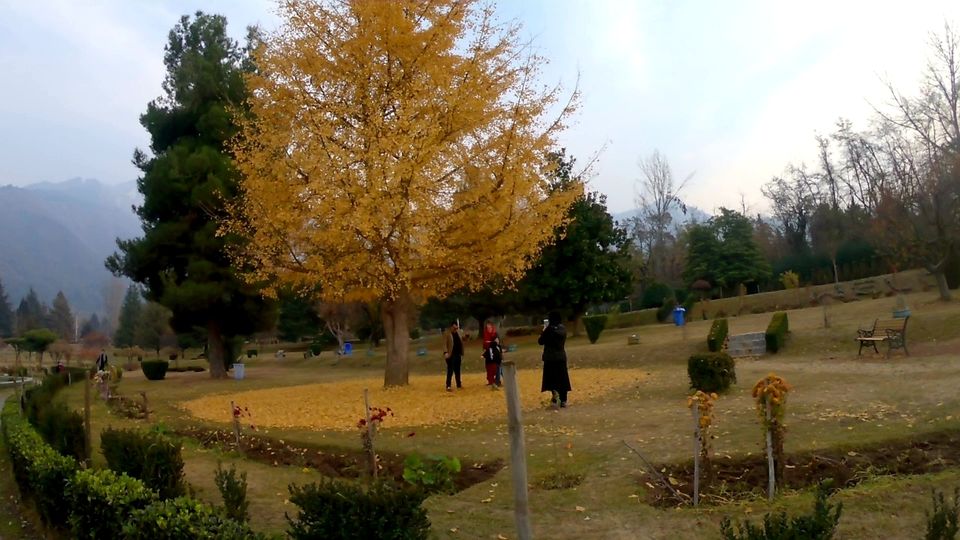 4)After a refreshing walk at the botanical gardens,our next destination was the 1632AD built Chasme Shahi garden.This historical garden was built by Shah Jahan for his son Dara sikhoh.This garden is built around a fresh water spring and has terraces.The garden with its Chinar trees and mountains at the backdrop provided mesmerising views.The entrance fees to this garden was Rs 24 per person.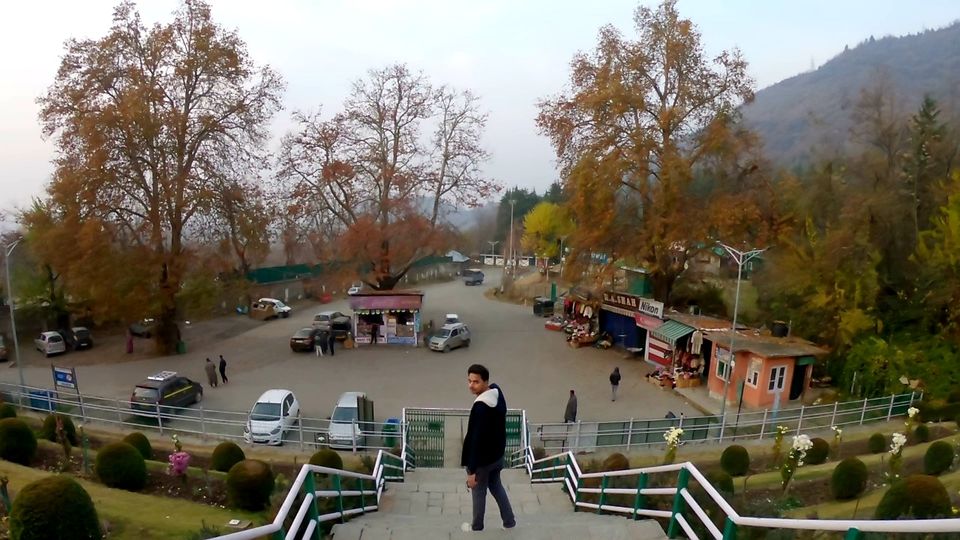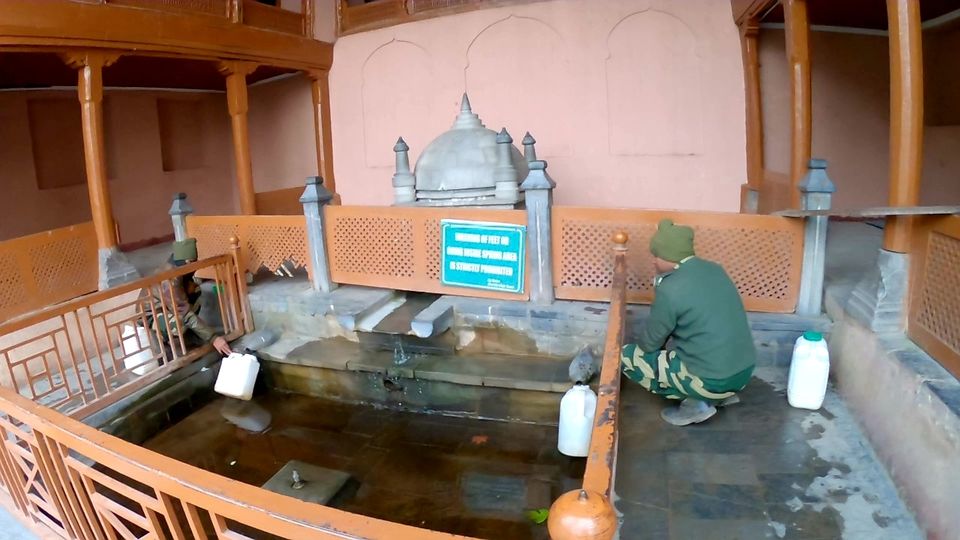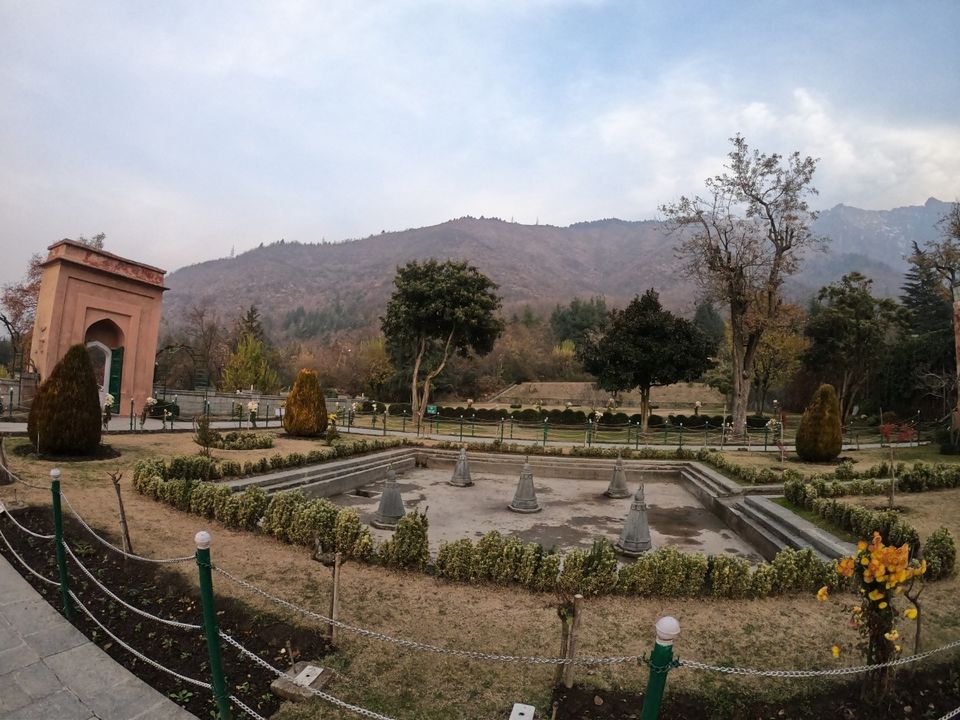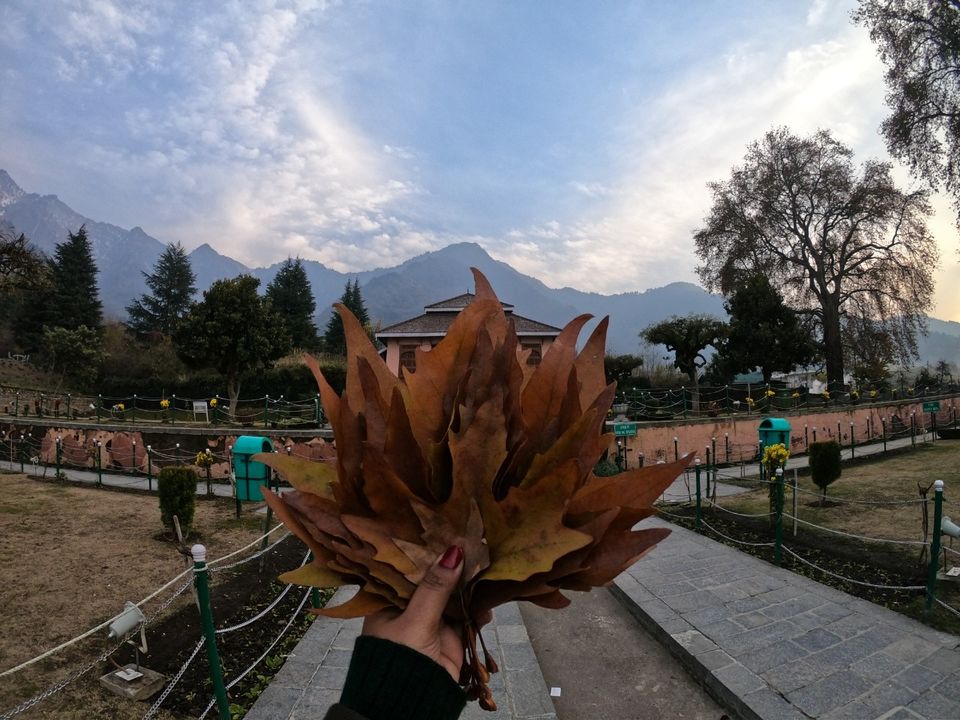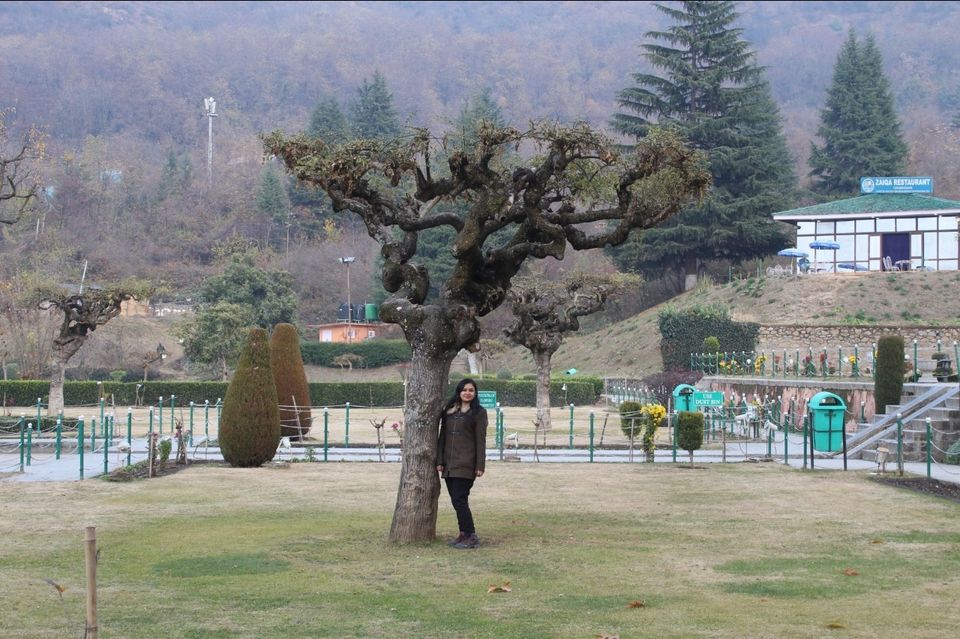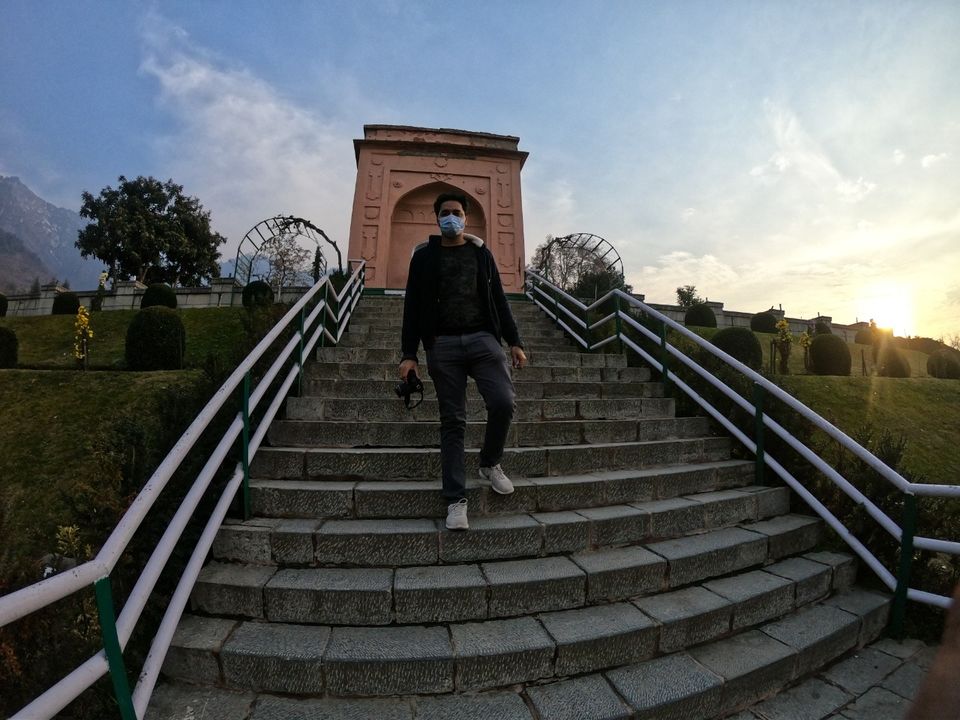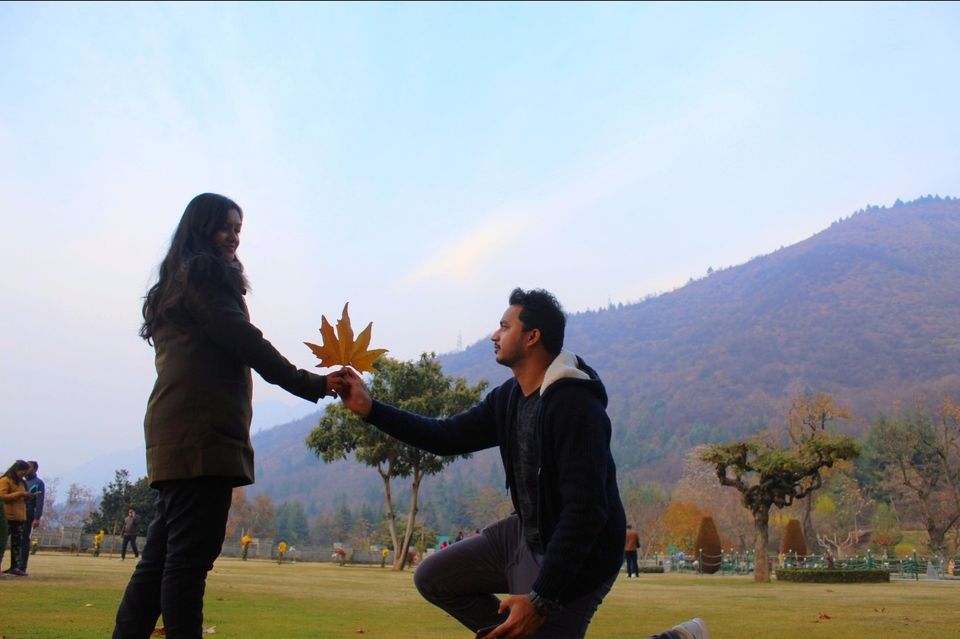 5)The last destination for the day was the Nishat bagh.It was already begining to get dark and the sounds of prayers from the nearby mosques could be heard.With the call of prayer,and the Dal lake at the backdrop,this historical garden with its red hued Chinar trees seemed surreal.I loved walking on the bed of red chinar leaves.
The entry fee to this garden was Rs 24 per person.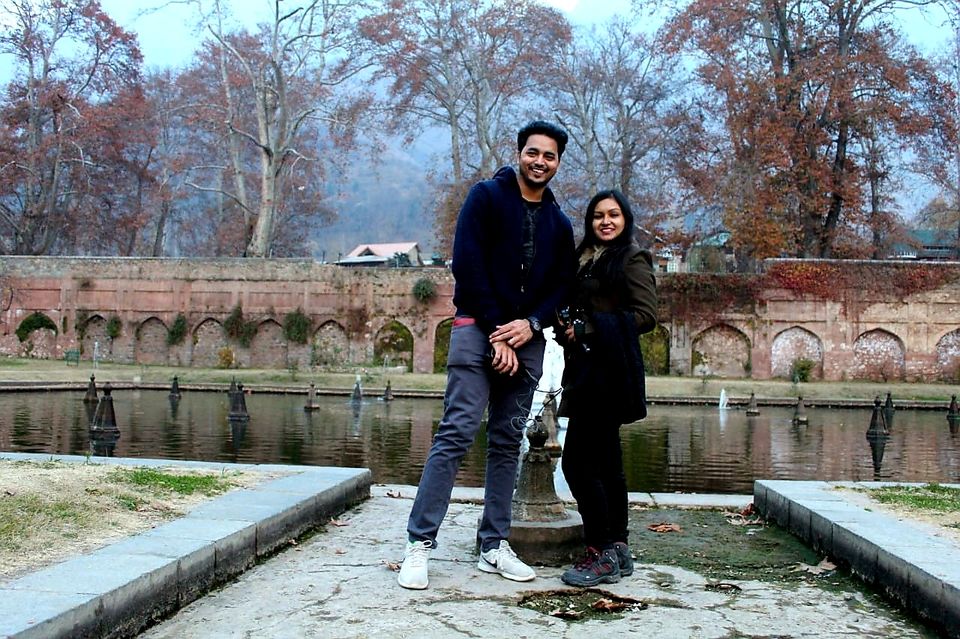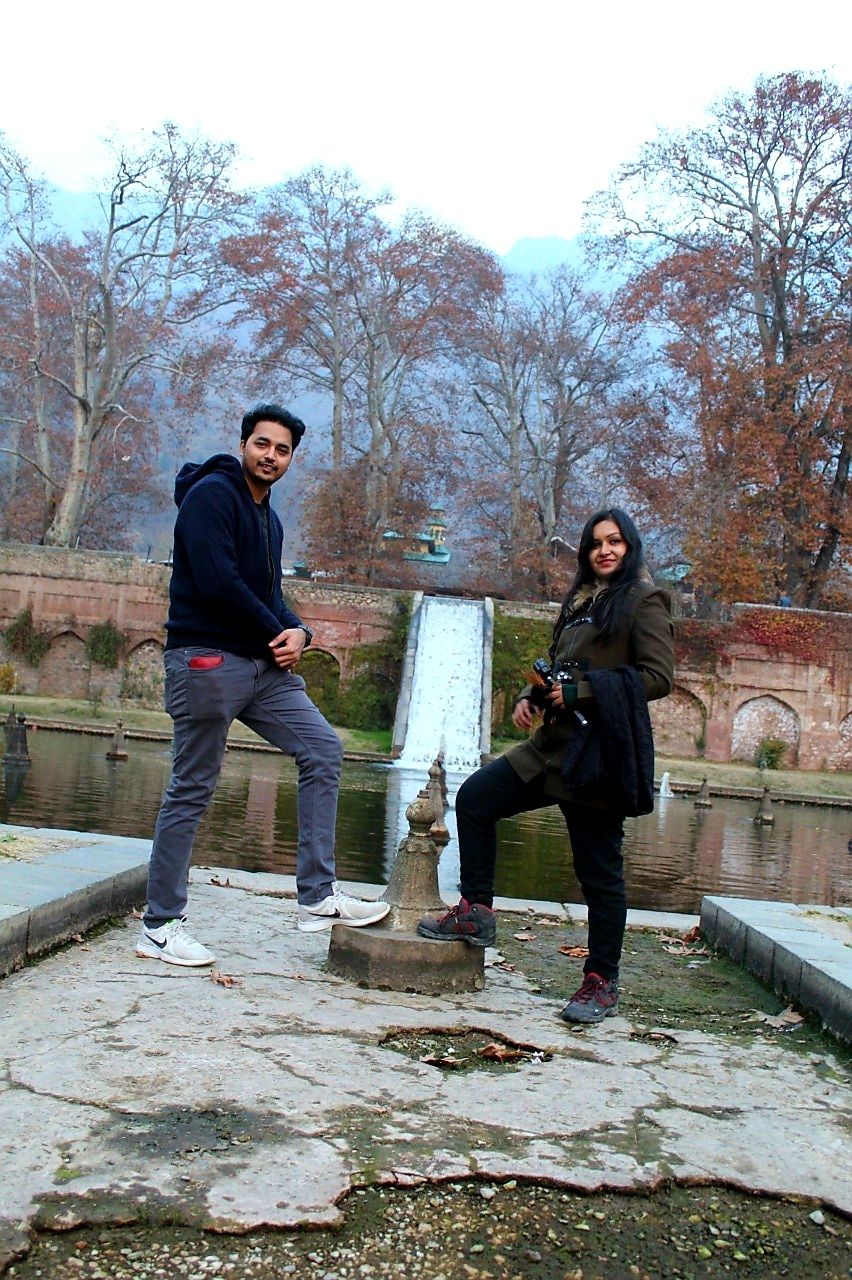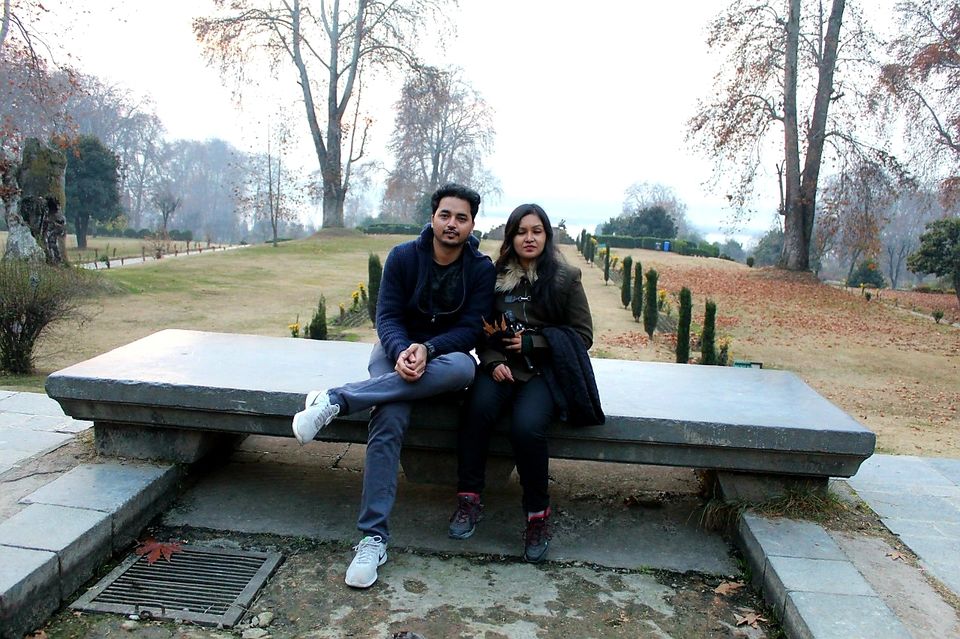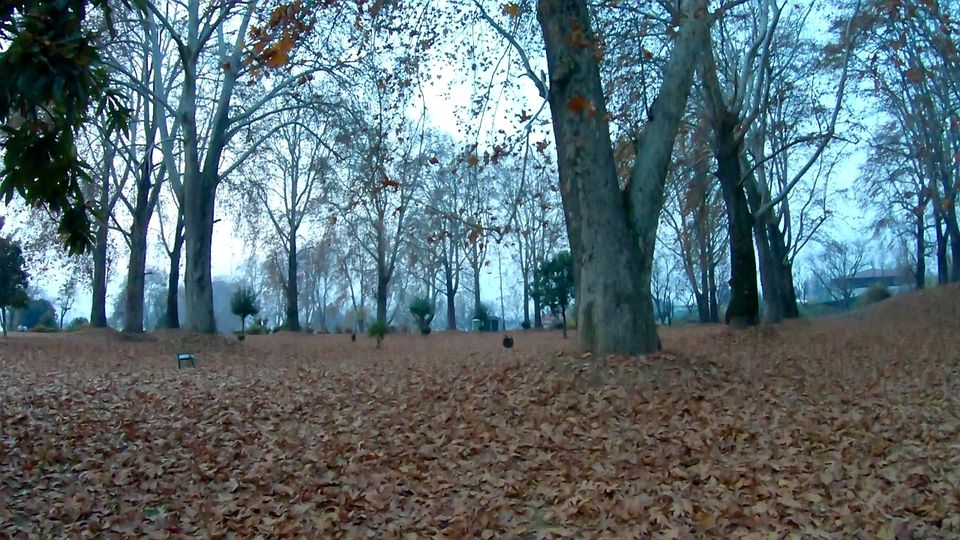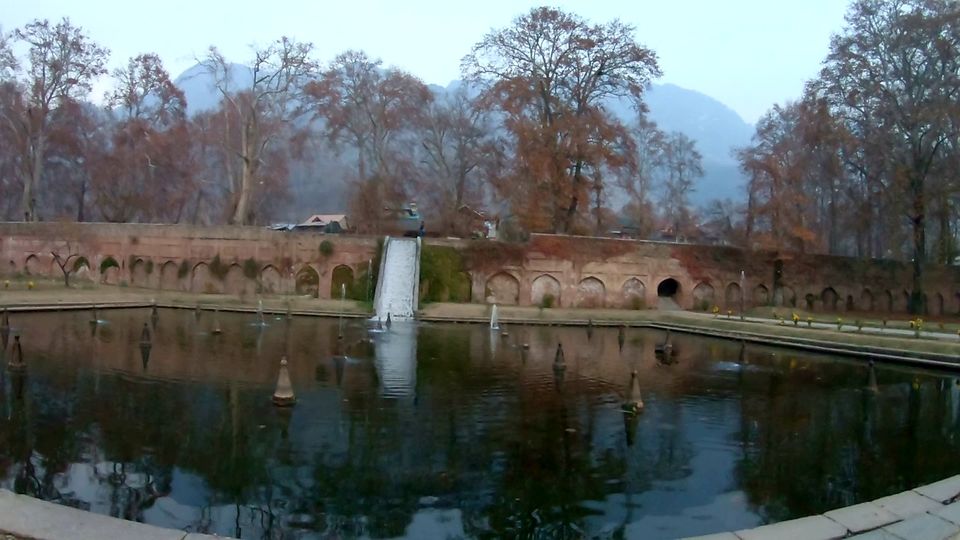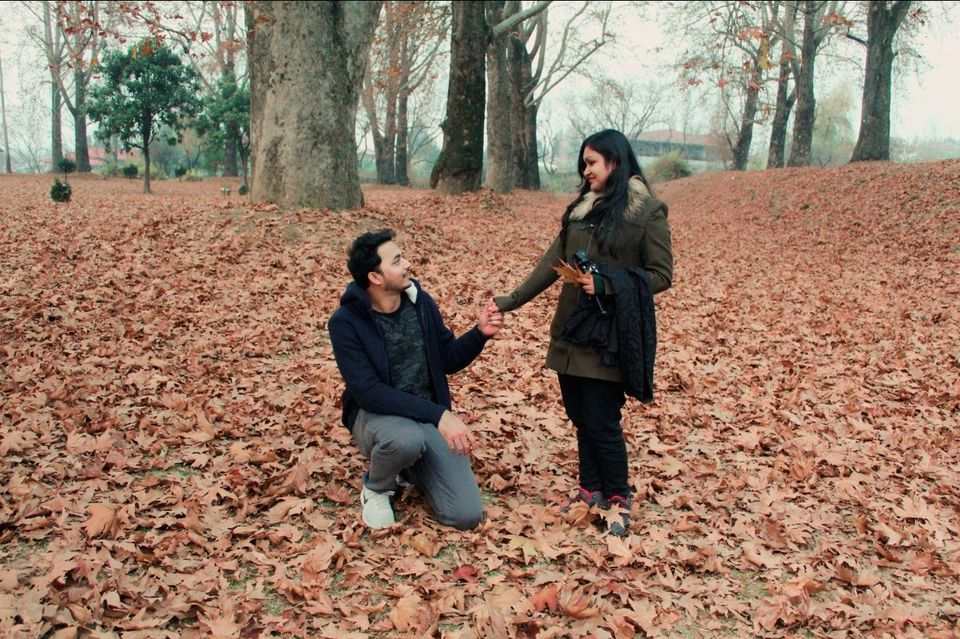 After a full day of travelling and experiencing the beautiful Srinagar city,we were hungry and our driver suggested us to dine at the Mughal Darbar.Guess what we had for Dinner?? Kashmiri Wazwan!! I had read about this huge meat platter and was totally thrilled to see it on the menu.Wazan is a huge meal which is cooked during Weddings and may consist upto 36 dishes. Here,we were only two people and so we ordered one fourth of the platter.This platter consisted of a plate of rice with Seekh kebab,tabak maaz(ribs),Gustaba(meatballs in yogurt gravy),Rishta(meat balls in red gravy),Rogan Josh(mutton gravy),methi maaz and a dish of chicken.Everything in this platter tasted awesome.
It cost us Rs 1200 for 2 persons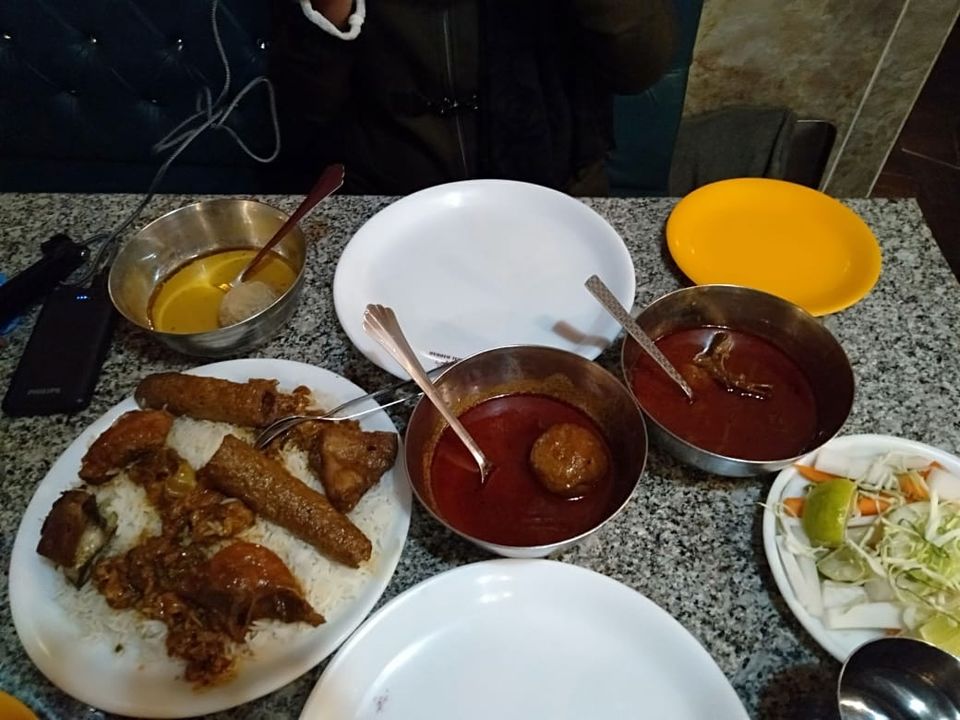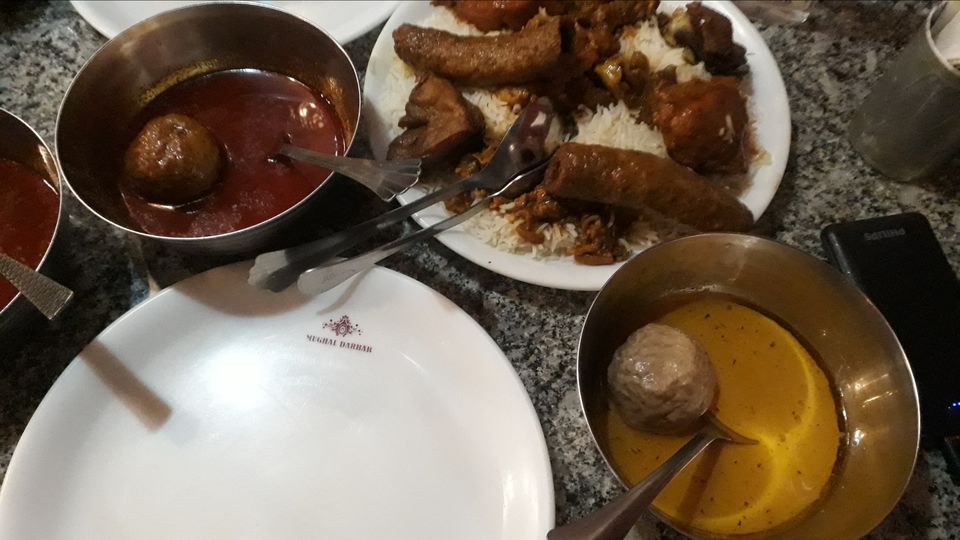 Sunday
Early on Sunday morning,after a hearty breakfast at the hotel we headed for our day trip to Gulmarg.It took about one and half hour from Srinagar to reach Gulmarg.Gulmarg,on that day,was all covered in lovely white snow and looked straight out of some fairytale.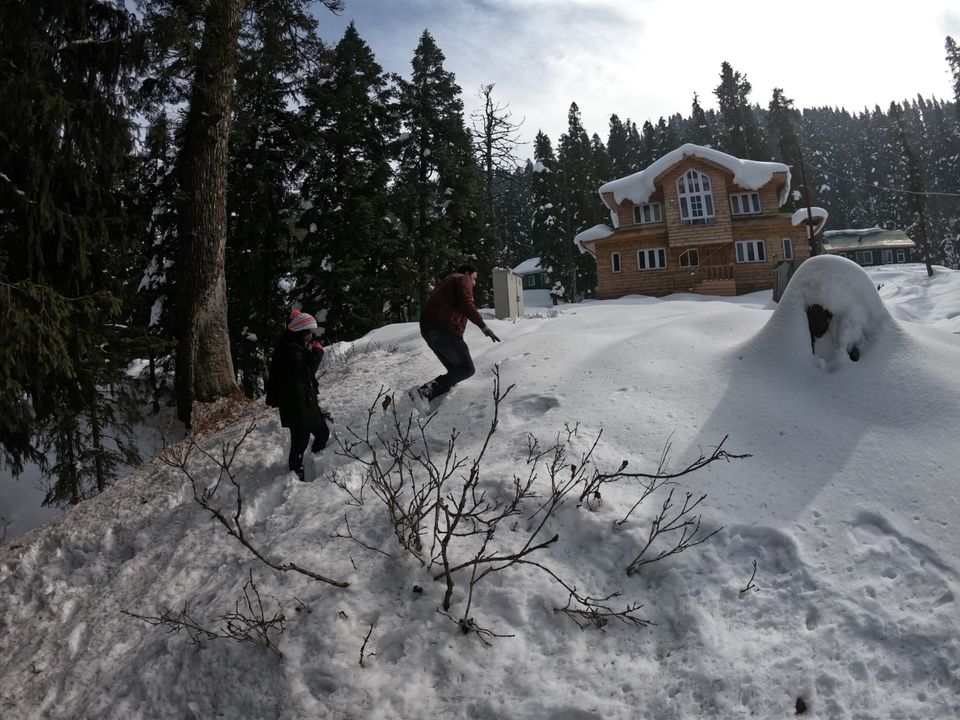 At Gulmarg,we hired two Sledges and the whole trip up and down the mountains in sledges cost us Rs 6000 for two persons.This was again after a lot of bargaining.Initially they had charged us Rs 14000 for 2 persons.Again,Since it was Sunday Gondola Ride was closed for the Day and we could not enjoy that.But we enjoyed thoroughly the beautiful white snow and the sliding down the hill slopes on the sledge.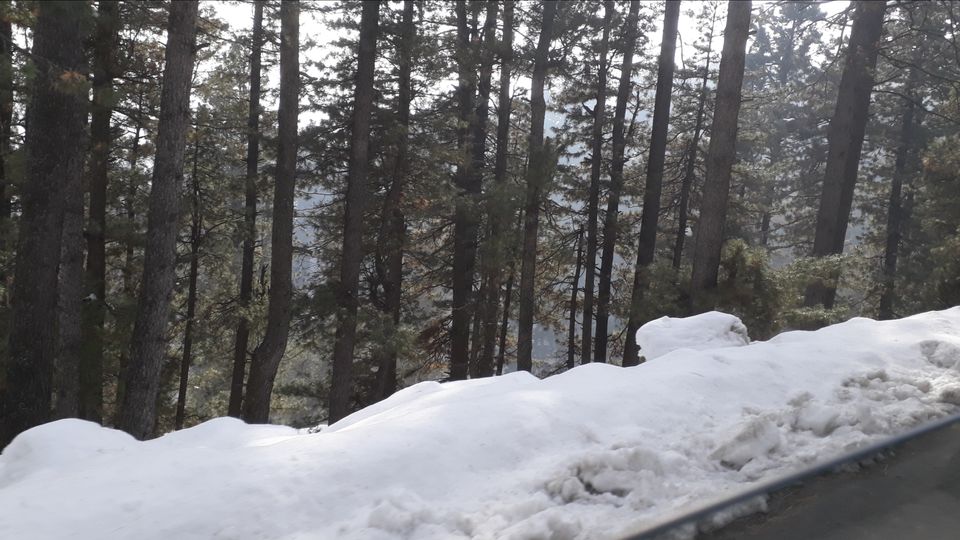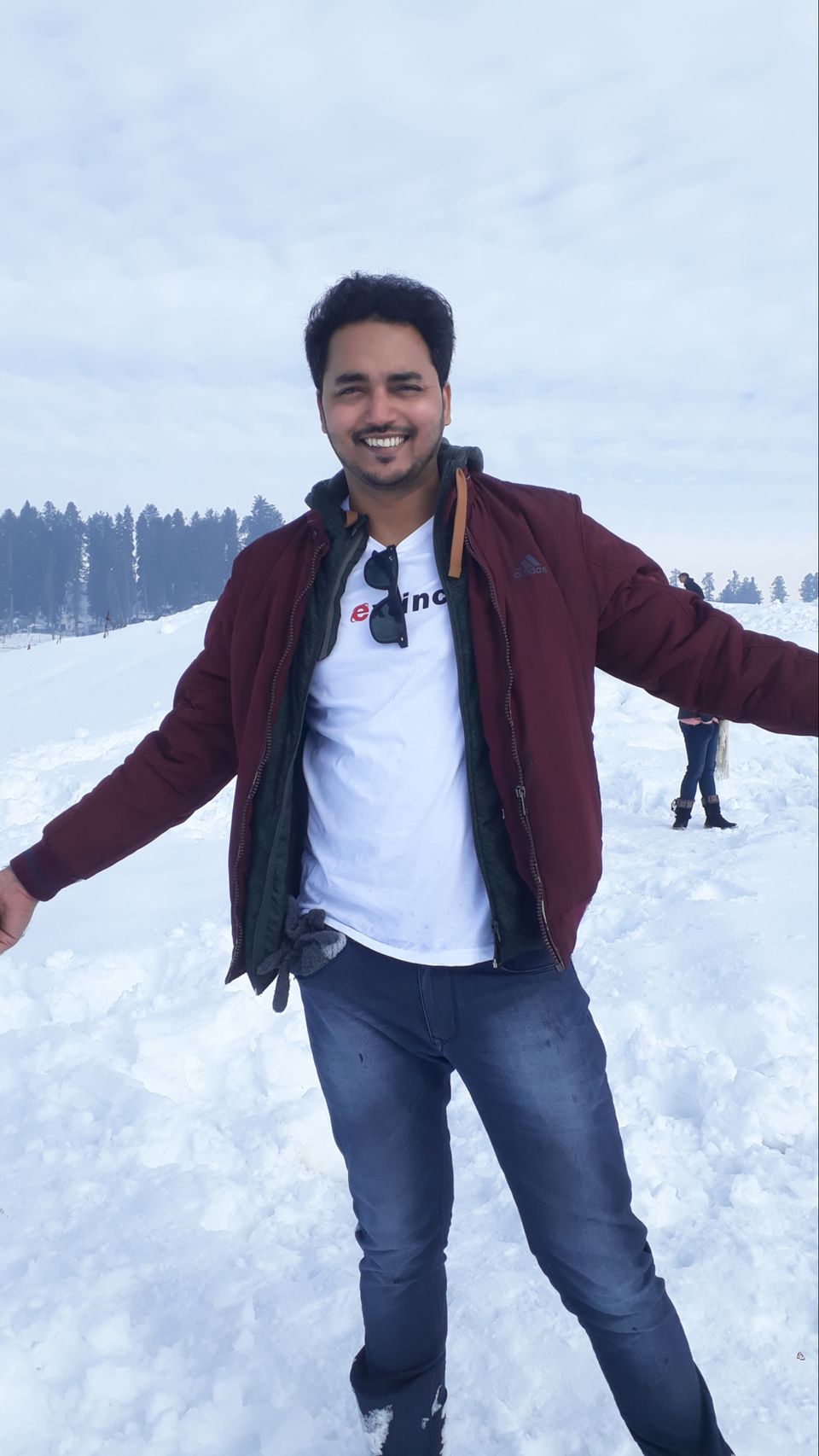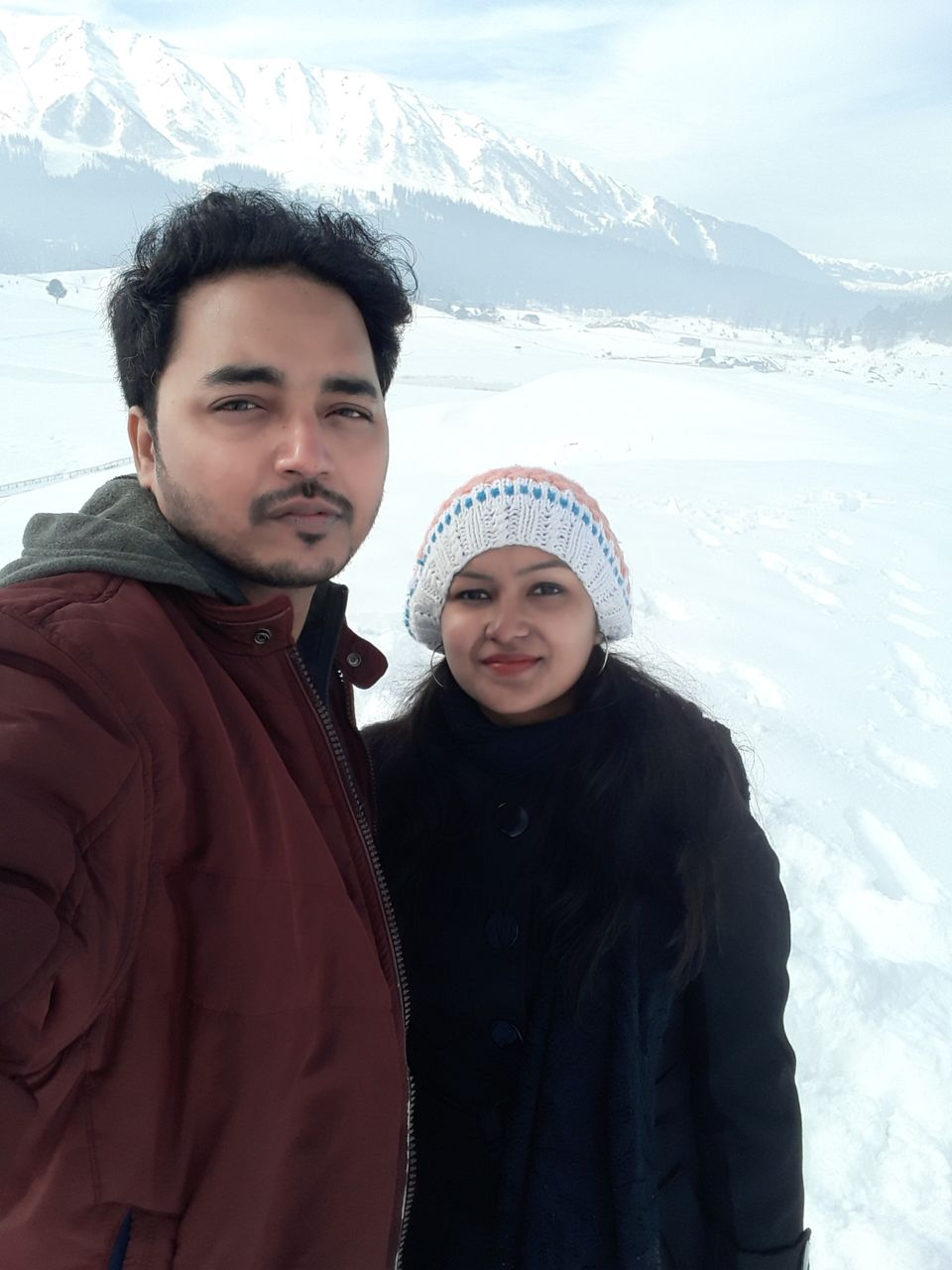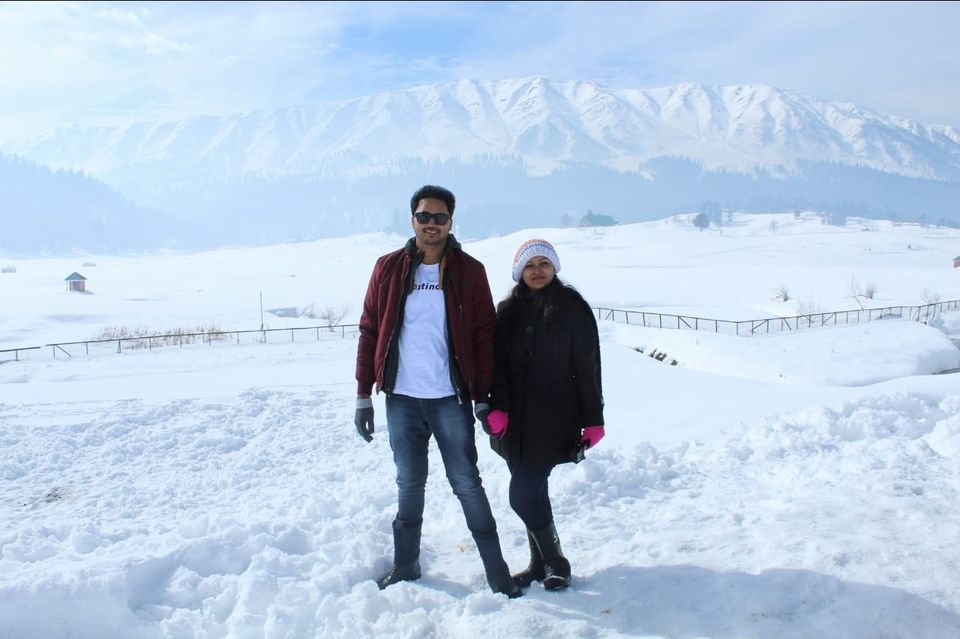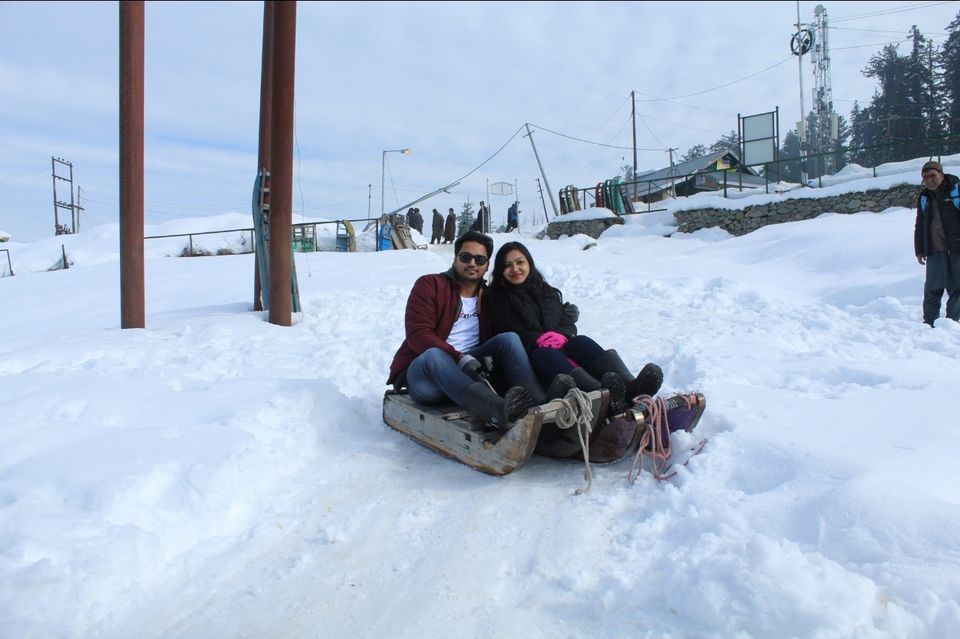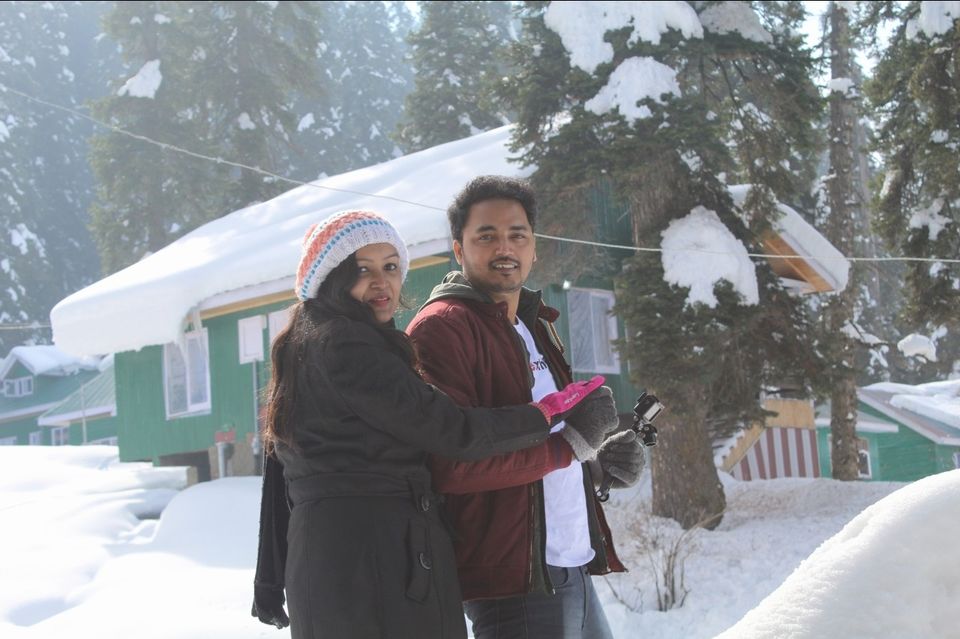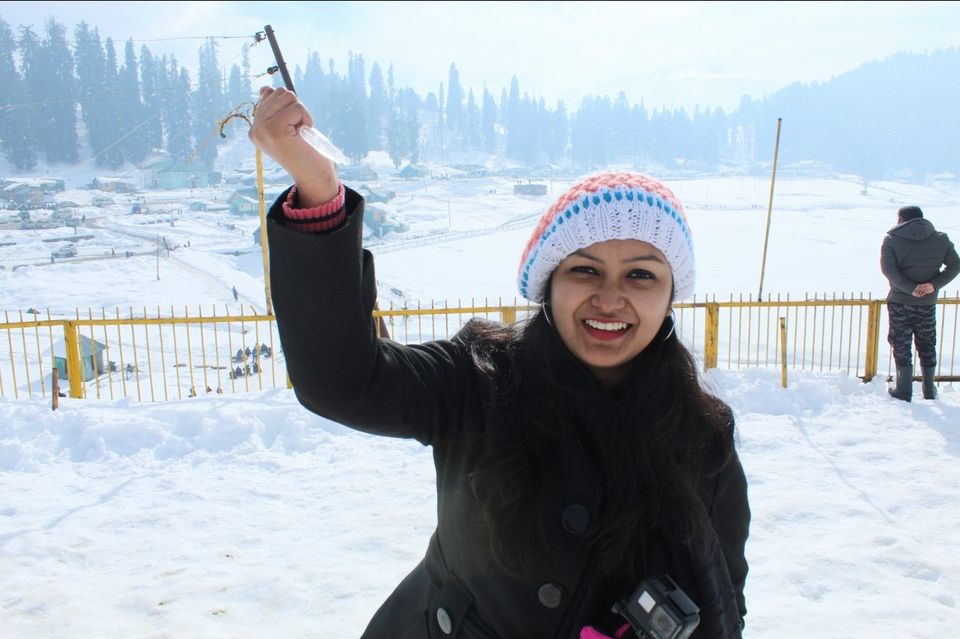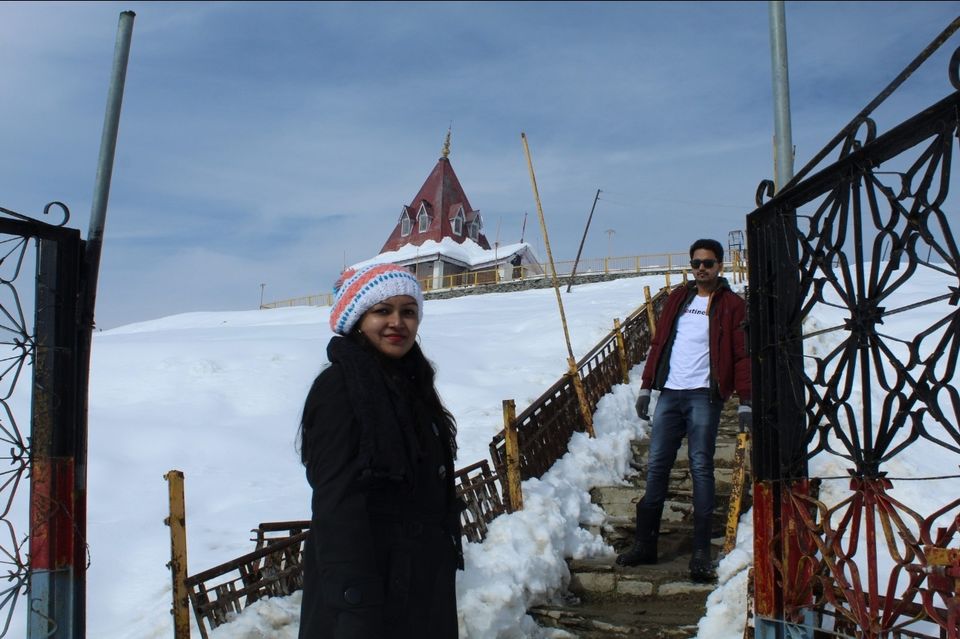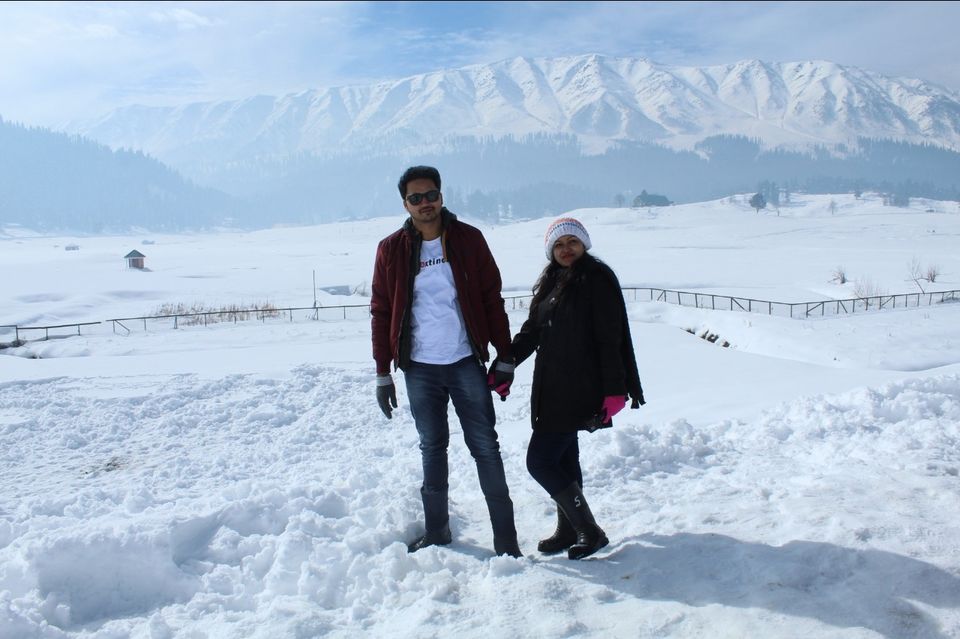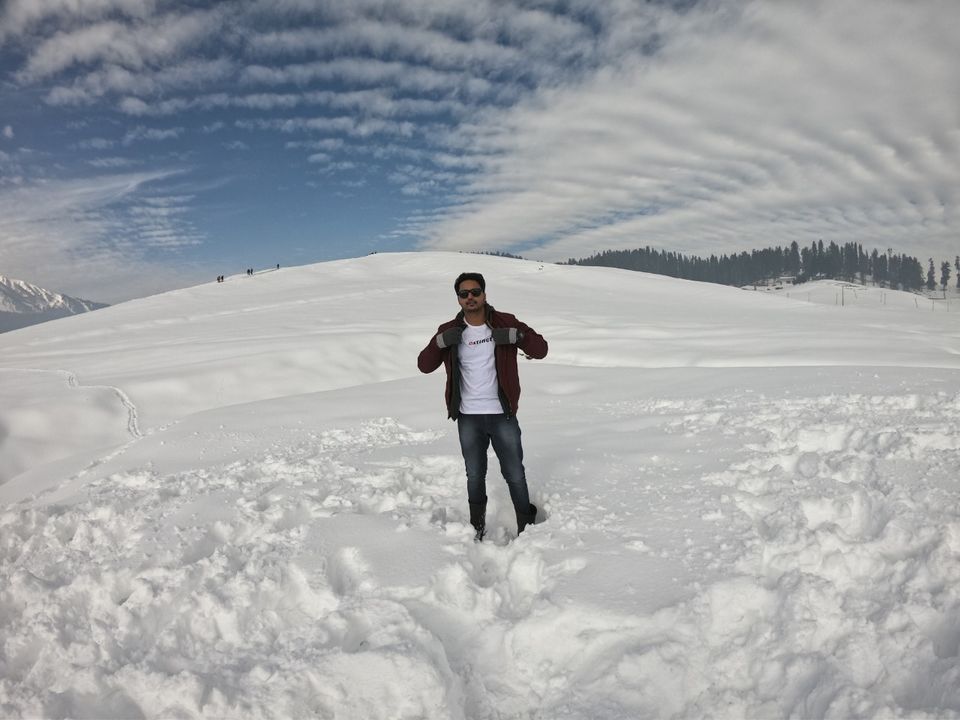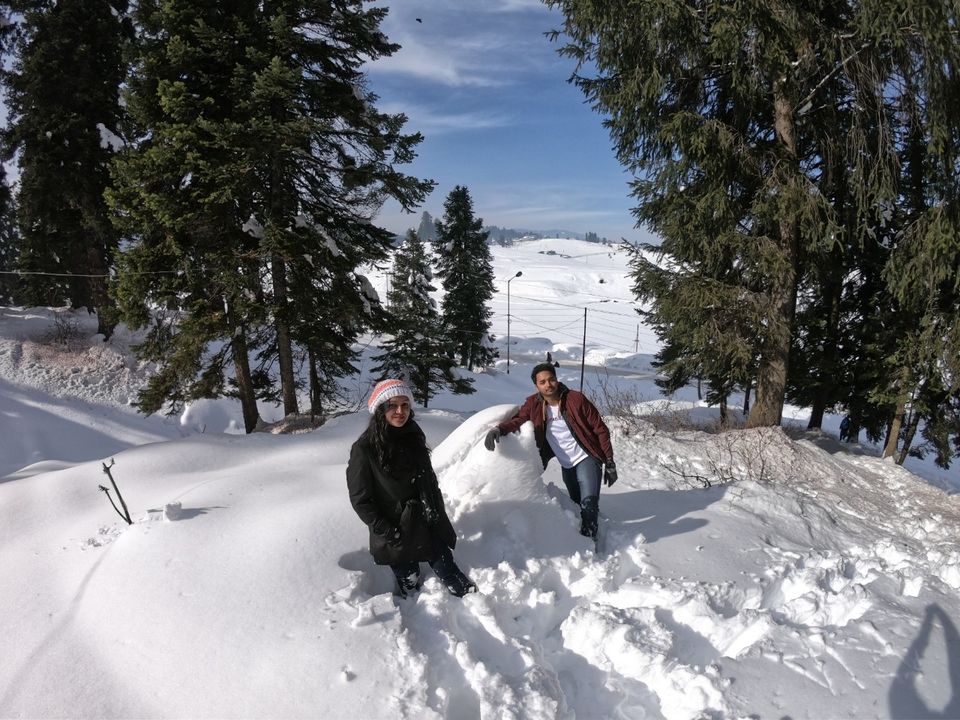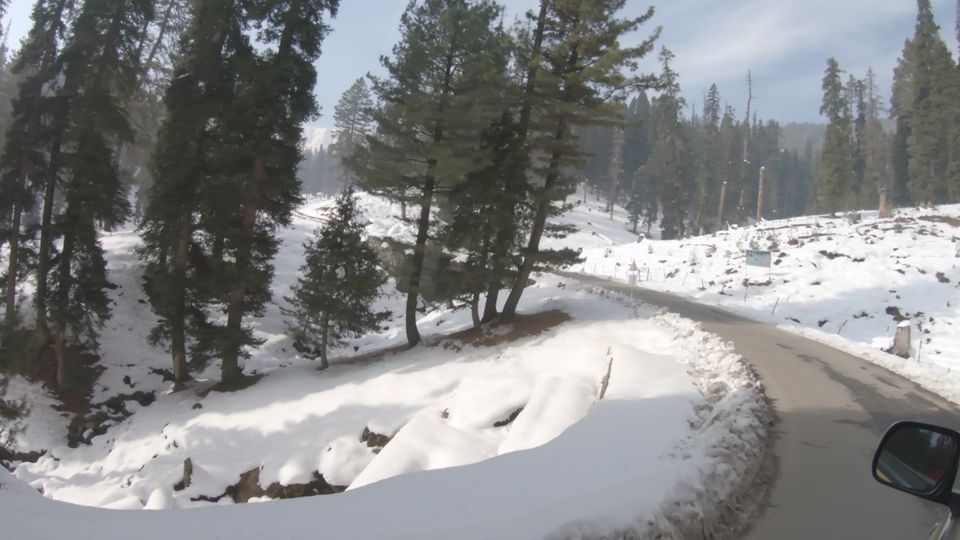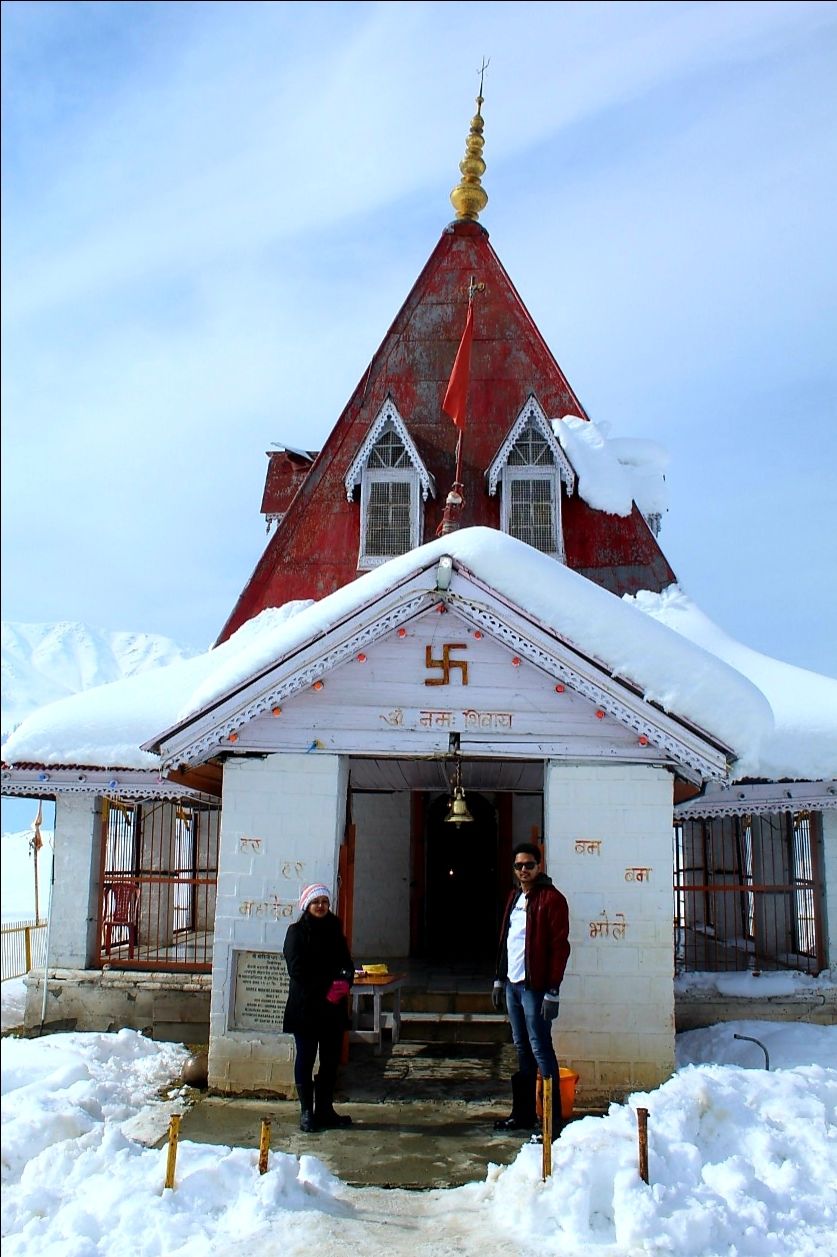 Our introduction to Kahwah
After some 3hour 'masti' with the pristine white snow,it was time for some wonderful hot Kahwah.Kahwah,as our guide explained was kashmiri green tea brewed with saffron,cloves,cardamom and cinnamon and sweetened with honey.This is served with some chopped almonds and walnuts.The recipe sounds somewhat similar.right? Similar to the immunity drink suggested by our Ayush ministry for developing immunity against covid.Isn't it? Also,this is the recipe our mothers and grandmothers make for us when we catch cold.So,what can be better than drinking Kahwah when you are travelling during Covid?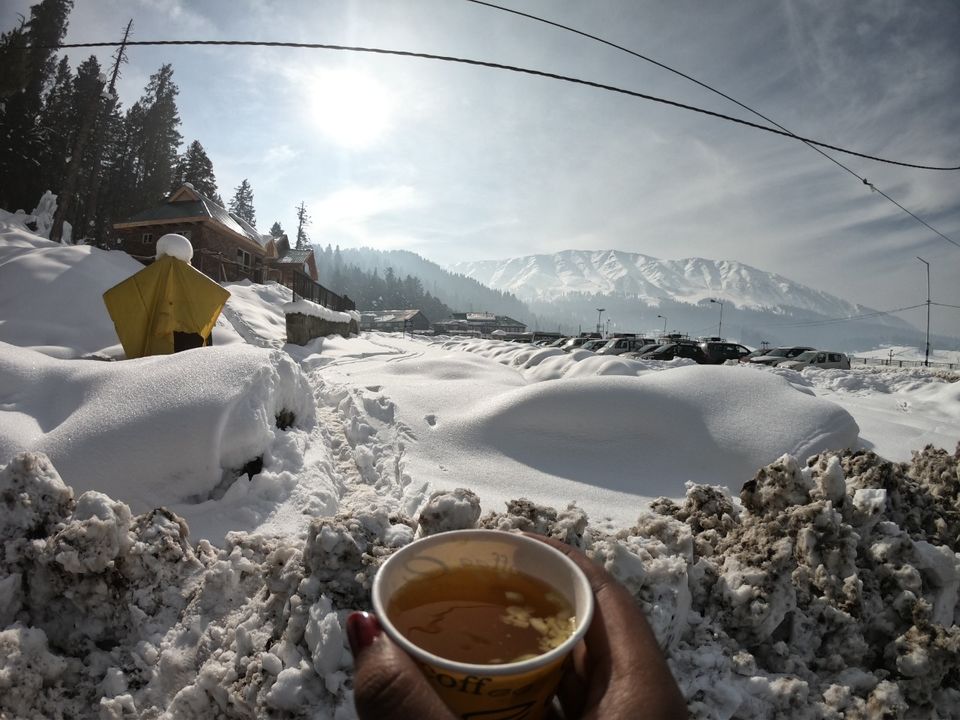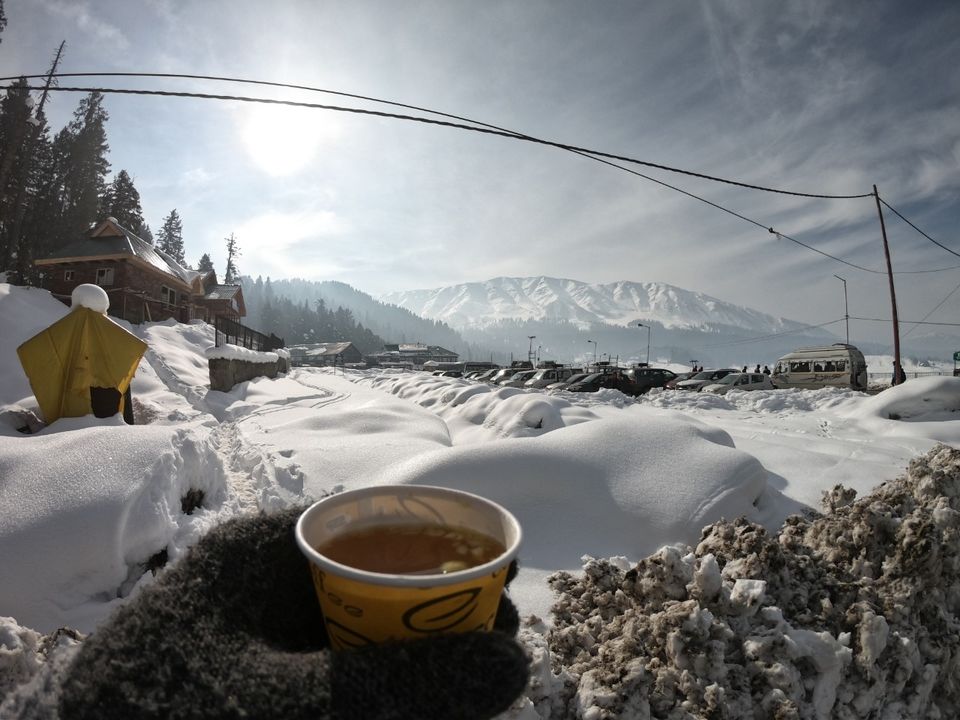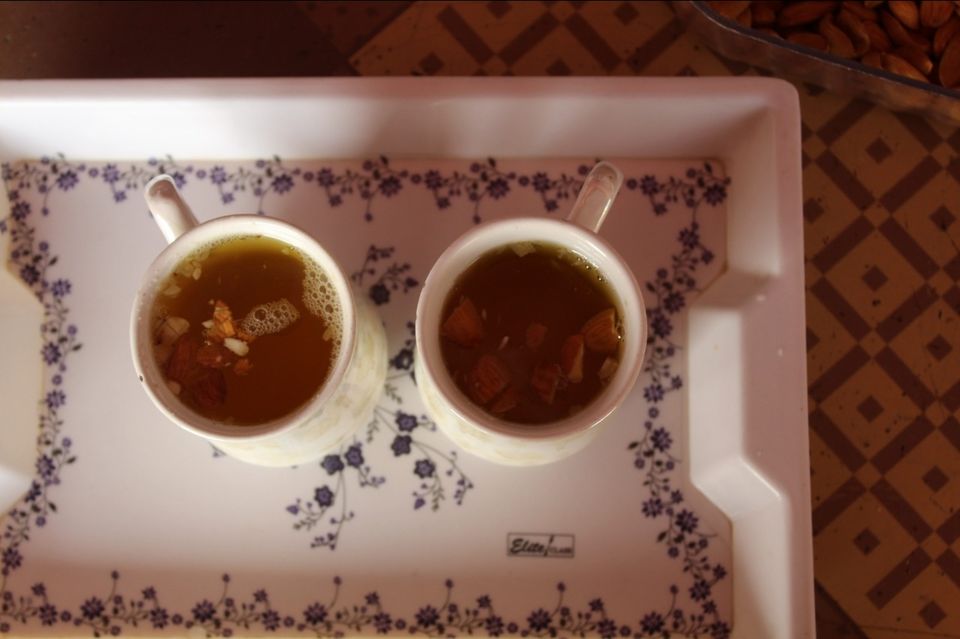 On our way back to Srinagar from Gulmarg,we were overwhelmed to see an apple orchard with trees loaded with Apples.It was already past the season for apples and this came as an unexpected joy.We got down for some photographs and the owner of the orchard came and broke off two apples for us to taste.The apples were so sweet and delicious that we ended up buying 10kilos of apples,kesar and honey from him.We wanted the apples from that particular tree and hence he decided to pluck 10kilos of apples right then.My husband decided to help and climbed up a tree and plucked a few.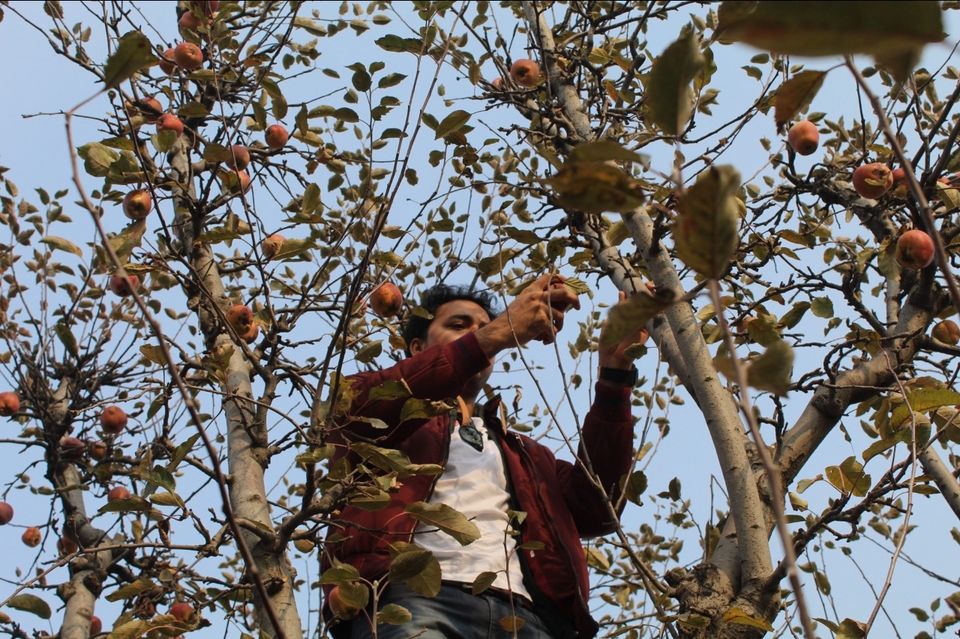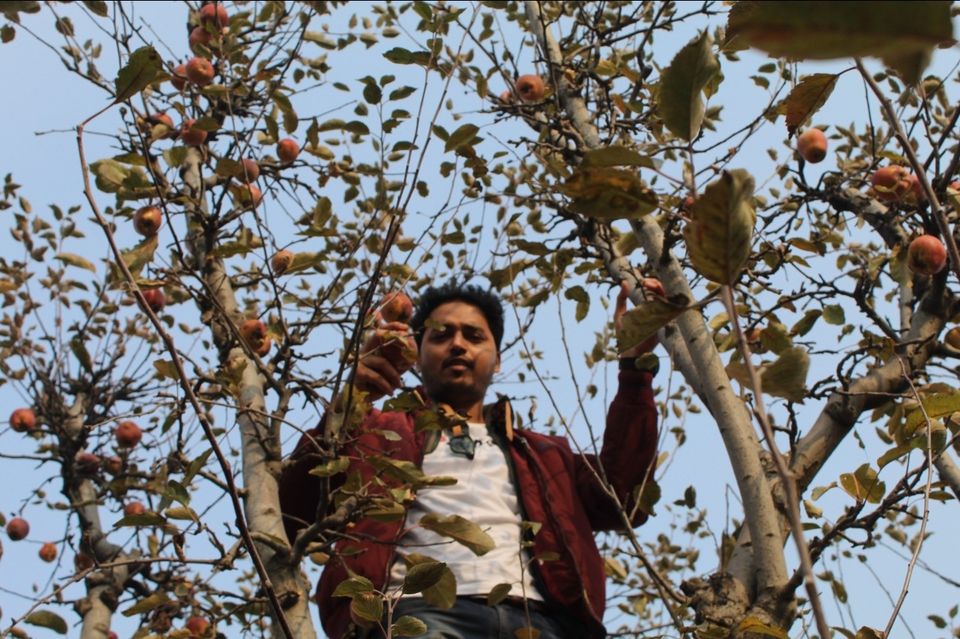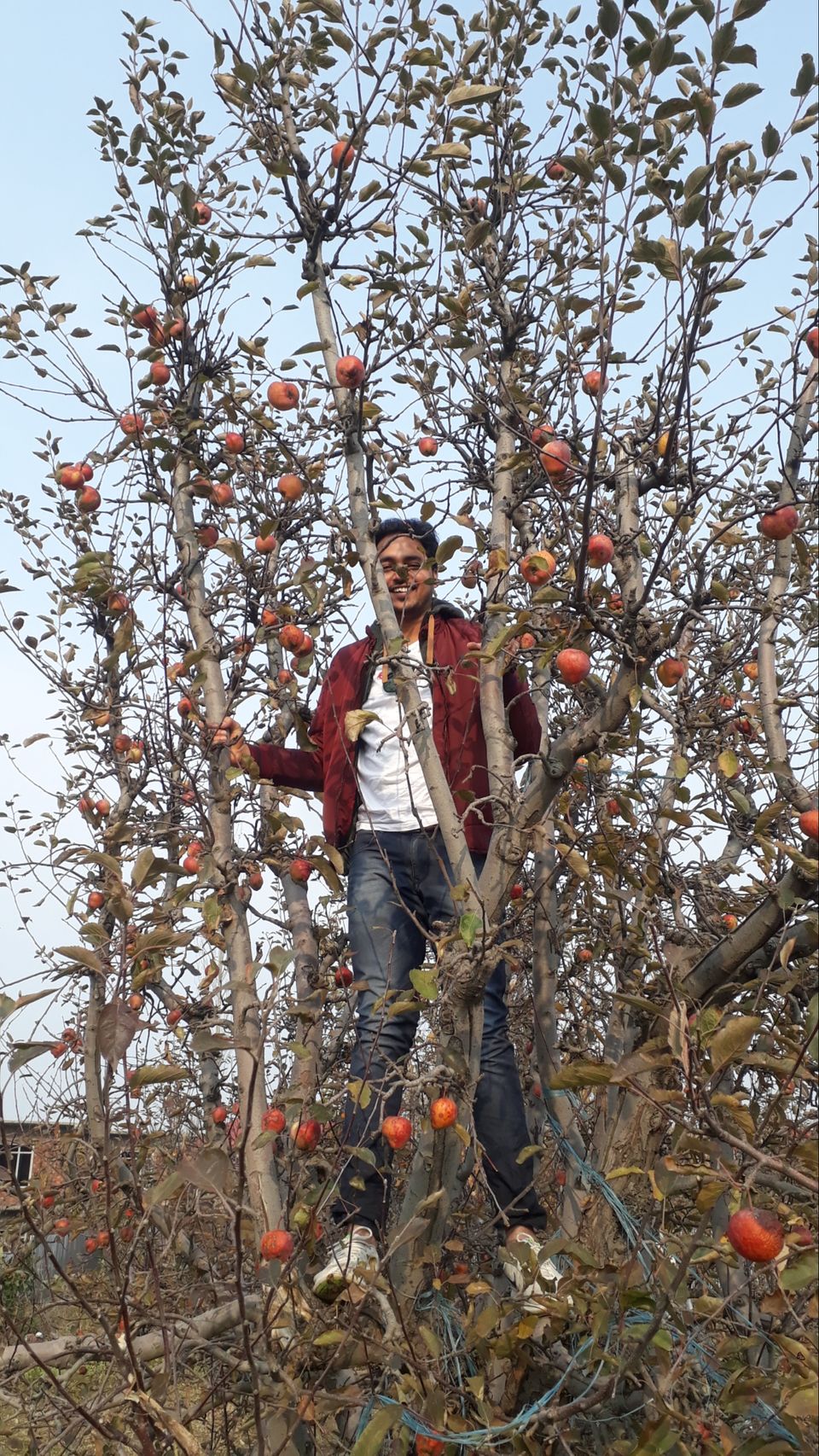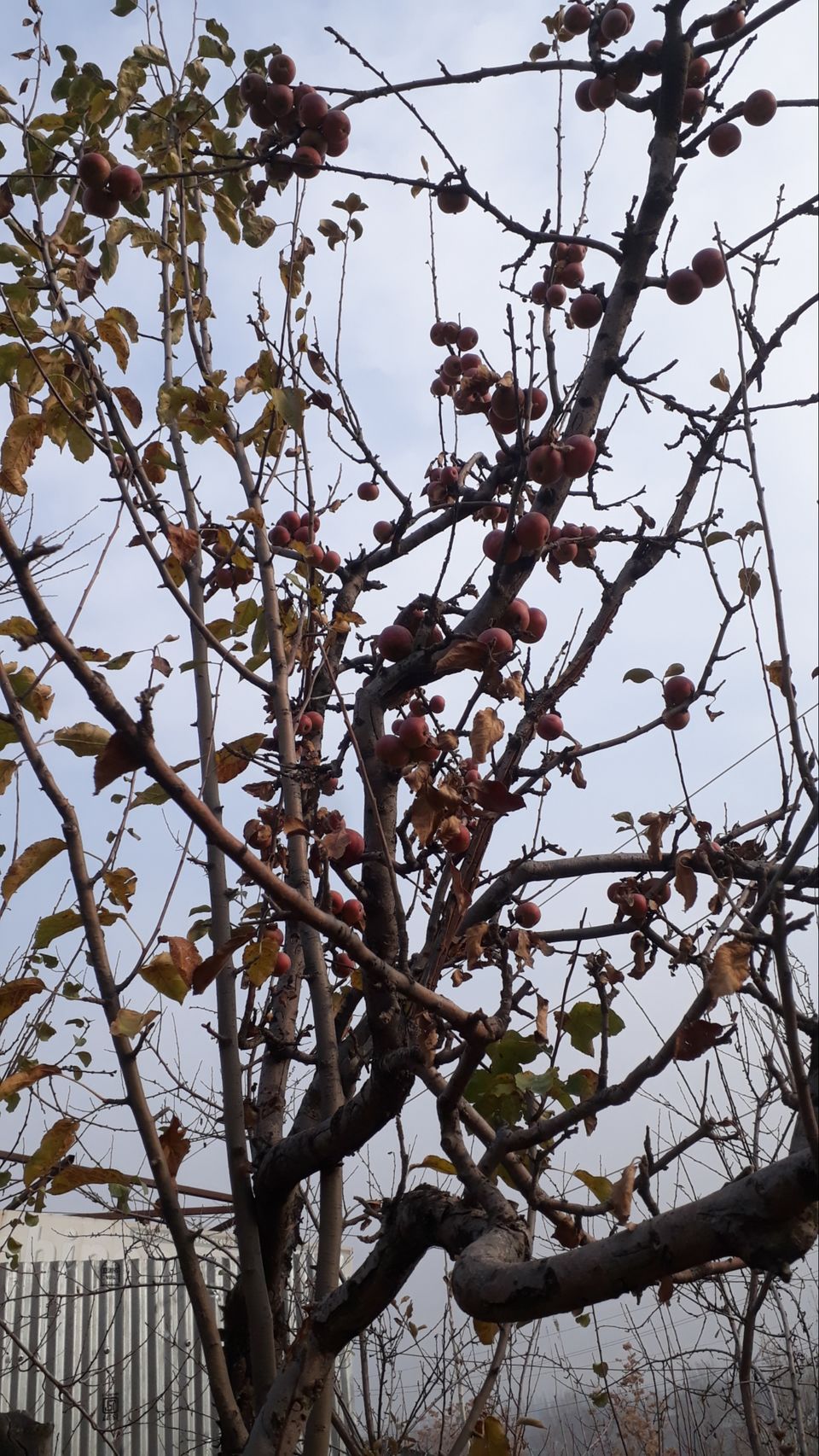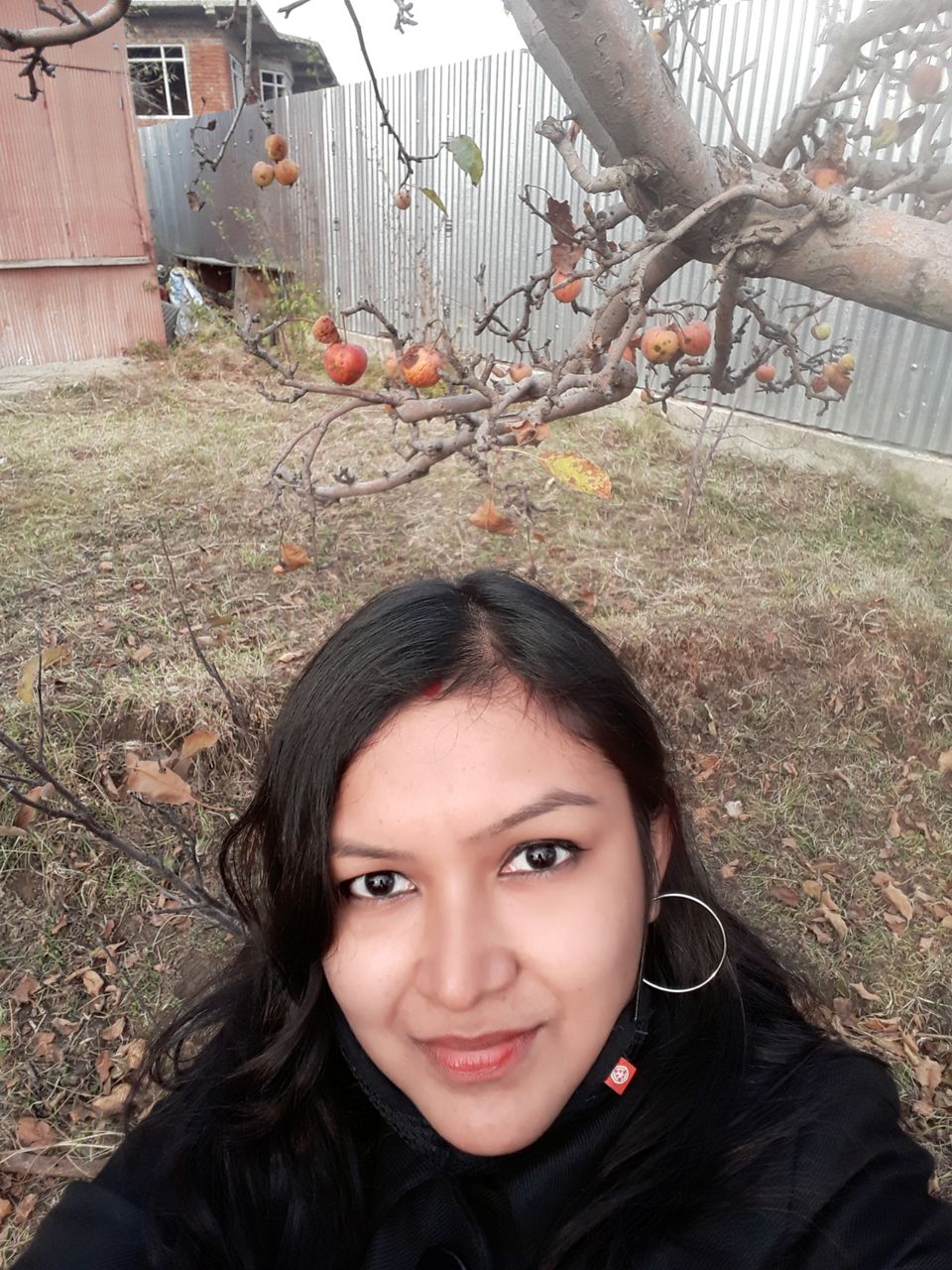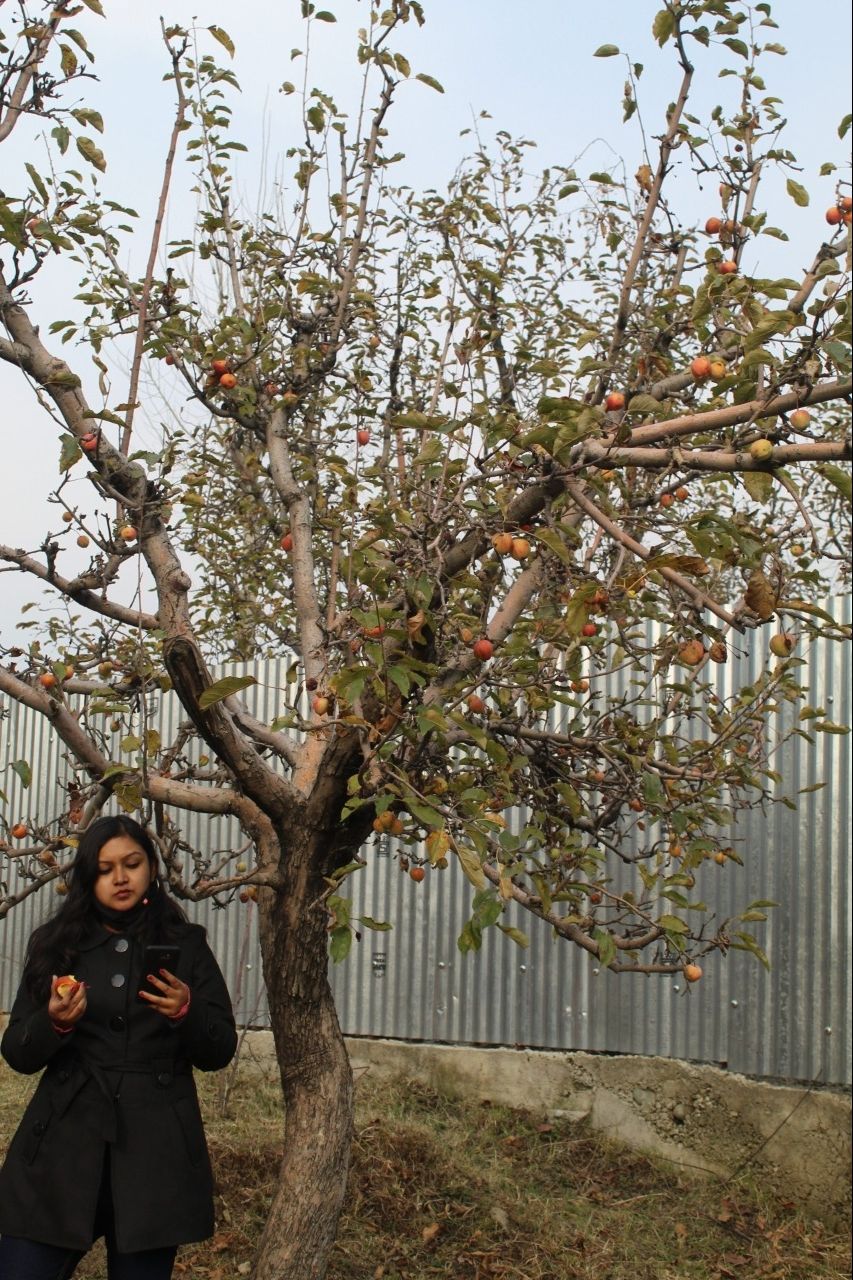 Our day ended with a delicious dinner at the hotel we were staying in-Four points by Sheraton.We ordered some local delicacies-Waza kokur and Zaffrani chicken biriyani.The foods were just awesome!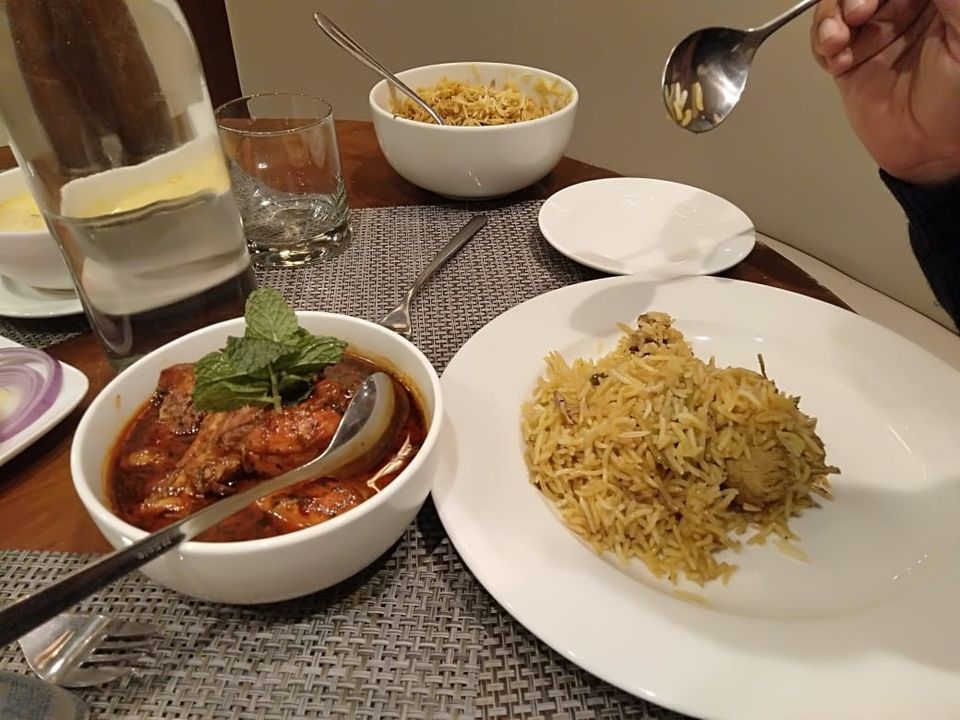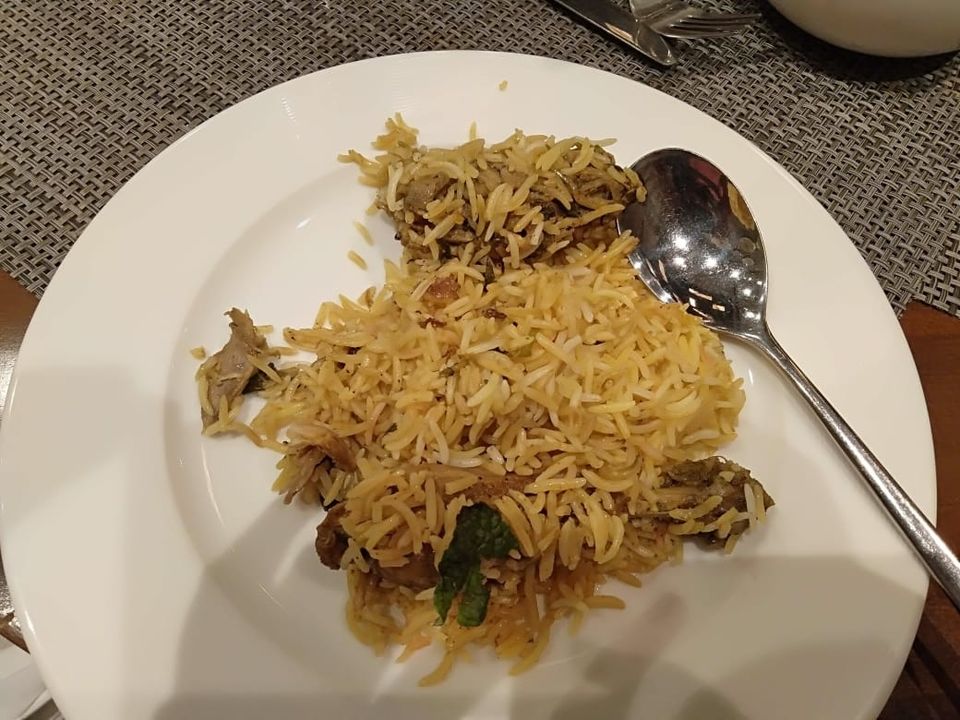 Monday
Monday was our last day in the paradise on Earth and we decided to explore Srinagar some more and buy a few souvenirs.
After breakfast at the hotel,we checked out and first went to the Hazratbal Mosque.This mosque is the holiest mosque in Kashmir and is said to house hair of the Prophet Muhammad.The beautiful white mosque and the peaceful ambience was very soothing.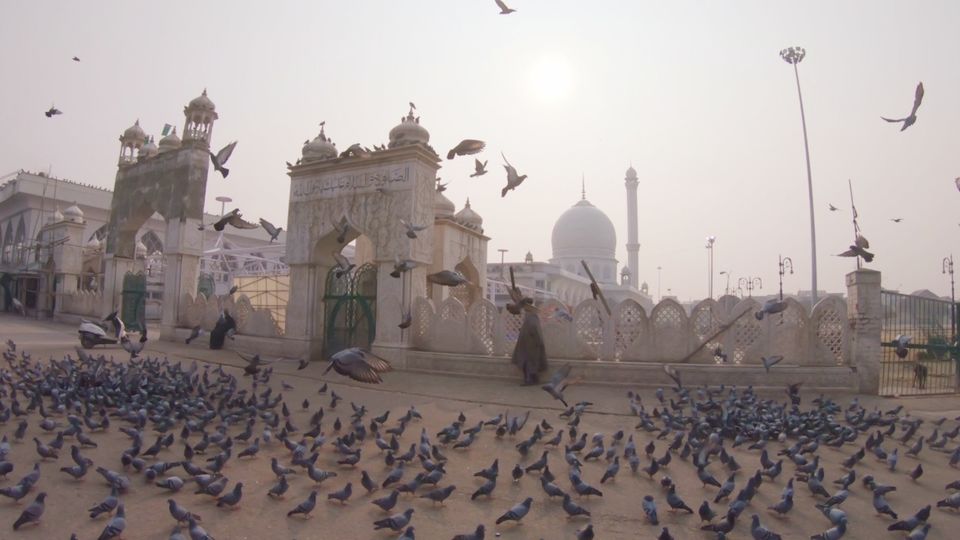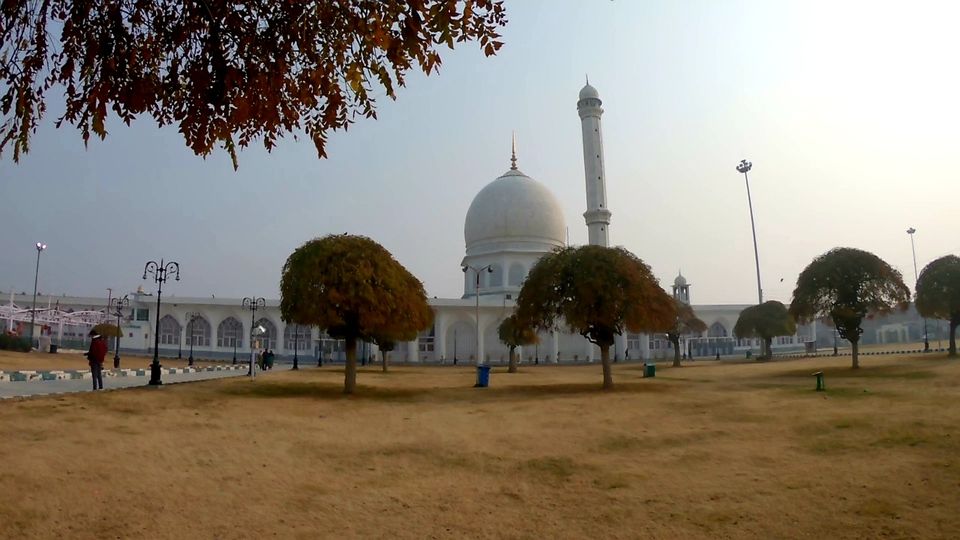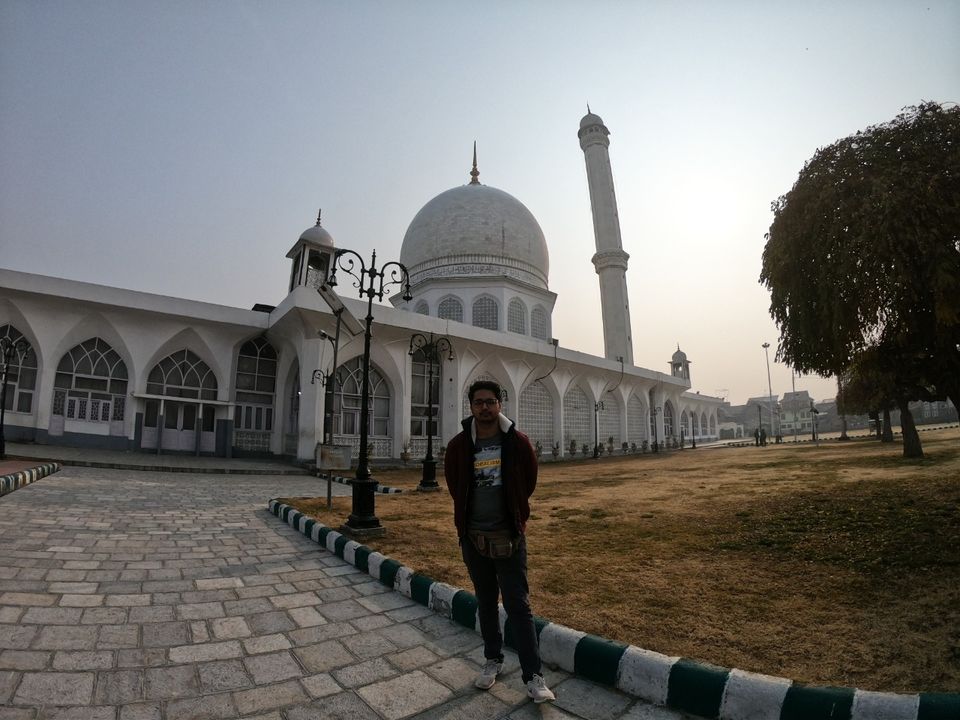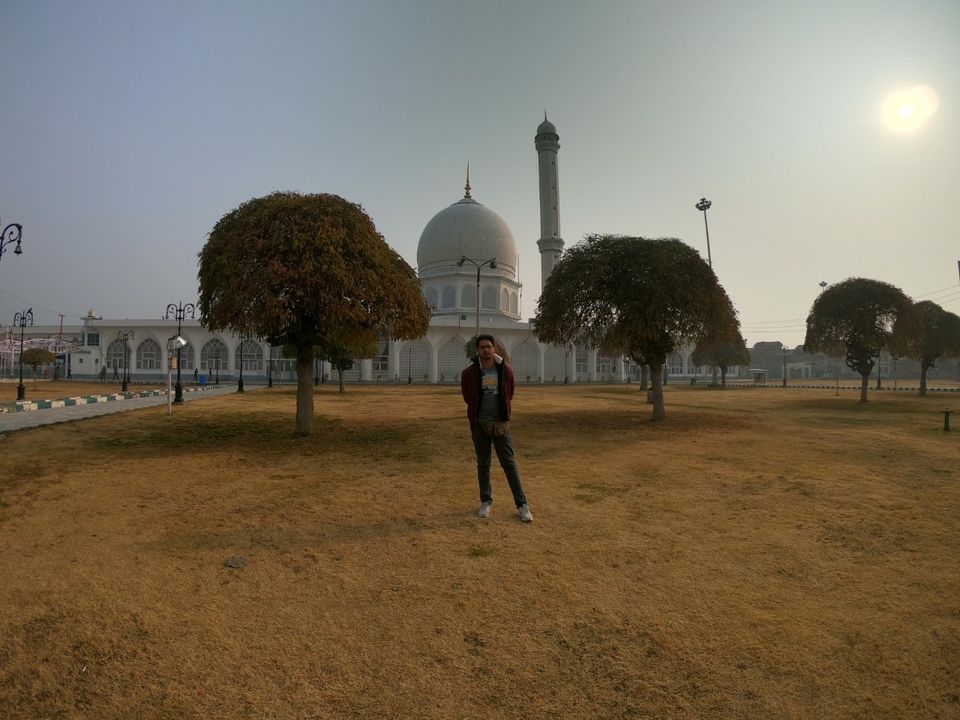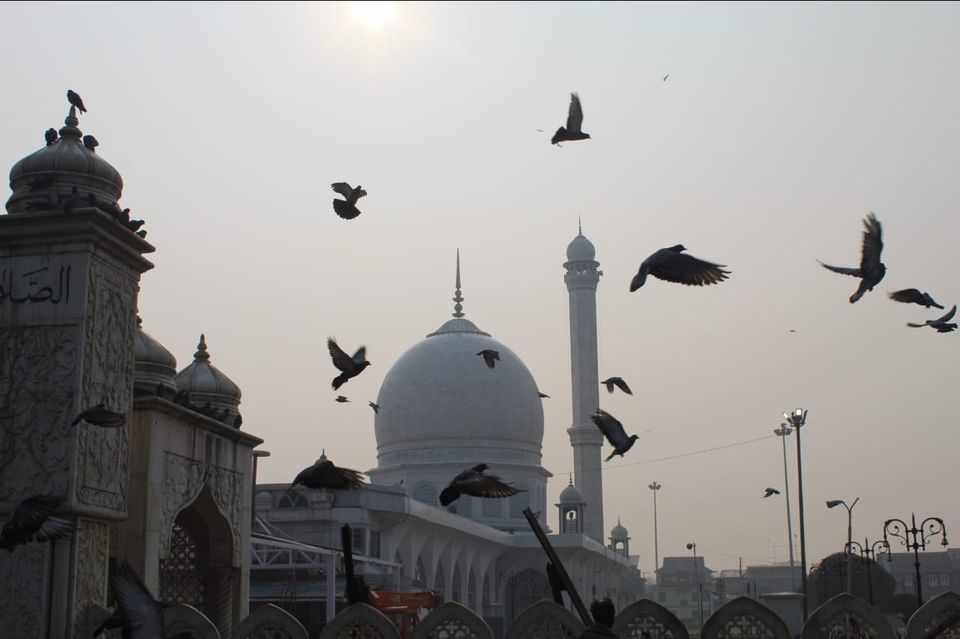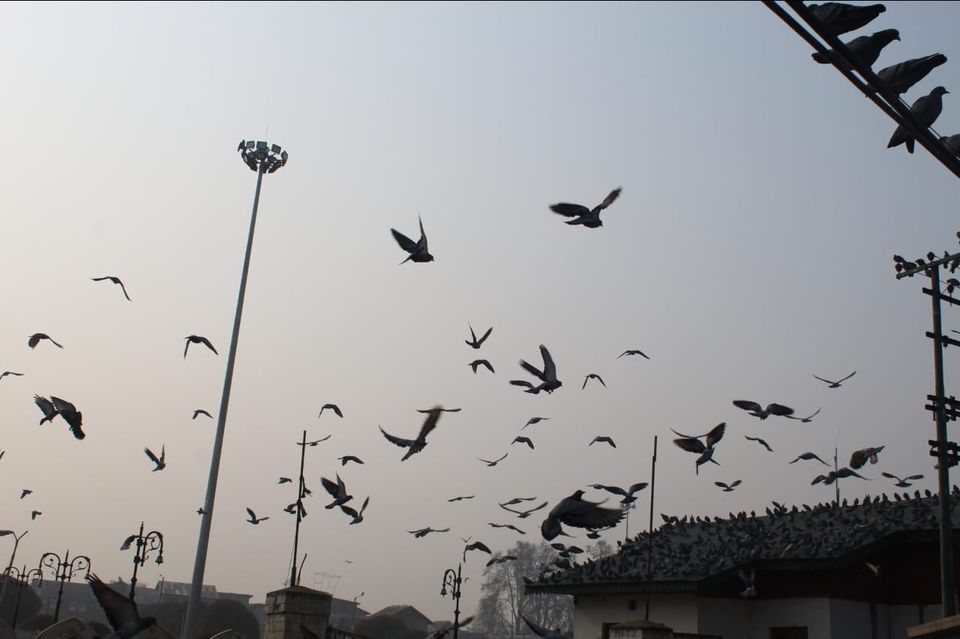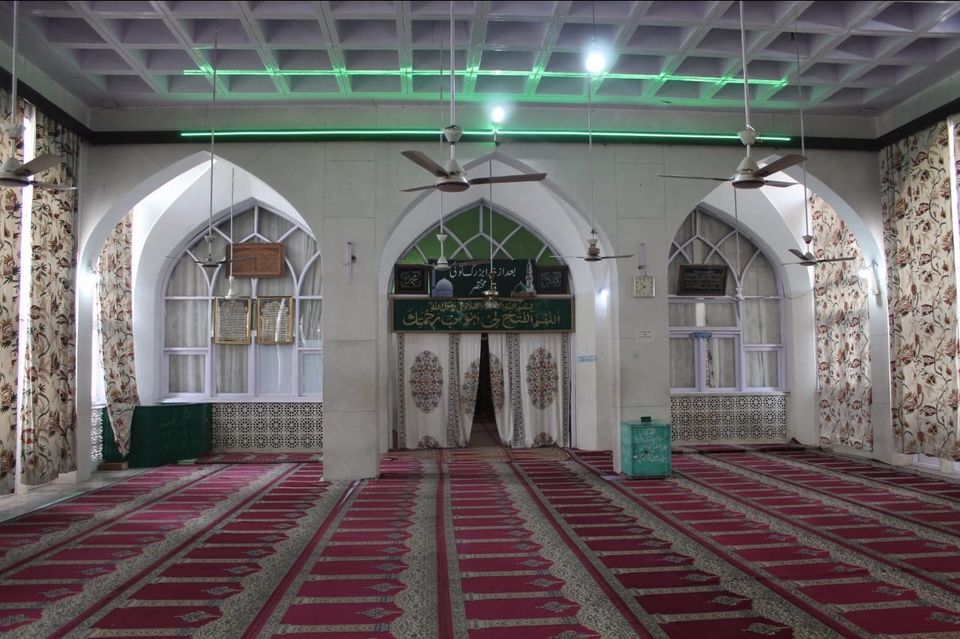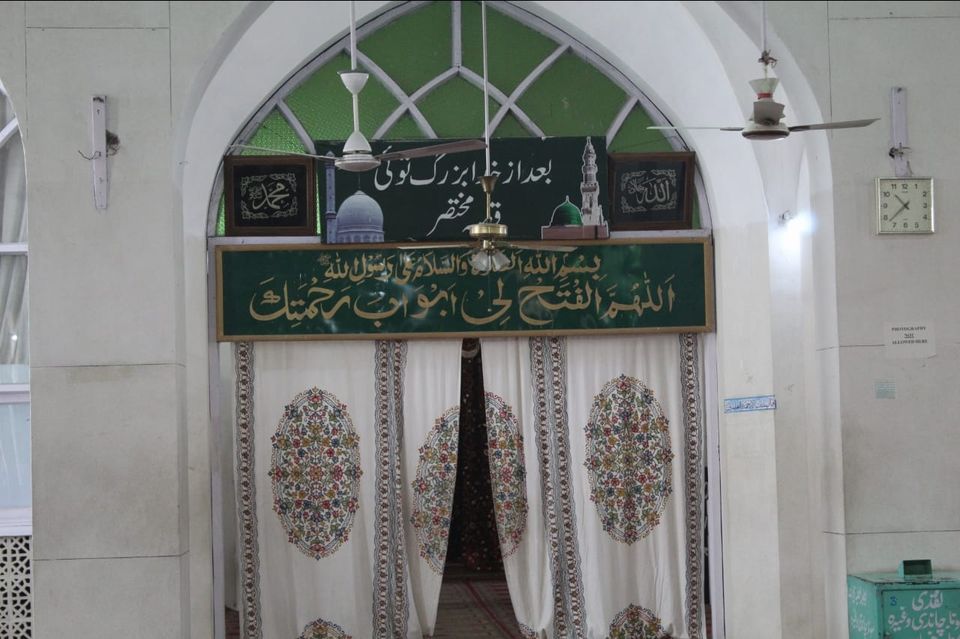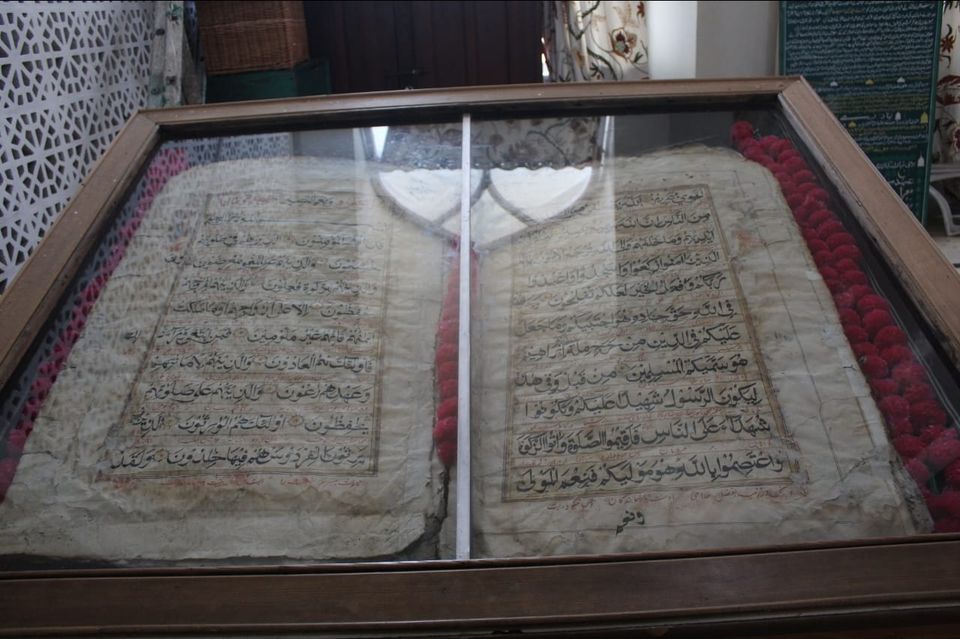 After a visit to the Mosque, we strolled down the lanes where shops were opening up for the day. It was a great place for buying souvenirs. Wicker baskets,paper machie articles,Kashmiri copper utensils could be seen displayed in the shops.
From Hazratbal mosque we drove to the Mughal gardens.This was also a beautiful teracced garden with lots of chinar trees framing the pathway and the ancient architecture.A walk across this beautiful garden was a pleasant experience.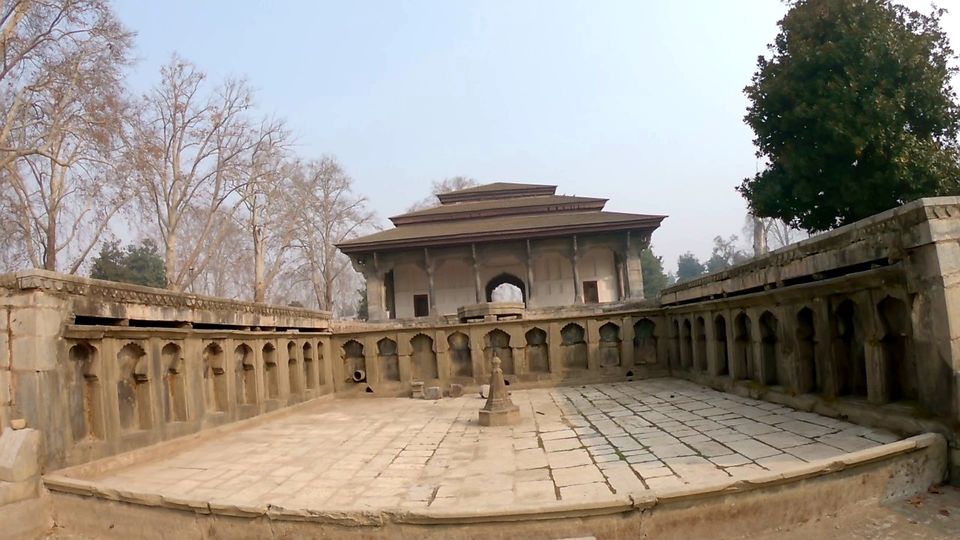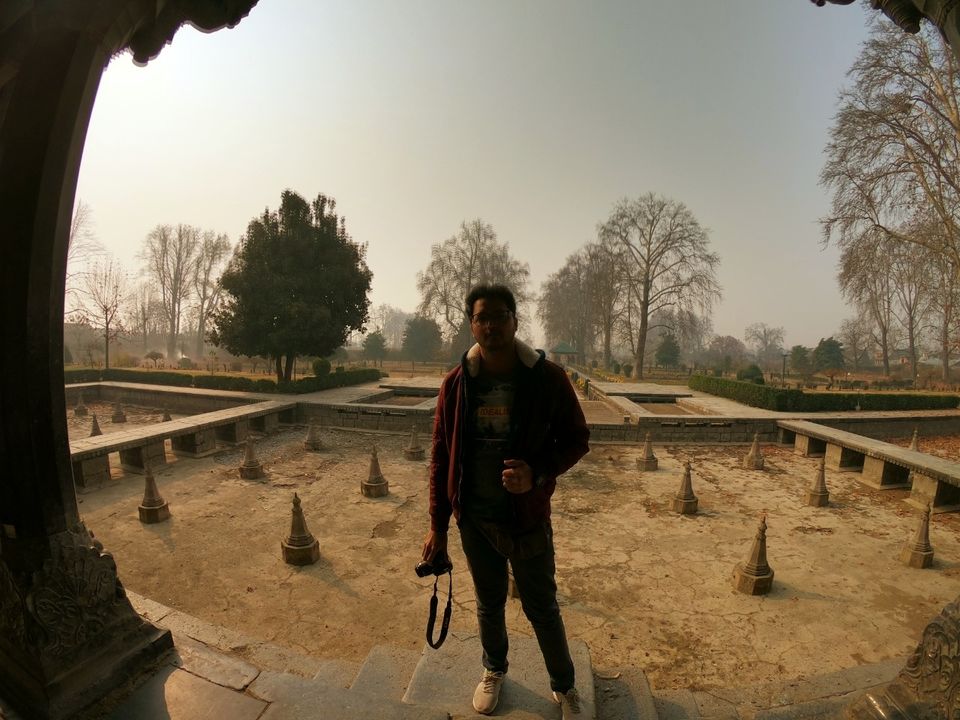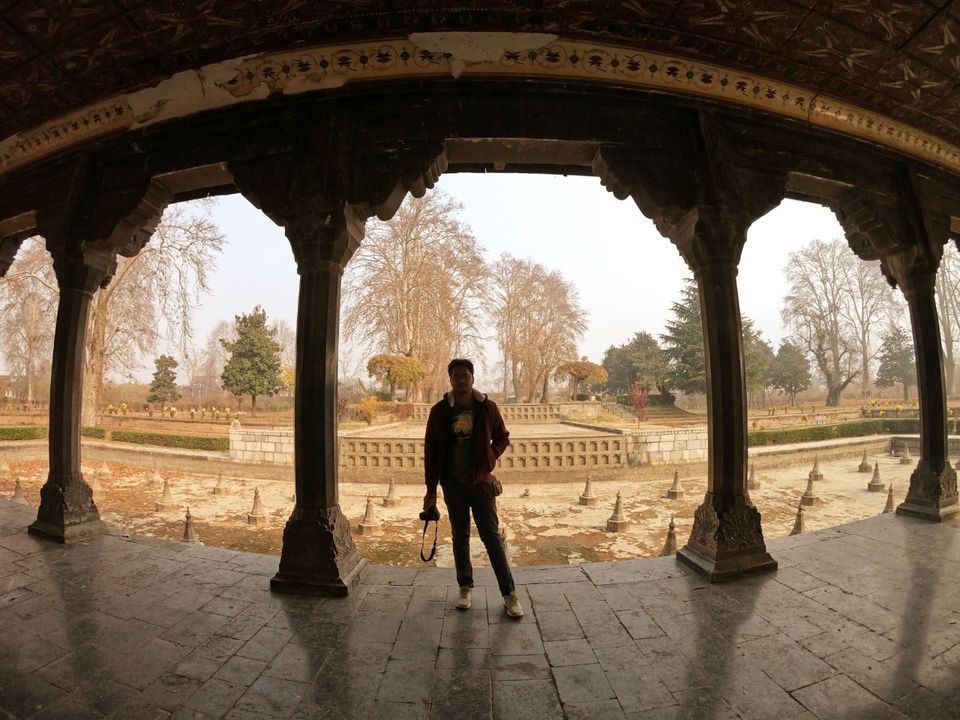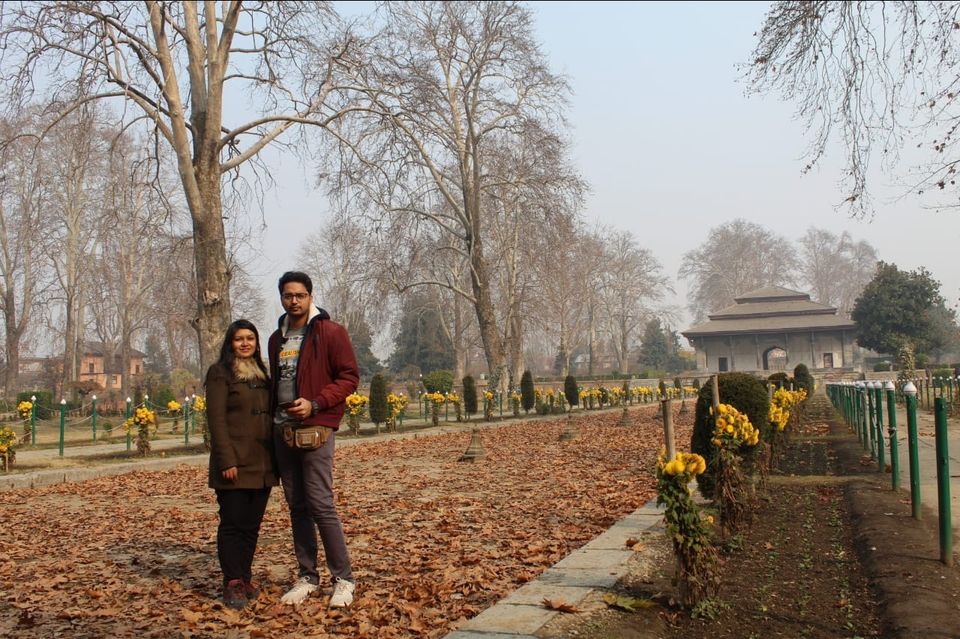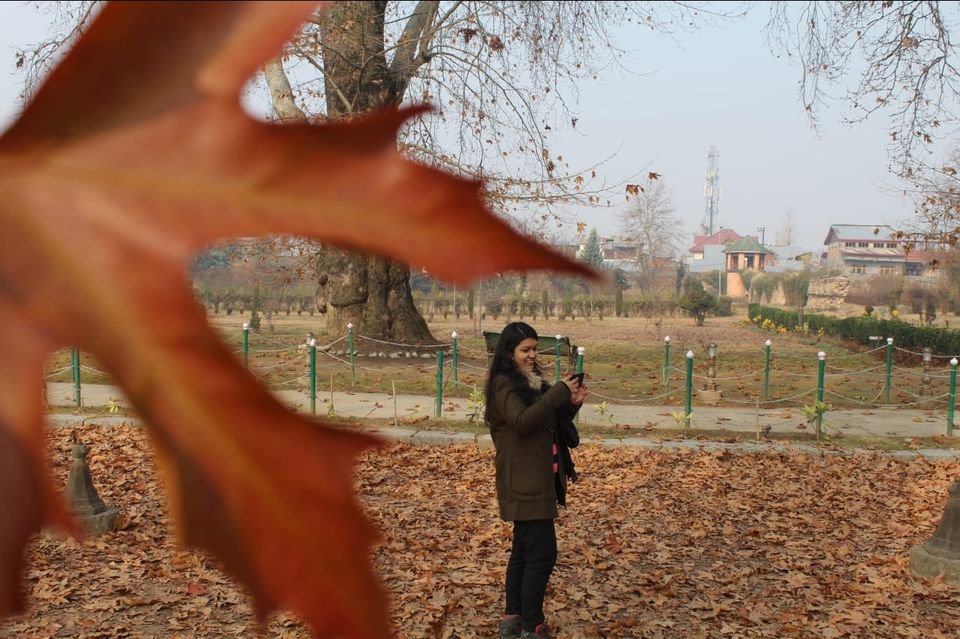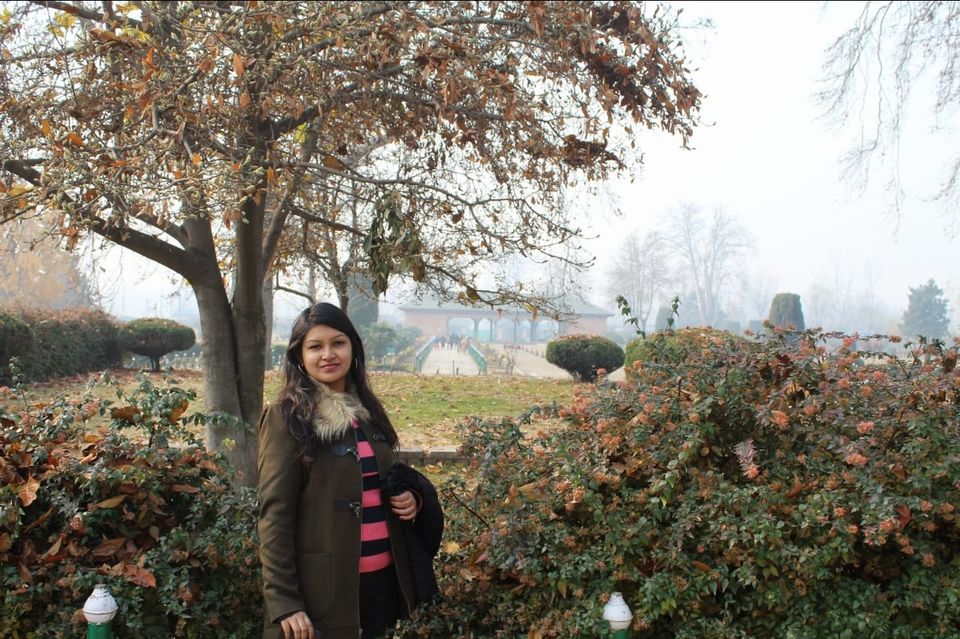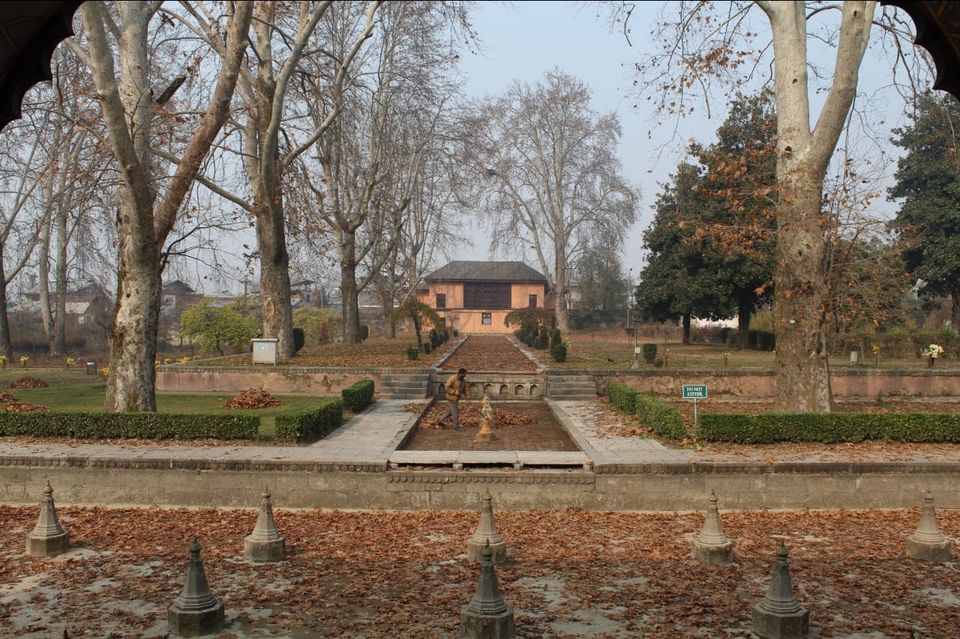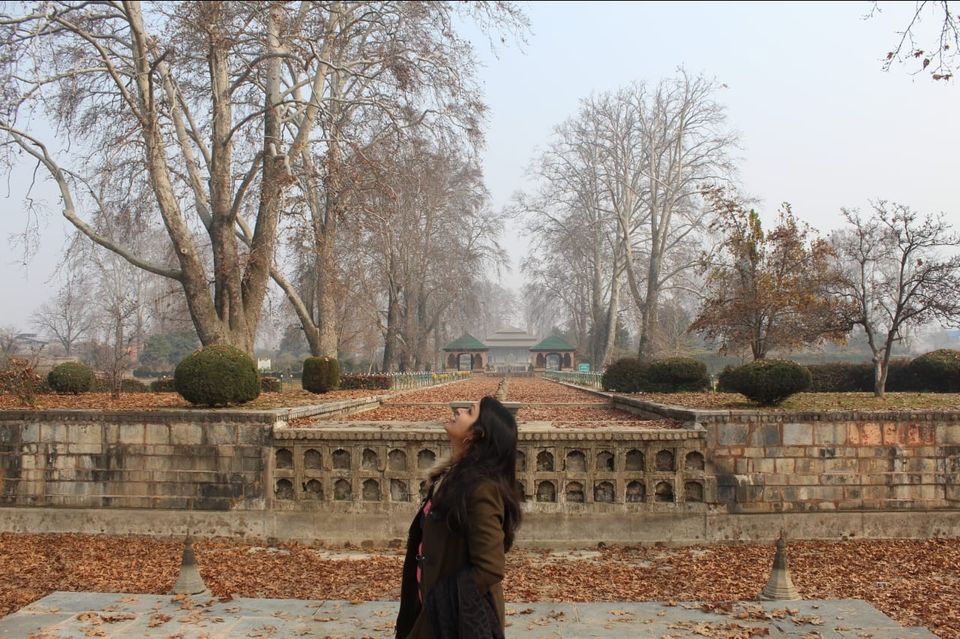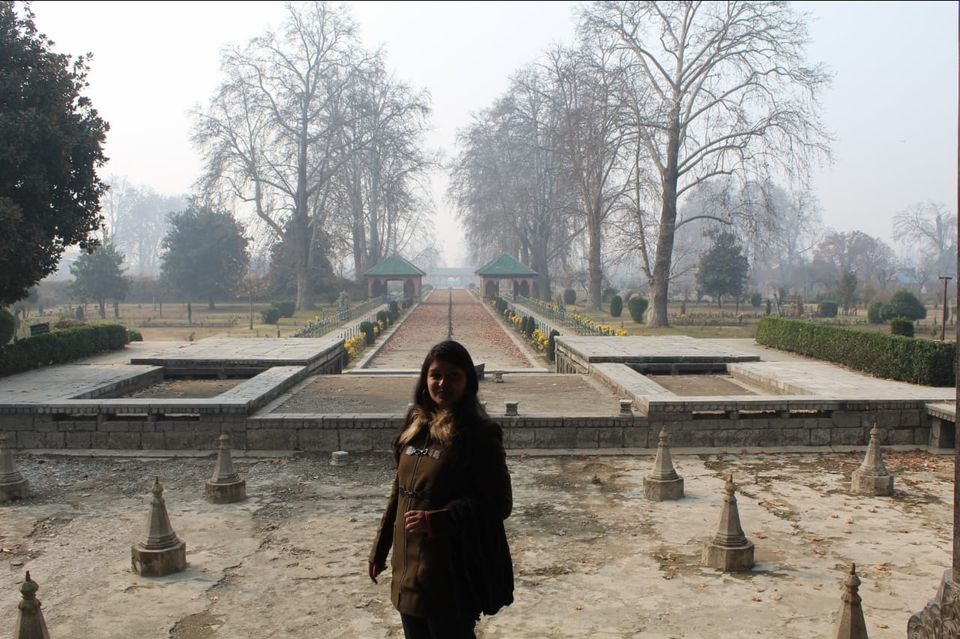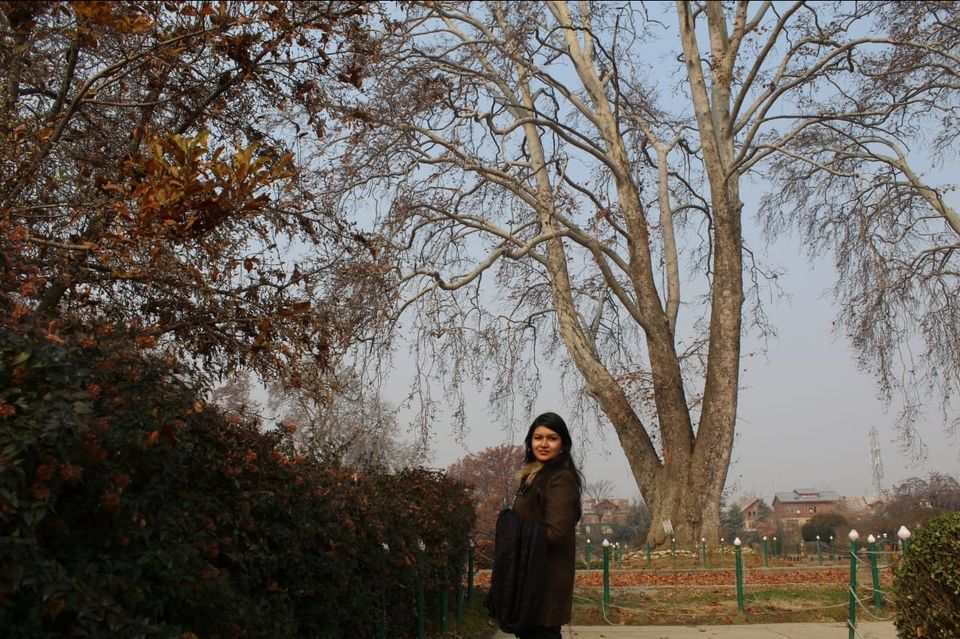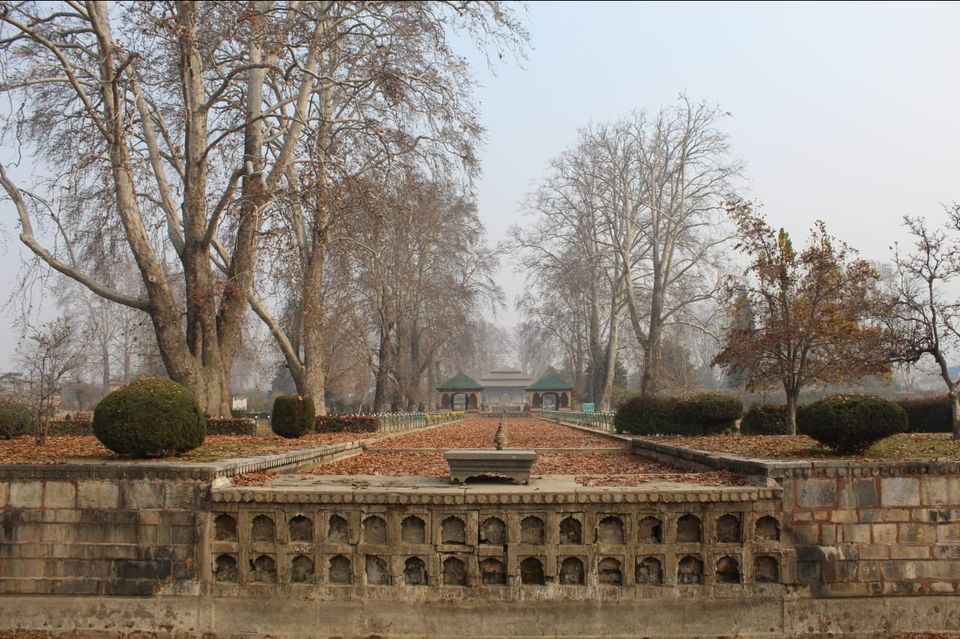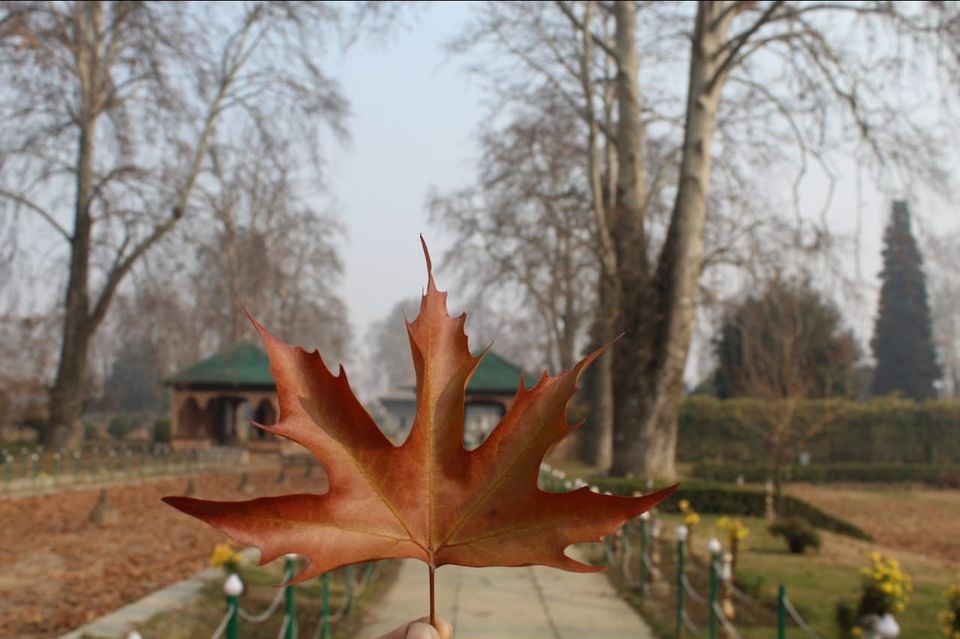 Our last destination for the day was the beautiful Pari Mahal.After a security checking at the base of Zabarwan hill range,we drove up to the hill top to visit this historical monument built by Dara Shikoh.The entry fees to this monument was Rs 24 per person.Pari Mahal used to be the residence of Dara Shikoh and was a centre for study of astrology.This terraced garden ,having several levels,was built around a spring and all the levels had beautiful gardens.Views of the Sprawling Kashmir valley from the Pari mahal looked awesome.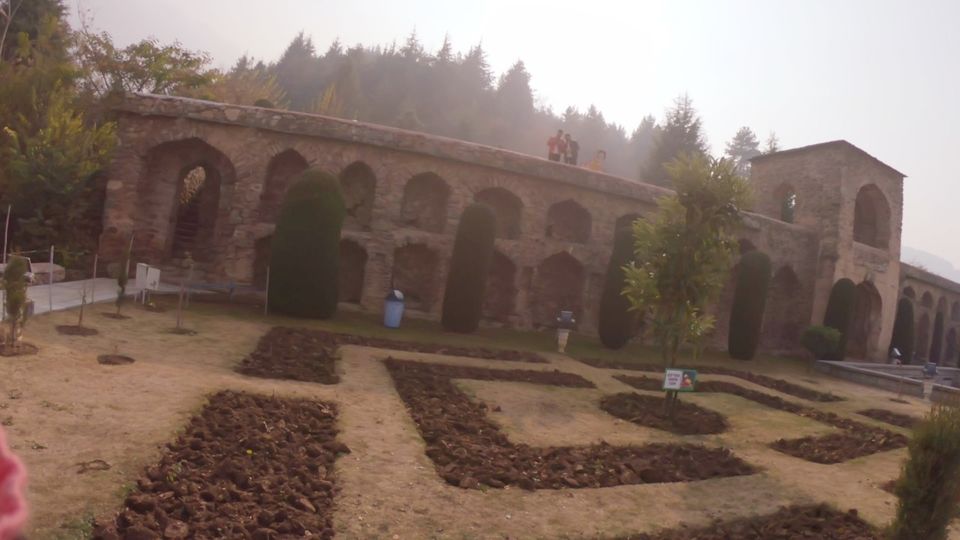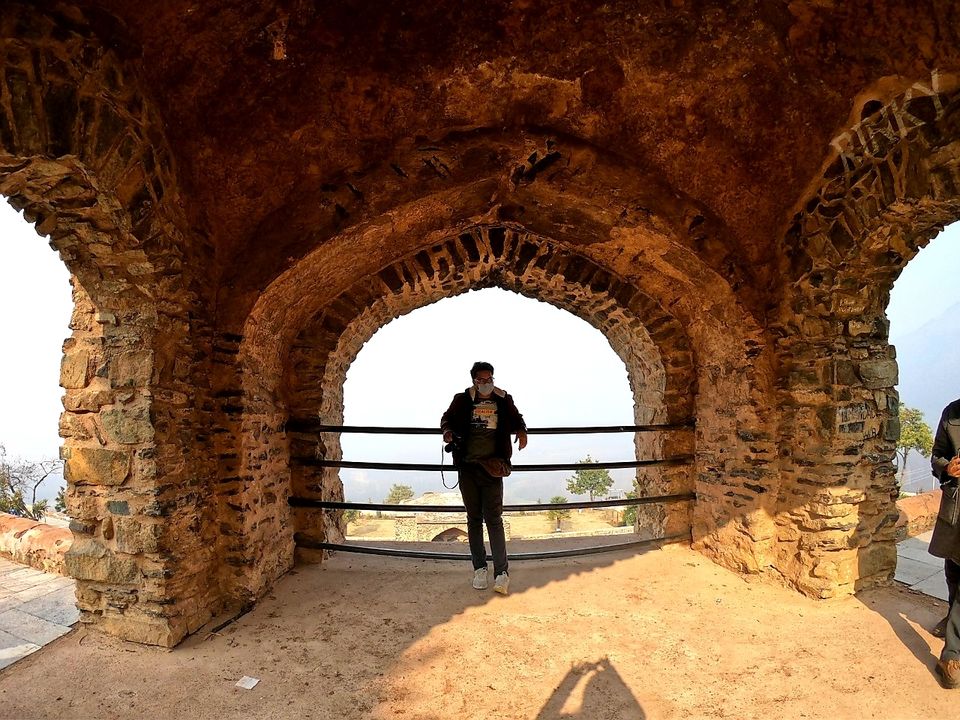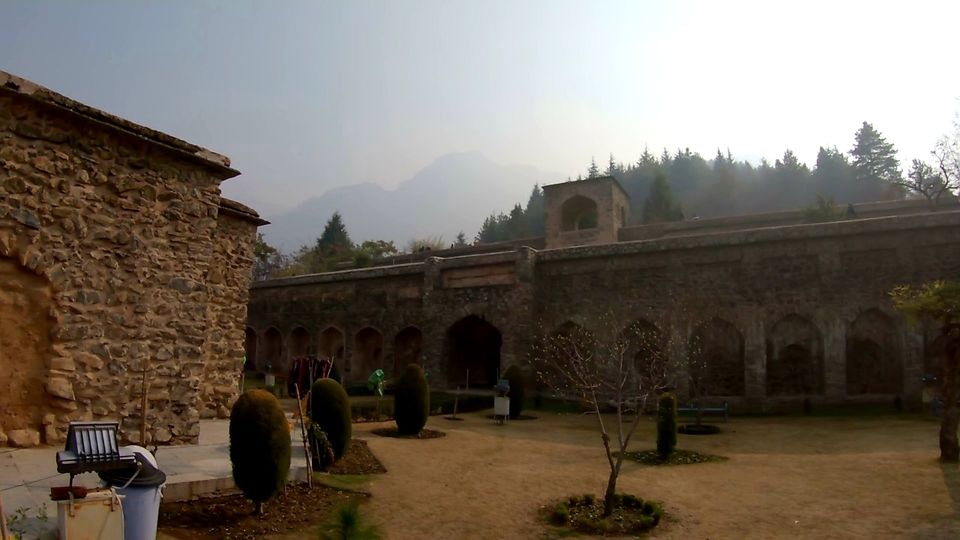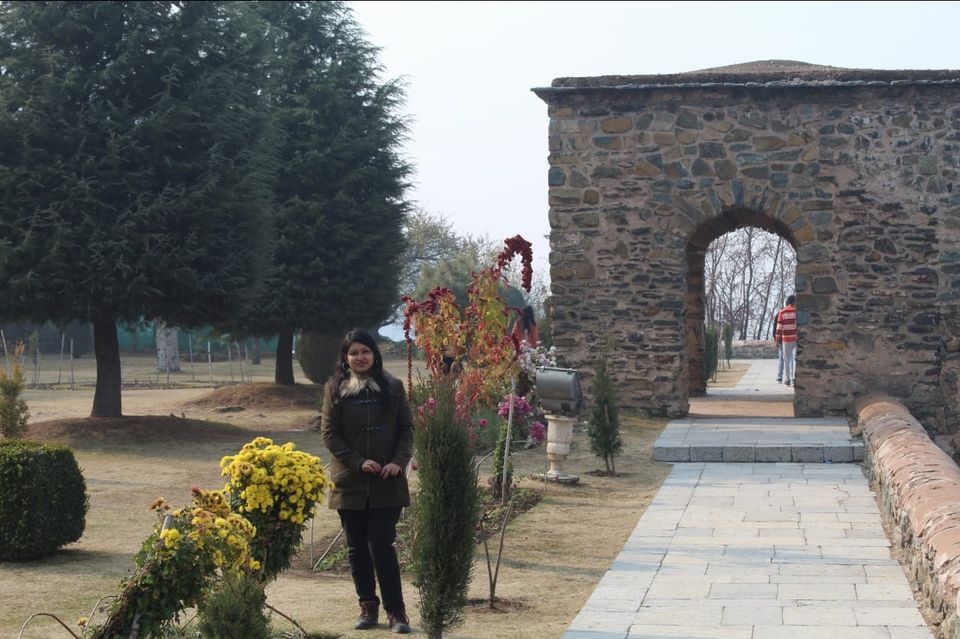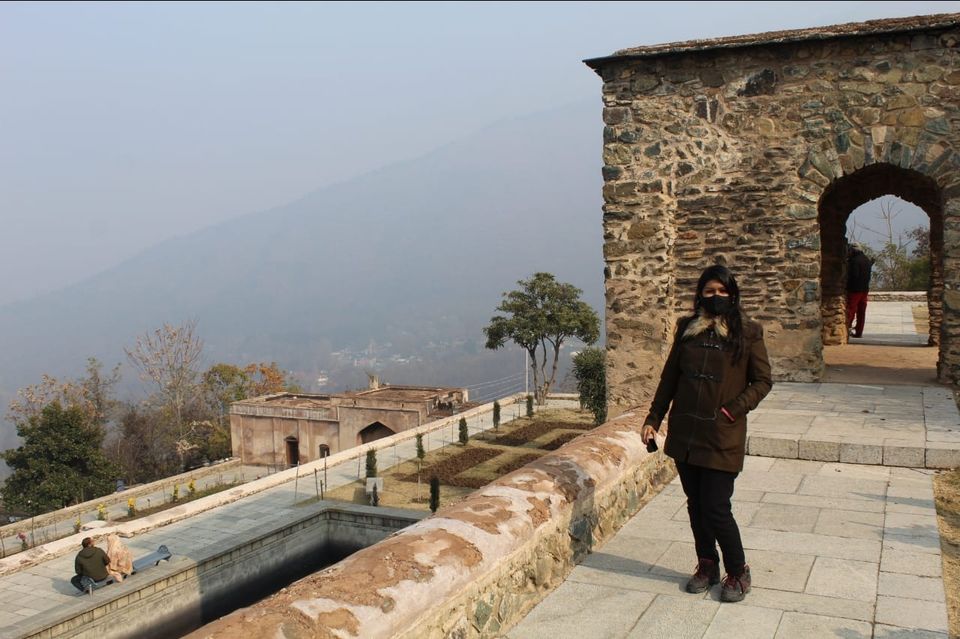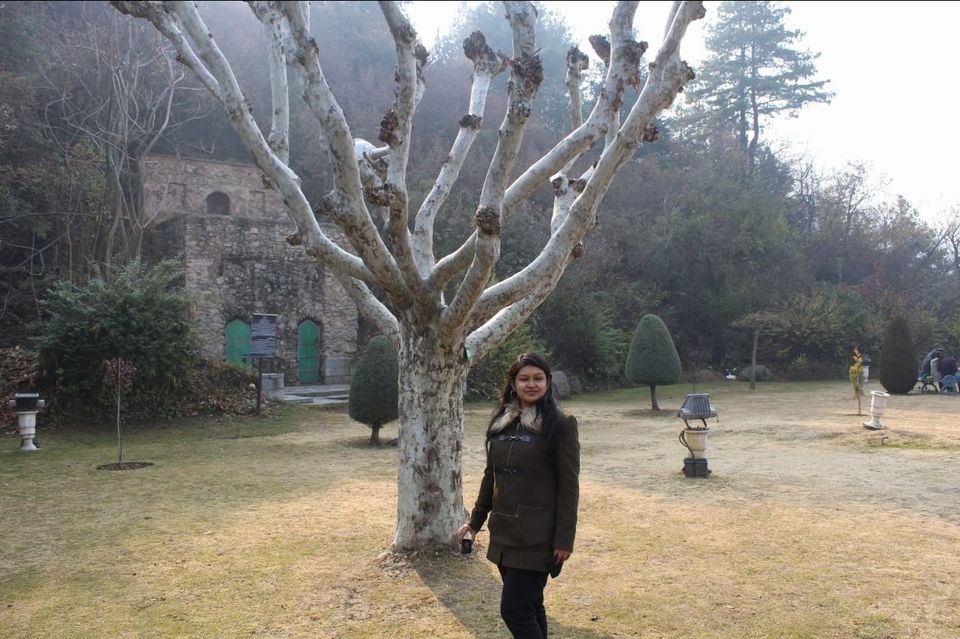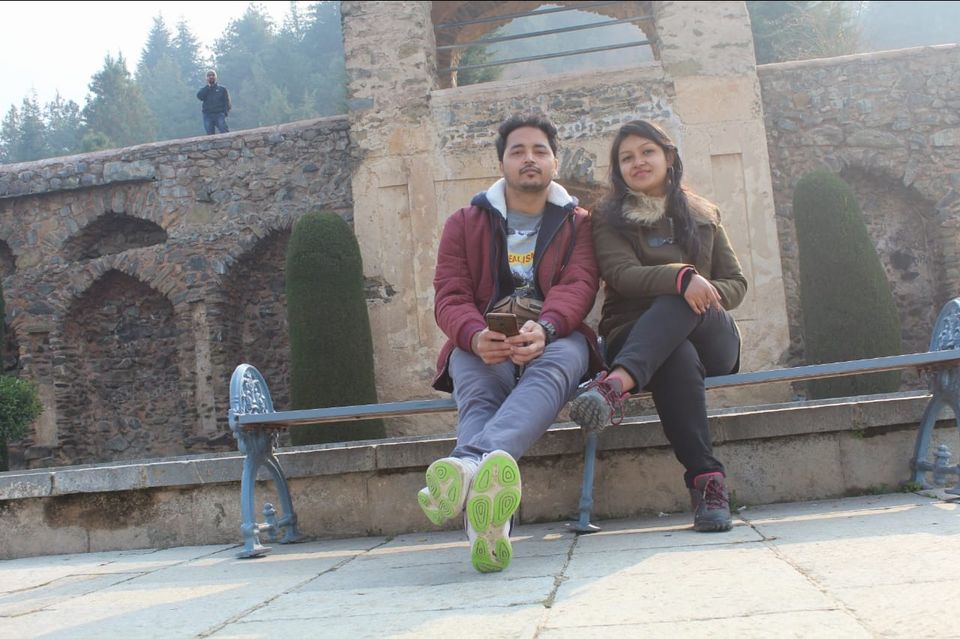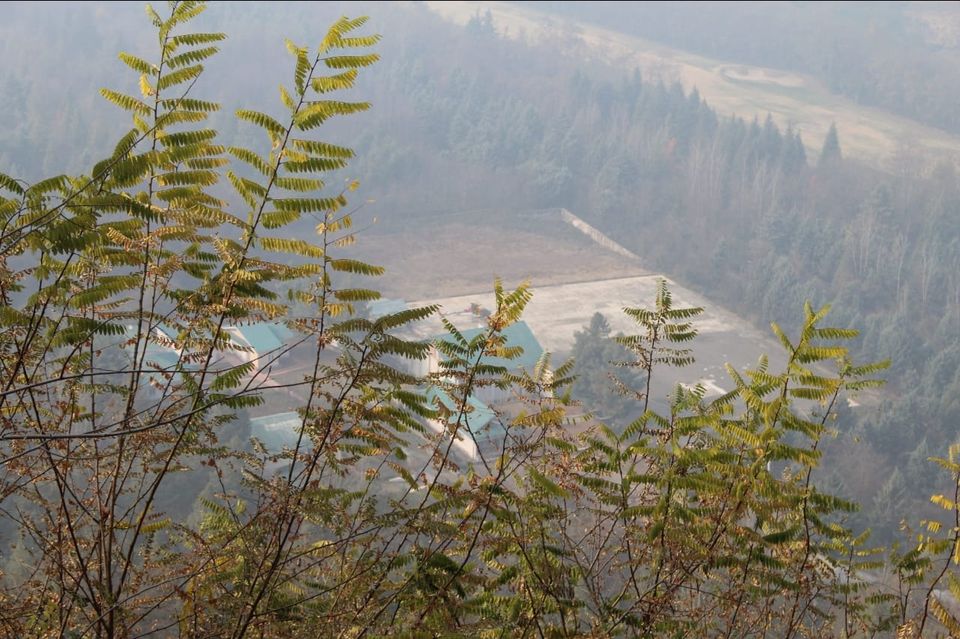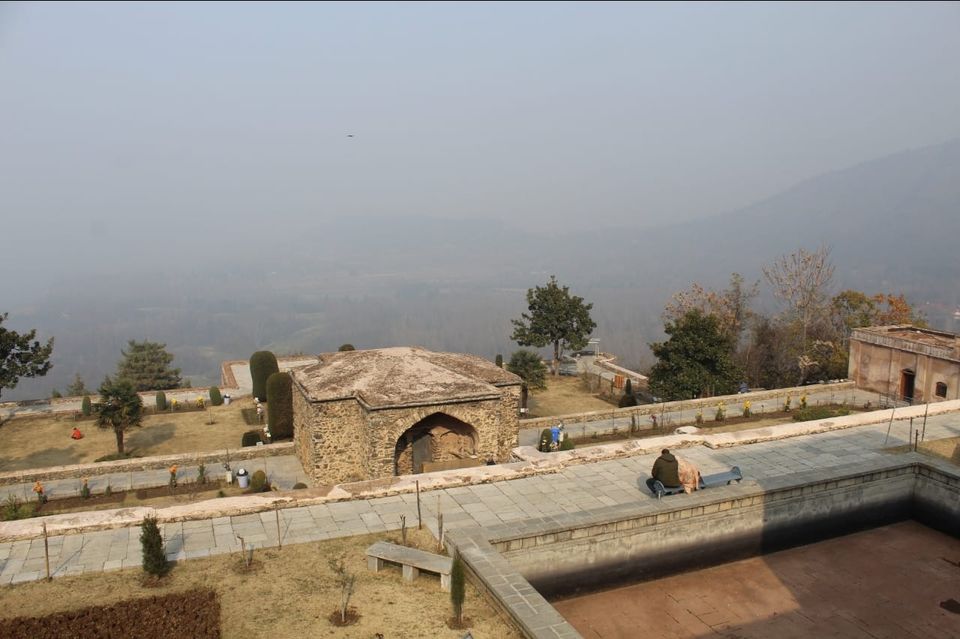 This was our last destination in Srinagar for the day.After this we headed to the Airport to catch our return flight to Delhi.
Main Expenses:
Stay: There are lots of affordable options to choose from.There are houseboats as well as hotels.We stayed in Four points by Sheraton for two nights which cost us Rs6500+taxes per night with breakfast. The hotel was maintaining all Covid hygiene protocols and hence we could stay without worrying much about the Virus.
Transportation: Our cab charged us Rs 7000 for 3days.This included pickup from airport and sight seeing for the first day, trip to Gulmarg and back to hotel on the second day and sight seeing on the third day and drop off at the airport.
That was all about my weekend trip to the paradise on Earth and my experience was awesome. I have come back with loads of memories and a healthy habit of drinking the immunity boosting Kahwah each morning. And Covid? No. I didn't get infected till now.