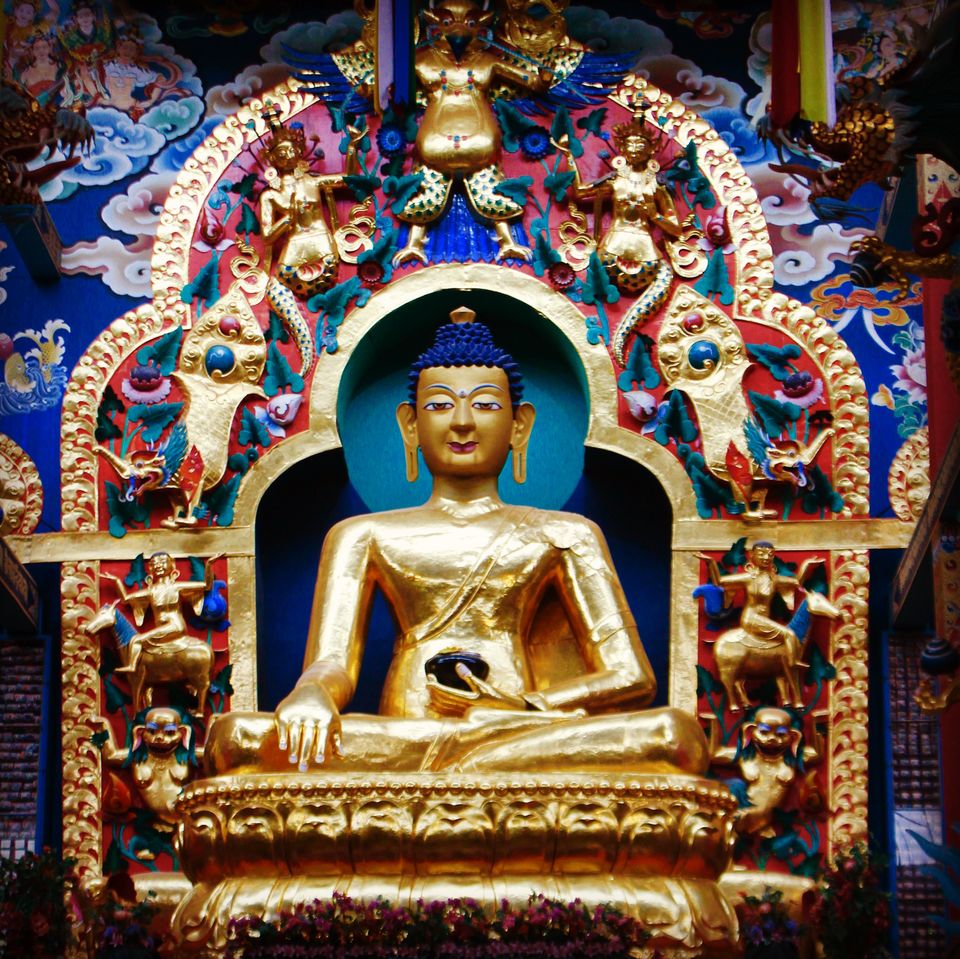 If you seek advice from someone who has been to Coorg, that person is going to suggest you stay in Madikeri. I would say that too - For the scenic stay, and a lot of green bliss! But, Kushalnagar has a lot of goodness too.
Kushalnagar is around an hour away from Madikeri and few sea-levels below.
But , what is the goodness. Here are a few I have been to -
1) Namdroling monastery
It is the largest teaching centre of the Nyingma lineage of Tibetan Buddhism in the world.
There are around 16000 refugees and nearly 6000 monks and nuns in this monastery. This Tibetan settlement at Bail Koppa or Bylakuppe is the the second largest Tibetan settlement outside Tibet.
The major attraction of this place is the forty feet tall golden Buddha statues. The walls of the temples and institutions are decorated with beautiful paintings depicting the characters from Tibetan Buddhist mythology..
The enclosed calm and the spiritual ambiance of the place welcomes all the visitors. The Tibetan Monastery is located around 6 km from Kushalnagar.
Timings - 9 a.m to 6 p.m. all days
Prayer at 1 p.m.
No entry fee
2) Dubare Elephant camp
Located on the banks of River Cauvery in Coorg, Dubare Elephant Camp is one of the most popular tourist spot in Coorg. It attracts hordes of tourists from everywhere. The elephant camp boasts of plenty of elephants and offers tourists with an exceptional opportunity to be close to them and spend some memorable moments with them.
You can merrily bathe the elephants with the 'Mahaut' but be prepared to be drenched in the same water.
Timings- 9 a.m. to 11 a.m & 4.30 p.m. to 5.30 p.m. all days
Entry fee
INR 670 per person for Indians (Elephant Camp Activities)
INR 1,447 per person for foreign tourists (Elephant Camp Activities)
3) Nisargadhama
The 64-acre island, surrounded by the Cauvery river, can be accessed by walking across a hanging bridge.
It presents an excellent opportunity for tourists to have a close interaction with nature. Visitors can enter the reserve through the new hanging bridge.
When at Nisargadhama Forest, you will find a wide variety of things to do and see. Elephant ride is something that adults and kids both will enjoy. There is also a deer park and rabbit park that one can visit.
The view of River Kaveri is also something that tourist must stop by and notice, capture in their cameras, and cherish forever. The view, especially from the hanging bridge is breathtaking.
It is situated quite close to Kushalnagar, with just 3 km of distance between them.
Timings - 9 a.m to 5 p.m. all days
Entry fee & other activity charges
INR 10 per person for Adults
INR 5 per person for Children
INR 25 for Elephant Ride
INR 100 for Boating
With so much to see and do, I hope you will visit Kushalnagar soon with more enthusiasm this time!