2020 has been a year that has change many things in world, and most important that has been affected is how we travel, My first trip of 2020 was on 5 th Jan returning to Mumbai by 14707, and from March Lockdown came into enforce and trains resume from June but since then didn't got chance to travel nor wanted to take the risk, but by December mid the number started to fall and everything started getting back to " New Normal " ( wearing mask , maintain social distancing , Using hand sanitizer , etc. ). Himanshu Mukherjee decided to have a trip before 2020 ends. Planning was under way where should we go, which route to be selected, are trains crowded etc. all things were taken into consideration. After few days of viewing bookings of all the trains, Decided to take Deccan queen from Csmt to lnl and in return Indrayani back to Mumbai, although the turnaround time at lnl was hardly less than 7 mins still decided to take the risk of travelling in both the trains. And in mean time a circular was publish by railway which stated allowing all the out station passenger to travel in Local trains; Local train ticket can be issued 3 hrs prior to the departure of the train and till 30 mins after de boarding. So had a good chance to travel in Mumbai local also after 9 long months.
The day of journey.
The wait over 9 months comes to end of travelling in Trains. On 26 th December 2020 as planned by us. I, Parth, harsh and Himanshu were ready for the trip, Deccan queen departure was at 5:15 from Csmt so 3 hrs prior to it we all left for Csmt at at 2:30, I Reached malad station where parth was already waiting for me, we both went to the ticket counter and asked for the ticket, The clerk first asked for the Gov ID and then we informed him we wanted to board outstation train from csmt so he asked us to show the ticket , we opened the irctc app and showed the ticket , after verifying the ticket he issued us the local train ticket to Csmt via dadar. Entered Malad station and called Himanshu to know his status as he was boarding local from borivali so we all decided to meet at dadar. After a long wait of 9 months at 2:38 finally we boarded the local train Rake 6001 first medha rake working as Bvi - CCG slow service , The crowd at station seems okay, as it was also time where ladies were allowed to travel , so the ladies rush was more than usual, Train was empty and had social distancing sticker where it was indicating not to seat there. Travelling in local train felt like a dream come true for which everyone are waiting for.The local train journey from malad to dadar was good one , many changes have done in the suburban stretch, New turnouts at Andheri, 15c extension of platforms between Borivali to Andheri, new Fob.Brand new Wr marked LHB Ac coaches were stabled at jos yard , Brc wap7 37087 with Lhb Dadar - ajmer crossed at bandra. 2 Brc wap7 30637 & 39126 were stabled at dadar outer.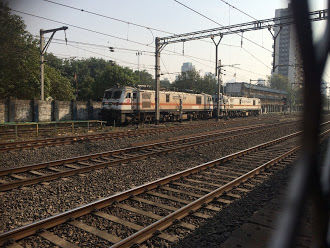 Offlink ET wap4 25047 with Dadar - Bhuj sayaji Express was departing from dadar.Brc wap7 30532 had brought Ajmer - dadar and was stable at dadar. Dadar seemed to have been packed and as it was during the Pre Covid stage. There was Rush to climb Fob without any social distancing. We had to wait for Himanshu at dadar; we all meet at the middle bridge at dadar and walk towards the central line! As Expected the central line had some other plans for us , we reached dadar pf:-3 ( cr ) at 3:30 and the indicator showed 3:50 cst slow , we were a bit confused how did cr manage not to have a slow local for 20 mins ! Although fast line local was working properly. Csmt slow arrived at dadar around 3:52 and it was jam pack to decide to wait for another local behind it, Next Csmt slow arrived at dadar around 3:56, it was empty and we boarded that, Fast line at dadar had a caution of 50 kmh speed limit on up and down line both. Jhs wdm3a 11401 rebuilt by parel workshop was stabled at parel outer after currey road the coach was fully empty only we 4 were in the whole coach till Csmt.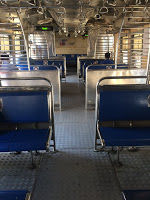 Reached Csmt at 4:11, we had plenty of time left in out hand, we had to exit the local station and then again had to entry the Csmt from other end, There was no temp screening nor anything while Entering the mail Express platform. We even was ask to go ahead of line as we didn't had luggage in our hand, As we had only carrying shoulder bag. The New Normal at CSMT looked so different, majority of food Stall were closed. Hardly 1 or 2 were open and the option was also limited. The train was already Shunted on Pf:-9. Our coach was D4 and it was in the rare part near the guard end,the coach composition had changed of Deccan queen after it resumed its service. After D1 to D3 all were in uktrisht livery and were pleased to see that our coach was in DQ livery, C4 to C1 also were in DQ livery and The Iconic dinning car was replaced by pantry car, Pantry car was also in uktrisht livery and till D10 all were in uktrisht livery, D11 and D12 were in DQ livery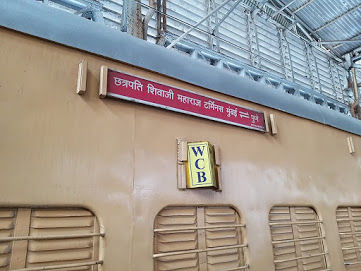 Kyn wap7 30800 was getting coupled to the train. And this was all of a different experience that we all were going to have in covid situation or in The New normal stuff. The train departed at Right from Csmt at 5:15 pm with the guard whistle which could be easily audible till our coach. Accelerating through Byculla. Just after crossing currey road trains slowed down following the Temporary speed restriction.Crossed parel at 20 kmph speed and also till dadar outer, picked up speed at dadar and started Accelerating. Kurla skip at flat mps and all the way through the Mumbai suburban section, slowed down after mulund following speed restriction at thane. Skipping Thane at speed of 70 kmph.Thane station was also looking deserted, hardly any person were visible on station. Picked up speed after crossing Thane creek and were approaching the Parshik tunnel. After crossing Parshik tunnel the train slowed down as for the caution order at diva.Skipping Diva at speed of 40 kmph. Hit 105 kmph speed at thakurli.Bhavnagar - Kakinada was waiting at outer for entry into kalyan junction. Had a parallel entry with Darshan Express at kyn , overtook Darshan Express hauled by Brc wap7 37128 probably it was the second last run with icf coaches. After skipping Kyn jn smoothly.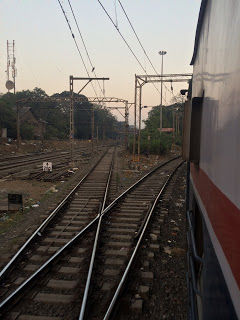 The train slowly picked up speed after crossing Vithalwadi and crossed Nagercoil - Mumbai Special, Skipping Ulhasnagar at 17:59 at 65 kmph speed and crossing with Daund - Indore Covid-19 Special, Skip Badlapur at 75 kmph and then achieve mps of 105 kmph. Crossed Vangani at 100 kmph and xing with udyan Express.Skip bhivpuri Road at 18:25 at flat mps. Entered Kjt at 18:29 4 mins Before Time, Wag7 were already waiting for us ready to get attached, meanwhile from pf:-2 Bia wap7 with 37039 with Spare Ac coaches rake departed towards Kyn. After 6 mins of halt at Kjt we departed from Kjt climbing the Ghats. And at this stage we just prayed we don't get trolled in Ghats or get delayed in Ghats as our return train had only 5 mins TAT at lnl, we had to catch Indrayani Express to get back home. As we were in Ghats we couldn't even track Indrayani status also, last when we tracked it, it was 55 km away from lonavala and we had to cover 27 km in Ghats. Crossed Khandala at 19:084 mins BT, and that gave us a relief so that we could get extra mins at lnl for climb the fob, Skipped Khandala with a speed of 30 kmph speed. After skipping khandala we all went on doors as to get off the train and change the platform. Entered Lnl at 19:14 , Train was 4 mins Before time at Lonavala and the fob was right in front of our coach , so we had enough time to climb and change the platform and also when we tracked Indrayani on ntes it was still 5 km away from Lonavala . So the queen never disappointed us, it was before time and also had an amazing ride in it. Indrayani Trip Report in next part stay tune.
Thanks for Reading,