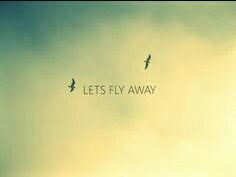 "I wish,I wish to fly away to the land of Dragons and mist"
Life walks on either X and Y axis,and sometimes u really feel the urge to just resume it again to '0'.
And the best solution that stands here is to travel,take a break all by urself.
Yes fly away.
Walk barefoot on the seashore,and let the waves kiss your feet.Remember the sand castles you made as a kid?(Yeah they looked less of a castle and more of a deformed pyramid ).Listen to the echoes of the shells as they symphony with the roaring waves.Gaze at the naked sky as you draw the constellations.Breathe in life once again.
When talking about beaches,mountain lovers ofcourse take a break to the mountains.Rejuvenate your wiery soul with a sip of hot tea as the first rays of sun peep from the clouds.Take a walk along the twisted roads as the cold breeze drain your anxiety.
Actually do any crazy bit or saintly stuff that you wish,cause remember you have stolen this moment just to be with yourself.
P.S- Which beach or mountains you visit actually dosenot matter,how much you breathe in life is what counts.
I know all these may sound fairy to some,yeah indeed its difficult to fly away all by your own,but if ever found such an opportunity,do grab it.
P.S-However remember,fly as much your wings take you,but don't forget to come back to your nest as the day ends.Cause flying away is not about running away or getting uprooted,but its just rejuvenating yourself to fall in love with your life once again.