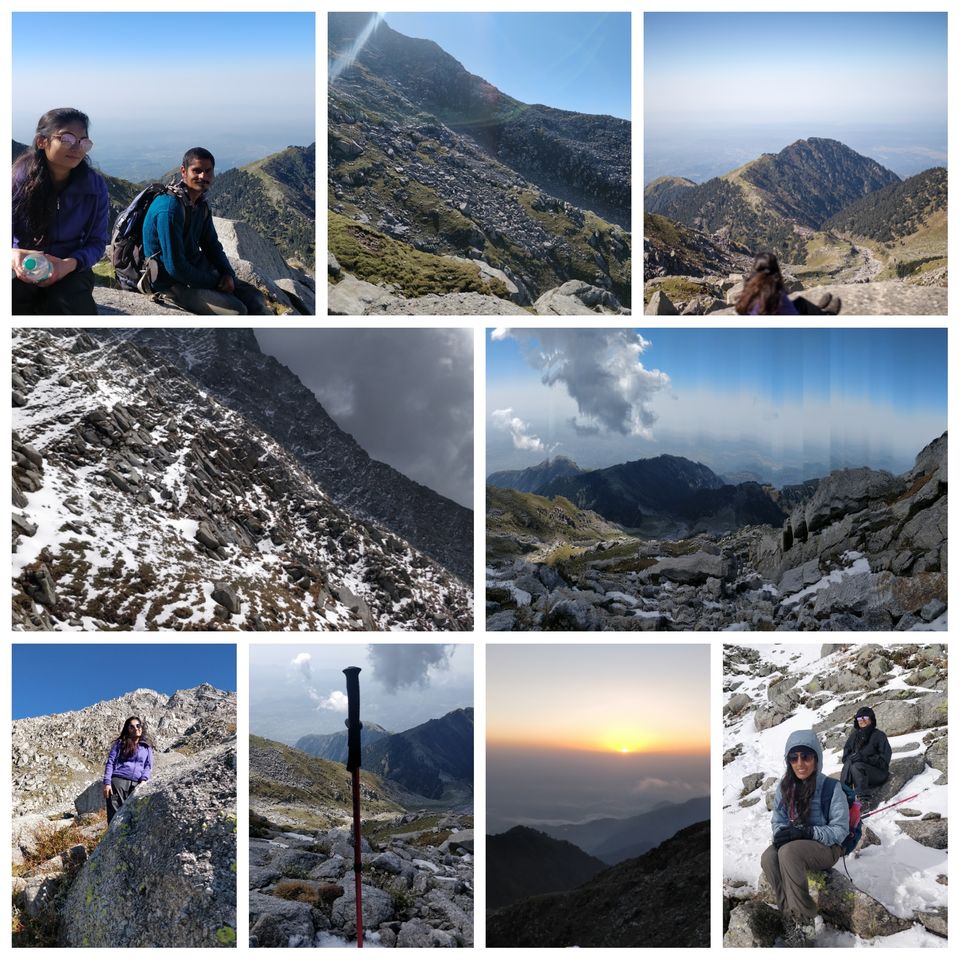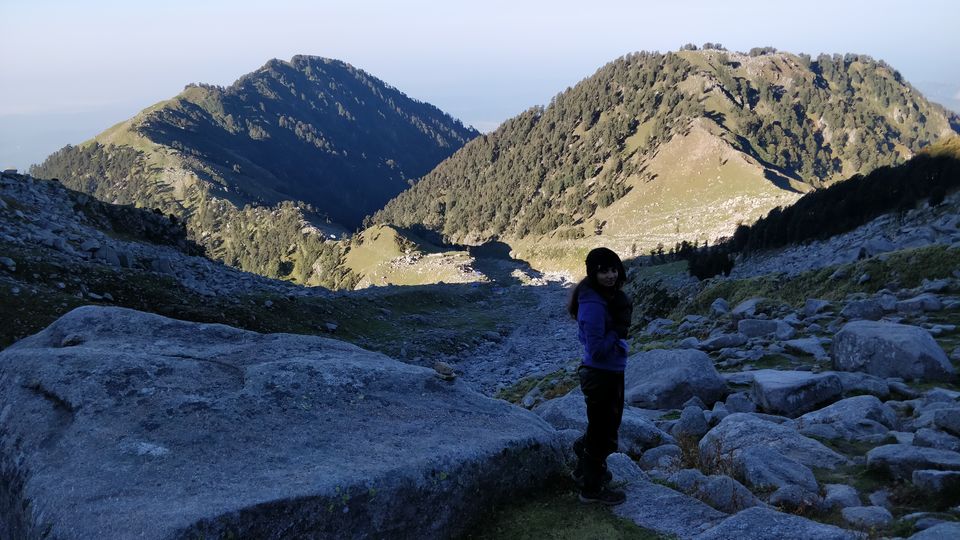 The day of the summit climb!!
So you know you have one of those days where you don't really think much and are just planning to let things take its course...but then the day unwinds to be this crazy, thrilling ride and its forever etched in your memory. Well 1st October 2018 turned out to be that day.
For starters, the trek to Indrahar pass is not easy. Even if the weather cooperates, the terrain is extremely rough and there are no defined trails at all. So pls make sure you attempt it with an experienced guide. And yeah start as early as you can in the day. Preferably at around 4 am.
WE made the first mistake of starting out at 6 am. Why a mistake you would ask. That's because it took nearly 9 hours to get to the top and by the time we were descending it got pitch dark :-(
So we set off properly at 6.30 am, some 12 trekkers in our group with 2 guides. It took us 2 hours to get till Lahesh Caves.
We spent some 10 minutes at Lahesh caves and yeah as the name suggests it is a proper huge cave. Then we were off again and the ordeal seemed never ending. We walk and walk and walk and the top looks no closer. I would say about halfway we got to know that the trekkers who were ahead of us reached some 400 mts close to the summit, gave up and were on the way back. Our guide kept on reassuring us that we could get to the top and as the day is bright and sunny, the weather too is on our side. As we moved up, the trail got trickier and now there were patches of snow here and there from the previous days snowfall. I was delighted to see all that snow, not knowing that soon I'll be dreading and crying about it.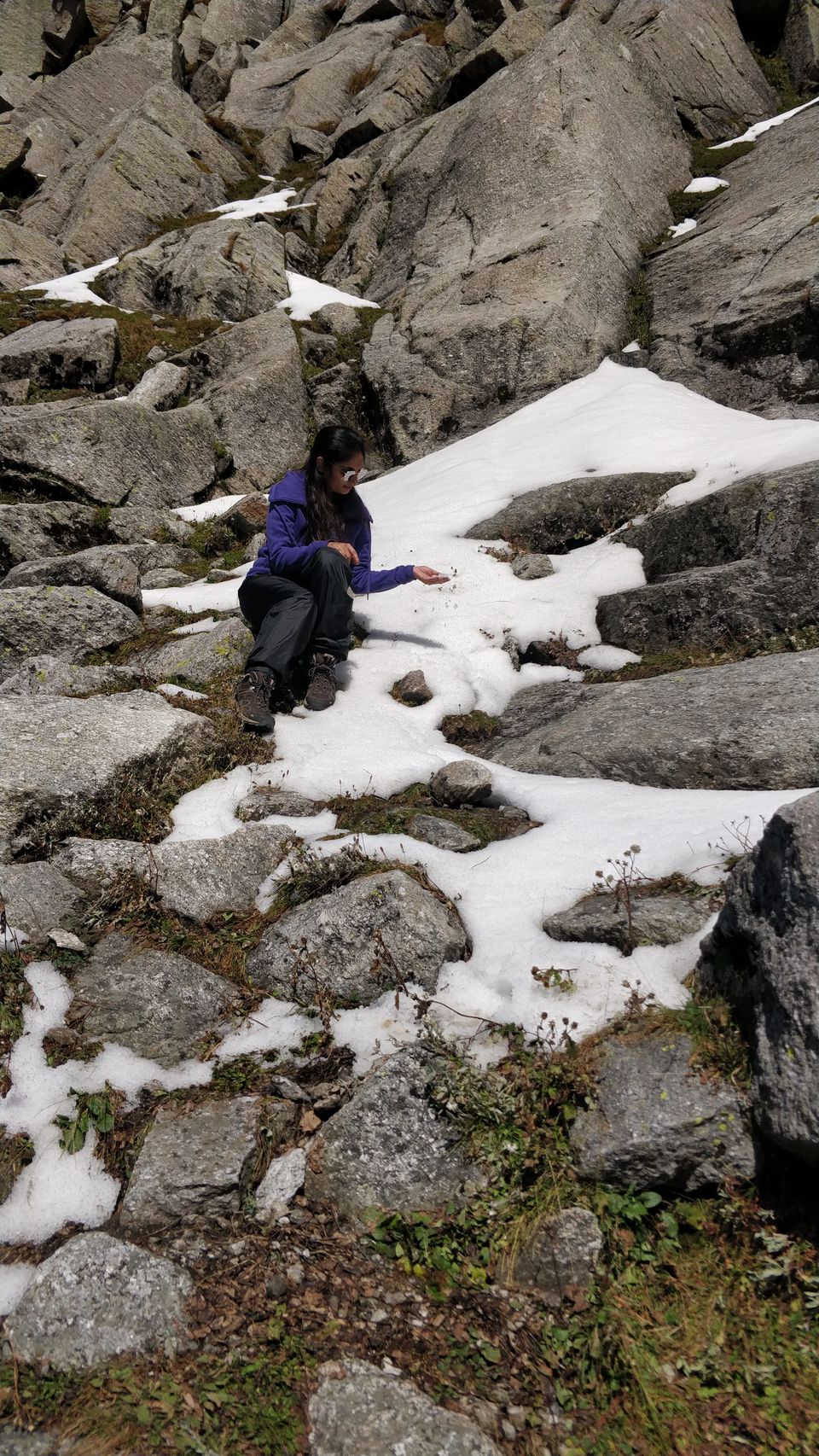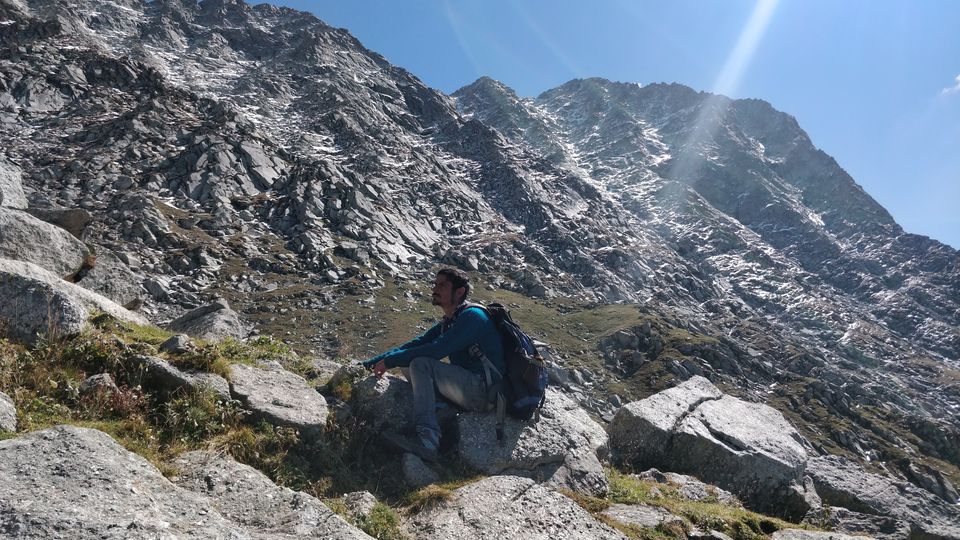 I had given up at around 1.30 pm. Because it would still take us about 90 minutes to reach the pass and my body just couldn't take it at this point. I started crying. Also it was just us 4 trekkers and our guide. The remaining 3 trekkers wanted to continue and I didn't want to be left behind so in my state I decided to just brave it through.
We are now 100 mts away from the top. I am still crying btw. I tell my friend that he should continue and I'll just wait there. During this conversation the weather took a 360 degree turn and from being sunny, it flipped and started snowing. Snowing like crazy mind you, that within seconds our bodies were covered with snow. My crying continued, in fact I honestly thought that we weren't going to make it. Because imagine being stuck up at 15000 feet on a treacherous mountain range and there is heavy snowfall all around and visibility is next to nothing.
I just wasn't ready to get up. I was too scared to stand on the soft fresh snow and my fear was that I'll slip and fall off the mountain. So for a good 1 hour while it was snowing, I just slid down the mountain, the guide held my hand and controlled my sliding. I refused to stand up and walk down that risky slippery slope.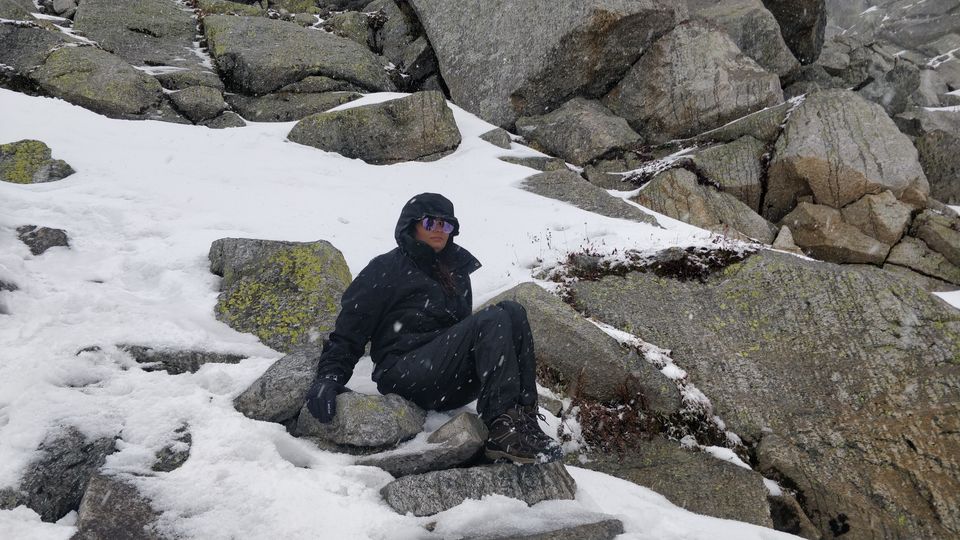 At around 3.30 pm the snowfall stopped and I then got up and started walking. Have to say the other 3 trekkers were really brave and far more composed than I was. I utterly panicked while trekking down and in hindsight I wish I had just maintained my cool and let not fear take over me.
The below pics were taken at 4.37 pm. Now our worry was making it to the campsite before sunset. While going up I remember we had taken countless breaks and stops to regulate our breathing, because of course it is tiring to climb a steep path. But while getting down since our race was against time, we didn't stop for a second.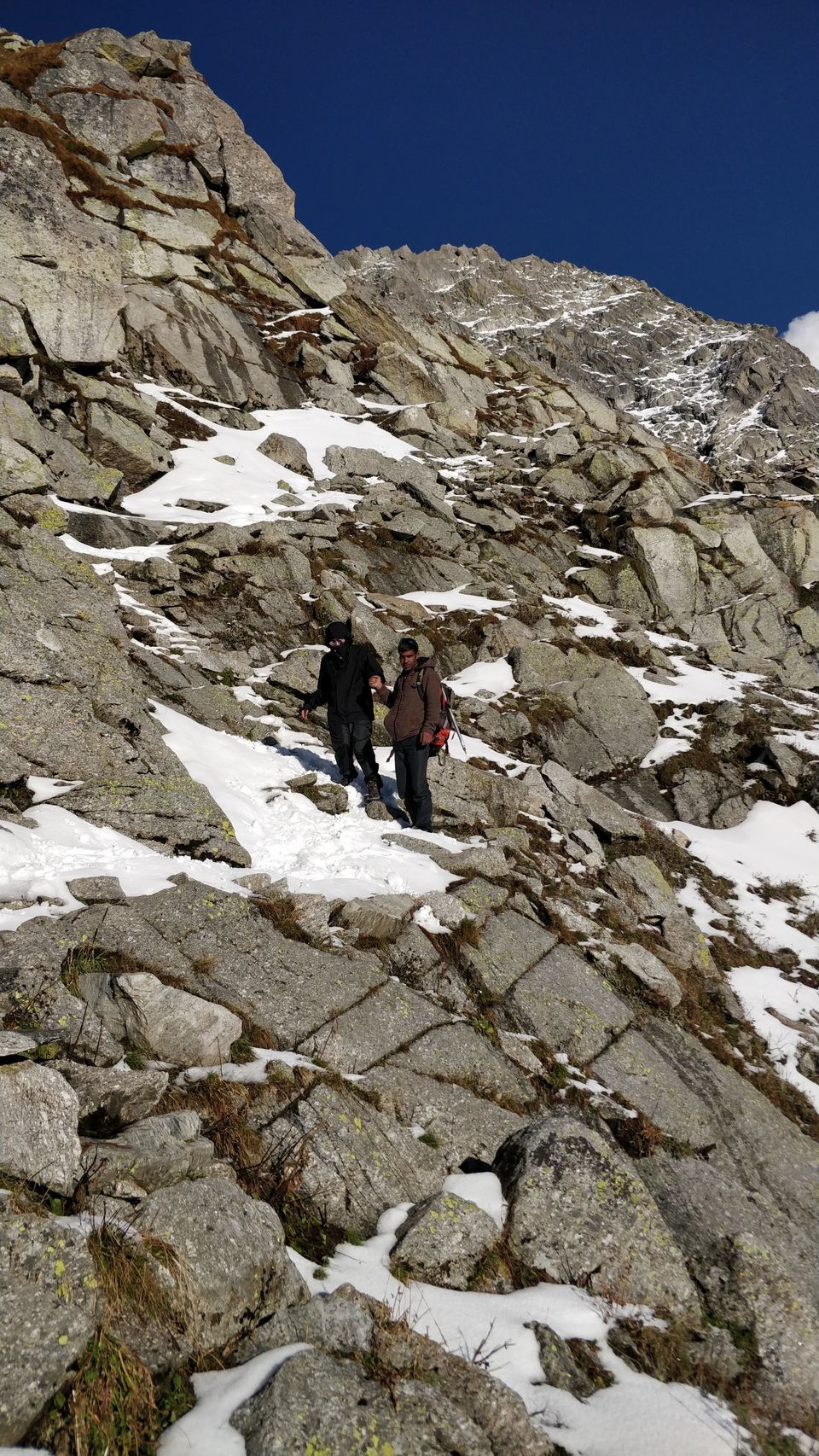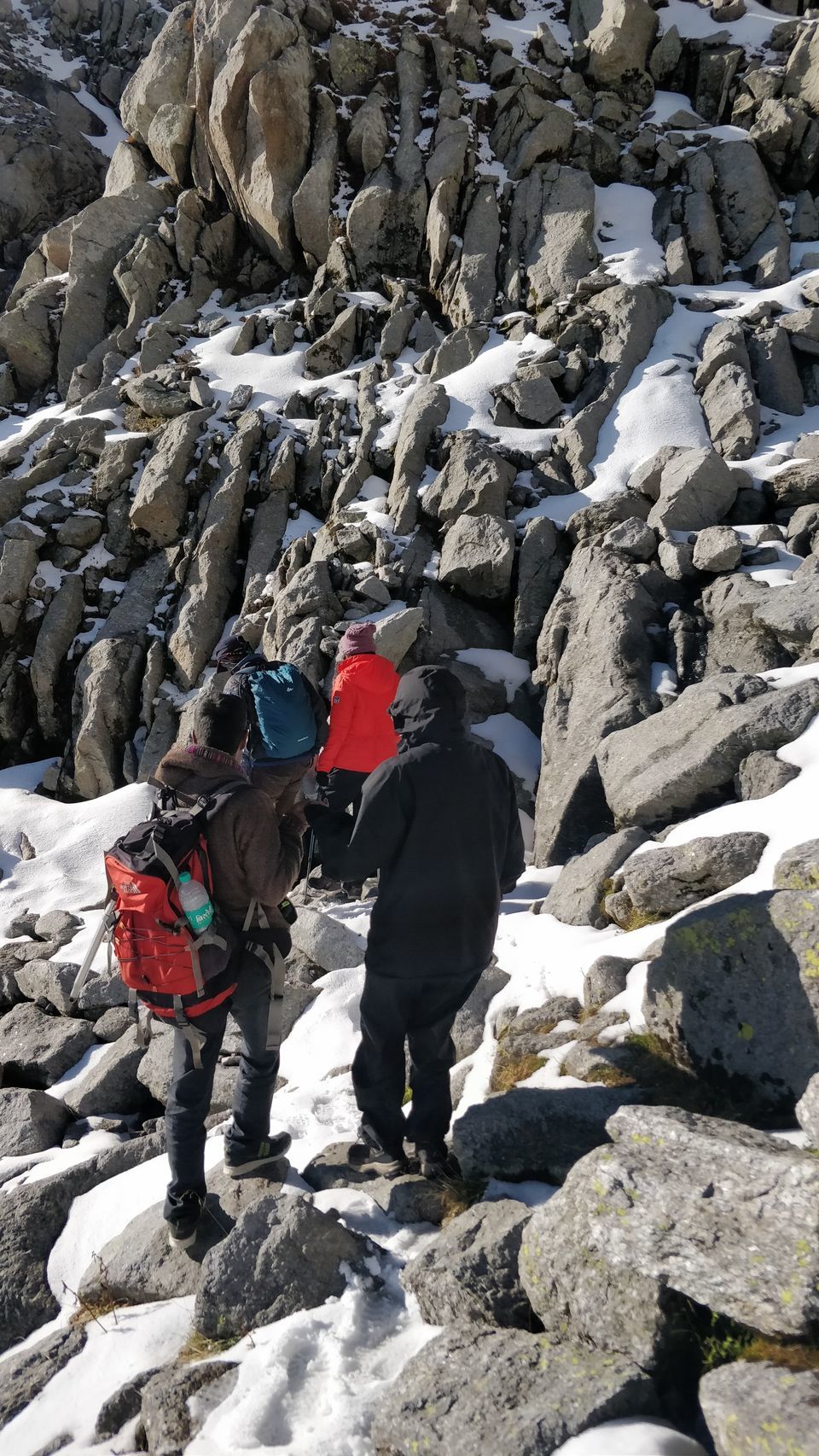 We are around 3 hours away from the campsite and it gets pitch dark. The sun has set and now I am close to tears again as I feel in the dark we won't be able to make our way back. Kudos to the guide whose sense of direction was so sharp that even in the dark he managed to lead us back safely. But also I was angry and upset that as a guide he didn't even carry a torch!! So we just had one head lamp and 2 mobile torch lights to show us the way. Pitch darkkkk, risky slope and us trying to make our way back. My sense of adventure was also lost in the dark :-(
Finally at around 9 pm we reached the campsite and I just collapsed in the tent. My legs were half out, torso half in the tent. Honestly I just couldn't believe that we were back in one piece, safe and sound and I had survived that day!!
I remember up there in those harsh conditions with that snow all around, I told my friend that never again am I gonna trek in my life. This is it. After this only luxury holidays for me.
But after surviving this day, when I woke up the next morning and saw those views around the campsite, all I could think was where will I go for my next trek!!
High altitude multi day treks really test you as a person and you discover so darn much about yourself. I realized I am much stronger physically than I believed myself to be and much weaker when it comes to my reactions in a worrying situation. I am embarrassed that I cried up there and instead of just keeping my wits, I lost all sense and sobbed like a baby. I am equally proud of the fact that despite of all that I didn't give up and just kept going on.
I hope this post gives you all the information for planning a trek to Indrahar pass summit (in the winter months), as I am sure during summers it's got to be much easier as there is no fear of snowfall.
Day 5, 6 and 7 left for the trip. Can't wait to share it all...