Manali to Keylong
So here was the day I waited for. I woke up to the sound of rain which was adamant on posing a challenge for me to reach the bus stand. I got up little early, freshened up and finished breakfast. By the time, rain also stopped and I immediately checked out from the hotel and left for bus stand. The bus stand was the starting point of my bus ride to Leh. I walked up to mall road and located the bus at the bus stand after running some queries around.
After a lot of deliberations, I chose to go ahead with bus ride for my trip to Leh. I took an overnight bus from Delhi to Manali and reached Manali in the morning. I booked a budget hotel at Manali and decided to revisit some of my favorite places in Manali during the day which included Hadimba temple, cafe 1947 in Old Manali and Johnson's cafe in the evening. Next morning I had to catch bus from old Manali bus stand. I had booked the bus online, which is run by HRTC. It is a bus with 2x2 reclining seats with first day night halt included at HPTDC guest house at Keylong.
Bus started at 10 am sharp and here I was, on the way to Leh. The scenery was beautiful as we exited Manali and took Manali-Leh highway. The clouds were hovering at top of the mountains and water was still dripping from the edges of the roofs as aftermath of strong showers at night. As I was sitting on the left window seat, I leveraged every chance of clicking the beautiful landscape.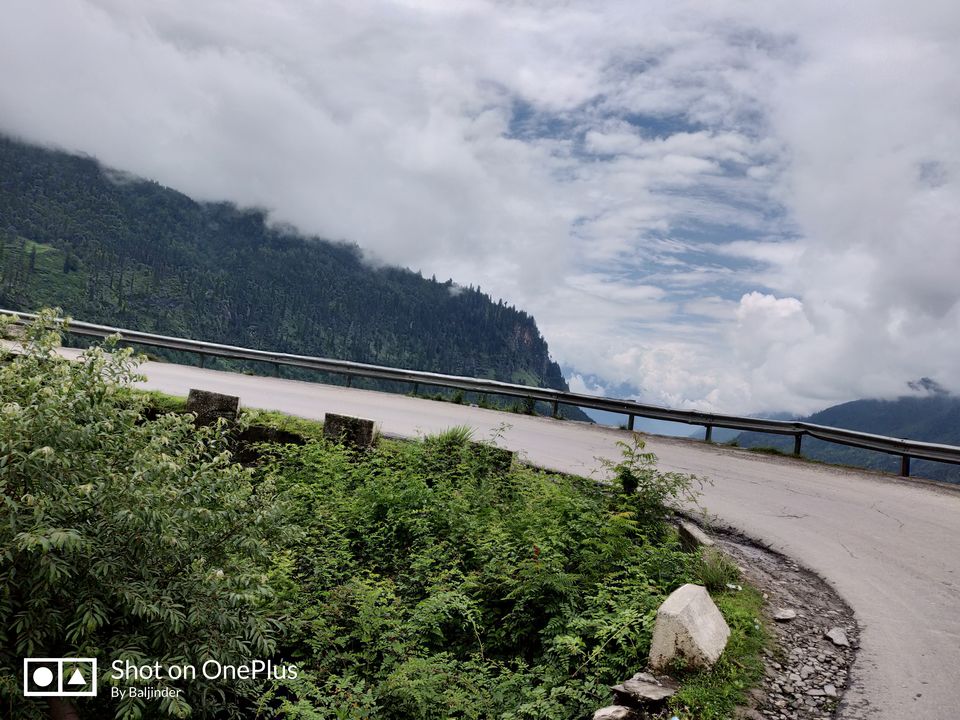 We passed through Kothi, the last village of Kullu district giving way to Lahaul district. After around 2 hrs, we reached Marhi which is around 17 kms before Rohtang Pass. The bus halted there for 30 mins for breakfast. I had hot ginger tea at one of the restaurants and it tasted awesome in the chilly rainy weather.
As we approached Rohtang Pass, there was strong chill in the air. Suddenly, jackets came out of everyone's bag in the bus. The mountains which we were staring at, at start of the journey, were running alongside. The clouds took roads and all vehicles in their claws. Nothing was visible around, except white clouds. And then we reached Rohtang Pass. It was all misty and super chilly. Bus halted for 15 mins. I got out and clicked conventional pics at the pillar showing 'Rohtang Pass - 13056 ft'.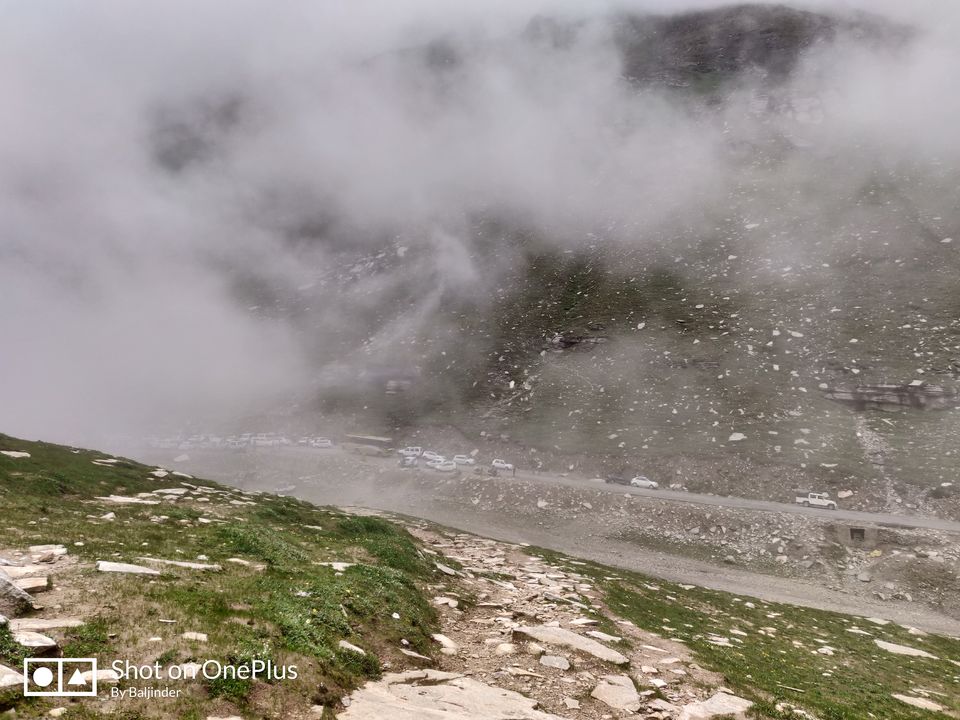 The pass was all packed with tourists. There were people in cars, bikes, buses and some enthusiasts with bicycles. Few herds of horses were taking tourists to the famous zero point which was beyond the meadow. Although visibility was equivalent to zero and strong cool breeze was flowing, I walked on the meadow and went to the far right side. There were few locals sitting on the stones and chatting up as they were oblivious to the unbearable weather around. Maybe they were used to it and it was like a usual day for them at Rohtang Pass. I realized bus might leave me behind as it was a government run bus after all. I ran towards the road. I could not see the road due to poor visibility. I reached close to the road and could not locate my bus. I was on the road now and looking for the bus. As I moved to the right on the road, I saw the bus and co-passengers were getting on the bus. Then, I realized how important yellow color of the bus was.
The bus left Rohtang Pass and my eyes were outside the window, satiating the hunger for mountains and cold weather. The drive hereon was pretty decent and road got little better near Koksar. Taking little halts here and there, we reached our destination of the day i.e. Keylong. We passed Chandrabhaga river which is a confluence of Chandra and Bhaga rivers. And our stay for the night was of the same name which is HPTDC guest house as well.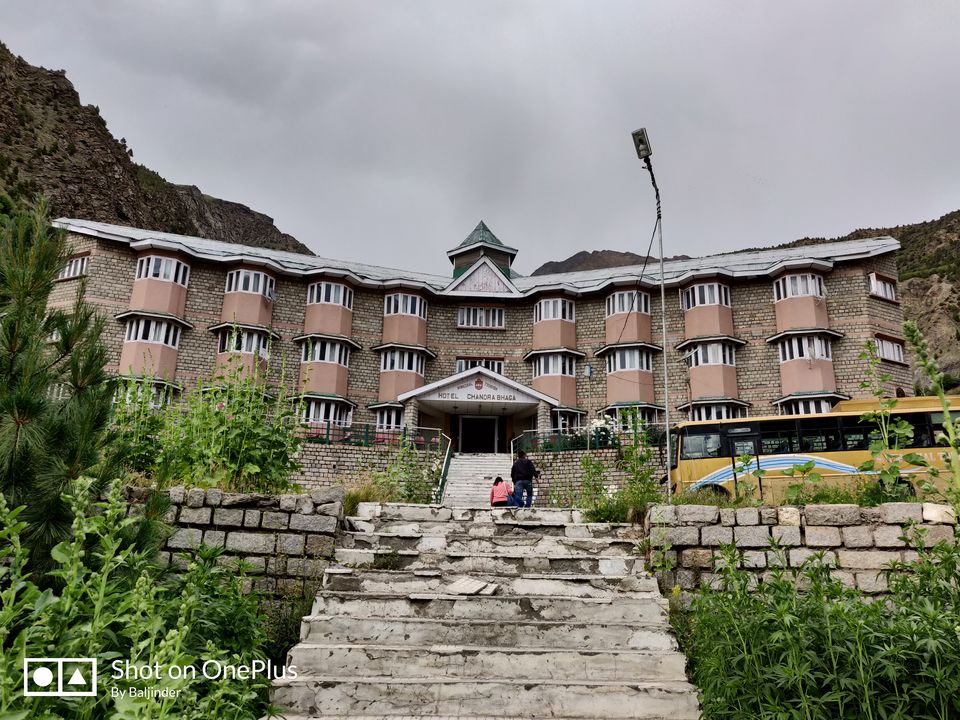 We took our luggage and we were allocated rooms with 3-4 beddings in one room. The stay was better than I had expected. I freshened up and went for a walk around. There was a narrow path down the hill which leads to Keylong town. I followed the same, chatted with some locals and visited the market which was a congregation of small shops with availability of most of daily necessities.
As I came back to the hotel, it was time for some snacks. I enjoyed delicious pakodas with tea. The view from outside was just awesome.
Dark brown mountains with clouds over them were sandwiched between two other mountains which looked relatively closer. We were advised to go to sleep early as next day was supposed to be quite long.
Keylong to Leh
I woke up at 3:30 am, freshened up quickly and was ready with my backpack at 4 am. We left at around 4:30 am which was quite good given that fact there were around 30 passengers.
As we drove for about 1.5 hrs, we got stuck with blocked road. There was no space on the road for any 4 wheeler to pass through.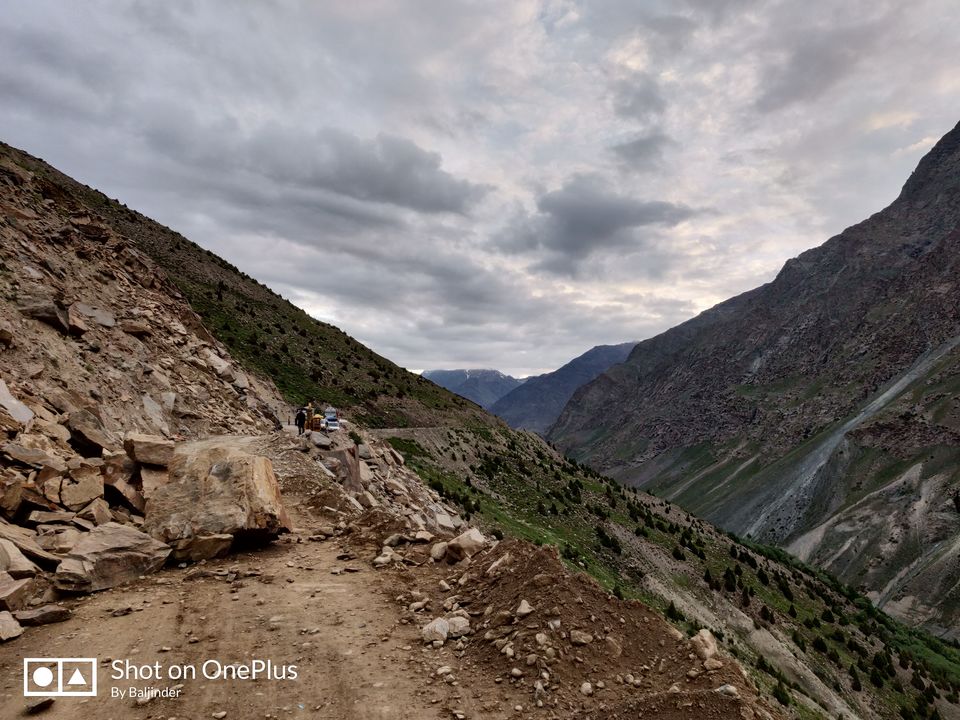 The snow became more visible noon the mountains as we crossed Baralacha la at 16,000 ft height above sea level. Just 2 kms from there, we took a halt at Bharatpur for breakfast. There were many temporary dhabas along the road. I got into one of them and ordered parathas, Maggi and chai. The food in mountains never disappoints. It was delicious.
From there, the road got little better and we crossed Sarchu which is a military base. The terrain around was so rough and dry.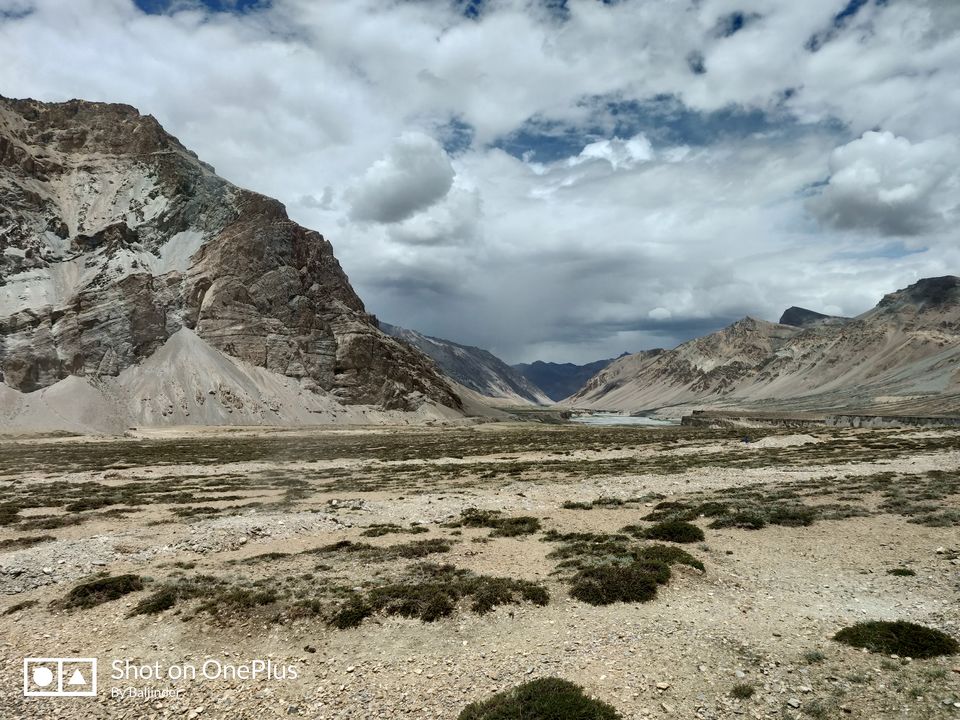 There was hardly any vegetation and human presence around apart from our bus and some trucks passing by. I think that's why experts generally suggest not to go alone on this highway. In case of breakdown, it is only up to luck to find any resources. We passed some of the highest passes in the world, Nakee la at 15,500 ft and Lachung la at 16,600 ft. It was now a very long day already and everyone was feeling sleepy in the bus. I also took some small naps and then something came up and everyone was like 'wow'. I can be sure at least I have never seen anything like that. It was 'More plains'. There was vast plain land and distant mountains on both sides. Icing on the cake was black clouds and drizzle around.
Everyone in the bus had their cameras toward the window and capturing this unbelievable sight. After crossing this, we reached at another unbelievable 2nd highest pass i.e. Tanglang la at 17500 ft. It was very cold here which might be due to rain as well.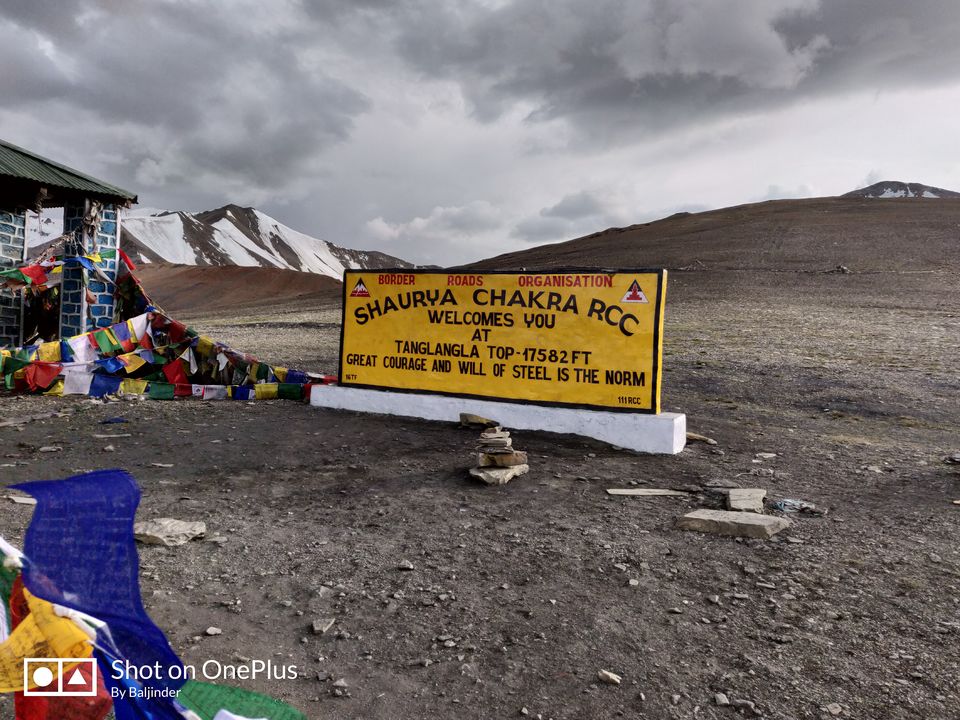 I took a cup of tea and enjoyed sipping with crumbling hands. The sight was more than one can dream of. It was nature at its best. Snowy mountains, black clouds, light rain, strong breeze and then there was sun to be found between the clouds. It was a smooth drive from here on and sun had set. It was dark outside and at around 7:30 in the evening, we reached Leh bus stand.
It was a very long day but what a day. I had never imagined my bus ride to Leh would be so much fun and so unique in terms of my other experiences in the mountains.