DREAMOGRAPHY: Photography while fulfilling yours dreams
Leh trip via Hitch-hiking
In India, if somebody asks you about your trekking trip or vacation trips, usually people talk about Kasauli, Shimla and some super most travellers talk about Manali and Rohtang pass. If you said "I have been to Leh." For an average Indian it sounds like that you have been to Mount Everest. I had a dream to be at Leh. In 2012 after completion of my graduation, I and mine cousins planned for Leh. But unfortunately the time we chose was wrong because it was monsoon season. And a day before we reached Manali; heavy downpour occurred over Solang valley. But we tried and we have to come down from Rohtang Pass because our car was stuck in a quagmire. That's how in 2012 my dream couldn't be fulfilled.
In 2014, again I and my cousin planned for Leh. At that time there was a Kala-chakkar happening over there. It is a Buddhists gathering where the Dalai-lama used to chant hymns. Exact location of Kala-chakkar was at Choglamsar (a small town) 4 miles before Leh city.
3rd of July
We packed our rucksacks with tent, mats, sleeping bags and woollen clothes. We left for Manali from Patiala bus stand on PRTC bus at 06:00 Hrs. After approximately 12 hours of journey we reached Manali bus stand travelled through different cities of Punjab and Himachal Pradesh. From bus stand we carried our rucksacks on shoulders and walked on foot up to Old Manali (Shibbu tea stall). It took an hour to reach there and it was like a warm up for marathon. We met Shibbu first time. He is a nice guy, brilliant cook and awesome human. He helped us to pitch a tent in somebody's lawn including use of bathroom and kitchen at very less price. We pitched our tent there and there we met an old guy "Chahal Saab" who is a retired engineer. We also planned to meet Sukhpreet Singh Artist but he was not there. So we had our dinner and slept in the tent.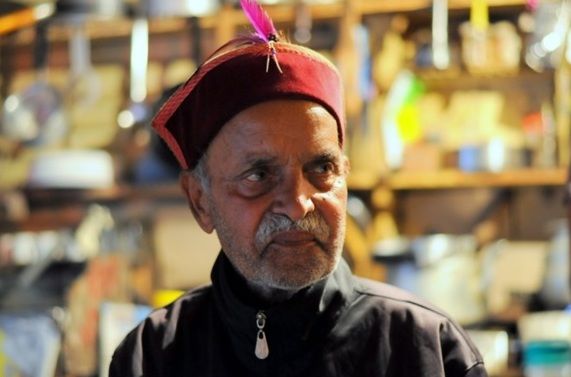 Er. S.S.Chahal at Shibbu Tea stall, Old Manali
On 4th of July
We met Sukhpreet Singh at his guest house (09:30 Hrs) and we told him about our planning for Leh. He was busy at that time so he decided that we should acclimatize first with the mountains. He gave us a new trek option from where we can see Old Manali and New Manali together. So on that day we trek up towards the small temple present inside the woods of Manali via Manu temple. Trek was of 6 hours including relaxing time. We saw vista view of grassland, Solang valley and top hill view of Manali during trek and all thanks to Sukhpreet Singh. After trek we had meals at Shibbu Tea stall. After meals, Sukhpreet invite us to Bees-Knees restaurant and there he planned our tour for Leh. He told us that we can go to Leh via bike, Jeep, bus, or even via hitch-hiking. We opted hitch-hiking (by taking lifts from passing vehicles)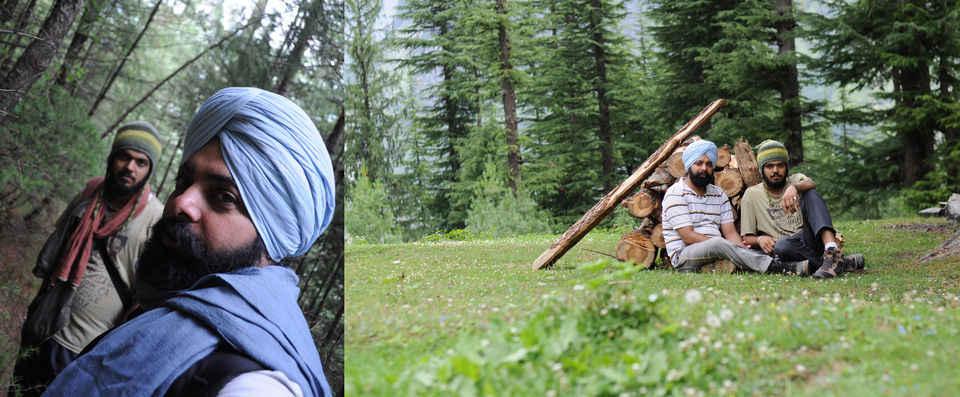 Woods of Manali Sanctuary and grassland where we relaxed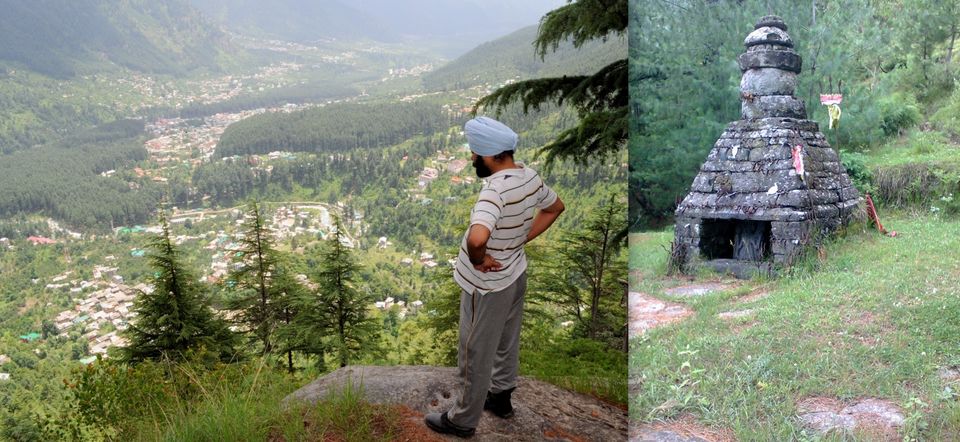 Top hill view of Manali from small temple site
5th of July
We woke up at 06:30 hrs and we reached at Manali Bus stand (09:30) after having breakfast and packing our tent and other stuff. Bus was already filled up to its capacity and it was the last one which is going Keylong. Only option was to complete the journey by standing in the bus. So we took tickets and completed our journey by standing in the bus and watching mountains from the window. We reached Keylong bus stand at 16:30 hrs and we already had booking of hotel Chandrabhaga. We stay there for a night and had our dinner.
6th of July
I woke at 07:00 hrs and walk for 1.5 miles upto PAU research station. There I met Gurpreet Singh (Ph.D) who was doing experiment of colchicines treatment at that time. After this, we check out from hotel at 09:30 hrs and then we bought some fruits. On this day, bus available was only for Jispa (22.7 kms) so we decided to go to Jispa. We have reached Jispa in just two hours. Jispa is an area with lot silt, so just pitching a tent over there means you are taking silted soil with you. We drop out an idea and we started waiting for truck. Then we saw a diesel tanker with J&K registration. We waived our hands and stopped it to ask for a lift. We got a positive response and placed our luggage on the roof of truck. Driver said that we will stay today at Sarchu. But unfortunately road was blocked due to flood and we stuck there for three hours. So at night we stayed at Bharatpur tent colony before Sarchu. There we pitched our tent and had our dinner with truck driver. He gave us a self cooked mutton with rice to eat. Then after dinner we slept in our tent.
Punjab Agricultural University Research Station, Keylong, H.P | Himachali Plum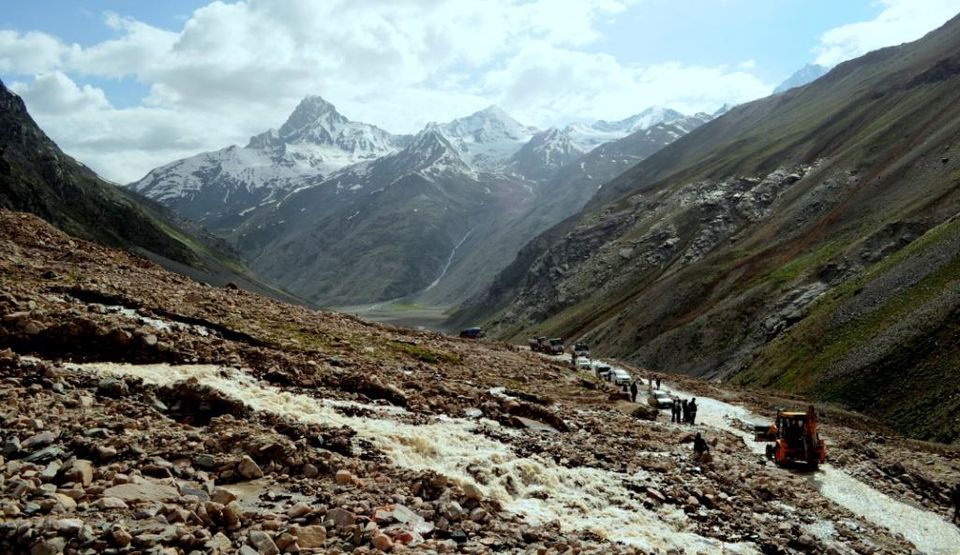 Blocked road due to flood and an avalanche
7th of July
We woke at 06:00 hrs in hurry and we didn't even pack our tent in right manner. We just threw it over roof. At 08:00 hrs we reached Sarchu and had our breakfast and a cup of tea. Sarchu is an awesome place and it's like a barren planet. We left for Leh 08:30 hrs and from Sarchu to Leh journey was really good as this stretch has number of view are there. There you will see long road with open area along both sides, Tso Kar Lake along the road, snow covered peaks and many more views. On this day we halted over different places for food, photography and nature calls. There is a place where a bus conductor died by his own bus so every driver placed some water bottles and food items for conductor's soul. At 16:00 hrs we stopped at toll plaza near River Bridge and we stayed there for an hour. Then after it we drove the truck and reached Choglamsar (07:00 hrs). Truck driver dropped us at Choglamsar city and we pitched our tent on banks of river Indus.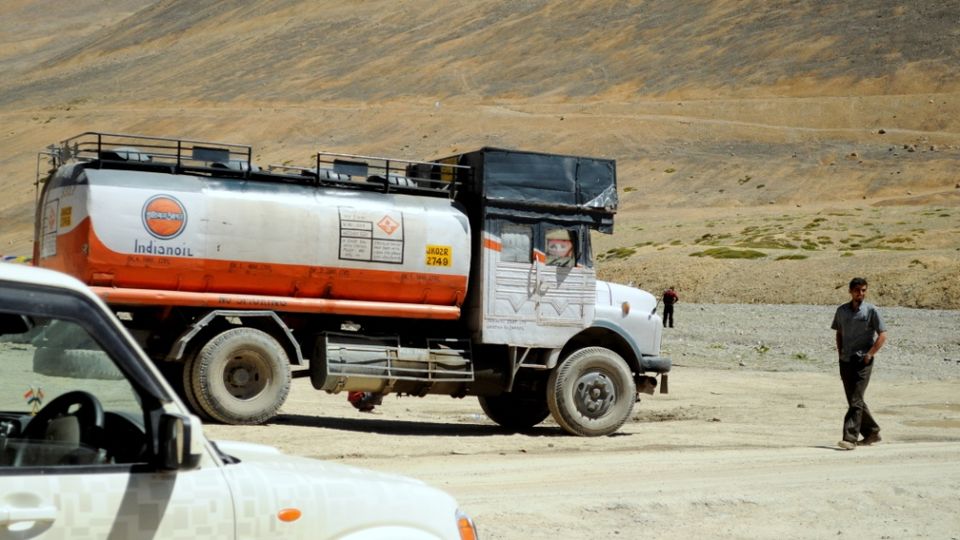 Our Hitch-Hiking vehicle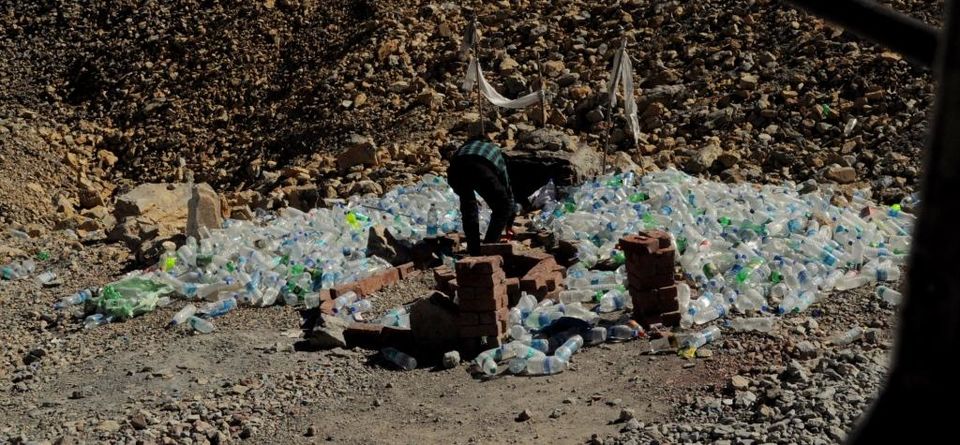 Our truck driver paying and praying at place where that conductor died.
8th of July
We woke up at 07:00 hrs and ate our breakfast at Punjabi Dhaba. At Choglamsar, due to Kalachakra festival, people from all over the India were selling their products and services. That's how we ate our breakfast at Punjabi dhaba. After breakfast we register our identity at booth installed by Kalachakar association. They issued identity cards which authorized us to enter the provinces of Kalachakar festival. People from different countries were watching to Dalai Lama. More than 15000 pilgrims were sat there to listen holy hymns and same number of umbrellas was there. It seems that gems were studded on the ground. We stayed there for whole day and it was a bizarre scene over there. In the evening we reached Leh and hired an auto for Upper Changspa. There we stayed in hotel on Stupa road. We planned to go to Gurudwara Pathar Sahib at night during dinner.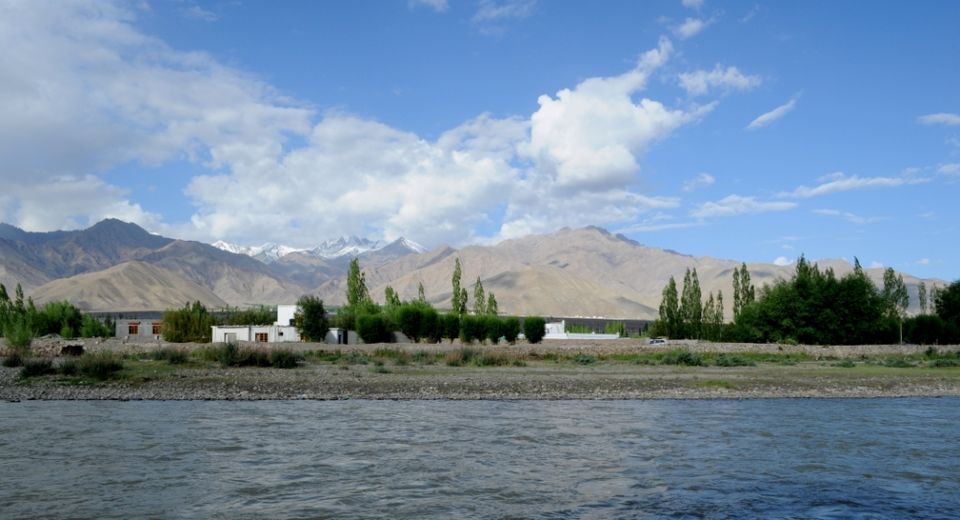 Indus's river banks near Choglamsar town

Pilgrims at Kalachakra festival, Choglamsar, Leh
Me and my brother at Kalachakar Festival, Choglamsar, Leh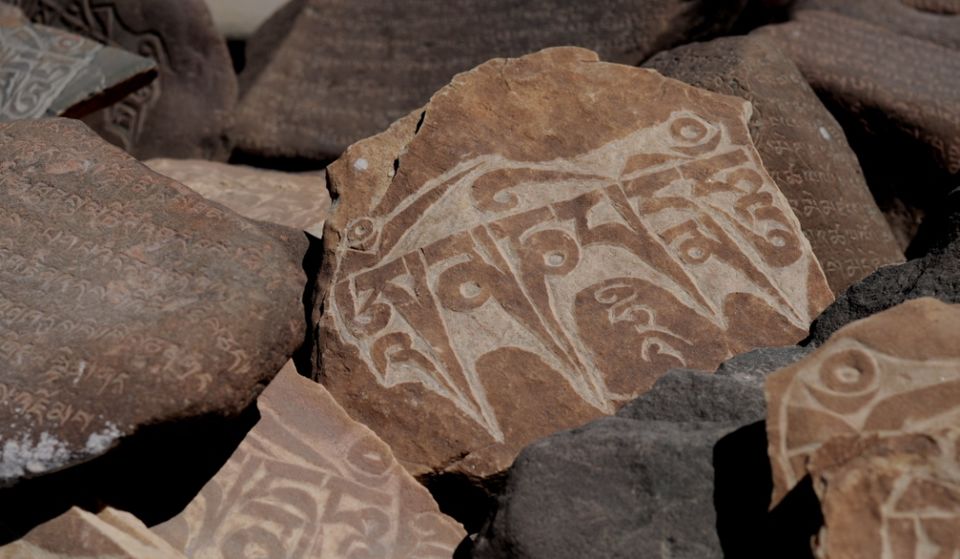 Buddhist's Mantras carved over stones at Choglamsar. (Om Ma Ni Pad Me Hum)
9th of July
We hired a taxi for Gurudwara Pathar Sahib with an American couple (they were going to village Nimmu). We reached at Gurudwara around 10:00 Hrs and had our breakfast in community kitchen. After prayers to Guru Granth Sahib ji, we moved up towards the hill (from where the huge man threw a boulder towards Guru Nanak Dev ji). We stayed there for about 2 hours and after another one hour same taxi came next to Gurudwara and took us to our hotel. After this journey we stay at Leh for next two days.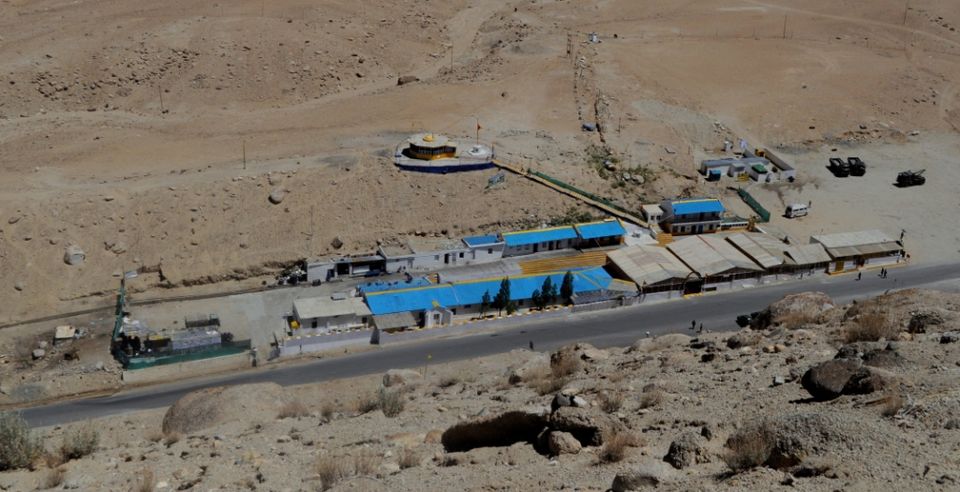 Top hill view of Gurudwara Pathhar Sahib, Leh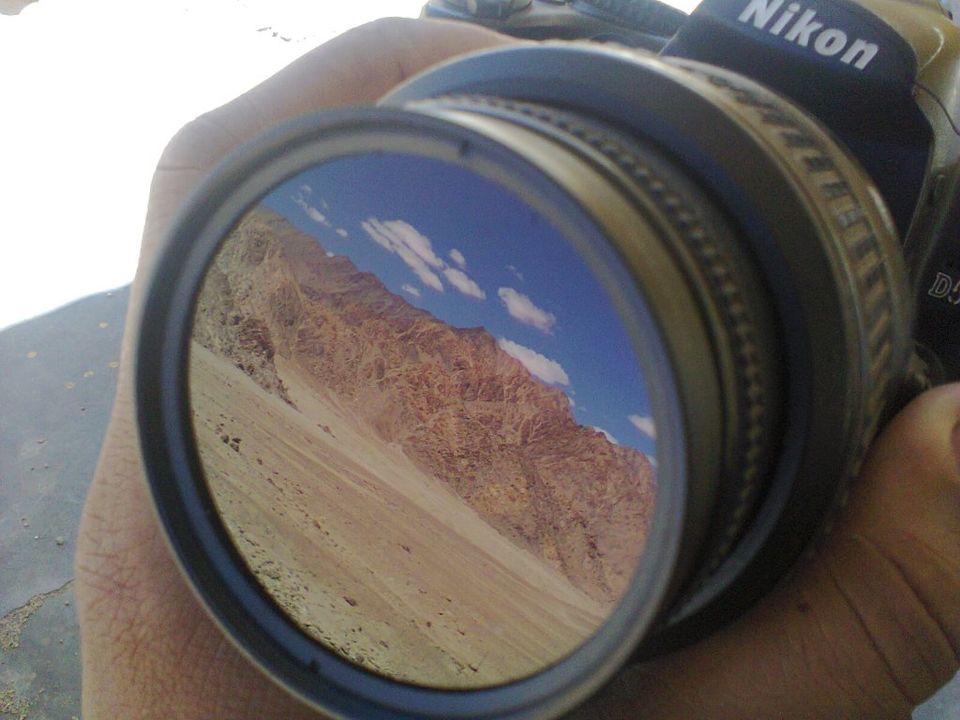 Mountain range behind Gurudwara Sahib
12th of July
We booked our seats yesterday in a bus for Manali and we started our journey around 02:00 Hrs. We reached at Manali Bus Stand after 18 hours through a same way on which we have been to Leh via Hitch-Hiking. We did our lunch where we stayed in our tents near Bharatpur colony and we got a chance to click photos there. We again pitched our tents at Ganga guest house and had our dinner at Bees Knees restaurant.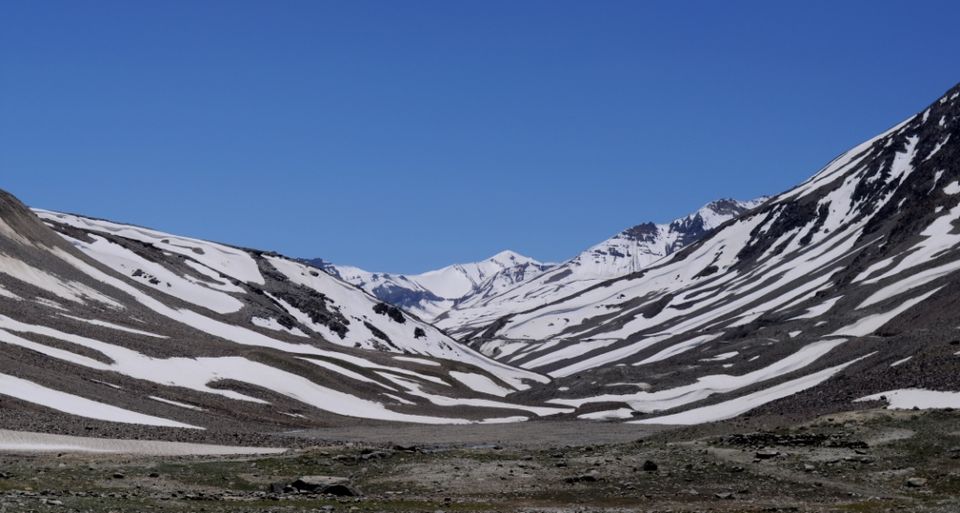 Serene view near Bharatpur tent colony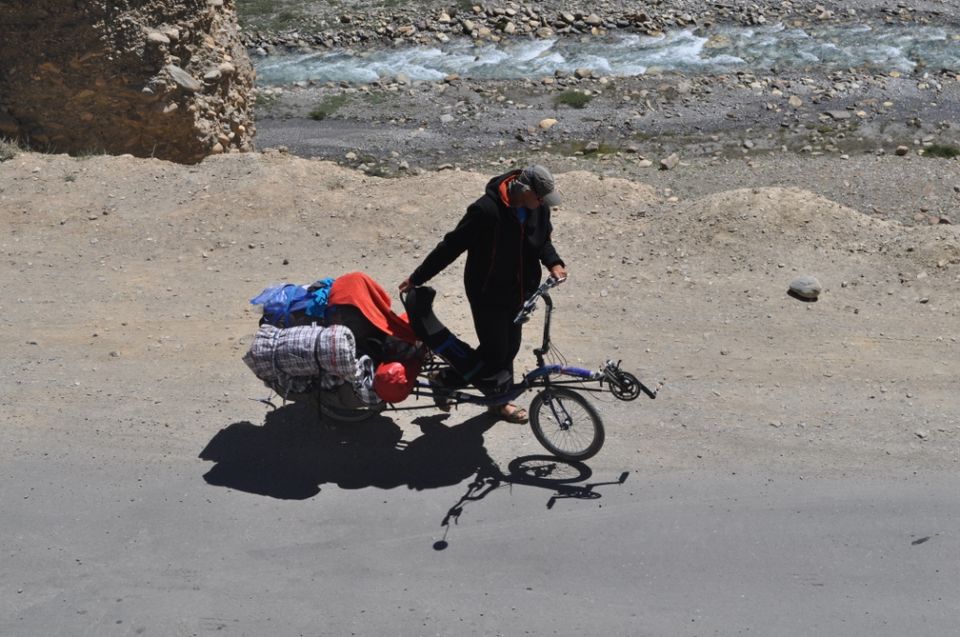 Bizzare cycle near Sarchu
13th of July
Today we did sight-seeing near Manali like Manu temple, Hadimba temple etc and after that in the evening we watched FIFA world cup with Sukhpreet Singh Artist and his German friends.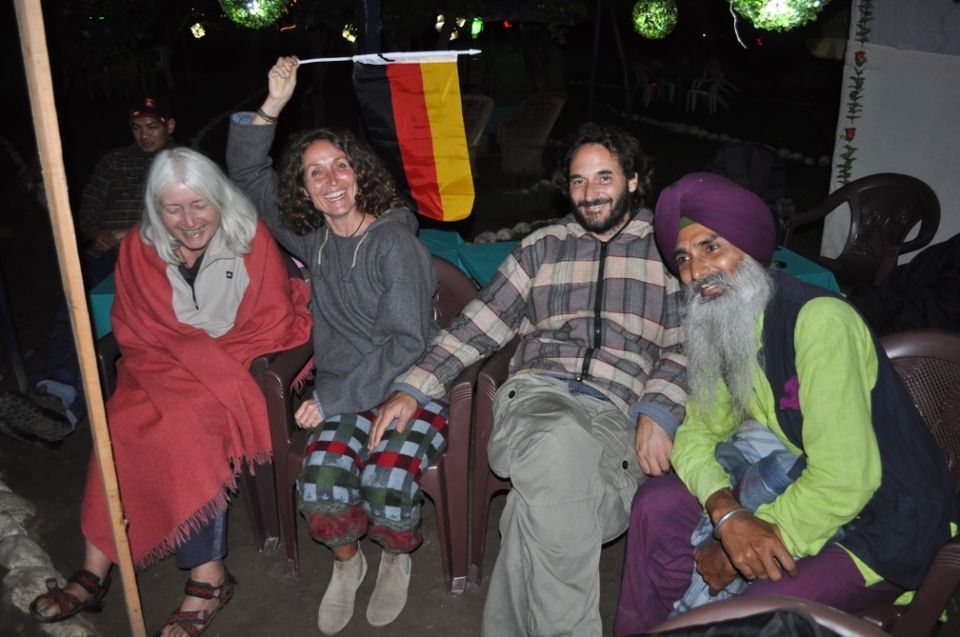 Group of Indo-German spectators at Bees-Knees, Manali
14th of July
It was a boring day as we are coming to our home town but still happy because we adventurous memories.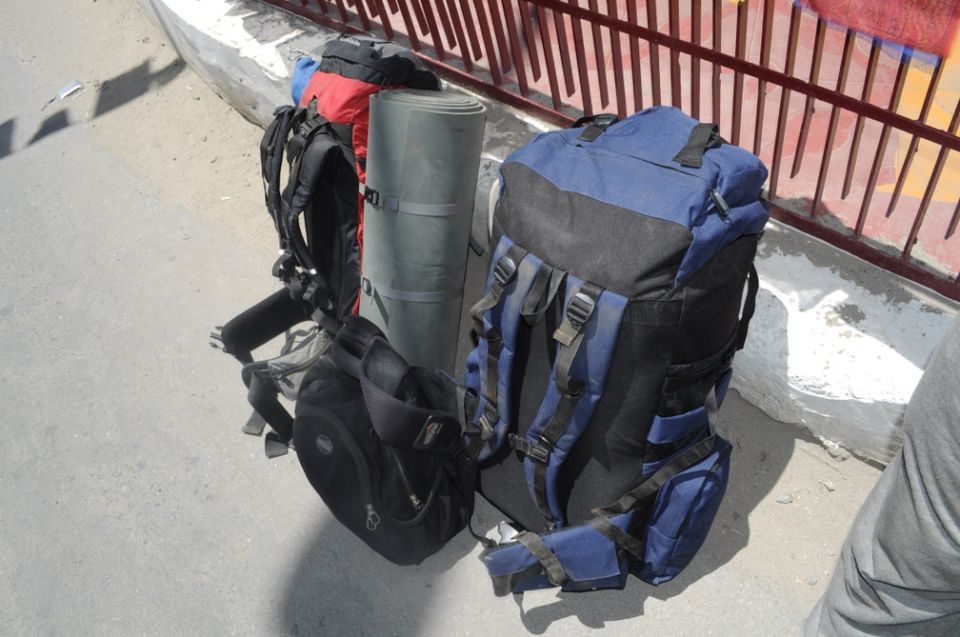 Our backpacks (20kgs each)
Yardan Dive YDN
© Lost Bridge Pictures. All rights reserved
Pic courtesy – Parm Vir Singh, YDN