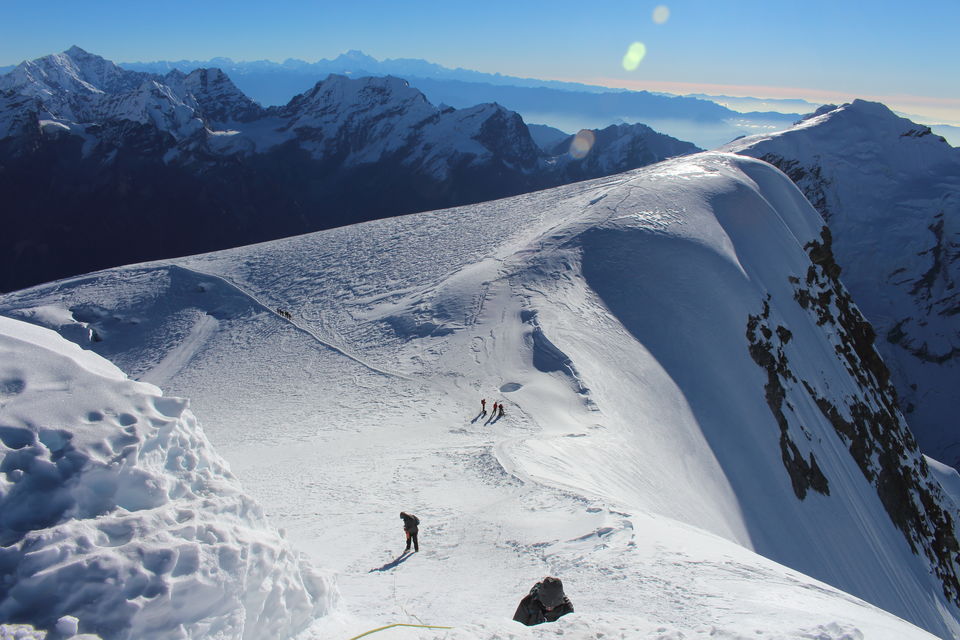 Experience genuine trekking/climbing experience as you travel towards the mighty summit of Mera Peak which in terms of height is singularly considered to be the highest trekking peak in all of Nepal. So, a climb up to its summit can be a very satisfying moment for every competitive adventure lover.
Situated in the Himalayan district of Solukhumbu, Mera Peak Climbing which has an elevated height of 6,476m is a numerous choice for trekkers wanting to experience an up-front climbing adventure. Travelers get to traverse on a path from the lobe hill airstrip of Lukla to Khare village while passing through several local villages of the eastern Nepal. After reaching Khare, you shall in reality start commencing your climb to the summit of Mera Peak and as soon as you reach the actual summit of Mera Peak trekkers receive an optimum sight of the five spectacular Himalayan mountains of Mt. Everest, Mt. Kanchenjunga, Mt. Lhotse, Mt. Makalu, and Mt. Cho Oyu. This is simple words is truly one of the best choices available for travelers who wish to experience Peak Climbing in Nepal. Keep in mind, a large amount of physical wellness is required to complete this climbing trip successfully without any hindrances and along with that we also prefer the knowledge of ice ax and crampon as a benefactor during the trip. Additionally, having prior experience of trekking or peak climbing can become hugely beneficial for the climbers climbing the summit of Island Peak.
Contact us right away to join in this electrifying climbing trip to achieve an exhilarating climbing experience and mountain scenery.
Overview Itinerary:
Day 2: Kathmandu (1,338 m/4,390 ft): Sightseeing and Trek Preparation
Day 3: Fly to Lukla (2,800 m/9,184 ft) and trek to Chutanga (3475m/11398 ft) 3 hrs
Day 4: Acclimatization at Chutanga- take acclimatization hike
Day 5: Chutang to Thuli Kharka (4300m/14104ft) via Zatra La (4600m)
Day 6: Thuli Kharka to Kothe (4182m/13716 ft)
Day 7: Kothe to Thangnag (4356m/14288ft)
Day 8: Thagnag to Khare (5,000m/16,400ft)
Day 9: Acclimatization at Khare - Ice climbing practice
Day 10: Khare to Mera Peak Base Camp (5,350m/17,552ft)
Day 11: Climb to Mera High camp (5,750m/18,865ft)
Day 12: Summit day and descend to Khare
Day 13: A contingency day
Day 14: Khare to Kothe
Day 15: Kothe to Thuli Kharka
Day 16: Thuli Kharka to Lukla
Day 17: Fly back to Kathmandu
Day 18: Departure from Kathmandu