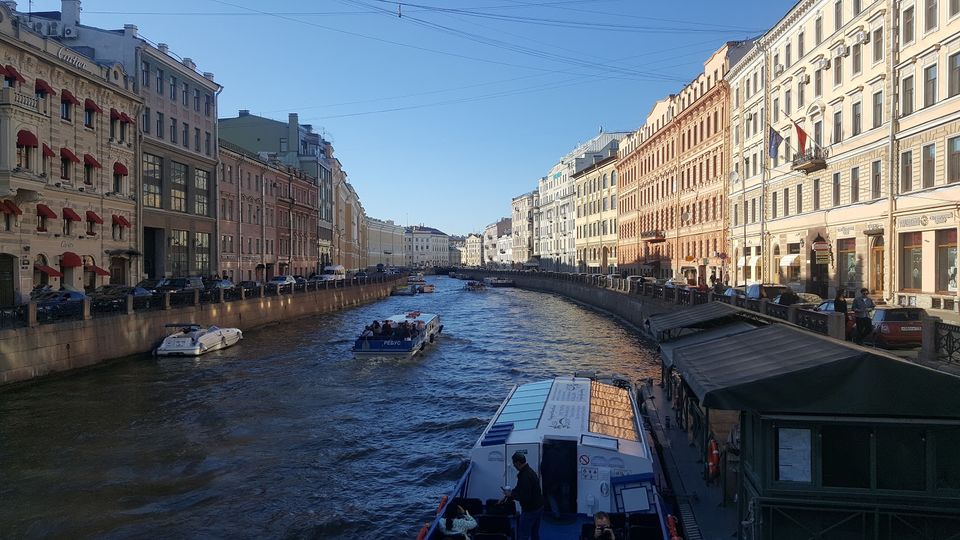 When it comes to food, Russians surely do love Shawerma. You'll find a minivan here, a street side shop there, managed by an enthusiastic old lady or a restless young boy, selling the meat delicacy in the authentic style- meat topped with cucumbers, tomatoes, and onions, spiced up with white sauce.
Teal, blue, pink, faded yellow, white, green, mauve- St Petersburg, in itself is the most tempting palette of colors, sitting perfectly wherever it is placed. When you look at a building, you know it is not made for the sake of it. Cathedrals, churches, offices- the fact stands true for all. Shown in the picture is the Smolny Cathedral, famous for its ceramic domes which shine a bright silver under the sunlight.
Standing at the topmost floor of Russia's largest Orthodox Cathedral, I had just one thought in my head- how did I get so lucky? This Cathedral is easily one of the most splendid structures you will see, inside out. It is a must visit place.
"Russia, really, why?" is what I got a lot when I established my travel plans. We do not see it for so much it is. The country of ballet, lake Baikal, white nights, magic bridges, shawerma, surreal metro stations, and what not- Russia has more to offer than its vodka. And no, it does not snow there all the time. In fact, Summers bring with them the festival of White Nights in St. Petersburg, carnivals on the street of Moscow, and of course, a lot of Sun.
Let me begin with White Nights. Ever woke up at 3 am and witnessed a sky so bright, you had to check your watch to actually believe it? That's what the cities of Russia savour in the month of July. The 'white' nights are accompanied with Ballet shows, fireworks, and overflowing merriment.
The cultural scene of Russia is just as overwhelming, with it's gorgeous buildings, stunning metro line architecture, gigantic museums, and spellbinding cathedrals. While I was there, I must have visited a minimum of 10 cathedrals, but by the end of the trip, I felt like I was still not done. Had I been there for longer, I would've probably found myself hopscotching from one cathedral to another and one metro station to the next, just for the sake of appreciating their finesse, glory, and beauty.
The picture above shows Arbat Street, a place which doubles as a daily archive of many lives that reside in Moscow. You'll find an artist sketching a Japanese lady in all her poignancy while a teenager happily announces all the shawerma flavours on his food stall just 50 meters away. Lovely old women sell handmade jewelry; whereas across them, a group of school-going boys and girls blast music and dancing in all merriment. The opulent take a brunch while sipping wine on the exterior of an extravagant restaurant with perfectly dressed waiters, and just a young man's jump away, a mother and a child enjoy swinging on the roadside next to a car parking. At such moments, I can't help but wonder; amusement resides everywhere, do you look eagerly?
Where should you stay in Moscow?
If you are visiting Moscow, Arbatskaya is where you'd like to stay. A posh area very much in the middle of the city, the place makes for a perfect exhibit of Moscow's fast, lavish, and carefree lifestyle. If you are on a budget, you'll find hostels in the area. I stayed at Bear Hostel, which was pretty good.
How many days should I spare for Moscow? Well, to see, 4 days should be enough. In 4 days, you'll be able to cover most of the places that you'd find highlighted on the city maps. However, to explore, well- take as long as you have.
This is what everyone goes to Russia for, right? A building straight out of a fairy tale. Yes, that's what St. Basil's Cathedral looks like when you're standing in front of it. Always welcoming hundreds of tourists from all over the world, it makes a glorious display of beauty, not shying away from a single angle. All eyes on me, it proudly says. And it is well worth all the attention, all the camera clicks, all the enchanted eyes it gets on a daily basis.
And you thought Moscow was only about pretty buildings visited by tourists? The Cosmopolitan capital of Russia, it shines in utter elegance at night, while during the daytime, it is showered with the bustle of a million footsteps, people rushing to their office or the supermarket or the bank.
You can fit beauty anywhere. Moscow is a living, shouting example of the fact. The beautifully designed Metro stations see nearly 9.5 million passengers each day. Some come for its majesty, while some, of course, to get from a place to another. Nonetheless, it enchants both. Here are some of the many metro stations you should visit when in Moscow- Elekrtozavodskaya, Komsomolskaya, Slavyansky Bulvar, Ploschad Revolutsky, Taganskaya, Novokuznetskaya, Kievskaya, Teatralnaya, and Novoslobodskaya. These metro stations are deeply entwined with the country's history, each a representation of some important event from the past, or a commemoration of the salient heroes of Russia.
Divided in two by the Neva River, St Petersburg homes many sinewy canals, adding to the beauty of the eccentric buildings and cathedrals it holds, with the Griboyedov Canal being the most popular of them.
The Mosque of St Petersburg lies shy, hidden among the many attractions which find the front row of a tourist list. Splendid, meticulously beautiful, glorious- these all worlds seem under the mark if I start describing this beautiful building. Now you know what not to miss in St Petersburg!
The second largest art museum in the world proudly sits by the river. Once in, a day, two days, three, perhaps, won't be enough if you appreciate art deeply. It's easy to get lost, but once you're there, getting lost is the only thing you'd want to do.
The architecture and design of the holy Church are just as intriguing as its name. One of the prime tourist attractions of St. Petersburg, the Church of the Savior on Spilled Blood looks brims with millions of small, colourful mosaics, rendering its inside a sheer grandeur. Its facade is richly decorated with umpteen intricate elements, putting together a picture-perfect architectural marvel. The picture here shows the backside of the church.
At the end of it all, Russia, I believe is an underrated travel destination among Indians, brimming with the kind of beauty I wish more people acknowledged or even just knew about. And of course, what I shared is not all there is to the city, for I did visit many other places. Sharing some more pictures I took on the trip.