It all started with my eagerness to test the new MTB which i bought the night before the ride...i even registered for the 100+km trip even before I even bought the cycle and thats how eager I was.....
It was 5.30 saturday morning I started out having no clue what I'm about to attempt n totally forgetting the "off-roading" part of the trip. Started moving with my mobile gps set to our common meeting point at reliance fresh in medavakkam.....
I kept going and half way through to the meeting point my butt started to pain and my thighs started to ache n tahts when I started to think about dropping out even before starting the trip....but I still kept going and thought maybe I'll go there and bid them farewell for the trip and come back XD.....
and the final turn for the meeting point came and I couldnt find the shop anywhere so I kept going for another 3km and I enquired some people and they said there's reliance fresh on either side of the road and I decided to comeback and finally spotted the reliance fresh.There I met Dhvinay Vijay and Vishvanathan who were waiting for others to join.....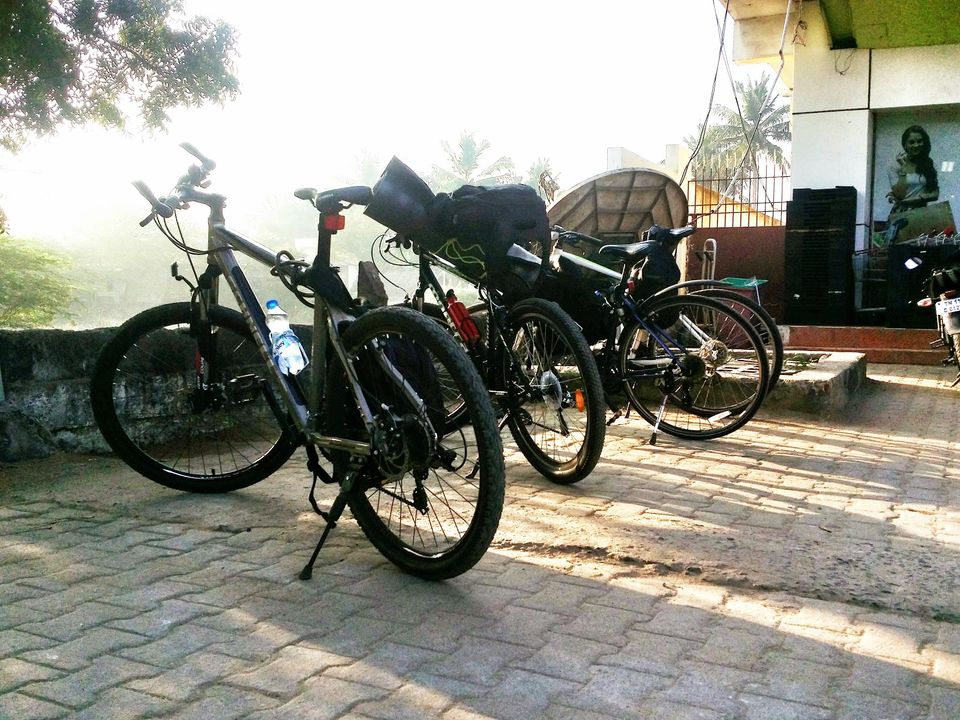 After seeing these guys all prep'd and these cycles together it looked so welcoming that i decided to take it on anyway and thus began the ride.We were given instructions to come a bit ahead n there we joined with Vinodh Arun n Vaishnavi.....and I remember vaishnavi saying she has no idea what shes doing with th ride making me happy as I finally found someone to accompany me and I went on telling vishwanath how happy I was after hearing that, which I found to be so wrong later in the trip. once the team was in place we began to hit the trails ahead.
We went into the bumpy roads and stopped at an old temple which was centuries old ( built in the 900's AD) had a look around and then we went on to a farm where without a doubt there was a well and *poof* there was no missing it. Arun inaugurated it with his jump followed by vishwanath and then I got into the water and just stood by the edge as I wasn't sure if i could still swim after 2 years so I thought it was better to just dip around near the edges.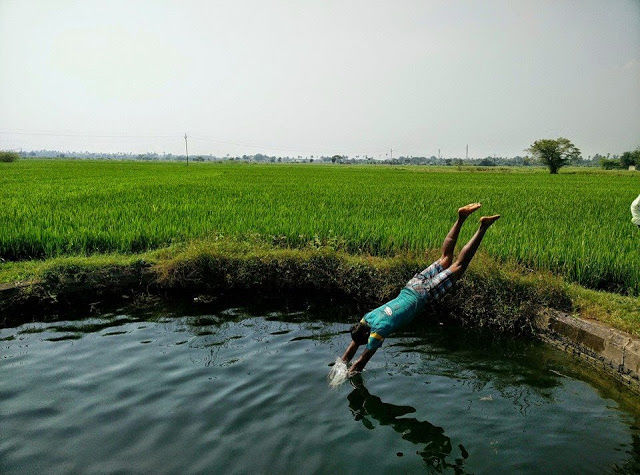 We soon started off and kept going ahead into the trails away from the highways....everything was fine...the trail wasn't terrible the pace was beautiful n thats when we reached this thing called quarry road and the moment I saw it my heart let out a silent cry.....it had immediate ups n downs to the height of my elbow and the worst road I've ever seen....it was equal to those dirt bike stunt roads with rocks all over....and to make it worse there were lorries and trucks passing through it at all times.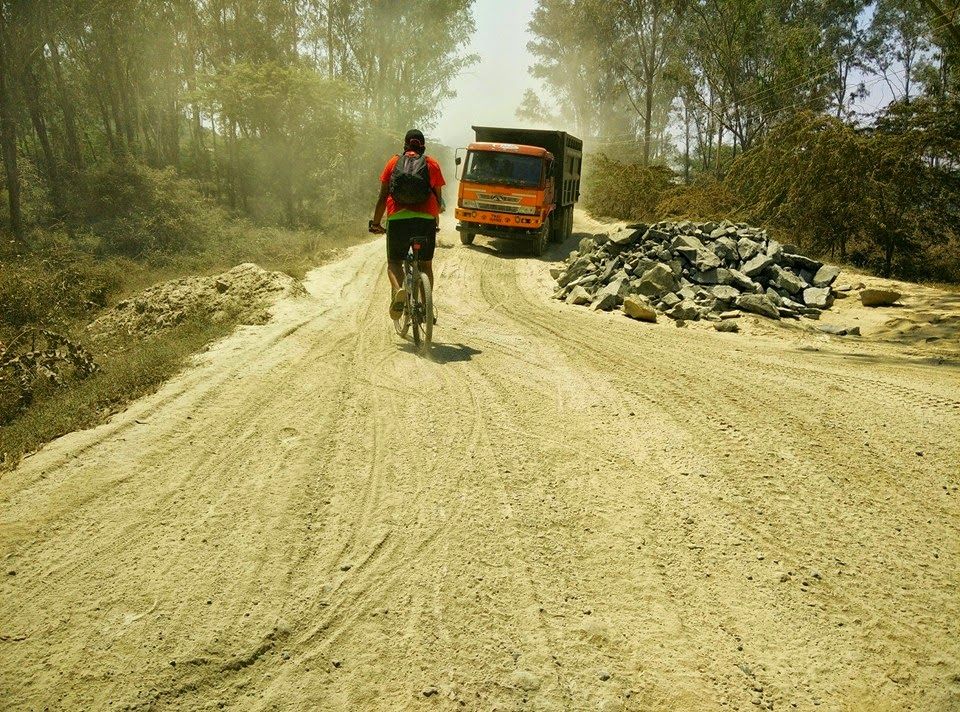 Half way through the quarry road we saw a small hill with lots f rocks and we decided to take some cool pictures and as soon as we reached that hill we all wanted to go down hill....and 1 by 1 started coming down and then it was me....I was coming down everything was fine and then I did the most stupid thing ever......I came down a bit faster and then pressed the front brakes accidentally and they were the discs......I went flying out hitting on to the ground....luckily nothing happened to me other than a few flesh wounds but my cycle lost 1 f its bull horn.....and then it was vaishnavi's turn......initially she didn't think it was a good idea but then she gathered up courage and came down like a pro and wanted to go again.....n thats when she went rolling and we both had our first fall.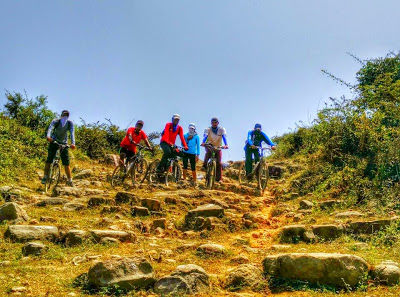 The others helped us with our wounds n we started off....not soon after a big short climb I heard a weird noise and when I looked down my chain had snapped while climbing the bumpy bmx stunt road....the team immediately set to work while I helplessly watched and when they realized it couldn't be fixed as we didn't have the proper tools. Vinoth and arun took on their bikes and dhvinai took my bike and ran along with them through the crappy road all the way to the main road to get it fixed while the others came back to the hill where we fell to relax a bit.....we sat there had a few biscuits talked about all sorts of things laughed about how we fell there and in about 20mins they returned with my cycle just as were about to start again we saw that vijays front tire had a puncture....the team again set to work instantly and got it ready and we all were off again......in about another 15mins the quarry road was over and when I saw the flat road I just stopped and sat on the flat road which looked more beautiful than ever...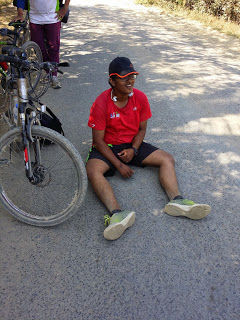 we cycled onto the near by village had some stuff to eat like bananas...jellys...soda with lemon heart emoticon and masala puri and set off again...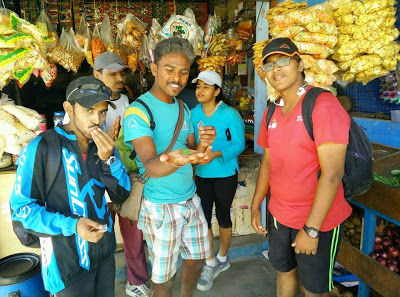 This time the road was fine but there was a slight climb and my thighs started to kill me again.....while everyone kept their steady pace I seriously lagged behind....arun used to take U turns and comeback and push me and cheer me up and kept me going.....each of the riders took their time to ride with me everytime I slowed down and cheered me up, did small talks on my fav subjects which kept me going.....soon we came across another water body and we couldn't miss it we instantly stopped to take a dip and clicked a few pictures.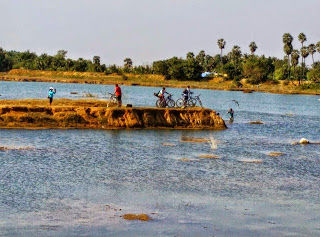 soon we started off but this time we took a detour to get into a forest trial....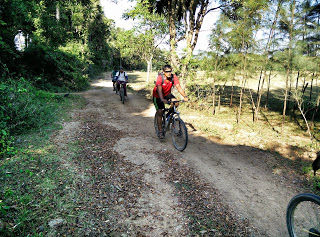 It was beautiful and a small trial and soon the word about dinner came up and questions started arising about veg or non veg....and as usual non veg wins......and chicken biriyani set in......soon we got into the highway and it started getting dark....and we had about less than 10km remaining but I was dead tired and couldn't. I stopped a random scooty guy and told him that I'll hold onto him while he's riding so that I can move ahead effortlessly to which arun didn't agree at all. He gave me all sorts of inspirational speeches and didn't let me leave yet I somehow made him go ahead and tried the holding onto a scooter thing which failed incredibly....I didn't even move 1m cos I didn't know to hold on. I thanked him for the try and started to pedal again....I put in everything and the only thing that kept me going was the chicken biriyani and all the way I was whining and saying how tired I am but these guys were always by my side and kept me going and I told arun that there's no way at all I'm coming back via cycle and asked him to check with the people coming for snake walk along with whom we were gonna camp for the night for a return ride back home in 1 of their cars. We kept riding and I managed to stay close to the others and soon we reached and overshot the camping spot by a few 100ms....we immediately realized that and turned back by that time it was really dark....within few mins we got into the village of irulas where we were welcomed as 1 of their own....as soon as we came in they provided us with chairs and water and the kids surrounded us with all their tales.....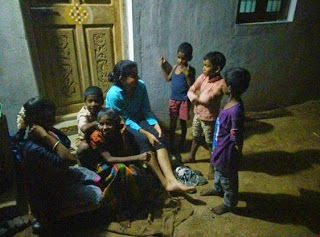 In another 10mins or so the snake walk team joined us and we had a big frenzy going on.....there were always laughs and jokes up in the air...kids kept us filled with all their stories and soon the cooking started and I realized there's no chicked biriyani.The 1 thing that kept me going was long gone...while the cooking team was in action we had a little intro session going on the other side where everyone kept us filled with their experiences and also the head of irula village joined in with one of his board members sharing their experiences.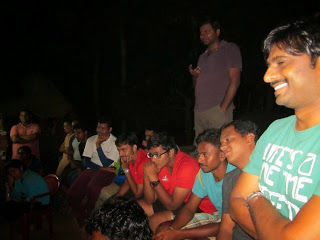 soon the dinner was ready we all gathered around for the yummy veg biriyani with chips,onions and some fish curry prepared by the irula people.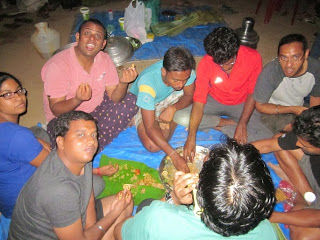 ....had a stomach full n set off to sleep n thts when we realized the amount f moisture in the air n we were sure to wake up wet if theres nothing above our heads n immediately the irula people set into action took some tarp made a tent kinda thing over head supported by sticks n then we were ready to sleep.....i dozed off immediately as i was totally drained while some played cards n some also went for some night cycling.....
N then the next day came up n we found ourselves covered in fog n soon we had our breakfast n left with the irula leads off to search for snakes.....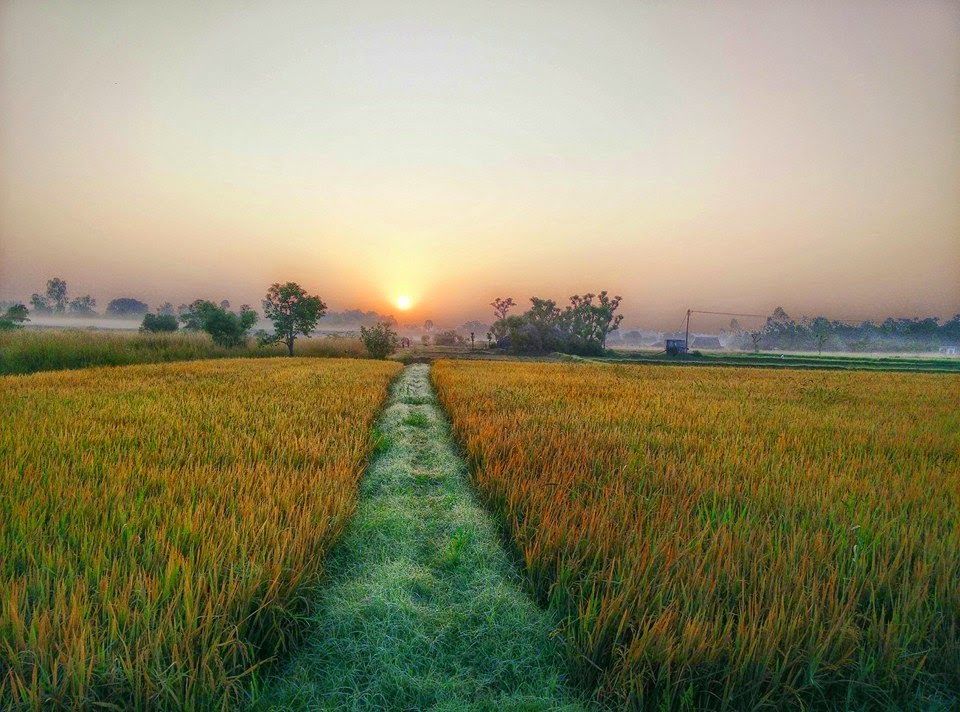 To talk about the irula clan, they are an ethnic group in India who specialize in snakes. they use their skills to catch and extract venom for poisonous snakes which is then sent to Bangalore for the making of various anti-venom and medicines. all this is done under the supervision of government of India and no snakes are harmed in the process. The snakes are released into their natural habitat after the extraction of venom. The search for the snakes started off with the local tradition of the irulas to pray to their ancestors for a safe day ahead which happened in a separate area meant for the purpose.
...the first 1 we encountered was a bronze back....n then a scorpion....n then in the wild they caught a cobra and a viper !!! Out in the wild just like tht...they even caught another huge scorpion the size of an adult palm !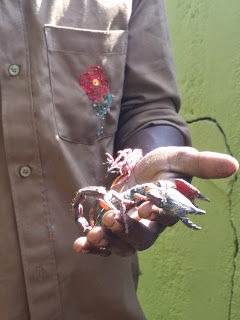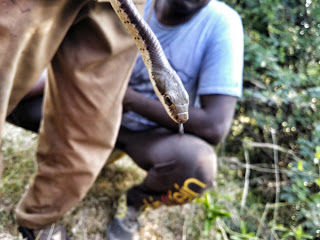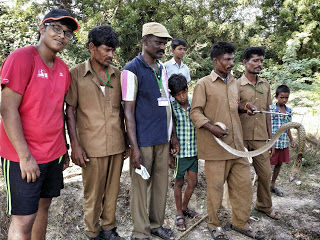 It was an amazing experience....N then Masanamuthu had his 7th sense tingling....he heard a pump set in action n the instant we heard tht we ran n jumped into it like we havent seen water in a year.....although ive seen pix f the pump set fun this was my first time n i went crashing into the water chilling myself.....every1 joined in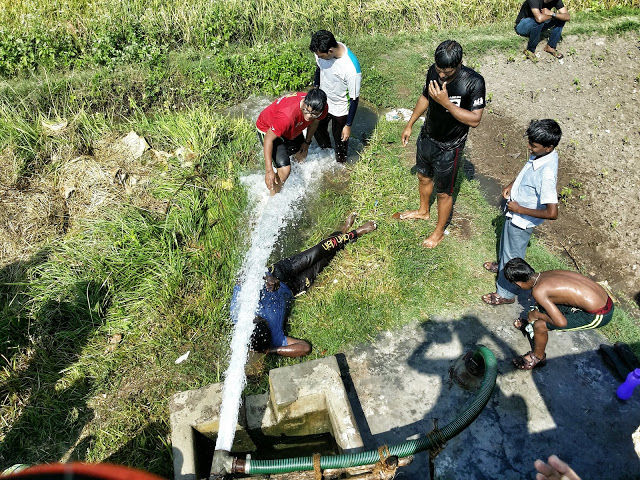 .....after like 20mins f chilling we then left heading back to the village where the snake team decided to make payasam....bt then the cycling team didn't have time so we decided to start moving n the payasam will reach to us enroute......the prev night i was whining abt the return trip hw i cldnt do it n to get me up in a car bt after the nights sleep n pump shower i was all back up n ready to go meanwhile vaishnavi cld barely walk.....the effects of her fall started showing up last night itself bt she didnt even utter a word n kept up an amazing pace......we all started off n went thru some villages n then elevation came n thrashed me to the ground....my legs started cramping my confidence was in negative digits....i switched my bikes with vijay which was a hybrid n still felt hard.....i lagged behind seriously arun kept by my side despite my dead slow pace n offered to carry my backpack....thnx alot for tht man......n dhvinai kept me filled with his concentrated electrol which really helped me alot.... somewhere in the middle we spotted a seller with "javvu muttai".....his name was arunachalam and he was pursuing his high school and was working along with his family to support to their needs....a total hats off to him to be out there mid noon in the blazing sun despite all the harshness he was still out there to support his family..... .....javvu muttai was new to me.....it was my first time ! basically it was like boomer tht we cld swallow n tht wld stretch forever !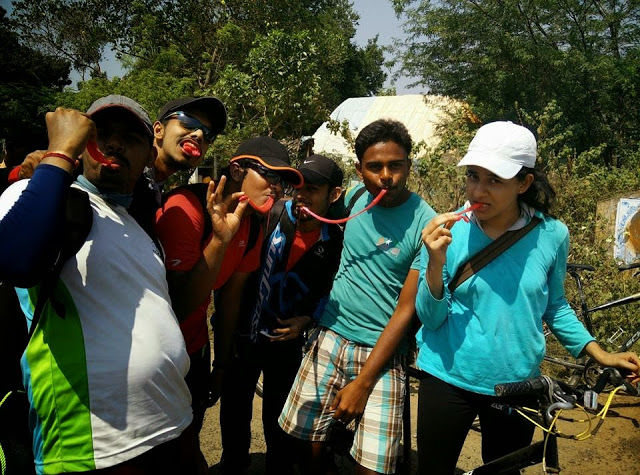 we kept going on and en-route we found a beautiful farmland that had kids having their time of the day there....it looked so cheerful that we decided for a short halt and took a few pictures along with those lovely kids....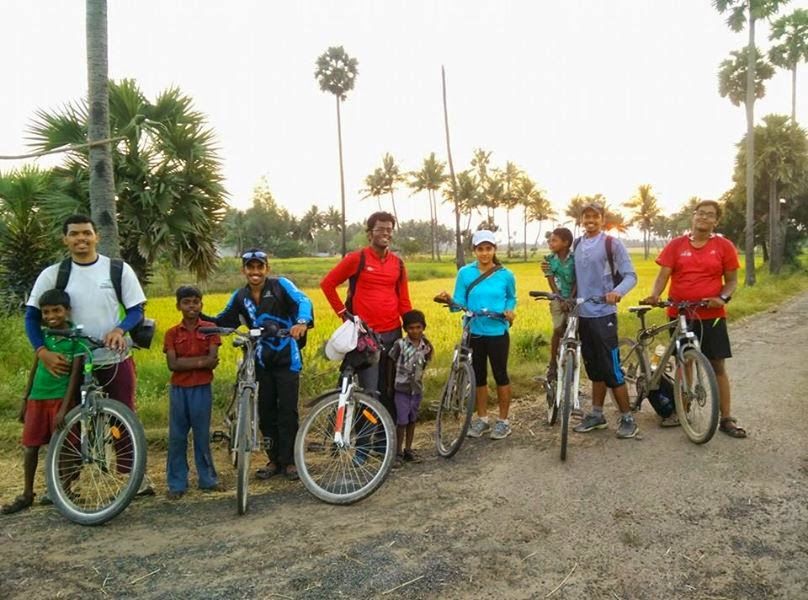 we wanted to stay there for longer but time was not on our side....we set off after a few moments of fun and cherishing photos.... ..we soon came to stop at a point that had organic veggies and had cucumbers with salt n i was so low tht i decided to quit tried getting bus routes n stuff bt these guys didnt let me....they kept me going giving me speeches n pushing me n soon at another point we had watermelons n then the snake team caught up with us n cheered me up frm the car as the passed by...n i knew the payasam was here....we all stopped at the next village had payasam n i was done n so pissed tht i asked some1 frm the car to shift with me n ride my cycle.... KrishnaKumar agreed bt then none f these guys let me....every1 cheered me up gave me pats n hugs n tht gave me a bit confidence n i agreed not to quit.....as soon as the car folks left i knew my last hope is gone tongue emoticon n started to pedal we rode for abt another 7k i guess n hit the highway where we stopped fr lunch we all had porottas n kalakki some amazing fresh juice......after tht i have no idea wht happened i was so filled with energy n i cld maintain a good pace n kept going finally without crying out loud....we kept riding for some more time n then magic happened.....i realized where we were headed.....it was our ottiyambakkam quarry kiki emoticon i was so damn excited tht i was peddling like a mad guy filled with joy soon we reached n we were all ready to jump in bt b4 tht me n vaishnavi climbed the hill frm the side hit the top had an amazing view of the quarry n then came back down n jumped ryt in n spent like another 30mins in water finding new ways to swim by using the sleeping mat tongue emoticonwhich actually worked.....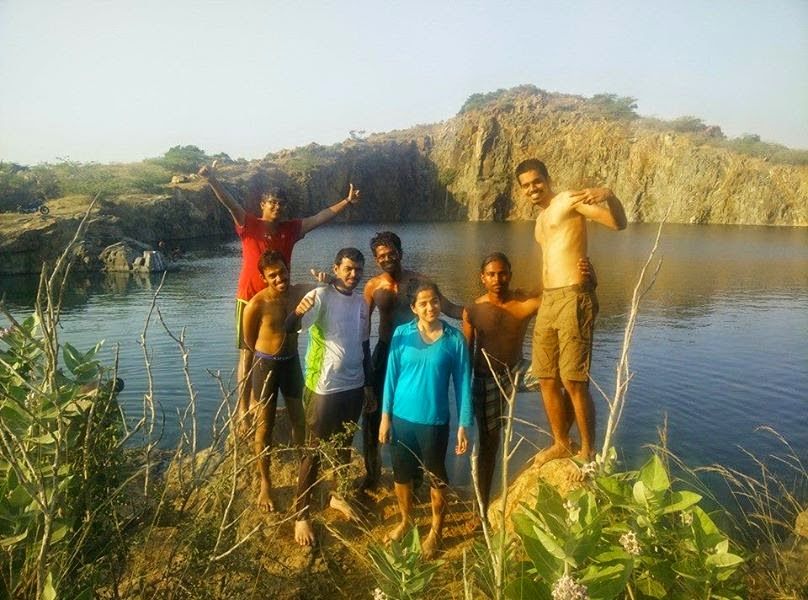 we also bumped into alex frm ctc...daniel n another guy who were abt to do cliff jumps with GoPro...they even swam to the extreme end of the quarry n climbed the hill frm in the pool n jumped back in...it was crazy.... we started again after the relaxing dip....i managed to keep up the steady pace despite the bumpy roads n rocks n headed towards the finish point n there it was medavakkam...the finish point n it was good to see it....soon we hit the closest juice shop n had some tasty fresh juice n headed off again in search of a kalakki shop arnd 1.5km frm there but to our bad luck after reaching there the shop was closed so we decided on an ice cream n went to the closest store n got ourselves the ice creams with which we ended our 2 day trip.....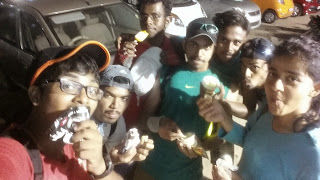 tht moment when i realized the trip is over n were all gonna part made me kinda disappointed n sad......we all had to part n go other ways n i had another 15km ride ahead f me to hit home which i did in like 35mins......i was like shocked to have come tht fast after such a long trip n killing aches all over the body...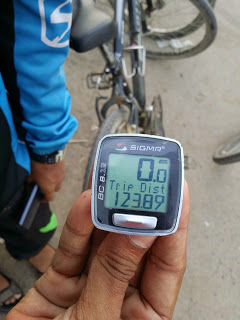 talking abt these guys they were all amazing....super friendly...we all were like we knew each other fr atleast 1 year......every1 rode at an amazing pace n this vijay guy i guess hes got some turbo mechanism......he'll be dead last.....even behind me n suddenly *poof* he'll take off like some car go ahead much ahead like 10 mins ahead of us n wait for us there.......vaishnavi was 1 strong girl....even though she was limping arnd in the camp due to her pain she didnt utter a word abt it while on ride n kept on an amazing pace....n dhvinai vishwanath arun n vinoth were steady as rock...just kept going....It was simply amazing...all the support these guys gave me....all the fun we had....all in all when i look back i feel proud f myself having done sumtin like this....N im really happy tht i didnt quit despite my stupid efforts to quit.....i did try to quit a few times on the way back bt these guys just kept me moving on n on.......n special thnx to vinoth i nw have a ton f cool pix to upload.....he was always there with his phone clicking pictures at every corner.....It was an experience to cherish forever.....i seriously owe each 1 f u guys for the amazing time n support u gave me n hoping to catch another ride with u guys soon.....