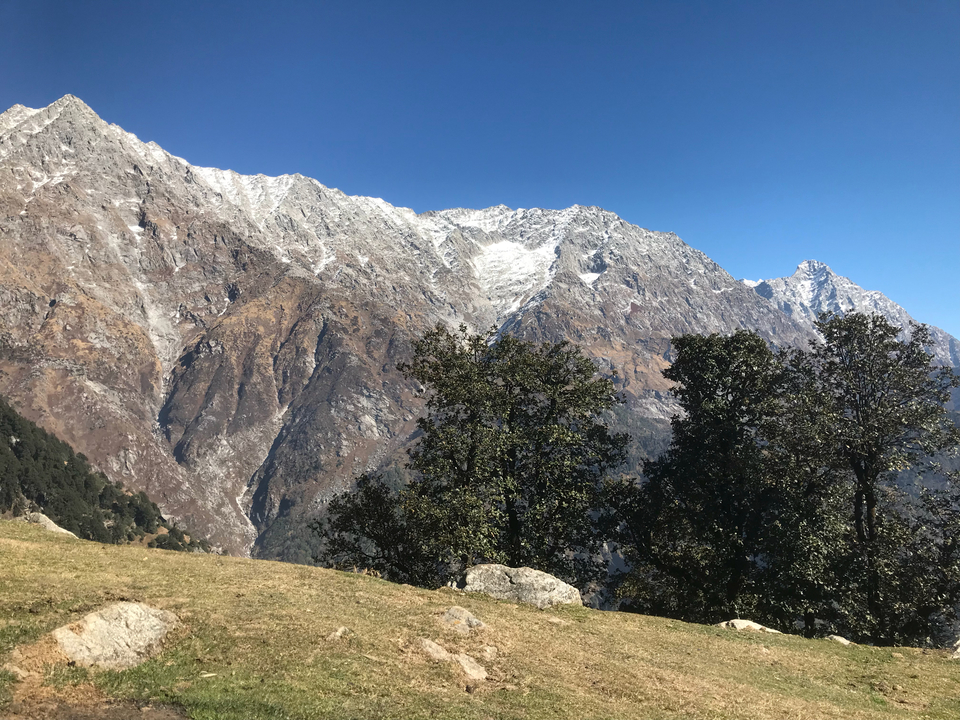 It was Friday evening of 23rd November, we took the 20:05 HRTC Himsuta from ISBT and started towards Mcleodganj. I had hiked up Triund 2 years back. I was not very fit then and was extremely tired after 5 hours of toil from Mcleodganj to the top of Triund ridge. However, the view, the fresh air and the calm at the top was very rewarding.
Finally an escape from the polluted air of Delhi and into the lap of the mountains, I was really excited for the peaceful time I was going to enjoy at the top. This time I was carrying more weight but I was sure about my fitness. The bus journey was comfortable except for 3 guys who boarded the bus midway and kept talking very loudly till late hours. We tried to ignore them! Ash couldn't sleep, however I had intermittent but enough sleep to be ready the next morning.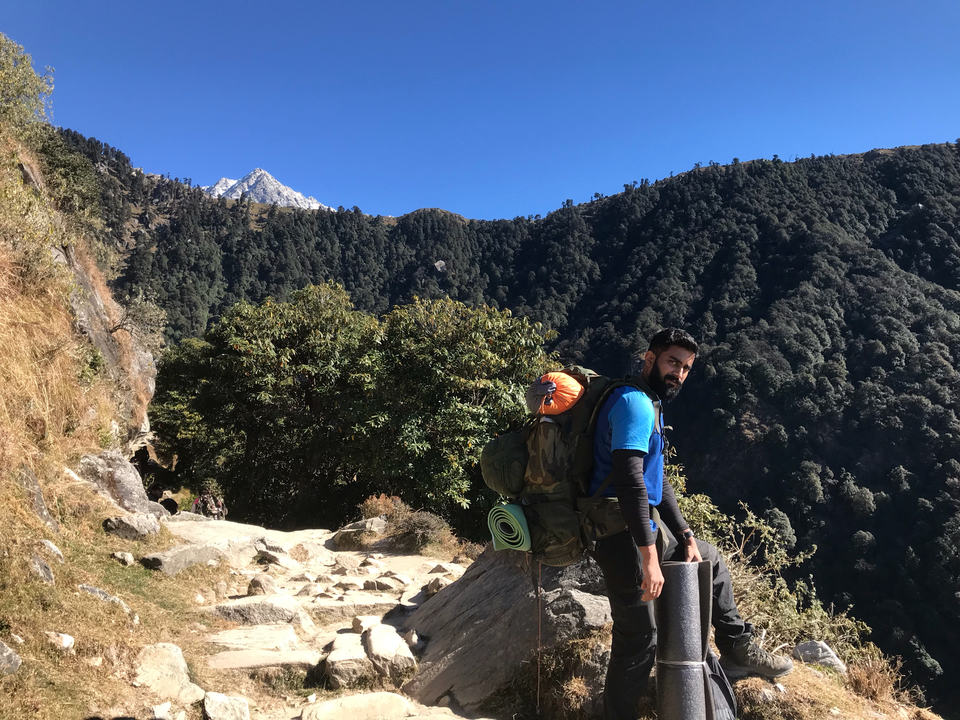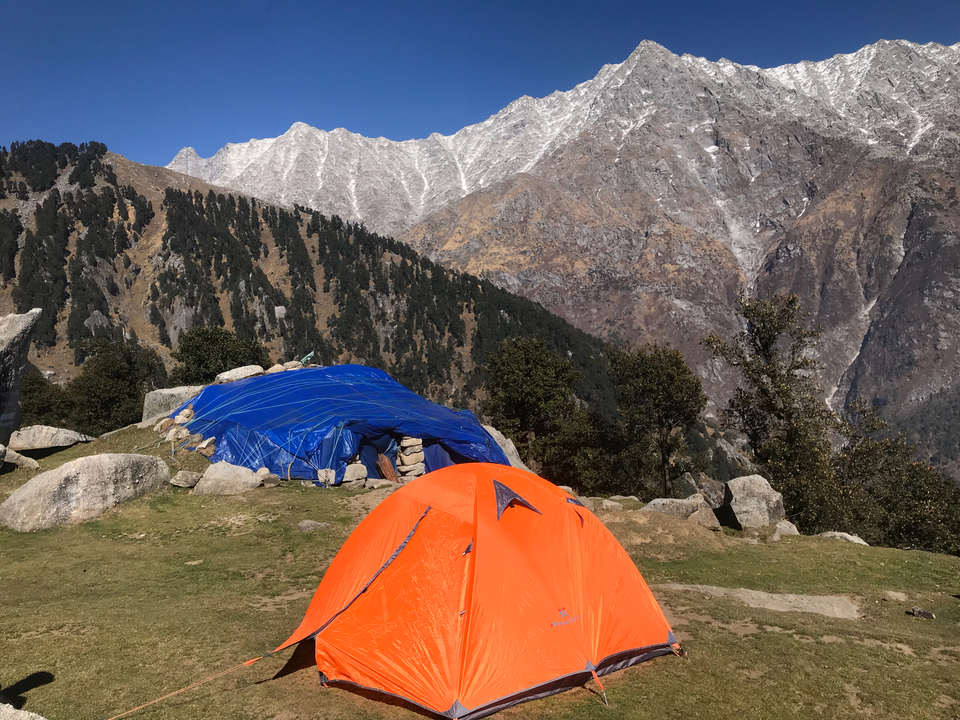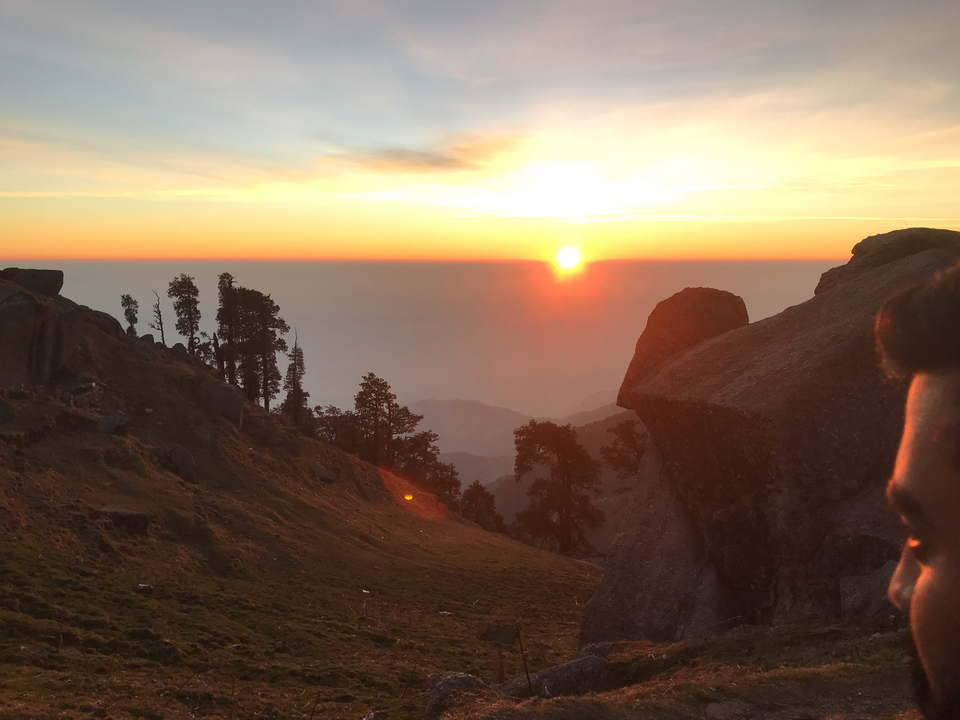 When we woke up in the bus we were already looking at misty mountain mornings, beautiful sunshine and an exciting day ahead. We got off at Mcleodganj around 08:30, freshened up at a 'sulabh' and had a nice breakfast of tasty Parathas. After this sumptuous breakfast we started towards Triund. Ash, although I was expecting she would get tired soon, managed to hike really fast as well. It was a pretty hot day, I poured plenty of sunscreen on my face, ash joked about it. We started from the Galu Temple checkpost at 09:31 sharp and reached the Triund ridge at 12:33. I was carrying almost 15 kg of weight which included a tent, 2 sleeping bags, 2 mats and some warm clothes. I was satisfied with our pace. We stopped and took short rest only twice. The trail was crowded.
Those going up or coming down passed comments about the load I was carrying. Ash later told me that some of them amazed at how I was carrying so much load whereas some (guys for sure) confidently mentioned that it's generally not so heavy ????
Once at the top, we quickly searched for a nice spot and pitched our tent. It was a beautiful and peaceful day. Little did we know that all that peace is going to go away just in 3 hours.
At the checkpost we were asked by the local cops to deposit any speakers or alcohol if we were carrying. I had to keep my Bose speaker at a local shop for 50 bucks deposit. I obeyed quickly as the policemen requested earnestly.
After setting up the tent we had our lunch at one of the Dhabas at the top. While coming back towards the tent from this dhaba we noticed that around 15 more tents are being pitched near our spot. 2 hours later a group of 30-35 young boys and girls came and started settling in these tents and that's when I realised our time there is going to get noisy now. They opened their alcohol bottles, started creating noise from their guitars started abusing each other, started shouting and in this way completely ruined this perfect weekend gate-away for us forever.
I am not going back to Triund!
We couldn't sleep till late. I was completely disappointed. These people littered all around and created ruckus till late night until it got too cold for them to stay out. Any mountain lover would have utterly disheartened at what was happening there.
We got up in the morning, packed our tent, packed our bags and started downwards. We didn't talk much. We reached at the same checkpost around 10:45. I had an altercation with the cop about why they let others carry their speakers, guitars and alcohol. Guess I was the only honest fool. Others didn't pay heed to what the cops demanded.
We had time to kill till 19:30. We found ourselves a simple hotel at Mcleodganj, had a nice lunch at Mc'ello with a few 'elephants', took a nice siesta, got up at 18:30 and boarded our bus back to Delhi.
It's clear, Triund is ruined - by PEOPLE!