While travelling, one wants to explore but many do so, to seek answers. To find one's trueself or to let go of all negativity inside Tapovan was it for me!
I started out for Dehradun at 22:00 hrs, in an innova with two of my society friends and two other guys who joined us from BITS, Pilani.
We reached Dehradun early morning around 04:30 hrs, and decided to take a quick power nap at our friends place, in whose car we were supposed to go to Gangotri, the starting point of our trek.
We woke up at 06:00 hrs and got ready, had a good filling meal. We were packed and inside the car by 07:30 hrs, ready to leave. The entire group for the trek was finally together, as one guy was to join us in Dehradun only.We were a group of seven guys on a mission. Really!!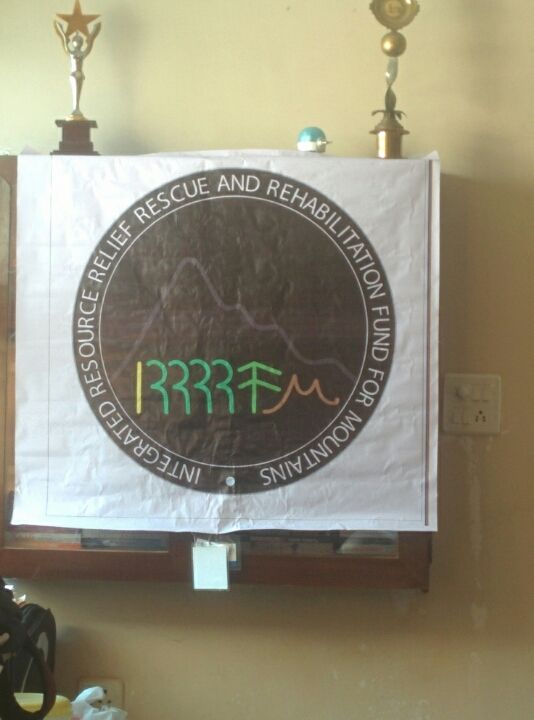 It was a very long and hectic journey to Gangotri. On our way we saw amazing landscapes. The Uttarkashi district, of Uttarakhand is green and beautiful.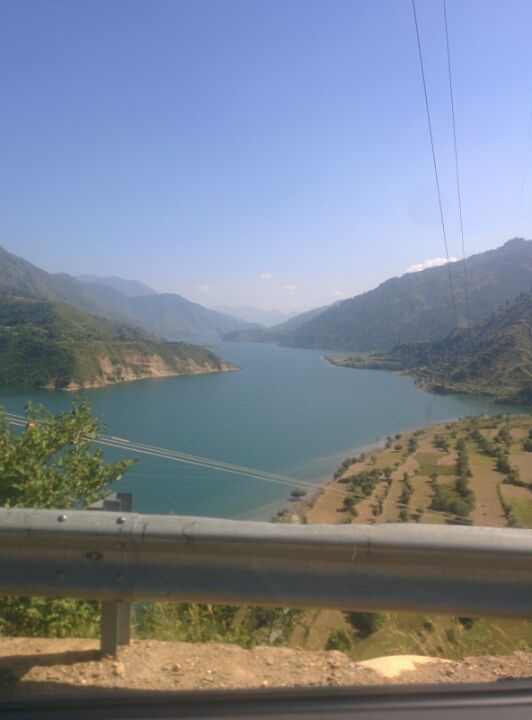 We could not reach Gangotri by night, so we decided to stay the night in Dharali, which is 30 mins ahead of Harsil. The night was cold, we were tired of the long journey, so we quickly went to sleep.
Next morning, we woke up early, had our breakfast at the dhaba and left for Gangotri. It was hardly 2 hrs away from Dharali.We parked the car, and grabbed our bags preparing ourselves for the trek while 2 of us went ahead to collect the permit for our trek.To our bad luck, the permit was denied as there were too many people who headed for Goumukh that day, a bikers group had arrived just before us. So there was nothing we could do but wait and start our trek next morning. We took a hotel and explored Gangotri. We also managed to visit the beautifull village, Harsil.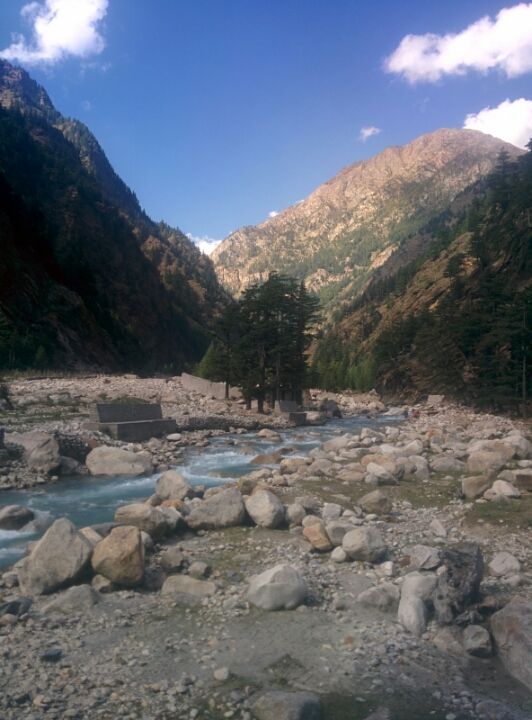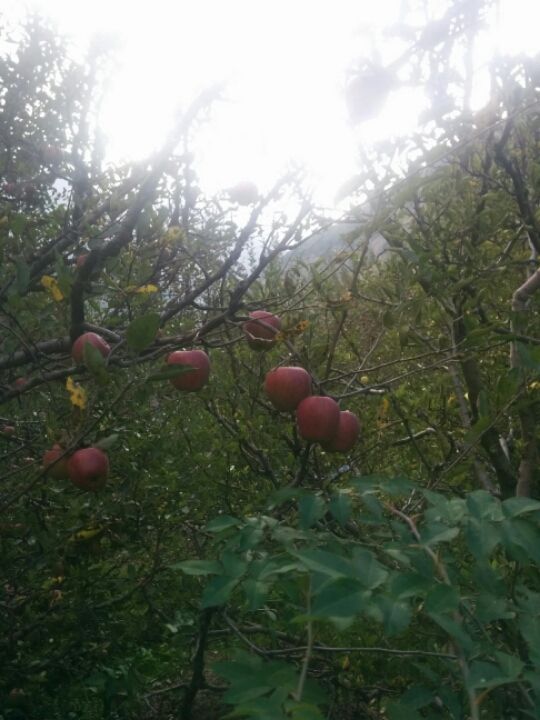 It is famous for apples. We tried their local beer, named Chaang, which to my taste, i found intresting.We reached back to Gangotri by evening, had our dinner and went to sleep early, as we had a long 14 km trek next day.
Next morning, we had our breakfast at a dhaba in Gangotri, picked our bags and left for the trek. On our way was the Gangotri Mandir, we said our prayers and wished for a safe journey.In a way, the trek starts from the Mandir. It started with some steps, that took us to the entry of the Gangotri National Park. We showed our permits and headed out for the 14 km trek to Bhojwasa, our first campsite. The route to Bhojwasa was something i never imagined.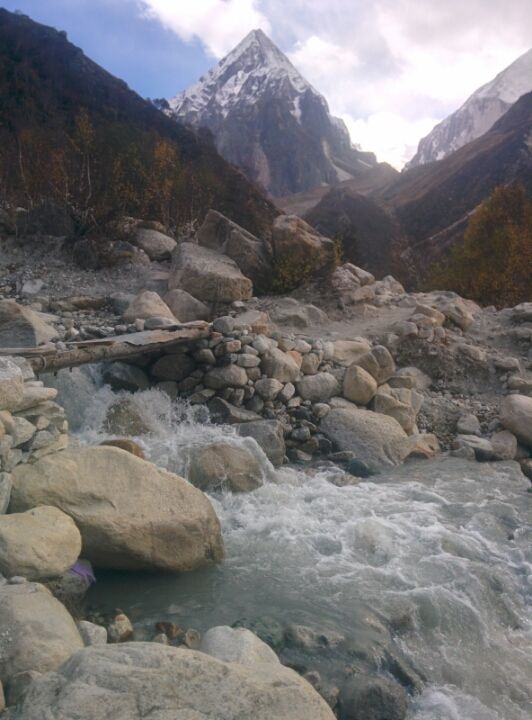 Thrilling! amazing! enchanting! beautiful! It was everything, one could hope for. The landscape had everything. High rise , rocky steep mountains on one side, green mountains on the other side, a river (Bhagirathi river) flowing in between, and snow clad mountains up ahead at the end where we had to go. Everything in one frame!!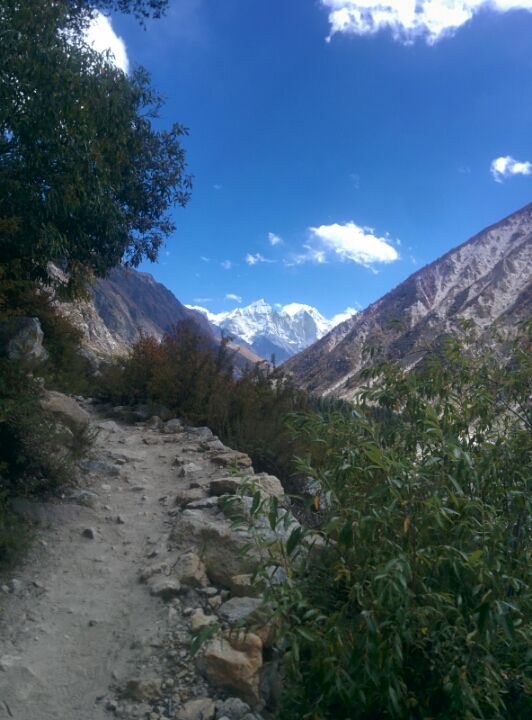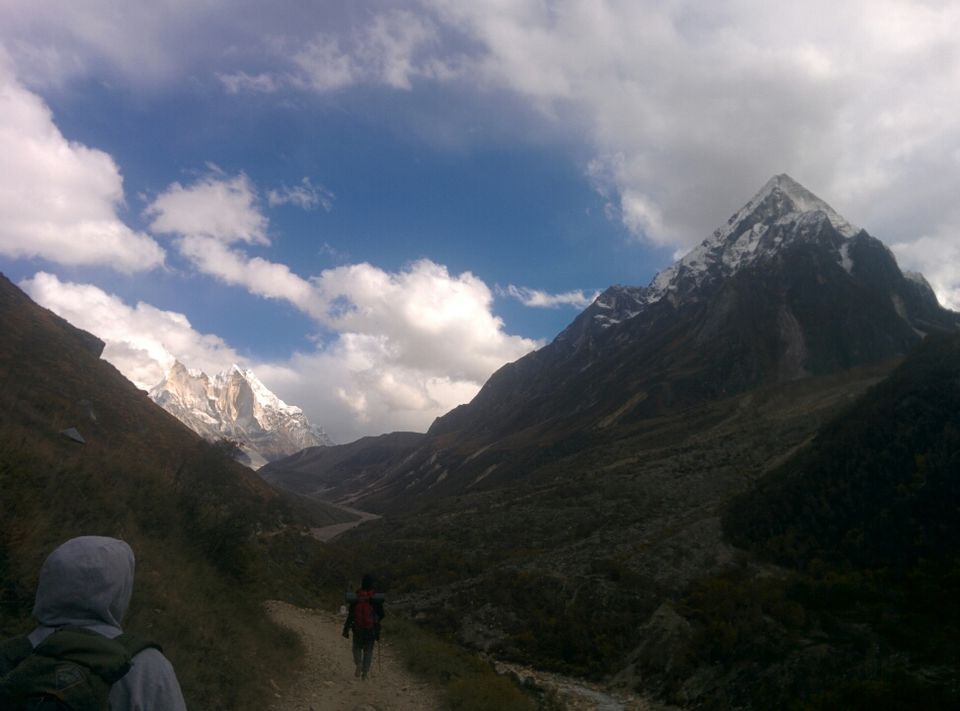 We kept on the trail, moving at a constant pace, taking some breaks in the starting, but as the legs got used to it, lesser haults were required. The trek was not tough, but long.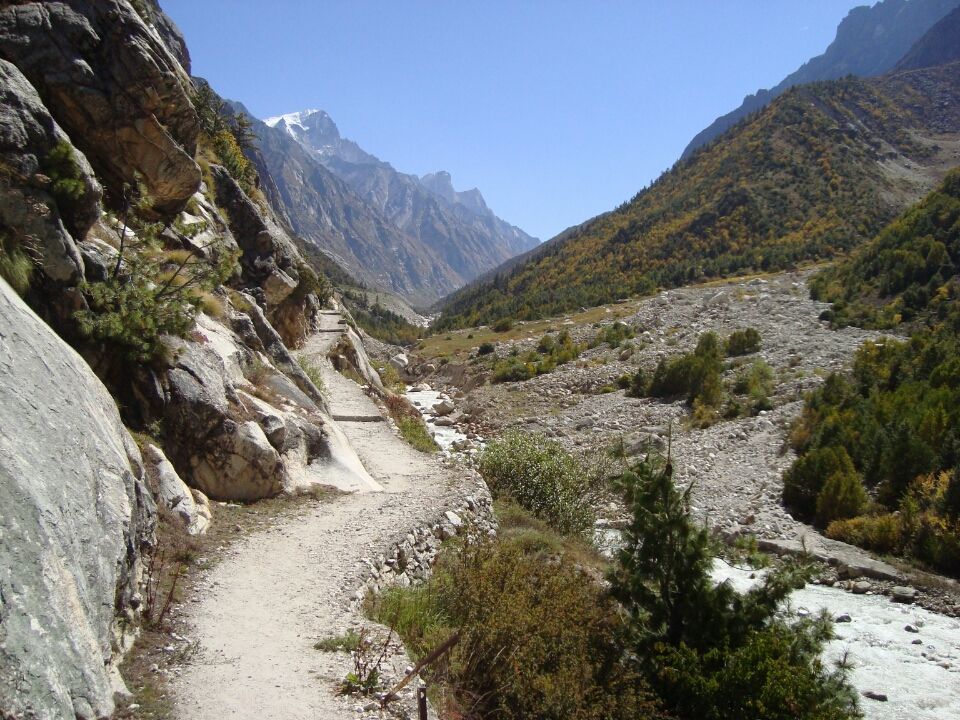 We kept walking and reached Chirbasa,which is at a distance of 9 km from Gangotri. We reached there around 14:00 hrs. So we called it lunch time. There was a small hut which served tea and maggi to the trekkers. We sat down and had tea and maggi. Once all of us finished with lunch, we quickly headed out for Bhojwasa, so as to reach before 18:00 hrs, as after that weather might change.The entire trek was spent admiring the mountains and the surroundings, the sound of Bhagirathi river was soothing.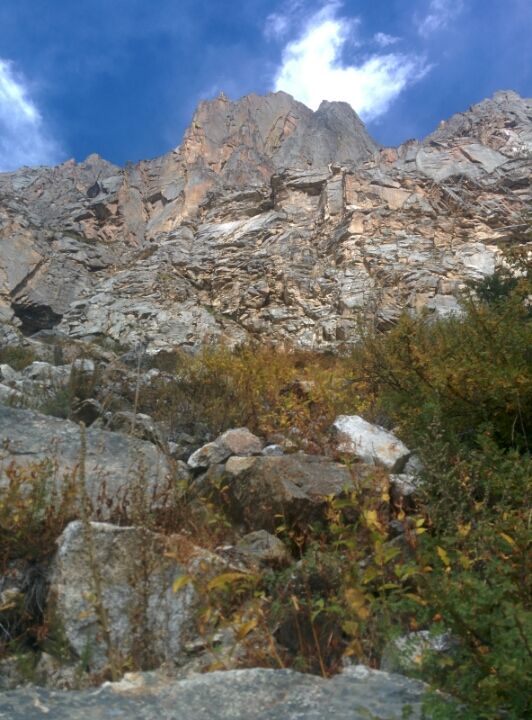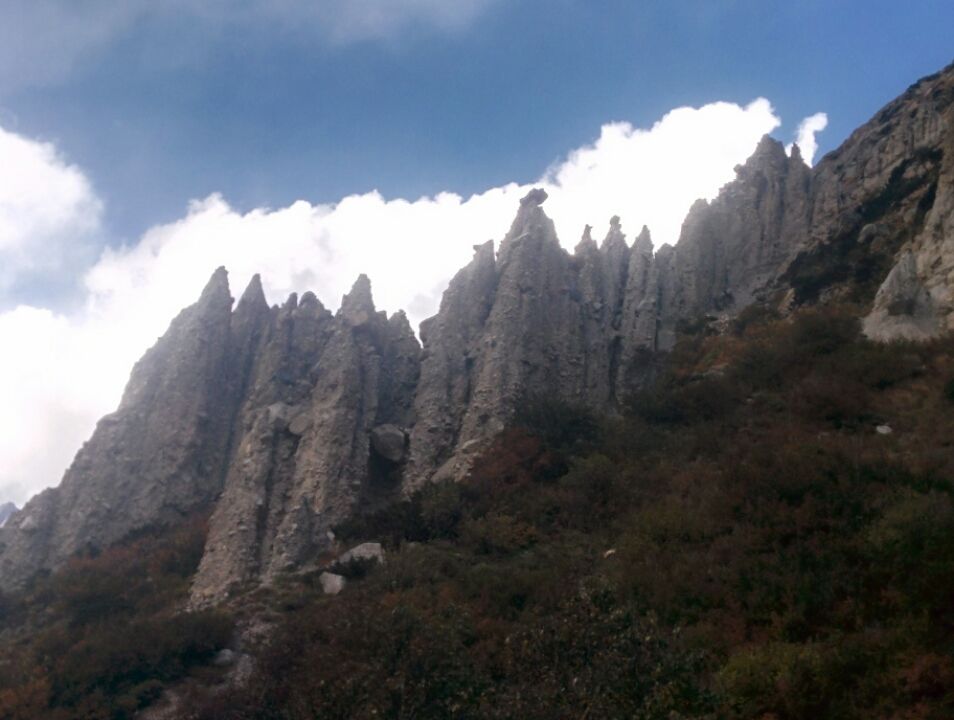 We were 1 km away from Bhojwasa, when we saw clouds coming our way. We decided to pick up pace so as to avoid rain, but it started drizzling soon after. We saw a heard of Bharals on our way. Beautiful animals, found very commonly in this area.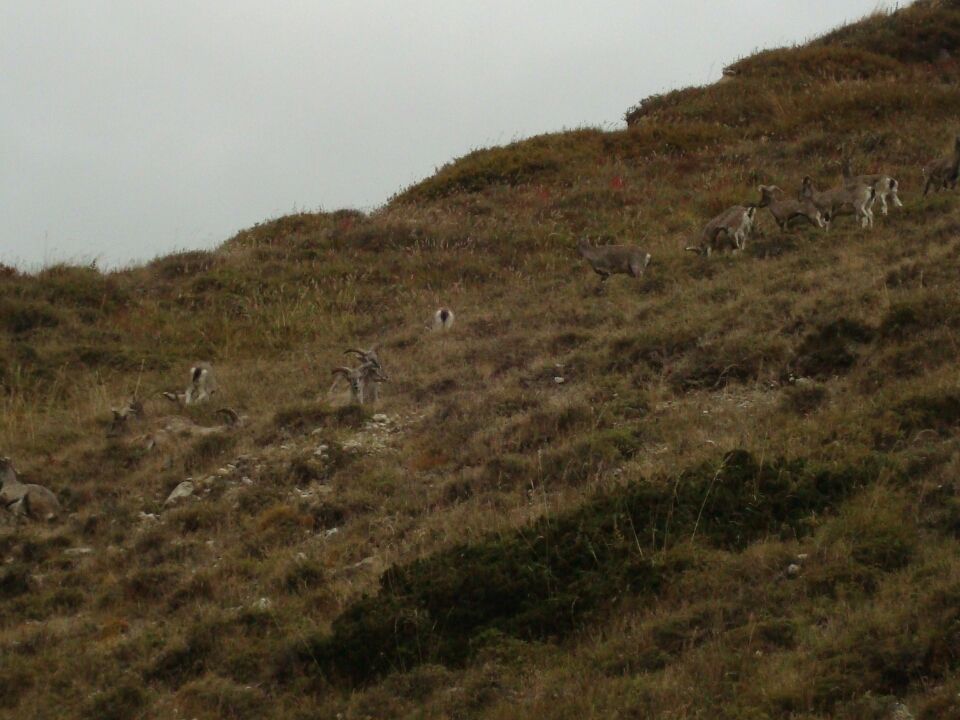 I felt good as i love walking in the rain, but if i was to continue walking in the rain, i would have fallen sick. To our luck we quickly reached the camp, by the time it started raining properly. We were in camps by 18:00 hrs. 

We were having some kind of a herbal tea in the camps, which helped many with their headaches. Headache while gaining altitude is pretty normal, as body takes time to adjust to the altitude change. One of the guys in our group got ill and started puking, that was it for him he could not go any further. We made him sleep in the camp, which costs Rs 150 per person per bed. These camps are warm.It soon started snowing. We had set up our tents but were siting in the camps and waiting for dinner. Finally, the dinner was made and we quickly got inside this small warm hut where a young boy was cooking.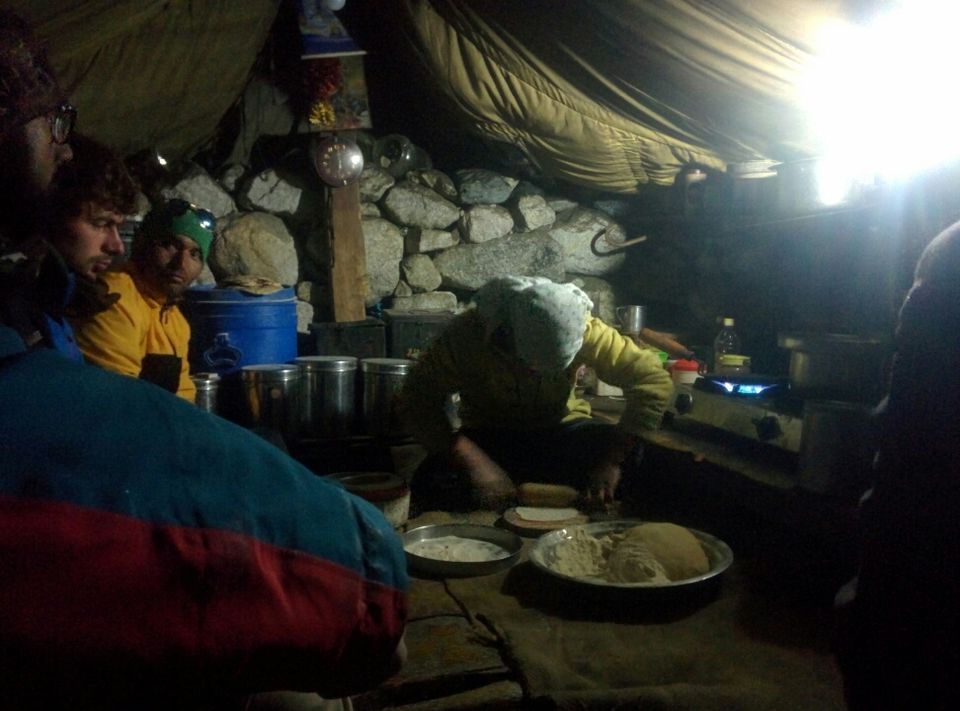 We ate alot and quickly, as we were worn out by the trek, everyone was hungry. By the time we finished, snowfall was over. We quickly rushed to our tents with flashlights as it was very cold. We got inside our tents at 20:00 hrs and tried to sleep. Next day we had to trek to Tapovan, which was a steep ascent.
Next morning, we got up early warmed up ourselves in the sun which came up at 08:30 hrs.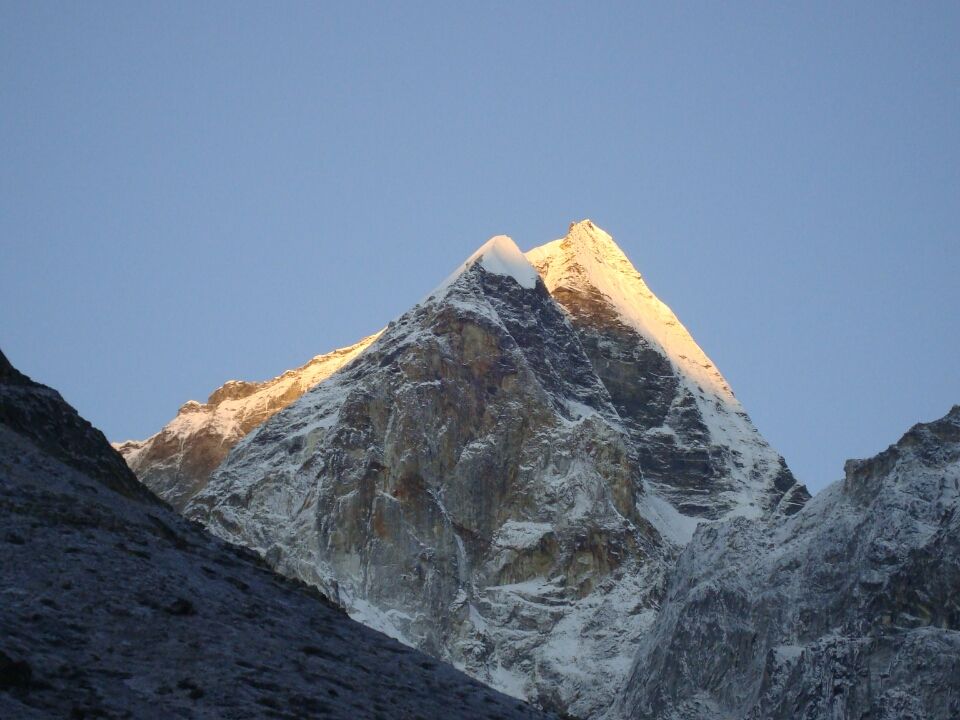 We went to the camps, had some porridge for breakfast, and left for tapovan. As we were heading upto Goumukh, most of the guys started having headache. On the way, we got to know that one was suffering from diarrhea and another had a major headache, so we decided to go to Goumukh and then decide whether to go to Tapovan or not. On our way, i saw a peak emerge from behind a mountain.
 
It was truly beautiful. I could not take my eyes of of it. It was Mt. Shivling, the top of this peak looks very similar to the Shivling. It stood tall at a height of 6500m. Magnificent!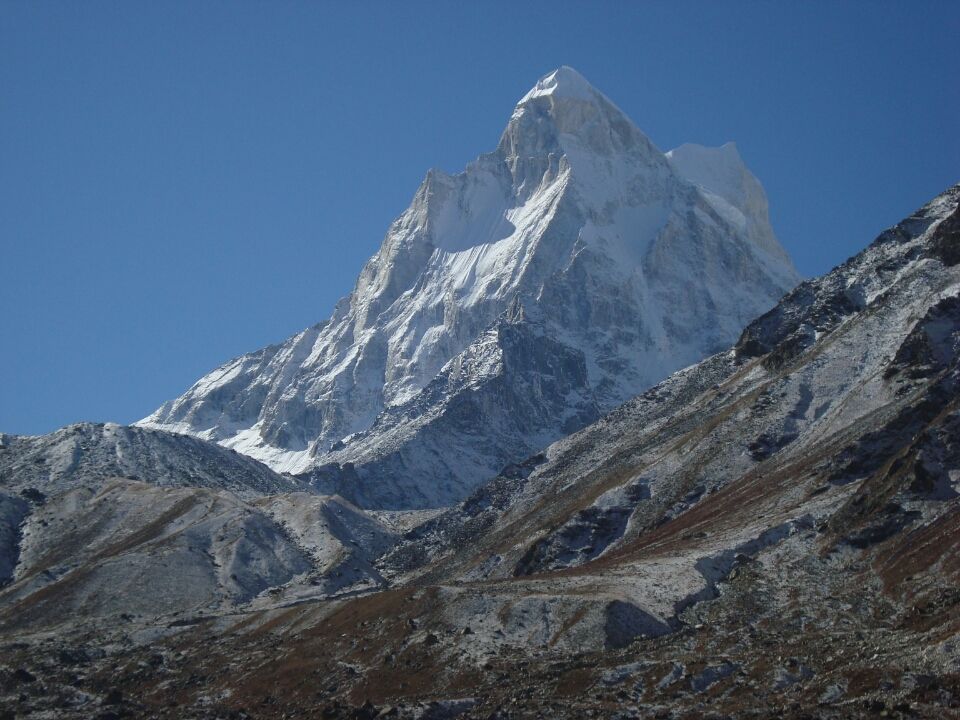 We reached Goumukh in sometime, where we sat down to decide what to do. Clearly 2 guys could not go further, it was not safe. To take them back to the camps one had to go with them, as tge guide and porter were to go with the 3 of us. So the other guys sat near Goumukh for sometime while we headed of to Tapovan. The ascent of Tapovan starts on the other side of Bhagirathi for which one has to cross the Goumukh glacier.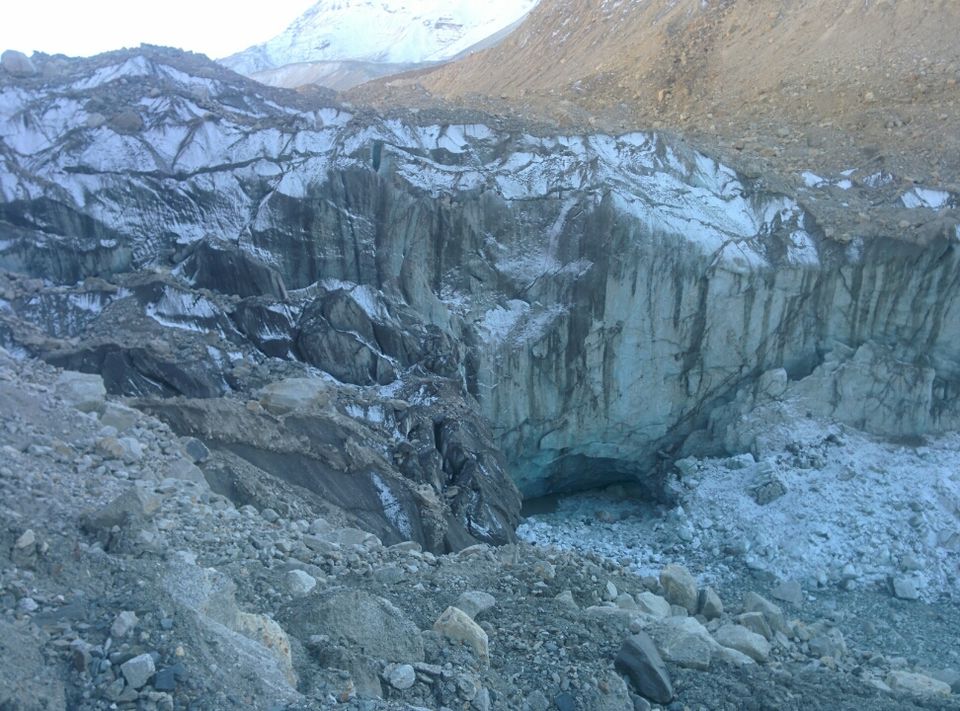 Crossing the goumukh glacier was another experience all together. Large boulders all around covering the glacier. It was all rocky and hard ice, with large and deep crevices.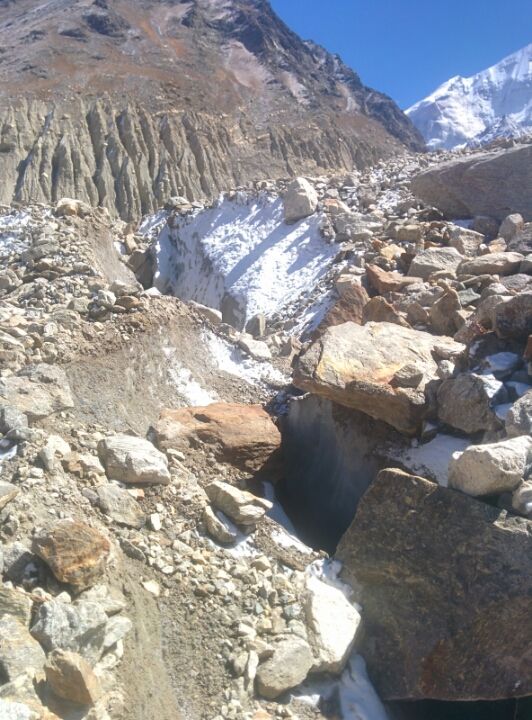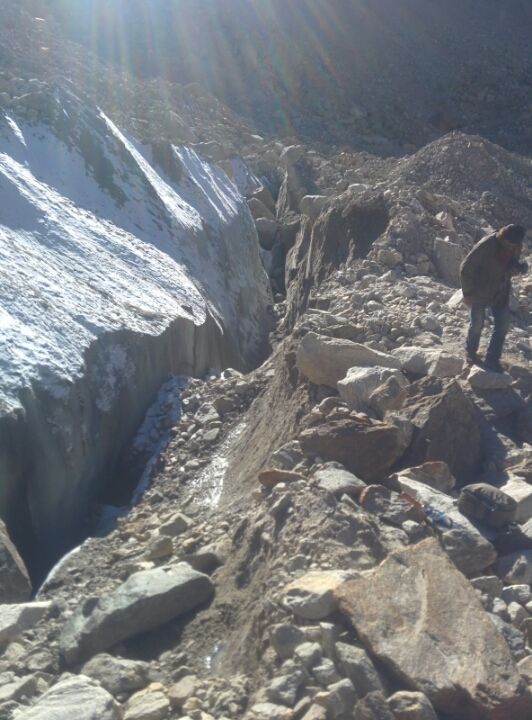 We carefully crossed the glacier, making sure we dont slip into one of those crevices, as we had no intention of coming out frozen, from Goumukh.
We started the ascent, it was the steepest route i had ever seen or imagined.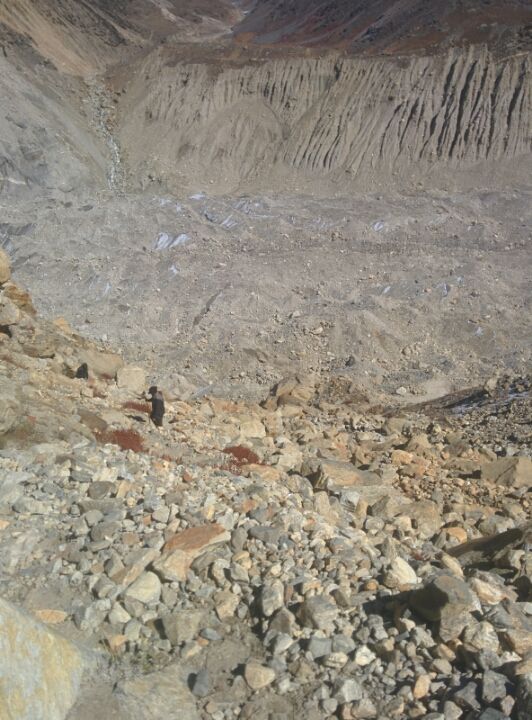 It was tough, i started having a bad headache, but bearable. We took some rest many times but kept moving. There were streams of water flowing from the top.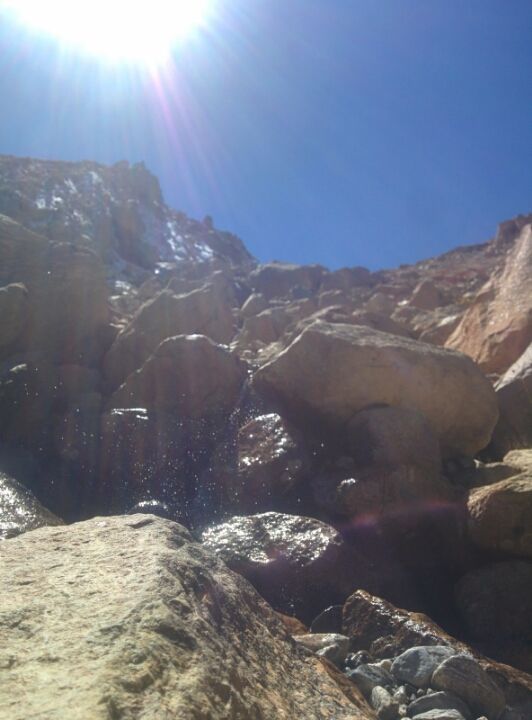 During the ascent, Mt Shivling disappeared, whereas, Mt. Bhagirathi which stands tall at 6400 m was right in front of me.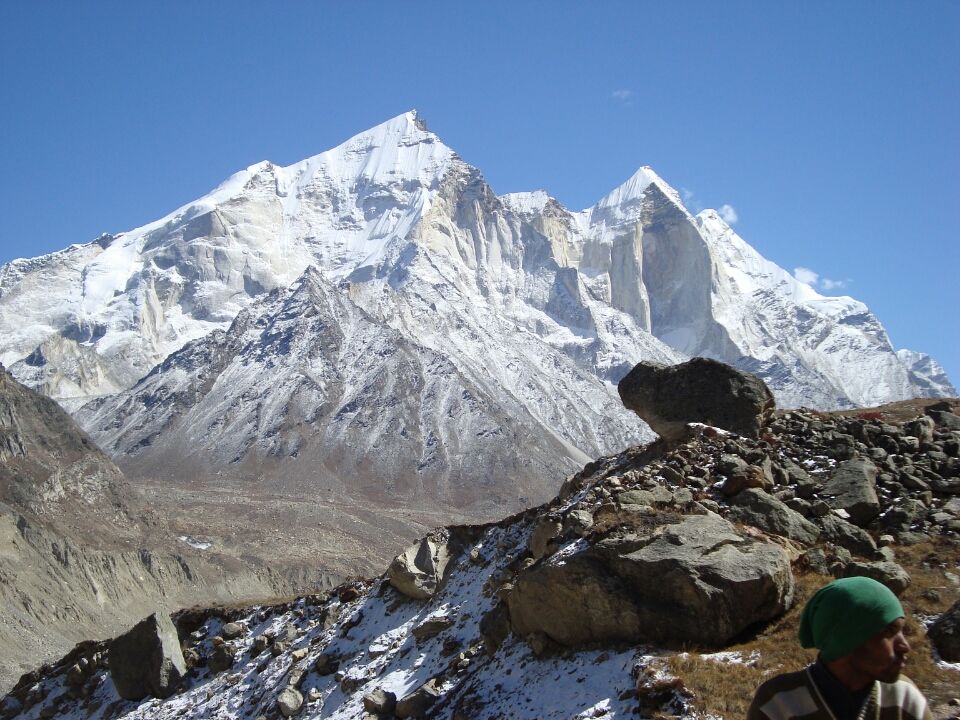 We kept moving up steadily, that is when i saw the tip of Mt. Shivling, at the top
I knew the ascent was almost complete. In 10 mins i reached the top.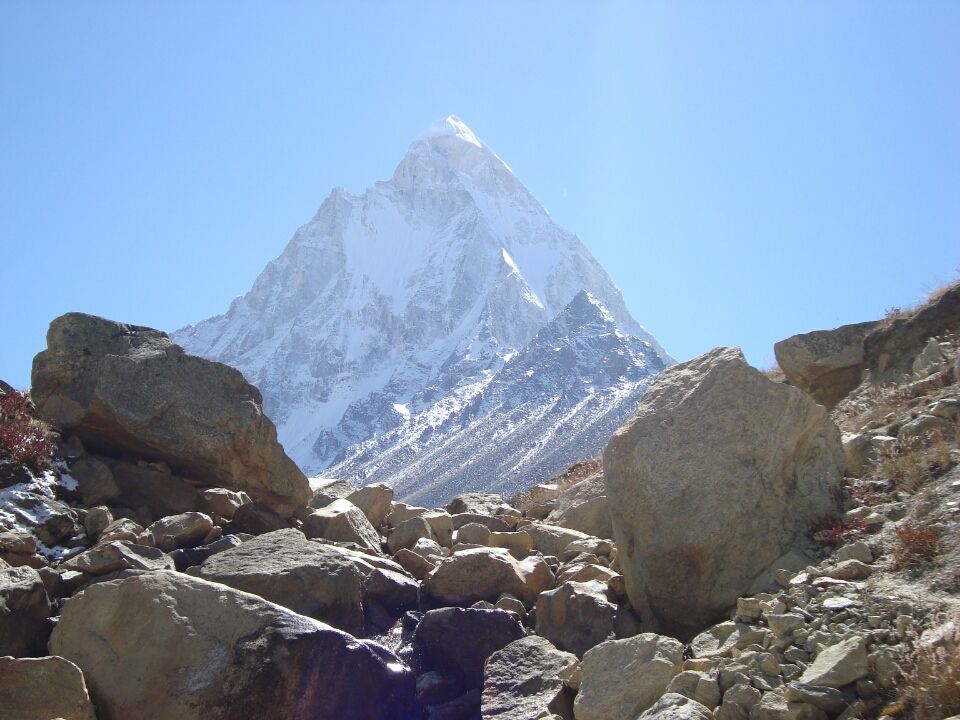 I had reached Tapovan, and it was beyond my wildest dreams. A stream flowing at the foot of Mt. Shivling. Looking at Mt Shivling up close, was a different experience all together.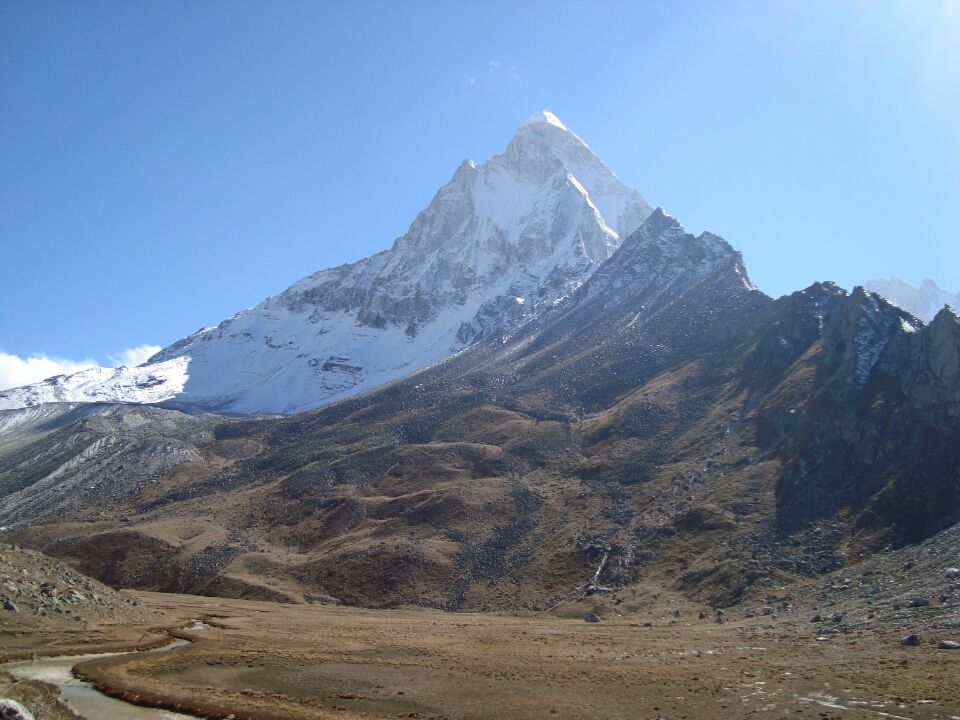 It was relieving, all efforts everything, worth it.We absorbed the moment, the entire scene, and headed towards babaji's kutiye where he served us hot tea followed by Khichri. We ate stomach full. Only when the food went in we had some energy, to explore Tapovan. We went on towards the stream and saw many Bharals at the step om Mt Shivling.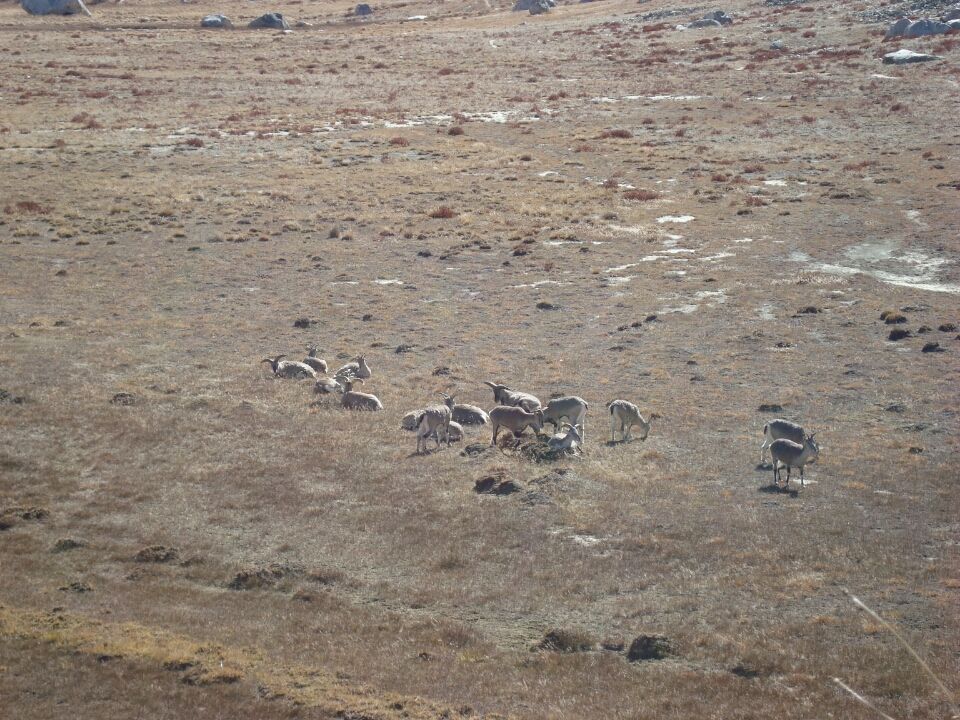 The trek was complete. The three of us made it to the final point.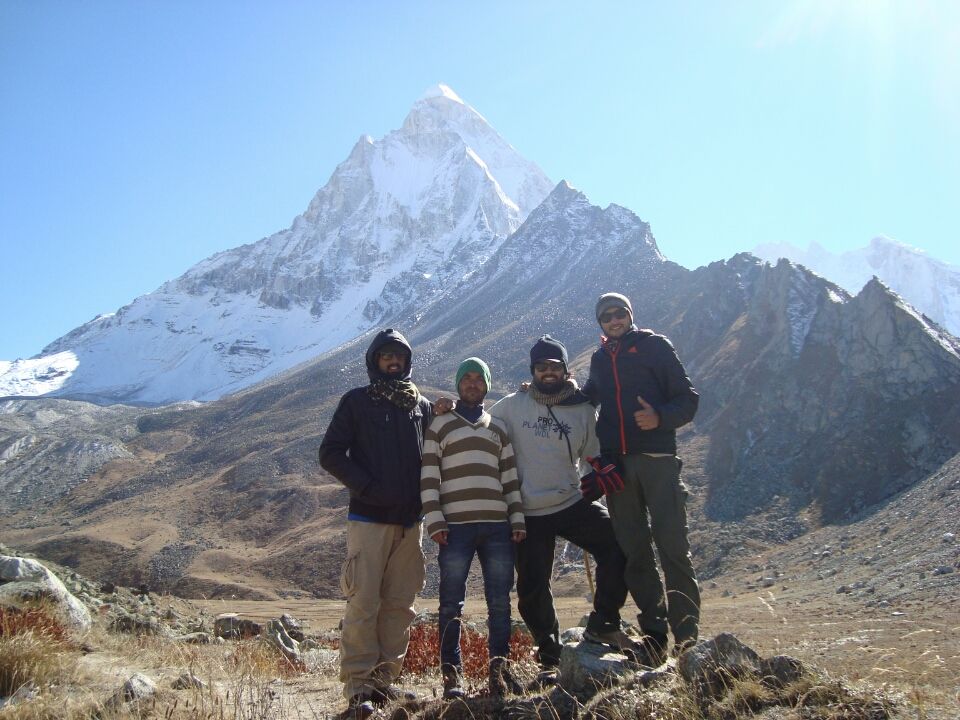 We spent sometime siting in front of Mt Shivling, then decided to head back before the weather changes. We left Tapovan at 15:00 hrs. The descent was easy, we quickly came down to Goumukh. We re-traced our steps from Goumukh back to Bhojwasa campsite, making it to Bhojwas by 18:00 hrs. We went to the camp and quickly had that tea, as my headache was geting worse. After having that tea, it was all gone. We shared the whole experience with our friends and then went in to have dinner. After a fullfiling dinner, we went to the tent. This time 3 if us were sleeping in the tent and the rest went to sleep in the paid beds in the camp.
We took a good decision not going in the camp, as at night we came out for some photography and we realized we could see the Milky Way Galaxy. At first sight it was unbelievable. It was the best feeling ever. That stary sky, i could never imagine, had i not scene it then.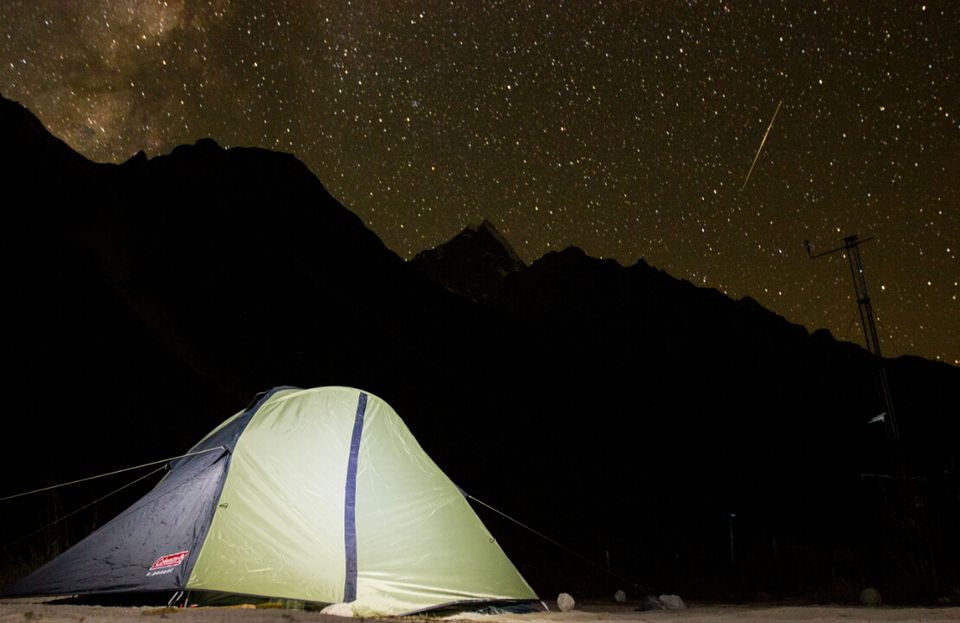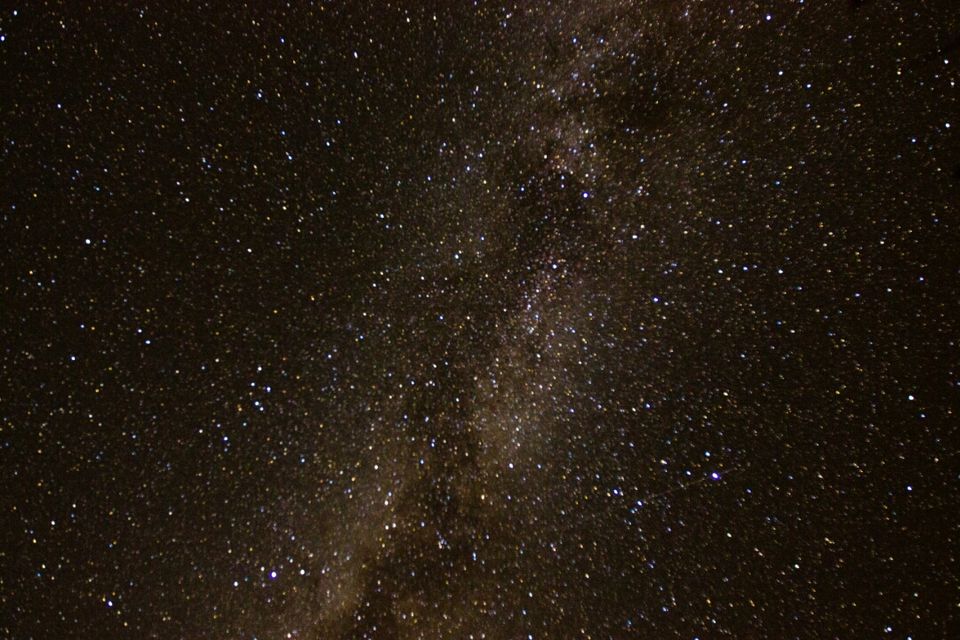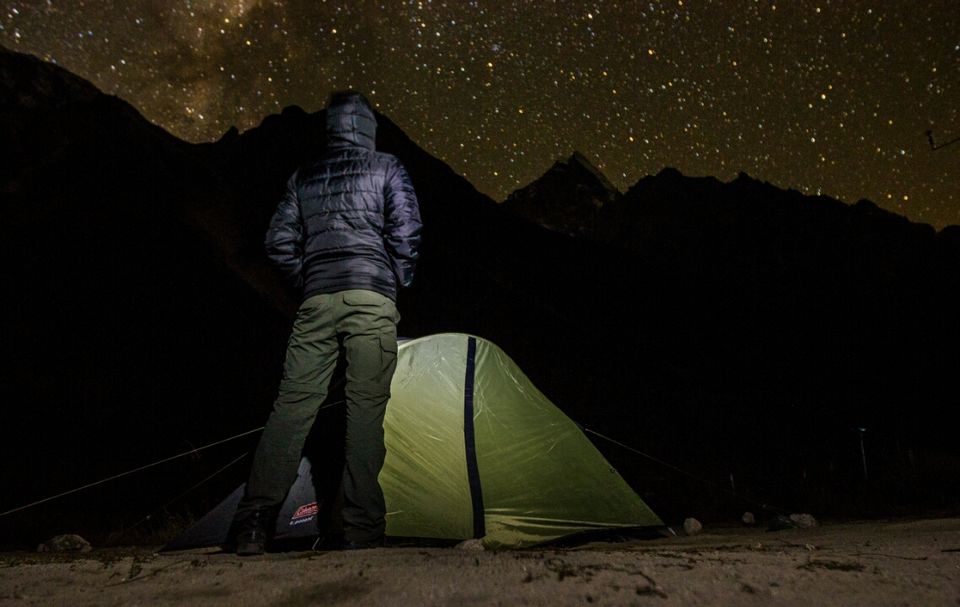 The next morning, we packed our stuff and headed back to Gangotri, after having breakfast. 
  Group Photo
Trekking back was easy, and with a feeling if content.  "I had achieved what i came for" 
On reaching back we said our prayers, thanked god for a safe journey. Then after eating lunch, we headed on our way back to Dehradun, from where we took a volvo to Delhi.
  "Goodluck! Keep Exploring"