Nainital Plans
Nainital as in its name is a town that is a hill station amid the Naini lake. It is situated at an altitude of 6837 ft above sea level. It is a beautiful hill station with tourists visiting in large numbers for its climate and the beauty of this majestic hill station. As I have completed my primary education from Nainital this place holds a special place in my heart and thinking about going to Nainital always excites me to the boundaries.
I had a phone conversation with one of my friend and he said that he would be visiting me the next day. So on the said day he arrived in the evening with his younger brother along with a cousin of his to my place in Kiccha. We sat in the living room discussing about how we all are doing in life and also our future plans. Slowly the talks shifted towards our school days and as we went further into our discussion someone from the four of us suggested that we should take this Naini trip right now. All of us agreed to it and so by doing that we packed our bags made sure we had a place to crash in for the night and so for that we called up one of our friend to ask if his house was available if we reach the place at around eleven to which he readily agreed.
We sat in our vehicle four of us good music followed and at around eight we left for our Nainital trip. In midway in a town known as Haldwani we grabbed some beer had our dinner and moved forward to our destinations. When Naini was just ten kms cooler winds started to blow on our face making us take the fresh air of the hilly regions which was so pure as compared to the polluted air of the plains. In our excitement we started singing all the way to Nainital.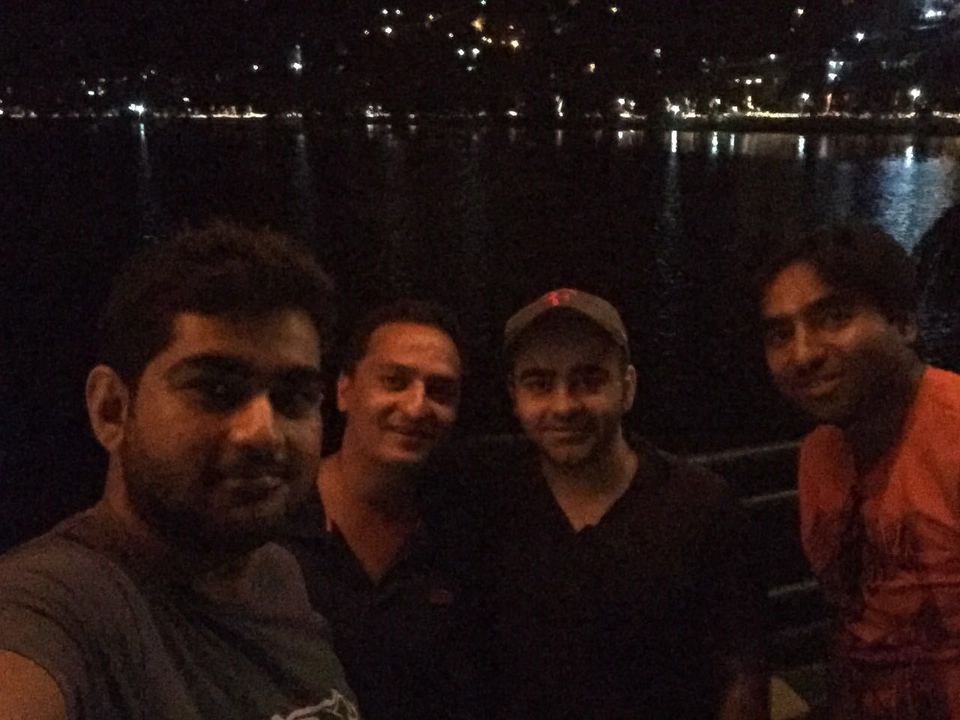 As soon as we reached the Naini we straight away went to the school where we had completed our high schooling from took some photographs and stared at the colossal building that stood just in front of us. We did not go inside the premise as it was around 11 at night and it being a boarding school it had some discipline to be followed. After taking all the time needed to glare at our alma mater we went to the house that we had made arrangements to sleep off the night.
At around midnight we reached our friends house and went to bed after some discussions on how and where to go the next day. Snow view and Kilbari was decided as the places we would visit the next day .
Next day we got up early at around seven to have a look as to how the city looks early in the morning and I must admit you need to be present here to feel the experience it is just so joyful to see the morning light covering the whole of the city even the lake which is the centre of Naini was glowing to no bounds and would be not ethical to describe its beauty.
We all got ready to move to Snow View as we had decided the previous night and instead of travelling on road we took an adventures ride in aerial ropeway from Mallital to Snow View.
Snow View is the most viewed tourist place in Nainital for viewing the majestic Himalayas. Known as the best viewing point in the city it offers tourist an clearer view of the snow capped mountains like the Nanda Devi, Trishul and Nanda Kot . It is located 3kms from the main Nainital town famous for a Tibetan Monastery. It also has a temple of goddess Ram, Lakshamn, Sita along with Lord Hanuman. After having our share of tea and snacks we exited the snow view point to go to our next decided journey to Kilbari.
As we descended from snow view we headed towards bhotia market (it is called so because the people owning shops there are called by that particular name) as it is very famous for its clothes and Chinese food. It also has a Nanda Devi Temple just next to it so we paid our homage to the temple and went to a nearby restaurant to have the Momos from Sonam which are famous in the Nainital and its adjoining cities.
Next we moved to Kilbari in the Pangot area. This region is famous for its birds as more than 580 species of birds have reported to be seen here. The drive from Nainital to Kilbari is also mesmerizing and it offers solitude to the people who come to visit this location. After staying there for about an hour we decided to come back to Kiccha , as this was an unplanned trip we decided to do the next pretty soon involving more of our school friends in the process and having a much time for further exploration of this beautiful city .
We had our our evening snacks and moved out of the city feeling very happy and satisfied.
This unplanned trip was so soothing for me as after this I got so relaxed and the daily fatigue of doing the monotonous things just vanished and made me approach my work full of jest. Nainital is a beautiful city and so peace prevails there among st hundreds of unknown tranquil places where you can go and get to know yourself better but if you are travelling for the first time to the city and want to explore the city to the fullest than you must take a guide to get the complete feel of this beautiful city.
Frequent Searches Leading To This Page:-
Nainital Tour Package From Delhi, Nainital Tour Packages With Prices, Nainital Package From Kanpur, Nainital Honeymoon Package, Nainital Tourism Nainital Tour & Package Nainital Uttarakhand