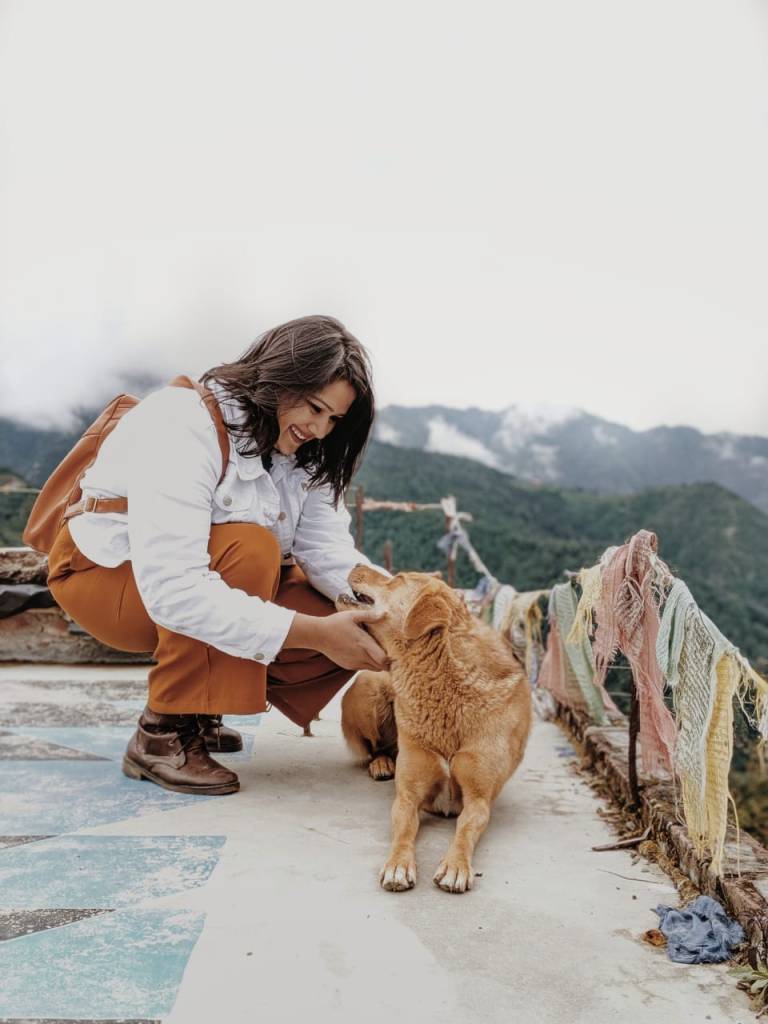 Summary Of My Stay:
If it has got you hooked, read the detailed blog:
I am an over researched person when it comes to planning my trips. I would make an excel sheet that would have the budget distribution, the mode of transport, the itinerary of the various days etc.
However, for the first time in my life, I didn't have a plan. All I knew was I was going to Kanatal after a day's stop in Mussorie. And all I was looking forward was a peaceful time at my homestay: 'Nama Stay'
How Did I find out about Nama Stay?
I had seen their listing on AirBnb, but wasn't quite sure since the pictures weren't very alluring like those of a good resort property. And the reviews were very few in number, so I didn't bother reading further. However, I had asked a well-travelled friend for a recommendation, and she highly recommended their place. I then went back and read the 12 reviews. Each review had so much warmth and positive vibes, the kind I have never read, and trust me, I read a LOT of them.
I then stalked them on Instagram, and rather found this place interesting. It had a great view, pictures of apple orchards, various other fruits and a beautiful dog, Hatchi.
From my first interaction with Nidhi, our host, on Instagram, there was a sense comfort. She was very kind with the minute details that I asked.
Tariff:
I wouldn't deny that their rather inexpensive tariff was another reason I opted for them. Their charges are Rs.850/person, which is inclusive of your breakfast, dinner, and morning and evening chai.
How Did I Reach Nama Stay?
I took a local bus from Mussorie to Tehri that goes via Kanatal, around 8 am from the Tehri Bus only Rs.90.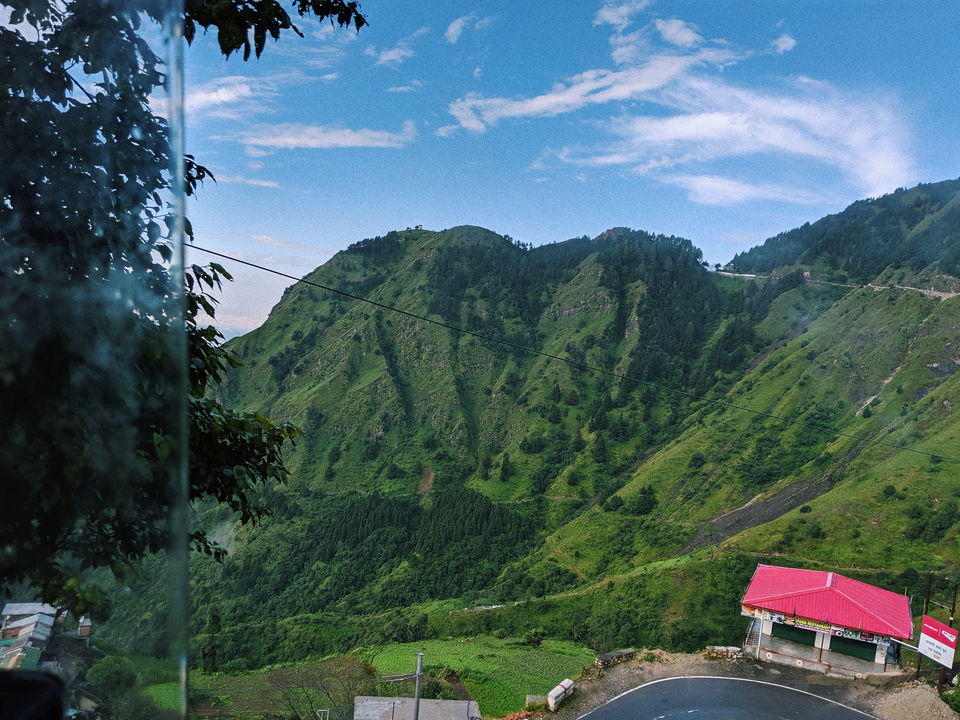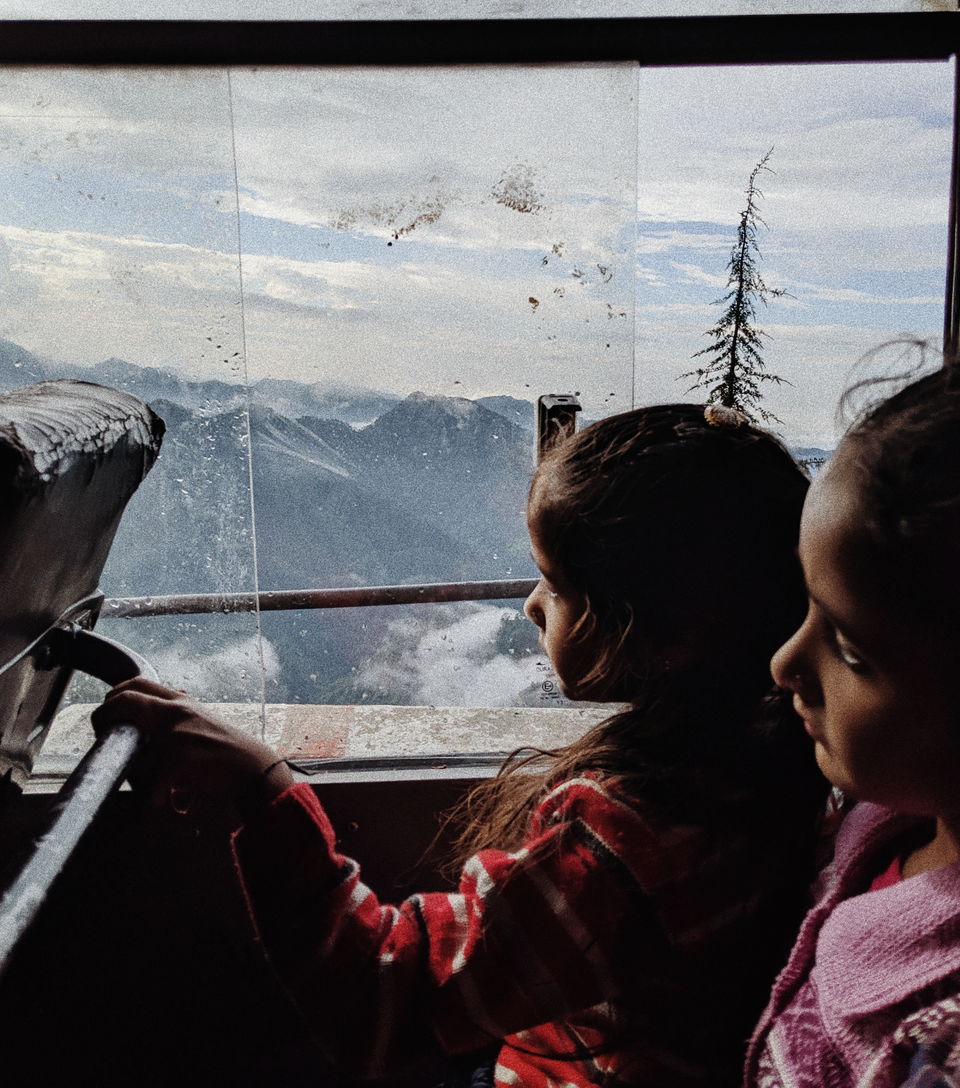 I got down at The Hemitage, a resort property on the main road in Kanatal. NamaStay was at a distance of 1.3 km from here and we had to hike our way. It was raining rather heavily when we reached, so we decided to have our breakfast first at The Hermitage while the showers could slow down. I quickly called Nidhi and shared with her my concern. In no time, she had sent Yudisht, her co-host with umbrellas and raincoats. He waited for us while we finished our meal and then took us to our homestay. He was immensely caring to have even carried my heavy luggage.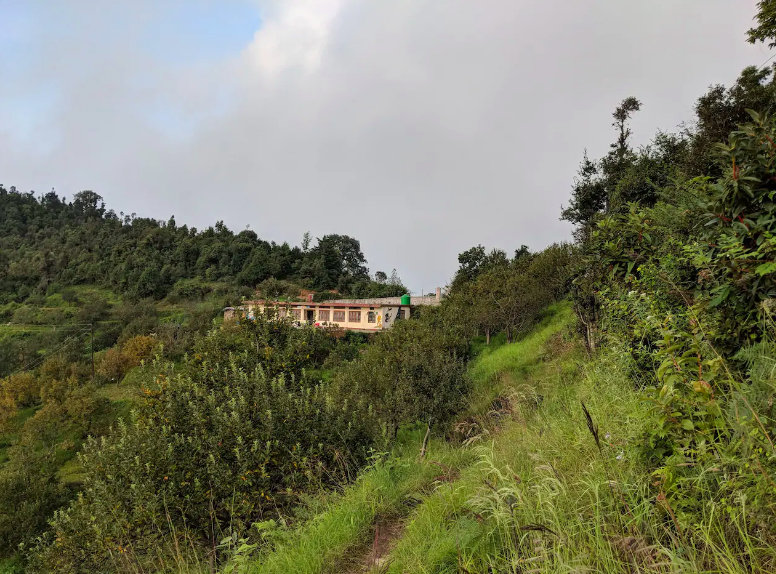 The roads were muddy, and uneven, and were through the Kaudia Forests. But that didn't stop it from us enjoying our hike, rather, it only added to the charm. I spoke to Yudisht more about the place and if there were wild animals here. And yes, there were. Leopards & Black Bears. We were also mesmerized by the stunning mountain views that came our way surrounded by a somewhat cotton candy land.
After a 15 min hike, we could see our property which had a beautifully painted colorful terrace. We took the stairs and were greeted by their housedog 'Hachi' and behind her was Nidhi. She immediately offered us towels and a hot cup of chai.
About Nama Stay:
Somewhere on 2500m, we found a place we could unwind with the stunning views of Surkanda Devi on one side and Himalayas on the other, naked trees, sounds of birds chirping and a mellow music that came from inside the house. The property was surrounded by apple orchards, and various other vegetation that made us feel somewhere in the middle of a forest.
The hostel had graffiti walls both on the inside and on the outside. There were minute details on each corner. Paintings, post cards, menus. posters, flowerpots adorn each corner of their home. Friends, locals and travellers who have visited them over the past two years have contributed to the aesthetics of the house. Various utility items were created using waste products, such as dustbins made using cartons, seating made using trunks, question paper's opposite side used to put down some information and so much more. The rather imperfect décor only adds charm to its rawness and you will find it far away from commercialisation. The rooms were colourful and very clean and had very warm blankets that helped us through the cold.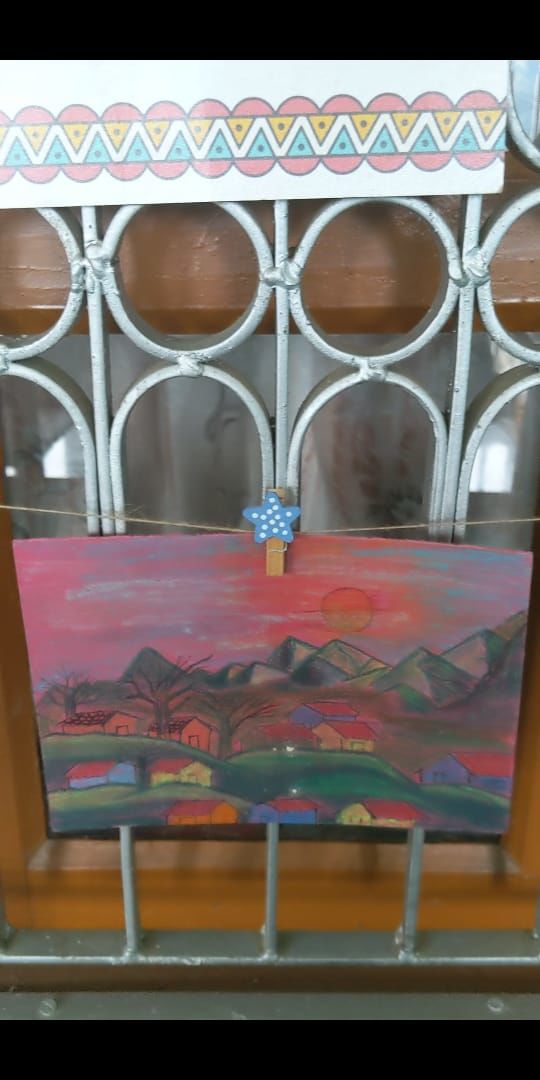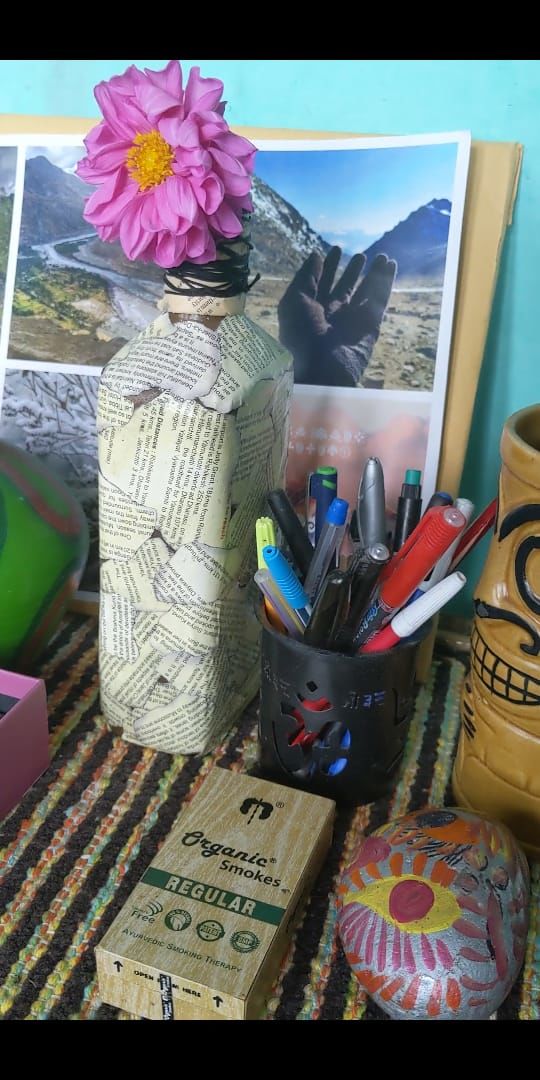 The rooms were colourful and very clean and had very warm blankets that helped us through the cold.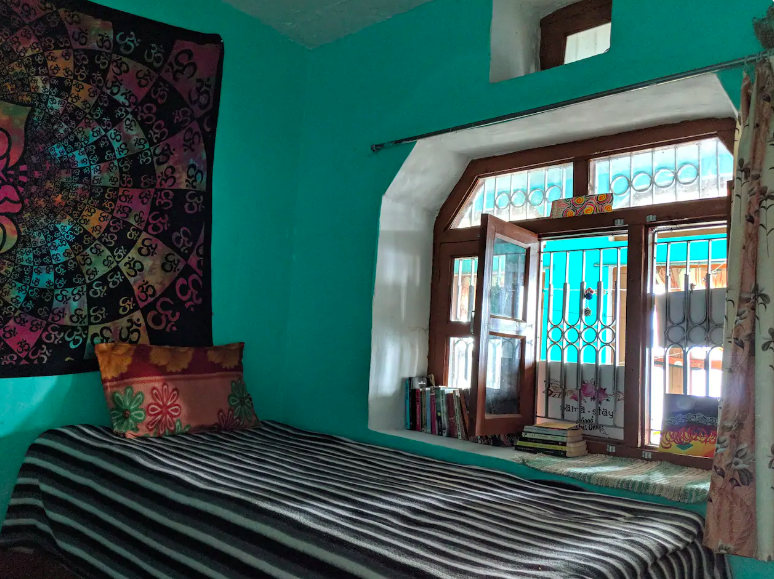 They had two washrooms, one inside with the facility of a shower and an Indian toilet and one on the outside, which had a western toilet.There were no geysers, but, we used the stove to heat the water. It actually brought back memories from my childhood when mom would do the same when the geysers weren't working.
Day 1:
Once we showered, and devoured on the brilliant breakfast made by Nidhi, we decided to go for the Surkanda Devi Trek, but as soon as we reached, there were heavy showers. So, we simply sat at a chai stall. Once the rain stopped, we decided to simply ride around in our two-wheeler that we had rented from the host for Rs.800/day. We went all the way to Dhanaulti and right when we were about to take a U-Turn, we saw a Huge RAINBOW! And that was the highlight of my day. We had lunch at a bhojanalay and headed back to our homestay.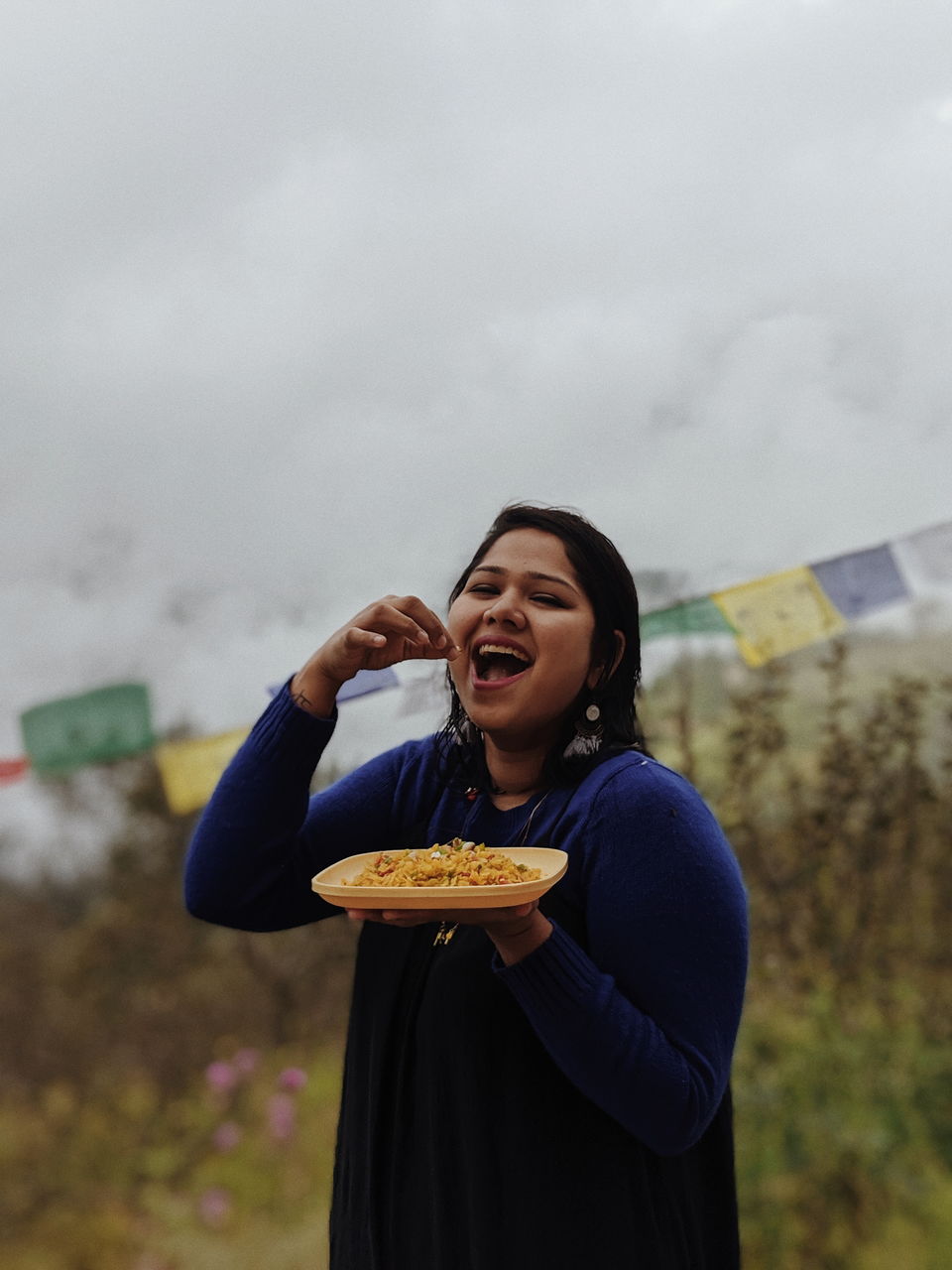 When we reached, we were greeted by young kids from the same village learning Yoga post their tuitions. Yudisht, who used to teach in college before starting up his homestay, teaches the local kids using various games, activities and even gives them theoretical lessons. Post their study hours; the kids also learn Yoga or other forms of physical exercises here.We watched the sunset while the kids practiced Yoga.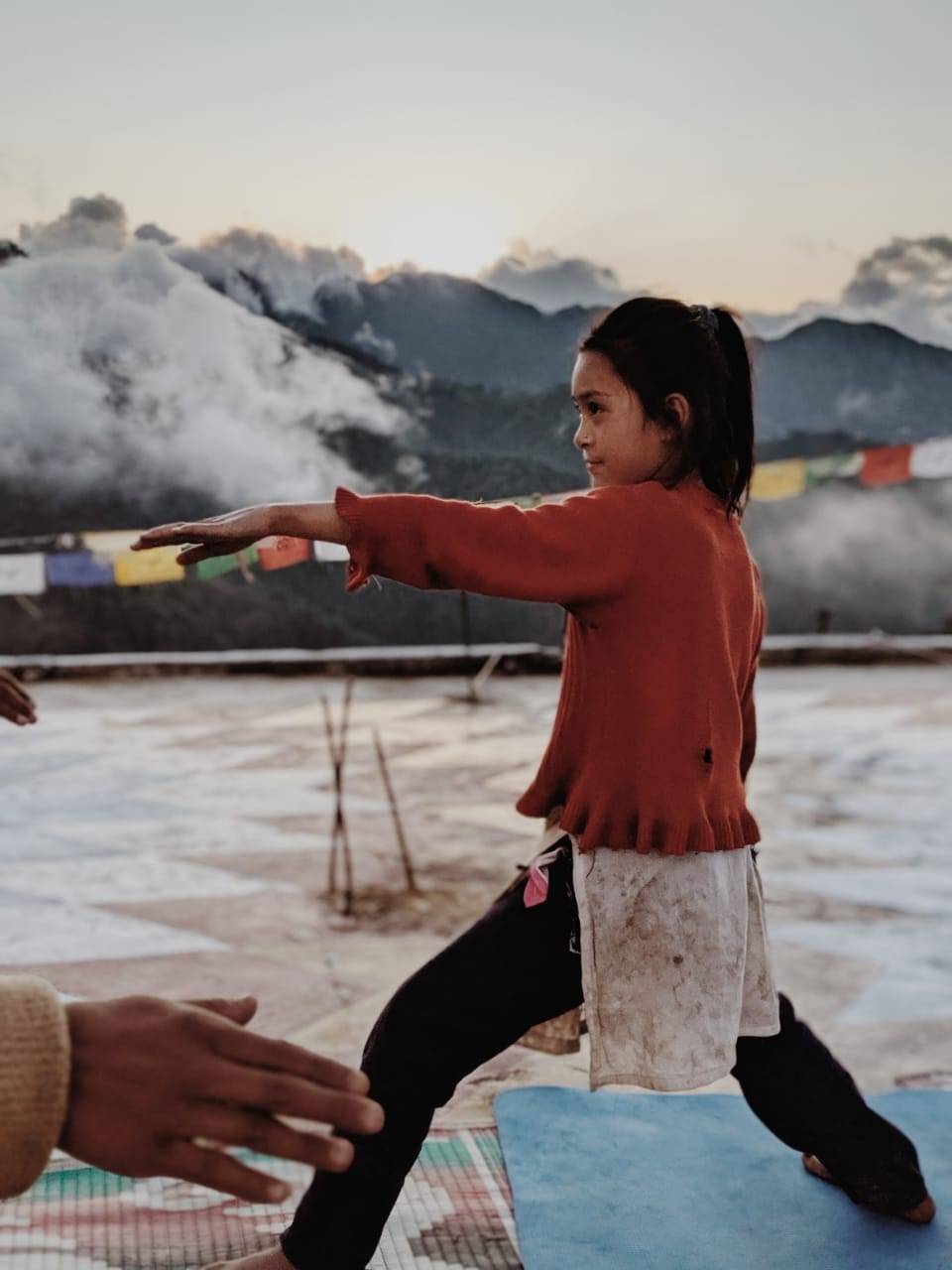 Once their sessions were over, each kid came and greeted us saying 'Namastey Didi' and each one got an apple from were plucked a few days ago.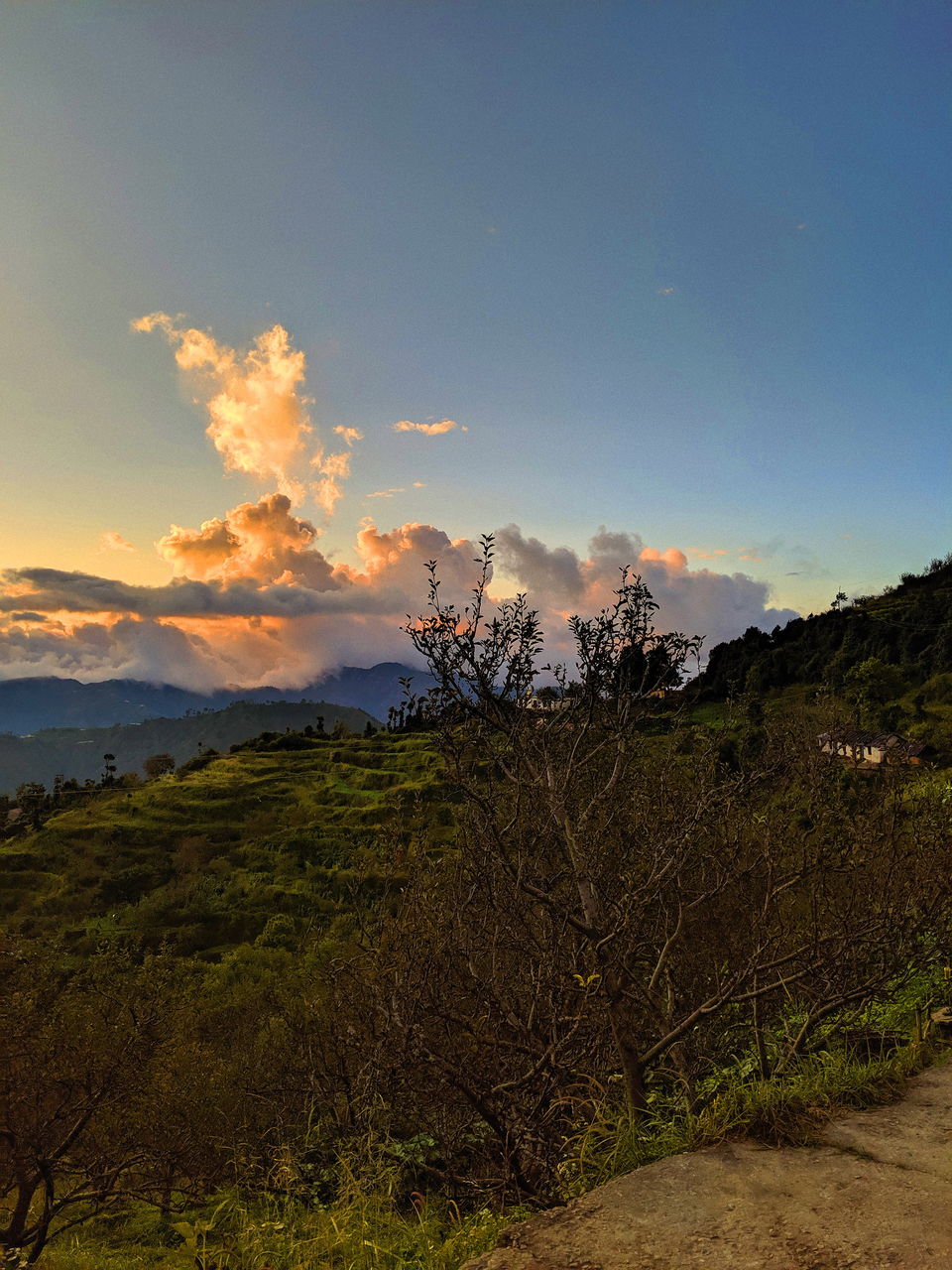 They then joined us in our chitchat, and asked us about our whereabouts. They said they would now play a match of kabbadi, girls vs boys and asked me to join. Oh, what fun. All the boys and girls then jumped off the terrace to a grassy ground and the race was about who would finish the 20 rounds first.
When all of them were tired, Sanju, one of the eldest boys played guitar while Manu & Golu asked me riddles. We then played a game of charades, watched the starry skies, had our dinner and called it a night.
Day 2:
The next day, we went to Tehri Lake and were hit by a storm. We did manage a half hour boat ride and then departed back to Nama Stay.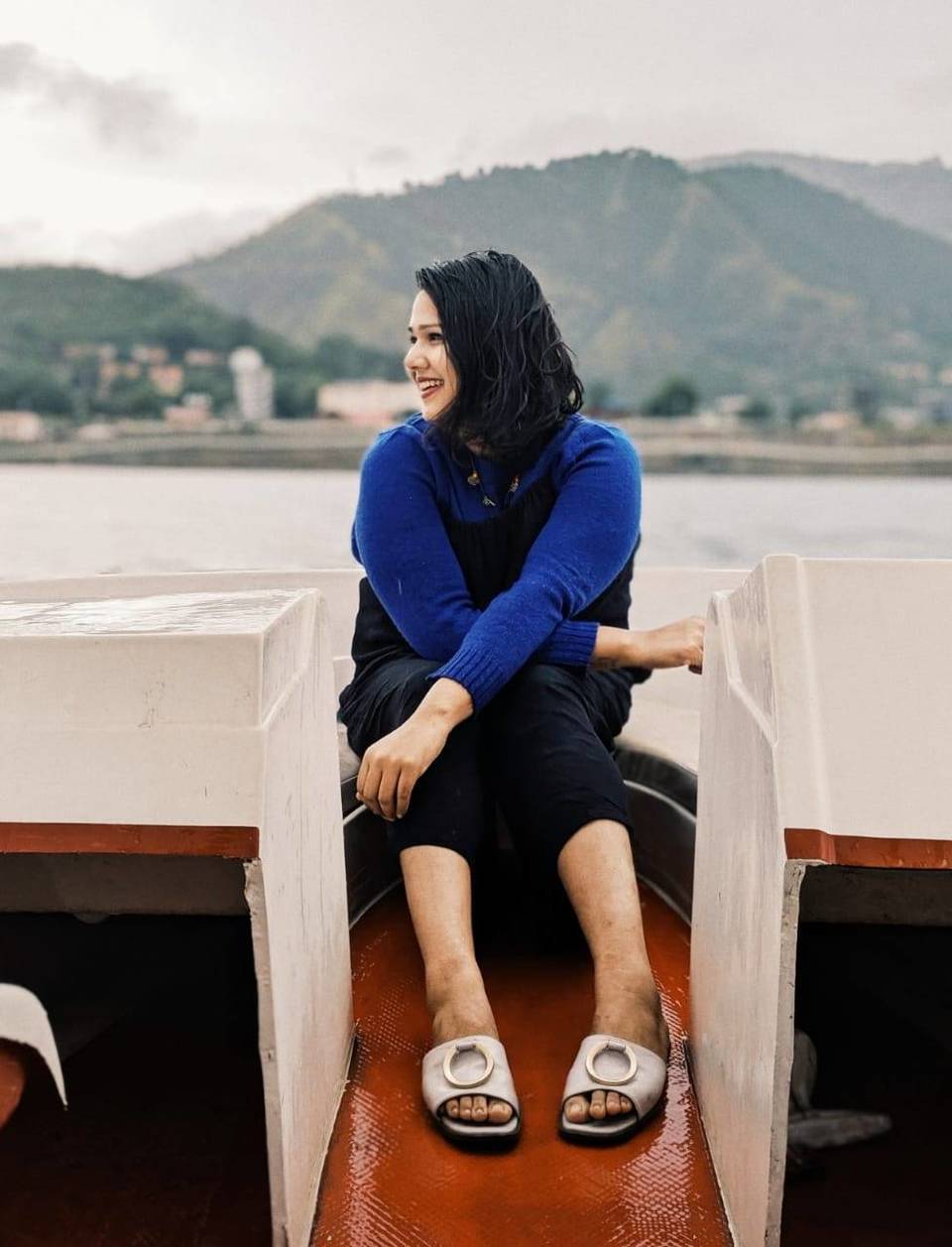 The hostel was flocked with travellers since it was a weekend and we quickly became friends with Sushant & Nikhil. Because of the heavy storm, there was no electricity or network, so instead of departing to our rooms and editing pictures and posting Insta Stories, we sat by the bonfire and shared stories of our travel journeys. When it got colder, we went to our rooms and had a candle night dinner. We spoke past midnight until I passed out.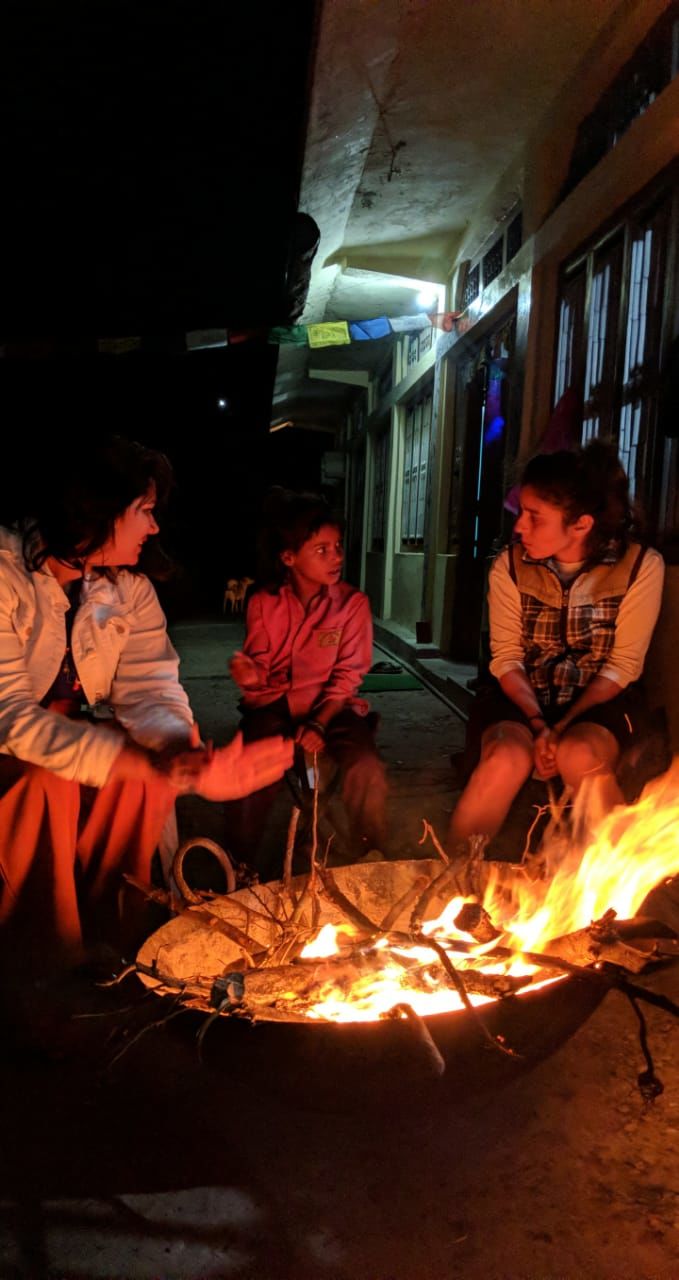 Day 3:
On our third day, we decided to go to Sour Village, but because the roads were really steep and the weather wasn't very kind, and I was kinda losing my shit because the ride was scary AF, we decided to call off the plan and head back to our property. Incase you do plan to visit, I suggest taking a local driver or simply trek down from Kanatal.
When we came back, the kids from the village were waiting. They then took me on a trail, which included me visiting each of their houses.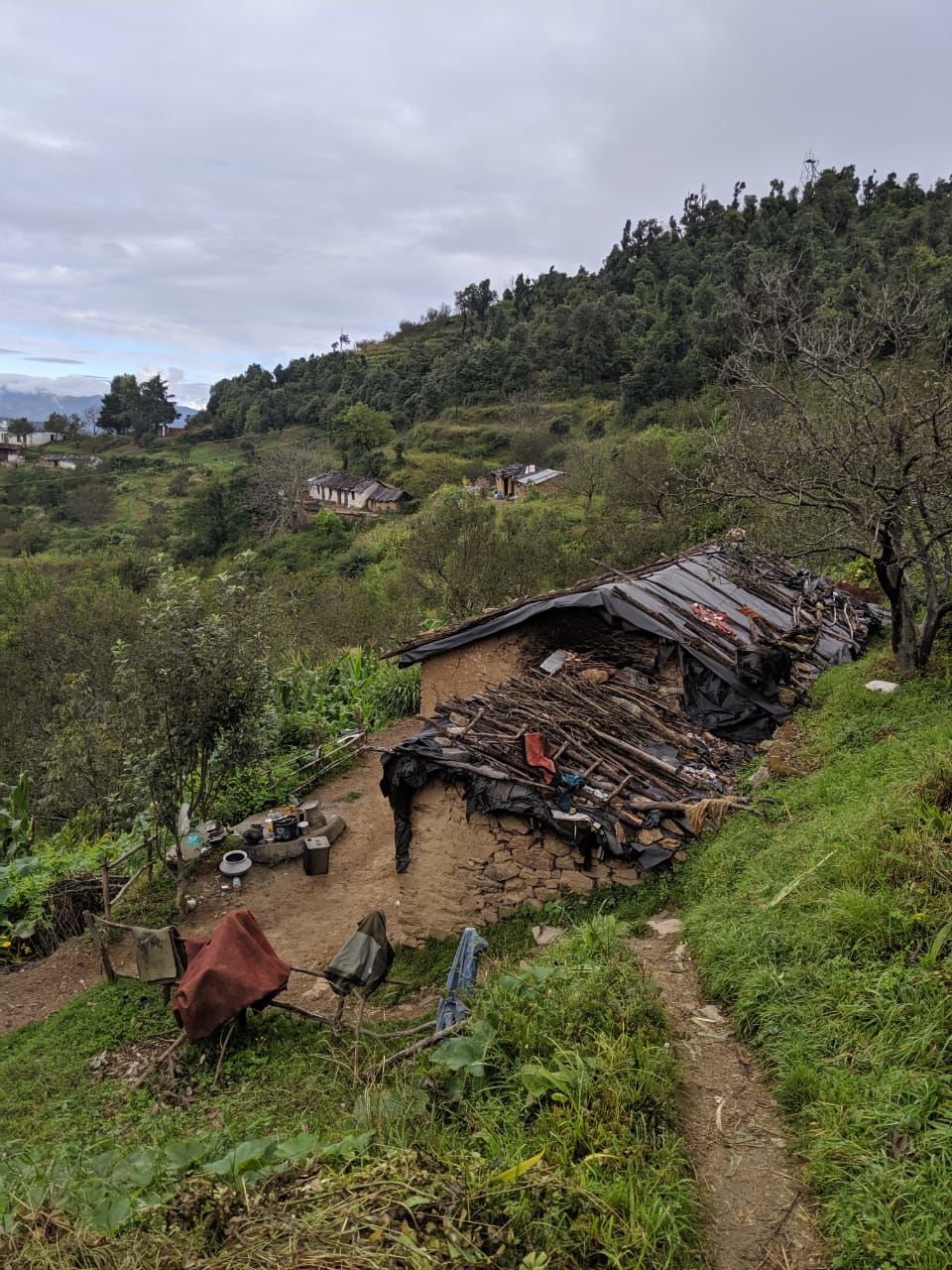 We started from Manu's house, which was surrounded by cornfields. He plucked a corn and asked his mother to roast them for me. While his mother kindly offered to do the same, we went further to Golu's house, who showed me Kadu, Aaloo, Sunflower, Chestnut, Khurmani and so many other plants.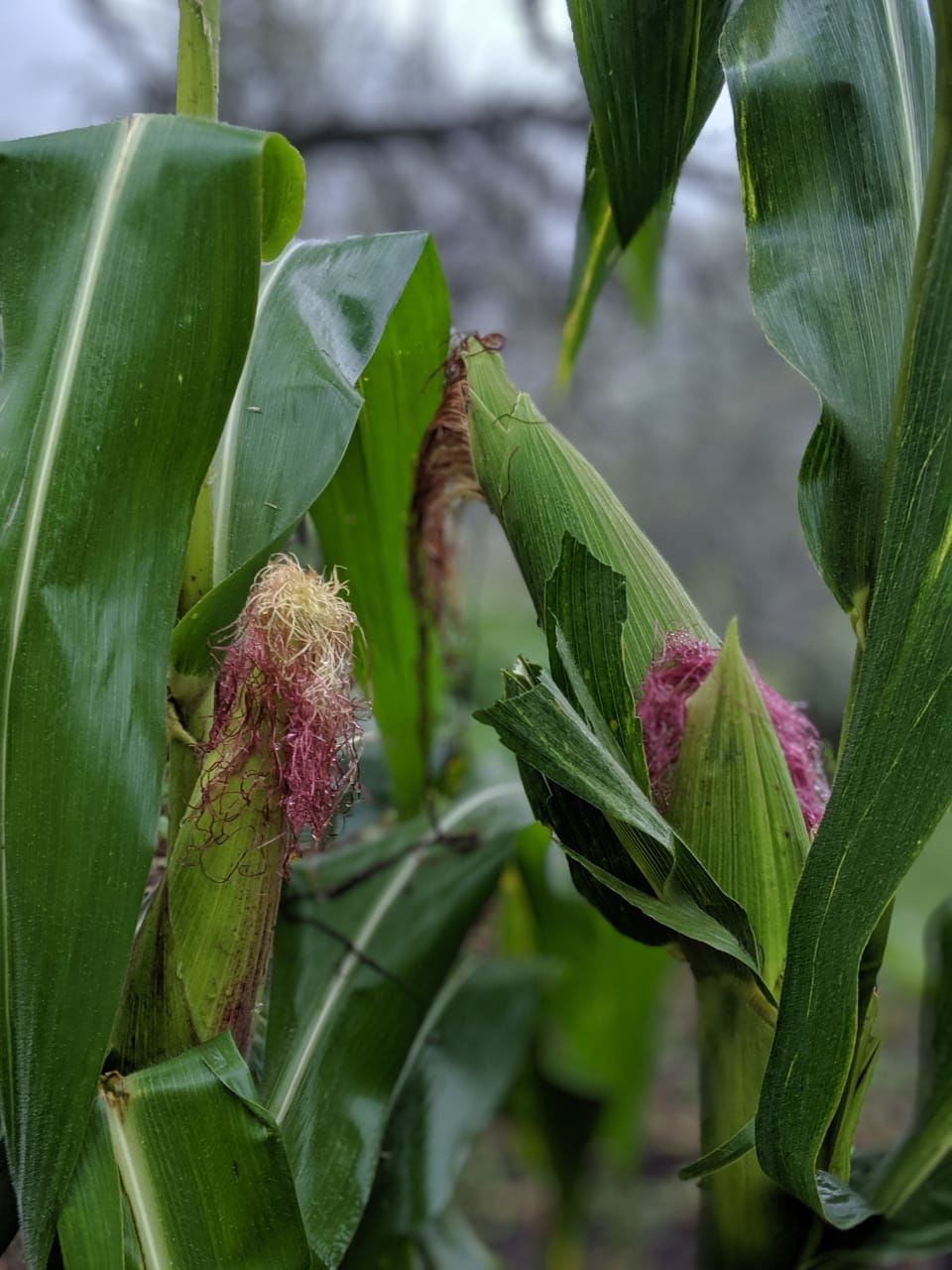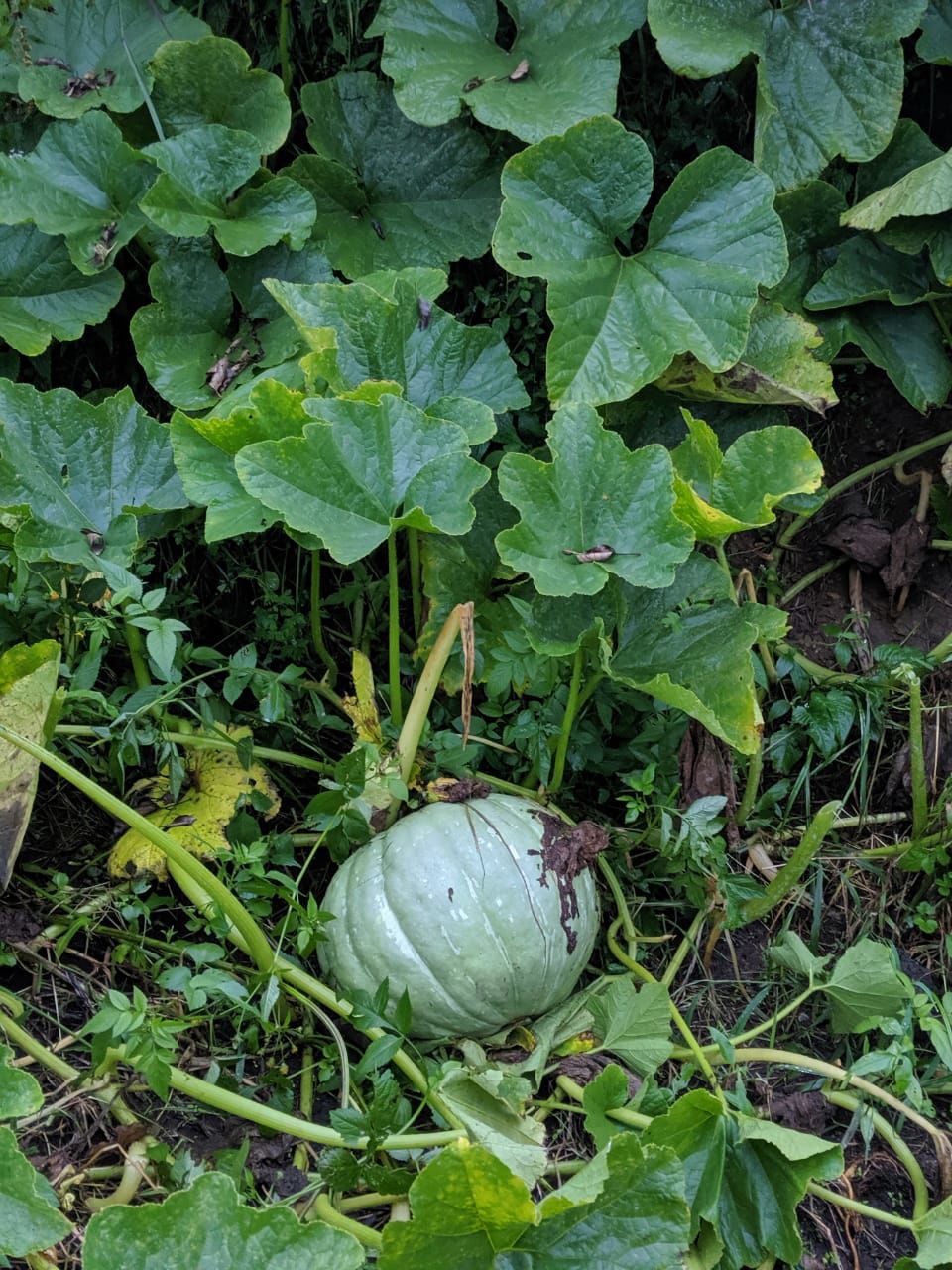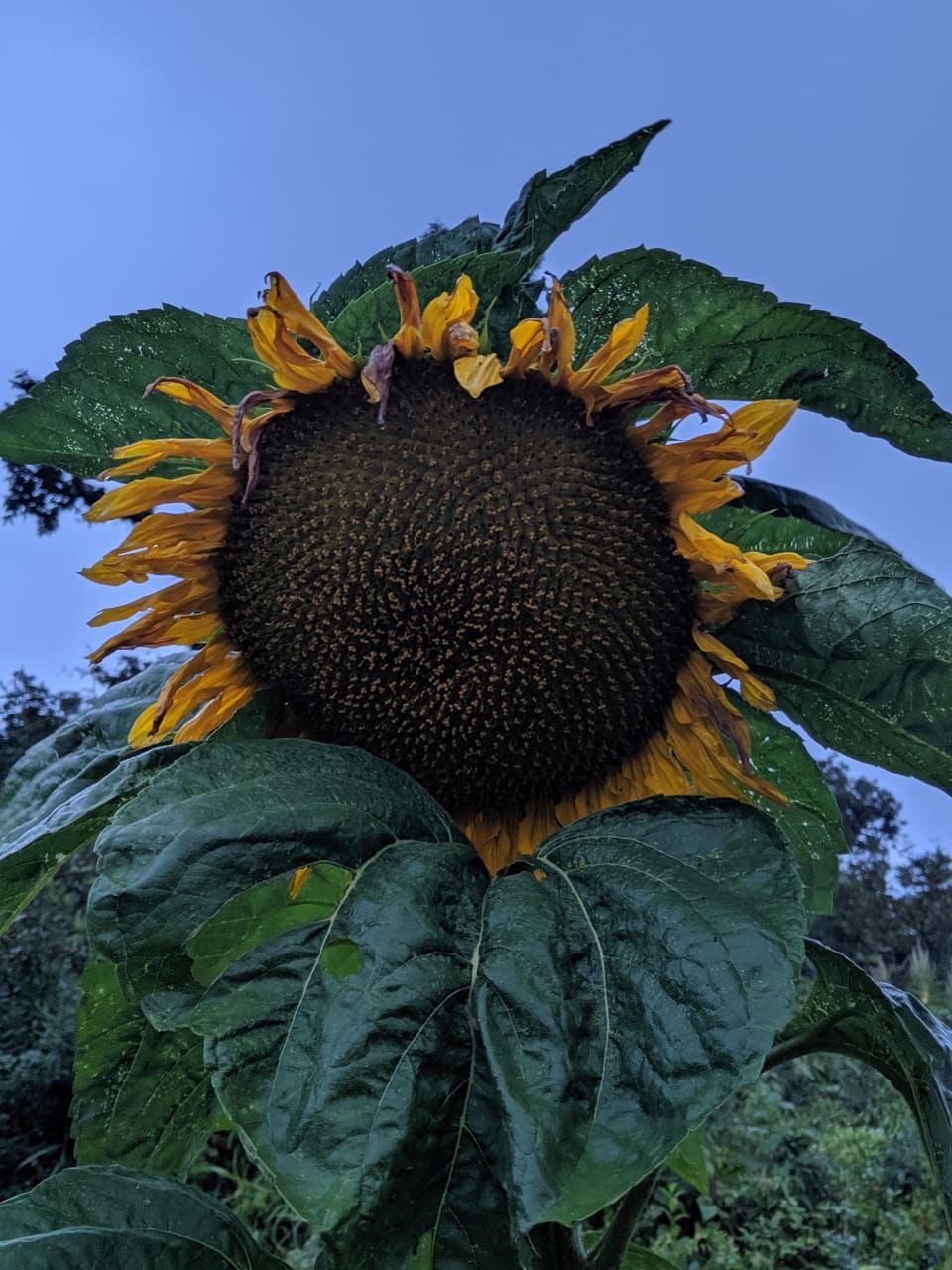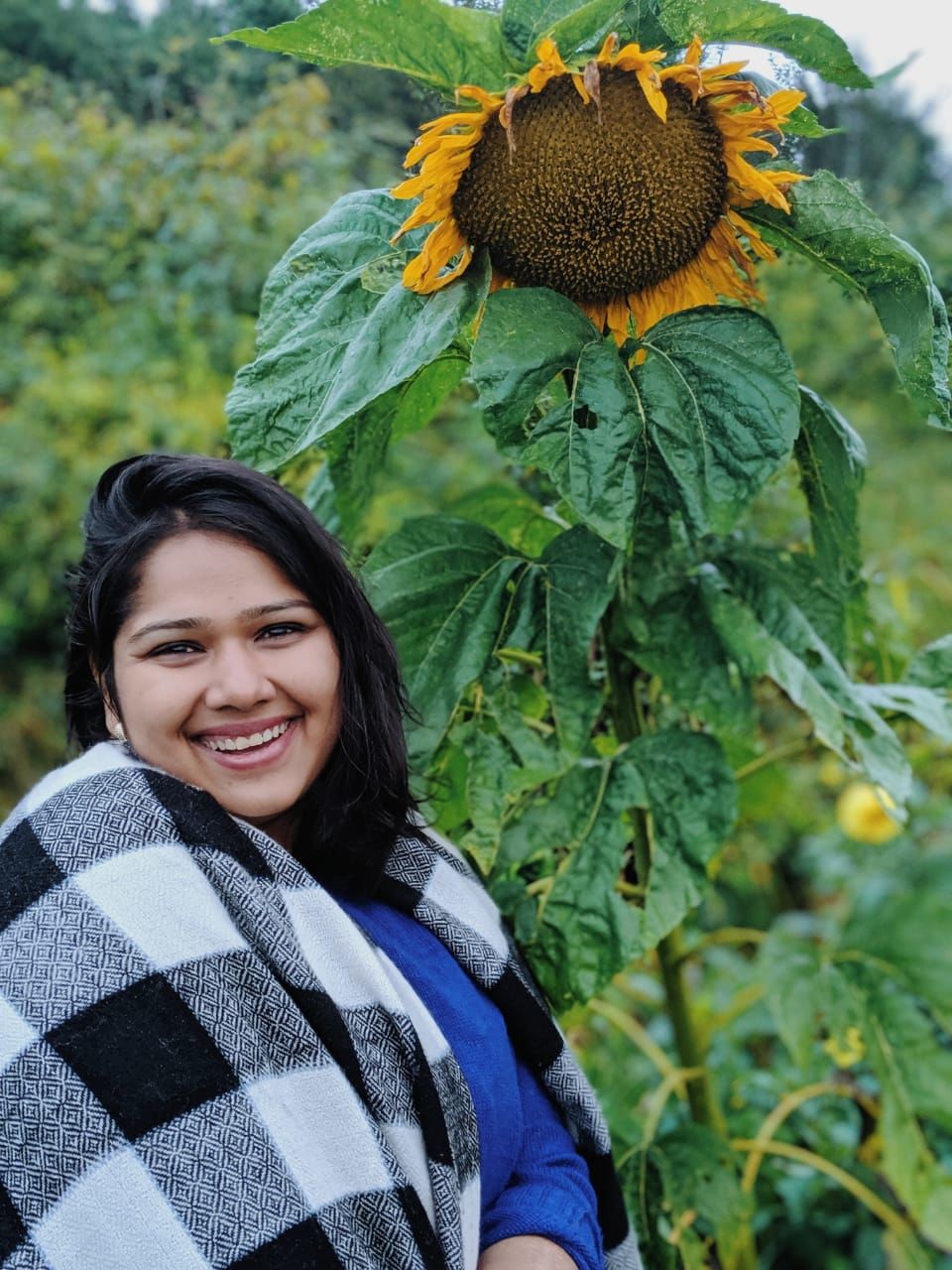 It started raining and they got me umbrellas, and then urged me to use the biggest umbrella of the lot. We then visited Anil's house where his father made hot cups of adrak wali chai for all of us.
Everybody I met on my way greeted me saying 'Namastey' and that's when it hit me, how the name of the hostel is so appropriate even though that's not how it was decided upon.
We sat inside his mud house and sipped our chais where Sanju helped Anil in his science project. It got dark and we headed back to Nama Stay.
All this while, there was no electricity, the weather was rather gloomy, yet the kids, without any inferior motive, went out of their way to make me feel homely. They asked me to stay for longer here or at least come back sooner and stay for at least a month or so.
Day 4:
It's my last day here, and it's 6 in the morning. I woke up with rather a heavy heart. I don't want to leave but duty calls!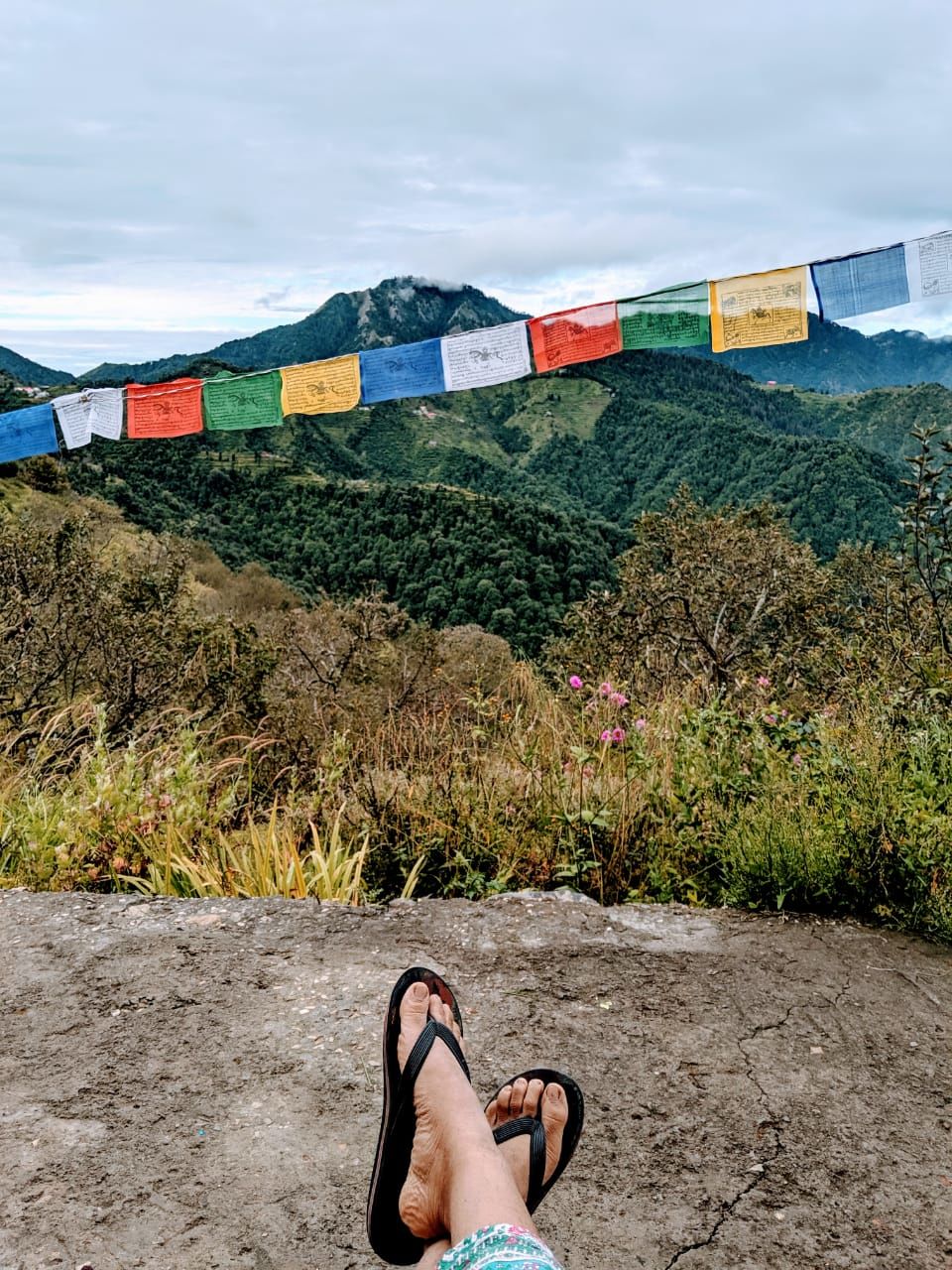 So, without me sobbing any further, I would simply say, if you are planning a trip to Kanatal, do make it a point to stay at Nama Stay for atleast a day or two. It will help you cut off from the digital world and will bring you the simple joys of life. Just come here and experience what we have forgotten in our busy city lives. Even though all my sight seeing places were kinda a big flop, I don't think I have any regrets. This place is truly a charm, and trust me, you NEED to come here. And incase you are, here am I saying:
Aapki Yatra Mangalmay Ho!
If you have any questions, feel free to connect with me on Instagram at @alwaysalittleextra