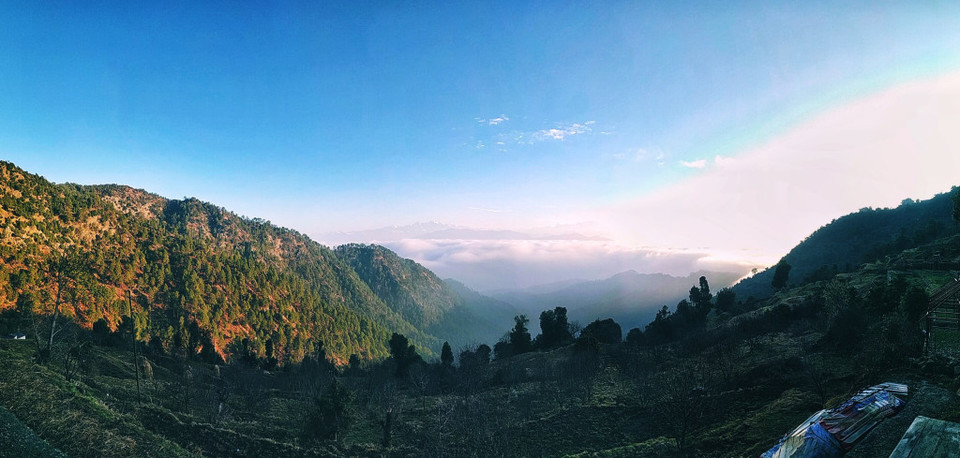 - PART ONE OF THE FIRST SOLO TRIP SERIES -
I am 21-years old, and one thing that I have checked off on my bucket list is taking a solo trip!! I have meant to make one for a while now, which obviously did not work out. I never thought it would happen this way (you will find out how), but I am glad it did, no matter what. This post focuses on the first leg of the trip.
I am in my final semester in college and being in design school, one needs to work on their Major Design Project or Thesis Project. Being an avid traveller, I wanted to work on Sustainable Tourism. During that process, I got in touch with an organisation ' Green People' that is working towards responsible tourism through one of their verticals, 'The Goat Villages'. We are so used to electricity, internet and products that are making our life more comfortable, but imagine sitting at a place where there are none of those available. That's what 'The Goat Villages' are about! Devoid of electricity, road, conventional comforts and zero spent on paid advertising, The Goat Villages is a conceptually new blend of eco, farm and rural tourism.
As part of the orientation programme, I was asked to travel to a three out of eight properties across Uttarakhand. The goal of this trip was to understand the organisation. I was in college when I got to know about this trip, I was practically bouncing at my desk! I couldn't believe it was going to be my first solo trip. I was nervous and excited at the same time. Though the itinerary shuffled a bit and figuring out local transport in Uttarakhand turned out to be a little tricky in the beginning. Still, I managed with a bit of help from family and friends.
First Leg of the Trip: Delhi-Rishikesh-Chamba-Kanatal
On the night of 26th February 2020, my first leg of the trip started from Maharana Pratap Inter-State Bus Terminal (Kashmere Gate ISBT) in Delhi where I took a Uttarakhand Roadways Volvo bus to Rishikesh. Thankfully, the seat next to me was empty, and I slept for a few hours. I reached Rishikesh at 4:10 am and had to take the first bus to Chamba, which left at 4:40 am, out of the city. These were the Tehri buses that operated in the Tehri Garhwal region. The bus was cramped, and with no place on the overhead compartment to keep my backpack, I had no option but to keep it near my legs. Damn, it was uncomfortable with the bus swinging us from side to side because of the hilly terrain.
I was in Chamba by 7:30 am and had no idea what to do next because one thing that definitely went wrong was the miscalculation of time. According to our calculation, I had to reach Chamba by 9ish in the morning and take a shared taxi to Kanatal. But instead, I was standing in the middle of the chowk in Chamba bargaining with a taxi driver to take me to Kanatal at a reasonable price. Though, one thing that this whole experience taught me was that no matter how much we plan things to a tee, life always has its own plans for you!
Anyway, I spent Rs 500 on a private taxi instead of Rs 40 on a shared one. I would have had to wait for at least one and a half hours before I could get a shared taxi. It was very chilly in the morning, and the sun was finally up and shining on us on the way to Kanatal. Upon reaching the point where the taxi dropped me off on the main road, I had to hike down 800 m to reach the property, TGV Escape, Kanatal. Pradeep Uniyal, the manager, came to pick me up halfway on the walk down to the property. To my surprise, they had a guest, and I was happy I have a fellow traveller to explore around and interact with.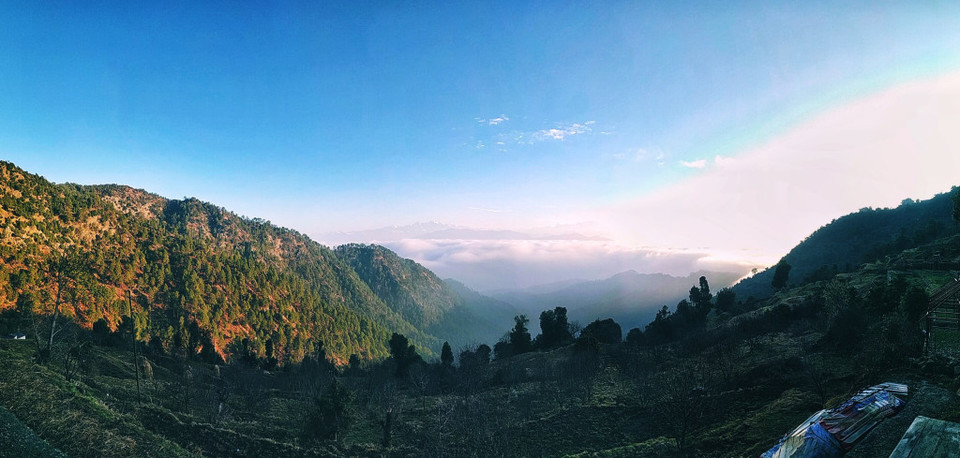 After breakfast the next day, I had all of the information I needed from Pradeep to head out to my next destination. I picked up my bags, thanked them for the excellent hospitality and waved goodbye before I started the hike up to the main road. I took a seat at the chai (tea) stall on the main road while I waited for a shared taxi to take me to my next destination.
There are some adventures and another first to my first solo trip which I want to share with you all! Stay Tuned for Part Two of the Solo Trip Series...New Day, New Adventures!
It would mean a lot to me if you could check out my blog! (thevaishsaga.wordpress.com) Happy Reading!
#lockdown
Frequent Searches Leading To This Page:-
Delhi to uttrakhand trips, weekend trip to uttrakhand from delhi, Kanatal trip from delhi, offbeat places near delhi, weekend trips from delhi
Aishwarya, the guest at the property, left right after breakfast the next day, and it felt like I had the whole place to myself. After a goodbye, I secured my spot back at the glasshouse while I worked on my laptop and read the novel. Time went by quite fast and even before I could realise it was time for lunch. The lunch menu for day three was White Rice, Potato Sabzi, Multi Millet Roti and Rajma. Right when I thought I couldn't eat anymore, Sandeep (the cook) placed a small bowl of Kheer (Rice Pudding) in front of me. I guess sleep comes pretty quickly when your tummy's full and hence the afternoon nap.
By the time evening rolled around, I was too lethargic to do anything. I switched on my laptop to binge-watch a random show I had downloaded on Netflix. Though I did not do anything as such during the whole day, I felt exhausted, and I was looking forward to the bonfire, dinner and finally get some more sleep. I interacted with Pradeep and Sandeep while we sat around the fire and then dinner. It felt nice to hear their experiences of their life and the work at The Goat Village. With the hope for a new adventure waiting for me the very next day, I packed up a little bit since it was my last night at Kanatal's Goat Village.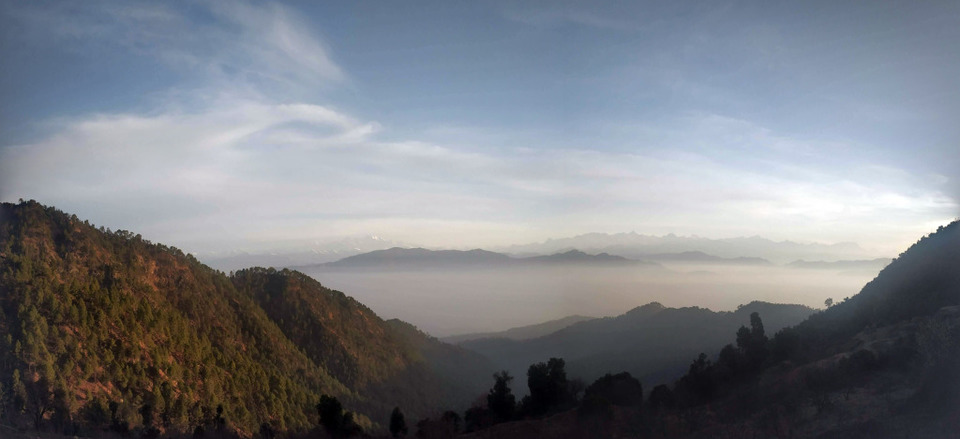 Once I reached the property, I freshened up to have a delicious breakfast which included Chilla (Spicy Pancakes) with Tomato-Onion Chutney, Porridge and Masala Chai. Aishwarya and I sat in the glasshouse to devour our breakfast before we decided that we wanted to head out and explore the village nearby. After a fulfilling breakfast, we head out down the 'Kuchha' road (dirt road) to Thangdar Village, which was about 1-2 km from the property. On our way, we met these bubbly 'Pahadi' women who were chatting and hiking up to their fields for the day's work. When they got to know we came from The Goat Village, they invited us to join them to their fields and see what they did. We immediately said yes because who would say no to an opportunity to interact with the locals. Well, I definitely wouldn't. They replied with a laugh, "aap gaon ghoom kar aao, humara khet bahut dur hai". (You should go and explore the village because our fields are very far.)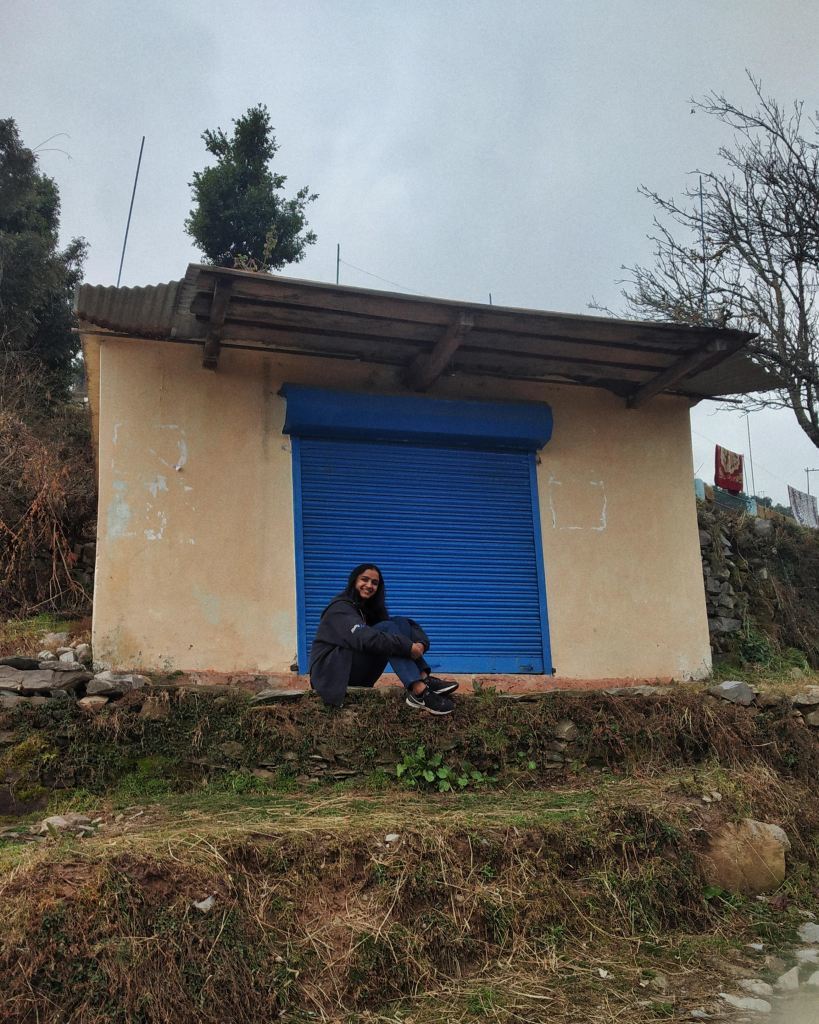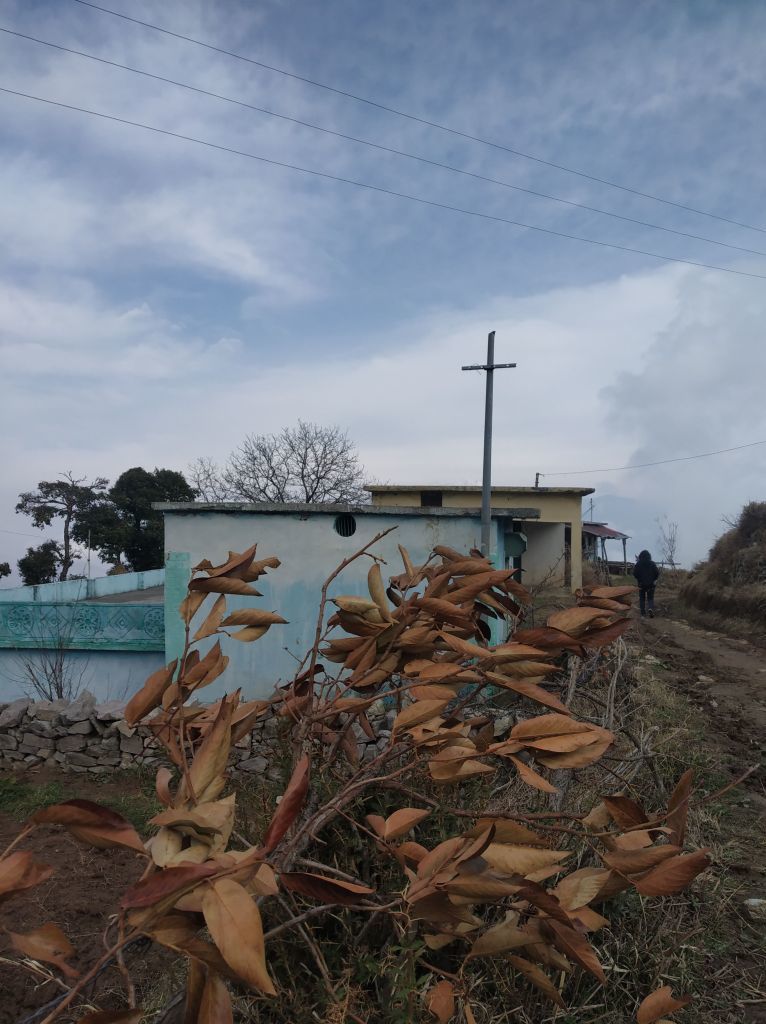 With that option gone down the drain, we continued our walk, while clicking pictures of the beautiful landscape. There was a small primary school where a bunch of kids were learning rhymes and a small shop with necessary supplies (I wondered how the supplies reached the shop). All I could hear was the chirping of birds and the sounds of cattle. It was so serene, and the landscape was preternaturally beautiful. I could have just sat on a rock for hours and do nothing at all but much to our dismay it started becoming cloudy. We started our walk back to the property since we did not want to get caught up in the rain. It took us some time to hike up, all thanks to my zero levels of fitness, I was exhausted with the lack of proper sleep the previous night. I hit the bed for a quick power nap before lunch. Since we were starving, lunch felt like it was even more delicious with Red Rice, Multi Millet Rotis, Dal and Sabzi. To top it all off, we had Gur (Jaggery) as the dessert.
The late afternoon and evening were spent in the glasshouse while I read 'Be Careful What You Wish For' by Jeffery Archer and a little bit of work which was assigned to me. Before it got too chilly, we quickly head up to our rooms to put on more layers while Pradeep and Sandeep were lighting up a bonfire for us. Thankfully, the clouds had cleared out, and we could catch the sunset. We just sat around the fire until it was time for dinner and we were desperately looking forward to hot food because of the cold, cold weather outside. That was just day two of the trip, and I pretty much slept the moment my head hit the pillow.