After a most wonderful time in Marseille, my friend and I hopped onto a train to Nice. By this time, I had come to love the train rides in France, for their picturesque views and their to-the-dot precision. A quick tip - always sit on the upper deck of the TGVs, they offer much better views which are an absolute treat.
Day 1 -
We reached by 9 am, and as our airbnb was not available for a checkin till noon, we dropped off our luggage at a hotel near the station (which, the kind lady from our airbnb had suggested), and walked our way towards the sea. Nice has an extremely relaxed feel to it, and something that makes it very English. Probably the large number of English visitors wearing straw hats and walking by the beach. We reached the promenade in about 20 minutes, and the scene that awaited us was most inviting; teal blue water, a wide pathway all along the beach where locals and tourists were busy running, cycling or skating, and a row a restaurants serving authentic French breakfast.
We walked along the promenade to Vieux Nice, the old town with narrow cobbled streets that unexpectedly open out into vast open spaces surrounded by cafes and eateries. We went there specifically to visit the Market on Cours Salaya. Being a sunday, the market was alive with vendors selling everything from tapenades, jams, Marseille soaps, fresh produce, beautiful flowers in pots, more types of cheese than I could count, freshly made food, meat and of course breads. There were even live artists painting while we watched. It was the best place to shop for goodies to take back home, and my backpack was soon filled with bottles of homemade jam (major confusion between peach, apricot, cherries and lemon, so bought them all), spice mixes for roasting chicken at home, olive and basil tapenade, pouches of lavender buds, soaps in funky tins, and some coasters.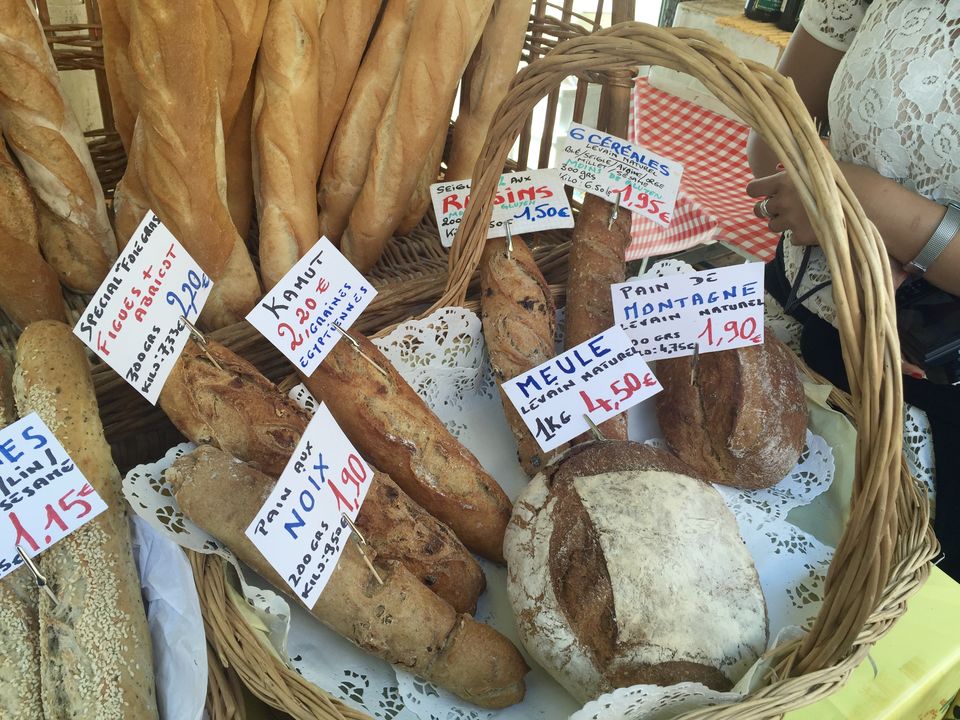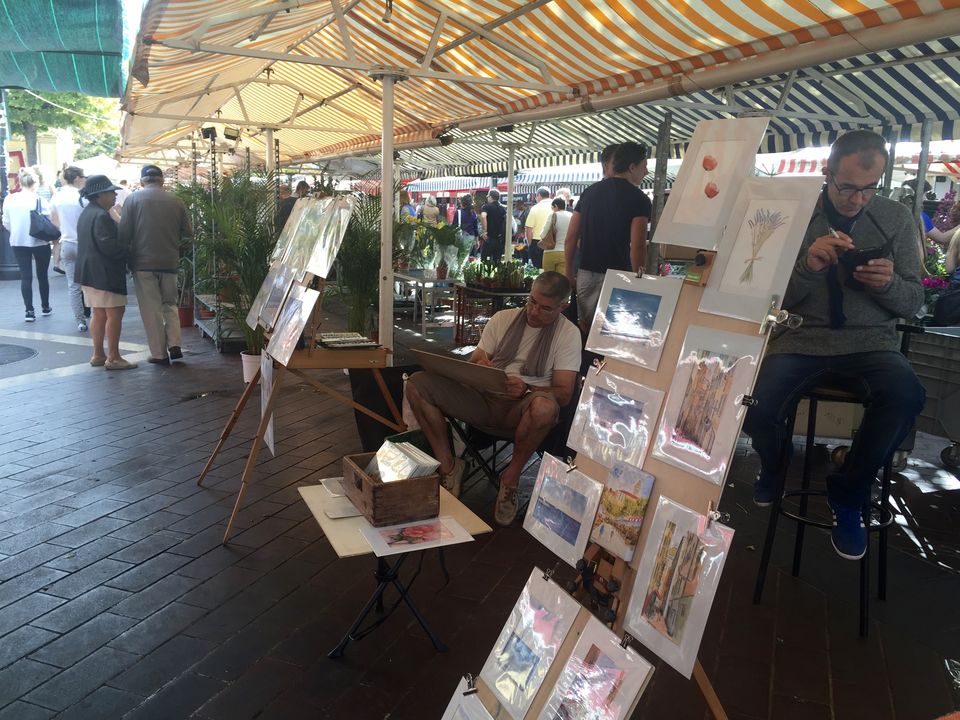 Our bags had gotten too heavy and we were starting to get hungry so we left the market in search of Rosettiserrie, a much recommended joint for roasted meats in Old Nice. Unfortunately, they were closed on Sundays, so we had to calm our famished stomachs in an Italian restaurant (which was definitely not the best choice), while we promised ourselves to return to Rosetisserie the next day. We walked over to Finnochio for an ice-cream after a meal of dry pasta, which sells some really interesting flavours like olive, tomato basil, cheese (yes, ice creams not pizzas!), jasmine, butter, chewing gum and beer amongst others. We were not in an experimental mood after the terrible meal, and settled for peach and lychee sorbet.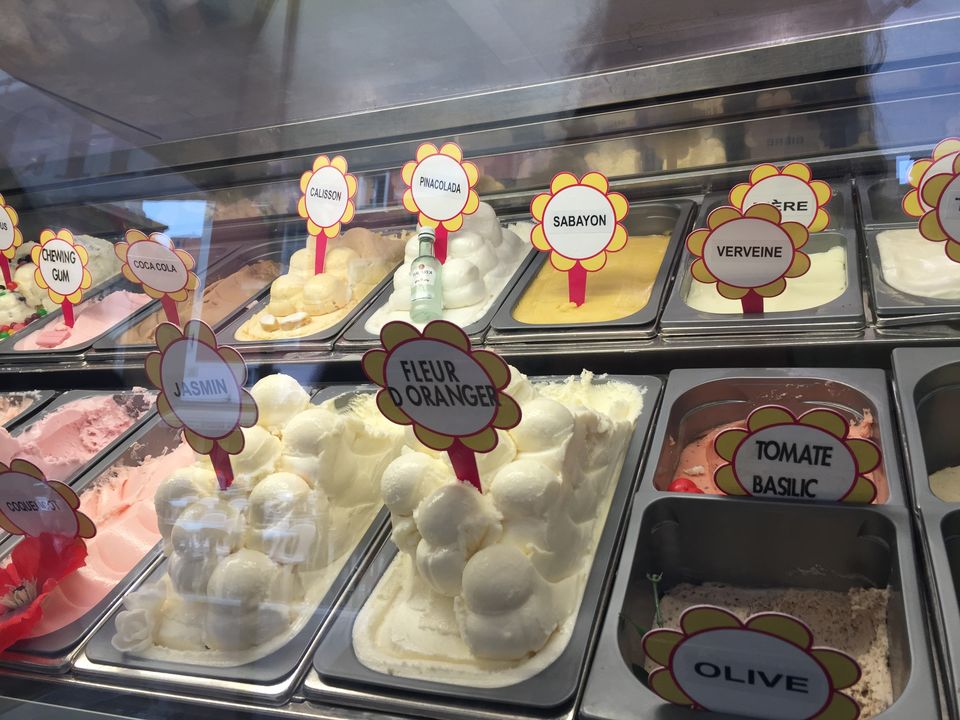 We then picked up our bags, and checked into the airbnb, which was an absolutely lovely apartment with an even lovelier host. After a couple of hours, we got dressed to visit Ruhl, a casino on the promenade (first time ever in a casino, we could not contain our excitement!). Once we entered, we realised there was nothing we could play there with our budget, apart from the slot machine, which also had instructions in French. What luck. We lost all our money in the first 10 minutes, and were lurking around watching others play for a while longer. As usual, we got hungry again. Two weeks into France, our south indian tongues were craving for some rice and some spice. We found a chinese restaurant after some effort, and feasted on shrimp spring rolls that we drowned in chilli sauce, steamed rice and chicken in curry gravy.
Day 2 -
After a breakfast of soft brioche slices slathered with butter, and jam or tapenade, we took a bus to Musee Massena, which is an old villa that has been restored as a museum showcasing the history of Nice. The museum itself is very interesting, not to mention the beautiful decor and well manicured gardens.
We walked to old Nice again, and finally got to eat at Rosettiserrie. For a fixed price of 16 euros, one can choose between a meat of their choice and roasted or mashed potatoes. along with a green salad. I had the roasted chicken with potatoes, and I must say it is worth visiting Nice just for this. It was a whole chicken, rubbed with magical spices and spit roasted, and the potatoes with the crispy skin were the perfect complement.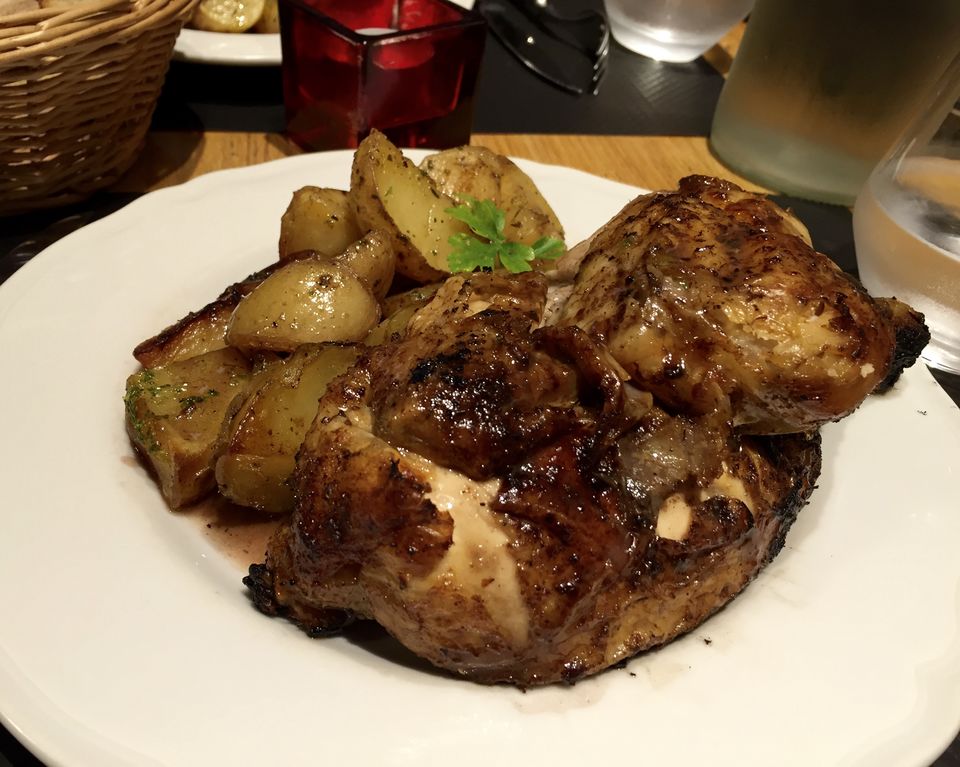 I would highly recommend eating here, unless you are vegetarian. We needed a walk after the heavy meal, and walked up to Castle Hill, which offers a striking view of the coastline.
Our next stop was the street across Place Massena, that has almost every brand that you would want to shop in - from Zara to H&M, and many local boutiques. After some impulsive shopping for wonderful smelling body products, we headed back to our airbnb as it had started to rain. In Nice, one can use public transport - both the bus and the tram to go around, it is cheap and very convenient. We bought a couple of croissants for dinner on our way back, and spent the rest of the evening lazing around in our now home, and planning our next day.
Day 3 -
We wanted to spend our next day outside of Nice, and our host gave us a whole range of options; a number of countryside villages, a rather beautiful island, other cities like Cannes and even a country - Monaco! In fact, our host used to work in Monaco and would travel to another country everyday (although less than an hour away). After a lot of deliberation, we decided to visit Biot, a town that was known for its glassworks and pottery. We caught a train in the morning, got off about 45 minutes later and waited for the bus to take us to the village. Biot, I must say, was an absolutely charming place. If the rest of the countryside is anything like this, I can more than happily spend the rest of my life in France's villages. The village is on a hill, with cobbled pathways leading the way and creepers covering the walls. They even had bridges across the roads connecting houses! On that day, there was an outdoor market selling all kinds of olive spreads, cheeses and food. We also got to visit a couple of glassware factories (read houses), and bought some really pretty jars to take back home.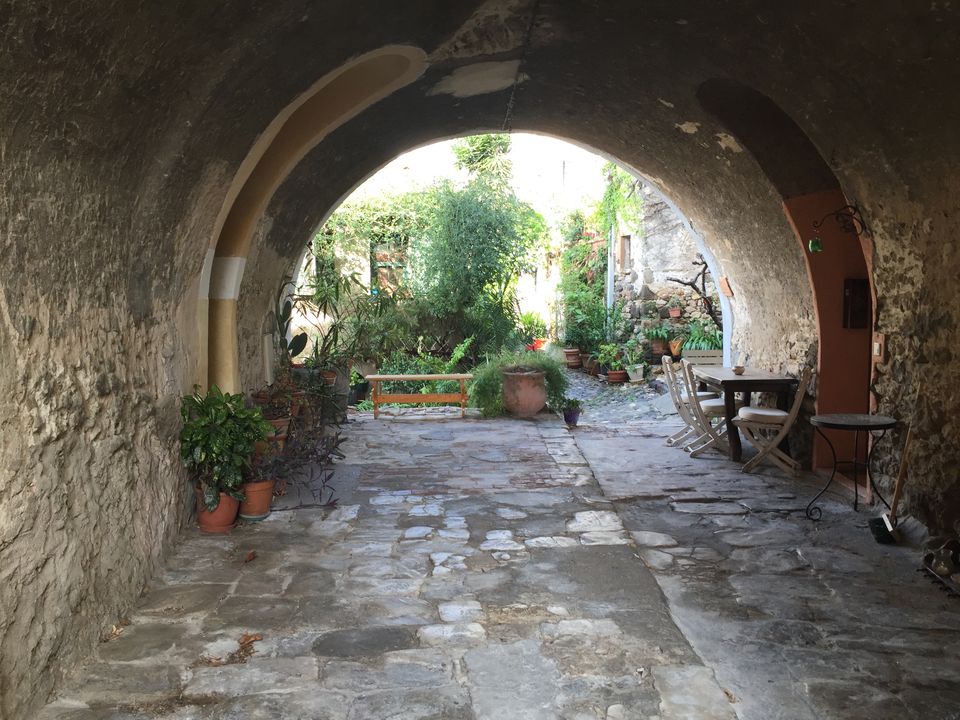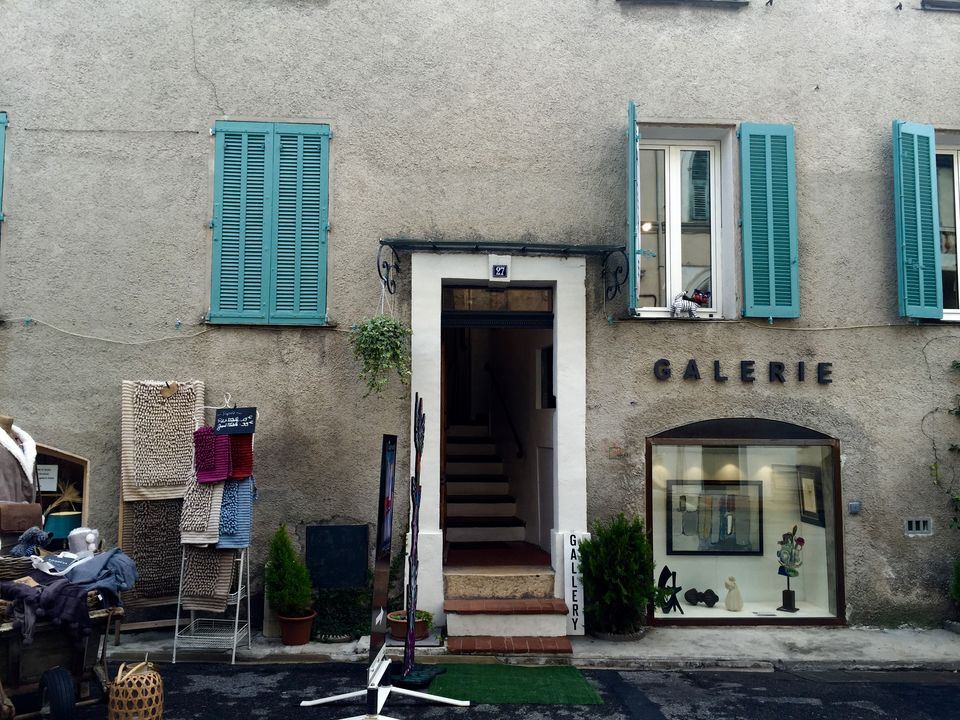 Biot is also where I had one of my finest meals in France. We had lunch at Creperie du Vieux Village. I ordered a cheese mushroom onion omelette, that had more cheese than egg, a dessert crepe with caremalized bananas, caramel sauce and salted caramel ice cream, topped with whipped cream (in my defense, I had walked for 3 hours straight before lunch) and a glass white wine. I must mention here, that the wine in France is something else altogether - tastes wonderful and makes you happy without feeling heavy.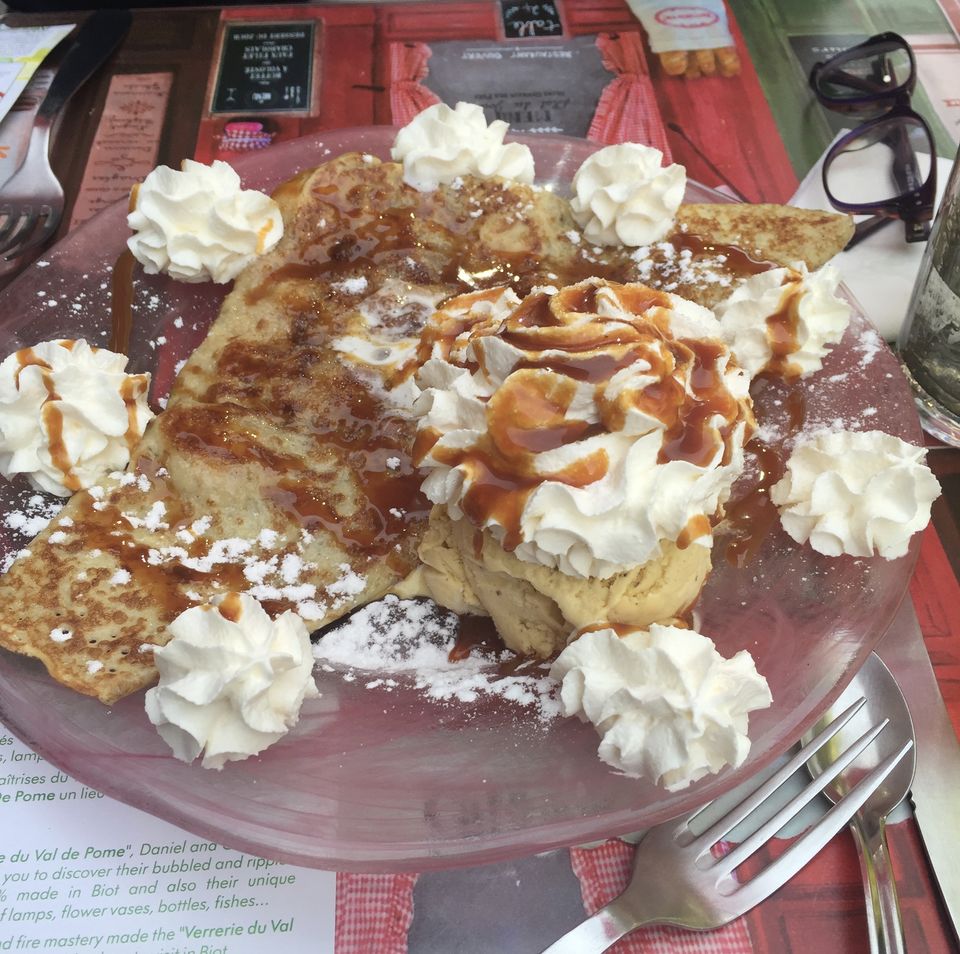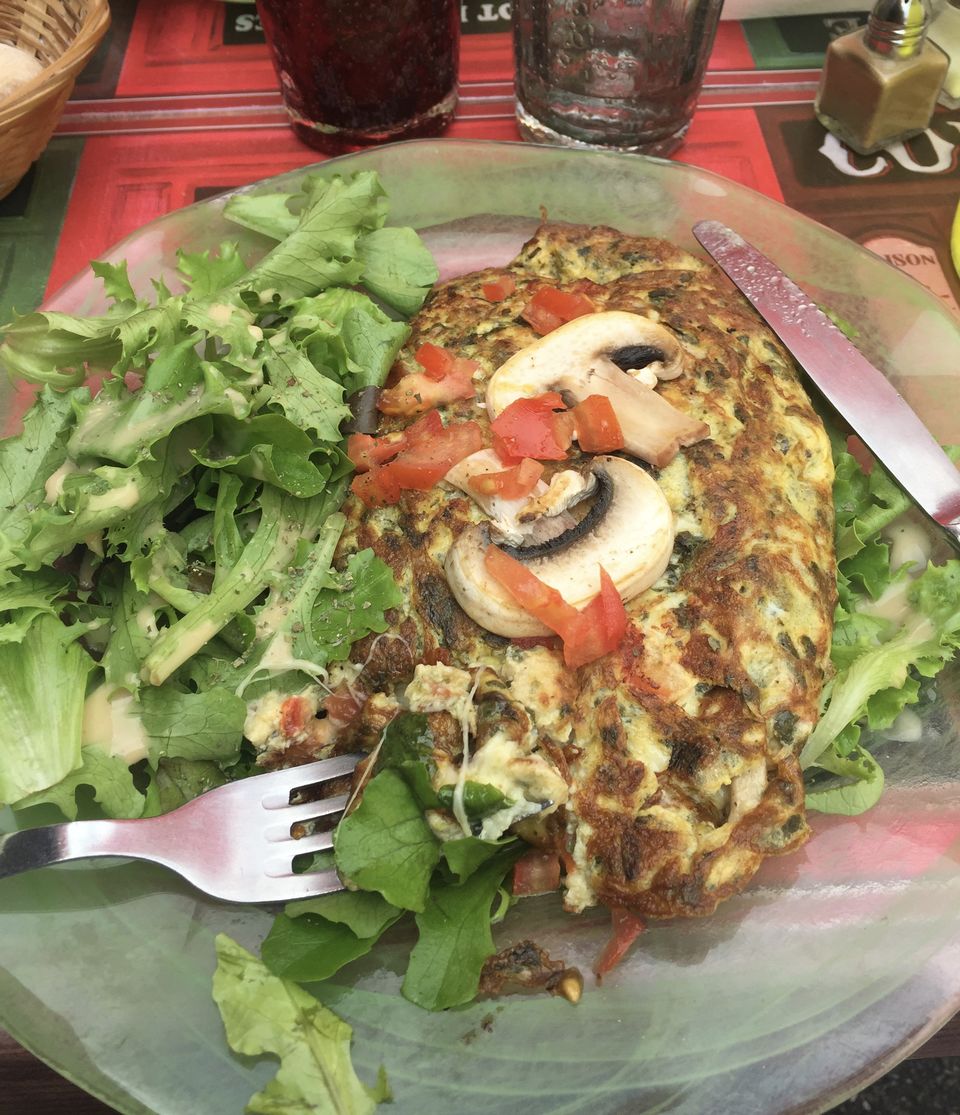 We took a train back to Nice in the eveing, spent our last few hours in the city by the Promenade and reluctantly took a bus back home. We has a train to Paris early next morning, and although sad about leaving Nice, we were excited to go back to Paris.