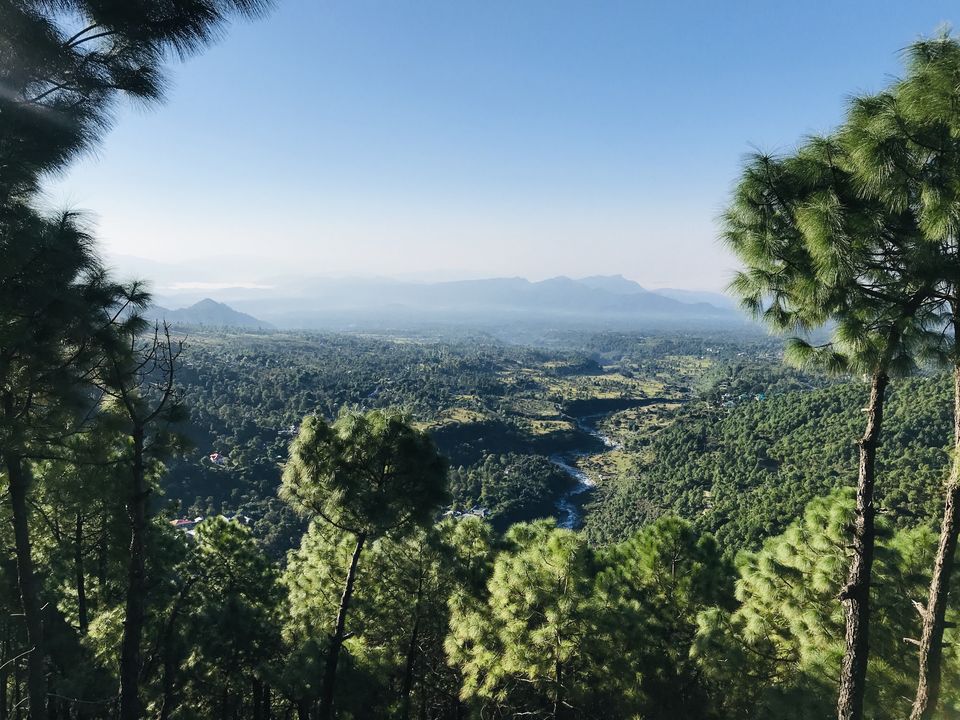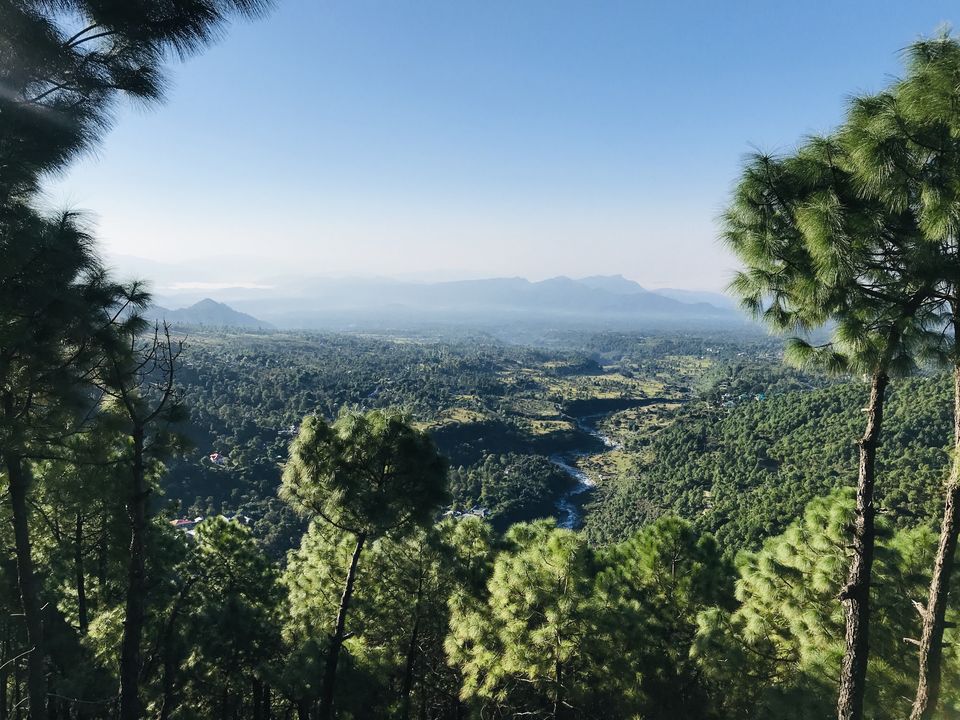 Palampur is a well known hill station that I am sure is quite popular among the tourists and travelers. However, the way we had traveled through this beautiful city is very different. Travel through experiences is a perfect way to go about finding the hidden gems even at the popular destinations. The colleague who guided with our Leh-Ladakh trip, was again the inspiration behind finding this perfect place for a long-weekend and make it one of our best travel experiences.
Palampur is one destination for which we can pack our bags anytime for a short break. It is well connected through the national highway and a very comfortable drive from Delhi. Thanks to the newly constructed highway after Roopnagar; the roads are very broad and smooth and even the traffic is quite less. Another best part about this road trip is that you can stop at any local dhaba and have a relaxing chai with warm welcome smiles by everyone.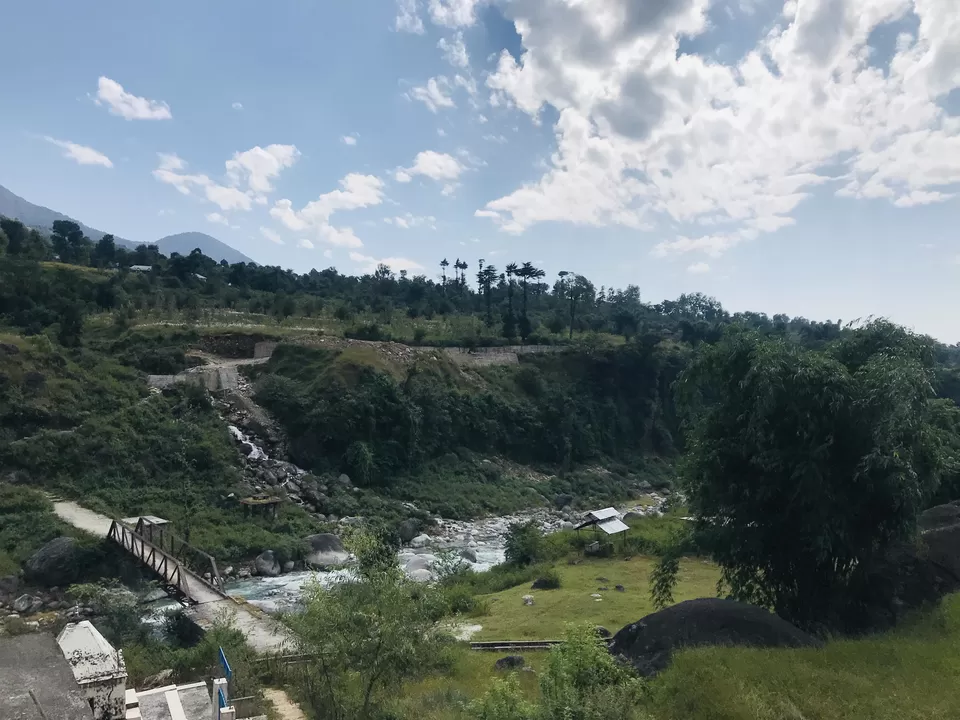 Unfortunately during this trip we were too busy enjoying the road side scenery and we missed at taking pictures of the journey. I have made a few videos and clicked some memorable photographs.
Moving onto this beautiful journey, when we started pretty early from Delhi. It must have been 4 am in the morning when we hit the road and seemed a pretty decent time to start as the traffic was very low in the city and the roads were squeaky clean. Delhi to Palampur is approximately a 10 hours drive, which we completed in about 13 hours because of our very special member of the family who requires constant stoppages at various hill side locations.
Since the journey begins pretty early, we made our first stop at Murthal for some tea and waking up exercise. Right next to Murthal is the first toll. I can't really remember the exact number of tolls we crossed, but rest assured there are quite a few on the way.
While we were driving to Palampur, the google maps took us from very different roads which were less traveled. I can say this because there weren't any buses but a few local cars who may know these roads through the hills.
After the twists and turns through hills, zig-zag roads, traffic jam of the mall road, crossing of the central city, we reached at the military area of Palampur. This defense location is a conduit between the main city and the beautiful village of Chandpur, where we made our abode for two wonderful days. The cantonment area is managed by the Gorkha regiment, so make sure you have your personal IDs and right address.

Chandpur is a very small, unseen village under the district of Palampur that has very less number of residences. There are 2-3 home-stays, which are not really operational and the one we chose to stay at was called The Earth House. I chose to give a facebook link since it can provide real - life images of this beautiful place and people's own experiences. Completely natural and nothing promotional.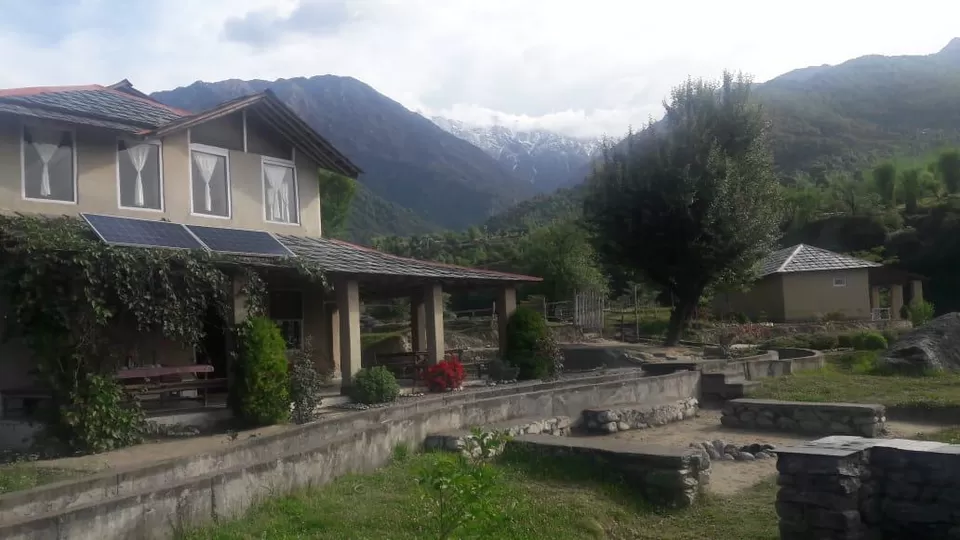 As the name suggests, Earth House is completely made of real earthy elements: soil, water, air and fire. This entire resort is built with mud mixed with hay, cow dung, and bamboos. Just like the olden days when our ancestors used to make the kacha homes, this is a complete replica of a nature's home. It has bamboo roofs, solar power electrical connections, river flowing by its side, bonfire and three lovely care takers: Pandit Ji, Udham Singh Ji and Jaswant.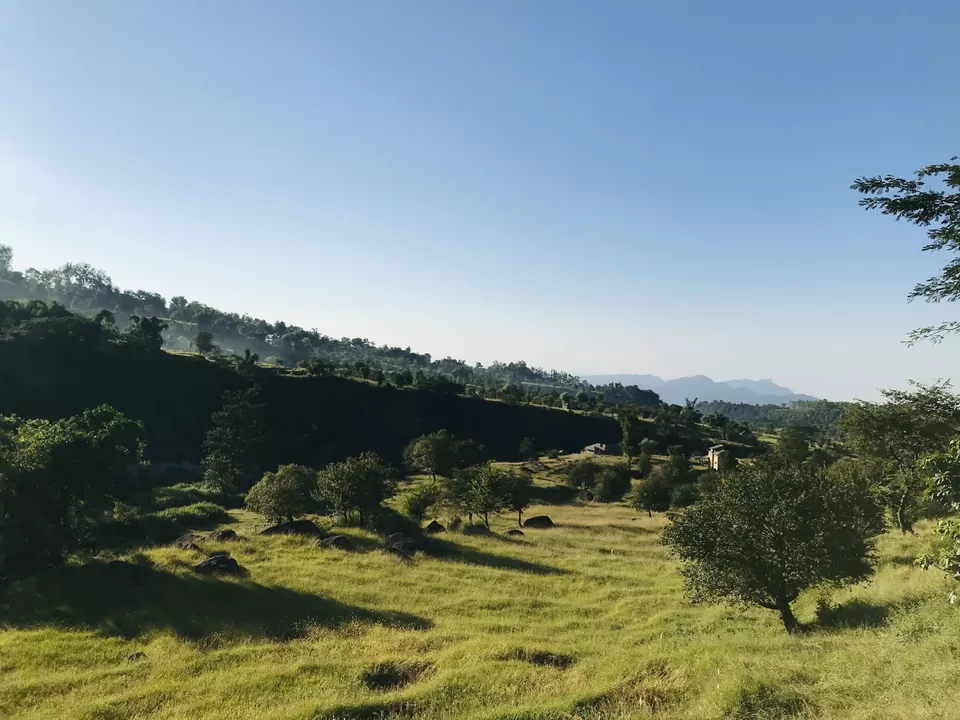 We reached around the evening time, so our wonderful host, Rohit welcomed us with a warm smile, hot chai and some delicious pakoras. This house is a home away from home in the hills. So to take care of all our needs, Pandit ji cooks fantastic meals and stays at the property only. Udham singh ji is like a local guide who can tell many stories and Yashwant lives nearby to make constant trips to the market. While we were there, these three musketeers ensured that we make the best of our stay and have a great experience at Earth House. To add further, I am even more grateful to them for taking such good care of our fur ball, Julie and made her comfortable in the best way possible.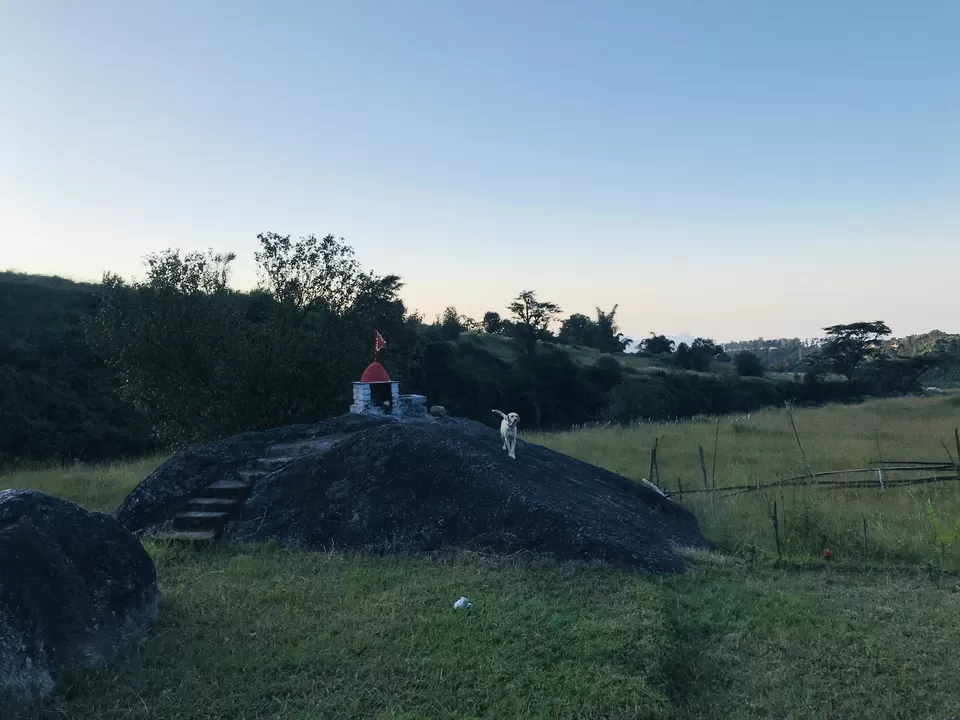 We closed the night with bonfire and some wine, exclusively offered by Rohit. We still thank him for being so kind and showing us how warm welcoming earth house and people of Himachal are.
After a sound sleep and a fresh start, we woke up to a slightly chilly morning that is impossible to feel in Delhi in the month of October. Waking up to birds' chirping in the midst of the valley is one of the best feelings in the world. We jumped out of the bed at 6 am to make the best of the sunrise moment. The view of rising sun in the hills is a 'never to be missed' sight. So we made sure to continue our metro routine of early morning start and get out to feel the rays of the morning star.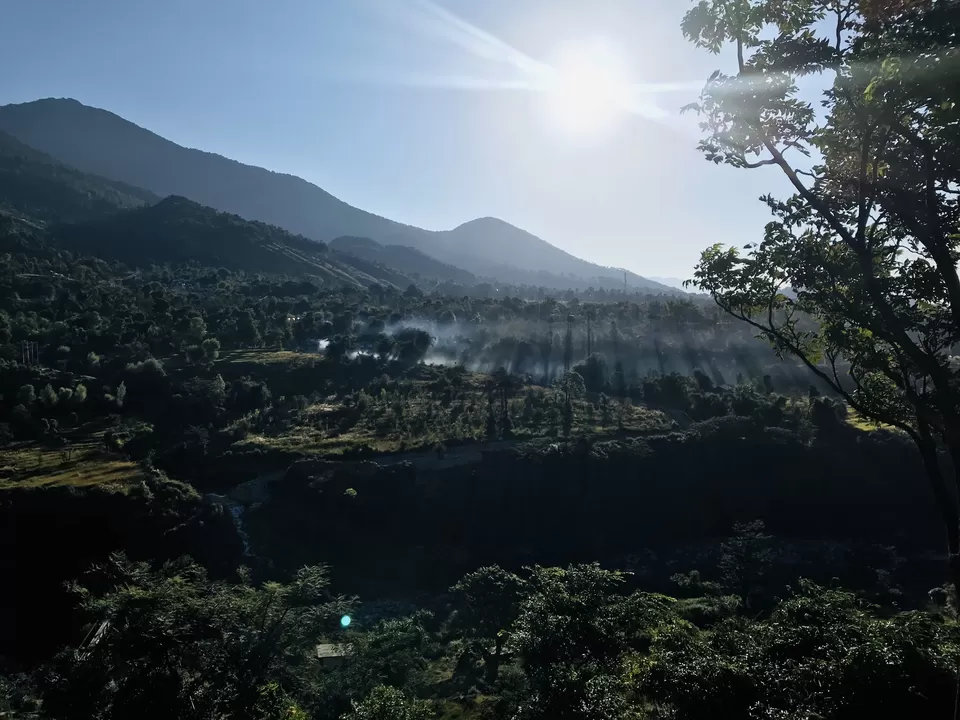 Another best thing about Earth House is that it is the only home in the valley and has a river along its side. The river is called 'Awah Khad' and it is a glacial river that originates from Waru Pass in HP.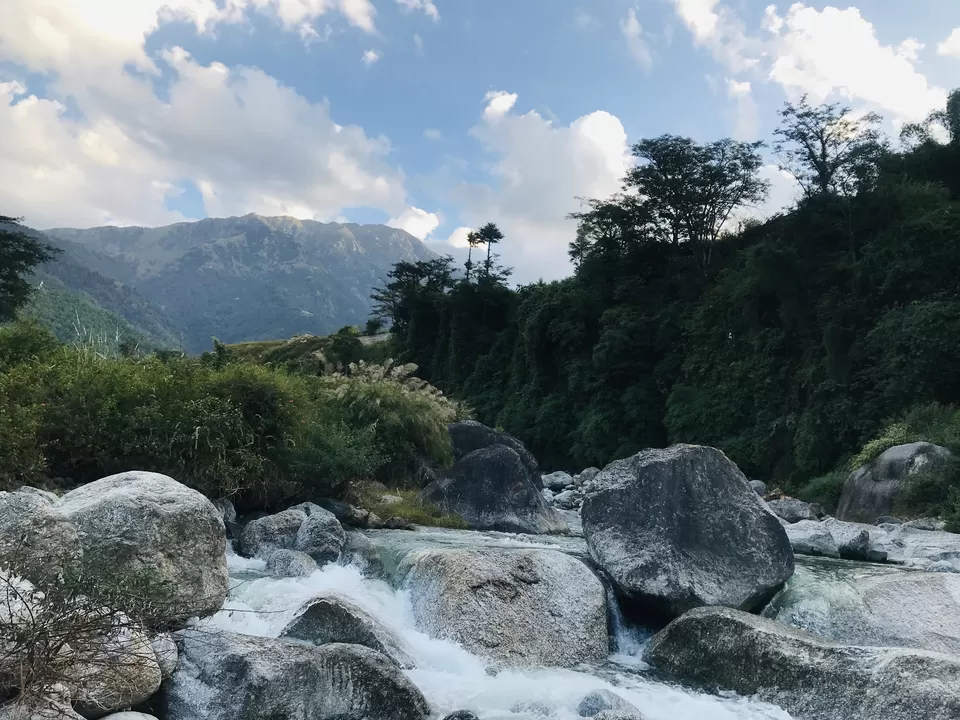 We walked down a few steps from the house and enjoyed the sound of the river flowing through the rocks.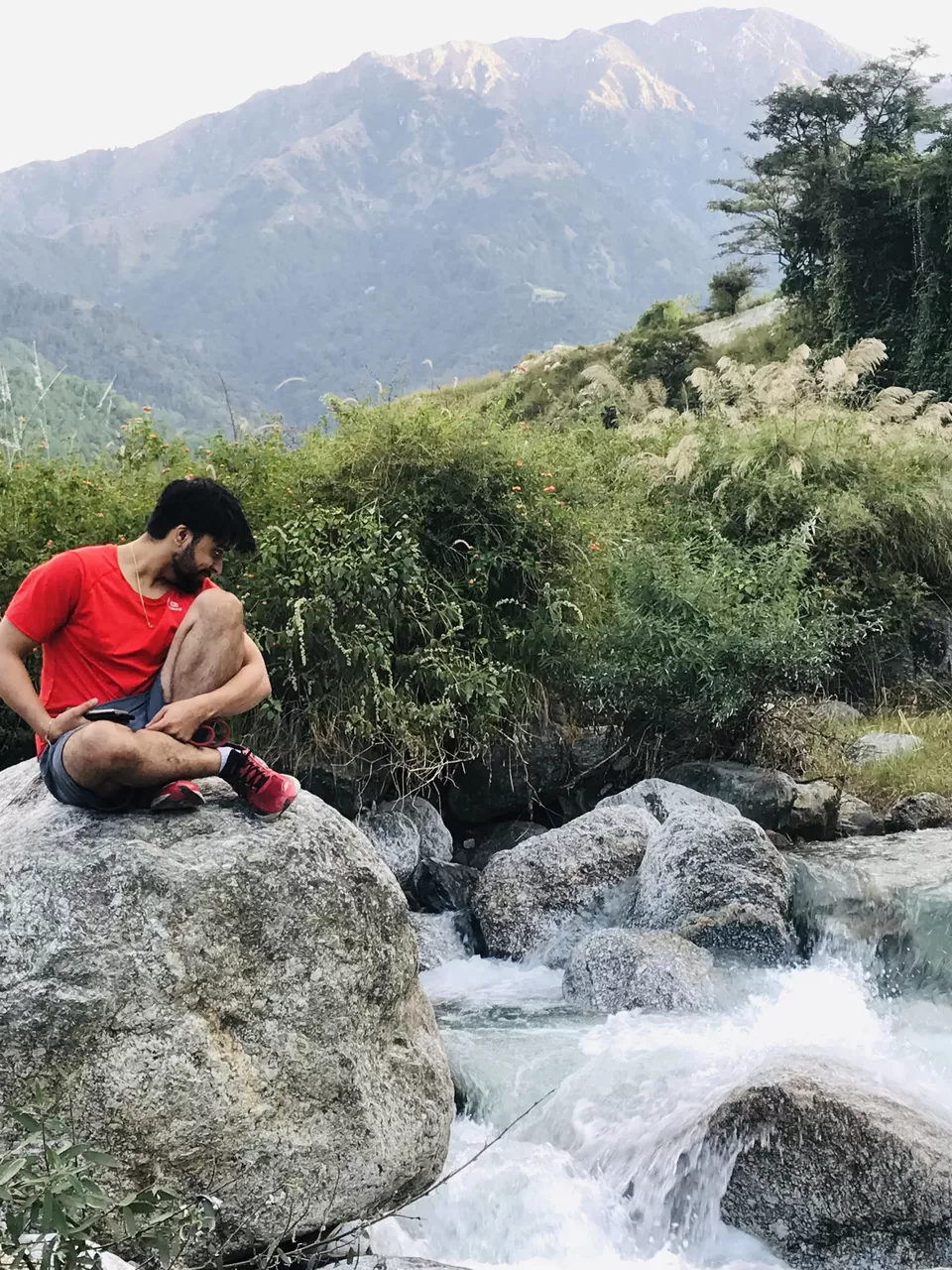 We didn't have the courage to get the foot reflexology by soaking our feet in the water. The water was so cold but instead, we decided to take a trek up-hill and intrude the nearby villages.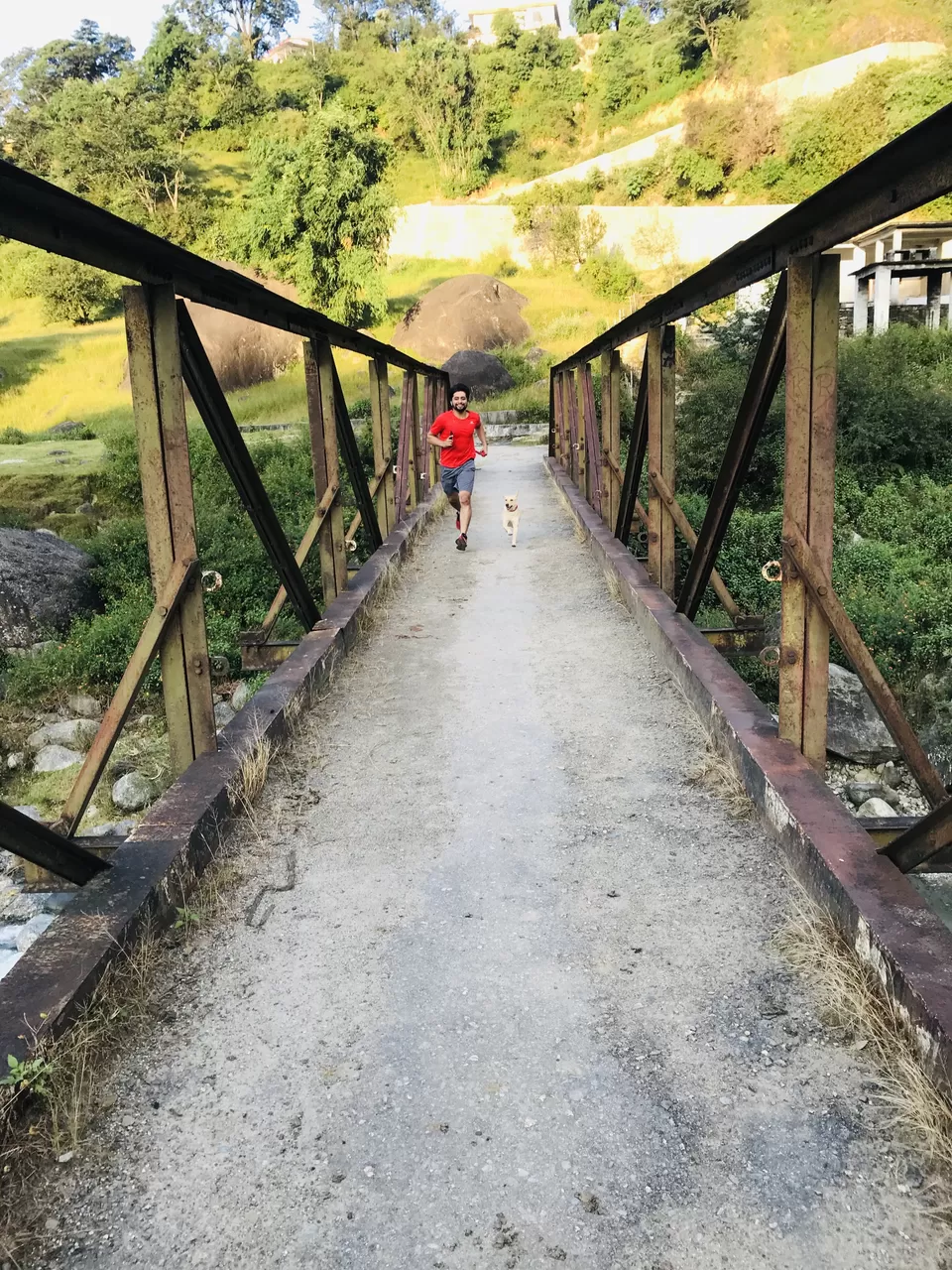 Parkash, Julie and I had a great early morning work-out. We crossed through the river, trekked for about 2 kms, jumped up and down the rocks and jogged through the bridge, which connects Chandpur valley to the opposite villages.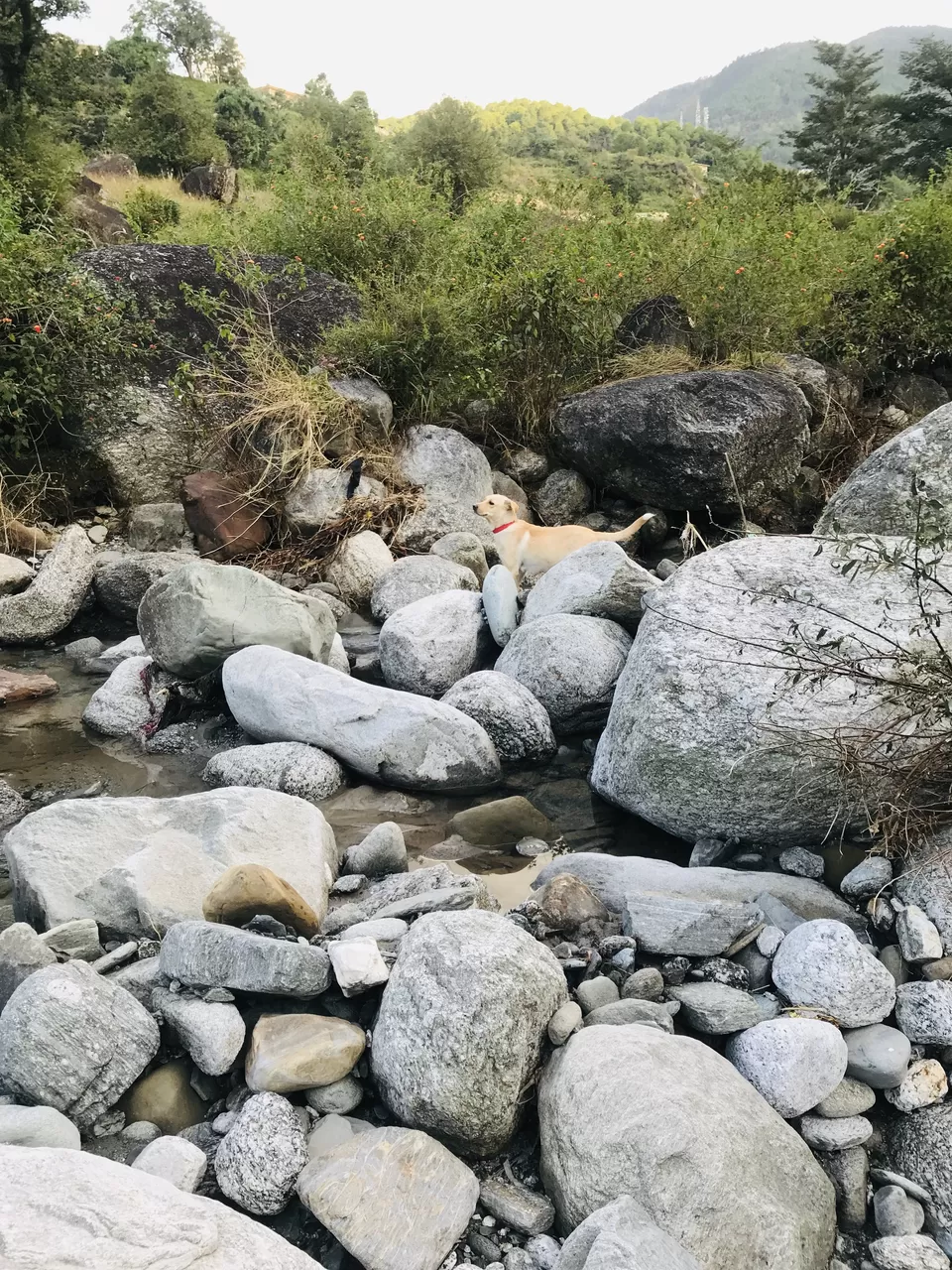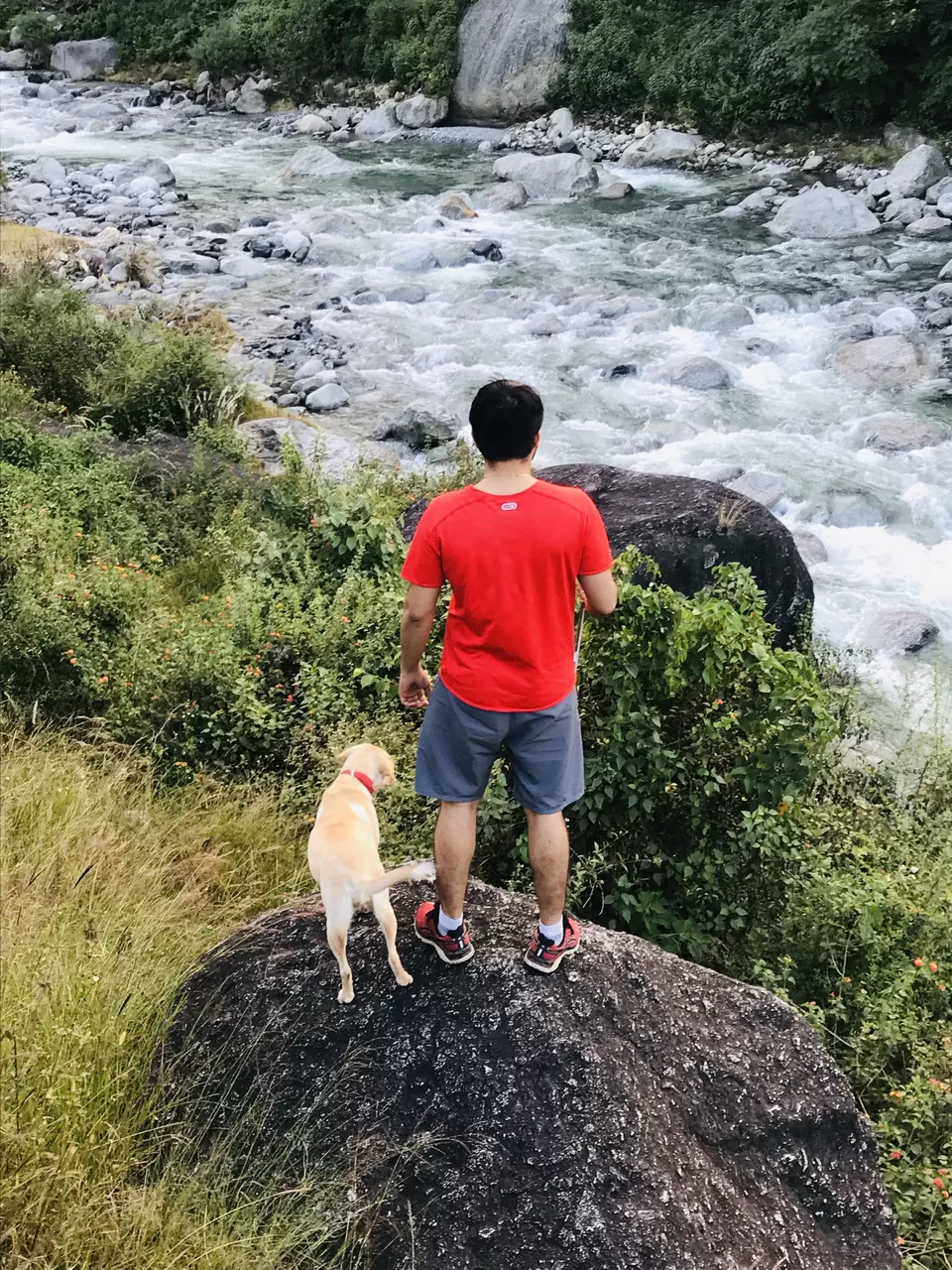 After a wonderful start, we planned to make our second day in Palampur even more adventurous. So, we made our way to Bir-Billing, one of the most famous paragliding sites in the world. It is quite obvious that if you are in Palampur then of course one will think of Bir-Billing only, so no surprises here.
Here I got it cleared that Bir is the site where we land and Billing is the higher-altitude site from where we take off. Geez! But again Rohit was very kind enough to accompany us and used his local connects to get us pass through the queues for paragliding. With this we made one check from our traveling bucket list.
It was a beautiful sunny day for paragliding and was full of people wanting to go for a flight. The reservation vendors take the people from Bir to Billing in their own Scorpios and the ride is super crazy. It was like that adventure SUV ride just the way they show it in the advertisements. We sat at the back of the car with our eyes shut and heart in the mouth. It was so thrilling and awesome!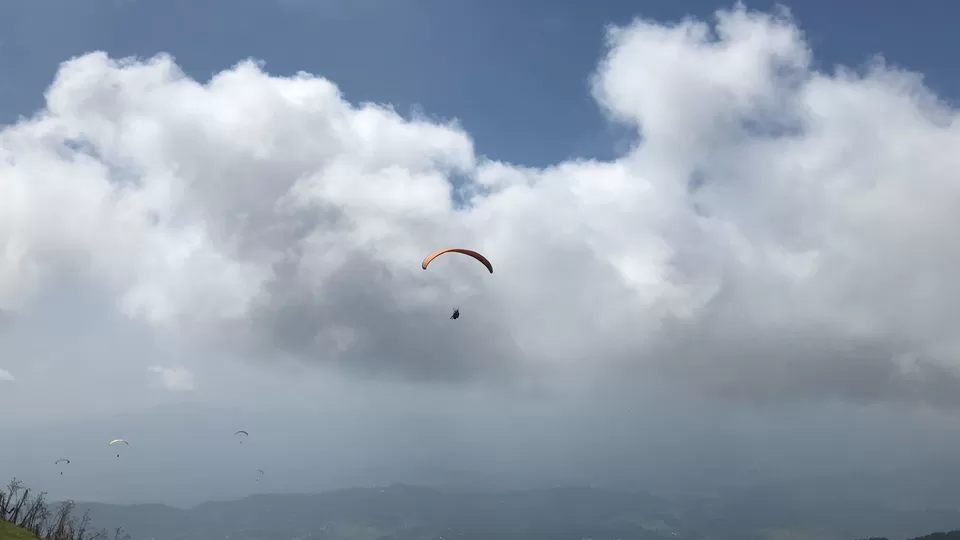 Luckily, Chandpur is an easily accessible hidden gem. After paragliding, when we were coming back to the house, we made two important halts. First one at the legendary Baijnath Temple, which has an interesting mythological story involving Lord Shiva, Ravana and Ganesha. It is a temple where the Shivling is established as the Ardhnarishwar. Another interesting thing about this town was that they never celebrate Dussehra in the usual traditional way and there aren't any shops of Goldsmiths. Second stop is at the momo shop right next to the Agricultural University (easily identifiable through the petrol pump on the opposite side). How can food be left out and that too momos?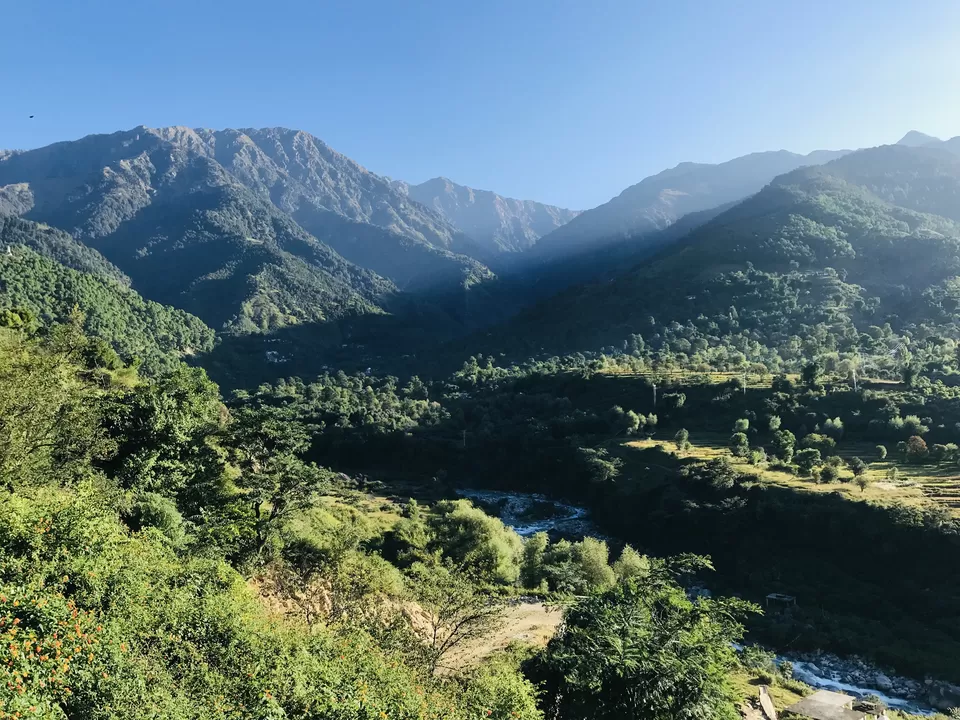 I have understood that any day in Palampur can be spent relaxing, shopping, chilling and my favorite, SLEEPING!! But why would one want to sleep here? The mesmerizing surroundings are breathtakingly beautiful that one can spend hours staring at the serene valley and listen to the sound of nature through birds, river flow, rustling leaves and passing wind.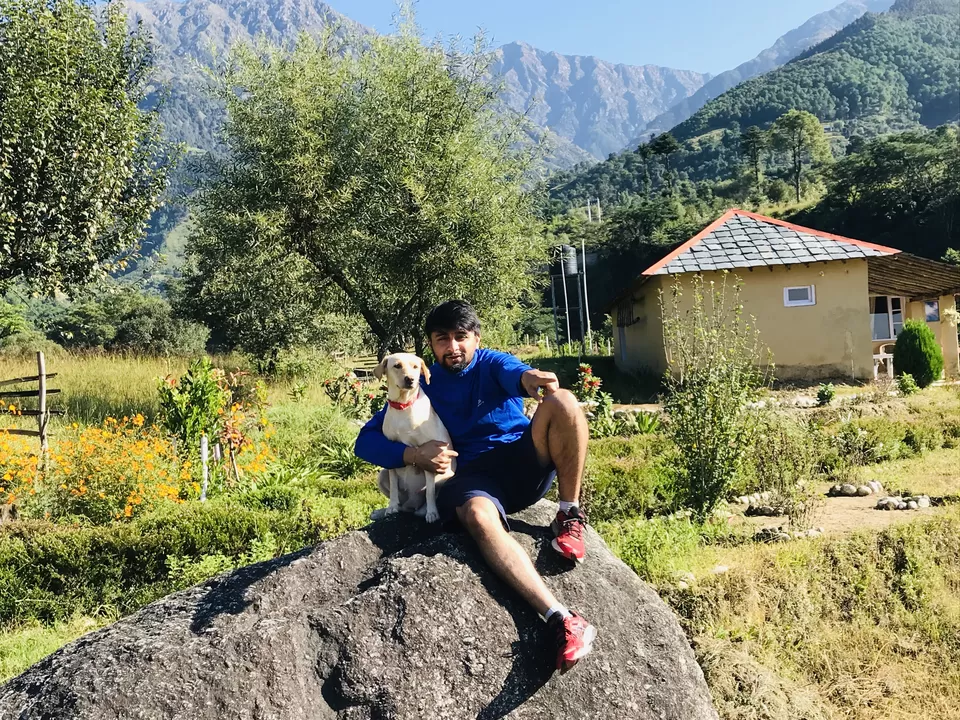 We began our third day with a trip to Jakhni Mata Temple. This also has an interesting story behind it. Jakhni Mata Temple is a Nav Durga temple, which is one of the Shakti Peeth and is considered as the Guardian of the village by the local people. The temple was built many years ago and is well-maintained till date. It also has beautiful carvings inside and is a very calm place to sit and meditate.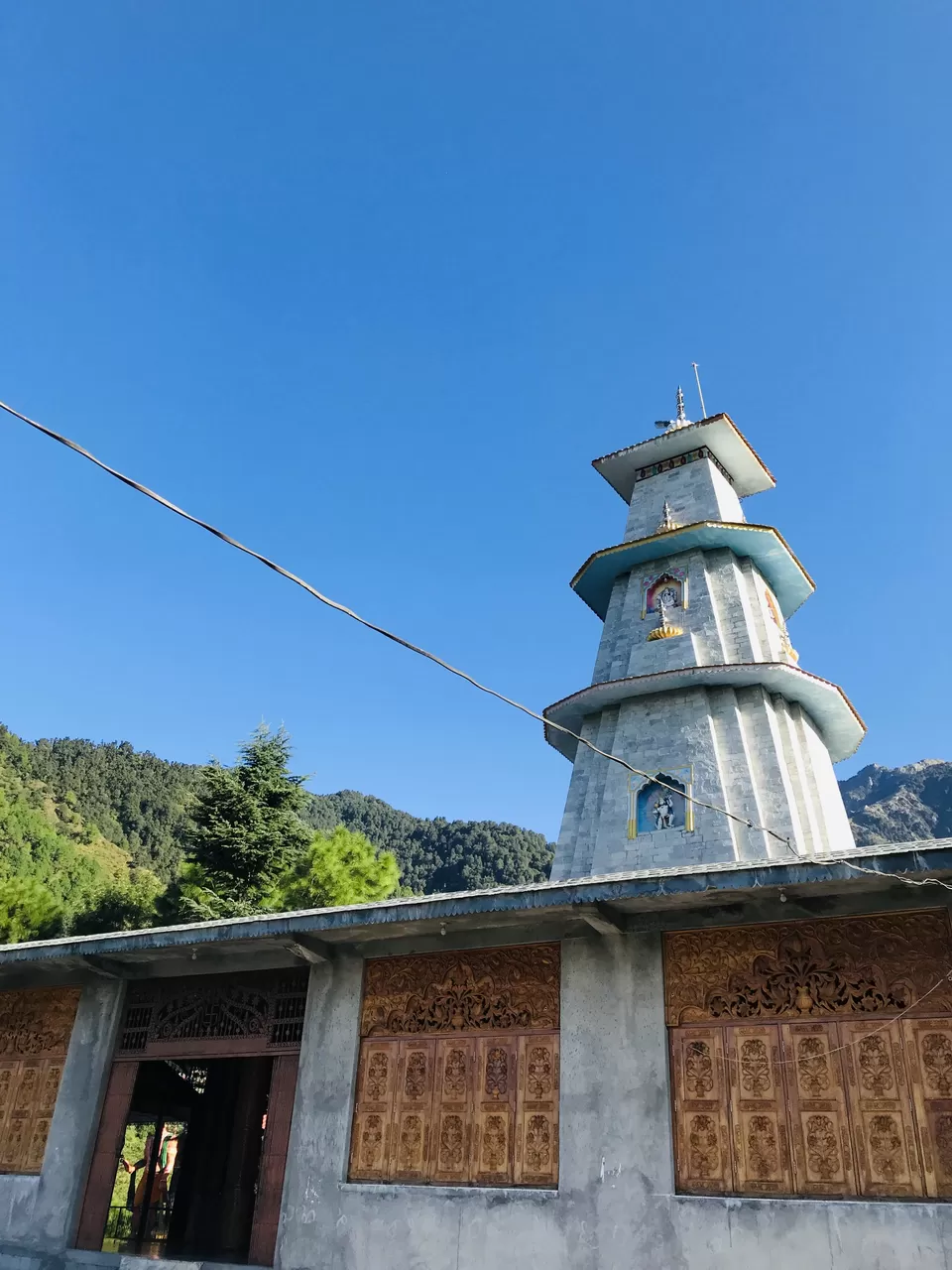 The road from the city also finishes at the temple.

This marked the end of our Palampur trip. We had our lunch, enjoyed the evening with bonfire, music, sumptuous food and hot tea. Next day, we left for Delhi - again pretty early - returned back to the hustle and bustle of the metropolis.