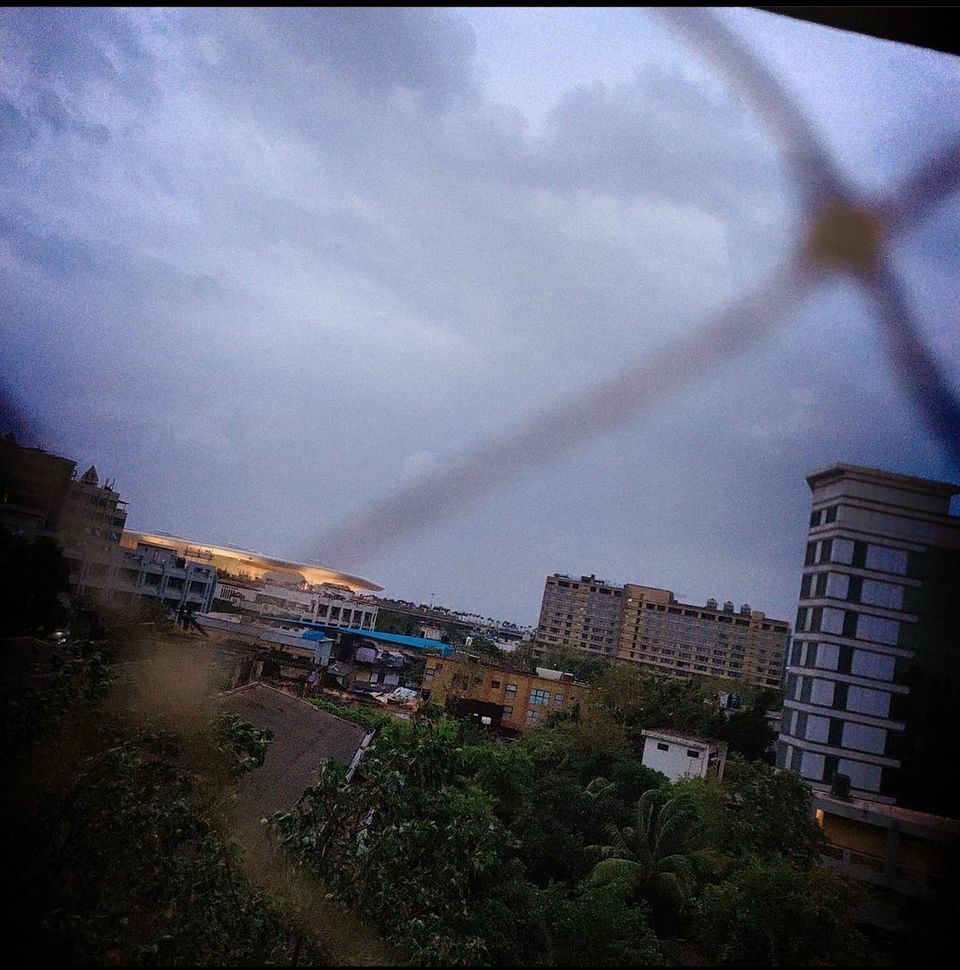 Located on the west side of India, Mumbai being on the spot, where cyclones, heavy to heavy rains pass, June to august is called as, monsoon month here. The nature offers more of barish with cool air, heavy drops of rain, which are severe and steady too.
This is my first encounter with Mumbai rains. My first view of cyclone Takutae, which caused lot of danger with hard blowing winds. After a gap of two weeks, started heavy rains, that today as I write so it is raining.
Mumbai is a city of dreams for many, it was known as Bombay, Kakamuchee, Galajunkja, Bombaim, boonbar, Manbai that today it is widely known as Mumbai, attributed to Goddess Mumbadevi who is a worshipping God of Koli community. 7 islands make this city, where inhabitants are from stone age era. It was ruled by Maurya empire, Magadha empire, Marathas that the last Indian ruler were the Gujarath sultanates.
Basically tropical, wet and dry climate prevail that this season is where south west monsoon sets in. A whole day of heavy rains, floods, while post monsoon is known as, lush period of Mumbai. The whole city looks washed and every plant sings, every tree dances.
Let me share a few things you should do during this season in Mumbai,
-Ready your mind for heavy downpours, steady rains and water logging.
-Carry an umbrella with you, for you might enjoy drop of rain covering your head.
-An ideal time to drive, provided you known where water doesn't clog that much.
-Eating hot chaats, biting chill icecreams, tasting Gola's is something you should do.
-Be what once rains stops everting is back to normal, so you could halt wait but move around as much as you want.
Unfortunately with pandemic, lockdown, restrictions around, here are a few things you could do from home.
-Watch the downpour, especially from a height you would capture picturesque views.
-Click pics as memory since I am basically chennaite, I could store memories of Mumbai rains.
-If wind is too hard keep the windows open to enjoy, blow of the winds.
-Cook lot of crunchy, munch, snacks which you could cook, eat hot facing the rains, coupled with steaming cup of coffee or tea.
Let us see, PLACES you could visit in Mumbai, during monsoon season.
-Marine drive is an ideal place to drive, to walk around the Necklace road munching vada pav or chaats.
-Carter road Bandra is a lovely spot which looks all the more lovely during rains. An ideal spot to click pics.
-Worli Sea face is ideal to drive, when it rains or drizzles but avoid going during heavy rains or when cyclone is predicted for sea water spills all over the bridge.
-Manori creek is a small silent village near Mumbai, where you could unite one with, nature during rains.
-Kanheri caves is a spot you could rest during the rains then try a small climb towards the hilly terrain and have a roam in Sanjay Gandhi national park trying to see birds what they do in the rain.
PLACES AROUND
There are lot of places around Mumbai to visit during monsoon period.
Panchgani- Called as adorable hill station located 244km away, rains give you breathtaking views.
Alibaug- A beach town, where you get to see abundant water, much beautiful 95km away, which is a weekend getaway too.
Kamshet- It is 16km away, where during rains, air is cool, surrounded by mist and fog.
Kolad- You should run your fingers through kundalika river, where river rafting is popular. With drizzle this place turns cold, imagine just after rains, how would this place be.
Matheran- Popular hill station, 83km away, oldest hill station, filled with quaint environment, that other than rain drops, you would smell the fresh air.
Igatpuri- It is a romantic spot, with lot of views, where rains leaves you spellbound, 120km away from Mumbai.
Malshej ghat- A beautiful mountain, filled with lot of fog just after rains, 154km away where you get to see lot of birds.
THINGS TO REMEMBER during Mumbai rains
-Since rains are heavy and continuous it is better to move out or go around when there is a drizzle.
-Rains usually last for 3 days it is better to keep a small stock of things at home
-There are variety, beautiful rain coats available to buy, shop for them.
-After rains, heat sultryness is a part of Mumbai, due to coastal weather, wearing mixed clothings is advisable.
RAIN FOOD of Mumbai
Coming of the last part of this article, let me share a few snacks you could try eating during the rains
-Pav bhaji - Bhaji stuffed between two buns, served with cheese or plain topping, had hot is a monsoon dish to taste.
-Kanda poha- An authentic Marathi dish, served with a dash of lemon, had piping hot on a rainy day, will make you say "Yum".
Pakoras - A fried snack made special on rainy days, which are crunchy.
Bhutta- It's a corn cab, rubbed with salt, masala that they are heavenly, on a rainy day.
Samosas- Nobody wants to miss this food, for they are yum served hot with gulag jamun. Many times dipped in channa, added to spices.
Sandwich- Be any cafe of Mumbai, they are toasted served hot, with unique stuffings, chutneys, that you would feel warm.
Soups- You should try sipping protein soup on a rainy day, along with soya fried snack which are very very crispy.
Cut chai- They are sold all over mumbai, along with biscuits or pavs which are a filler.
Green tea- An ideal beverage you could find at hotels or you could make one at hone. An appetiser for your stomach on a monsoon day.
Till date I have seen lot of rains on the eastern part of India, for my association with Bay of Bengal is more than Arabian Sea. Though I have witnessed rains in Bangalore, Mumbai rains are very heavy and a thorough downpour happens each time. According to me this is the first set of rains, I have visualise while many said "Four months dekho, baad me likho, kaisa Mumbai barish tae".