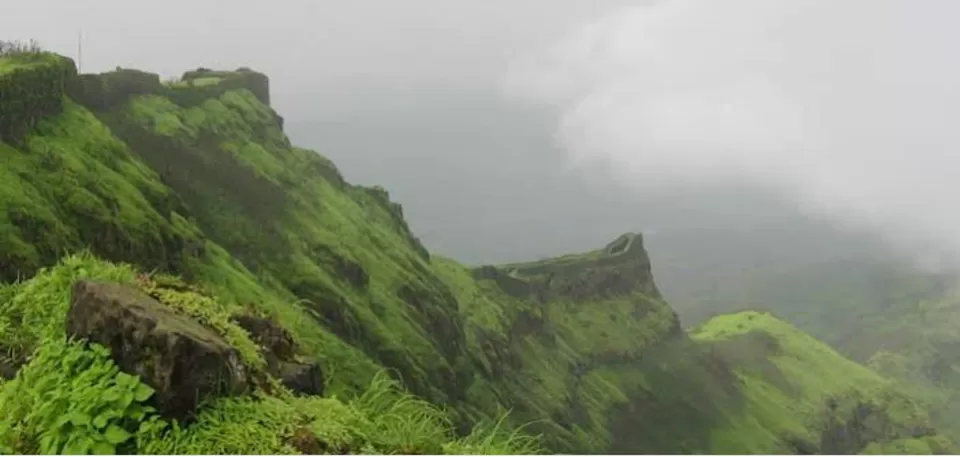 Finally Mumbai is going to bade goodbye to clear blue sky, glaring sun, sweat, hot warm air, and prepare itself for the first drop of rain. The best part of monsoons are cool drops of water, chill air, pools of waters, wet mud smell, drops of water hidden in the leaf, and lush greenery for rain brings out the best colour of nature. Mumbai rains are usually heavy which start with a downpour, followed by heavy to heavy rains, paving way for a monsoon traveller to pack his or her bag and start monsoon travel journey.
Monsoon treks give a unique feeling, for when you step out just after a rain, you wont miss the freshness, view of dancing trees, leaves and flowers. Of course you have to be very careful for your don't slip, and do a thorough weather check before you start your trek.
Here are some monsoon treks to explore from Mumbai-
1) Rajmachi Fort Trek
Nestled between Lonavala and Karjat, this trek offers some best scenic views especially during and after monsoons. Stargazing is the best part, while don't miss out on viewing fireflies which make the whole place glow.
Distance from Mumbai - 312 kms
Time taken - 6 hours
2) Kanheri caves trek
Surrounded by Buddhist shrines, this cave is 2000 years old. The trek stretch is 7kms where you get to see, viharas, chaityagrahas and podhis. Just after rains, this whole place is filled with abundant nature and cool water.
Distance from Mumbai- 30kms
Time taken - 1 and half hour
3) Korigad trek
Located on the enroute to Lonavala, Korigad is a hill fort. Being a beginner level trek, at 3000ft high, you are not short of lovely nature and city views during monsoons.
Distance from Mumbai- 105kms
Time taken - 2 and half hours
4) Tikona fort trek
Popularly known as Vitandgad at a height of 3700m high, with history from Buddhism era, monsoons leave mesmerising nature surroundings.
Distance from Mumbai - 119kms
Time taken - 2 and half hours
5) Kalsubai trek
Called as Everest of Maharashtra at 5400ft high, where panoramic views of the whole city and town is guaranteed, Barigaon is where the trek starts from. Night trek is the best part of this trek, while monsoons leave jaw dropping views.
Distance from Mumbai - 153kms
Time taken - 4 hours
6) Bhimashankar trek
Via shidi ghats, this trek is for nature lovers. Located at an altitude of 3050ft high, your eyes won't miss the lush meadows, khandas village greenery and fresh air just after rains.
Distance from Mumbai - 196kms
Time taken - 5 hours
7) Raireshwar fort
From Korle village the trek starts. There is a fort and a temple, that this spot is one of the popular historical spot of Maharashtra. Monsoons are usually misty, variety of lush green colour and abundant cool air.
Distance from Mumbai- 226kms
Time taken - 5 hours
When scorching heat comes to an end, every one of us love to welcome rain. Rain have always acted as rejuvenators because every cool drop brings coolness to the ground which raises and circulates cool air to the earth. It has always been an ideal month to trek, for everywhere drops of rain are seen along with touch of coolness and chillness.