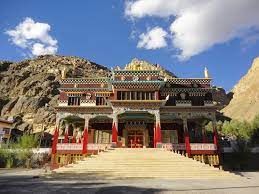 Sakya Tangyud Monastery is a well-known Spiti destination. It is located at an elevation of 4520 metres in the Komic settlement in Spiti Valley. It is well-known for being one of India's highest altitude gompas and a centre for Buddhist study amidst the magnificent scenery.
The monastery is located on the borders of the Kibber Wildlife Sanctuary & offers some of the valley's most breathtaking vistas.
The monastery is one of the must-see attractions in Spiti Valley, with fortified features painted with red ochre and mud walls. It is one of Spiti Valley's only two Sakya sect monasteries.