Shrikhand Kailash Yatra
''ShriKhand Kailash Darshan''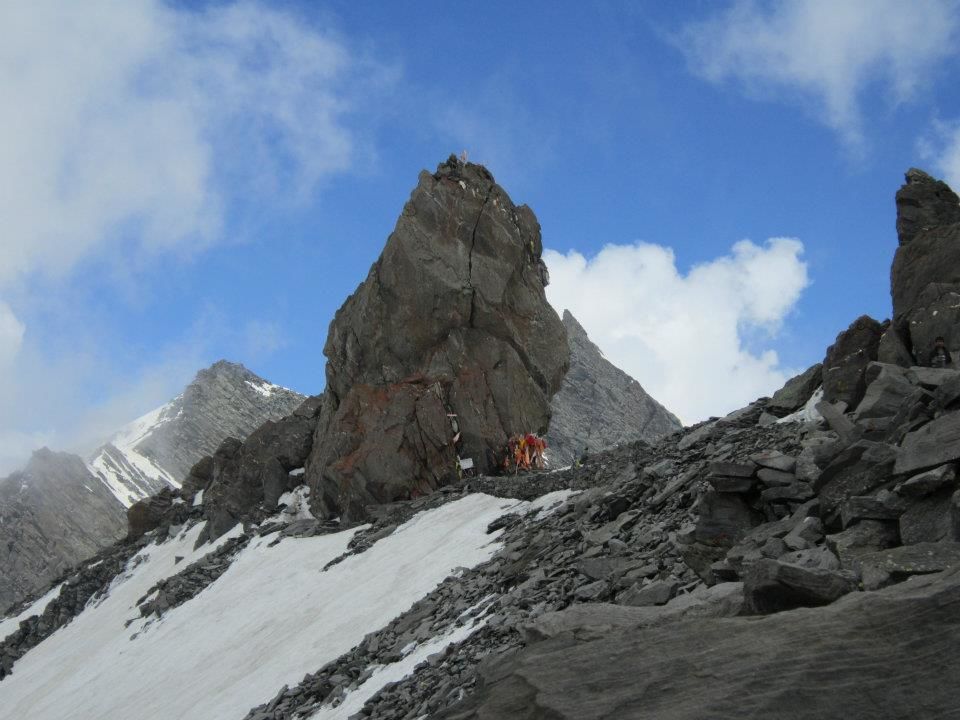 Shrikhand Mahadev is considered to be the abode of Lord Shiva. It is actually a pilgrimage place for Hindus. It is a place of great attraction for the religious people as well as for climbers. It is situated at 18500 feet above the sea level. Shrikhand is the situated at top of the mountain. Apparently as many as 5000 pilgrims visit this peak during the yatra, and yatra is normally done in July, so that would be a good time to give it a miss if one is looking for solitude of any kind.
Shrikhand Mahadev view is very beautiful to see. Shrikhand is always surrounding by Fog. The weather is always cold & climate is very awesome. It is usually undertaken to coincide with the Ashada Poornima or, full moon day of June to July as per the Vikrami calendar
History behind Shrikhand : According to the folklore there used to be a demon named Bhasmasur. He worshipped lord Shiva for many years. By seeing his dedication lord Shiva was so happy that he asked Bhasmasur to ask for anything. Bhasmasur asked for the power of burning any creature just by placing his hand on the head of the creature. Lord Shiva blessed him with the asked power. Bhasmasur became so proud of his power that he tried to burn lord Shiva. Then lord Shiva had to hide in a cave near Nirmand at Deo Dhank.
Lord Vishnu came to save Lord Shiva from the demon. Vishnu incarnated himself as Mohini a beautiful lady. She (Vishnu) asked the demon Bhasmasur to dance with her. Bhasmasur was so much mesmerised with the beauty of Mohini that he could not resist himself from dancing with Mohini. Mohini cleverly got Bhasmasur to place his hand on his head and Bhasmasur turned into ashes. Just after Bhasmasur burned all the God's reached Deo Dhank to look up lord Shiva. They found Lord Shiva detained under the web in the cave. It was very difficult to release lord Shiva from there. So Lord Shiva used a secret route and emerged as Shakti Roop at Shrikhand Mountain from cave at Dev Dhank.
When lord Shiva was getting out from Srikhand Mountain, there were a great blast and only the present Srikhand Shivling remains. On the way to Srikhand top you can find out big boulders that look like as the part of any big mountain. At Srikhand there is main peak (Shivlinga) dedicated to lord Shiva. Just opposite to it another big stones are known as Goddess Parvati and Lord Ganesh. Just behind the Srikhand peak there is a peak known as Kartikeya Parvat.
if u are looking forward to spend some time in the lap of calm and serene nature,
feel free to contact for a unforgettable trip to Kailash with us.
Contact : +919882069693, +918679784333
Package Includes:-
• Pick-up from Shimla (Shairing cab).
• Drop at Shimla.
• Budgeted Hotel in Shimla.
• Camps (Sharing Camp).
• Sleeping bags.
• All meals during the trek (Breakfast, lunch and dinner, only veg).
• Guide.
• Potters.
• Kitchen staff.
• Full medical kit with Oxygen Cylinder.
• Permission for the trek.
Note-
Shrikhand is not an easy summit very difficult to climb, it resists at an altitude of more than 18,500 feet's above the sea level. it is estimated to be 36 kms continues climb for one side and 72 kms trek for both side (up and down), thousands of peoples come every year but 40 percent peoples failed to reach at top. Due to the lack of knowledge about the terrain 4 to 5 peoples are dying every yea r. Although the trek is very beautiful you will get each and every thing that a ideal trek should have villages, Rivelute, dense forest, high altitude medicinal herbs, Waterfalls, Glaciers, Lake, Moraines, etc.