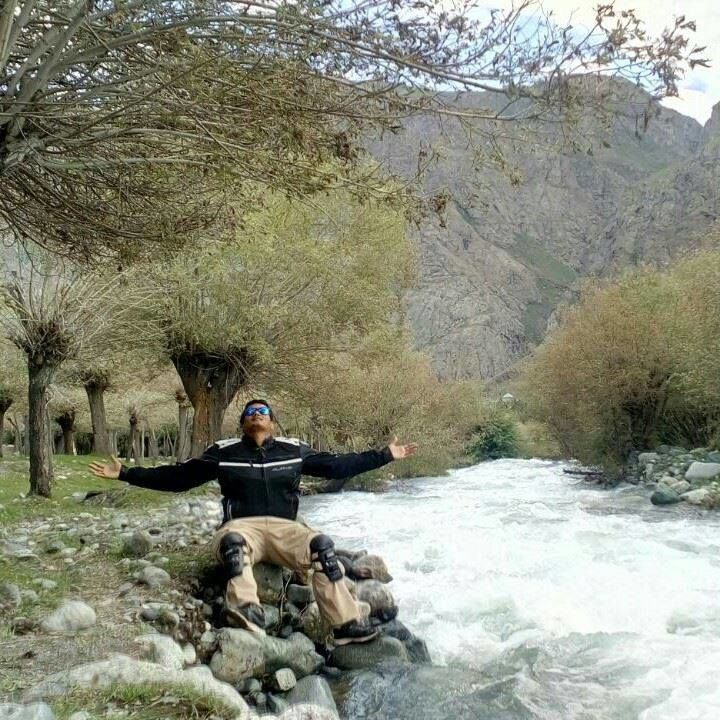 I woke up to the morning which was completely different from the ones I had throughout my life. I was about to wear a Rjays Canyon riding jacket instead of a tee, All-weather waterproof riding shoes instead of my Adidas one. When I was tightening the grip of my glove I felt like a warrior getting ready for the battle.
It was the year 2015,
I was in my mid twenties and like most of us at that age, I wanted to explore the whole world and started with my country INDIA. As I had covered south India in all possible ways, this time I was on my way up north. The plan was to have an adventures and fun filled ride to Jammu and Kashmir.
Some of my friends joined me for the ride. We decided to take the anti clockwise root - Delhi - Manali - Leh - Kargil - Shreenagar - Delhi, and cover all over the period of 15 days. We shopped for a month, packed our stuff and prepared our bikes. We made sure we send everything to Delhi a week in advance and start our ride from there with https://devilsonwheelz.com/.
For most of us, It was going to be the first visit to India's capital. Two and half hour flight from Bengaluru seemed quick as we spent time discussing how gamy the sandwich was and how costly the days have become. A sudden bump told us the landing gear was released, The flight reached an Indy speed as tires kissed the tarmac.
"Hold on to your seat, Wimp" Zuby used the opportunity to tease Shetty. As the speed began to decrease conversations stopped, everybody was eager to see their first sites of the city that sprawled over the west bank of the river Yamuna.
Dehli welcomed us with rain, I quite enjoyed driving through the big wide roads of a well-planned city. While looking at the big bungalows passing by it seemed as if everyone in there were millionaires. Streets weren't that busy, Footpaths looked clean, with the trees all along the road it was indeed the city of dreams. On top of everything, the fresh cool air made the journey pleasant.
After making ourselves comfortable at "Oyo Rooms" we used the whole day to prepare ourselves mentally for the ride, we had a briefing session on the road map, rules to follow, what to do and most importantly what not to do.
The Ride
Our first destination was Bilaspur which is 365 km from Delhi. The ride was fun, amazing roads no signals, nobody could stop us reaching the speeds we wanted to touch. By the time we reached Ambala most of us were hungry. We filled our stomachs with well cooked Punjabi parathas and continued our journey.
Manali: The place where "Alexander-The Great" stopped his march, was our second day's destination. The feeling you get when you cross the Manalsu River is awesome. With the snow-capped mountains around you, It feels as if you have entered a different world. I did not waste any time to call my friends Shetty and Juby to join me to roam around the town of Manali. It was a beautiful town where you get lots of fun roaming the streets. They are colorful and naturally refreshing. To add to that delicious dry jamoons, awesome collections of leather jackets make you feel great.
"Look at those honeymooners, Huh, Crazy!." Wondered Juby with her eyes wide open."Common don't be jealous, Just focus on finding the best restaurant Jubz." I made my intentions clear. Finally, we had a taste of old Manali and slept like a baby.
We reached the third day of our ride and this was the starting point of many adventures we did together. Everybody was excited because we were supposed to pass through "Pile of Corpses" the Rohtang. It is not particularly high or difficult to cross by Himalayan standards but it has a well-deserved reputation for being dangerous because of unpredictable snowstorms and blizzards.
For my FZ 16 a 150 cc motorcycle meant for city rides, it was new experience. It had never climbed that height before . I had full confidence in my Nandi.

"Guys We are about to enter Ghats, Follow the instructions," one of the experienced riders told us.
Everything changed gradually as roads were not flat and straight anymore, Sky turned cloudy and dark, I could not hide under my dark visor much longer. The rain added more misery to it as hail storms were hitting my face directly now, I began to realize it was an adventure trip.
The journey was very unique, natural Himalayan water flowing down the mountains was the best I have ever tasted in my life. For the first time in my life, I saw the icebergs which felt like a huge slice of the white marble just sliding down on you. It was both fun and terrifying. We continued our ride and reached our next destination which was Keylong.
"This is the final point where you will find a service and Gas Station" our ride leader announced loudly. " Get your bike serviced after this you won't find anything, no fuel for your bike and no food in your stomach." He repeated.
All of us rushed to the gas station nearby and filled our tanks. We got some sleep and loaded ourselves with food and started our Fourth-day ride, our mission was to reach Rumste which is around 260 km from Keylong. Our actual roadmap was Jipsa - Durcha - Zingzingbar - Barlalcha pas - Bharatpur - Sarchu - Pang - Rumste.
By this time we had already forgotten what day it was, we were not in touch with our family friends, work and culture. It was as if we were new to the world and our memories are rebooted. Our only mission was to reach Rumste.
To be honest, this is where all started, we knew it was not an easy ride but were somewhat confident to cover 260 km in one day. We got up early in the morning and moved aggressively as we wanted to cross the "Pagal Nala". We knew that it is a nightmare to cross it during the afternoon as the river will be deep and forceful.
I was the first one to cross the Nala. It was not my courage which made me do that, it was my fear. Everyone else there had a Royal Enfield and with the power, it has they can easily cross it, Whereas with my Fz it was difficult, I did not want to be left alone on the other side of Nala.
"Here we go Shetty, common follow me." I raced ahead.
"Bye Bye loser," Juby shouted as Shetty overtook me.
As we moved along both bikes reached the same speed and we could ride side by side. Long straight flat roads surrounded by mountains on both the sides was the dream come true for a rider in me.
The valley of Sarchu is truly amazing to watch during the evening, Fading sunlight makes it look like a gigantic crown of gold on one side while the opposite side slowly translates into a darker range of scary mountains.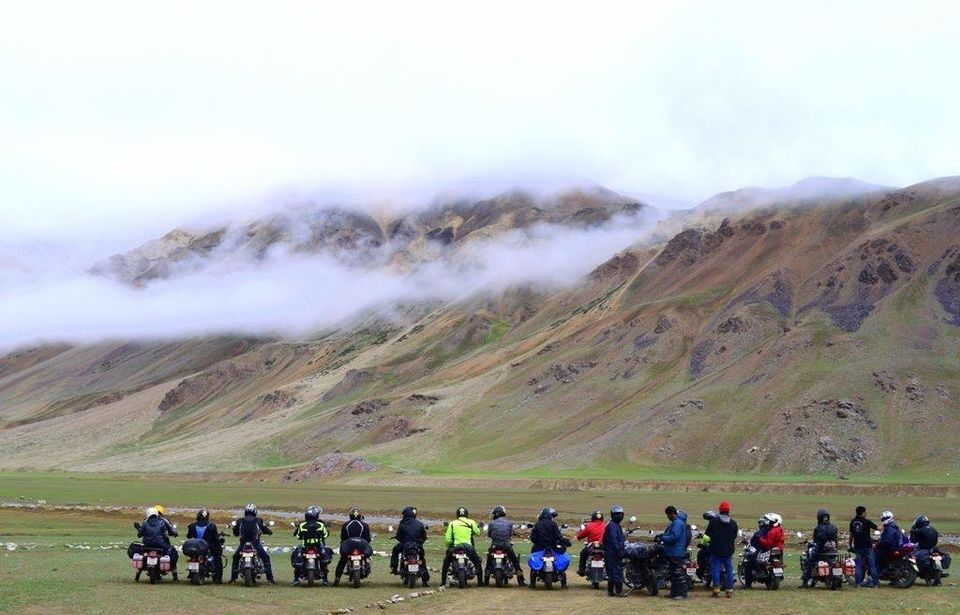 There were many camps which were built on either side of the road to provide shelter for the visitors.
The sights of camps excited Juby and she said:
"I wish we could spend a night here!"
"We can't stop here, Our destination is Rumste, You remember?"
I stressed on the fact that we were behind the schedule and we continued. "There has been a cloudburst and no human can reach Rumste, You could choose to spend time here in our camp until we build a bridge." A group of army men who stopped us to check our identifications informed us.
"Thanks, Sir, But we have many more riders riding along with us, we will ask them and if it is necessary will come here and stay" Replied Juby. We turned our bikes and went back to the camps of Sarchu.
Knocking on heaven's door
It was around 5.30 in the evening, As usual, me Shetty and Juby decided to roam around. Sun was about to set and the temperature started slipping down, Each step which I took made me feel tired, I shouted,
"Guys let us rush back to the camp."
"One last selfie," Zuby replied and all jumped to give her a pose.
Just when everybody felt its time to go back to the camp,
"Get up stop acting and come now" Shetty shouted to Juby, who was on the ground.
"Guyz she is not moving" He continued.
She was lying unconscious with her eyes popped out, feet were cold, the tongue was stuck in between the lips we had no idea what was going on, everybody got terrified, it was an extreme stage of Acute Mountain Sickness(AMC). We rubbed her legs, hands to generate some heat. No one had any prior experience of treating a patient who is suffering from AMC we just did what came into our mind at that particular time, God was the only hope we had.
She began to feel normal after some time, her legs started moving she was in great pain, she had twisted her ankle while taking the selfie that eventually led her to go into that strange state. That would have been her "One last selfie" indeed!. We made sure she reached camp safe and gave her first aid.
It was around-10degree Celsius under the tent with little oxygen. For the first time in my life I ate raw cloves of garlic and slept chewing them, it was the life savior along with camphor.
As we were already a day behind on our schedule we started early next morning. We hoped that situations might have been under control and we could reach Rumste. To reach there we had only two obstacles — "The whiskey Nala" and "The brandy Nala".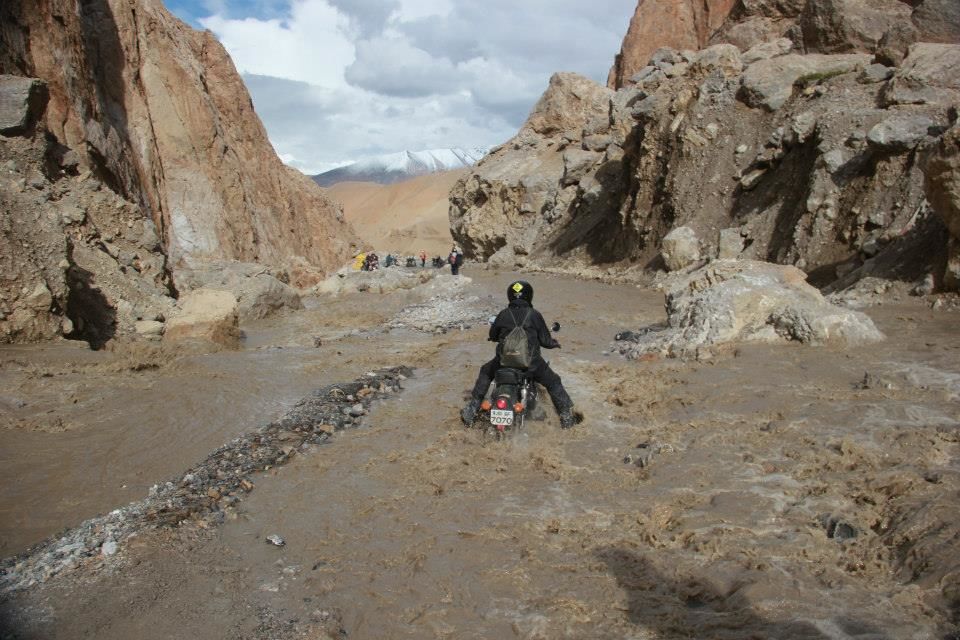 Not sure why people gave them those names, but looking at them was one of the worst experience, I had never seen the rivers so slushy and brown in color, caused by the cloudburst. The military was working on building a bridge so that people can cross the Nala. by the time we crossed both of them it was already 6 PM. Our plan was to reach Rumste by then as it is very dangerous to ride on worlds second highest mot-arable road-"Tanglangla" during the night, especially with wet clothes, shoes.
We had no choice, we were well behind our schedule and there was no going back from there, we all left together. But everybody knew deep down that we are on our own from this point, everybody tried to go as fast as possible, one overtaking another, no groups, no leader, no guidance, everybody loves their life. IT was raining hailstorms, every meter we went up temperature started to slide, oxygen became a rare entity. I was not feeling my legs anymore, I had to try very hard to shift my gears. My pace started slowing down, I had enough petrol, my bike was properly serviced, I had no idea why I was not able to cross even the speed of 10km/h, I realized the lack of oxygen is killing my bike too. On top of the Tanglangla, my bike stopped moving. I tried pushing my bike with my entire energy it wouldn't climb any further.
I was alone - I knew I have to spend a whole night without a shelter, with wet clothes on the top of Tanglangla. I knew it impossible to stay alive until morning. I had no hopes, I was not waiting for the backup van to show up somehow, I was not angry at my friends for leaving me behind, I was not afraid, I was not praying the god to help me. I WAS JUST BLANK.
That was the time of my life, Those 30 odd minutes changed me as a person, the guy who was wearing monkey caps all the way, the guy who ate many "Diamox" like a chocolate was not feeling anything, I stood there on top completely wet, in freezing cold, and none of the bad thoughts hit me, Knowing the condition I was in, If not due to cold I would have died simply because of fear. Nothing seemed to affect me!, in-fact that was the moment in my life where I felt the strongest.
I could see a ray of light coming towards me, I waved my hand, It was our back up van with the mechanic Yogesh.
"What happened!? Why are you standing here alone? Yogesh asked,
"I don't know it just wouldn't climb".
"Hmm, let me see, get inside the van".
I nodded and settled into the van. He stood there in the cold for a half an hour or so and my bike was ready.
I was an hour behind my fellow riders, they might already be reached the bottom of the Tanglangla, I had to catch them up. Thanks to the series of events unfolding before me, I was a different person by then, next 45 minute ride was the fastest ride I ever had in my life, Nalas, curves, Rocks, nothing seemed to stop me, I was not afraid of falling, sliding, I just knew if I had to die today I would have already. As I moved further I could see small lights moving together far away on the other side of the mountain, it was my group, it had to be. I was so much excited to see them and my only goal was to join them, it seemed like every small light was the stages of a game which I need to surpass to reach the destination. I reached it finally and I was the third person to reach Rumste.
Rumste was not the place we imagined to be, it was not a town with hotels and restaurants, it was not the place where you can buy new dry clothes either. It was a small village with very few homes, where the homeowners cooked Maggie for a living and gave shelter to the travelers. Unfortunately, there were no rooms available for us and as the bridge between Rumste and Leh has been washed out, we couldn't ride further. We had to stay there, completely wet, shelterless.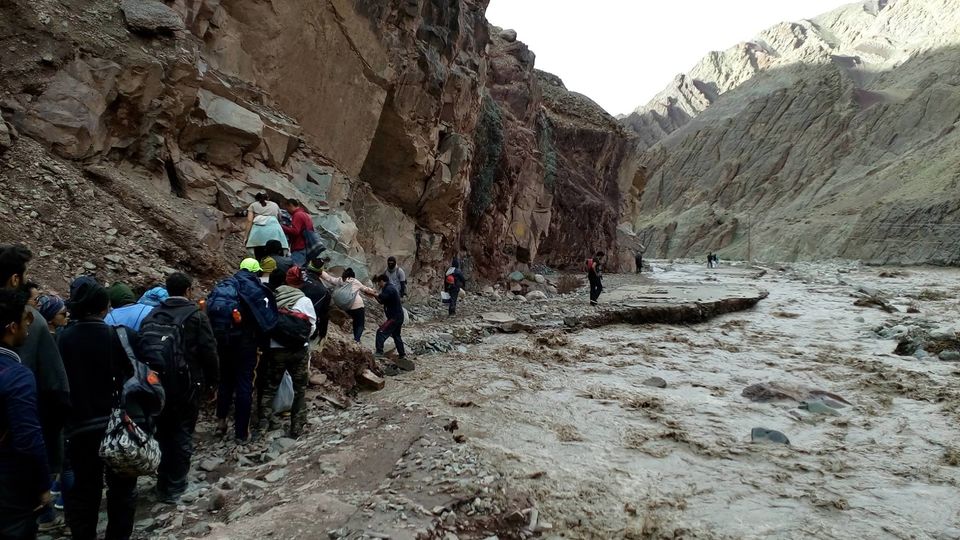 Tanglala nightmare was just a beginning.
The Final Push
"Take how much ever money you want, Please give us the gas stow" Ride leader begged the house owner.
"Sorry, I can't. It's my bread and butter. I use it to cook Maggie for the tourists passing by, If I give to you I can't feed anyone else," replied the house owner.
Our only hope to survive the cold by spending all night around the fire vanished away. With the whole night before us, we had no place to go. We were stuck. Looking at the group a thought came to my mind that "I had my near-death experience, It's your turn now. At least you are not alone!".
This was the testing time for us as a group, everybody was afraid, everybody wanted to live through the night, everybody was selfish. Some lucky riders found the empty bus of the travelers who were resting inside the house. It was not large enough to accommodate us all so some took shelter under the government bulldozers which were on road for maintenance duty. Next morning we were not the same, all of us had a reddish pink face, swollen body. Luckily, everybody survived.
Army rescued us from Rumste, we left our vehicles at Rumste and left for Leh. We finally reached Leh in army van and everybody was so happy and relieved. Leh was conquered. We enjoyed our time at Leh, visited Pyongyang Lake, Shanti stup, Shopped for hours. After two days when situation got under control, we went back to Rumste and took our bikes back to Leh.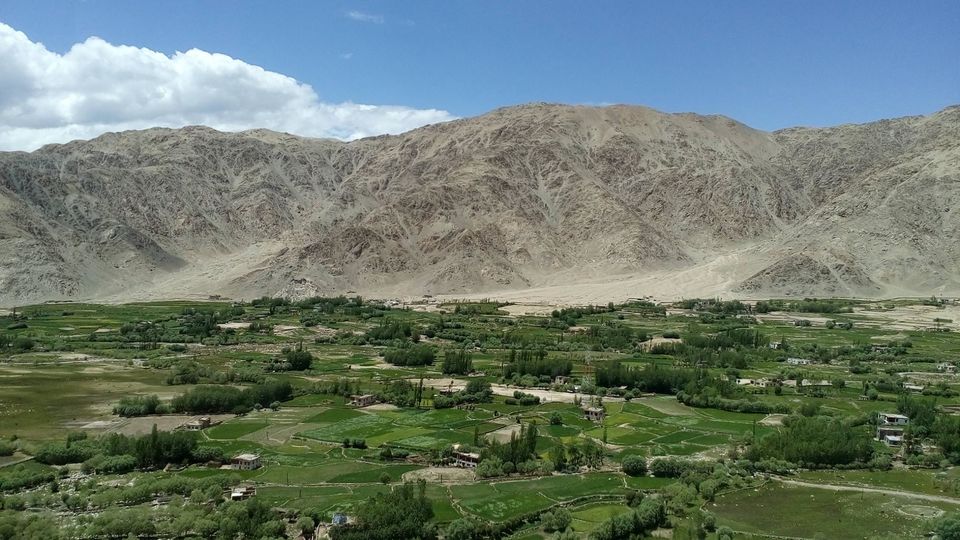 "Aren't you buying something for your mountain girl Suhas?" Juby reminded me about the girl fell for on the way.
"Common, I don't even know, I will meet her again, Do you want something?" I changed the topic.
I knew in my head, If I start thinking about her now, there was no way I could ride back to Delhi without getting hurt.
On the way back we visited Kargil, Drass, paid our respect to the soldiers, It was "Kargil vijay diwas " the main objective of our ride. The visit filled our veins with pride, it gave us the confidence to face one of the worst roads u will ever see in this world - ZOZILA.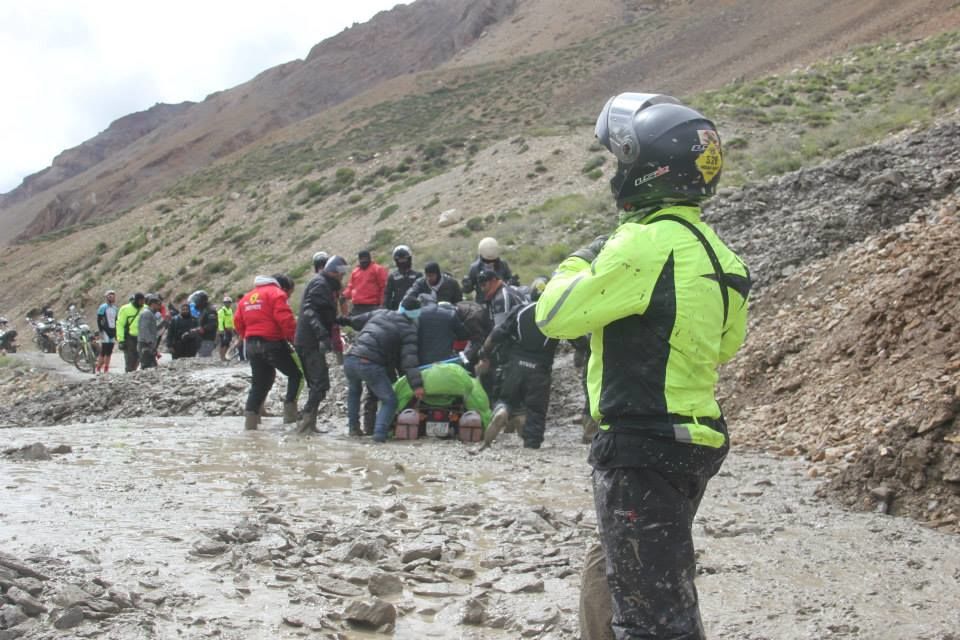 Our journey was downwards for the first time, till now we were riding along with the steady rock mountains or the icebergs, but ZOZILA was exactly opposite, It was soft and slushy. Guys who came with their Royal Enfields faced many problems due to the weight of the vehicle. We helped each other to pull the tires out of the mud and continued our ride to reach very beautiful Sonmarg.
After enjoying the apples there we sat on our bikes to ride towards "Patni Top". It was longest ever ride we had. We rode for around 17 hours continuously to reach the top. The whole ride was challenging as there were trucks all over the road and turns every 30 meters. We had a night stay there and continued our journey further south through Shreenagar, Ambala to reach back to Dilli.
Along the way many of the fellow riders quit and took flight back, some from Leh some from Shreenagar . We were around 15 bikes when we started our journey, only 8 bikes completed the ride.
Whole ride is completely dependent on the weather, I am sure many did the same 3200KM ride from Delhi to Delhi relatively easy without facing cloud burst, land slides etc. And there are some who directly land in Leh and ride on one of the most fantastic and easy roads to reach Kargil and say "Leh conquered", Both of them will not connect to what I have told here, I am sure one day they will also realise "Mumbai ki fasion our pahad ki mausam kabhi bhi badal sakti he"
****************
Inspired by this ride I have also started a novel.
Please show some love - https://my.w.tt/QUExs9esqU