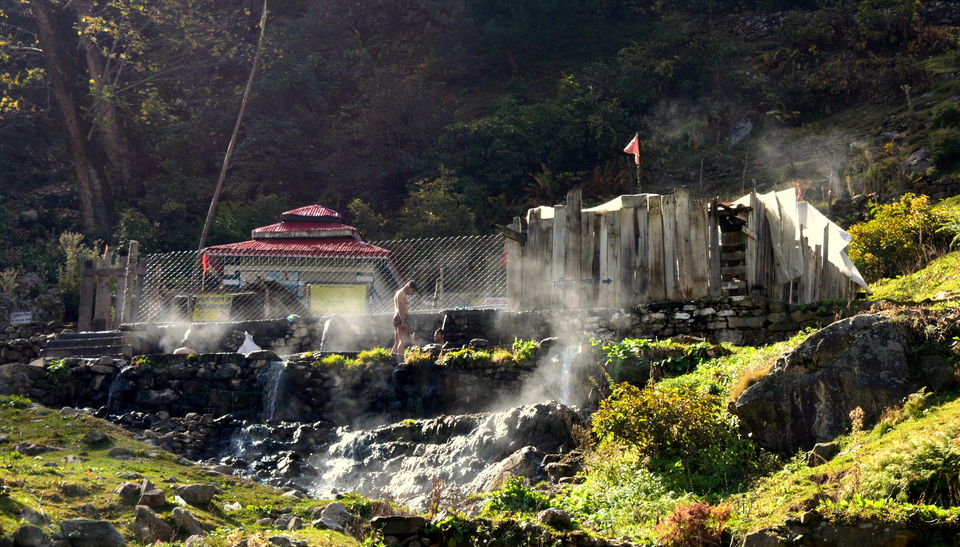 Fancy these – a hike through the charismatic grey - green mountains over an effervescent Parvati river, gluttony invoking apple orchards and thunderous waterfalls. Combine this with a bowlful of sweetcorn soup, a plate of cheese tomato pasta, and a rejuvenating hot water spring overlooked by the thick coniferous forests at a height of 3000 meters – you are in for a treat that is known as Kheerganga.
Mythologically believed to be the abode of Lord Shiva, famed for its free natural hot water pool, and infamous for its hash lands – Kheerganga is the picture perfect potpourri of nature, culture and counterculture. In my rummage of the glory and infamy of the Parvati Valley, the trek to Kheerganga came out as something that redefined my notions of coexistence in nature. Here is an account where I try to spill the whispers from my first encounter with the Parvati Valley:
Setup, planning and route
Kheerganga is basically a tableland, nestled in the laps of Parvati Valley at a height of 2960 meters. Amidst all the organized travel in Himachal, reaching Kheerganga can be a little tricky and hence, a proper planning is something that you can't afford to miss. A know-how of the route, an identified base from where you would start your hiking, night halts and appropriately weighed luggage – if you are all set with these, trust me Kheerganga is the perfect long weekend escapade.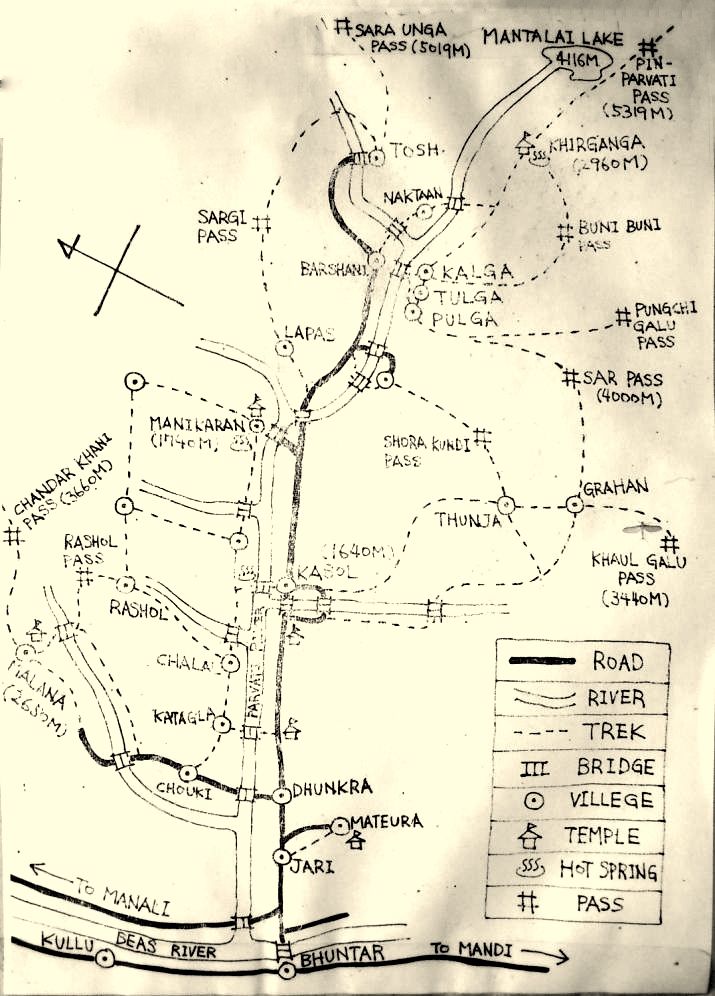 Anyway, we(we were two - I and my friend Ravi) broke our entire journey before starting the trek to Kheerganga into two phases:
Reaching Bhuntar – Bhuntar seems to have gained the glory of being the base for most of the offbeat places into the Parvati Valley. You can reach Bhuntar by road via Delhi, Chandigarh and Mandi. An overnight bus from Delhi to Manali dropped us off at Bhuntar. In case you want to travel by train, the nearest rail-head to Bhuntar is Pathankot (150 km).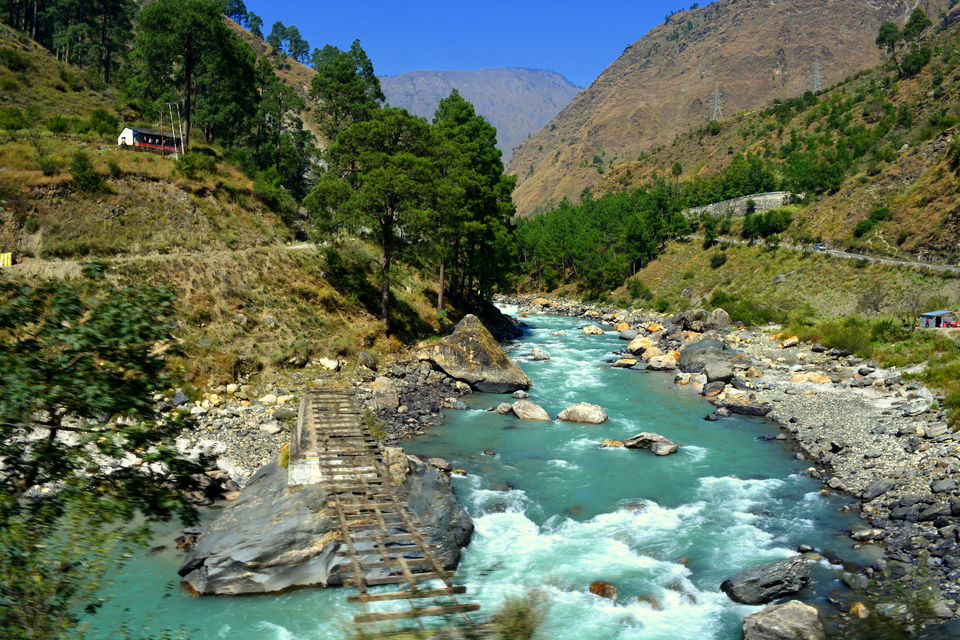 Reaching Barshaini via Manikaran – From Bhuntar, you get to choose between local buses and private taxies. The taxies usually charge between INR 800 to 1000. We took a bus to Manikaran as the direct bus to Barshaini was an hour later. From Manikaran, a shared cab for INR 100-150 will bring you to Barshaini, in case there are no direct buses. If you are not short on time, prefer taking a local bus to get acquainted with the locale in the bus. The direct bus from Bhuntar will take you to Barshaini in close to 2 hours.
Deciding the route from Barshaini – Now, this could be a total game changer. At Barshaini, you get to choose between today or the next day and hence the routes to follow. Depending upon your plans and schedule you can chose between the following routes to Kheerganga:
Barshaini – Rudranaag – Kheerganga (13 km): Laced with magnificent views, this route is shorter; hence steeper among the two options. It is perfect for photography enthusiasts and owing to its steep climb, it is easier to descend.
Barshaini – Kalgha – Kheerganga (17 km): With 4 extra kilometers, this route takes you through small hamlets and numerous waterfalls. It has an easy climb with longer descends while climbing up and hence this route is perfectly suitable for those who are occasional trekkers or are low on stamina.
We chose to stay overnight in Kalgha. A 15 minute breathtaking hike up to Kalgha took us through passages that crossed apple pickers in the orchards. A formal exchange of greetings and we were in for an apple-full treat. Not only did we feast upon 6-7 freshly plucked apple, the farmers offered us 2 kilos of them for 30 bucks – we could not buy more for the obvious reasons of weight.
Overnight stay amidst the apple orchards at Kalgha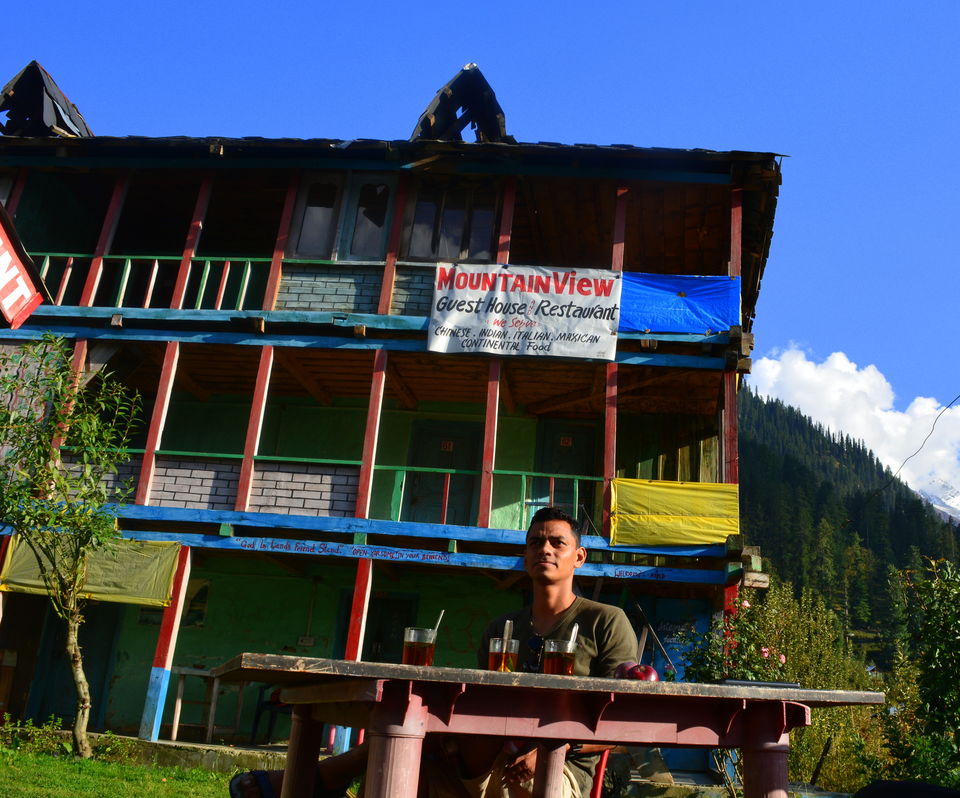 Kalgha is a small hamlet near Barshaini. This was actually the start of catharsis in my travel history – where pristine met with serene, nature accommodated several cultures, and culture gave space for counterculture. Among 100 odd houses in the village, there are a dozen hotel-cum-home-stays available at throwaway prices. We got a room for 100 bucks at this 3 story wooden property with an ancient rugged look.
The hotels here charge between INR 100-500 per day. We stayed at Mountain View Guest House – a 10 year old property. The caretaker brought us a glass of fresh honey-ginger tea and trust me you – one could not have asked for anything better at 4 pm in such a setting! With the delicious food that these hotels serve, they can give any city hotel a run for money. The menu ranges from rejuvenating teas and Chinese platters to Israeli and local Himachali cuisine.
Evening went by while trying to get over the aesthetic shock we both were in. A stroll in the village and all you get to see is passages laden with fallen apples, small houses radiating pahaadi vibrance and kitchen smoke through their chimneys.
And then came the dinner time. We had asked the caretaker to arrange for something completely local and he obliged us with a local version of rajma and rice served with desi ghee. If you have not tasted this rajma, you just cannot know rajma. We could not hold back and over ate to an extent where it took us 20 minutes to be able to climb up to our room.
A stomach full to our necks and tired bodies to handle – we were off to sleep immediately. The mattress and blankets were not that great but were warm enough to help you bring a cozy sleep. At such costs, you tend to force-ignore your inner self about such amenities.
THE ASCENT - Kheerganga Trek Starts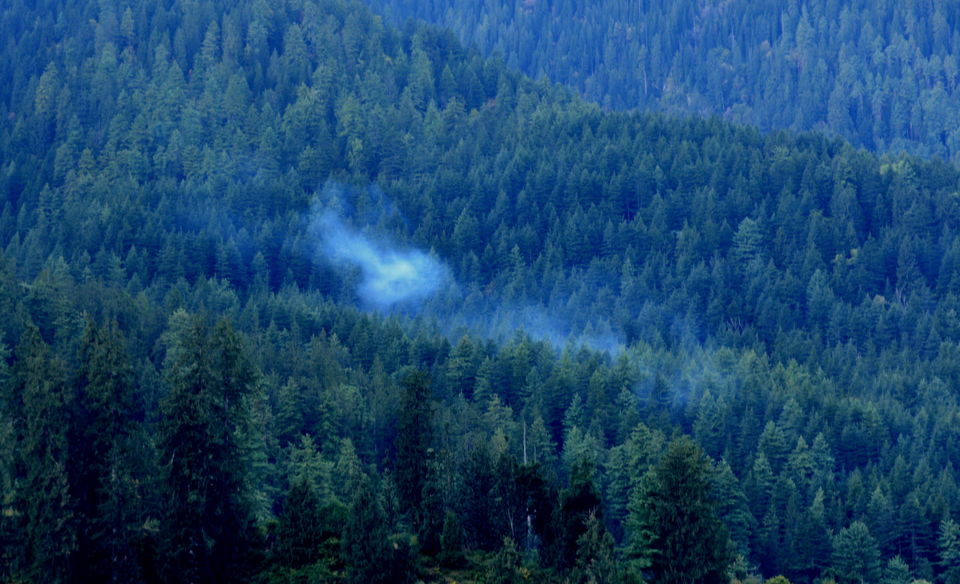 We woke up to a morning where I could literally hear the silence in a different space-time conundrum. Apparently it rained a little in the night, washed the trees and the morning sun made the valley emit fluorescence through the smokes rising up from the kitchens of the village.
Masala Chai, dahi, aaloo ke paranthay – the morning began after we freshened up. We checked out of the hotel and started the climb. For most part of the trek, I was loudly speechless – for when you are alone in such exuberance, your silence does a lot of talking. Here is what came by and happened while climbing up: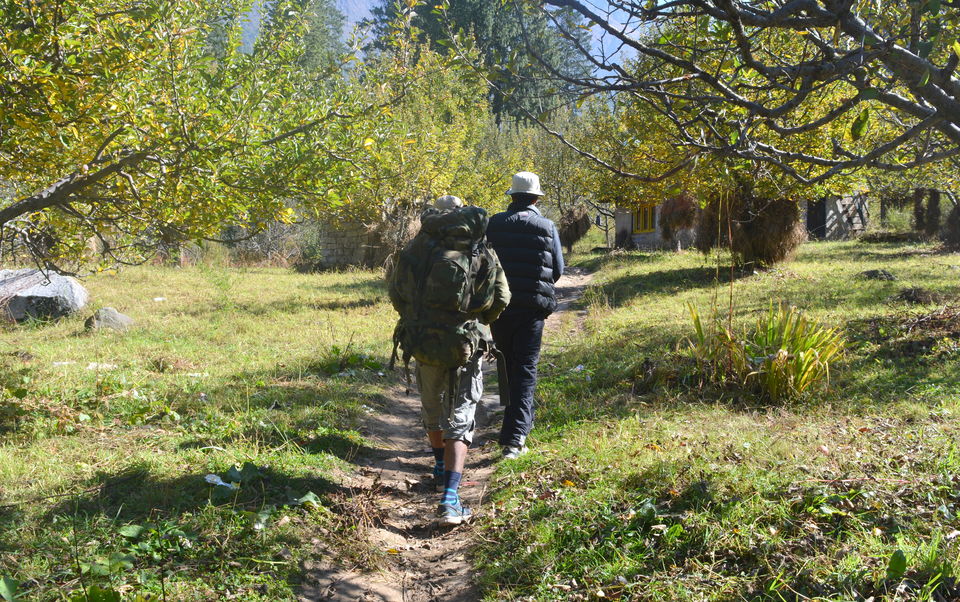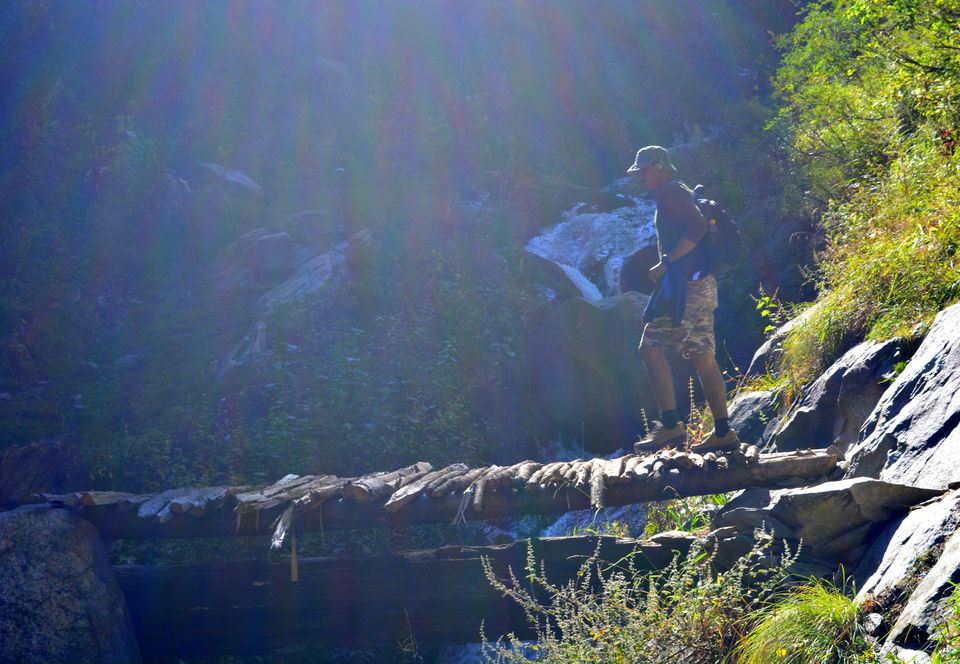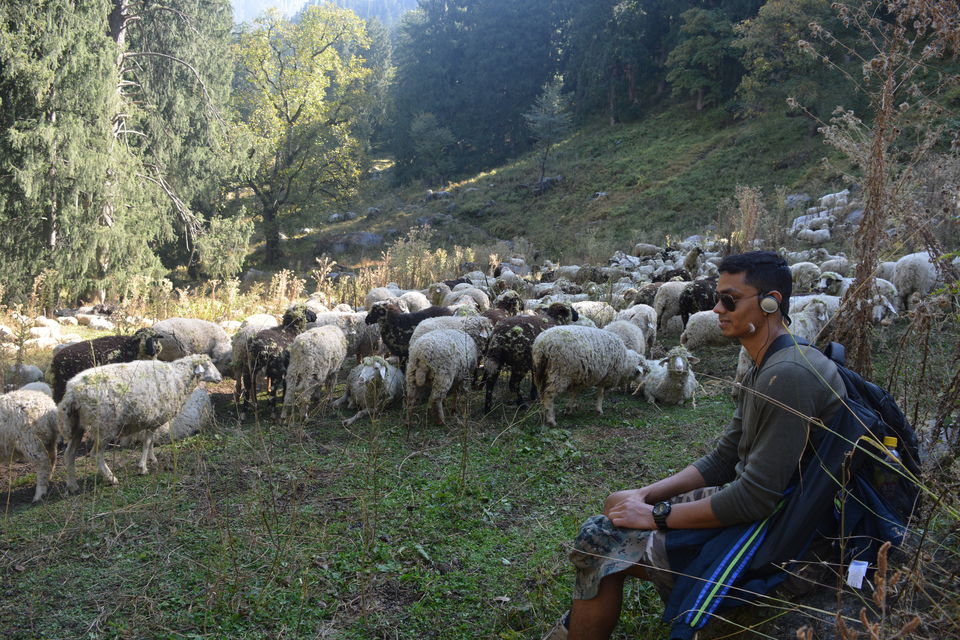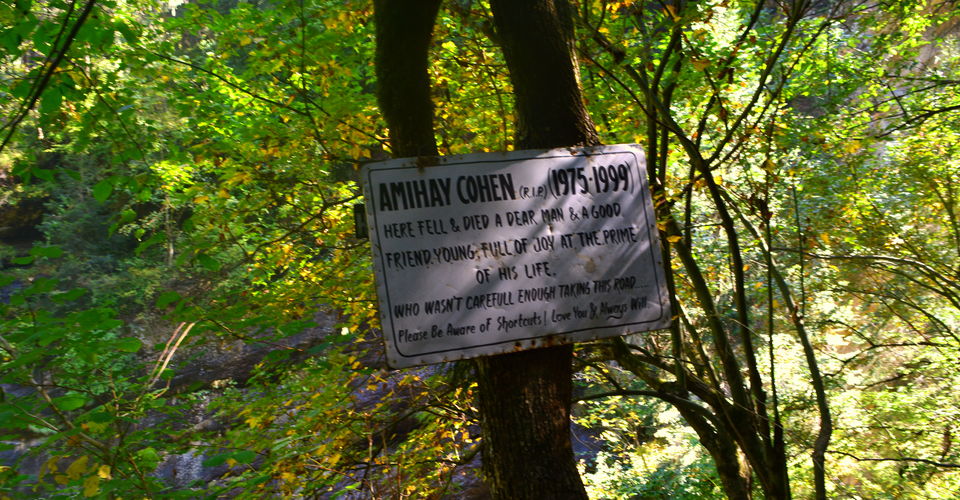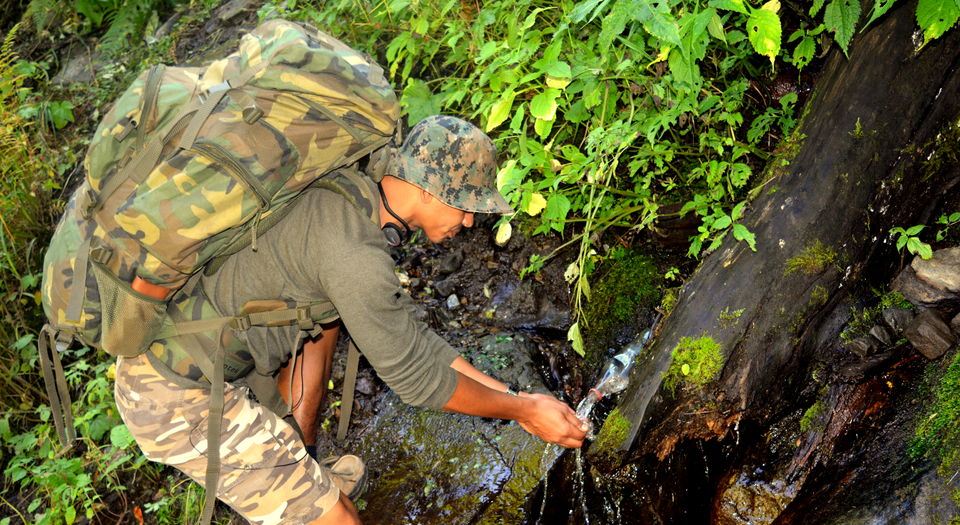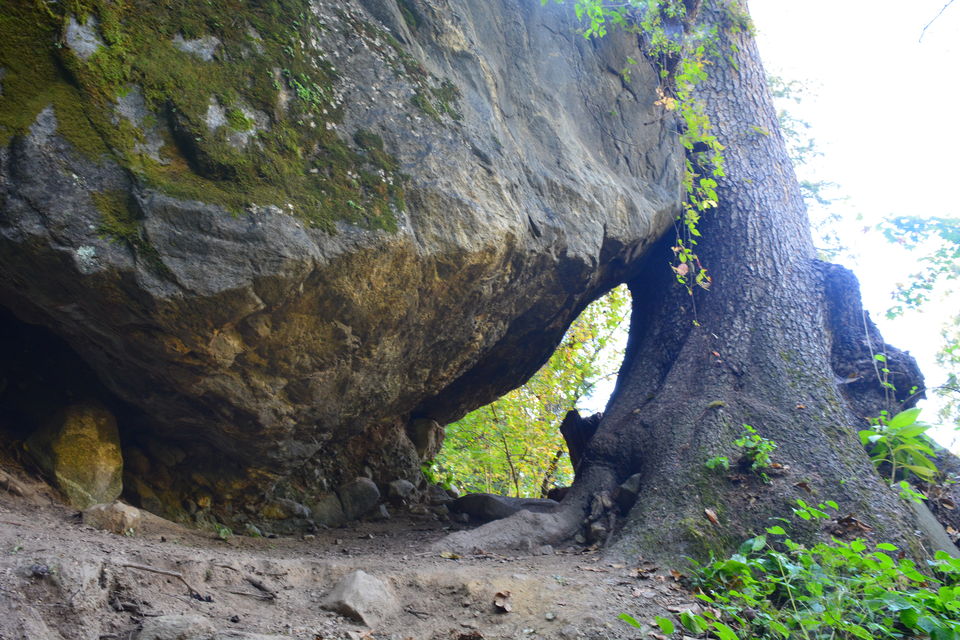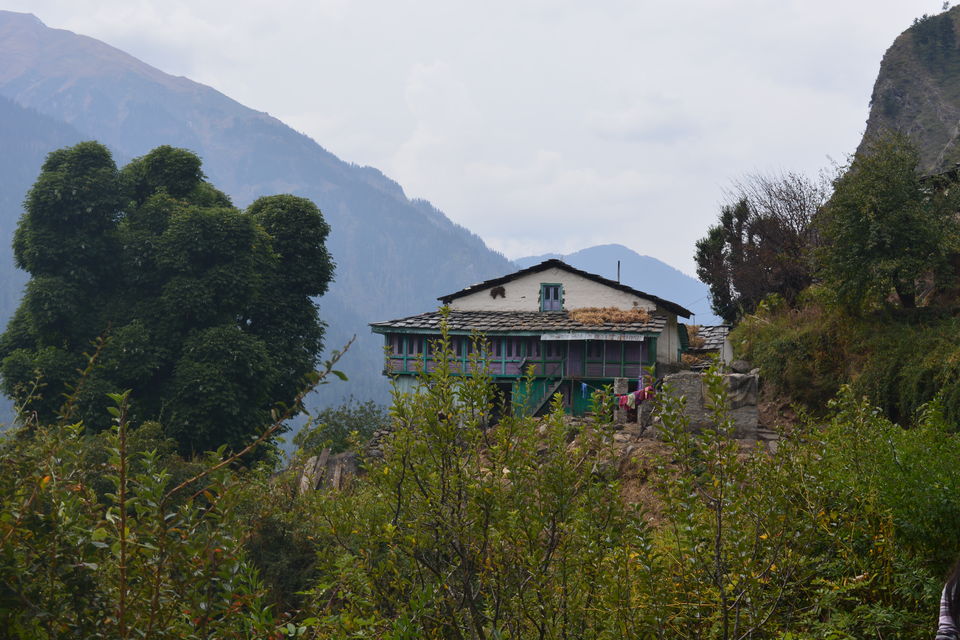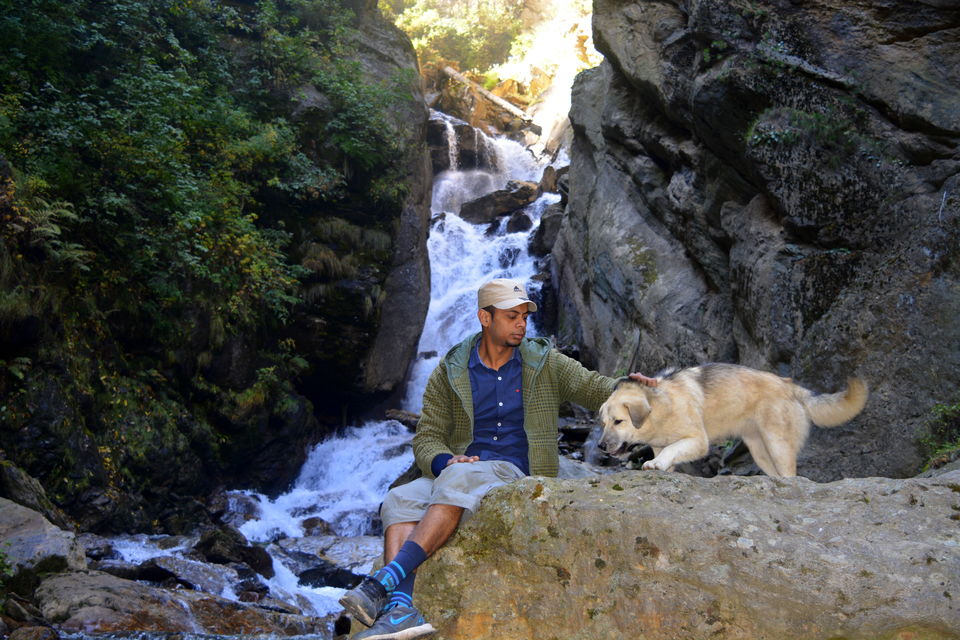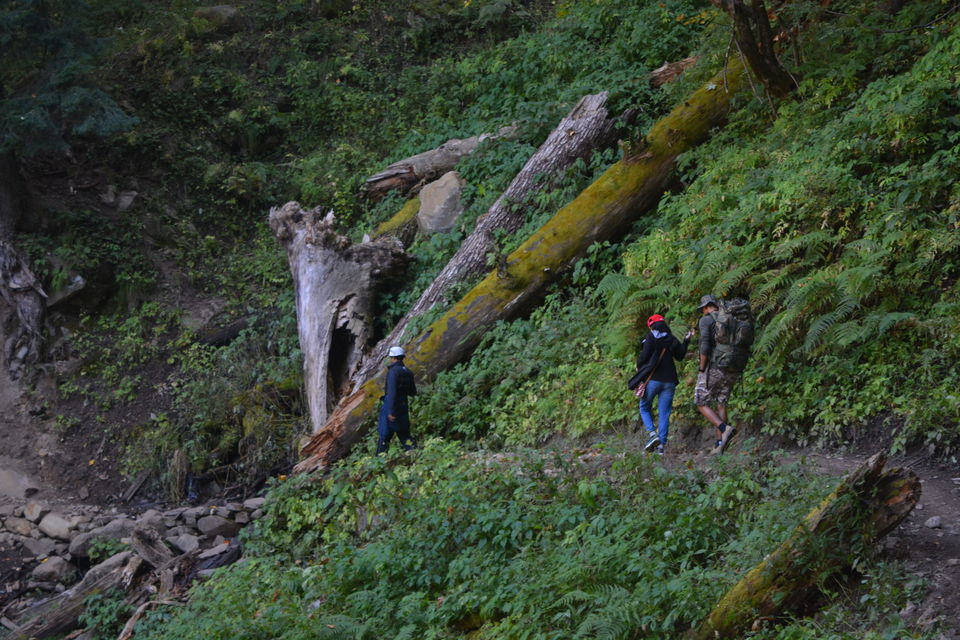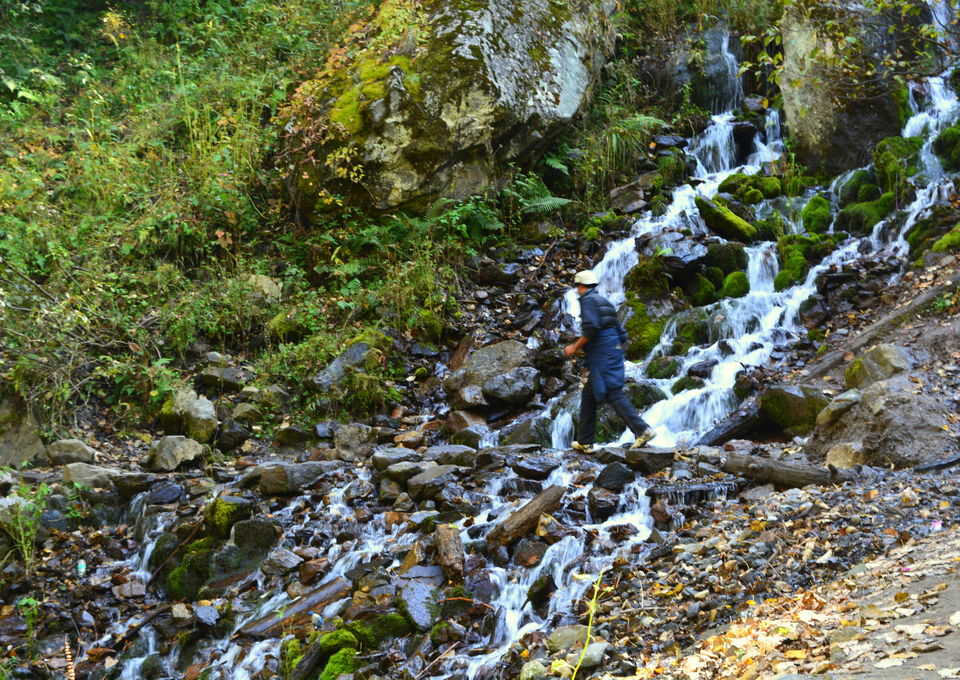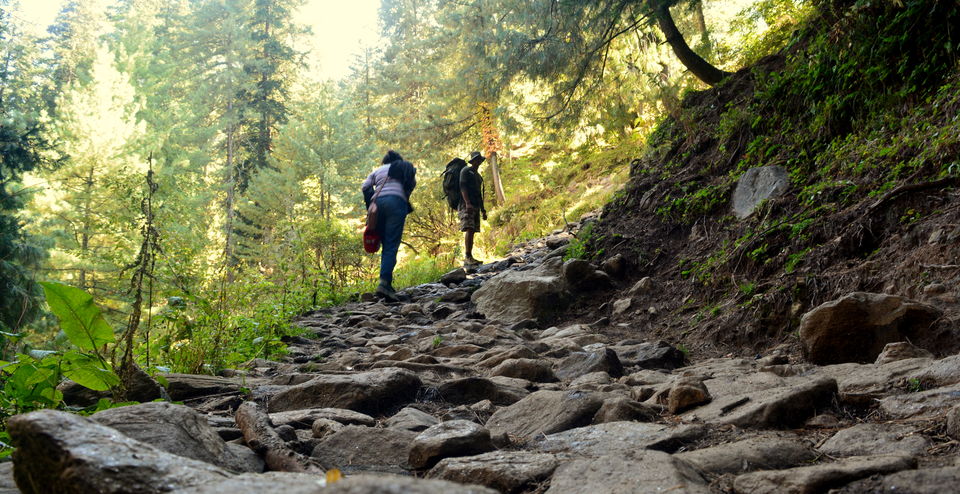 And finally when you reach the top to this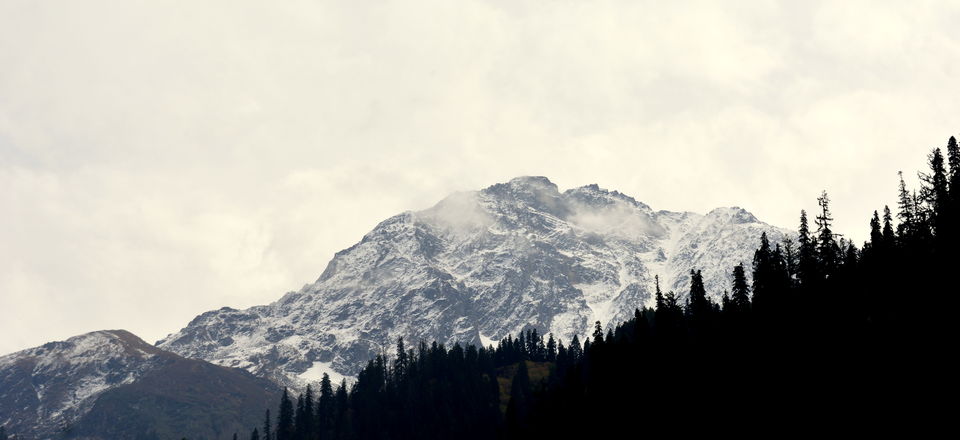 ...you get to realise why Lord Shiva would have chosen to stay and meditate at Kheerganga.
After a climb of 6 hours, what I saw was the 'infinite' – the endless mountains that will kill your arrogance, the vastness of the land that will pamper your pride and the abundance of nature that will nurture your instincts. You can hear your heart pumping like a crazy machine -- sucking all the pure oxygen that it can.
We had to come out of the ethereal blackout. Kheerganga is pretty inhabitable. There are various stay options ranging from lodges to shared rooms with inbuilt tandoors(oven) and they charge anywhere in between INR 100 to 400, depending upon the season. What caught our fancy is this dharamshala run by the Kheerganga Committee.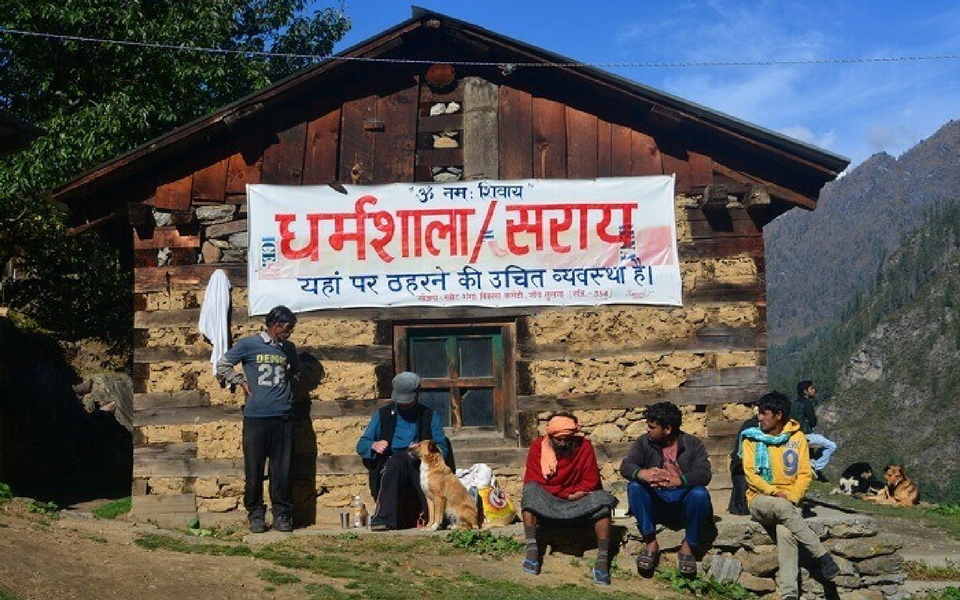 Unlike the lodges, the dharamshala offers your a private room with tandoor. And hear me out – at this height, when you have checked out the hot water pool and then you get to have a private room of yours @ INR 150 per night – you are just sold!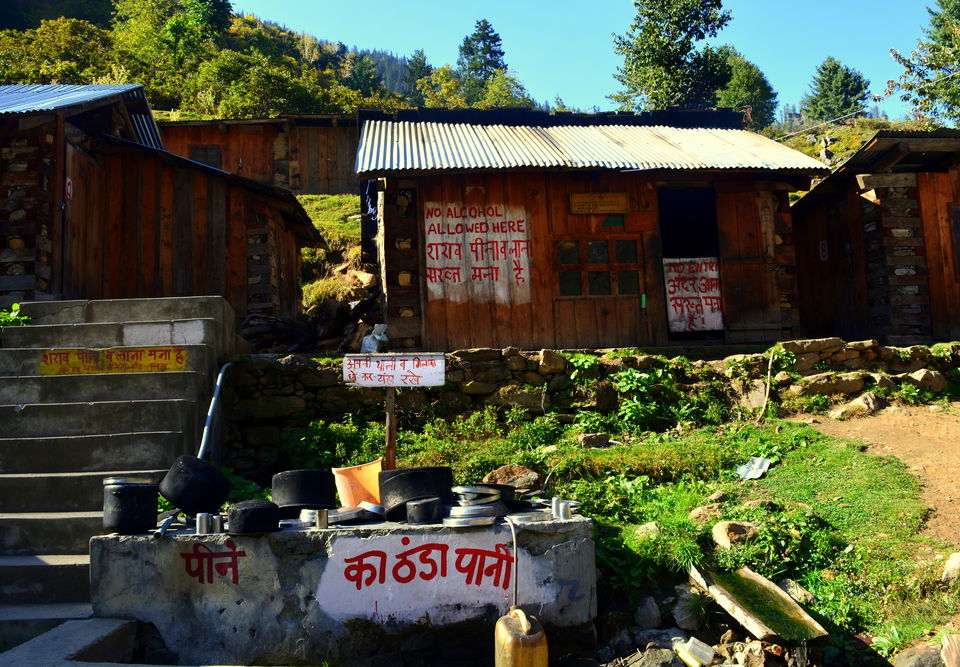 The caretaker at the dharamshala would cook you an average meal for dinner (INR 60/plate). He would also bring you the wood for the tandoor in your room. We were in heaven!
With luck on our side, the dharamshala had rooms available to be booked. The room was everything that you can think you would get for INR 150 in these conditions. We changed and got ready for the pool bliss – of a different kind.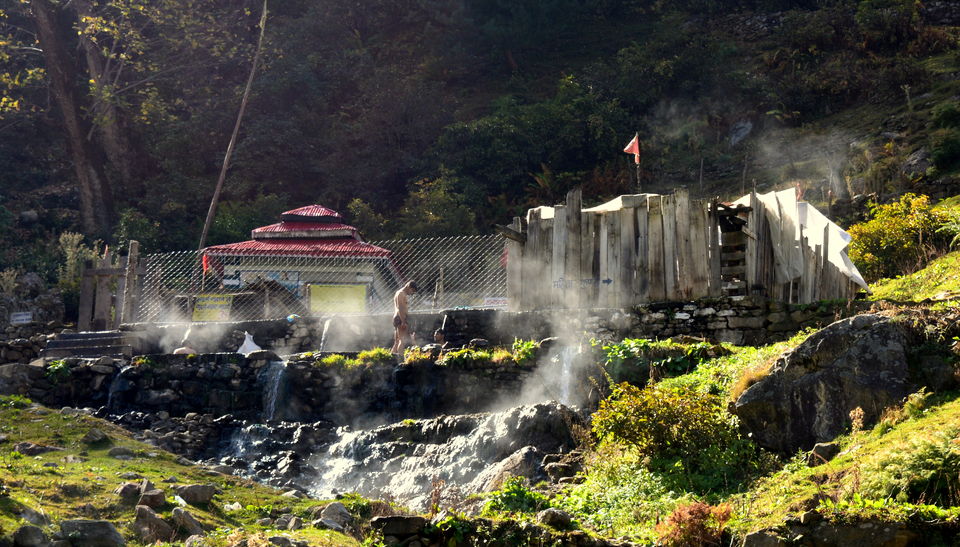 The Parvati Kund is a man-made pool that gets its continuous flow of natural hot water from the mountains. It is managed and run by the Kheerganga Committee. You need to acclimatize to the temperature of the water in the pool and hence, the instructions ask you to bathe out of the pool first. It is here that you can wash your clothes, soap-clean yourself and then climb in to the pool.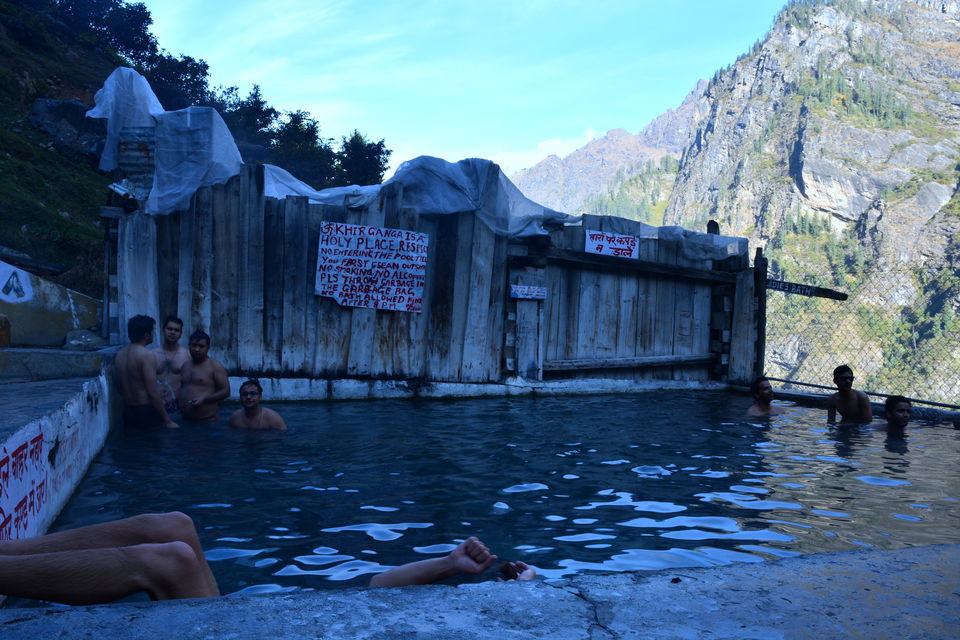 It is pure natural bliss - it's as if the pool knows the temperature your body needs. All you need to do is lie down in the water and allow the mother nature to pamper you – with her mountains, birds, plants, clouds, sun, moon, and air. Within minutes, you tend to lose yourself and the entire trek fatigue is lost. You can stay in the pool for as long as the pool stays open(8 pm).
We stayed in for a couple of hours and the sun had already started going down. Simultaneously, our stomachs growled for food and it was now when we discovered the amazing range of food at amazing prices.
The cafes in Kheerganga would serve you the best you can imagine at a remote height of 3000 meters – all at a price that is pretty reasonable. We had white sauce pasta, cheese momos and tea.
The stage was set. Drama was about to begin and the first part was the sunset.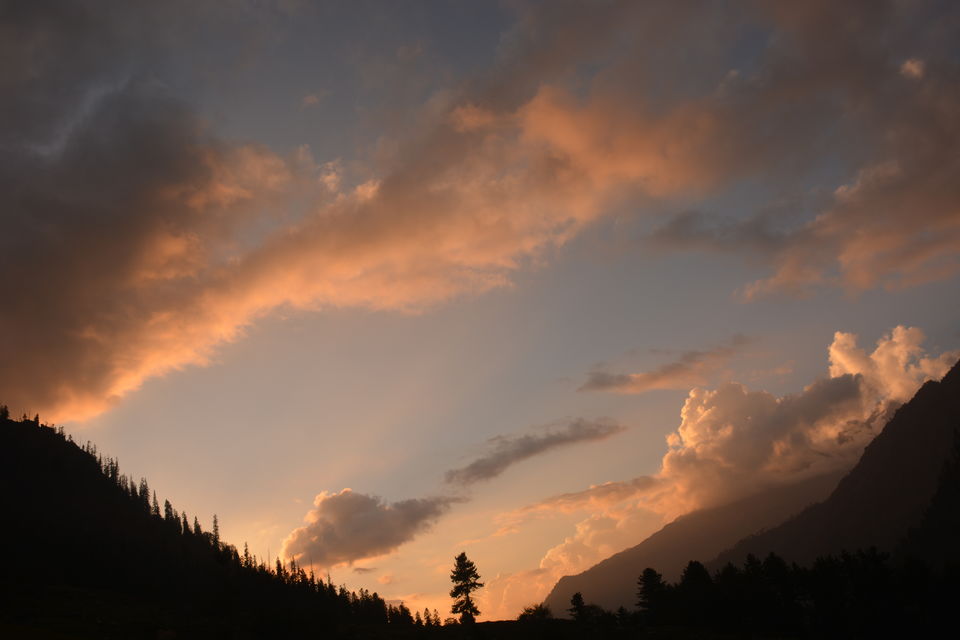 And after the sunset was the second part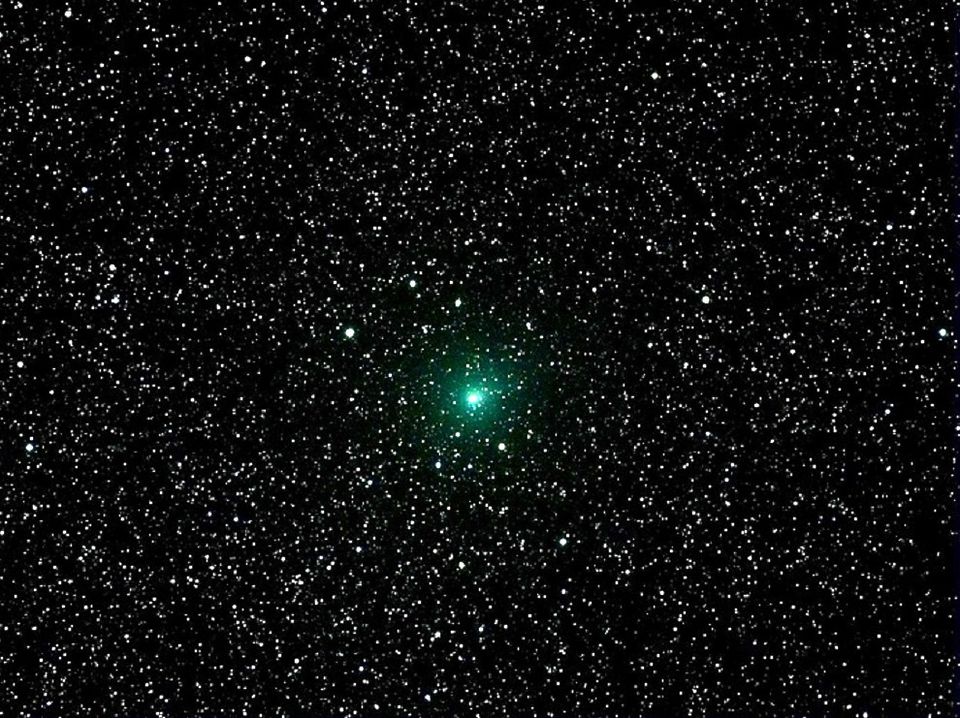 ...where the sky surrendered to the invasion of the stars. We had collected some woods for the bonfire. Dinner was served by the bonfire while our bluetooth speaker played Lotus Feet by McLaughlin and Zakir Hussain. Seamless, timeless! A group of college kids joined us at the bonfire and the time went by in the conversations that we could go to sleep only by 2 am. The room was warm as the caretaker had already lit up the tandoor.
DESCENT - Trek to Rudranaag and back to Barshaini
We woke up only to repeat the last afternoon in the pool. After the bath, we moved on for breakfast at one of the cafes on the way down.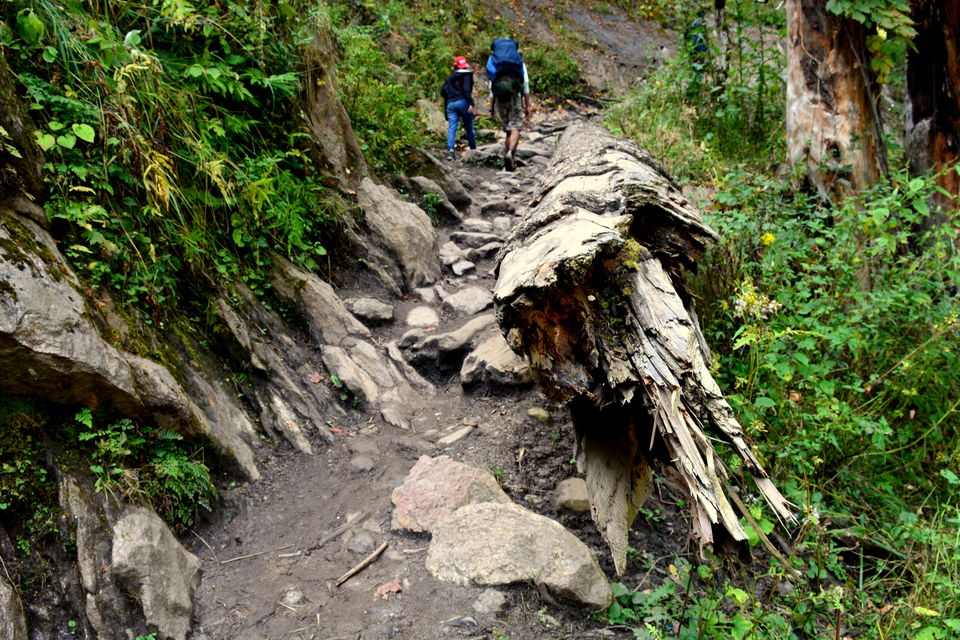 We took the route through Rudranaag. Rudranaag owes its name to the waterfall that spills out from a hill in the shape of a snake's hood.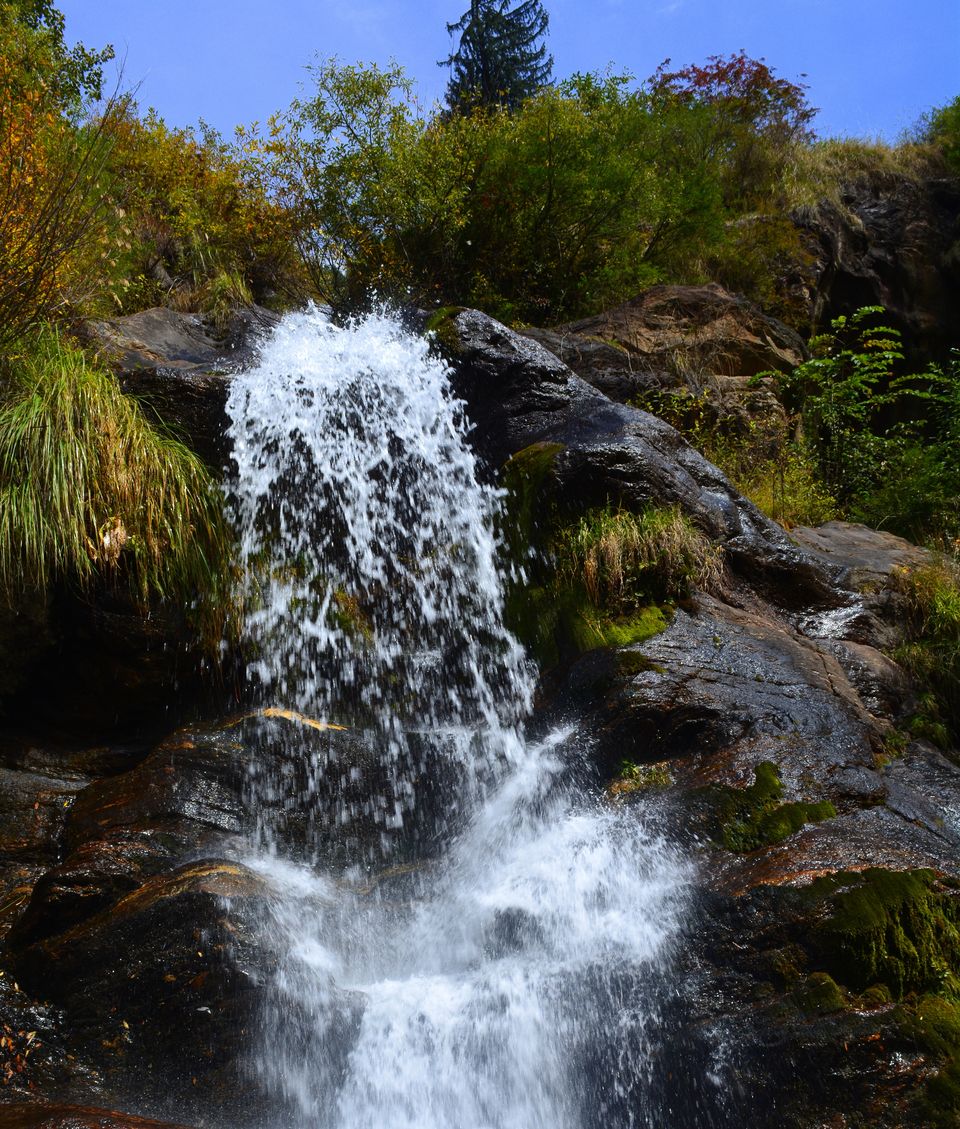 We have, previously, been to some of the coldest of the waters into a waterfall but Rudranaag's water is intensively freezing. We spent some time here and then resumed our climb down through Nakhtan village.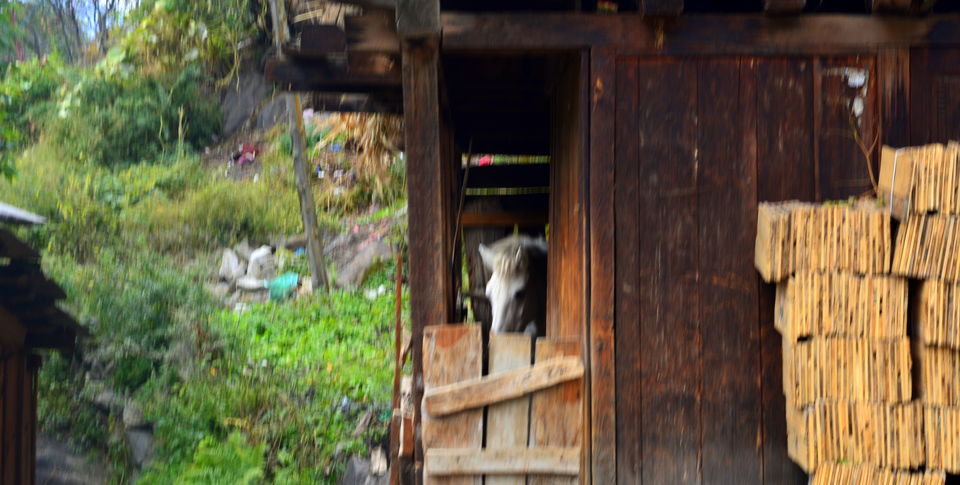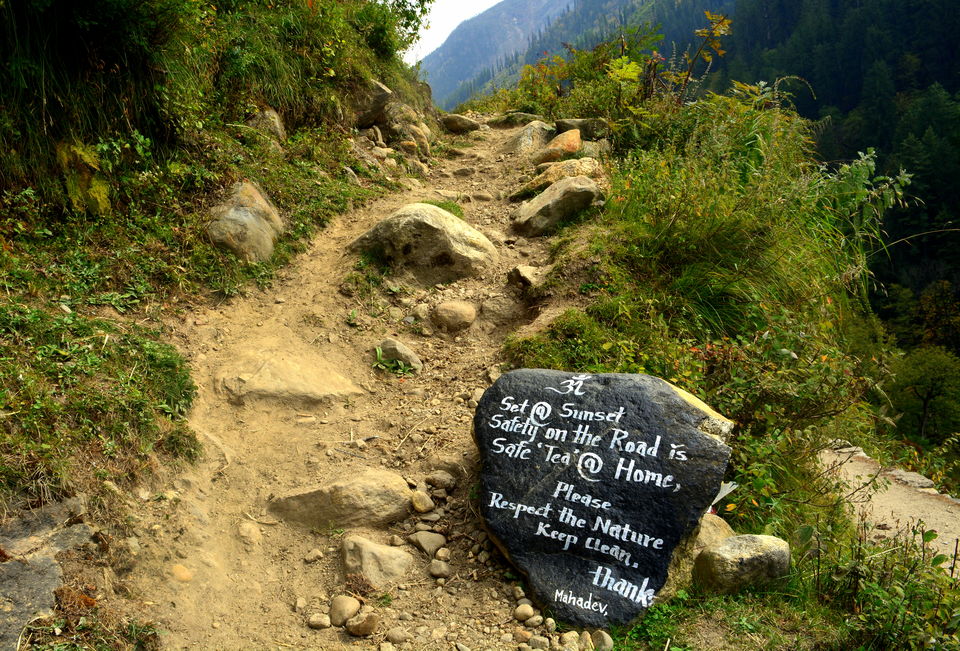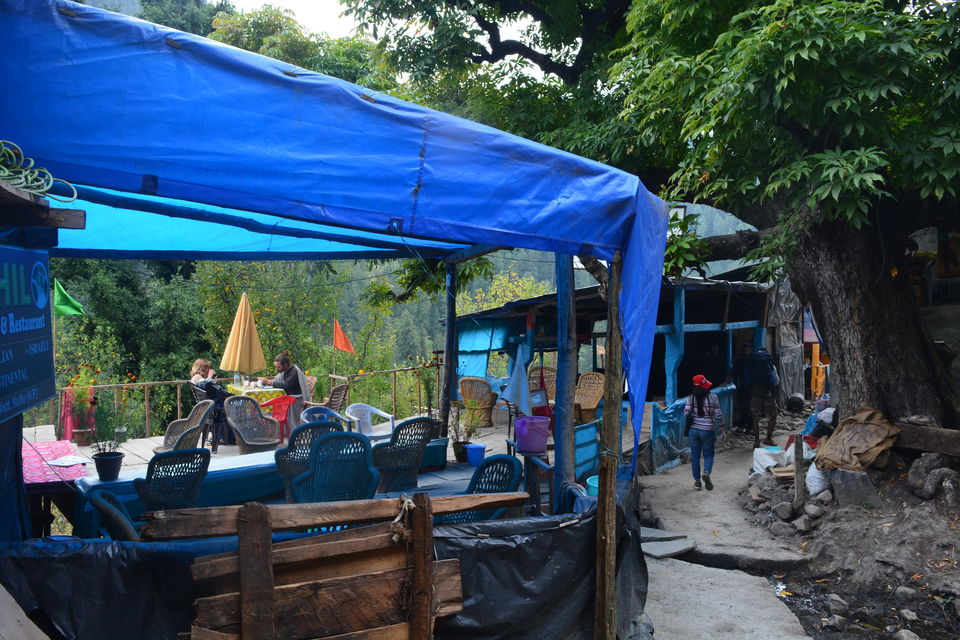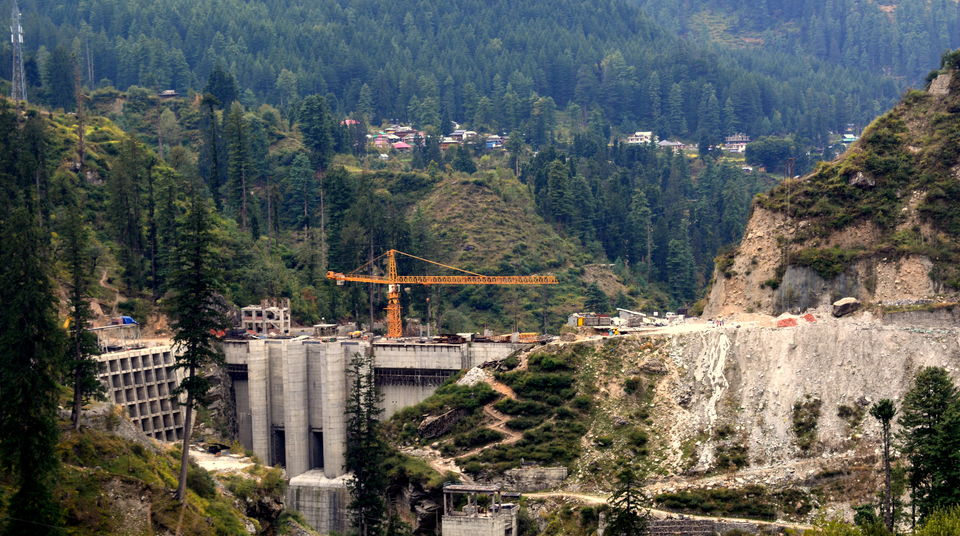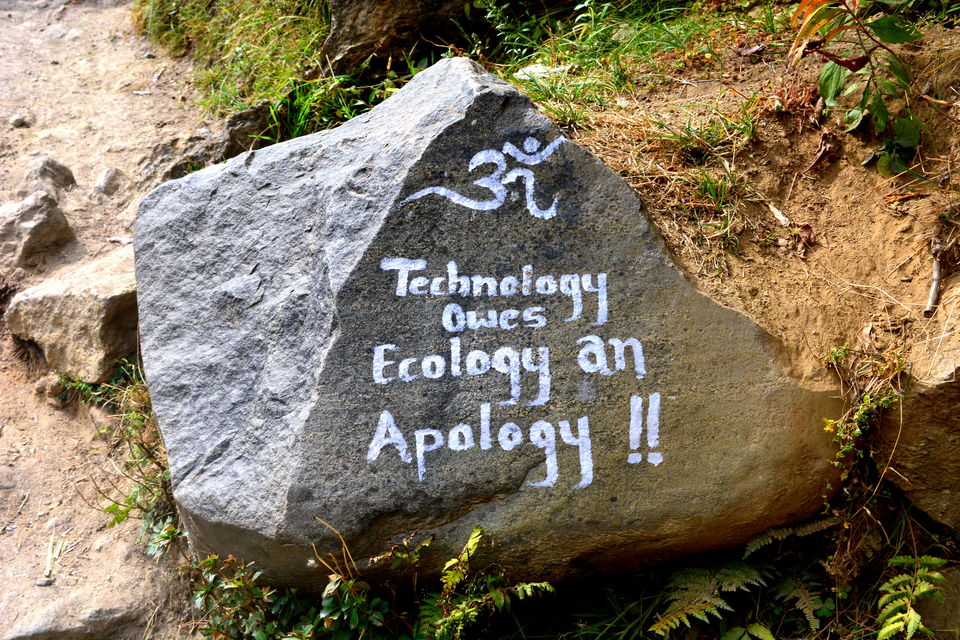 In close to 4 hours, we reached Barshaini through this picturesque village. We could not soak in to the depth of Nakhtan as we had our bus to catch from Barshaini to Bhuntar(last bus from Barshaini leaves at 5pm).
Isn't it poetic. The entire trek is such a poetic clandestinity of nature that it reaches to the bottom of your subconscious and caresses it with its coniferous leaves, sprinkles some Parvati on it, blows in a noseful of thin, clean air and makes it come alive.
This was my Kheerganga, would love to know yours.