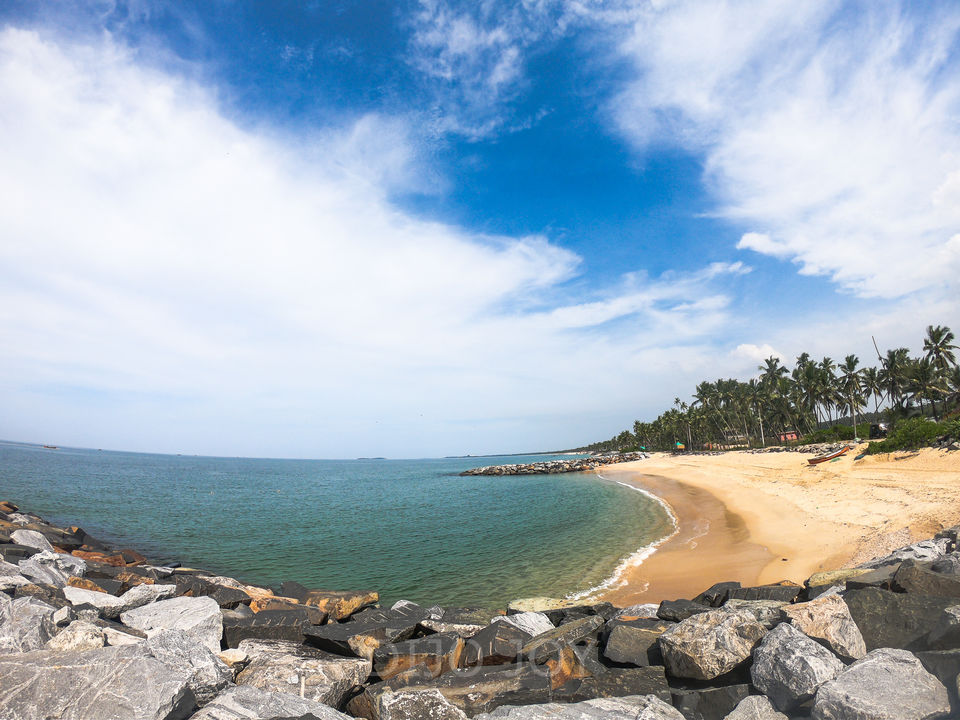 After a hectic week at work, when tired of pub hopping and late night parties, one can always look to go enjoy the beaches along the coast of Karnataka. Don't have friends to tag along? Does not matter, you can go solo to Udupi cause it's safe for everyone. You can either Take an overnight bus, train or drive/ride 400KM to reach Udupi.
Reached Udupi around 7 AM, though I had plans to camp at Kaup Beach, I decided to book a room for two nights only to freshen up and keep my bags. Since i dint want to worry about my bags in the tent while i roam around in the beach. Explored little bit of Udupi, the market around and get more information about the bus stations and routes to take.
After figuring out about bus to Kaup, I boarded a bus to Kaup, its 30 minutes from Udupi. It's a 2 KM walk from the bus stop to Kaup lighthouse. You can take a rickshaw(tuk-tuk) if you are too tired. But you will enjoy the walk, with all the greenery and coconut trees around.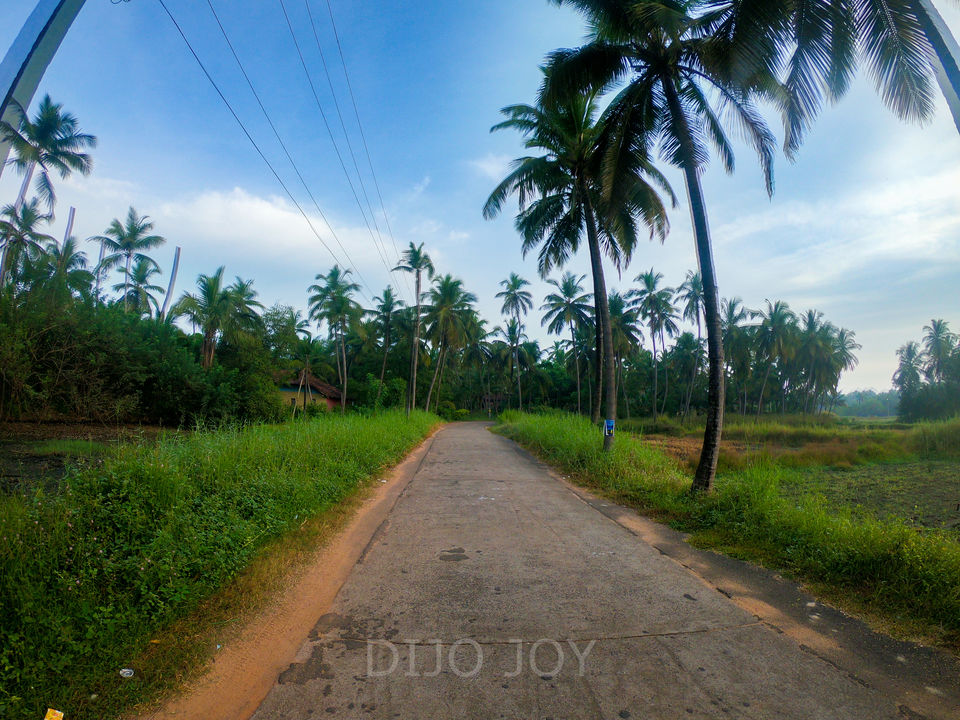 There are few home stays in Kaup, could be a little expensive for a solo traveller. Since i had carried my tent, I was looking for a place to pitch for my tent little away from the lighthouse. The light house is a main point of attraction here, during weekends it can get crowded here. I decided to camp little far away from the light house to avoid the noice.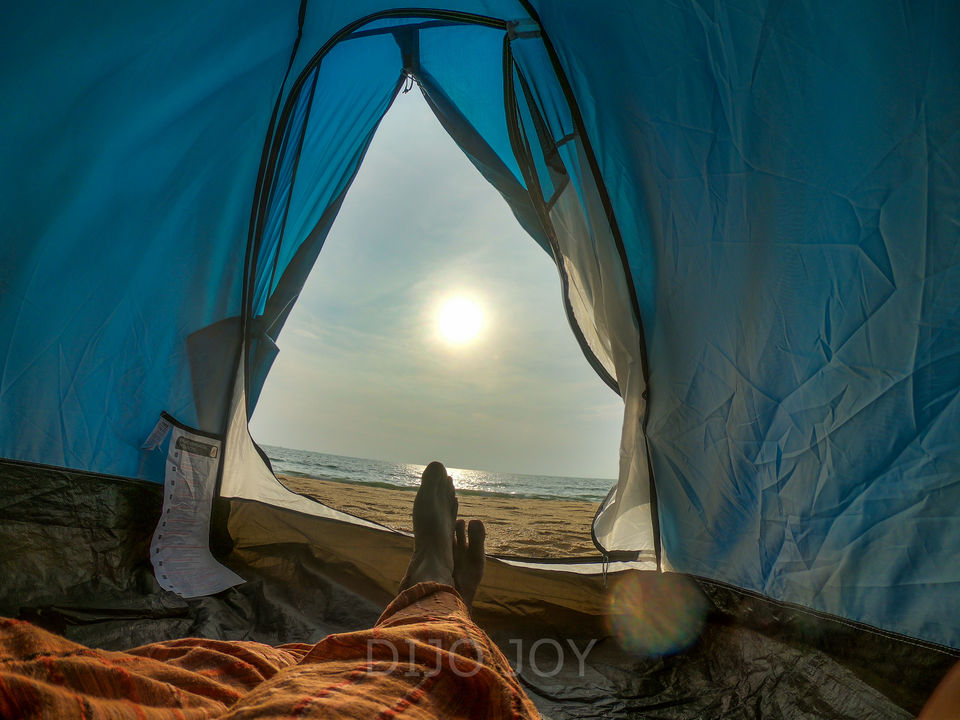 It was indeed a perfect location to just sit and relax, listen to music and read a book and enjoy the sunset. Carrying a water bottle is suggested, the only place where you can get food would be near the light house which is open till 8 PM.
The light house is open for public from 5 30 PM to 6 30 PM, so I went on a walk for a while to explore to beach. All that I did was listen to my favorite songs and walk as much as I could.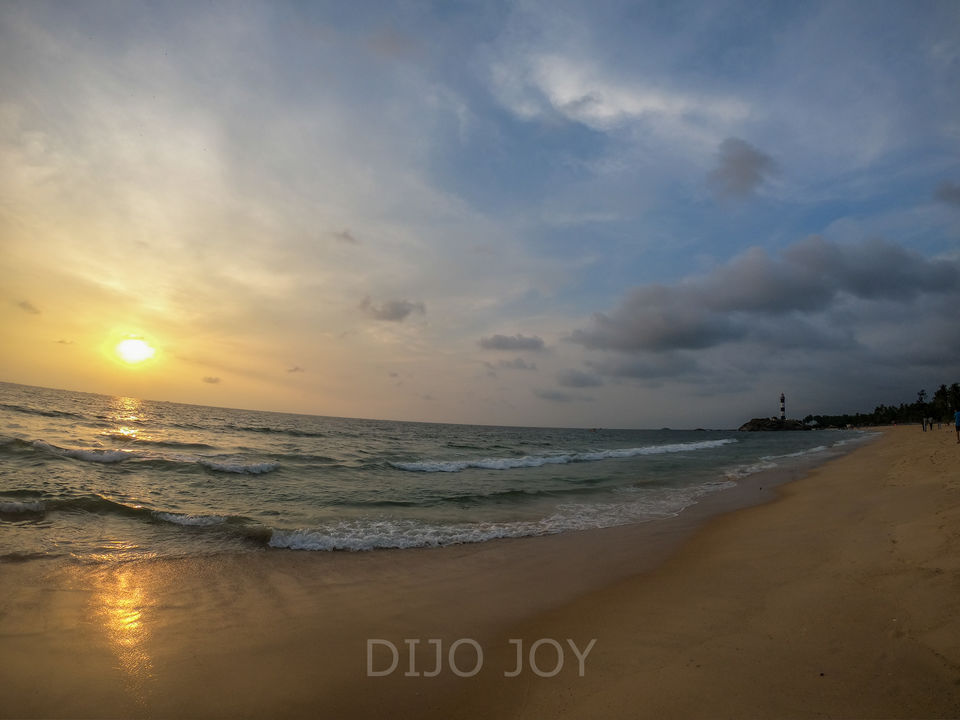 As the sunset was nearing and the gates were open for the lighthouse, i walked towards it, stopping every now and then to click. I dont think words would justice to describe an evening like this. There is a minimal fee for the entry to light house and for camera. You can stay on top until 6 30 PM. The view from top was something which i could not imagine, on one side you have the sea where sun was setting and the other side was lush green all around. And far away I could see few industries around Kaup.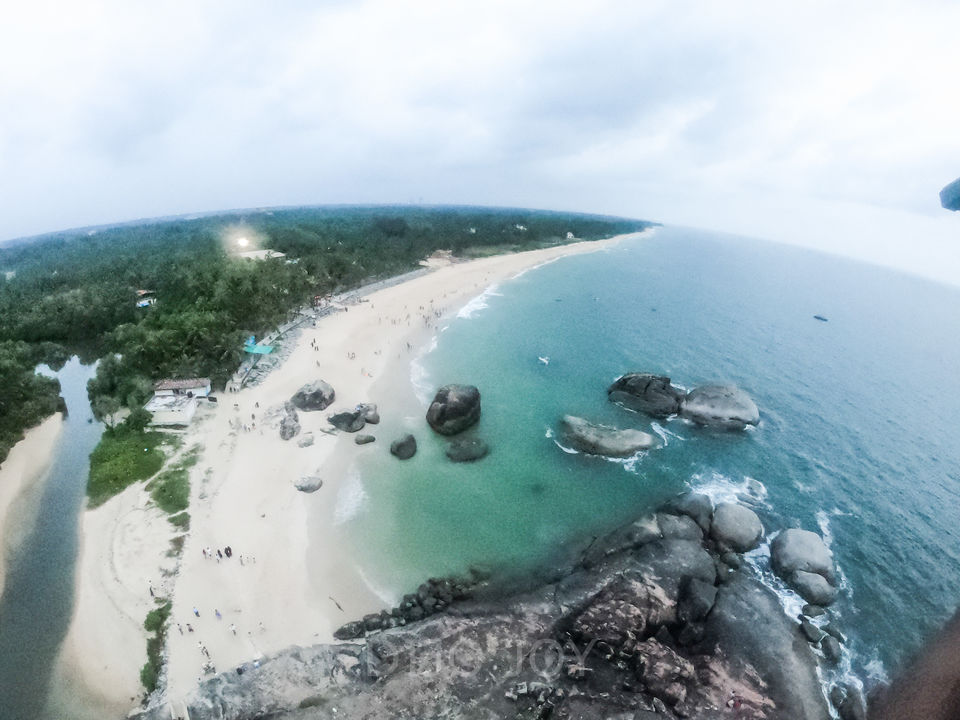 I dint stay back till 6 30, since i wanted to take few time lapse videos of the sunset and sit by the shore and meditate for a while. If you are someone who loves sea food, you should try the food stall near the light house and they are not expensive, for a meal with fish fry and fish curry and rice would cost around Rs 200 which. The light house was built in the year 1901, and is around 28m above the base. Back in times the Kapus were a tribe responsible to look after the bulbs in the light house during all seasons and they used to stand around the light house and dance every evening .
After finishing my dinner, i walked back to my tent. It was pitch dark and struggled a bit to locate my tent initially, and all that i intent to do was to listen to the waves and sleep. The night sky is beautiful here, I could not click a picture of the night sky but you will love it on a night with clear sky.
I ended up waking up early because i had to go to Manipal to pick the bike I rented, walked back till the highway to catch a bus to Udupi. Freshen up at the room, grab a quick breakfast and board a bus to Manipal. Day 2 Agenda was to cover Manipal End point Park, St. Mary's Island and Delta point.
After picking up the bike, I headed towards Manipal End point Park, but unfortunately they were closed and had to change the plan and head towards Malpe.
Followed GPS to reach Malpe, have to catch a ferry to go to St.Marys Island. Have to take a ferry to St.Marys island, they have a restriction that you can stay in the island for only an hour which is good enough to walk around the island and enjoy its beauty.
It is believed that, in the year 1498, Vasco da Gama landed at St. Mary's Islands on his journey from Portugal, fixed a cross on the island and named one of these islands, O Padrão de Santa Maria, as a dedication to Mother Mary, before heading to Kozhikode in Kerala. It is from this name that the islands got their name as St.Mary's Island.
They are a set of small islands with coconut trees, known for their distinctive geological formation of columnar basaltic lava. Studies indicate that the basalt of the St. Mary's Islands was formed by sub-aerial subvolcanic activity, because at that time Madagascar was attached to India. The Columnar Basaltic Lava here form one of the four geological monuments in Karnataka state, one of the 32 National Geological Monuments of India declared by the Geological Survey of India in 2016 for their protection, maintenance, promotion and enhancement of geotourism.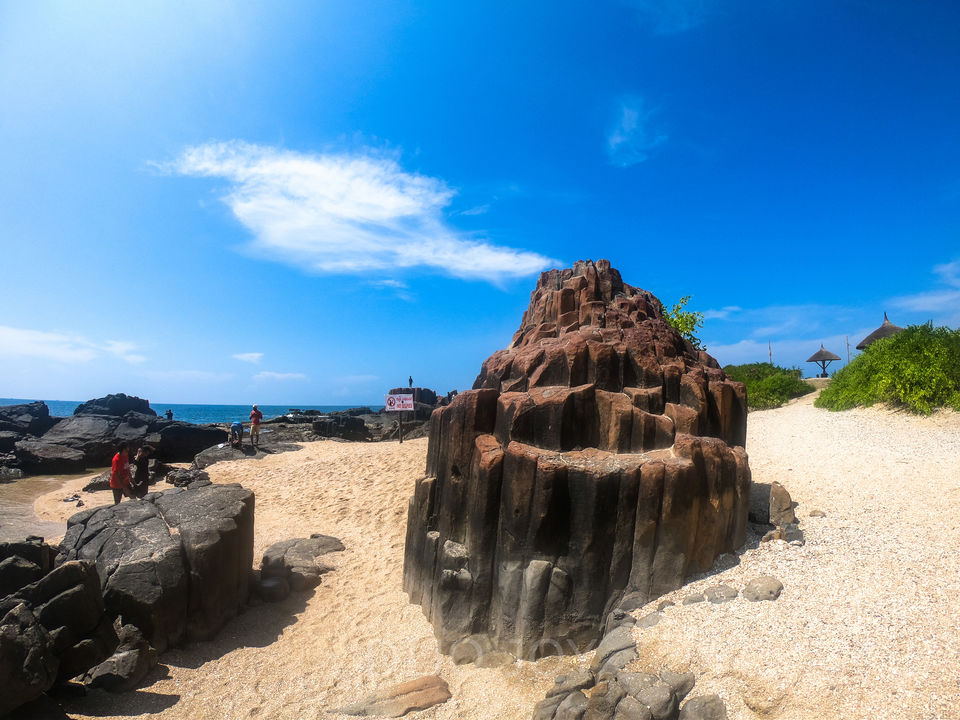 Walking around the island is fun, with clean blue water and sound of waves, you will be lost in its beauty. Though its advised not to go for a swim here, i did spot few people enjoying the waves. There are few shops in the island that sell water and food. But i would suggest carrying your own water bottle (avoid using plastic).
An hour later I took the ferry back to Malpe. The Rs 300/- for the ferry was totally worth it. After having a sumptuous meal at Malpe, which just cost me less than Rs 150/- I was relaxing by the beach and reading a book. My next and only agenda for the day was to ride to Delta point for sunset. The best part of this ride is that you would be riding along the shore and along the country side of Udupi. It takes only 30 minutes to reach Delta point, but then the whole ride is so scenic that i had to stop couple of times to click pictures. One side of the road would be the sea and the other side would be the back waters. Not often we would get to ride and witness such beauty after all.
All that i wanted to do was just sit back, enjoy the waves and witness the sunset here. Delta or Kodi Bengare Beach is the meeting point of the river Suvarna and the Arabian Sea and you would not want to miss the view and the sunset here.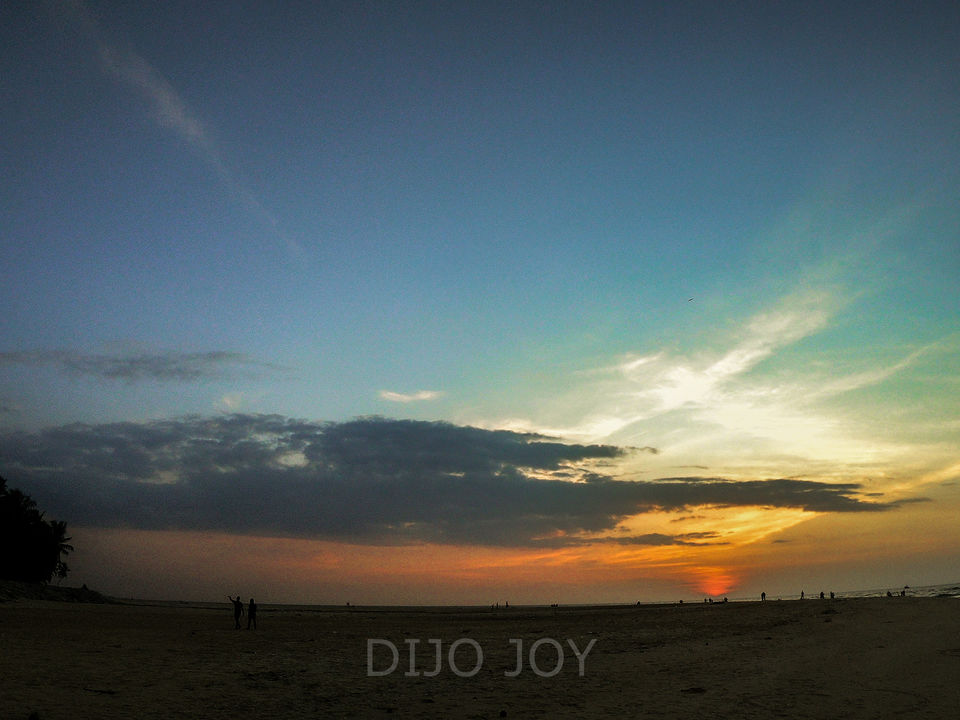 Rode back to my room in Udupi after to rest after a tiring day. Since i wanted to see the sunset at both Kaup and Delta, I extended my stay by a day and hence the three day trip.
I had rented the bike for one full day, so my plan for day 3 was to just ride along the beach from Malpe to Kaup, at least on the Map it looked like they do have a road.
Started riding after having breakfast at Mitra Samaj, a place known in Udupi for Mangalore Bajjis aka Goli Bajji. Though i was doubtful if the route would actually take me to Kaup, I was not worried about it cause every minute the view was beautiful. Happened to stop by at few places, where fishermen were at work, spend some time talking to them , click pictures , hear their stories and head to the next place.
Its always fun go on roads which you never read about. Such was the ride from Malpe to Kaup. There are very less vehicles on this road. One such place which i loved was a small park which had swings. All that i could think of was how different would it be for the kids here, unlike those in the cities. To swing and play in a park beside the beach, it has to be different for sure.
Another beach which is not much know is the Udyavara Beach, its clean beach with no plastic around, if you happen to visit this place ensure you carry back everything you have and not leave any waste behind. After spending sometime here, I headed back to Manipal to return the bike.
Got back to my room, packed my bag quickly and walked around Udupi for a while before I headed to Railway Station to board the train in the evening. Udupi would be one of the places, which i would want to visit again, and next time explore the temples in Udupi too.
How to reach Udupi?
Over night train/bus from Bangalore or Drive/Ride 400 KM approx.
Where to Stay in Udupi?
Homestays/Cottages in Kaup or Lodges in Udupi depending on budget
Best Season to Visit?
Post Monsoon and before summer, October to February, best time would be December.