While fixing the burst tyre at Sankoo, the puncture guy asked me why I did not get it fixed at Kargil. On casually telling him that I didn't go to Kargil, but took the Umba La route to Sankoo, he stopped his work, and looked at me in utter disbelief. It startled me for a moment. He left the tyre, called out a guy working in the Timber shop on the opposite side of the road, and shouted, "Ye Umba La se aaye hain!" (He has come via Umba La).
4 men walked to me, and questioned me, "Aap Umba La se aaye hain?"(Have you come via Umba La).
I nodded. While they were still looking at me in disbelief, one of the boys stopped a truck passing by, and told the driver, "Ye Umba La se aaye hain" (He has come via Umba La). The truck driver too looked at me in disbelief and drove on. I started to wonder the mystery behind it. But the lack of time made me request the puncture guy to fix my tyre, so that I could proceed with my journey.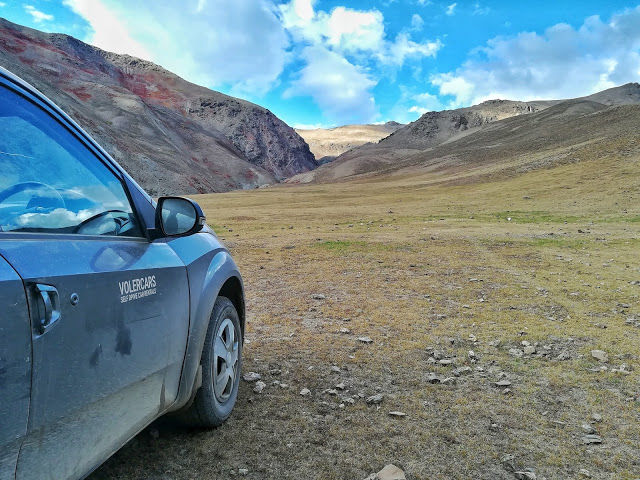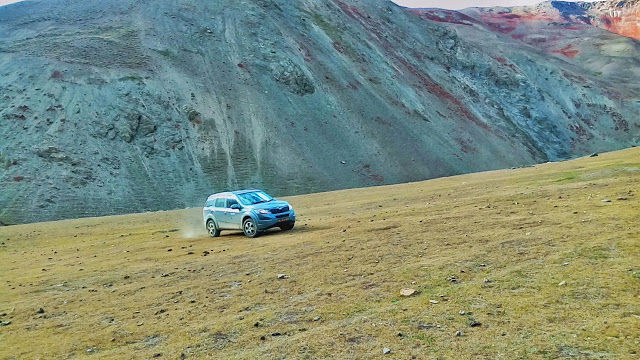 Before the tyre got fixed, a few others came to me and asked, "Aap Umba La se aaye hain?" Everytime I nodded, people looked at me in some disbelief, and either started further questions, or left, still looking at me. It seemed to be the news that amused everyone around. Everyone passing by, looked at me from head to toe, looked at my car. I started to feel, maybe am an alien who has come from a unknown land. Or maybe there's something really fishy going around there.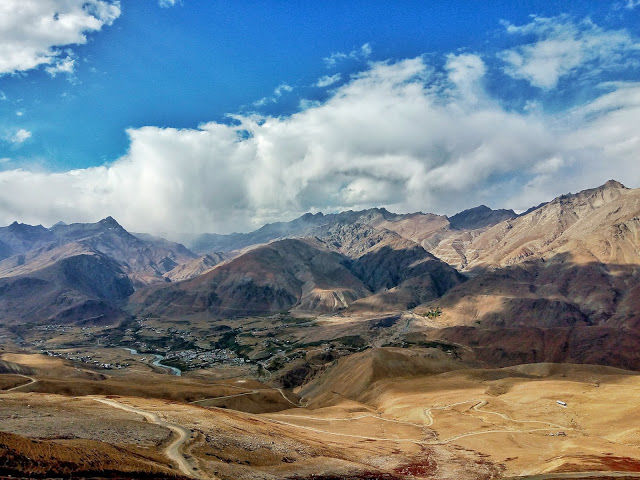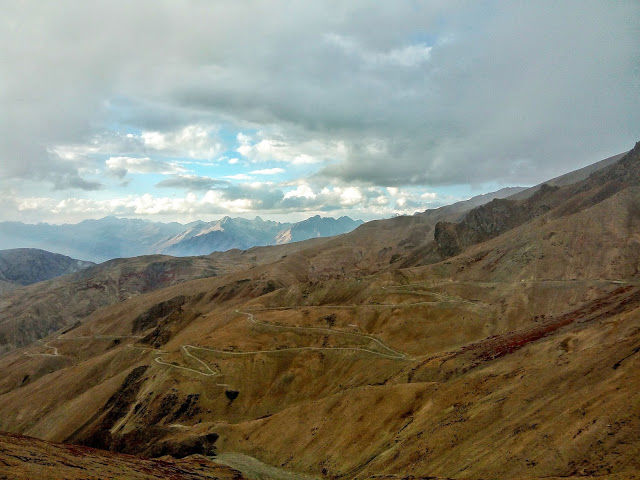 After the tyre got fixed, I wanted to give the car for a wash. I halted at a shop to ask about the car wash centre. Instead of telling me the way, he offered to take me there. Such a helpful soul he was. As soon as he sat in the car, he asked me, "Aap hi hain jo Umba La se aaye hain?" (You're the same guy who came via UmbaLa?). As soon as I heard that, I almost lost control of the wheel. The news seemed to have travelled across the length and breadth of Sankoo.
While giving the car for the wash, even the workers there surprisingly asked me, "Aap Umba La se aaye hain?" Now it was getting a bit too much for me to absorb.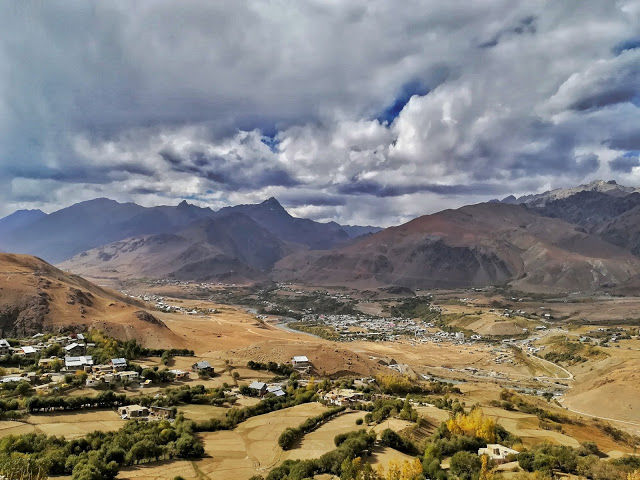 When I reached the guest house where we were staying, some other car had parked itself there. Parking was tricky. But thanks to the 3 men sitting there, who helped me park by shifting a bike and stones here and there. As soon as I got out of the car, and even before I could thank them, I heard a familiar question, "Aap Umba La se aaye hain?"
By this time, the whole suspense made the patient soul inside me question back. I asked them about the big deal about having come from UmbaLa.

That's when they told me stories and I understood.
Ever since the road has been built from Drass to Kargil to Sankoo (and it's a long way back), none has taken that route. It's a no man's land. Weather changes there every few minutes. Some people have tried going there for fun, but returned with stories of how their car / bike wasn't able to take the route, and made them return from a few kilometers.
They told me, how lucky I am to have visited that part as even the locals of Sankoo have not been there. The only thing they know about UmbaLa is that it's a no man's land, a place that has no roads, and a place they yearn to visit. Surprisingly, UmbaLa is less than 40 KMS from Sankoo. Google Maps show it to be just 12.6 KMS. Guess, need to go again to confirm.

And what's more surprising is the presence of another pass before UmbaLa that people do not know about. A pass that still doesn't have a name. A pass that warmly welcomed us with a snowfall.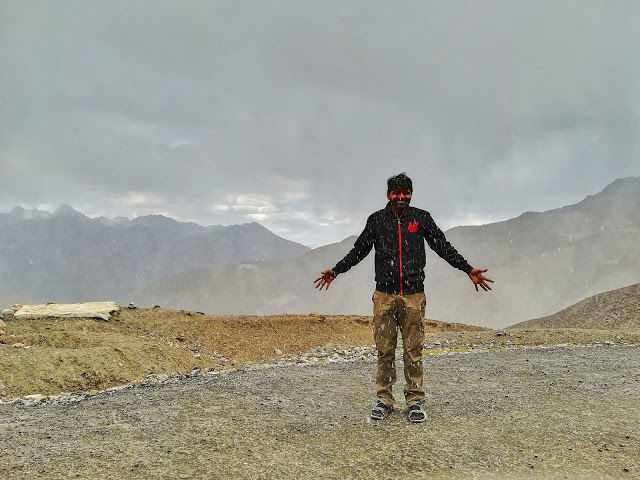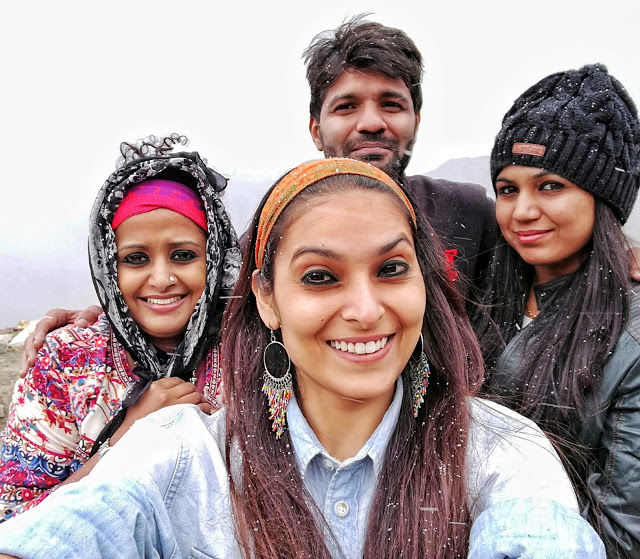 In 2014, I discovered an unknown, unnamed lake in Himachal. In the far corners of Spiti to be precise. Fellow travellers and friends lovingly named it "SS Tso" (after my initials). It was apparent that after posting about this incidence, about the unnamed pass before UmbaLa, a lot of friends and fellow travelers suggested to name the unnamed pass too as "SS La". Guess, I'll pass that.
Connect with me or follow my journeys on Instagram , Facebook , Twitter