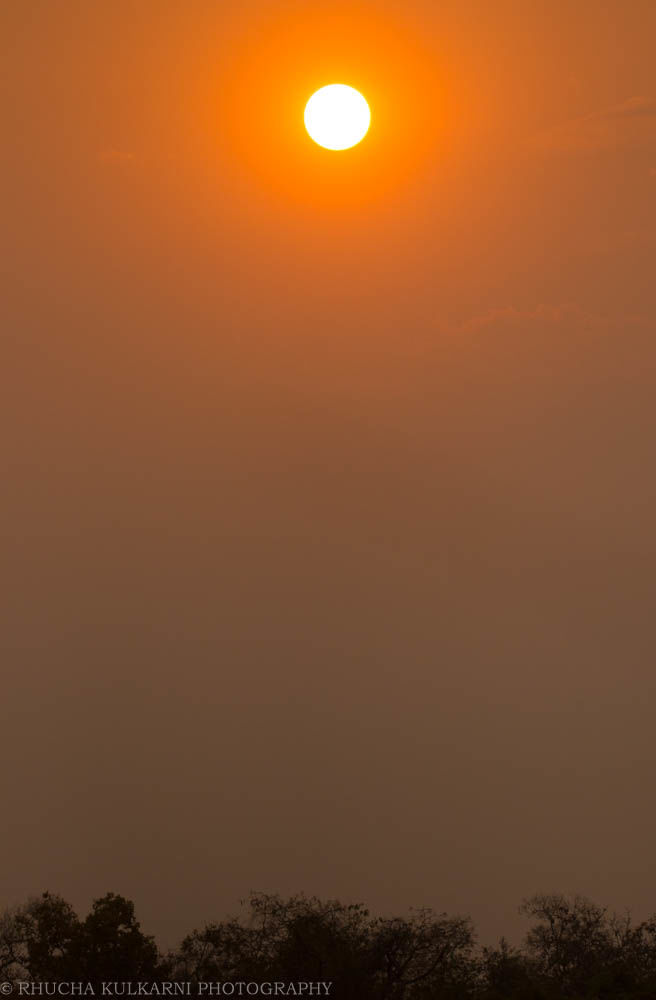 The mysterious hidden marvels of the jungles beckoned– I decided to satiate my thirst for the greens by venturing into the jungles of Central India, yet again. It seemed the perfect panacea - solitude and serenity as I dreamt of a world where the denizens of the wild roamed free, limited only by the ticking time announced by the rising and setting sun. I fervently awaited my escape, in place and time to the grasslands of Tadoba Andhari Tiger Reserve. But this time was to be different than any other time. I was a woman with a specific mission in sight, to capture the majestic showstopper of Tadoba- Maya the Tigress.
The Majesty of Maya
Maya Memsaab. Star tigress. Sensuous showstopper. The beautiful beast goes by many names, all of them indicative of the immense adoration and affection that wildlifers bestow on her. And rightly so. For she is one bold and beautiful being, the apple of photographers' eyes. Known to walk the dusty dirt roads like a bold ramp walker, she leads the way as scored of safari gypsies and powerful men can do nothing but follow her trail. There was a pleasant twist to the tale- Maya had delivered a litter of two cubs, which were known to be as bold and forthcoming as their vivacious mother. So, Mission Maya it was for me, as I prepared to set foot into the wild. Come safari 1, and I boarded the safari gypsy, a sudden rush of adrenaline coursing through my blood as the uncertainty of the feline chase gripped me.
The cool jungle breeze blew through my hair, but rather than relax I was on edge, in constant search of jungle signs to spot the big cat. At last, our guide caught the whereabouts of Maya. And I waited in high anticipation to spot this striped friend of the forest. This was not the first time I expected to see her, she has been my muse for many a year now. Yet, she never fails to awaken the wildlife lover in me. I fondly reminisced stories of Maya's vivacious personality, as we followed the pug-marks and alarm calls. We reached Maya's territory and thus began the long arduous wait –for the sun to mellow and the tigress to emerge in true majestic grace for some sunset downers at the natural lake. The setting was perfect- a herd of chital casually grazing a few feet away, grassy lake-knolls for the backdrop and me with my shooting artillery out and ready!
Tiny Tots
And then a single alarm call by a spotted deer. The air seemed to tense up, with a chilling demeanor. As I peered to look out for a gigantic striped form, what I saw surprised me. Two tiny tots were venturing out of the bushes, to take a drink in the pond and cool off. Apparently, it was mommy dearest who had given them the go-ahead to be brave and venture out on their own. As expected of mesmerizing Maya. What a rare sight it was, the 3-4-month-old cubs lapping up water on the water's edge. A wily mongoose was finding its way around in search of a place to drink from, and one of the cub's gaze fixated on this weird animal. Probably amused by the weird-looking visitor! I'm sure he would go back and pose a number of curious child-like questions to mommy!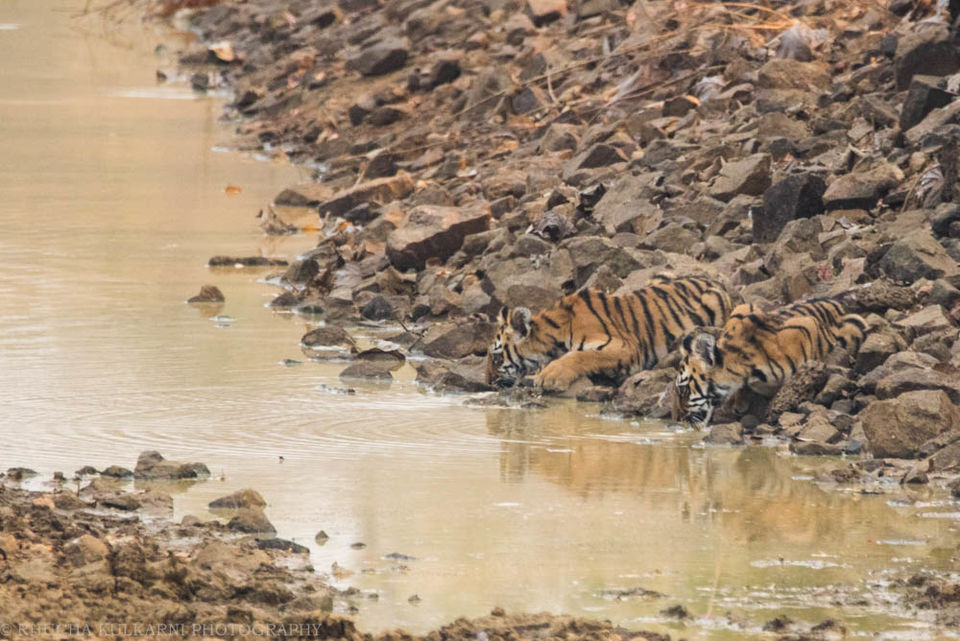 Seeing cubs in the wild is a rare occurrence. Tiger moms are single moms, singlehandedly raising their young in most cases. Cubs are trained for around 24 months, during which the mother trains them in the ways of the wild for survival and proliferation. One would imagine that who would kill the king of the jungle. But this is wrong, tiger cubs have about a 50% survival rate and are under threat from species like leopards, sloth bears, wild dogs and even other male tigers who are not their father. This means that tiger-moms need to be super-careful for their cub's safety, even when they are out on their hunting sprees. Cubs are often concealed in tall grass and instructed to stay put without a word! Often, they are hidden away till up to 4-5 months, when they develop some skills and confidence of holding their own bit! In light of this, what unfolded before my eyes was quite an anomaly!
Family Shenanigans
But the only way of the wild is uncertainty. And to make the most of this uncertainty is to have loads of patience. I knew that watchful mother Maya would not be far away, and as the sun dipped further we waited in silence. A single glimpse of this graceful girl was enough to make every traveller a wildlife addict, for life! The clock ticked by, and I was worried that we would need to head back to exit the gate on time. It was just about 10 min to go, when it happened. A large, graceful form descended towards the little ones. It was time for a drink, I thought, but I was wrong. Maya mesmerized us by entering the water and calling it a pool day! Her golden coat dazzled in the golden sun, as she lapped up the life-giving beverage. It was a family union of sorts, the cubs bounded in joy all over Mommy's, giving me some precious family moments to capture. The wild shenanigans lasted for some time, right before the eyes of eager wildlife travellers. Sadly, we had to leave this beautiful scene and head out in time for our safari exit.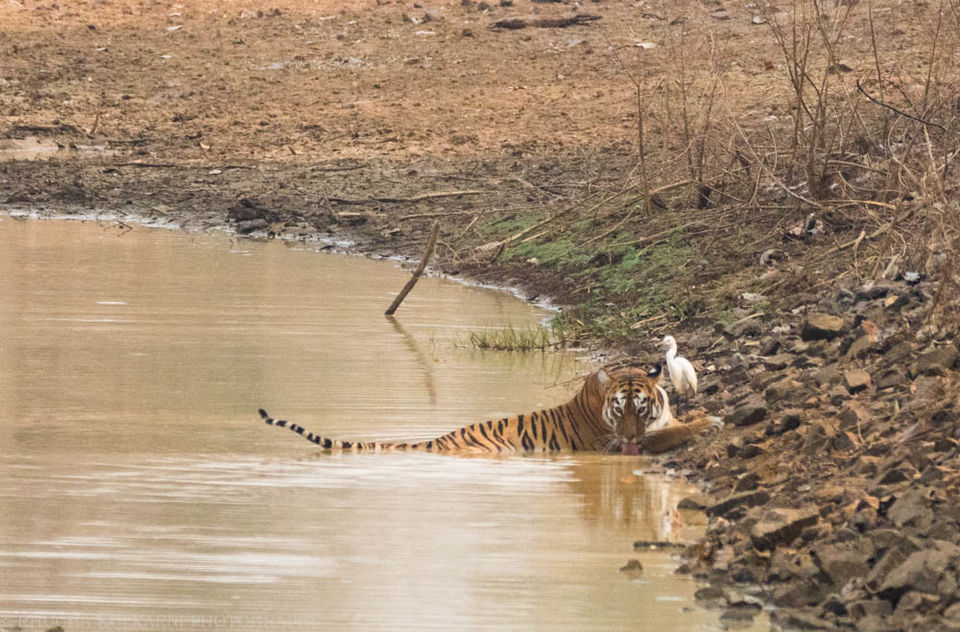 Every experience in the jungle is different, and this trip to Tadoba proved this yet again. Maya made an appearance, but tigers are free and wild, and it is up to their moods whether to show their glamour and glitz or not. I can say that Maya can be called an exception, it is as if she is paparazzi-hungry! Undaunted. Unfazed. Unconcerned. She is her own Queen, the Queen of Tadoba and the reigning Queen of many a heart! More than enough reason to plan a trip to the bamboo forests of Tadoba and be awed by wilderness!