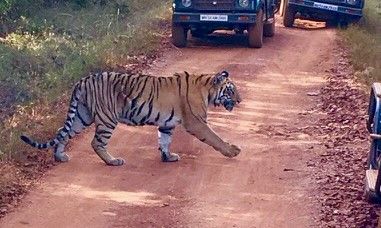 Probably Maharashtra's oldest and largest National Park, the "Tadoba National Park", also known as the "Tadoba Andhari Tiger Reserve" is one of India's 47 project tiger reserves existing in India. It lies in the Chandrapur district of Maharashtra state and is approximately 150 km from Nagpur city. The total area of the tiger reserve is 1,727 Sq.km, which includes the Tadoba National Park, created in the year 1955. The Andhari Wildlife Sanctuary was formed in the year 1986 and was amalgamated with the park in 1995 to establish the present Tadoba Andheri Tiger Reserve. The word 'Tadoba' is derived from the name of God "Tadoba" or "Taru," which is praised by local tribal people of this region and "Andhari" is derived from the name of Andhari river that flows in this area.
As per the latest reports available, It has a viable population of 40+ Tigers with high frequency of Tiger sighting. Beside Tiger, it is abode to number of prominent wild denizens like Leopard, Wild dog, Sloth bear, Gaur, Sambar, Barking deer, Cheetal, Chausinga, Nilgai, Wild boar alongwith rare ones like Ratel, Flying squirrel, Pangolin and Rusty spotted cat. The core zone of Tadoba has 6 gates and buffer zone has 6 gates. Both core and buffer forest areas are extremely rich in flora and fauna and shelter a huge population of majestic Tigers.
Tiger Spotting is a matter of luck as they say, but patience is the key to achieving a sitting. An ideal trip should be for 2nights and 3 days where one can cover 4 trips in the jungle and cover all major spots where usually sittings happen. Ideally one should cover buffer zone once and core zone atleast twice. A safari in early morning is the most likelihood of spotting the beast. A no brainer season is summers where a guaranteed sighting can be assured near any water bodies, but the scorching summer with temperatures running as high as 48degrees Celsius plus is difficult to sustain. The best time to enjoy the safari is in winters beginning late Nov when temperature in the park drop as low as 5 degrees Celsius.
Some of the popular tigress/ tigers in Tadoba
Maya – The boldest tigress in India , Tara, Chotti Tara and her two cubs - Daughter of Tara, Sitara - Daughter of Choti Tara , Sharmili, Madhuri, Sonam - Daughter of the famous tigress Madhuri,
Matkasoor, Waghdoh Arguably India's largest tiger in the wild, Bajrangi - Dominant male of Telia Dam., Shivaji One of Tadoba's most famous big cats is Shivaji, a prime example of a dominant male.
Visiting the jungle is only through the park's safari vehicle which requires prior reservation and permit with valid identity proof of all travellers. A prior reservations is must, especially during vacation season, booking can get full months in advance so act proactively. You can hire a naturalist expert who guides you through the forest and do your reservations or also book through direct website of the Maharshtra Eco Tourism (http://www.mahaecotourism.gov.in/Site/Common/OnlineBooking1.aspx)
Travelling with kids?
This is based strictly on personal view: It's best to take kids for a safari once they are 3yrs plus. As they understand nature, reciprocate and would enjoy animals sitting. Also it sometime gets challenging to make them quite and keep them stationary in the jeep for hours when the tiger is nearby and you are waiting at one spot for it to come out of the bushes.
Stay
Ample resorts are available outside the park. Choose a one closest to the gate. You may end-up having a wild visitor outside your room at midnight
How to reach
Nagpur is the closest City which is accessible by train and air both which is at a distance of 150kms. If you are doing a direct booking then you will have to hire a vehicle which will pick-up and drop you from the park and station/ airport. If you are doing a package booking through a service provider, your pick-up & drop will be covered by them in your package.
Do's and don't' s during the safari
- One of the rules of the forest is that the tourists are not allowed to get down from the safari vehicles. The safari is done on open jeeps that help tourists to have a glimpse of the tigers and other animals.
- Avoid strong perfumes/ deo's/ powders when you are stepping out for a jungle safari
- Avoid bright clothes, this distracts the animals. Instead opt of jungle blend colours or dark greens, browns , greys or black instead.
- During winters carry thick woollens esp. to cover your ears, as the park is extremely cold during morning and late evening times. It is advisable to carry glares , cap/ hat as sun could get stronger during afternoon safari even in winters.
- Carry your caps/ hats/ and be covered to avoid sun burn if you are visiting in summers. Temperature can run as high as 48 degrees
- Carry a kerchief/ stole to cover your nose, since the jeep is open you end up with lot of red soil on your face and nose.
- Irrespective of the season you go. Carry enough dry snacks and water/ juice sustainable for 3-4hrs
- The park has a dedicated point where they have built washrooms for the visitors inside the park
Last but not the least, you are entering a territory which belongs to the wild, hence respect their privacy and avoid commotion, noise, littering around and crowding on jeeps for clicking pictures. At the end of the day, these are Wild animals, hence maintaining a distance is highly recommended. LIVE and let them LIVE!
The cost mentioned above is approx. per person & may vary. This is including stay, safari, food & pick-up and drop from Nagpur airport