Hidden in the remotest reaches of Himalayas lies one of the most inaccessible place in the world named Zanskar. The region stands out as one of the few places in the Himalayas where traditional Tibetan culture, society, and buildings have survived both the Chinese cultural revolution & global modernization. This isolation and purity of culture lured us to visit this 'lost valley' in July 2016. This is a series of 7 blogs covering our complete journey through Zanskar.
After a pretty sleepless night we took off in an early morning flight from Mumbai and got some amazing views from the flight before reaching Leh. Ladakh is a cold desert and Leh is in fact a bit of a city in the desert. No train routes exist to reach Ladakh. One can reach there either by air or road (from Manali or Srinagar). Our travel plan was to leave for Kargil the next day; hence we had the whole day for rest and sightseeing.
A quick drive in a pre-paid taxi to our hotel and an introductory session with rest of the members of the photo tour marked the beginning of our journey together. Our first place of visit in Leh was Stakna monastery. The monastery is located on a hill besides Indus River. From atop the hill where monastery was located, we got a picturesque view of the flowing river and the copper colored sand mountains. We could also see the Thiksey Monastery which we were going to visit next.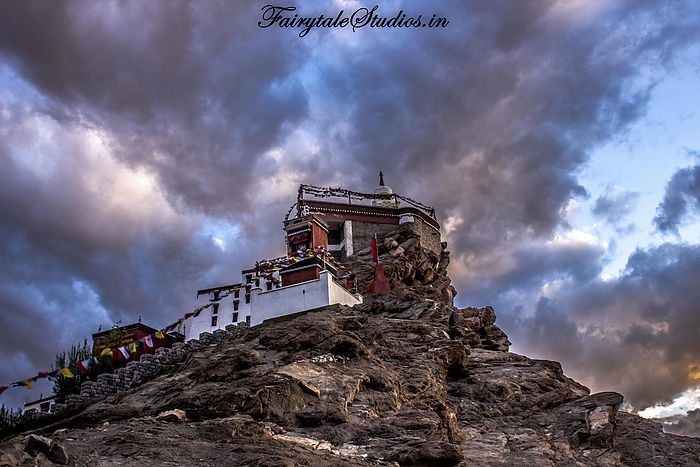 We next visited Thiksey monastery which is just 5-6 kilometers back towards Leh on the same road. It offers excellent view of the Indus valley and the whole setting is so calm and peaceful that it puts you in a silent trance. We were fortunate to see the sun set in the orange and red colored clouds across the horizon and the moon rising on the other side at the same time. Driving through the Leh market, we reached back to our hotel and slept dreaming of the next day's exciting journey.