"I'm going on a trek to Uttarakhand" - I said.
"Oh, that's great! With Family?" - said my friend.
"No" "With Friends?" - he asked. "No, alone" - I said.
With hesitation and looks of doing something weird, I accepted that it was an odd thing to go on a trek with an unknown set of people at an age of 20 with an additional "load" of being a female. There might not have been any weird looks if my brother had answered the same way though.
Despite of having answered everybody confidently, I knew what I had put myself into was a lot of risk. It was not going to be like Yeh Jawaani Hai Deewani and I had not even dreamt of finding a Bunny. All my friends were simply not free. And I found it completely okay to go and make some new friends.
I had heard about Indiahikes from a close friend, and its videos helped me chose one of the easy-moderate treks Kuari Pass. Except those one day treks, I had no trekking experience and it sure was going to be one hell of an experience (maybe literally?)
Day 1
After 'safely' reaching Haridwar station with a mix of my grandfather's scoldings of my 'weird' decision and a tinge of intimidation, I met with the Indiahikes team at the station. There was a group – which did not tally with the Whatsapp Group that had been made for our convenience. Confused but delighted with the people I had just said hi to, in a moment, I realized that group was off to another trek – Kedarkantha. After a while I saw one of my trek mates and it did not take a moment for everyone to join us. Thus, there was apprehension throughout till we sat in the bus. It had just started, the discomfort, uneasiness and the want to break the ice.
The journey was quite a sleepy one as I can't recall it. Filled with laziness and food breaks, my silence was nothing but due to a tinge of nervousness. We reached the campsite at around 6 pm and trust me if I say this – it looked like it was 11 pm. The huge transition from the warm weather to the upright cold weather shook me. We believed we were staying at a guest house the first day, but challenges wanted to come a little early. I could see tents and a pile of fears. We were at the base camp – Joshimath.
In a while we were called for 'tea'. We met our trek leader who nonetheless just increased my apprehensions again. 'Kuari Pass' was Indiahikes' first ever trek in the winters. "If you have a slight headache, inform me. There can be water in your lungs. This. That" - with every word I heard, my hopes were shattering with the cold. I don't really think I would make it.
The dinner in the dining tent with my tiffin dabba was quiet. I was shit scared I would say. 'Stepping out of the tent after 8 pm is dangerous. You must go with your tentmate'. That was the first challenge. I was just twisting and turning when I had to use the washroom. Inspite of very little conversation with my tent-mate I somehow managed to wake her up to accompany me to the toilet tent. I would die if I said I had a very peaceful sleep. Damn, I did not. I was thinking of the repercussions if I return within a day.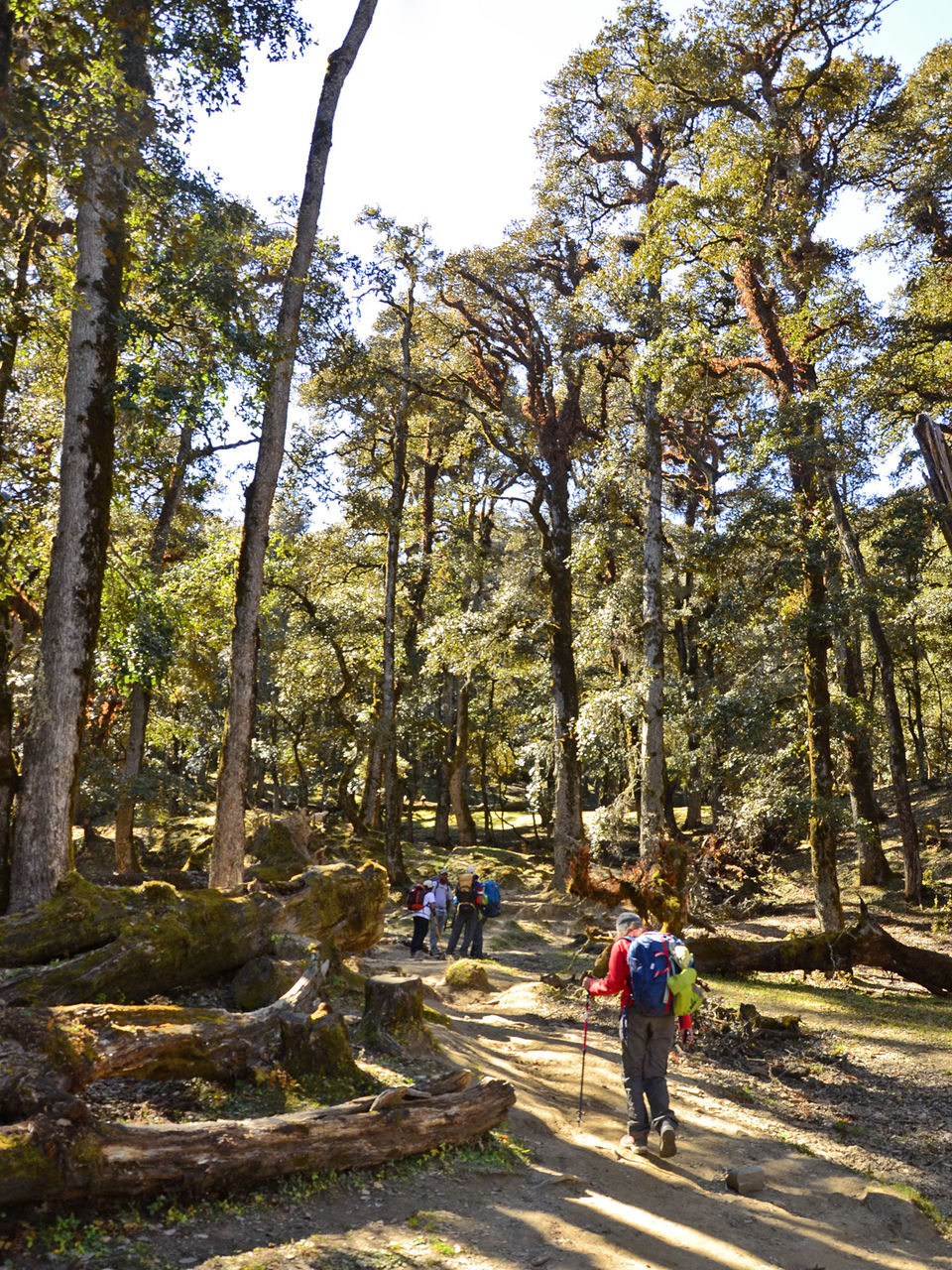 Day 2
'Alas! I am alive and awake!' - was my first thought when I opened my eyes the next morning. No animal ate me up. Rejoicing it, I went through my morning routine in the new environment of nature. All packed we left for our next camp site – Padiyar Camp that opens to Gorson Bugyal. We had to climb an altitude of 2000 ft. With my trek bag (which was not really meant for a trek), first few metres seemed like cutting a cake. After a while, I was the last person in the row of trekkers. I was asked after every while - "Are you okay?" And I would happily smile and say - "Yeah. Don't worry". After a relieving stop at a Maggi place, we were continuously promised that it is just some kilometres away. That fake hope in our head actually kept us going. Started at 9, we were there by 1:30 pm and the camp site was worth the walk. Gorson Bugyal is one of the finest camp sites. With promises of perfect captures, it is surrounded by thick trees all around and the meadow.
"I survived", was all that was going in my head. After a delicious lunch, we walked around the camp site. The number of games we played in the tea tent only made all of us closer to each other. Our trek leader indeed kept us engaged and I was glad to be here finally, savoring each moment.
That night was a good night's sleep as everyone would call it. We were given hot water at night which I hugged rather tightly and fell asleep.
Day 3
I would say I was at peace, rejoicing my decision for this trek the next morning. Had a good night's sleep and woke up for morning tea. I was getting used to the toilet tents in the morning, packing my backpack for the next day and unwinding the tents. Our next campsite was Taali. The trail to Taali was the best trail. Maybe around a metre and a half, the trail said – "Do or Die". It was straight and I wished it would never end. I felt like it was a metaphor for risk.
The distance was quite long but there was very less ascent. We reached later than expected. Taali is a very enclosed campsite with trees all around our tents. The dense canopies didn't let the sunlight fall on us in the cold weather. After a very satisfying lunch, I rushed to this canopy where there was a little sunlight. Lied down there and that was bliss.
Then the unusual became the usual with tea, long talks and a lot of Mafia. We were instructed to leave early for the finale – our final ascent to Kuari Pass.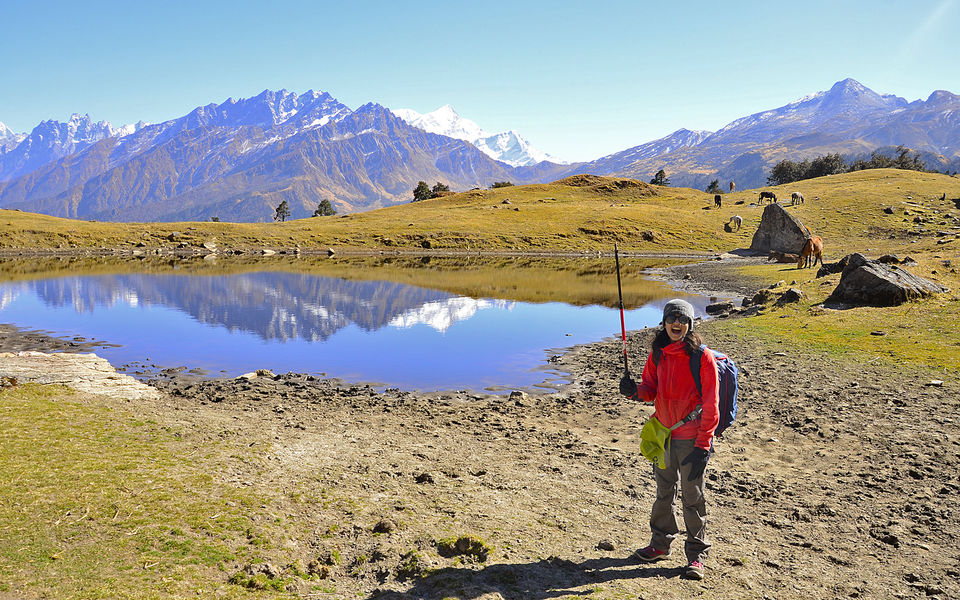 Day 4
We were running late and were told that we would be left behind if not on time. Hence, everyone rushed to leave for the most awaited day. The trek to Kuari Pass was quite long but varied. I was relaxed at the thought of not carrying my entire backpack. But the trail had streams, blocks of ice, high mountains and straight paths. Interacting with Mukesh Bhaiya, one of the trek leaders made my ascent a lot more relaxed. Here is a tip – when you converse during your trek, you don't realise how much you have walked. That's what I discovered.
In less than 3 and 3.5 hours we reached Kuari Pass. We could see all that we covered and all that we couldn't have seen and experienced in the mad city life. That feeling of accomplishment can never be compared to any other feeling in the world.
The return was smooth as there was no destination to be reached but only the campsite. I remember the return to Taali when the most unexpected news had been circulated in the world. And we were not even aware of it. I called my friend to update him with the trek. It was the other way-round then. I got two updates that shook the world and are perhaps still shaking the world.
1) Donald Trump has become the President.
2) 500 and 1000 rupee notes have been banned.
I was not sure if I should buy it. I told my trek mates. They couldn't believe me and confirmed it with another friend. It was true! While we were celebrating over our accomplishments and spending money on treks here was America contemplating and businessmen dying. The rest of the return to Taali was spent talking about it. After the hectic day I went to sleep early that night. I was glad it was over not because it was bad but because I did it!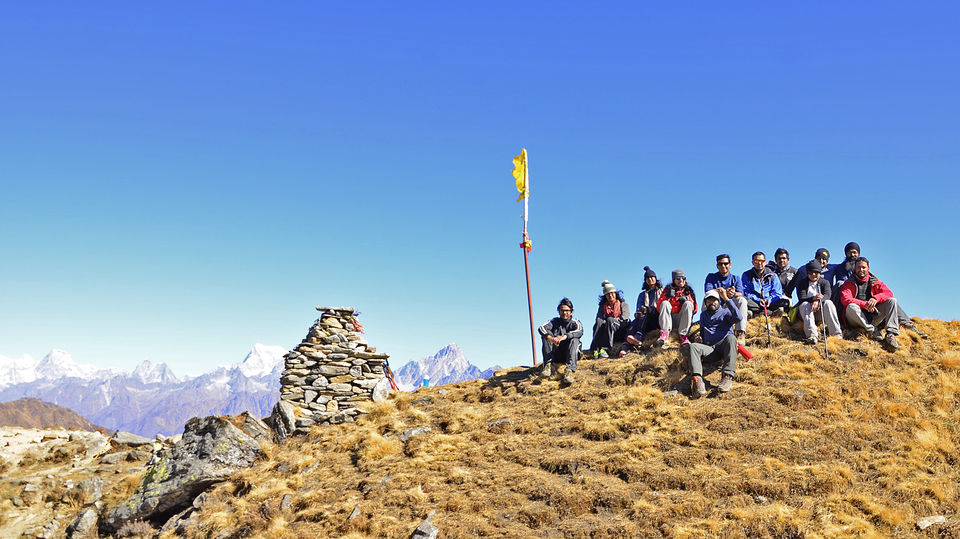 Day 5
By far, one of the best mornings I have experienced. I was one of the early risers that morning. The weather was good chilly and I was excited to go back and share my experience. The morning chirpings, noise of the quiet stream I began to enjoy every bit of it. We began playing music with the breakfast.
We were ready to descend in no time. I was a little unaware of the return trail. It was quite a bad experience because it was too long. Not only that, the path was not straight and was raw. By the time we reached I jumped to sit in the cab to a guesthouse in Haridwar.
I began to appreciate the bed, the washroom, the table and everything around me. It all felt like luxury. After a good evening of Pakoras with tea we had to walk to the Bank to deal with demonetization. Following that we were told to share our experience and I was more than happy to do that. I was given a gift voucher for the next trek and that was an icing on the cake.
It is difficult to part when you have been comfortable in the most uncomfortable environments with each other. As we bid goodbye to everyone one by one, I understood it takes only a few days and common experiences to know each other well. One of the best decisions I must have taken in my life was this trek and when they call it life changing – it indeed is.
I always believe that – When you are out of your comfort zone you learn the most and take the most with you. Those three days of my life made me belief in myself more. I would hesitate a little when I would go out in the city alone. My friends would wonder why I would do things alone. But after my trek experience, I started to love spending time with myself. It is nothing depressing and in fact it taught me to be comfortable in my own skin.