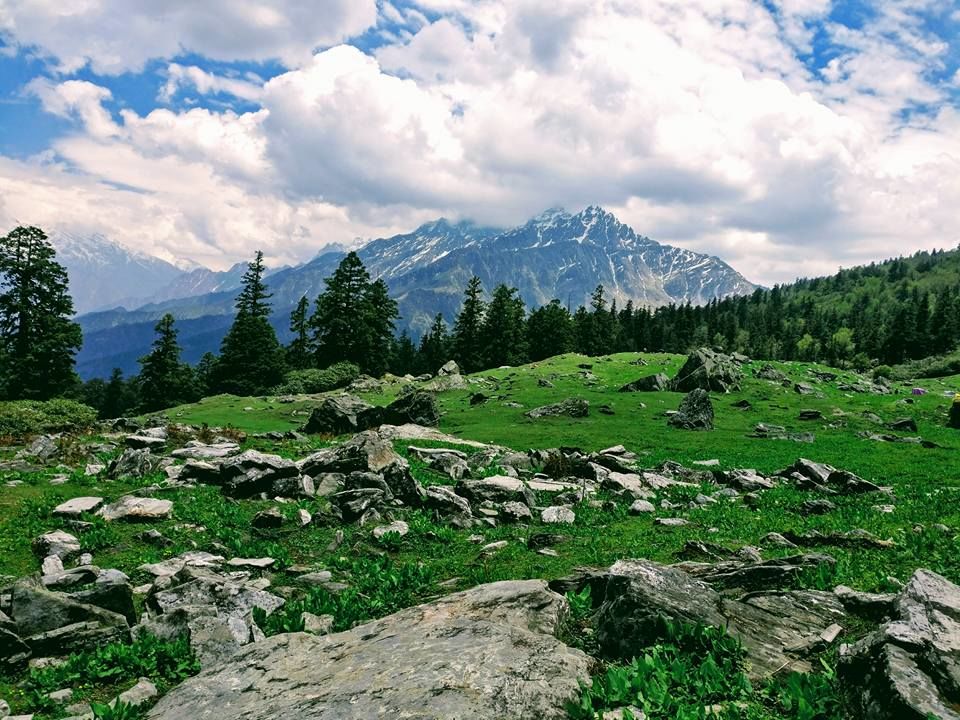 Background:
In March of this year, we started our planning for our annual summer vacation. We had initially penned down Ireland as a possible summer destination. It sounded exotic and like an extremely romantic destination but...
...i had recently returned from a work trip to Uttarakhand in February and the hills had captivated my imagination in a way I couldn't describe; just the utter calm and peace about them that drew me in. Quite by accident I found the indiahikes website and after discussing this with my wife Sindu, what followed was countless calls, queries, questions that I posed to the IH team that they patiently answered. I was convinced that if we were doing this trek, we were doing this with the kids, Isha 8, and Samara 6. Done. We signed up for the Kuari Pass trek for the May 14th batch.
Next on our list, to find friends or family with other kids who'd be as crazy as us to sign up for this trek and provide some company and motivation for our kids. Sindu's cousin Suman, her husband Arun, and their 6 year old Vedant! Travel plans were quickly made and tickets booked. It was on!
What follows isn't a detailed travelogue but a personal memoir of our experiences and hopefully some pointers for future families who choose to trek with their kids. It was the best decision we ever made and I hope you enjoy reading as I did writing this.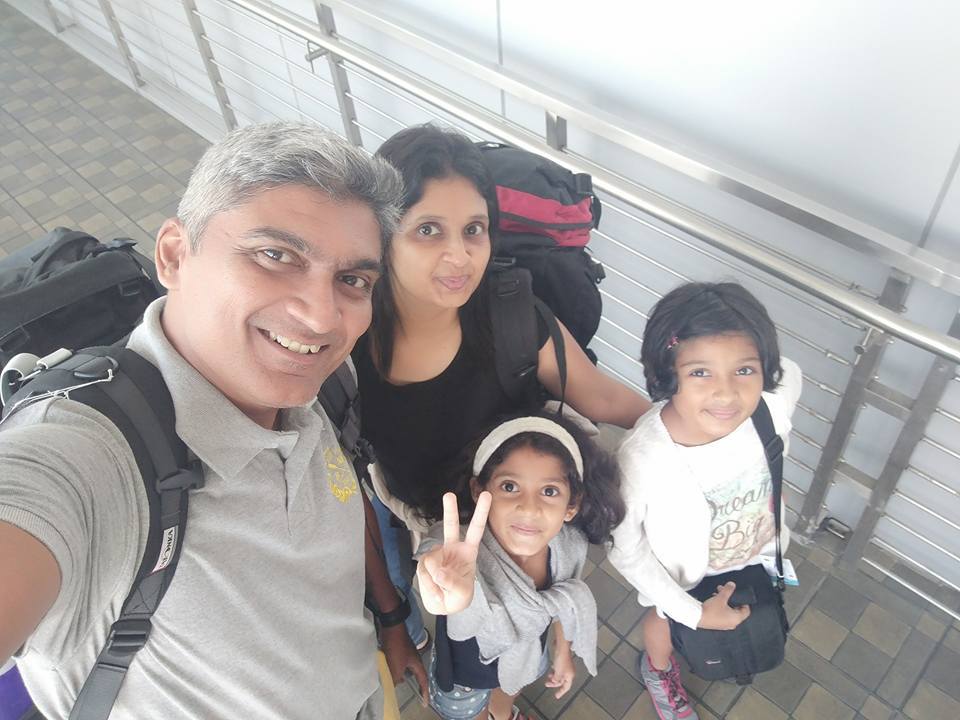 Day 1: Haridwar - Joshimath - Looooong drive!!!
We spaced out our onward journey halting at Delhi, then Haridwar, just to ready the kids for the grueling 10 hour car journey to Joshimath. Man that was brutal! It was hot and sticky, loud and crowded. But we did get to meet our fellow trekkers and that was pretty cool.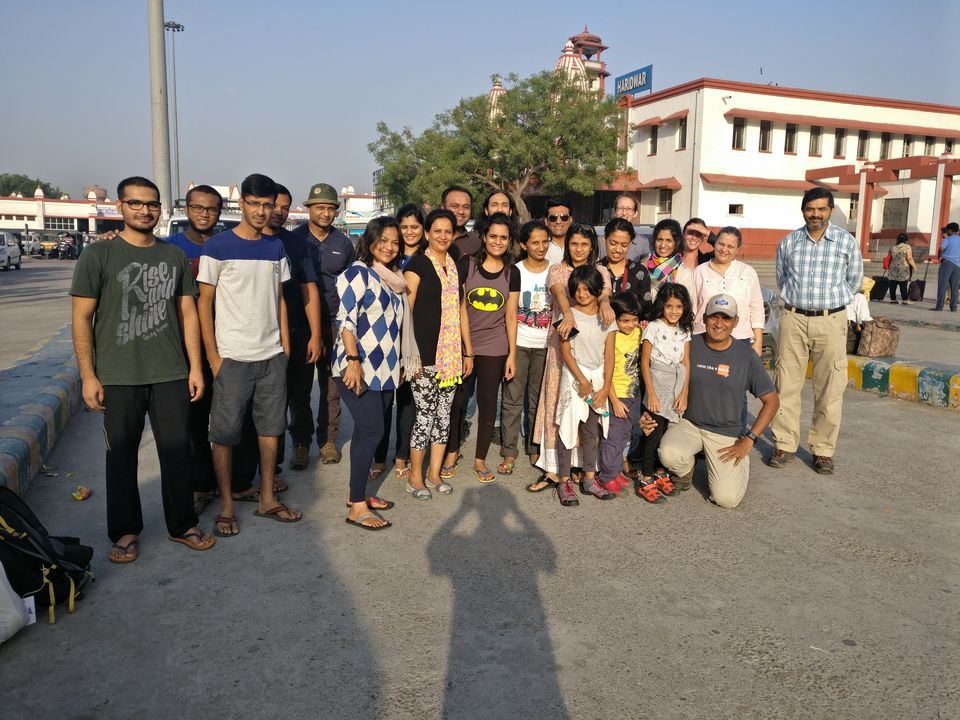 Joshimath was calm, cool and the right jump off point for us as we stayed at the IH provided accommodation for the night, Nanda Devi Expedition hostel. It all sounded so formal and official. We did a round of introductions, got health cards done, took BP readings, and our trek leader Ankur introduced himself and gave us a brief on the overall trek. It was a long day and we hit the bed post 10pm. We were beat but excited.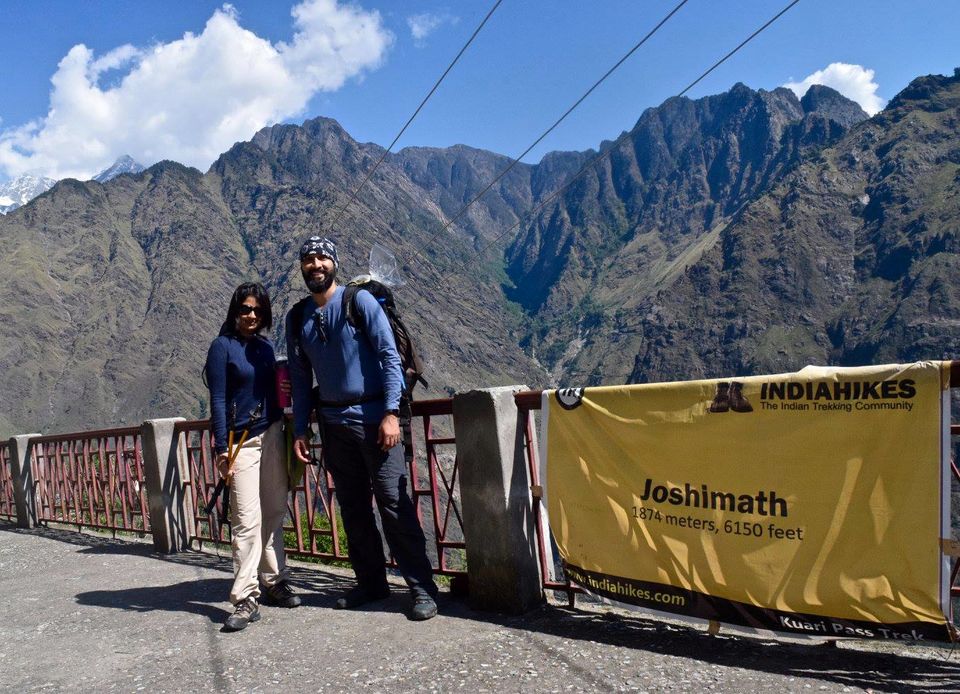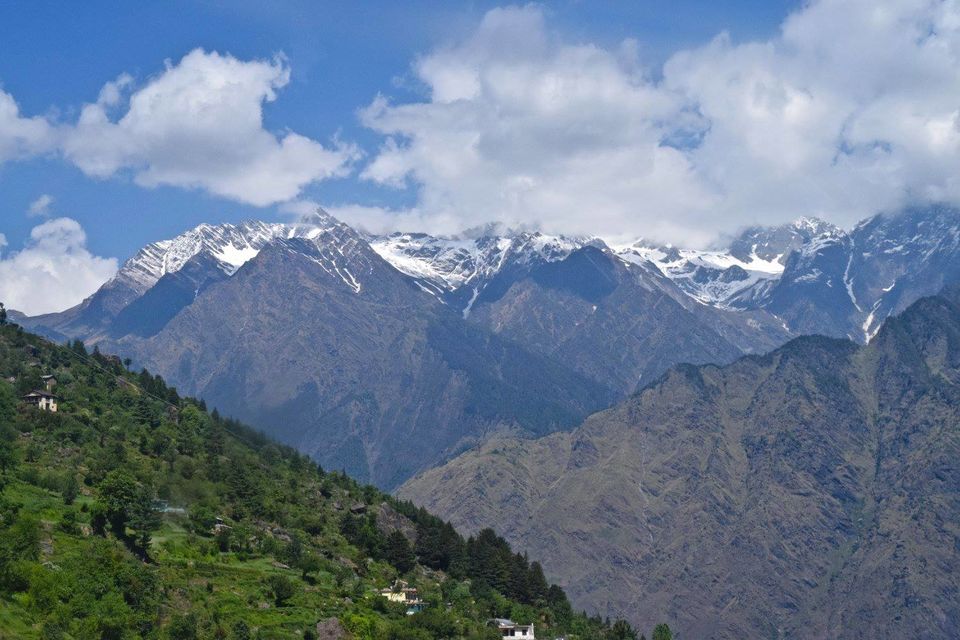 Day 2: Joshimath - Dhak village - Guling overnight camp
We left our hostel in Joshimath after a quick briefing on the route and itinerary for the day. Some of us had to stop off at the local market to pick up essentials like ponchos and day bags. We were headed to Dhak village, a 20 minute drive. It had rained the previous night and the skies cleared so it was wet underfoot and the sun burned down on our necks. We started off single file the 26 of us just to get into a quick rhythm. Up front was Kushal bhaiya the guide, with Bhupi bhaiya bringing up the rear. Ankur played a roving role moving up and down the line to ensure there weren't gaps formed.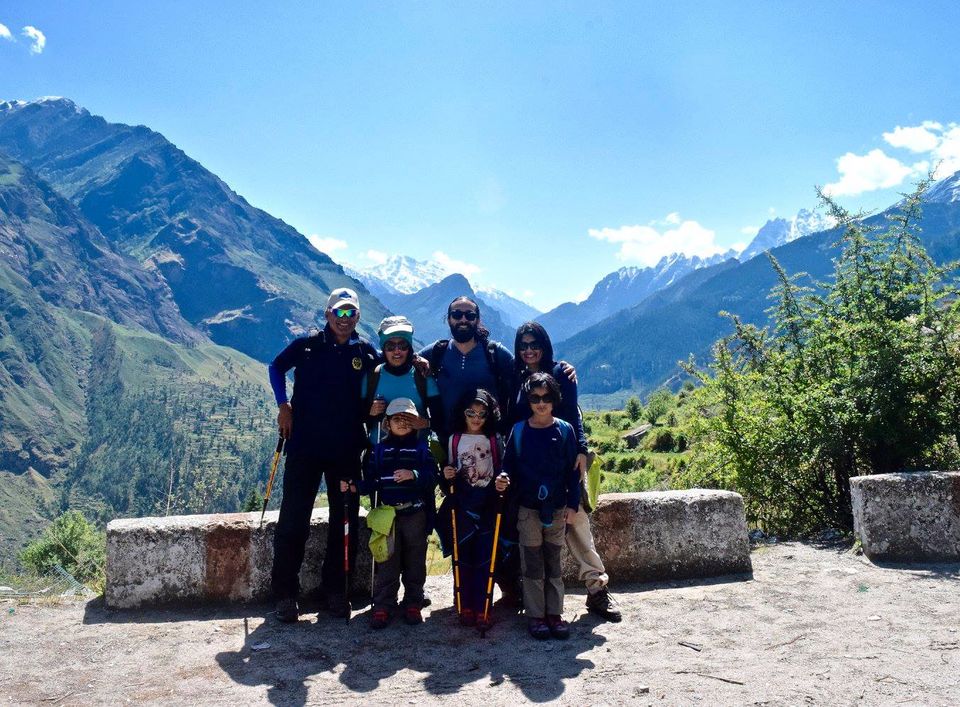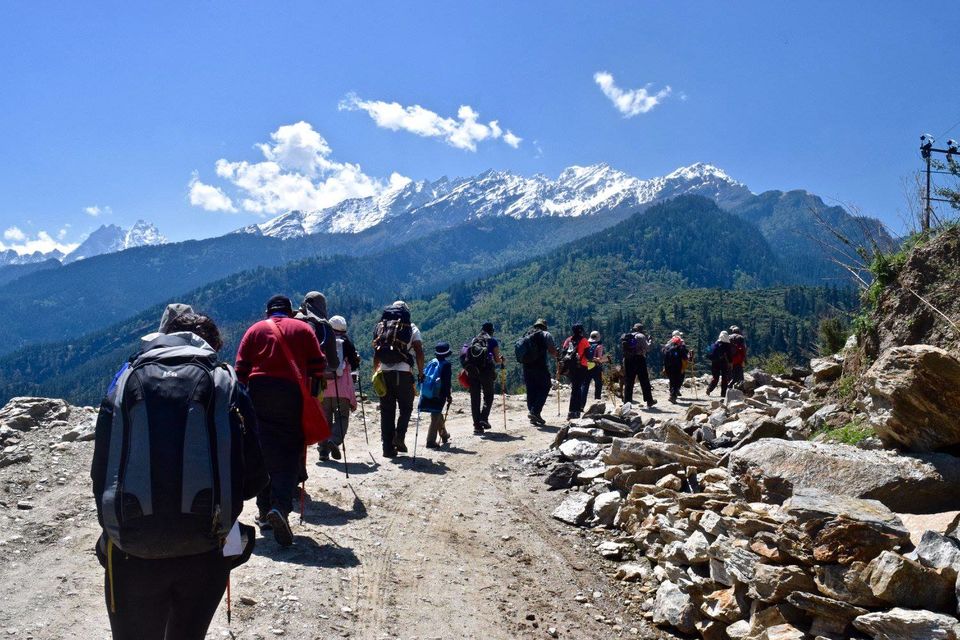 Our plan was to keep the 3 kids between us adults as we walked. Early on Sindu realized Isha was going to need a constant pep talk and she was already wilting in the heat and the uphill climb. Sindu took on this responsibility completely and coaxed, motivated, and jolted Isha as needed while battling her own internal demons to complete this tough day 1. Samara while she started off slow at the back of the group made her way to the front of the pack and seemed to pick the right company to tag along with for different portions of the trek. The conversations kept her spirit up and her light feet danced over the rocks that belied the physical nature of the climb.
We took breaks every 20 - 30 minutes to start off with. We trudged along under the unrelenting sun but as someone said it was better sunny than cold and wet conditions. We had packed lunch boxes with us and we thankfully stopped by 1pm at the Tugasi village balcony enjoying vegetable biriyani and a spicy tomato chutney. Simple but very tasty food that provided us that needed boost. The local villagers gave us some spiced buttermilk that was deliciously tasty.
By 1:40pm we started off again and while Isha's spirits were up during the break, the relentless ascent was taking its toll. And it was just day 1. We were also seriously starting to question the logic of bringing our kids along on this trek. My load increased as the day wore on as I relieved the kids of their day bags and their water bottles and put them into mine. Those trekking poles that seemed oh so cool that I rented 4 of them also ended up in my hands and in my backpack!
Thankfully by about 3pm or so our final assault up a step incline in the forest brought us to a small clearing and the sight of tents. This was our Guling camp site. Very pretty location and lovely views of Mt Dronagiri as we were to discover the next morning.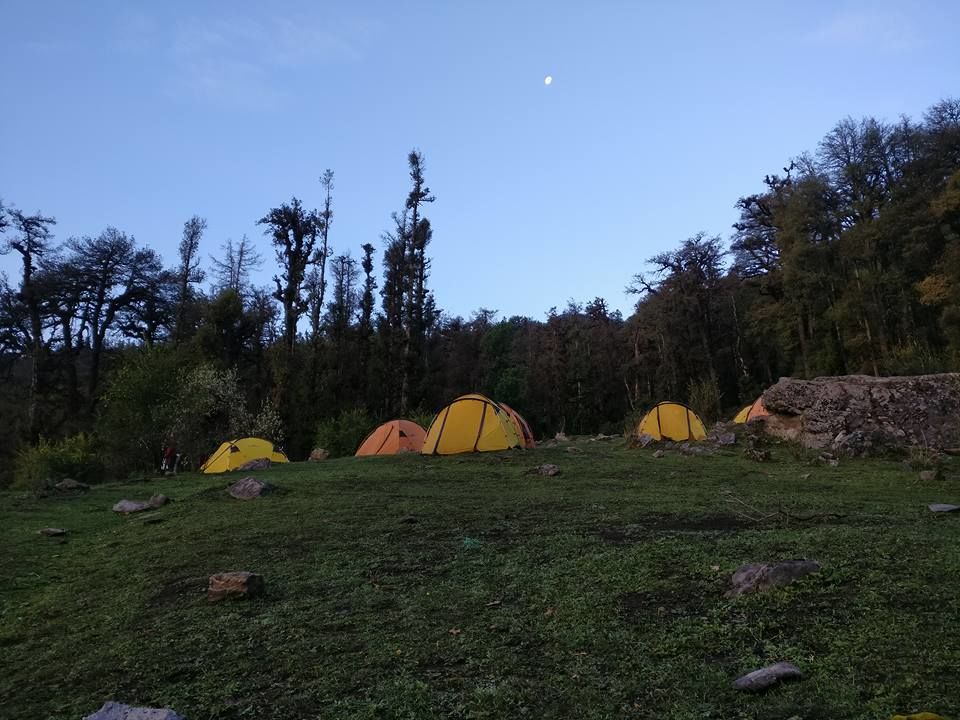 Ankur led us in cool down exercises as we wound down the day with hot masala chai and the best dry channa snack I've tasted. It was yummy. Tent assignments were done and we looked to get an early night in and rest our weary legs.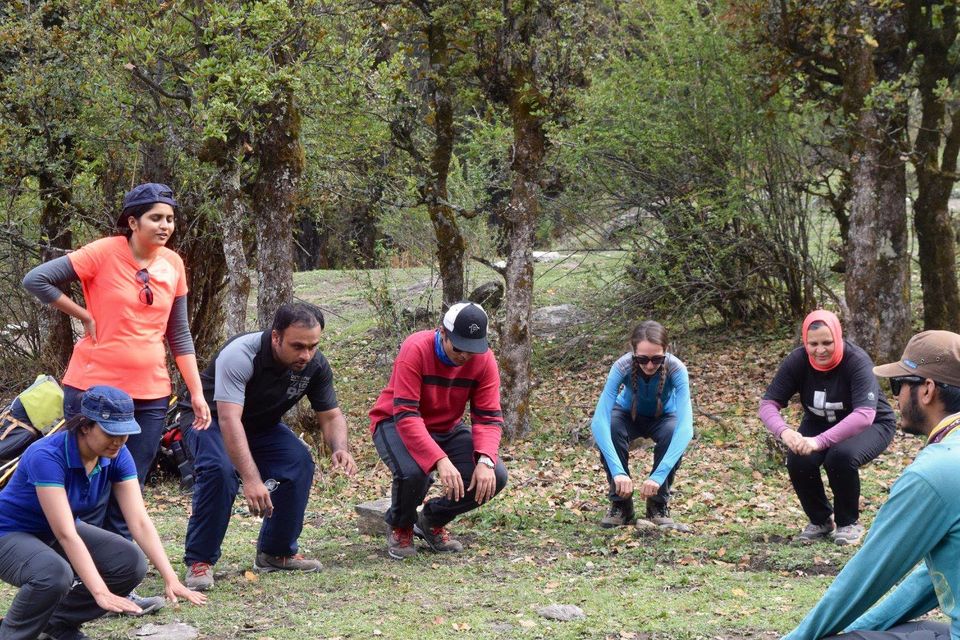 Isha and Sam caught their second wind and were tearing up and down the camp site excitedly exploring every nook and cranny.
It had been a hot and tiring day but a successful one and we huddled in the dining tent exchanging stories of the day before calling it a night.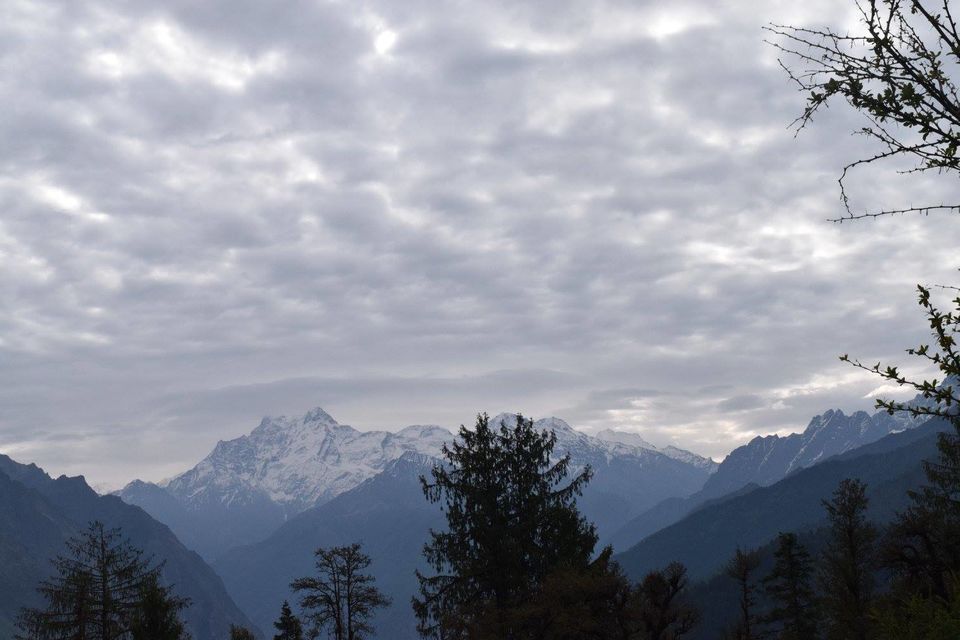 Day 3: Guling - Khullara
Before I start penning our day 2 adventures, I thought I'd talk about our typical morning routine assuming an 8am departure.
6am - wake up call and hot tea
630-645am - morning warm up stretches ( We didn't attend a single one and I'll get to that)
By 730am - tent clean up, roll up the sleeping bags, and drop off your backpacks for offloading
730am - health card to fill pulse and oxymeter readings that test oxygen content in your body (anything over 90 is good)
755am - quick pre departure checklist and briefing
8am - off we go.
The sunrise in Guling was one of the most gorgeous ones on our trek and being a clear sky we were able to see the Dronagiri peak in the morning light. Just stunning.
If we walked about 4.5-5km the previous day, today was going to be closer to 6km but an earlier finish and an ascent of less than a 1000 feet. Our paths traversed through the cover of tall oak and rhododendron trees and we were thankful for the shade this day. It was a pleasant respite from the sun we had felt the previous day. The terrain got more and more rugged as we got along, our paths cutting through dense forest growth as well as rocky outcrops. We were to have a single water source on our route today, a Himalayan stream and we were all excited to stop and refill our bottles from the freshest and sweetest water we had all tasted. There was a funny moment when Arun during a photo op moment slipped and fell into the stream. Of course our incessant giggles of laughter belied our concern for our fallen comrade!
Ankur had told us at the beginning that our camp was going to be a moving camp which meant that all equipment, sleeping bags, backpacks would all be transported on mules and would travel with us. So on most days we had to shout out warnings of "mules are coming" which provided the kids great amusement to see these mules but also gave us that extra couple of minutes of rest as we moved out of the path and give these beasts right of way. On one of these crossings it so happened that Divij who was wearing red that day, seemed to have an uncanny knack of attracting these mules away from their path and onto his causing peals of laughter amongst us but moments of anxiety for Divij.
All body parts accounted for, we continued on our merry way and stopped at another clearing for our scheduled brunch stop. The menu for today, khichdi!
We hardly saw Sam through the day and are deeply thankful to our fellow trekkers like Aarti, Rachel, and Abigail who took turns and kept an eye on her while enduring her constant chatter. Isha required Sindu's full attention and we resorted to little games we played while walking to distract her from the physical ordeal. How many leaves we each stabbed with our trekking poles, word games, A-T-L-A-S, and bus. Physically we knew Isha could do it, it was just a mental battle she needed to conquer. We taught her how to breathe, deep inhales through her nose and exhales through the mouth, rather than short gasps that were leaving her breathless. We made a game out of this too.
We could see a break in the tree line and we knew were close and a final short ascent up some rocky steps and we were in what we universally felt was the most gorgeous campsite on this trek, Khullara. Lush green meadows the size of 4-5 football fields in a bowl like setting with majestic peaks towering over us. All our aches and pains vanished instantly as we looked wide eyed open mouthed all around. This was also the only day where we had close to half a day to explore the campsite itself. The site was shared by another group from Indiahikes heading to Pangarchula and another trekking company, Trek the Himalayas. It was by no means cramped.
As evening dawned we started the really feel the cold set in. We hadn't taken out any of our thick jackets so far on the trek, but all of it including the inners came out at Khullara. A light drizzle also caused the temperature to plummet.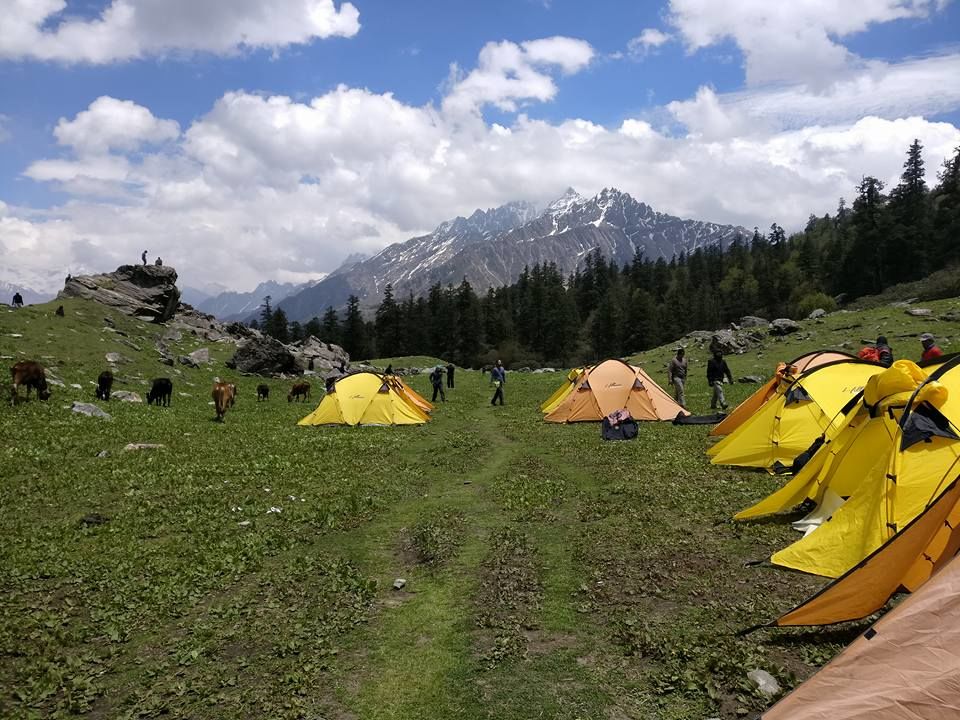 This then was our evening routine everyday.
4-5pm - evening snacks with masala chai
630pm - hot soup followed by oxymeter readings and entering the health card
7pm onwards debriefing for the day and a briefing for the following day followed by dinner (always a dessert with dinner)
9pm - ( for us at least) lights out.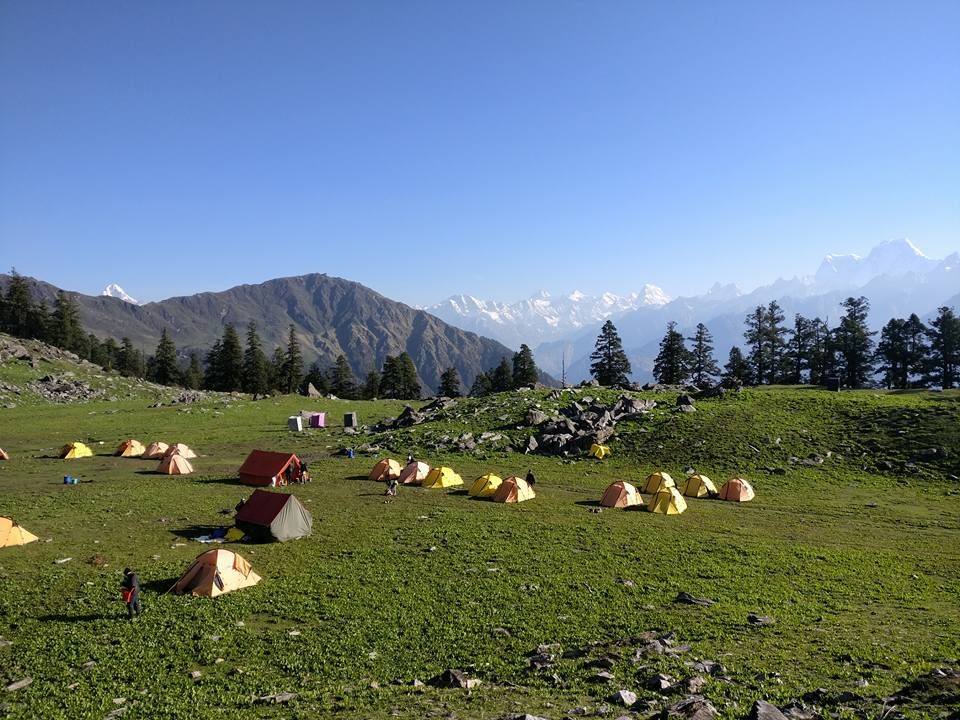 Over snack, where we completely overate, Ankur gave us the lowdown on the following day. This was pass day and the day all of us were nervously looking forward to. It was also the day I was most anxious about especially the kids ability to cope with both the distances and the ascent and terrain. Perfect timing.
This was also the night Isha poured out her heart and broke down completely in our tent on how she was finding it so hard. However, she was more concerned that she was slow and holding up others than being physically being able to finish portions of the trek. It was hard maintaining a calm front when your 8 year old is brutally honest and exposed in front of you. It left us a bit shaken. Sindu, bless her, if this did affect her, didn't show it at all. She completely calmed her down and told her to stick to her pace and that we wouldn't leave her side the next day.
This was to be a turning point for Isha in the trek as we were to find out in the next few days.
Day 4: Pass day (Gulp!)
Khullara - Lord Curzon trail - Kuari Pass - Tali
I woke at 4:30 the next morning trying to digest what lay ahead of us and also trying to calm my already frazzled nerves. Thanks to the camp dogs who barked up a storm upset about something the previous night, I didn't get a good night's sleep as well. Today was a 7am departure and a 10+km route. I had intended to pull Ankur aside and let him know that I was happy accompanying Isha from Khullara direct to Tali with the mules, skipping Kuari pass altogether. Sindu would have none of it and thankfully provided some confidence that we had gotten this far and that we'd do this together as a family or not at all. The weather was on our side. It was a gorgeous morning.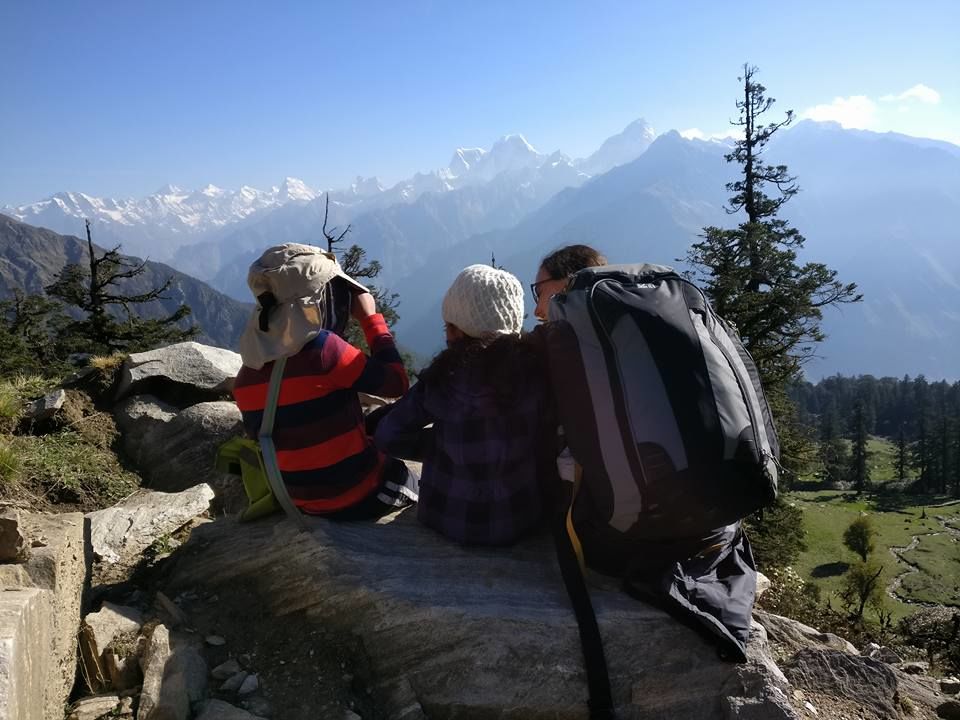 We left the cosy camp site and scaled a near vertical path zigzagging through the rocks. It was rough terrain including some hairy stretches but all of us made it in one piece. I have to say here that Ankur promised to leave at 7am whether there were 26 trekkers or one and true to his word, after the usual checklist, we were off by 7:05am with a total of 14 trekkers!! The stragglers made up the distance over the next few kilometres.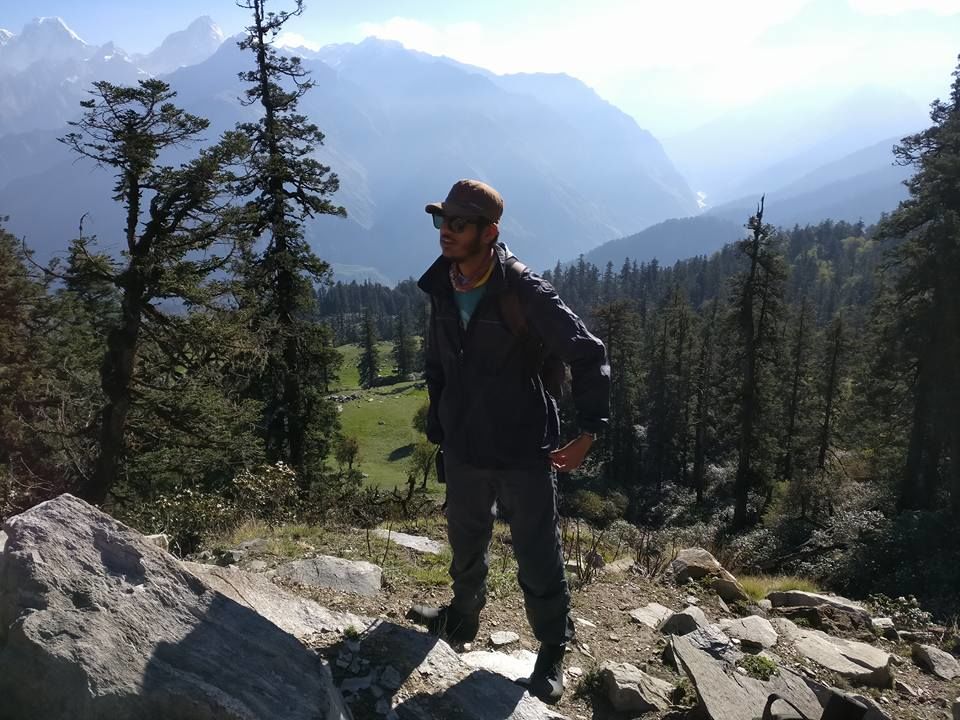 About 90 minutes in, we reached the top of the mountain we had scaled and pleasantly saw rolling meadows, the grasslands of Khullara. This was a much easier walk but with the most gorgeous views of the peaks all around. Cows and mules grazing and lolling on the grass were such a feast to the eyes. Eat your hearts out Switzerland and New Zealand!! We took a break here mimicking the animals as we lazed on the grass and took pictures while waiting for the rest of the group to catch up.
By 9:30am we hit Lord Curzon trail where the path branches off left to Kuari top and pass and right toward Talli. The sun was flirting with the clouds but the wind had picked up and the temperature was dropping further. Now the gloves and even the neck warmers were out.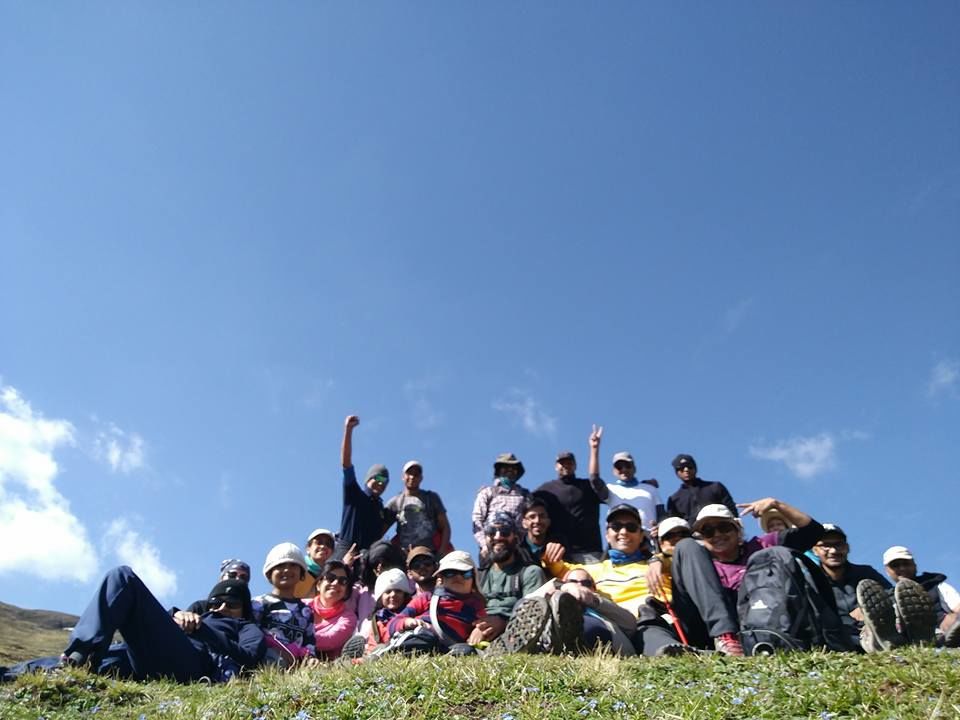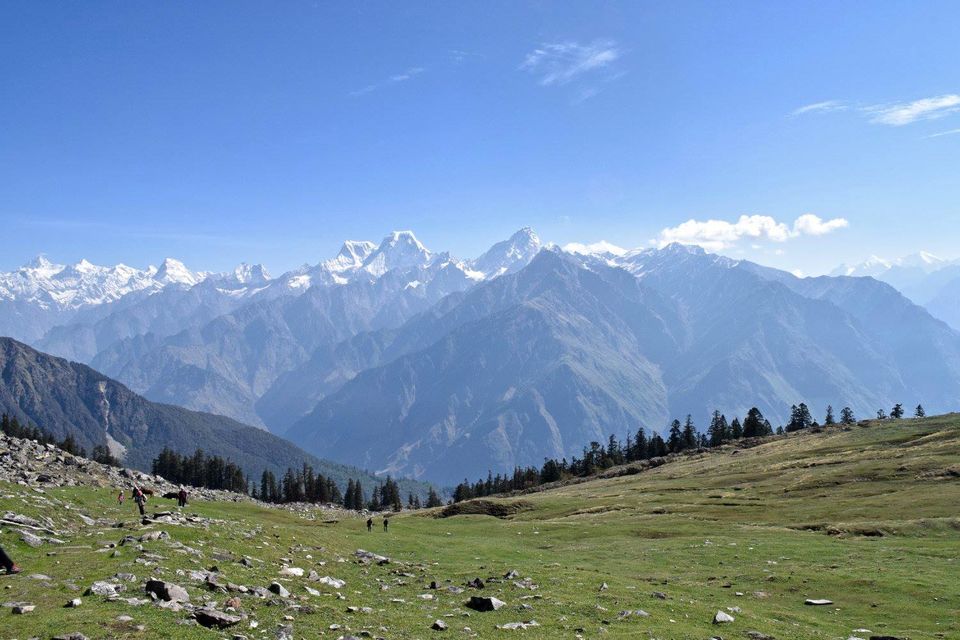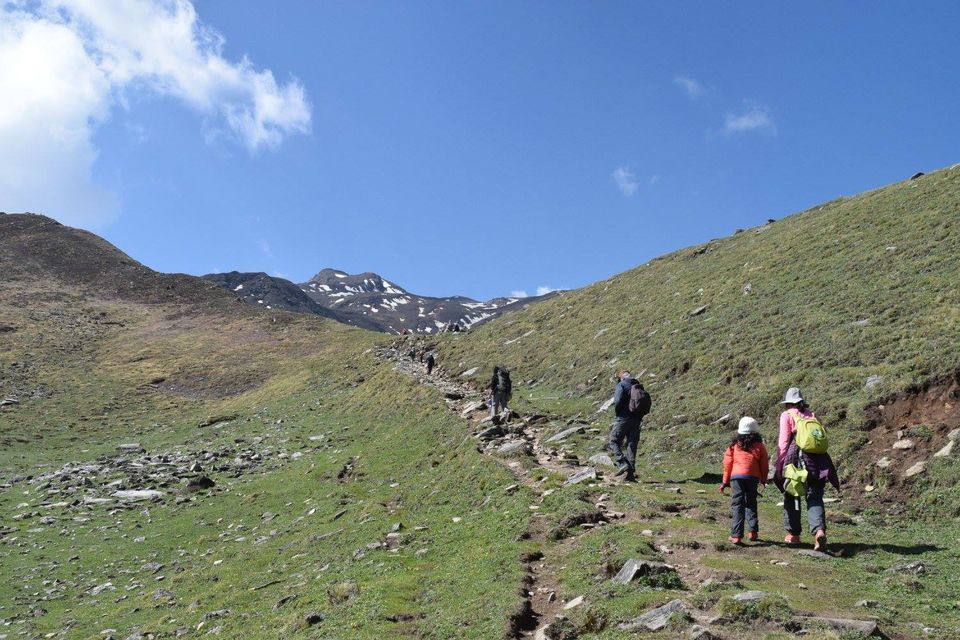 We were headed toward Gailgarh a mini camp site where we could drop off some of our backpacks. Isha was faring much better but still taking frequent breaks while Samara's energy levels had dropped off a little bit. We had packed enough energy bars to keep the kids going and we also had some apples for the day from the camp site so from a food standpoint we were good. We reached the Kuari summit by 1015am and cheered on as those behind us strived to reach the top. Sindu and Isha reached a few minutes behind me, the former visibly tired and the latter just exhausted. We were still 1.1km from our destination Kuari Pass but this was a level trail.
Sam went ahead while Sindu, Isha and I followed a few minutes later after catching our breath. About a half hour latter of easy walking, as we turned a sharp bend we were amazed to see our group, including Vedanth and Samara sitting on a mountain ridge straddling two mountain peaks, their legs dangling over the side!!! We had reached Kuari Pass!!!! All of us in the group were so high on adrenaline and we congratulated each other patting each other on the back and taking multiple group photos.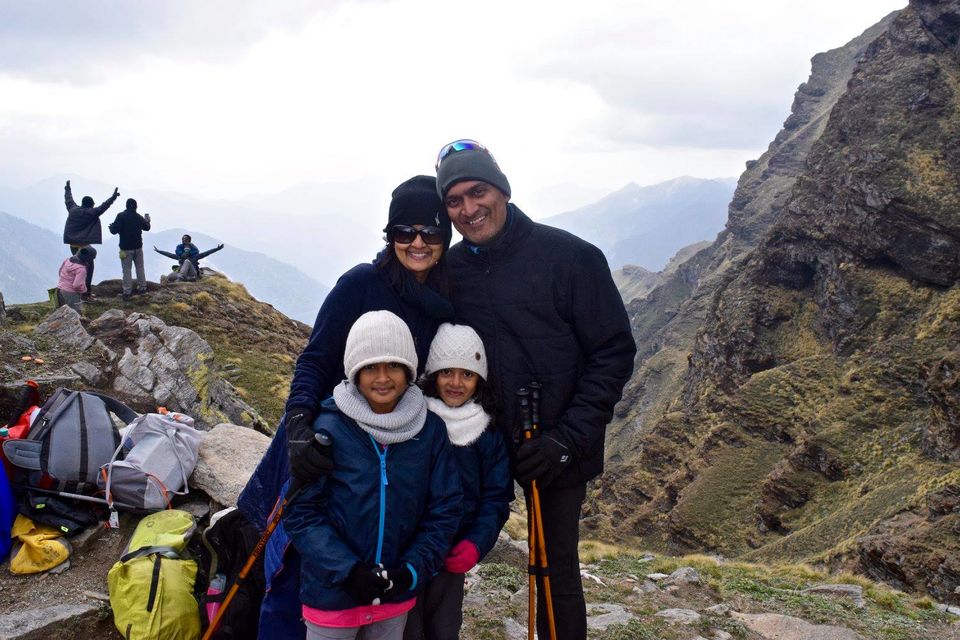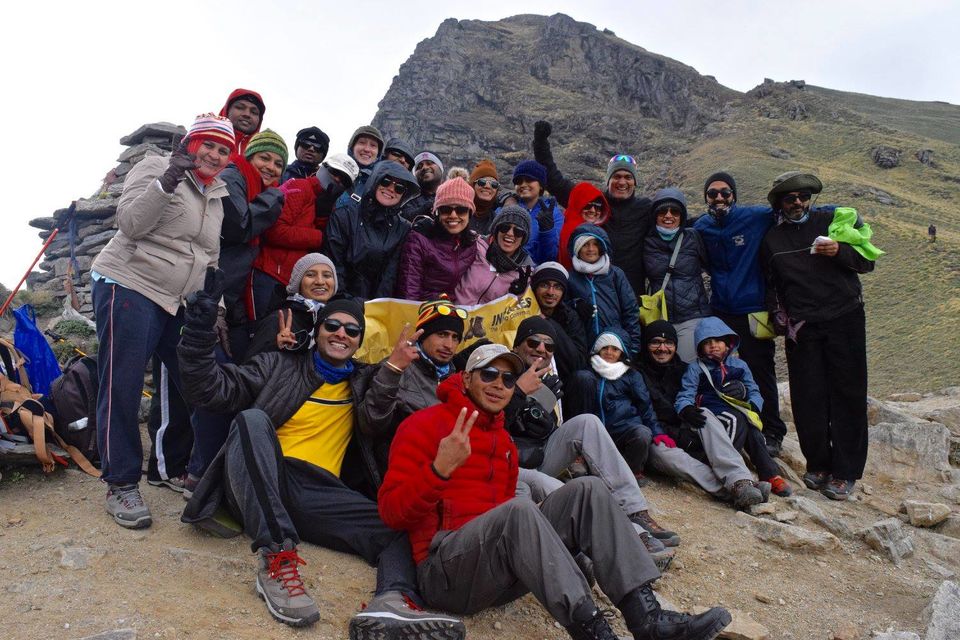 At this moment the heavens opened up and what started as a light drizzle quickly turned into the heavy cold stuff and then hail stones the size of small marbles. Cameras and phones were quickly put away and ponchos brought out as we quickly made our way back to Kuari top and Gailgarh where we'd stop for lunch.
It was biting cold as the hail turned to snowflakes and Samara who was with me at this point completely lost any willingness to carry on. She was obviously struggling with the cold but we had to stop for her to use the bathroom, and she was not in a good place mentally. Isha did really well on our way back to Kuari top and to Gailgarh. Kushal bhaiya was a god send here. He had waited at Kuari top for folks to make their way back and noticed Samara struggling and instantly realised it was the cold. She was also fighting sleep and fatigue. He instantly hoisted her onto his shoulders and practically ran like a rabbit down the mountain slope with her atop him. When we reached Gailgarh we found Samara sitting in the kitchen tent warming up in front of the stove while the staff there were feeding her rotis. It was moments like these where the IH crew went above and beyond their duties without a moment's hesitation and for that I'm eternally grateful.
We had covered about 6+km of the stipulated 10kms scheduled for the day and we now had to make our way back through the Lord Curzon trail down to our campsite for the night, Tali.
I had been looking forward to actually walking this trail and taking pictures of this having seen them on websites. It is as spectacular if not more as the pictures I had seen. Imagine a narrow mountain ridge about 3-4 feet wide with steep slopes on both sides and you had to walk along that ridge with the most gorgeous views all around. I was having visions of the von Trapp family in Sound of Music as we made our way carefully through this section.
For me however, I did not enjoy this with the rain really coming down and with 2 kids to handle along this treacherous path. We used a 2 by 2 approach with Sindu holding Samara and I had Isha walk in front of me with the trekking pole strap wrapped around her wrist while i held the other end behind her. There were no thoughts of cameras or capturing that perfect shot; it was only maneuvering that next section safely.
I have to say though, that despite the treacherous terrain and the inclement weather, at no point did I feel a sense of danger or feel I was putting my family at risk. This I believe speaks volumes of the confidence we had on the guides and our leader and their capabilities.
By this time, we were the stragglers right at the end of the group and Bhupi 'da' was a huge help with negotiating tricky sections. As we approached Jhandi top, it was a beautiful sight seeing the bright coloured ponchos against the mountains. At Jhandi top the views were even better. We got to notice a campsite down below and any glimmer of hope that the end was near was quickly crushed when we found out it was Khullara, our previous campsite and not Tali.
We had an even better view compared to Kuari top, albeit through patches of fog that was rolling in at this point. Ankur changed the order and moved all the kids to the front of the line along with some capable adults. We were falling behind on our daily schedule and we needed to keep moving.

Slippery rocks, slushy paths, little rivulets, and sudden drops were all negotiated safely though the group had a few slip ups, with Anirudha clocking the most falls on that day. It caused a bit of anxiety amongst us at the time, but he was ok and we laughed about it later that night.
Oddly enough, Isha reveled in these adverse conditions and was at the head of the pack feeling quite confident. Samara who was with me, was a bit unnerved by the slippery path we were on and a couple of near falls both she and I had, shook her up a bit. By now her gloves were also wet and cold and she was starting to feel it. After a brief halt at a cave (Kirti was a blessing with the chocolates), we continued our descent and hit the tree line again. Kushal bhaiyya took Samara and Vedanth into a local shepherd's tent and had them sit in front of the stove for 10 minutes. Another example of the guides just being aware and doing what was necessary.
The worst was over, the rain had ceased, and the path had leveled our as we made our way through the forest. Thirty minutes later, Isha and I reached the Tali campsite, a quaint little smattering of our now familiar yellow and orange tents in a clearing by a little stream. We had to wait about 20-30 minutes for Sindu and Samara to turn up and when they did we had a quick family huddle right in the middle of the campsite and I broke down for a minute. The entire day, this had been building up with how Isha was feeling the previous night, Sam having to be carried, the weather we had had, and the fact that we had successfully completed this pass day as a family was just emotionally draining and I had to let it out.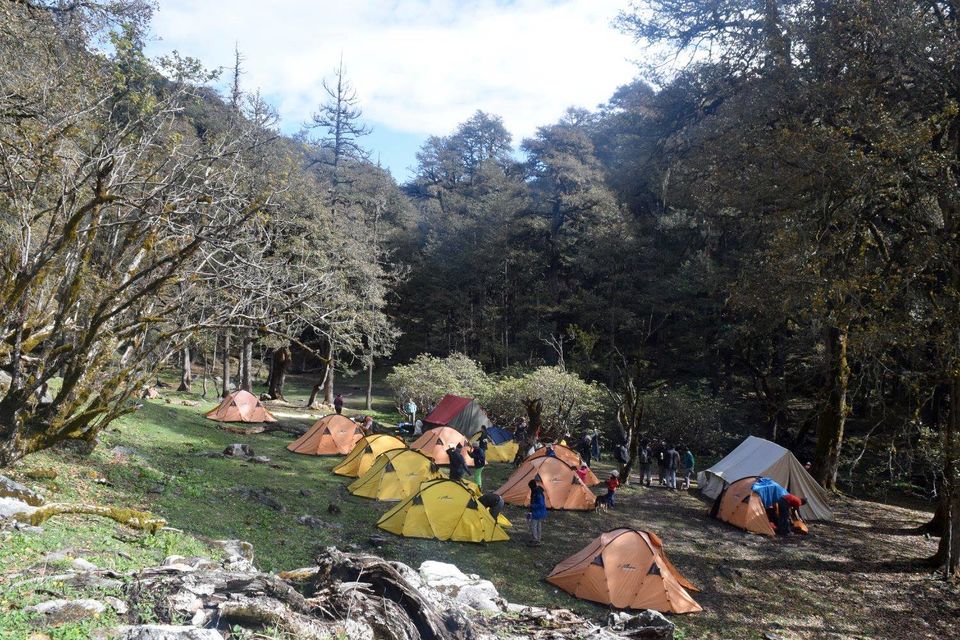 That night we had gulab jamuns as a dinner treat. The whole group was in high spirits and over dinner listened to Nishant's set list and tunes singing along into the night. The staff arranged for a petromax for us to huddle over and dry our damp gloves, ponchos, and jackets that had gotten wet during the day. It was a cold night but we were happy, our hearts warm, and I had my best sleep on this trek. Lights out 10pm.
Day 5: Tali - Gorson Bugyal - Padiyar - Auli
The mood was upbeat the next morning, especially after we saw the sun attempt to peek through the clouds. Ankur's 6:15 warm up call rang through the campsite and got people out of bed. Travelling with kids has its benefits and drawbacks as well. We didn't partake in any of the warm ups as we just didn't have the time. Getting the kids into a routine, using the bathroom, packing up our sleeping bags, repacking our backpacks and we just had time to make the daily departure. We were ok with that.
The upside to this was the experience they had gained of meeting and interacting with our trek team, our guides, helping in pitching and unpitching the tents, collecting and distributing health cards, administering the oxymeter readings of the group, helping out in the dining tent, playing games together, and most importantly helping clear trash into their eco bags as part of IH's green trails initiative. This was an invaluable experience for them, and for any parent contemplating taking their child on a trek, I'd say, don't think, just go!
Our initial ascent led us out of the treeline toward Lake Tali - a gorgeous location that looked like a Bollywood song set. It was our first halt on that day.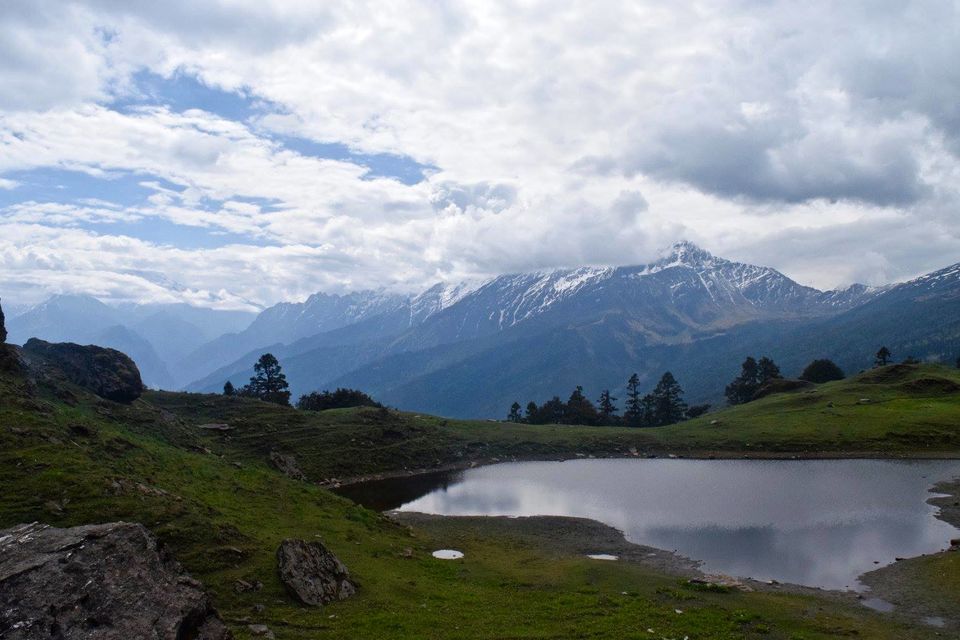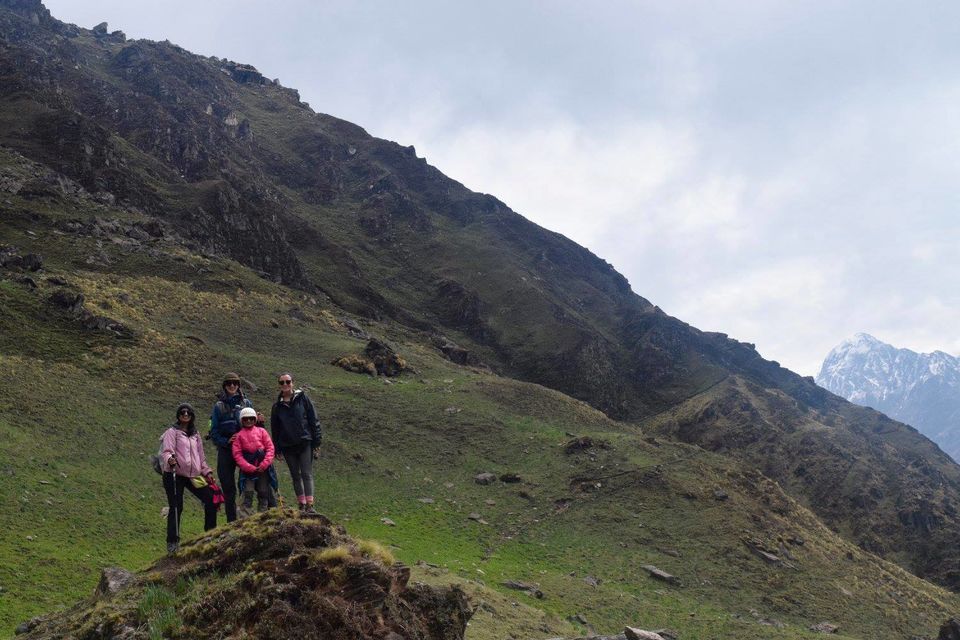 The next hour or so was up a steep overhang cut into the side of a cliff. It was stunning yet dangerously exciting to see a path just 2-3 feet wide with a sheer drop hundreds of feet down the side of the mountain. We continued on this overhang for a couple of kilometers as it steeply ascended and leveled out. We took a break at a lookout point that was just spectacular!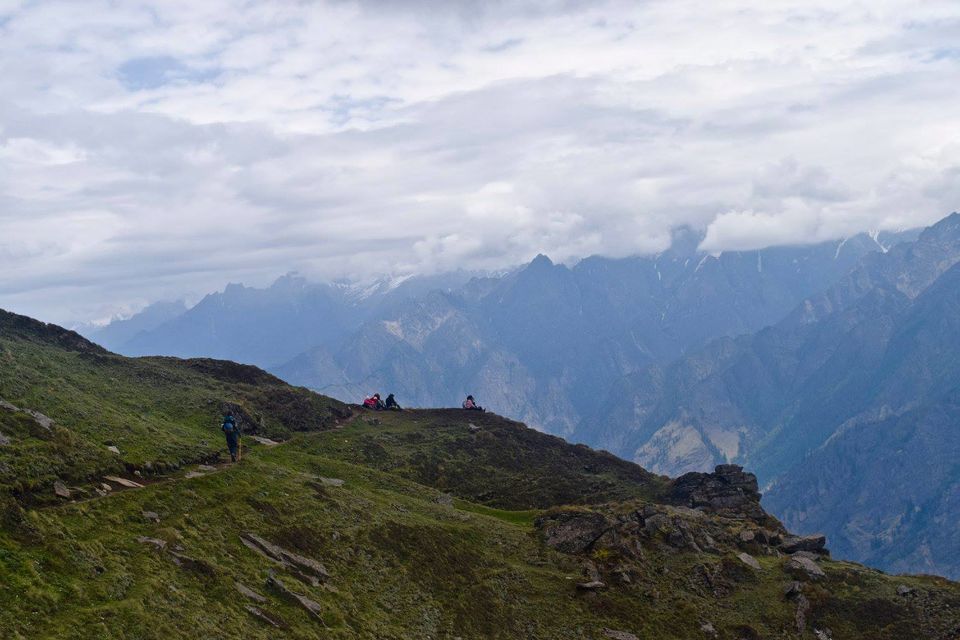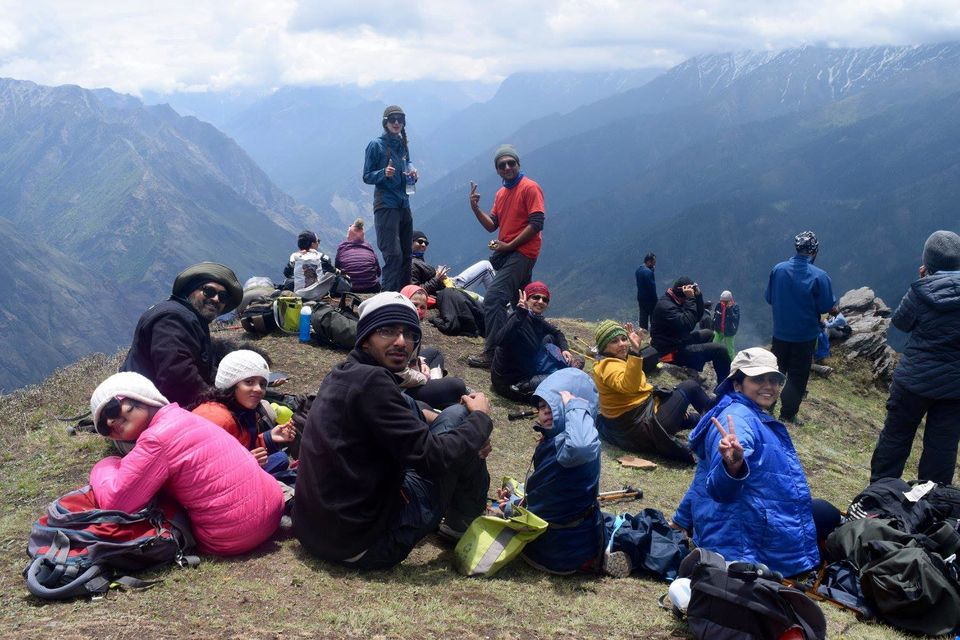 The entire valley lay before us and then the snacks came out. I was wondering how our trek team had packed all this into their bags. We could just about fit in a dozen energy bars. There was peanut candy, bhujia mix, chocolates, sev mix, fruits, dried mango, it was brilliant. We were all set to end this on a high note. We soon hit the alpine meadows of Gorson Bugyal. Miles and miles of undulating meadows of carpeted green greeted us, some of us running and even sprinting on seeing such large open spaces.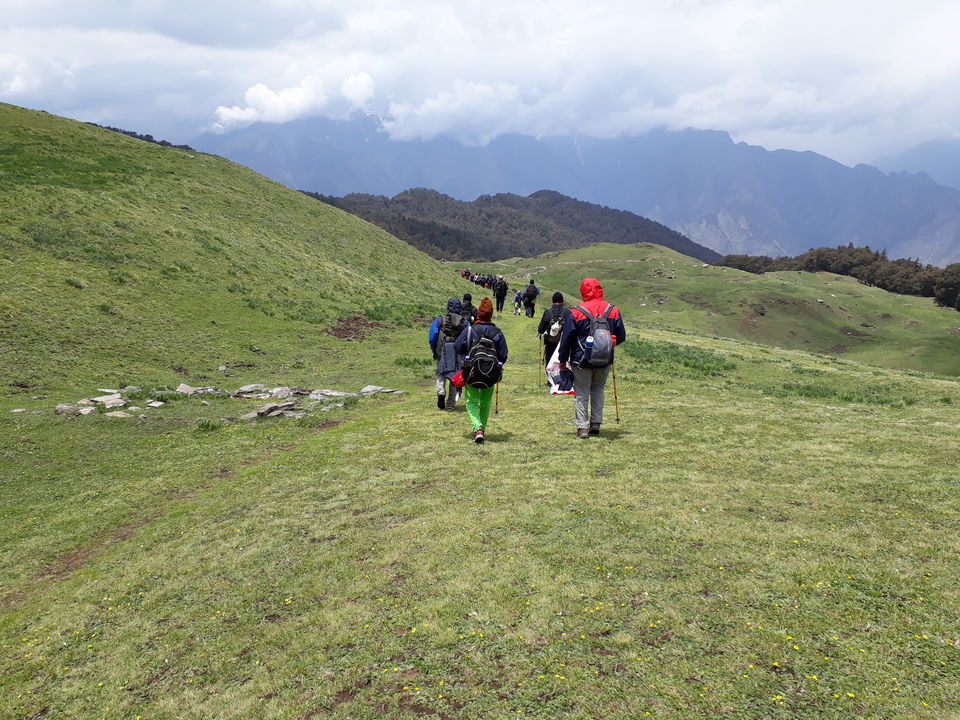 We took a lunch break at Gorson Bugyal and there was a collective sigh and people took off their shoes and walked barefeet on the grass. Oh the feeling can't be put in words!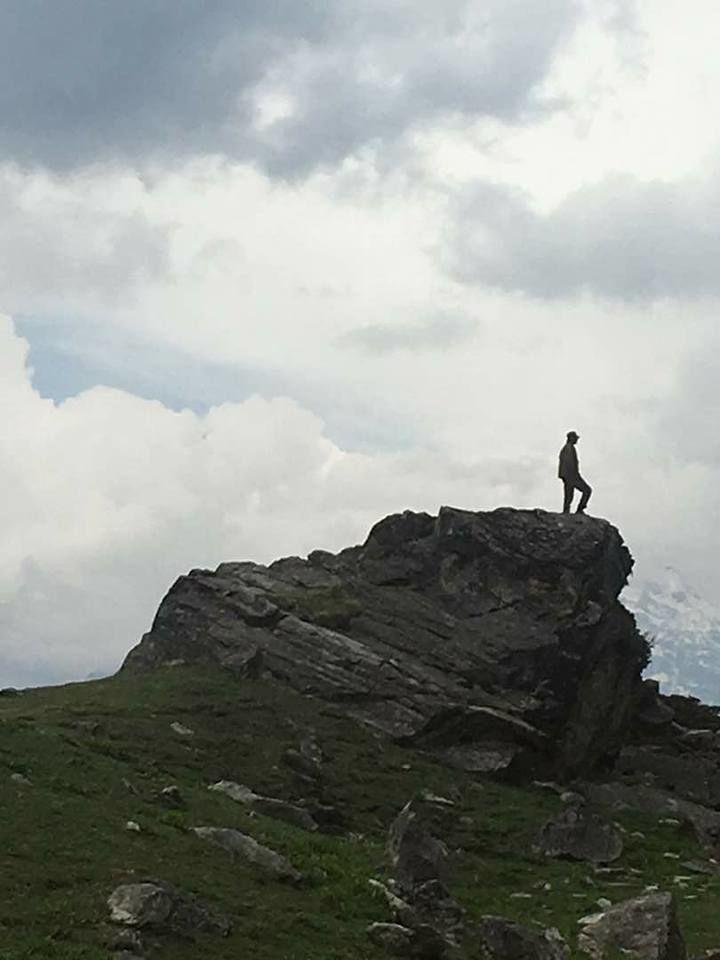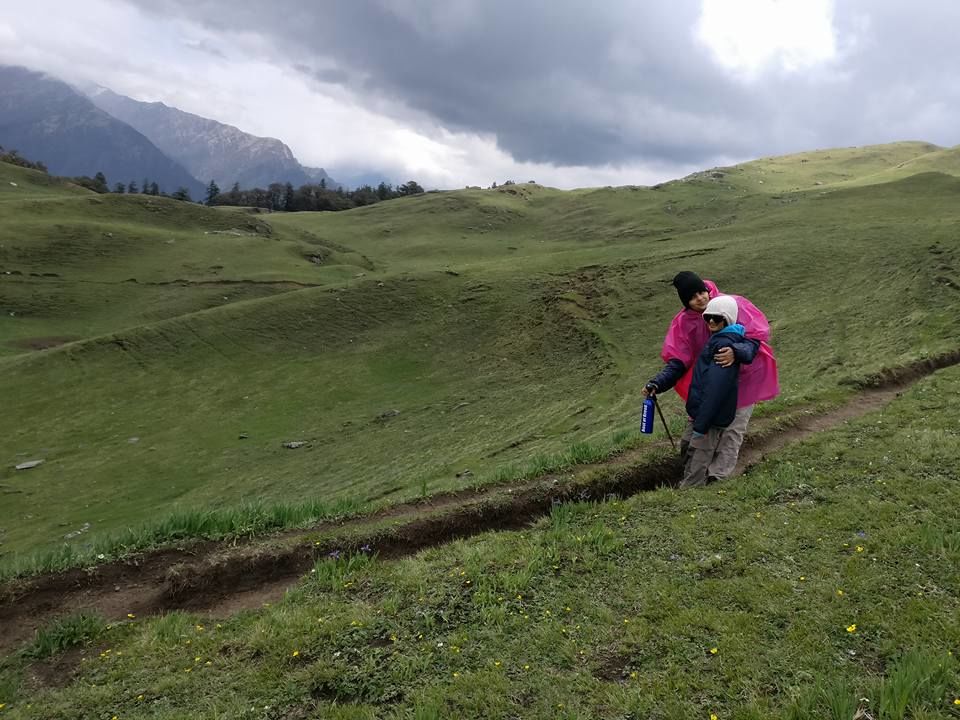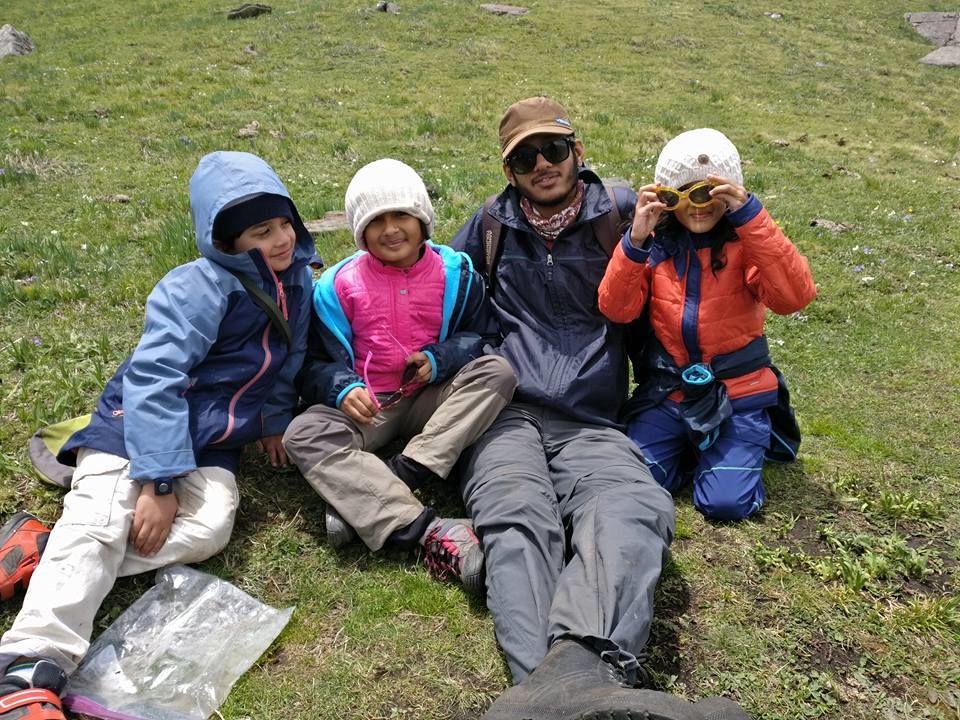 We also started to see more people, day tourists visiting from Auli and other places, at Gorson Bugyal. As we continued descending, we soon hit the tree line and entered Padiyar forest. we paid obeisance at the Padiyar temple and rang the temple bell to effectively signal the end of our wonderful trek and to thank the weather and trekking gods for an amazing journey.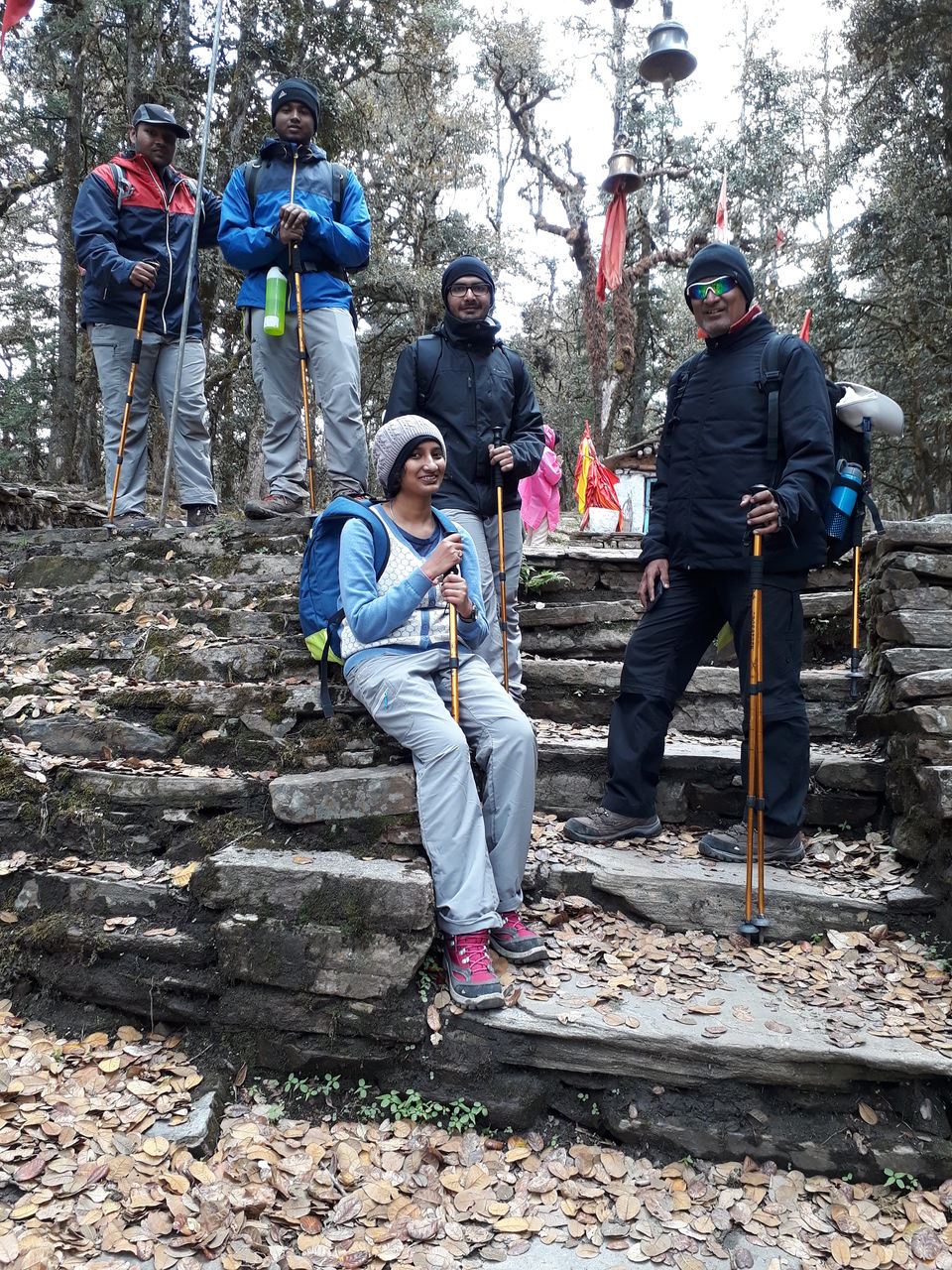 We were descending down to 8600 feet today and after lunch at Gorson Bugyal, Sindu was starting to feel her toe hurt with increasing intensity to the point that by the team we cleared Padiyar forest and were making our way down the Auli slope she was leaning on me heavily. She wasn't tired but just in a lot of pain. But this wasn't the biggest casualty. Mihir in a moment of madness challenged Bhupi bhaiyya to an all out sprint as we were entering Padiyar forest. What was to be a fun end to this ended up with Mihir hurting a ligament and falling backpack and all.
At Auli, our wounded warriors chose to take the ropeway lift straight to Joshimath. I chose to take the open chair lift with the kids not because we were tired but I thought it would be a pretty cool thing to do. Some of our team chose to walk down and finish at the Auli ropeway station. So thus ended what turned out to be our most memorable vacation and experience together as a family.
Personally I felt there were moments where I didn't get to enjoy the sheer beauty of this trek as much as I could have if I were travelling without kids, maybe spent more time walking around and exploring the campsites, take more pictures of where we were. I was telling Vishakha that I would love to do Kuari pass again maybe in winter or fall as a solo trip or with Sindu and see if we have a different view. IH promises repeat treks for free for your lifetime!!! That's quite a pull to do this gorgeous route again. At the end of the day though I have no regrets. The time I spent with my girls over these 4 days is an experience I will cherish forever.
Our job as parents is to expose our kids to as many experiences as possible. They might love some, they might not enjoy some, experiences they will remain. This trek changed me and heightened my love for the mountains. I can only hope that I managed to instill some of that passion into my kids and they would want to trek more. Regardless, Ireland would never have even come close to Kuari Pass in terms of how we came together as a family and shared such an emotional bond over these four days at 12,559 feet above sea level.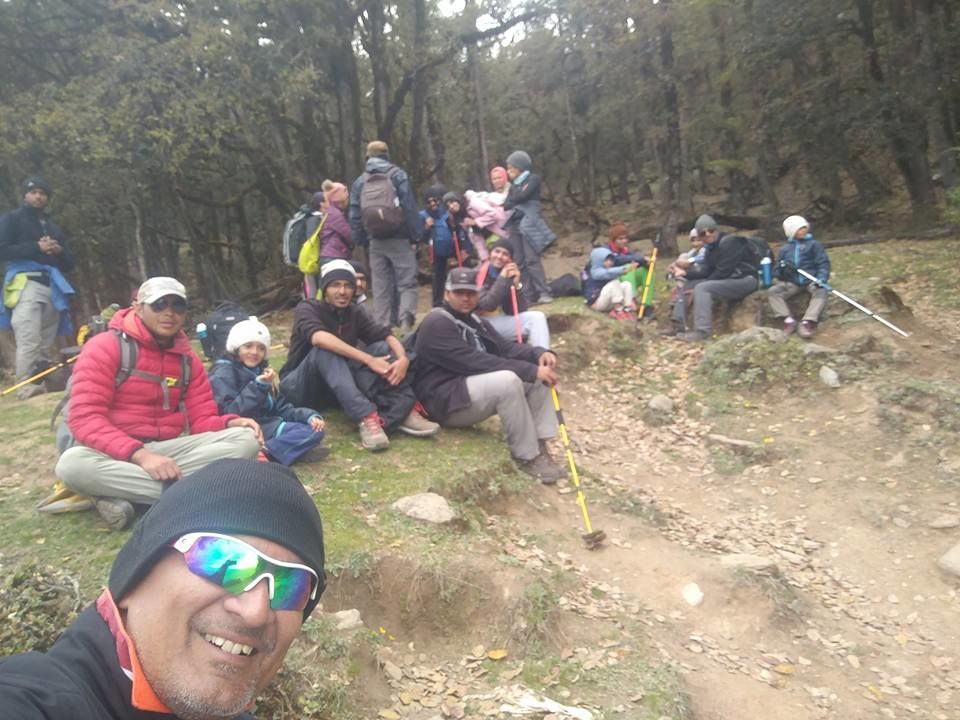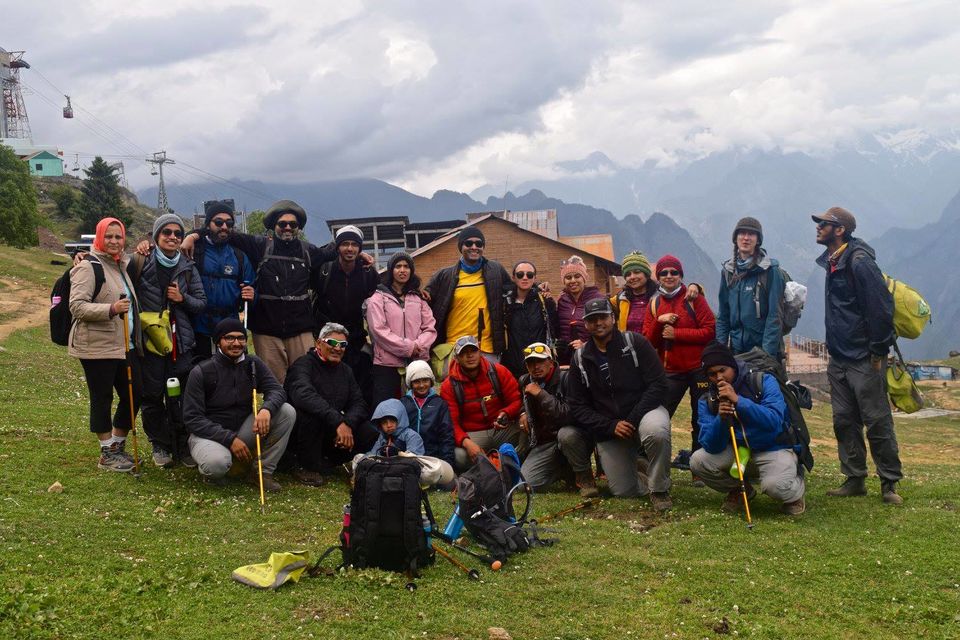 So here's to our team who started as our fellow trekkers but quickly became our friends without whose company and help this trek would not have been as exciting and fun for us as it had. The "Special 26"!
To Shrirang and Mukta, you were inspiring to be around and Samara still finds it funny that you called her champ!
To Aarti, Vishakha, Abigail, & Rachel. They came in as four independent women travelers but who bonded together on this trip and were a fun foursome. Isha and Sam pretty much tagged along behind you wherever you went.
Our young guns Khush, Abhimanyu, Archit, and Anirudha. The jury is still out on who planned this trip but it was great fun having you along for the ride. Oh, and Khush, I'll happily put Sam on a flight to Mumbai and send her over!! Be careful what you wish for ;-)
To Kirti - our only fellow trekker from Chennai, thanks for the awesome chocolates. They were a life saver when we needed to perk up the kids.
To Shilpa - It was a no brainer why you got the spirit of trekking award at the end of our trek. You were so helpful at the campsites and through our descent on day 3. Having a doctor in the group is always aces in my book.
To Divij, thanks for the company and if only I had known you were carrying some 'extra' baggage, it would have been a fun and spirited end to our trek!
To Trupti & Komal, the sisters whose company we enjoyed. I can only hope as Isha and Sam grow up, they'll continue on this trekking journey and be close like you both were.
To Mihir and Tanvi. The quiet couple who brought up the rear not because they found it tough but probably liked the solitude and they spent quality time!! Take care Mihir.
To Saikat whom I met on the train en route to Haridwar. I enjoyed your company and hope we do more treks together.
To Nishant, blogger and photographer extraordinaire, and on pass day, doubled up as DJ too. It was awesome knowing you.
To Suman, Arun, & Vedant - thanks for humoring us and tagging along on this trek and more importantly bringing Vedant on this trip. The kids motivated each other and were able to finish strong thanks to his company.
To Ankur, Kushal bhaiyya, and Bhupida. Thank you for your leadership, your support, your rock solid character and making this trip absolutely memorable for us.
The entire support staff especially the kitchen team who plied us with just sensational food throughout the trek in the most remotest of locations. It was unbelievable how they did it. It was tough to find a bad meal throughout this trip.
To Isha and Samara. If and when you read this, I'm sorry I dragged you through this adventure. I know it was hard but I'm so proud of you guys that you completed this trek. Samara you made lots of friends and won the 'Spirit of trekking' award. Isha you conquered your fears and your weaknesses and overcame them showing such strength. I'm so so proud of what you did. You are my true hero.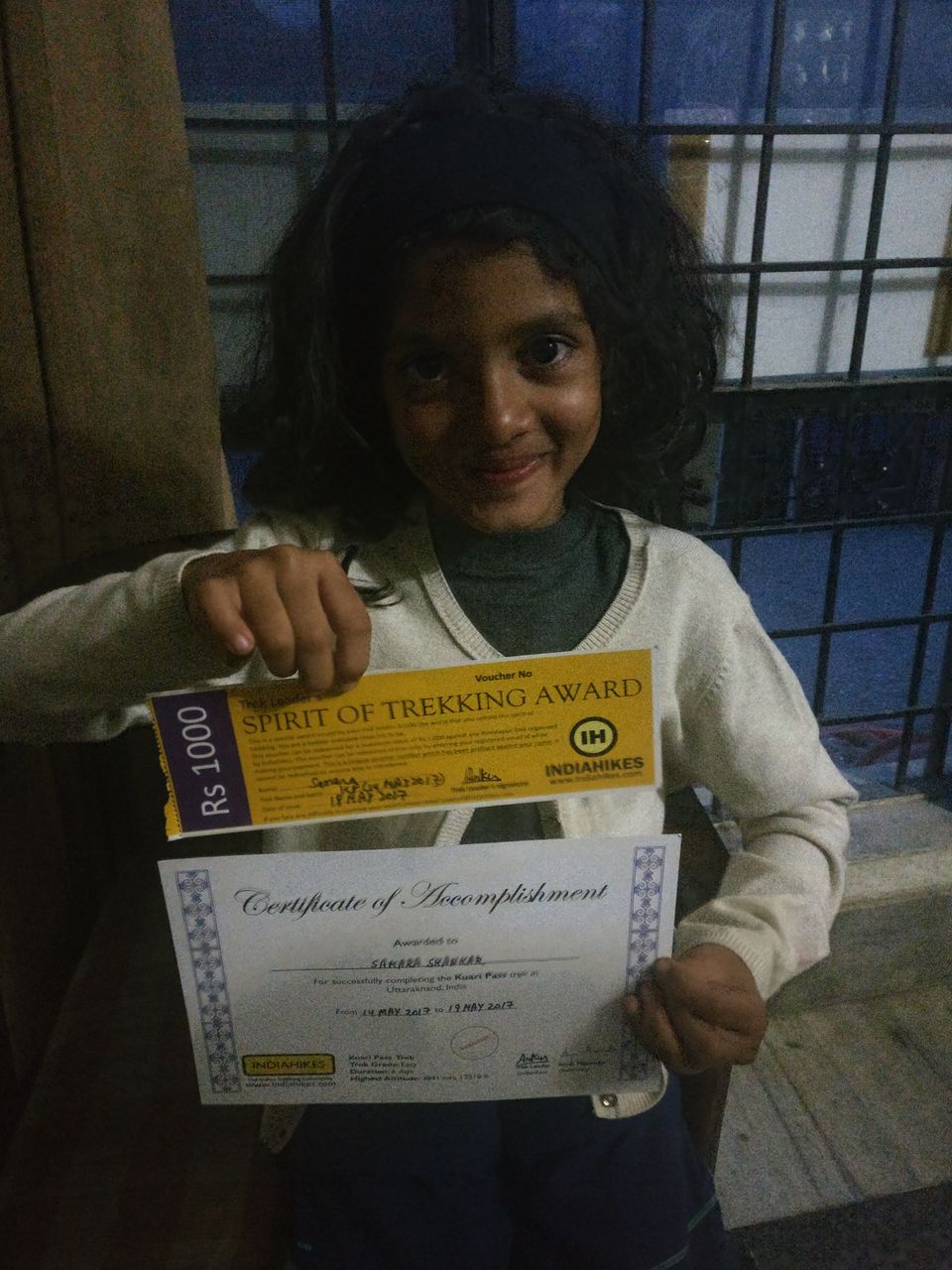 Finally to Sindu, my rock, my best friend who wholeheartedly agreed to come along on this adventure with me. Who endured an exercise in patient parenting, motivation, anger management, while individually negotiating 28 kms of the hardest terrain we have witnessed to complete this trek. You continue to amaze me.
"…by bringing myself over the edge and back, I discovered a passion to live my days fully, a conviction that will sustain me like sweet water on the periodically barren plain of our short lives." The mountains are calling and I can't wait to go...