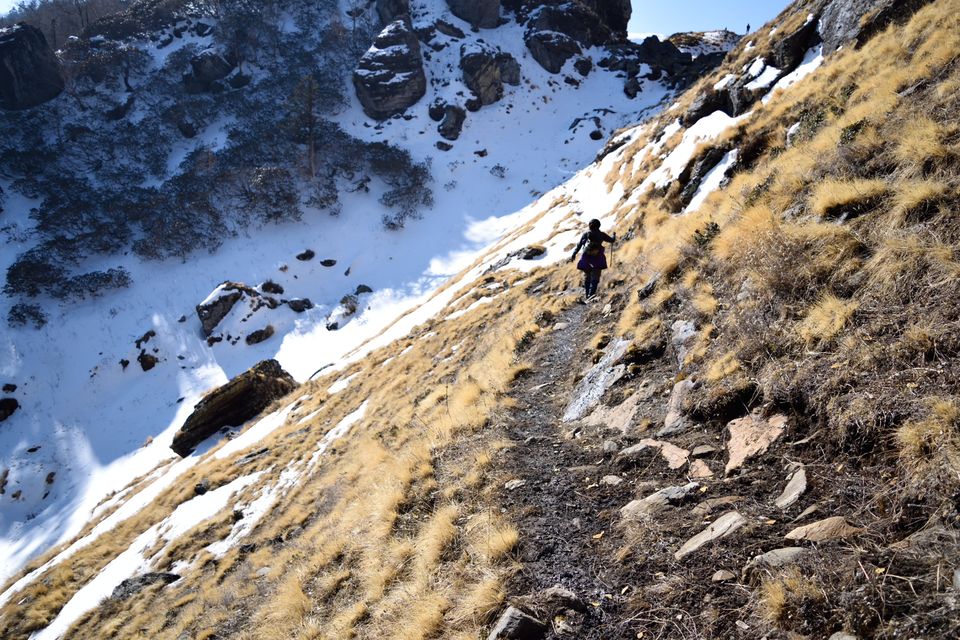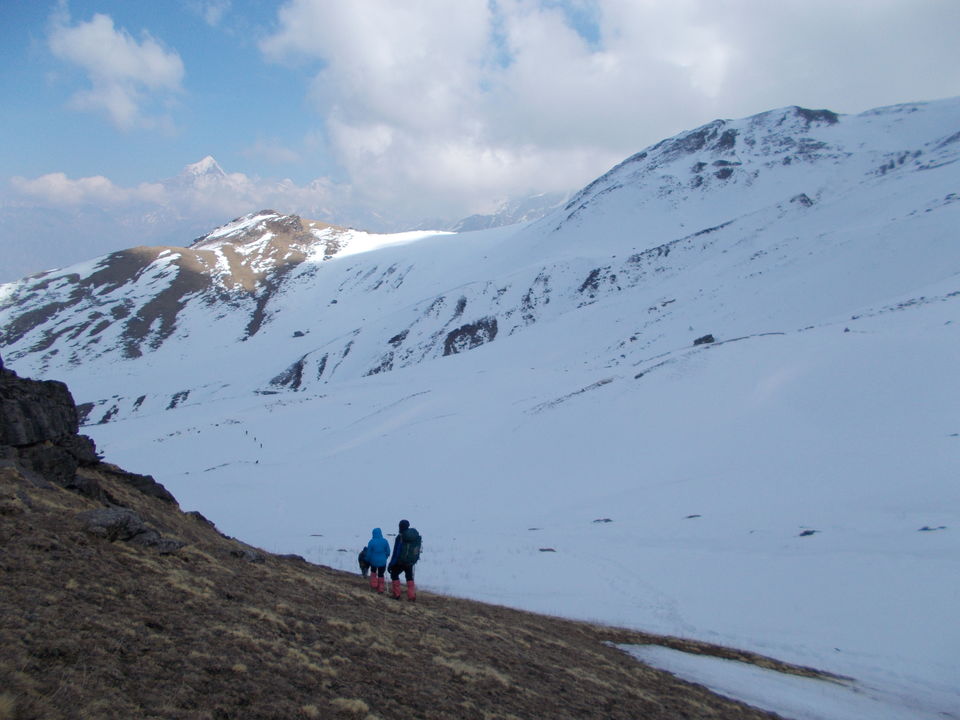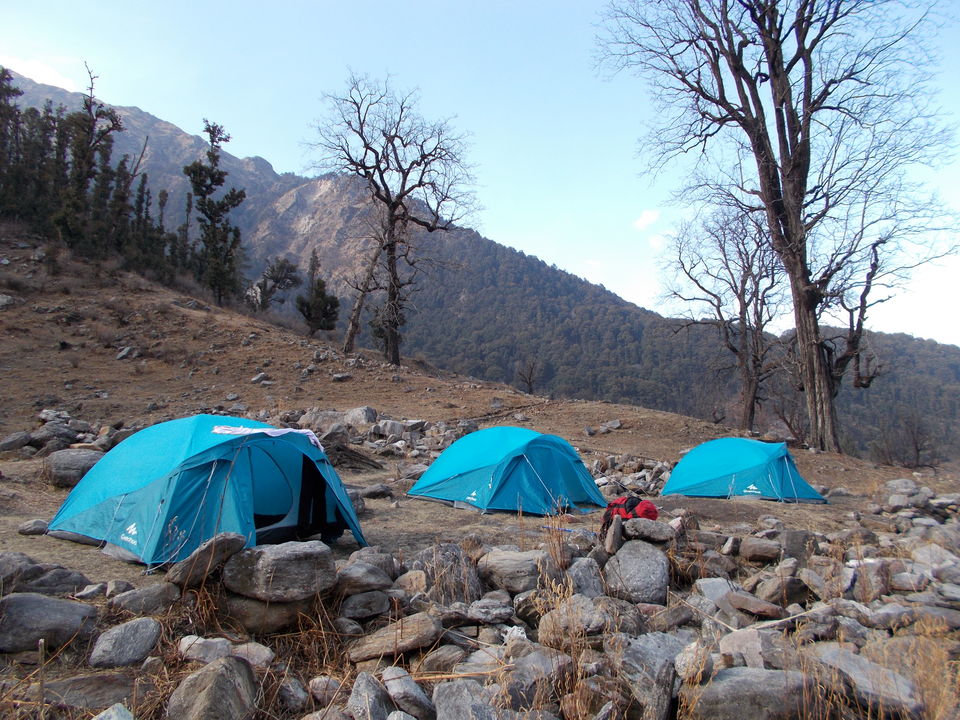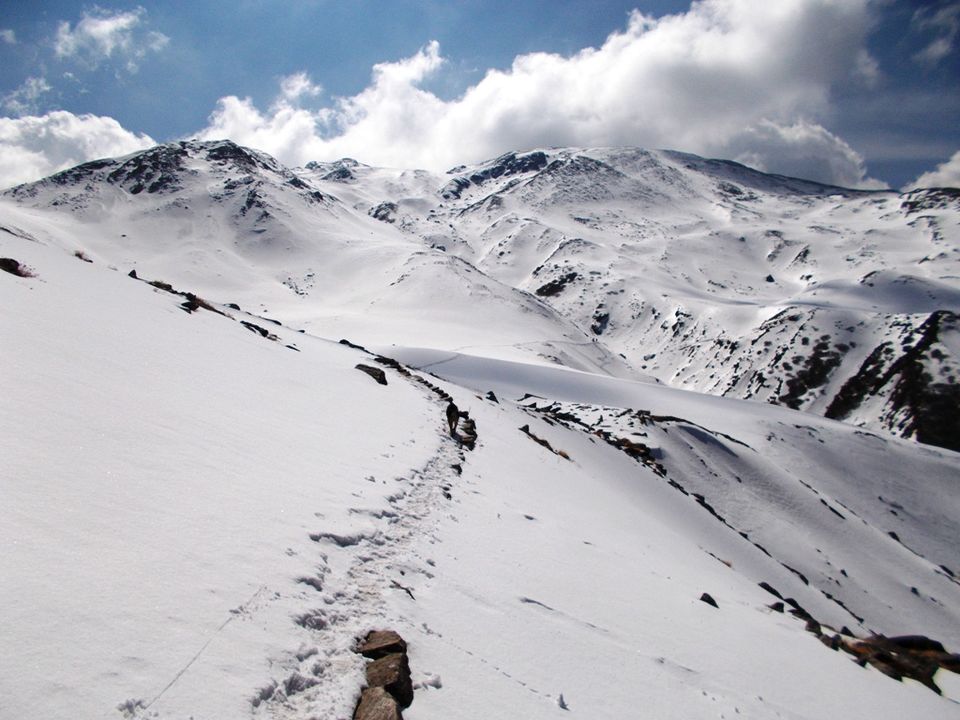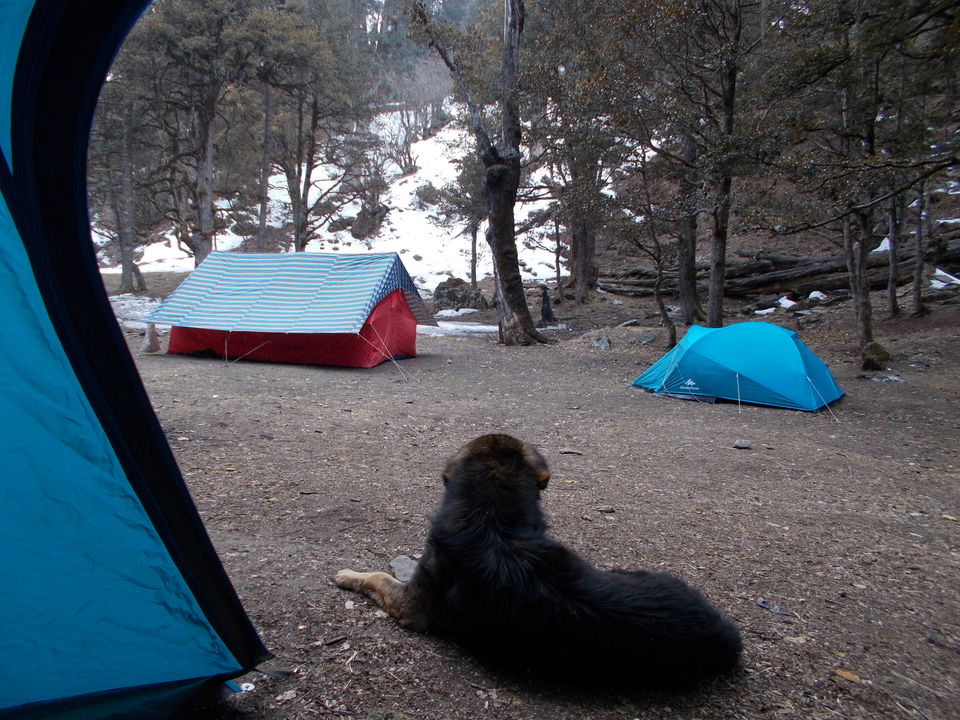 The Kuari Pass Trek (approx. 13,000 ft) was my second trek in 4 months. In November 2015, it was Kedarkantha (same height), a windswept wonderland of precarious approaches, that had beckoned.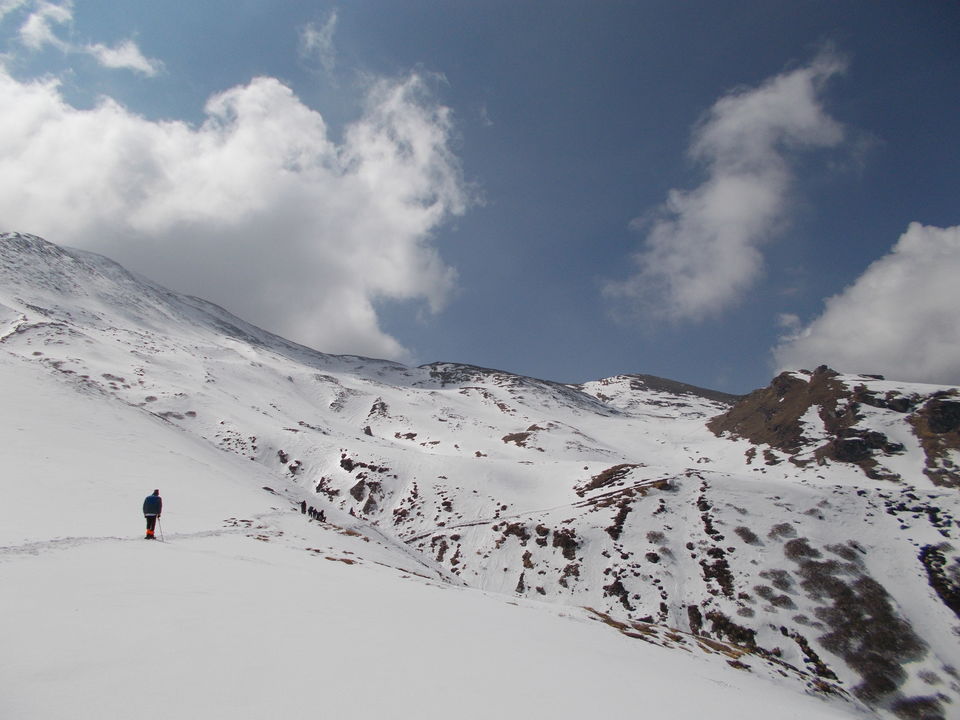 As the month of February brought with it the promise of short-lived Indian spring, it was time to head to Joshimath, the starting point to Kuari Pass. First, a word on the curiously-named Kuari Pass. Although locals say 'kuari' means 'doorway' or 'pass', a legend goes that earlier only 'kuari' or unmarried women could go upto the Pass, and if married women went there, natural calamities or diseases would befall their household/clan/village! This picturesque trek is also part of the Lord Curzon Trail, after this former Viceroy of British India, first 'explored' this route in the early 1900s. Kuari is so remote, still, that only eagles dare to venture here.
After a 265-km-long drive on National Highway 58 from Haridwar, we – a group of 11 trekkers, like me, most of them solo travellers – arrived at Joshimath in the evening and settled down for a night of rest. Enroute, we had passed through some of the major towns affected by the 2013 Kedarnath deluge; these included Srinagar, Rudraprayag and Devprayag.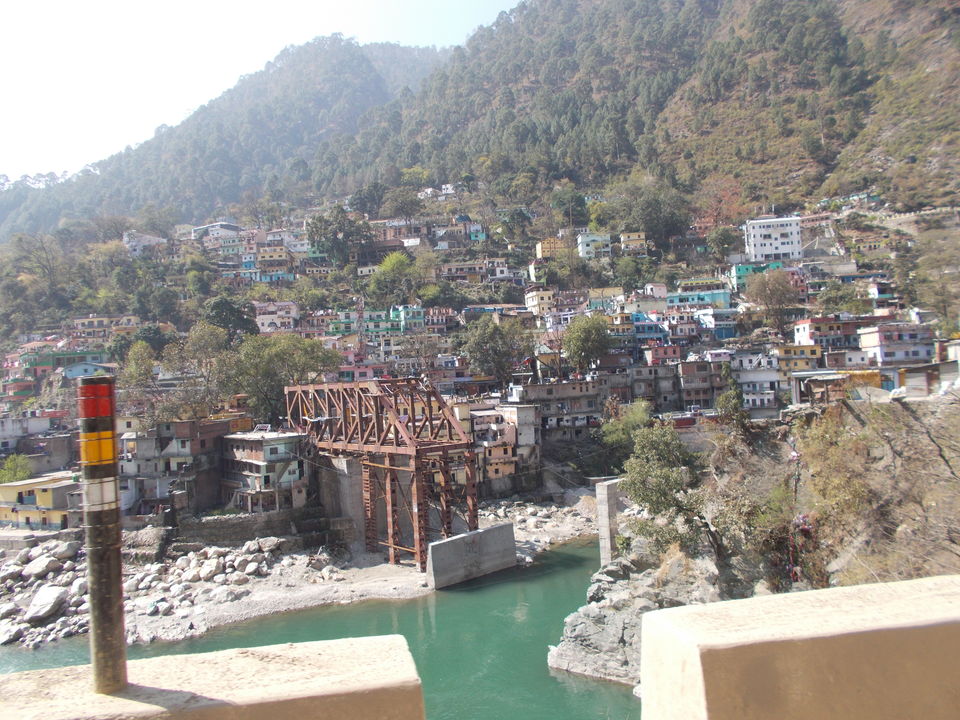 Treading Mud Trails & Sunbathing among Rose Trees
On the first day of the trek, we all headed out towards Dhak Village, the starting point of the first camp. Reaching Dhak roadhead by jeep, it was time to gear up for the 6 kms hike to Gulling/Chitrakhana/Chitrakantha camp. Starting out, for the first 2 kms, the mud-rock trail (in some places, just 6 feet-wide) climbed steadily. To the left of the dusty track was a sheer drop of several hundred metres; to the right were scraggy slopes of bare rock framed by sheer cliffs on which grazed long-haired white goats and snow-coloured sheep.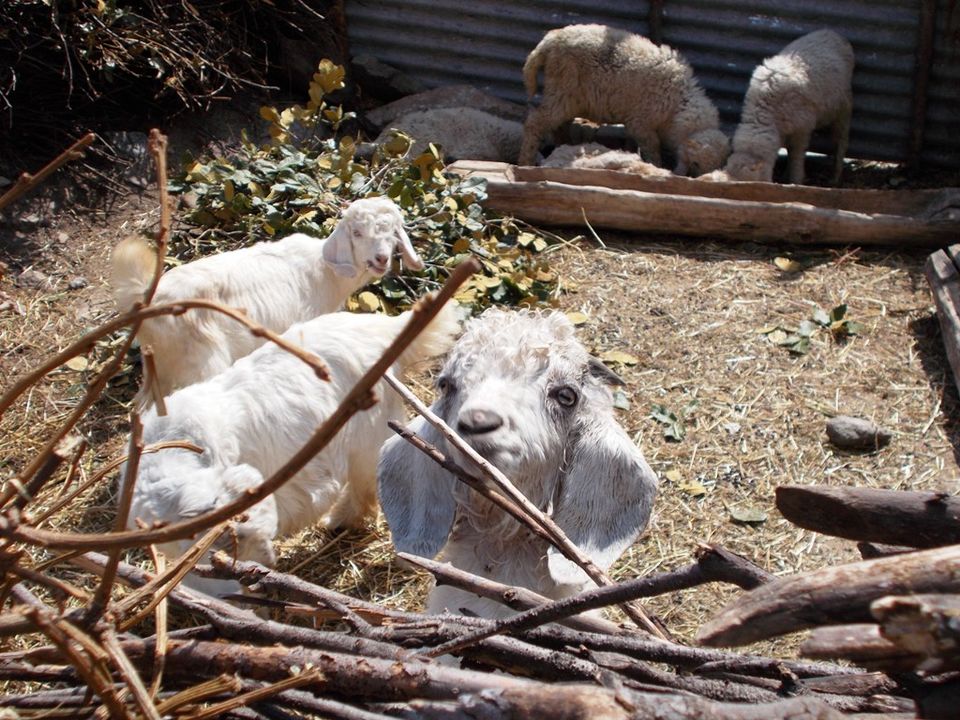 Climbing on, the village of Raigarhi (3 kms from Dhak) appeared and revealed a smattering of houses on hill sides rendered barren by a snow-less winter. The villagers bemoaned water sources drying up in February itself and of fodder shortage, making them ration cattle feed, keeping in mind the summer months ahead. Tugasi is the last village on the Kuari Pass trail, before the path climbs steadily towards Gulling/Chitrakantha.
Stopping again to replenish our water bottles, we rested inside the compound of a middle-sized house. Here we were treated to the innocence and wonder of life in the mountains, as we saw a little girl step out of an open-air 'handpump shower'(!) helped by her grandmother, and sit on the stone platform outside her blue-painted house. Covered in a multi-coloured towel, this little girl soaked in the warmth of the sun for a few minutes, and then was helped out of the towel and into a soft, pretty, yellow cotton dress. All this while, as we intruded on her privacy, she looked at us with a mixture of surprise, annoyance and genuine curiosity!
Crossing a wonderland-like forest of oak and walnut trees, we clicked high-altitude selfies, picked fresh-fallen walnuts and allowed mules loaded with camp supplies (and our rucksacks) to overtake us, before emerging onto the stunning camping grounds at Gulling/Chitrakantha.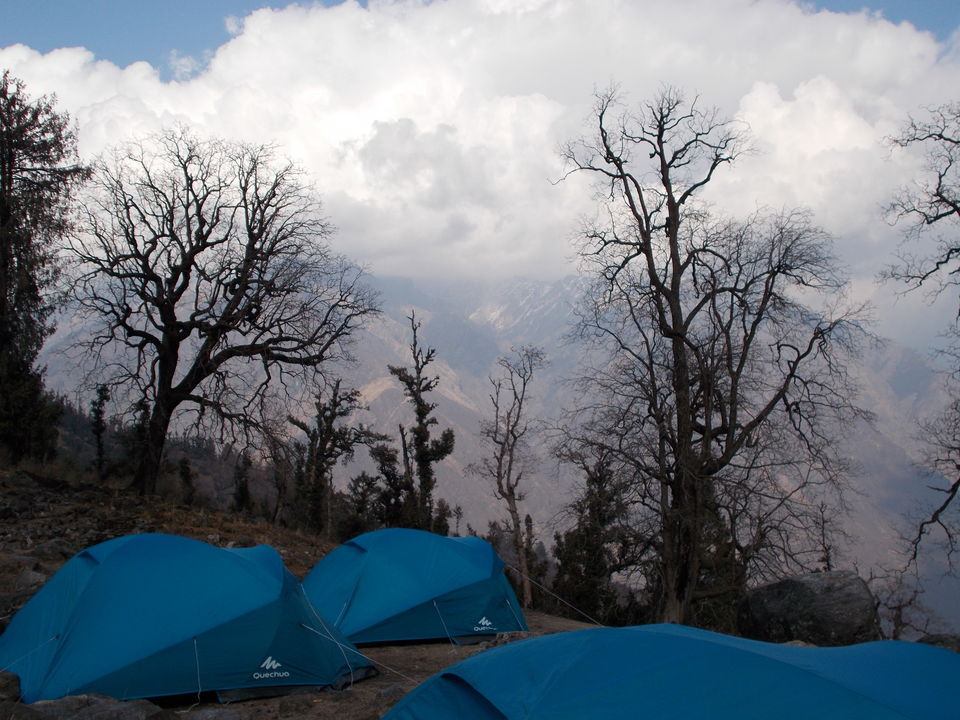 Chitrakantha camp is a wide expanse of open land, interspersed with medium-size boulders, overlooking the Alaknanda river valley to the south and snow-laden mountains on three sides. After a quick lunch of Maggi and tea, we headed up to the Forest Hut, a kind of emergency shelter for hapless trekkers or locals. This is a gently ascending walk of 30 mins, during which you cross a pristine patch of not-yet-melted snow, rhododendron bushes that are without flowers but beautiful nevertheless, and trees with resplendent, incredibly-lovely rose-like flowers, in place of leaves – which we christened 'rose trees'.
On our way back, we picked up fallen logs of wood for the bonfire, and enroute saw a heartwarming sunset, which tinged all the white peaks in a thousand shades of red, orange, saffron and yellow. As we got back to camp, it began snowing on the mountains to the north, which to us, from that distance, appeared to be nothing more than a flurry. Talk about mirages and illusions!
After a delicious tomato soup sipped beside a roaring bonfire that lasted nearly 2 hours, we called it a night. But not before a wholesome high altitude meal, of which the coup de grace was the most perfectly-cooked vermicelli kheer!
Watching Golden Oaks with Sheru & Bouldering beside a High-altitude Lake
Packing up camp by 8.30 am, we left behind happy thoughts of Chitrakantha and headed upto Tali, a steep climb of 6 kms. Almost all of the way up are dense forests of what the locals call 'golden trees'. We hazarded a guess to conclude these must be Golden Oak trees. An as-yet-undisturbed part of high mountains, these forests were straight out of a fairytale or atleast, seemed to be from the movie The Lord of The Rings! Skirted by now-dry streams and some mildly-gurgling brooks, these Golden Oak forests seemed to be filled with birdsong, the tinkling bells of cattle grazing in distant meadows and the sound of the windmills of my mind….
Surrounded by clusters of rhododendron bushes, Tali camp is much smaller and more in the shade than Chitrakantha. It compensates for this by offering a deep sense of peace and restfulness to visitors. We arrived here by 12.30 pm and by 3.30, were all ready to go on a short hike to Tali Lake, when it began snowing lightly. As we all waited for the weather to clear up, I opened my tent's flap and gazed out. Sheru, our trek mascot was right there, sitting just outside my tent. He had accompanied us all the way up, staying a bit ahead or behind, but always there when we looked for him.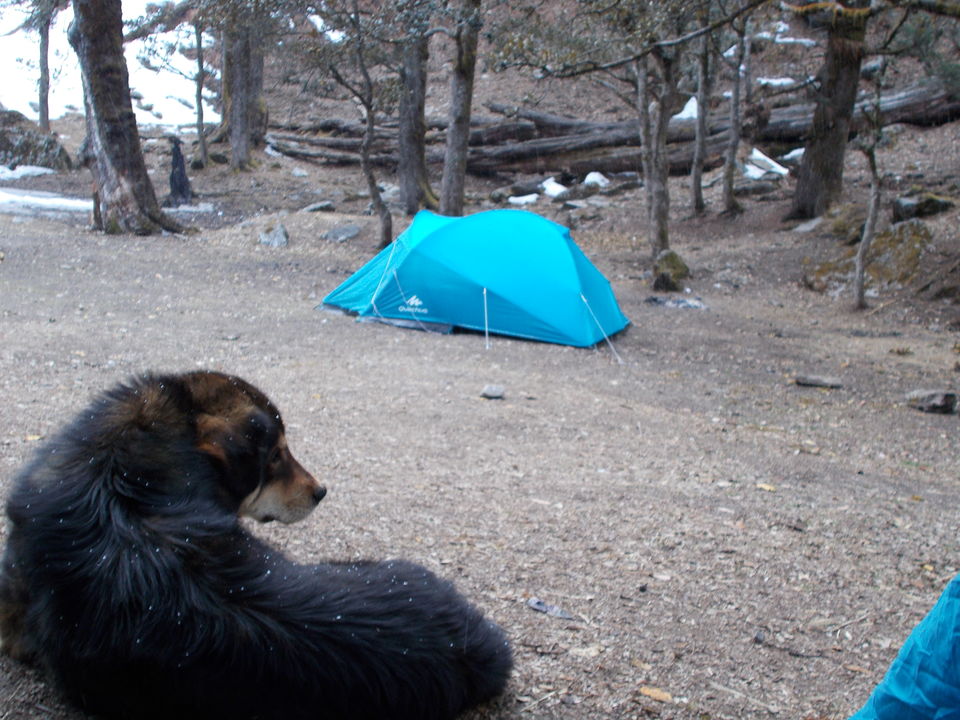 Tali Lake is reached by a short, gentle hike of 30 mins. A small, round lake, it is set in a meadow overlooking a valley on one side and forbidding cliffs on another. Right next to it is a huge boulder, almost rectangular in shape and very popular with trekkers. Just as we all had reached the top of the boulder, the flurry started again and we rushed back to camp. After an early dinner and lights out, it was time to think of all that lay ahead in the morning – the day we would attempt Kuari Pass (13,000 ft).
Snowfields and Zen Paintings
On March 1, before the sun had bathed all of Tali camp in its revitalising warmth, we embarked on the toughest and longest climb of the trek. At an astounding 7.5 kms each way, we had to reach Kuari Pass before 2 pm, and hence the early start. The trek guides had been categorical – the snow condition would deteriorate as the day wore on and so, the absolute, non-negotiable deadline was 2 pm.
Leaving Tali at 8.30 am, the last of us had reached Kuari Pass before 2 pm and arrived back at camp by 4.30 pm. We had traversed this 15 km distance in record time (said the trek leader), despite having put on micro-spikes and gaiters, to tackle ice-patches and knee-deep snow.
The climb upto Kuari Pass involves steep inclines where snow has hardened into ice in sun-less spots; rolling snow fields that seem endless; rocky patches covered in dried mountain grass; sheer cliffs and precarious overhangs that awe as much as they magnetise; and dried up trees hanging on to slopes covered in snow, which remind you, curiously, of Japan and Zen paintings.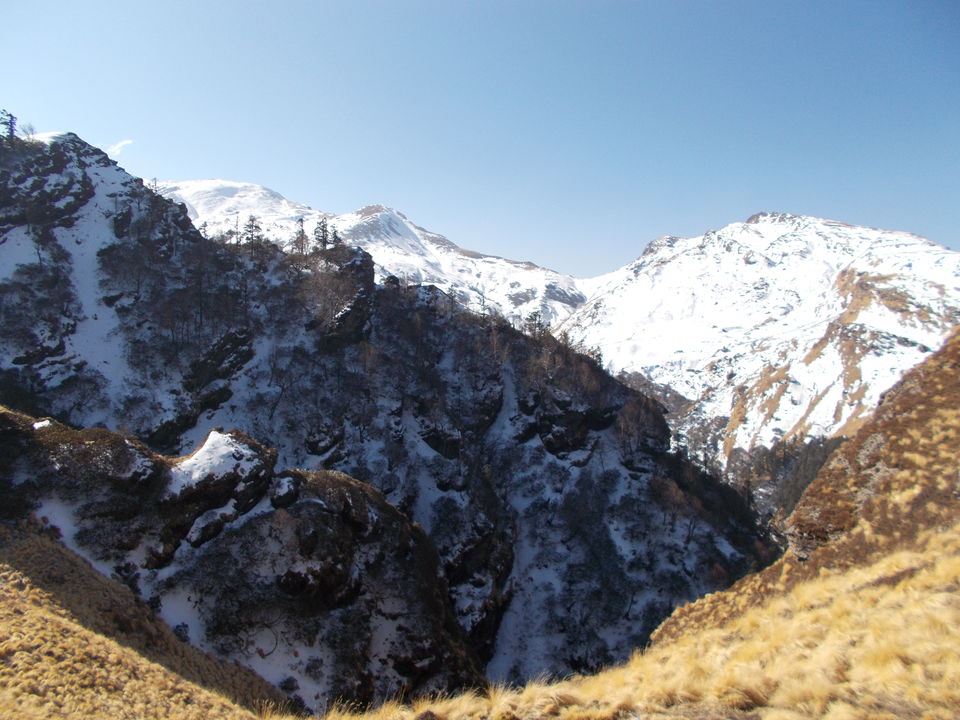 The Kuari Pass trail is admittedly the best vantage point for high Himalayan summits. The views that you encounter from here are simply magnificent; toward the north, the vision encompasses the gorges of Trishul in the east to the snowy wonder of Kedarnath in the west. Kuari Pass offers an unparalleled panorama of such peaks as the Chaukhamba, Nilkantha, Kamet, Kedarnath, Nandadevi, Bethartoli, Dunagiri, Gauri Parbat, Hathi Parbat (all above 6000m and 7000 m), lined up next to each other (well, almost) in breathtaking wonder.
With winds blowing at high speeds (a rough guess – over 100 km per hour), the wind chill factor seemed a real-time possibility rather than a theoretical mountaineering hazard! Parts of the trail, especially after the first 2 kms, are particularly risky, with snow, ice, mud and stones making for a treacherous amalgam.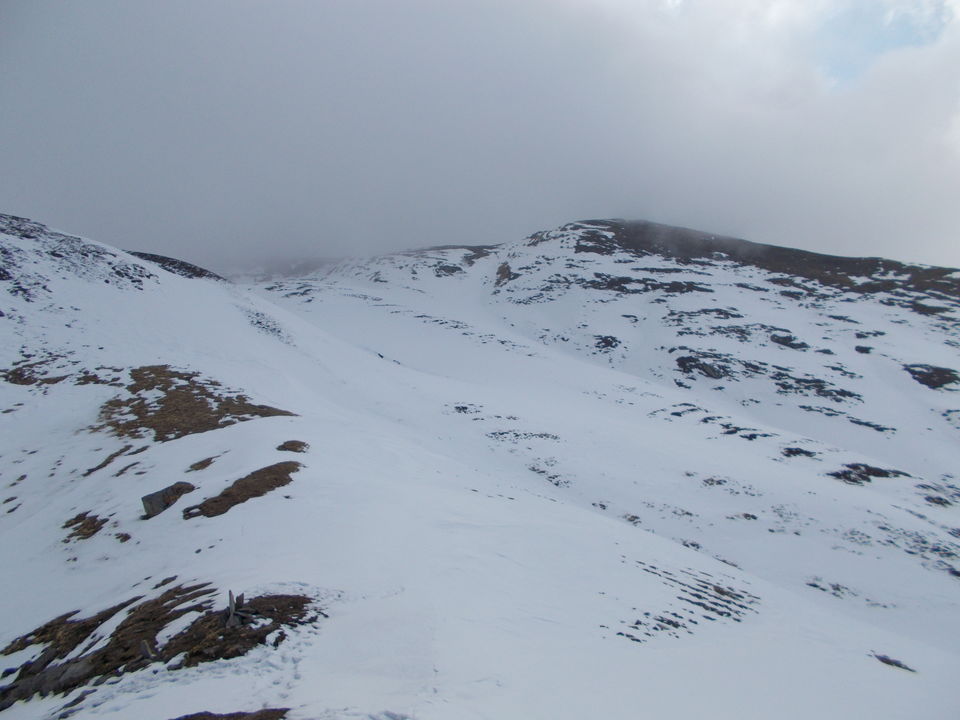 Some parts of the nearly 2 km-long snowfields enroute Kuari Pass are hazardous, to say the least. We all had several falls and missed steps and tumbles in the snow, while traversing slopes with zero footholds. Fortunately, the trek leader and route guides were there to see us across safely, all the way up and back.
The last short climb upto Kuari Pass is the trickiest, with hardly a foothold nor a well-trodden path to guide us up. In some spots, we clambered up using both hands and rested every few metres, given the altitude of nearly 13,000 ft. And although the view across Kuari Pass was a disappointment, it was the thrill of making it up there that made up for everything. As dark rain clouds (which at the Pass meant snow, or at best, flurry) moved in, we finished pack lunch and headed back to Tali Camp, on what was my most memorable day of climbing, till date.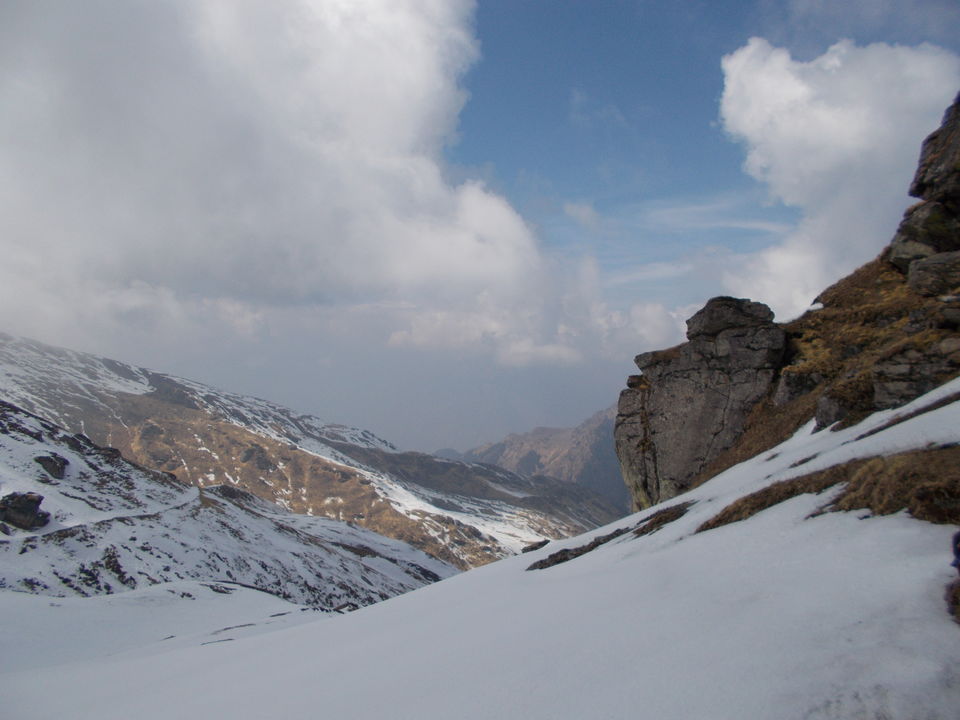 Shepherds' Huts and Spirit Detox
The last day of the trek. All of it downhill. All 12 kms of it. In normal course, this would've been a piece of cake. But the hike to Kuari Pass left me with shoes soaked in snow-turned-into-water. In short, shoes with wet soles and inners that just wouldn't dry up. So, as my fellow trekkers seemed to fly down the sharp descent from Tali to Chitrakantha and on toward Joshimath, I struggled with boils caused due to the friction of dry socks and wet shoe inners. It was very tough getting down steep slopes and crossing rocky patches.
Just before the steep descent to Tugasi village, I came across shepherd's huts (Chaani) – mud and stone structures with straw roofs. The hay on top gave the Chaani a picturesque aspect and enhanced their rectangular shape. This is a terrific vantage point and opens out into a panoramic view of the Alaknanda valley, with a towering snow-covered massif of the Garhwal Himalayas framing the unforgettable vista.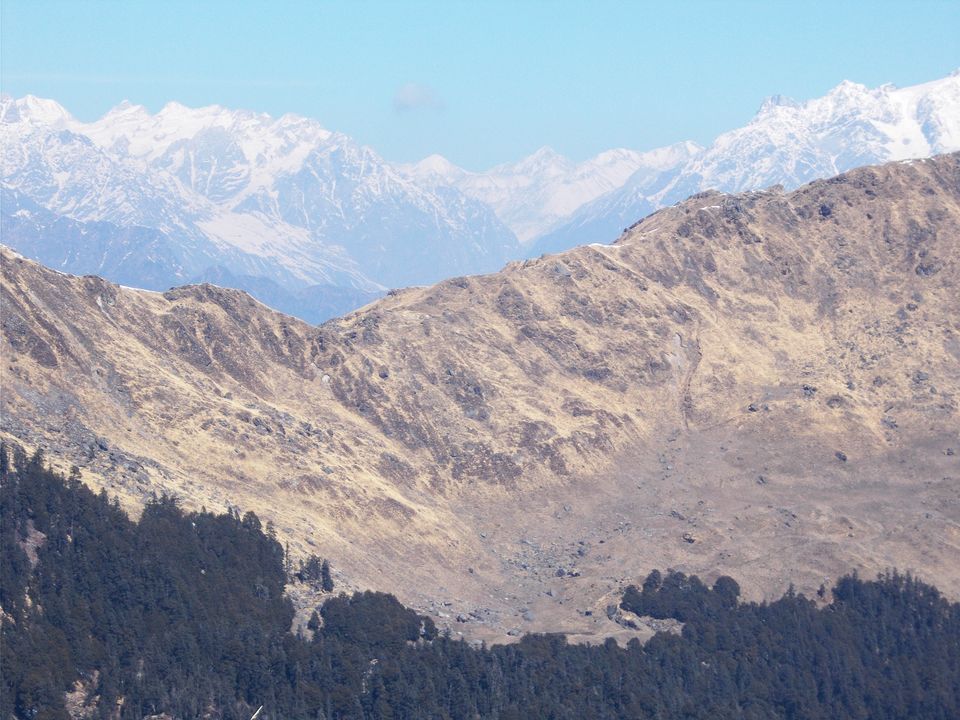 At 2 pm, making excruciatingly slow and painful progress, I finally managed to reach Dhak village, from where we had started off towards Kuari just a few days ago. From Dhak, back to Joshimath, is a beautiful 11 km drive on meandering roads through Deodar forests and pretty hamlets. This drive, on the last day of the trek, was just as memorable and enchanting as the hiking, climbing, walking, snow-traverse, physical exhilaration and spirit detox, that Kuari Pass will forever symbolise, to me.