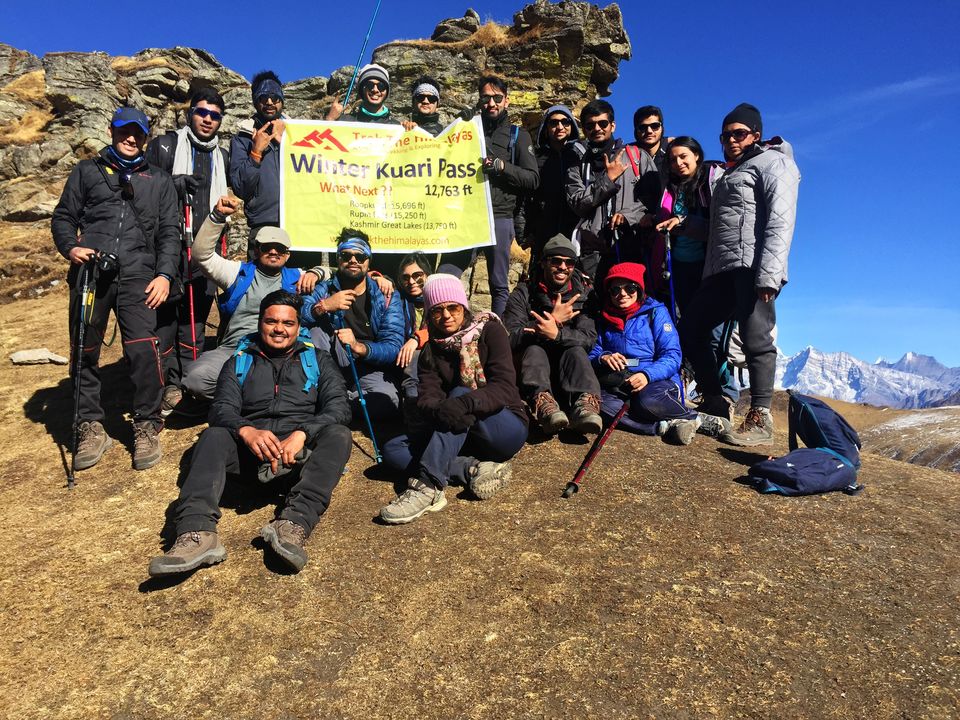 As it's always better to plan anything prior, I booked the slot for a trek with 'Trek the Himalayas' 3 months prior for Winter Kuari pass trek. With too much of excitement I booked this trek in a dream to end 2016 with quiet a lot of adventure. This entire 3 months duration was just getting every bit of information on everything that mattered for trek. Well, I could find number of trek videos and blogs on how to prepare for your first trek. This trek which I took at the end of year 2016 was the best way for me to end the year as I experienced a lot many things which I had never had a chance in my lifetime.
Day 1:- The day of sheer excitement.
This day was a travel through cab from Haridwar to Joshimath for 13 hours.
It was so awesome and a new thing I was doing like carrying a 40 litre back pack with all gears I needed for the trek and traveling in an overnight train from Delhi to Haridwar in Mussoorie express. I arrived at Haridwar railway station by 6:30 a.m. in the morning and saw hundreds of trekkers getting down from the same train I had arrived. I could see many trekkers with the trek bags and trek poles moving around the station looking for the coordinators who guide them to the respective vehicles to take them to the base camp. I found the vehicle of TTH right next to the statue of lord Shiva outside the railway station and loaded my trek bag on to the vehicle and sat there waiting for the fellow trekkers to join me. We started our journey from Haridwar by 7:00 a.m. and picked two more people on the way to Rishikesh and introduced to one another on the way. It felt so driving and awesome to see people same like you awaiting for an adventure in life and daring themselves to achieve it with all the hindrances they face in life. Our next stop was somewhere near Shivpuri for breakfast. Just after breakfast we arrived at one of the most religious places in India, The Devaprayag which is a place where Bhagirathi confluences with Alakananda to form Ganga. The view from the main road is awesome and exuberant. With few pics taken at this point we left further with songs accompanying us in the cab. Our next stop for pictures was at a place where we could find sand dunes with river flowing fiercely next to it. This place was also mesmerising and we left further and had lunch somewhere near Srinagar. After lunch few of us went to sleep, thanks to the train journey we had the previous night and then we entered the Chamoli sector in Garhwal and had our first view of snow clad peaks in this region. It was already too late and our cab was the last in our batch to reach Joshimath. That night at 9:00 p.m. we had a brief session of what are we up to the next day, and soon I headed to sleep awaiting the adventure I was supposed to take for next 4 days.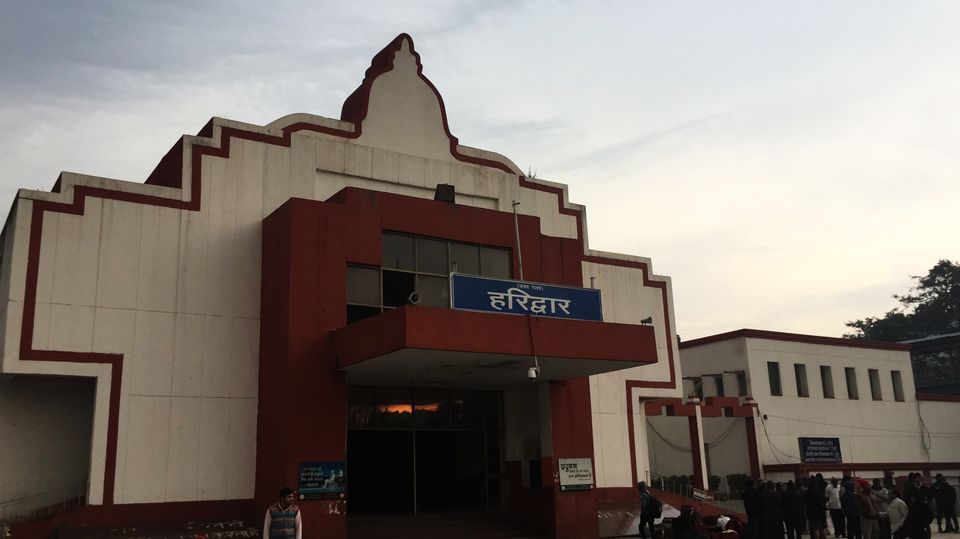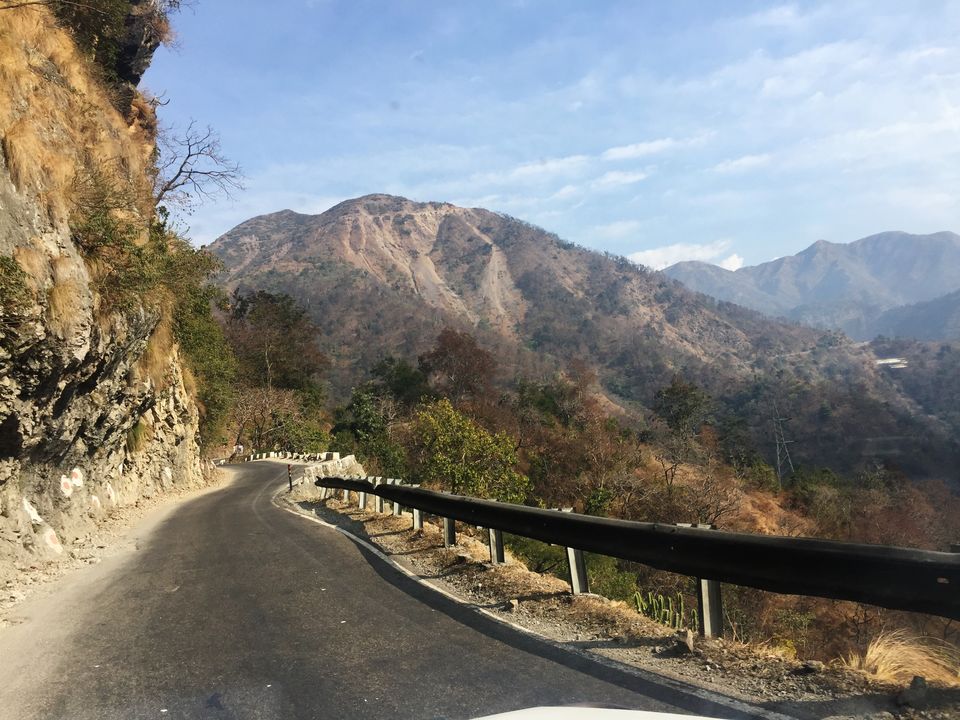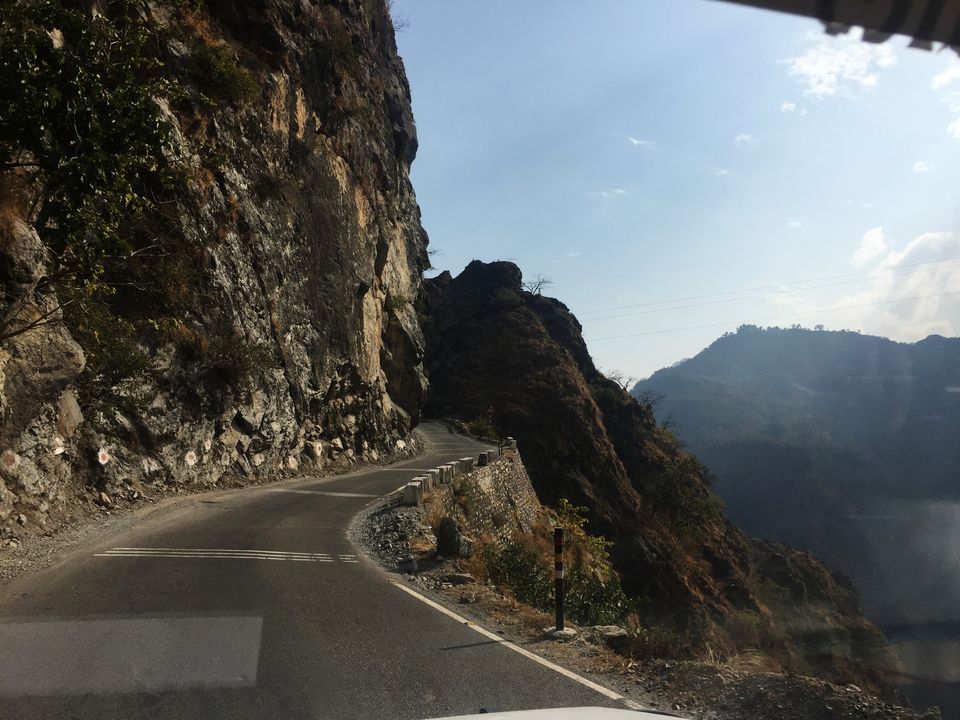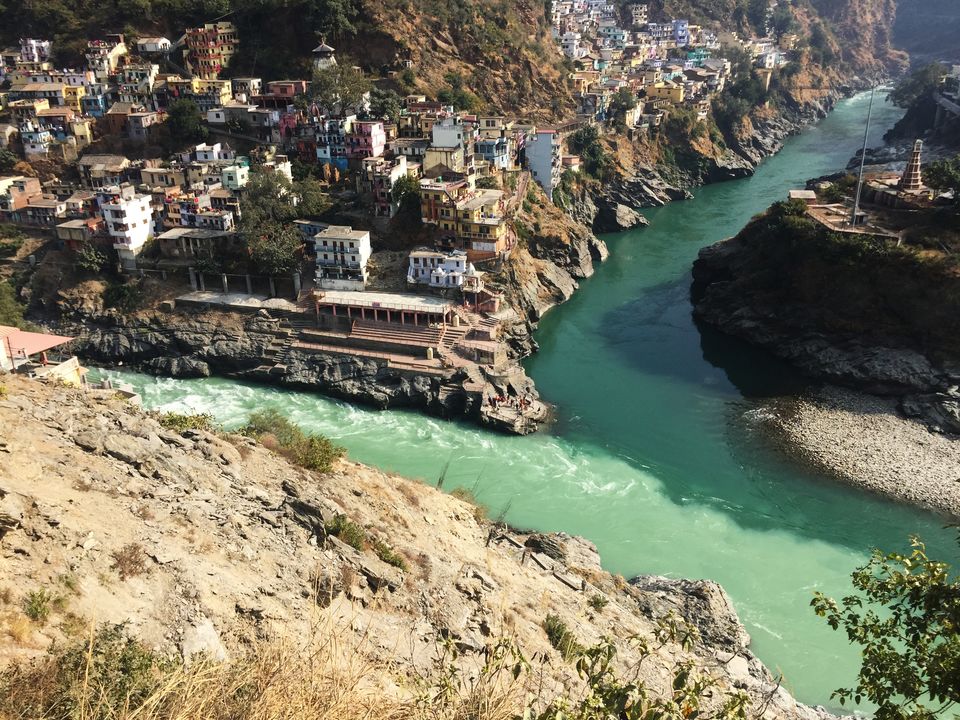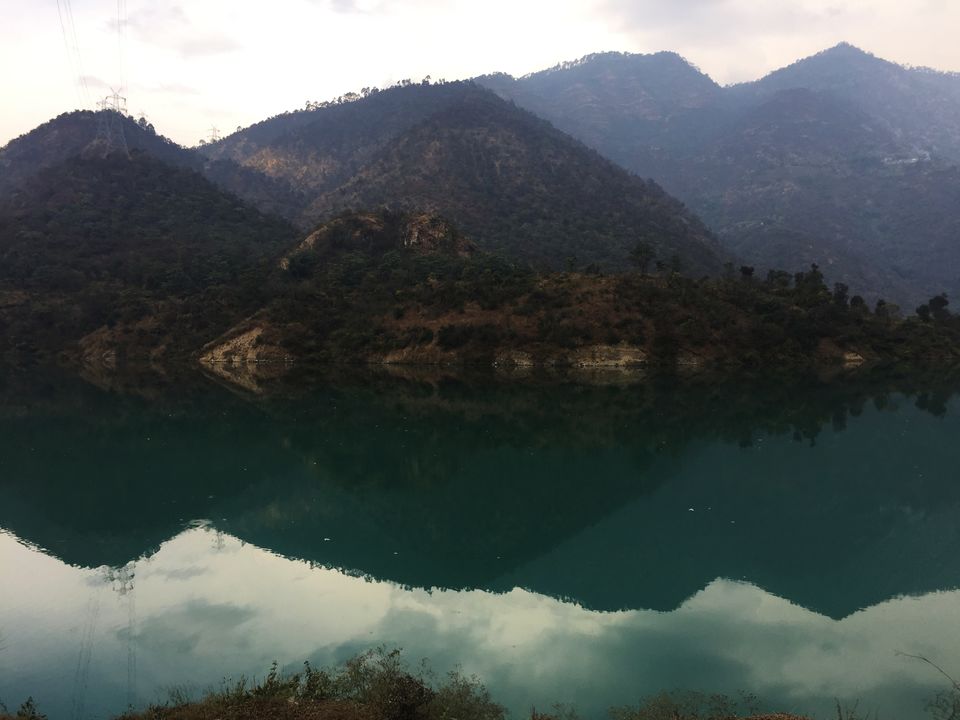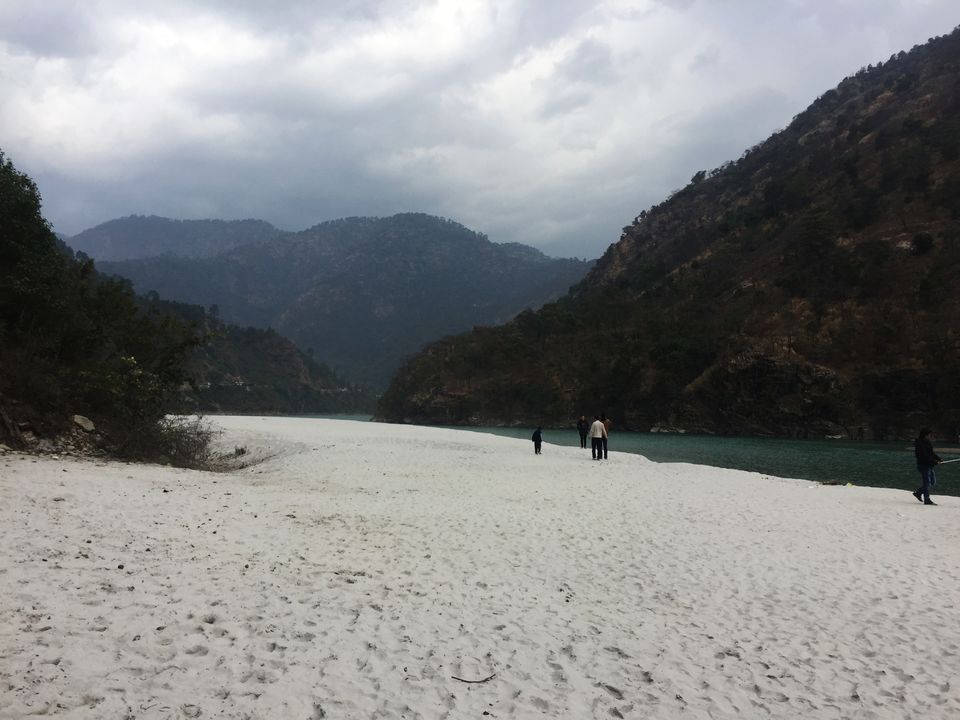 Day 2:- The day of a new Adventure in my life.

A drive for 12 kms to Dhak village and a trek of 6 kms to Chitrakhana camp site.
And so one of the best adventures of my life began on this day. Yesssss, I was there on the hills of Himalayas and started to trek which I had dreamt of to do for a long time. Once we were into the Dhak village and I started hiking in the muddy track I was delighted like a child who gets a chocolate for the first time in his life. I just didn't chat with any fellow trekkers and was in my own World having a chat with mountains right in front of me. After an hour we were halted near a shelter for a break. Then it was our hike through the cliffs and corners and we were into Tugasi village with old rustic homes and kids playing carefree to the trekkers but they didn't mind to pose for one or two pictures meanwhile. We saw a stone made grinder for grinding grains and produce Atta all with the help of water flowing down as stream. By 1:30 p.m. all of us were at the Chitrakhana, the camp for that night. After a tasty lunch at the camp site we selected our tents for the night and had a small discussion within ourselves checking if everything is fine. That evening we had a small hike to the mountain behind the camp, so that we can gain a few metres of altitude which helps in acclimatisation. After a 90 minutes of this exercise we were served dinner at 8:00 p.m. and the climate outside the dining tent was gradually declining to sub-zero temperature. Then after a quick check on our oxygen levels we were into our respective sleeping bags for the night and I fell asleep immediately. After half an hour or so I started suffocating for oxygen, might be due to the dip in temperature or so and also started getting fever. My tent mate suggested me to take Combiflam and then I fell asleep for that night.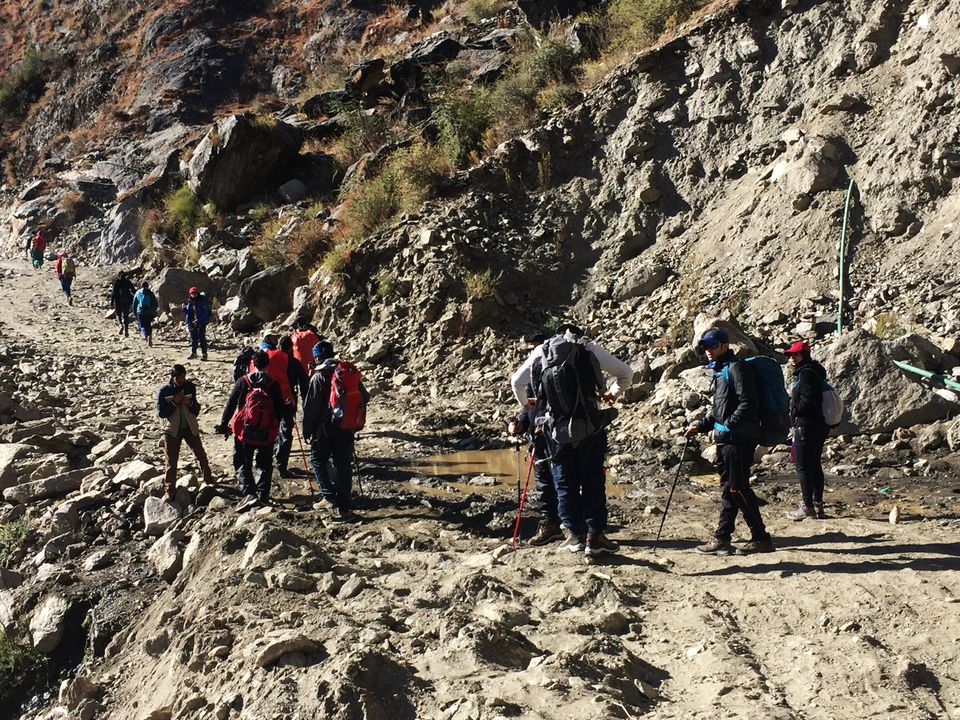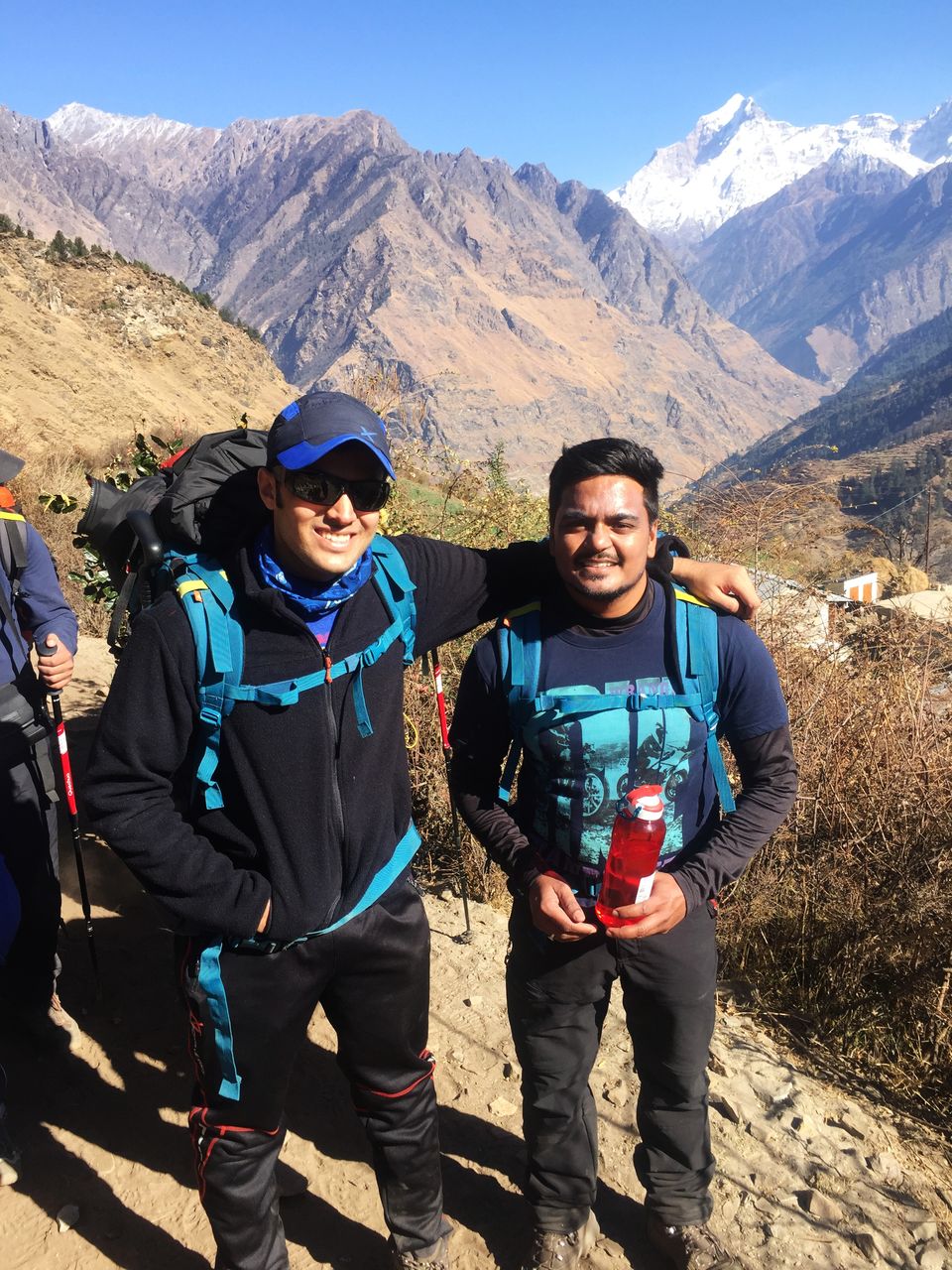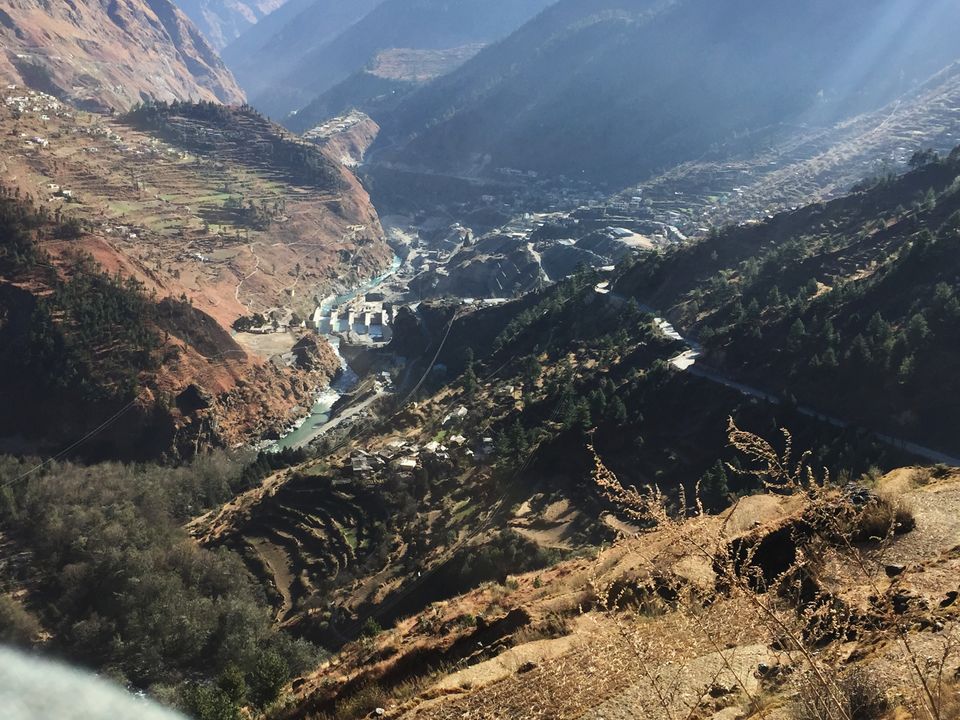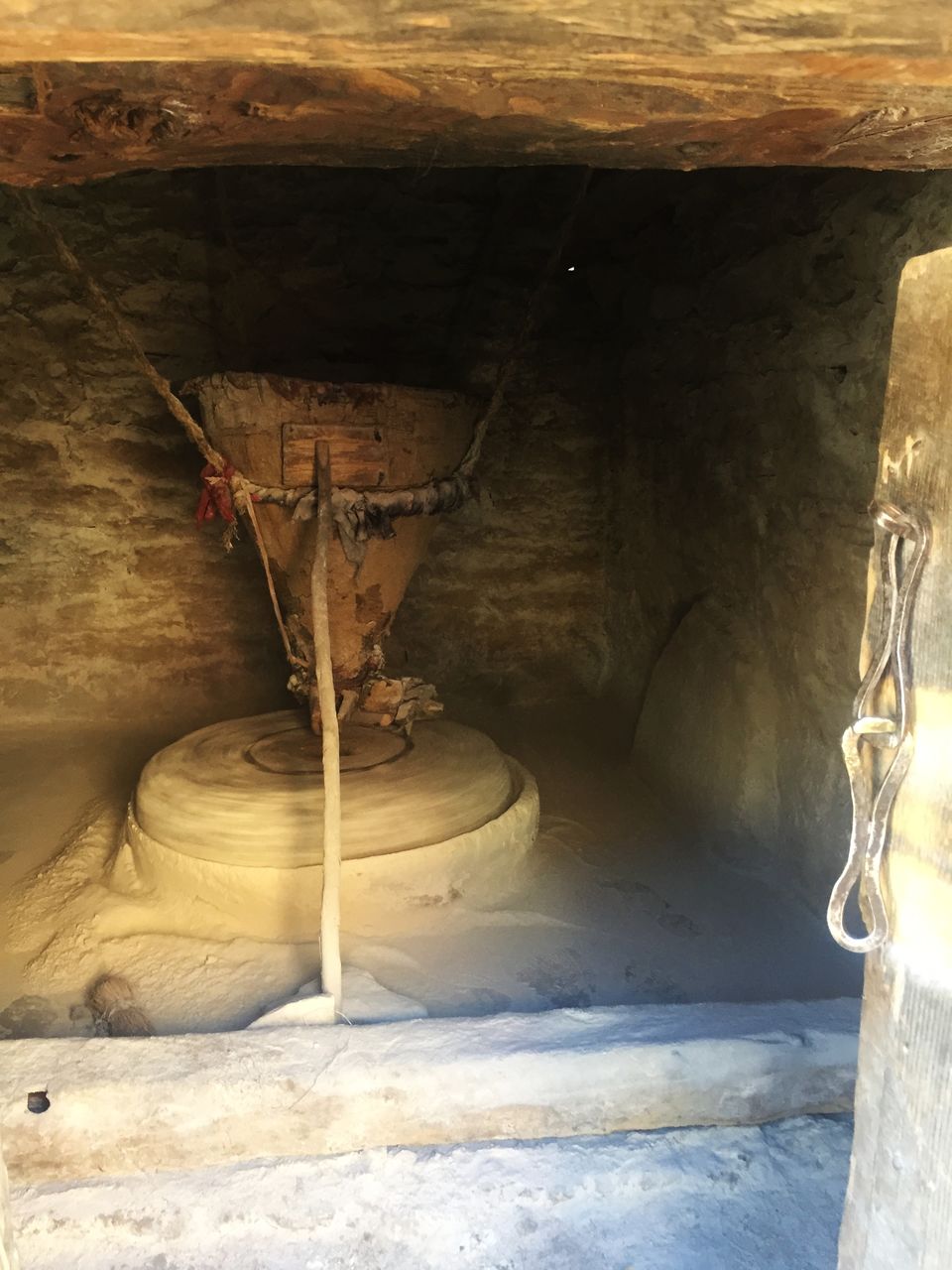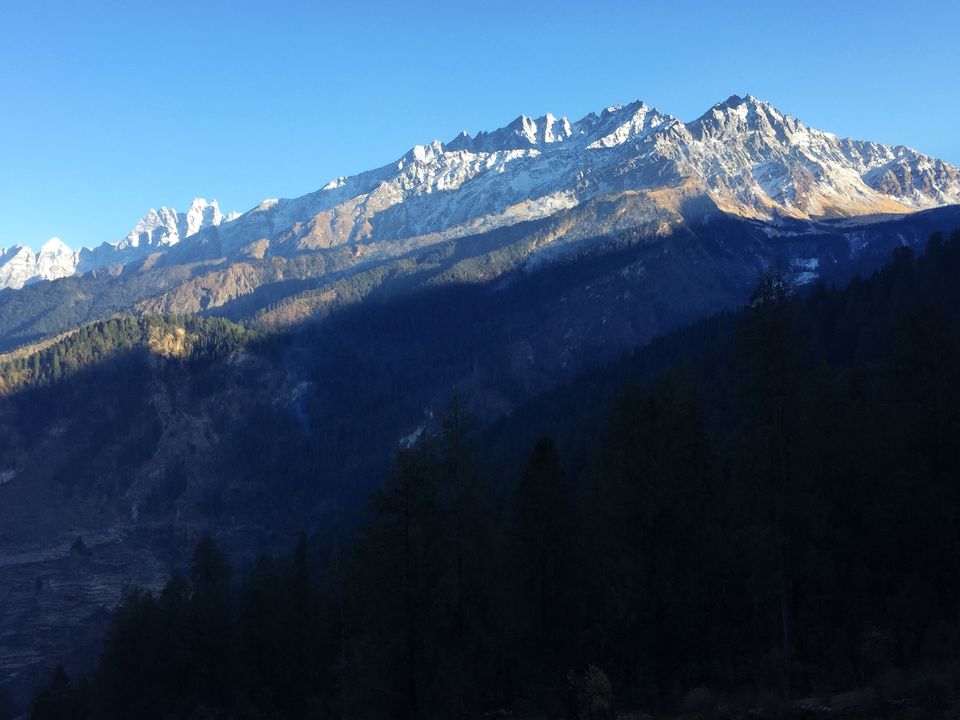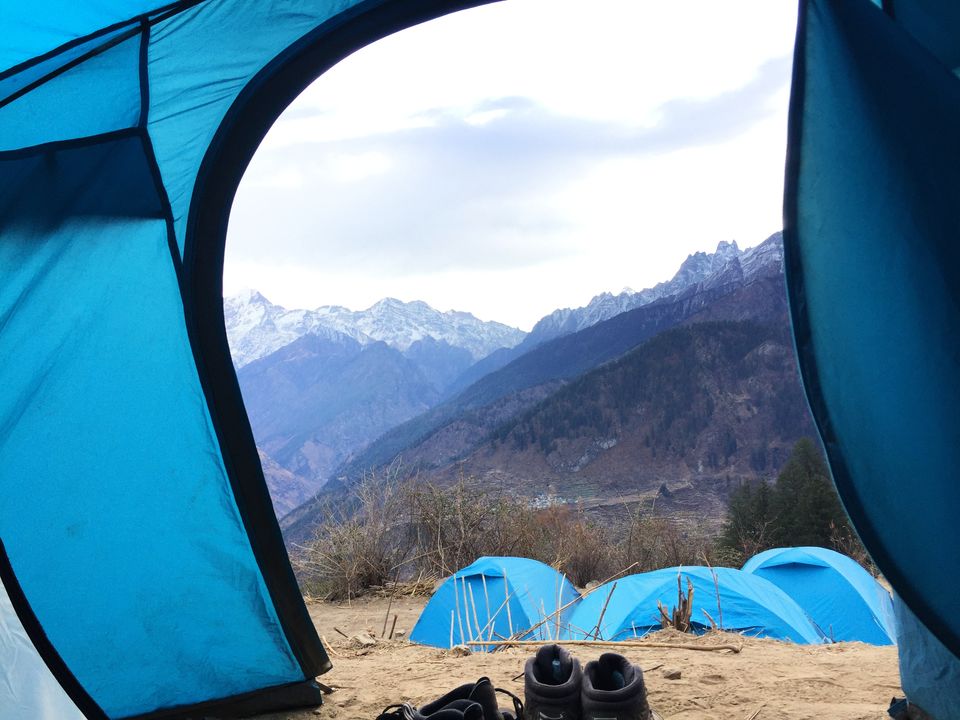 Day 3:- The day of great views.
Chitrakantha to Tali top – 6 kms of trek.
This day started for me at 5:30 a.m. only after a good night sleep, I was out of my tent in the bone chilling weather to witness one of the best sunrises I have seen in my life. After 30 minutes even my tent partner joined me and we sat on a boulder waiting for the sun rising slowly behind the mountains and this reminded me of the sketch I drew in my childhood (A sun rising exactly at the point where two mountains meet and the rays spreading over both the mountains equally). By 6:30 we were served Kahwa, and by 7:30 breakfast, and all of us geared up for a small distance but a steep climb for the day. This trek gave us a first sneak peek into the traces of snow on a rhododendron tree lines on the way to Tali top. This entire stretch was under thick dense vegetation and was so welcoming for the trekkers in the group. We reached Tali camp site by 2:00 p.m. which is set in an alpine environment with trees surrounding the camp. The camp usually gets a very little sunlight and was cooler also. This day also we had a small trek to Tali Lake and Bugyal nearby for gaining altitude. The evening ended up with attempting a small rock climbing session by our local guides on a rock boulder next to the lake. That night we had a briefing session by our trek leader about the next day, a big day of summit and all challenges we might face to the summit. Had a great dinner and a good sleep.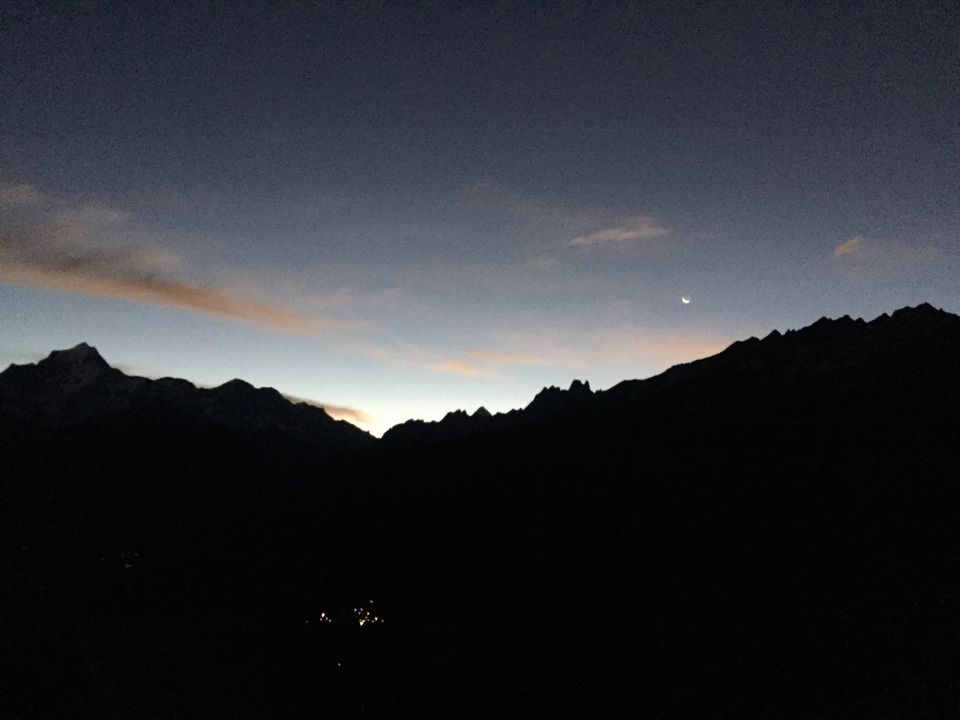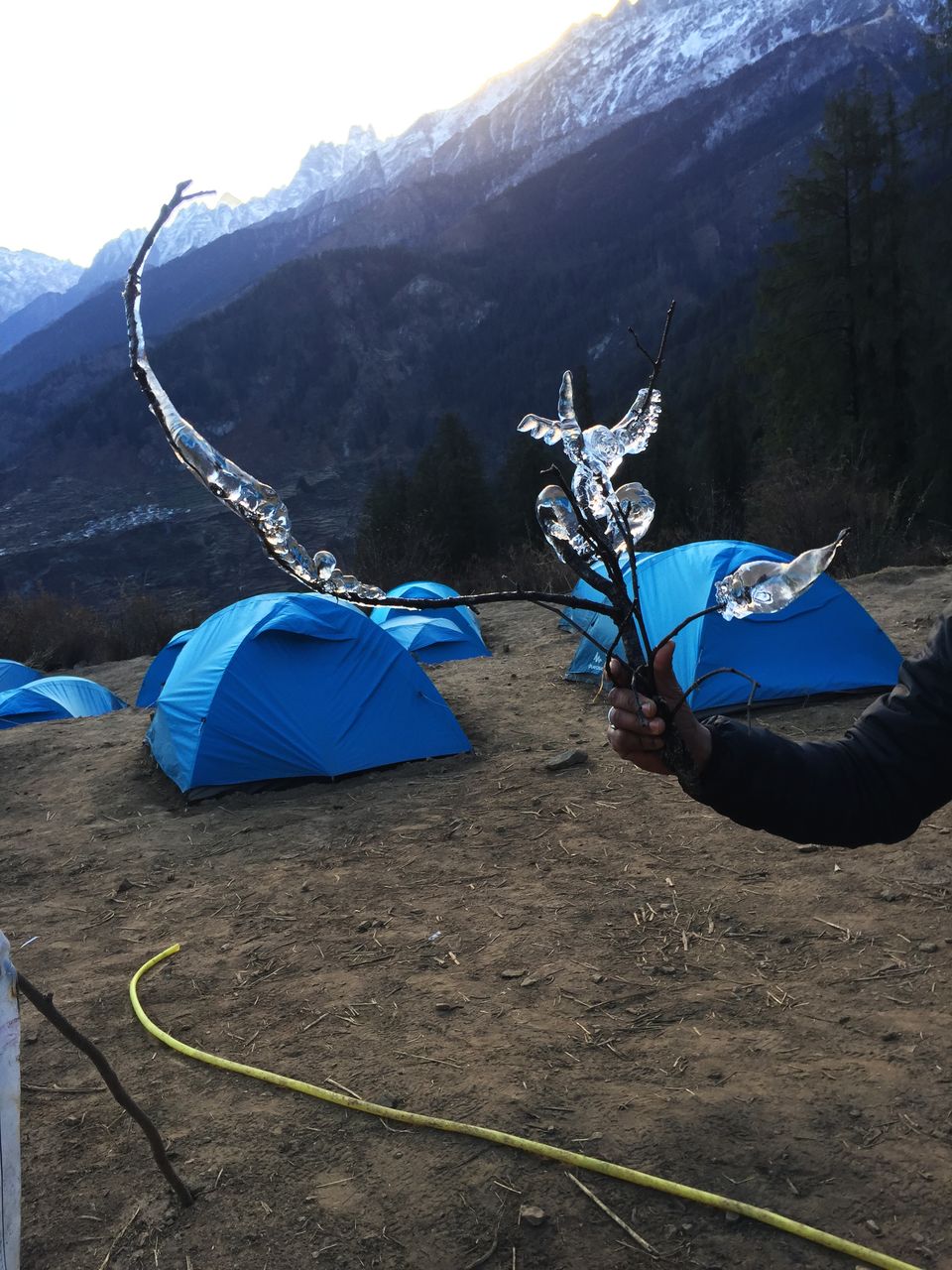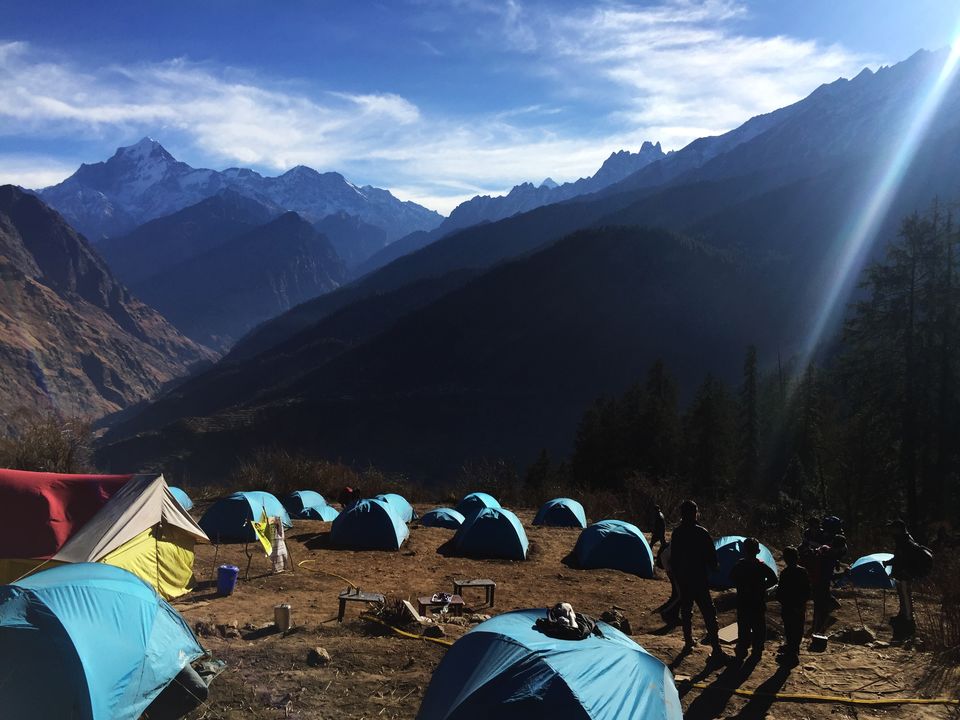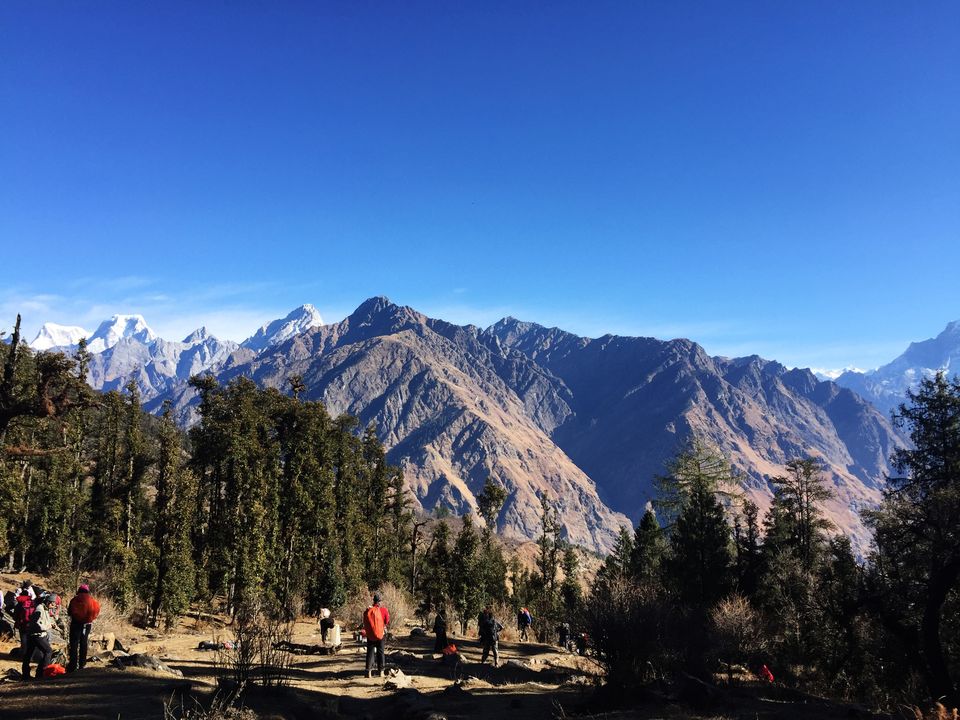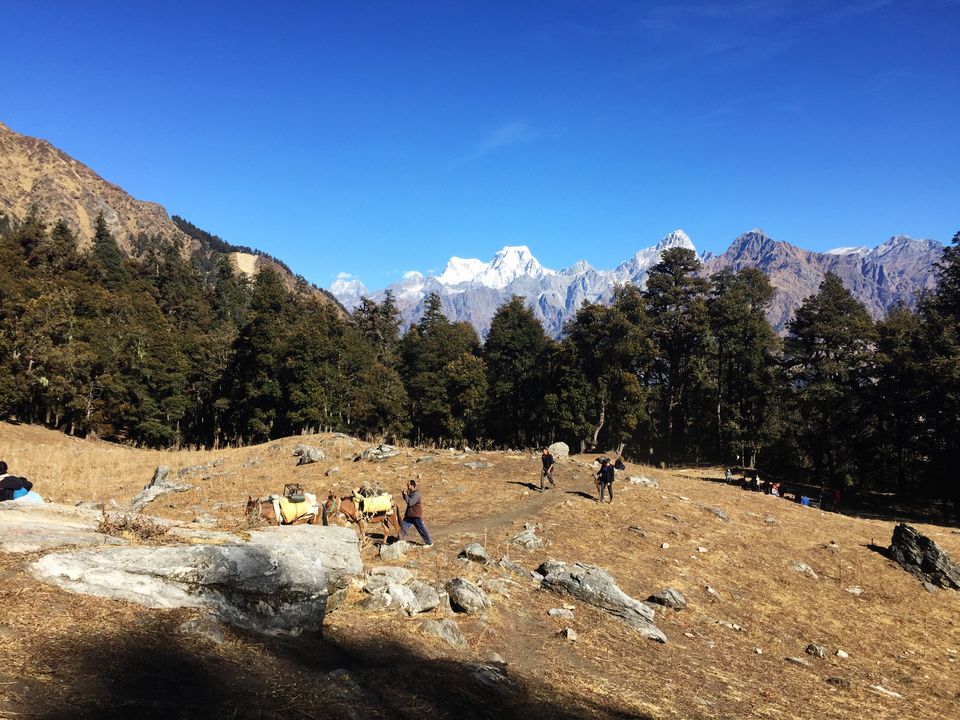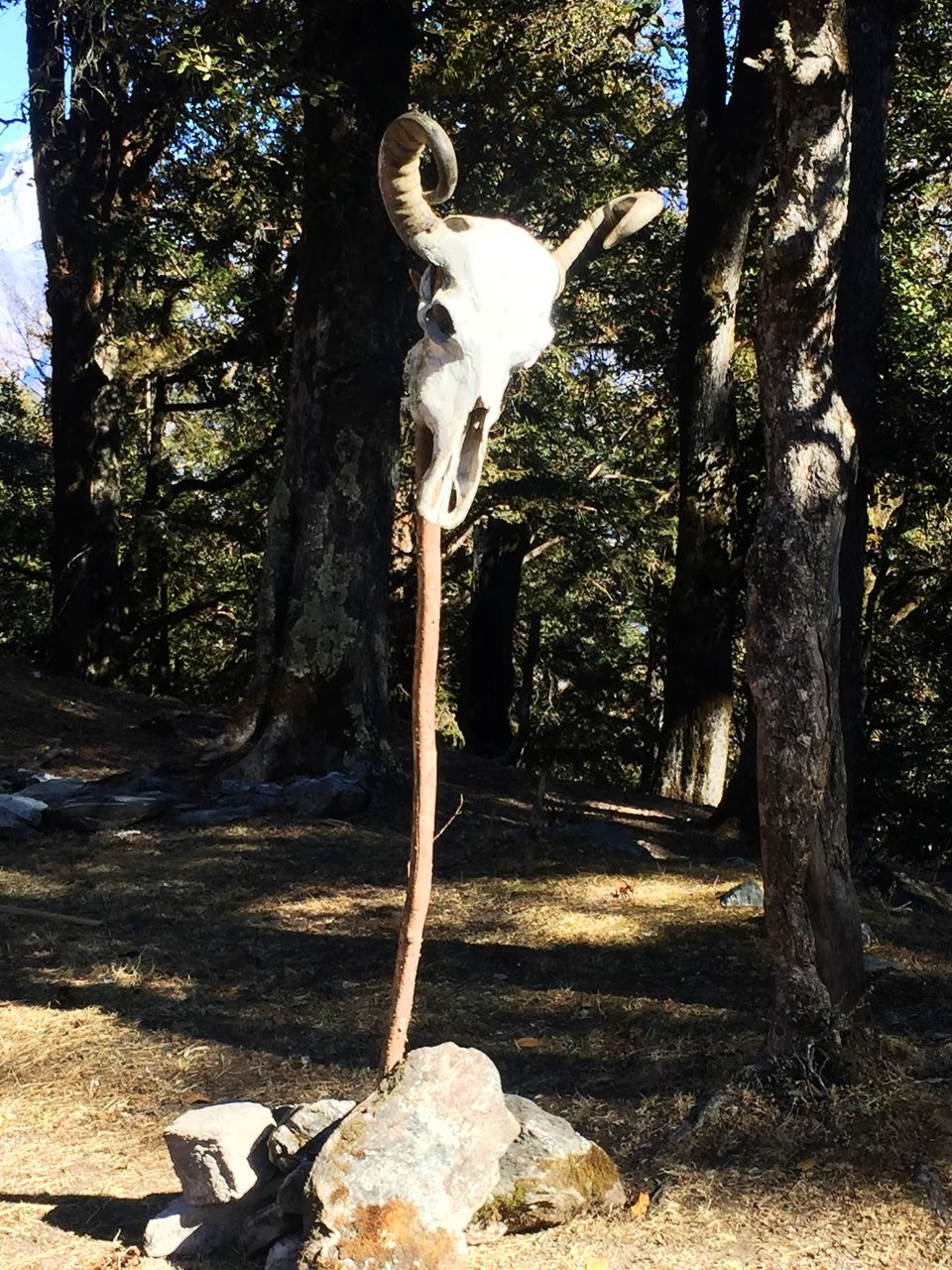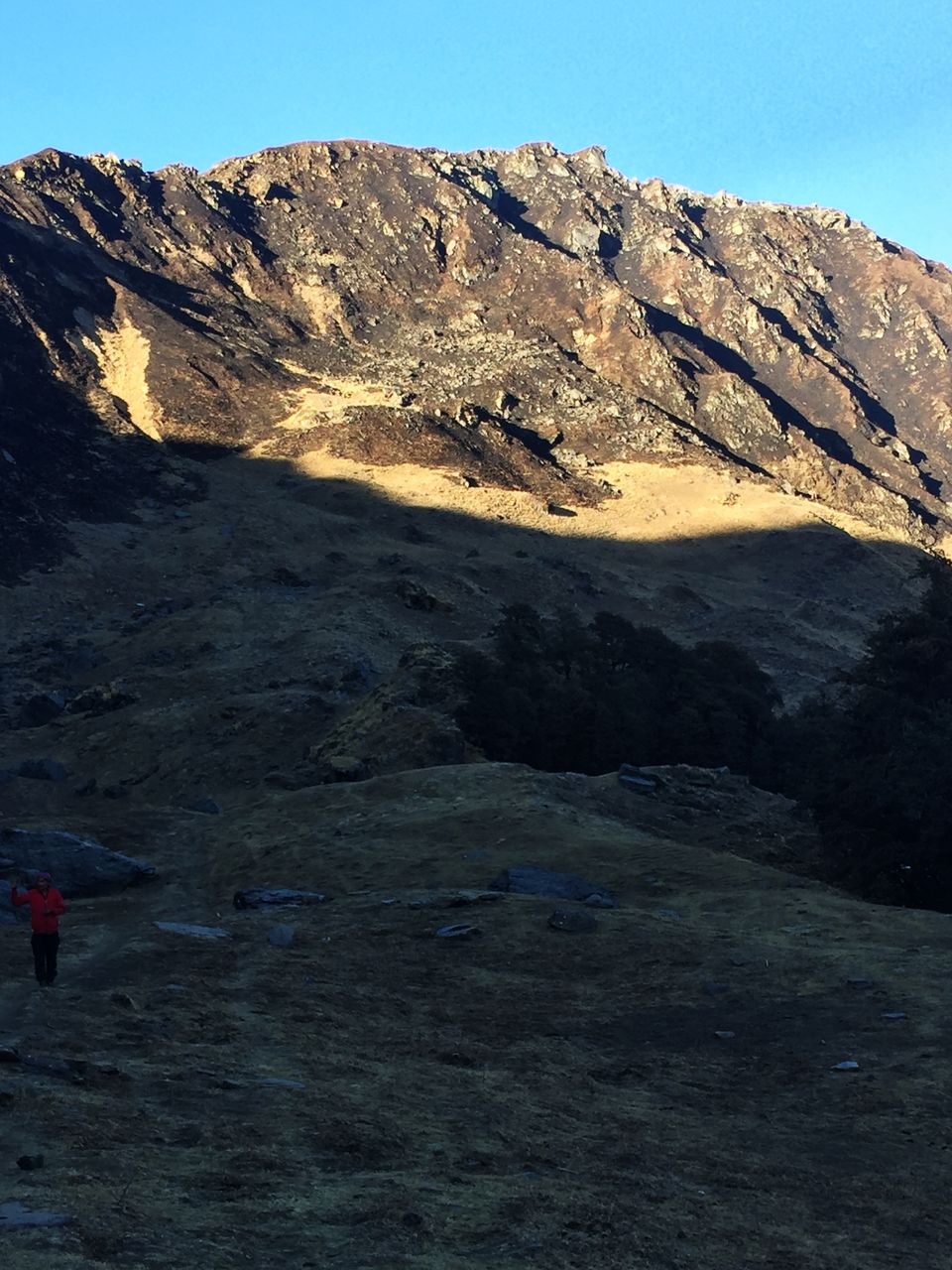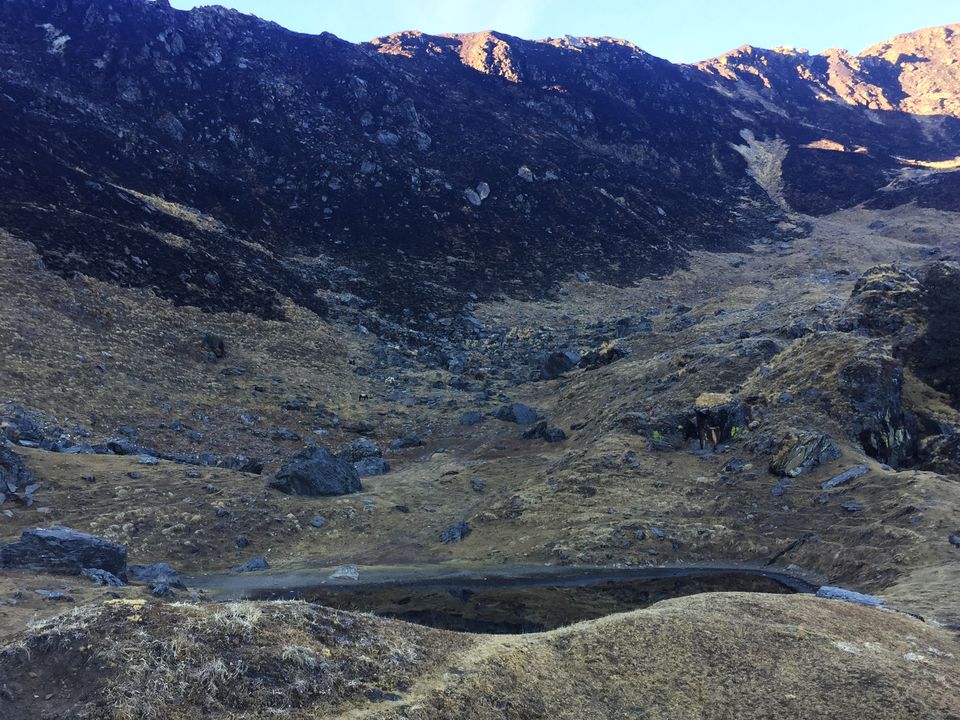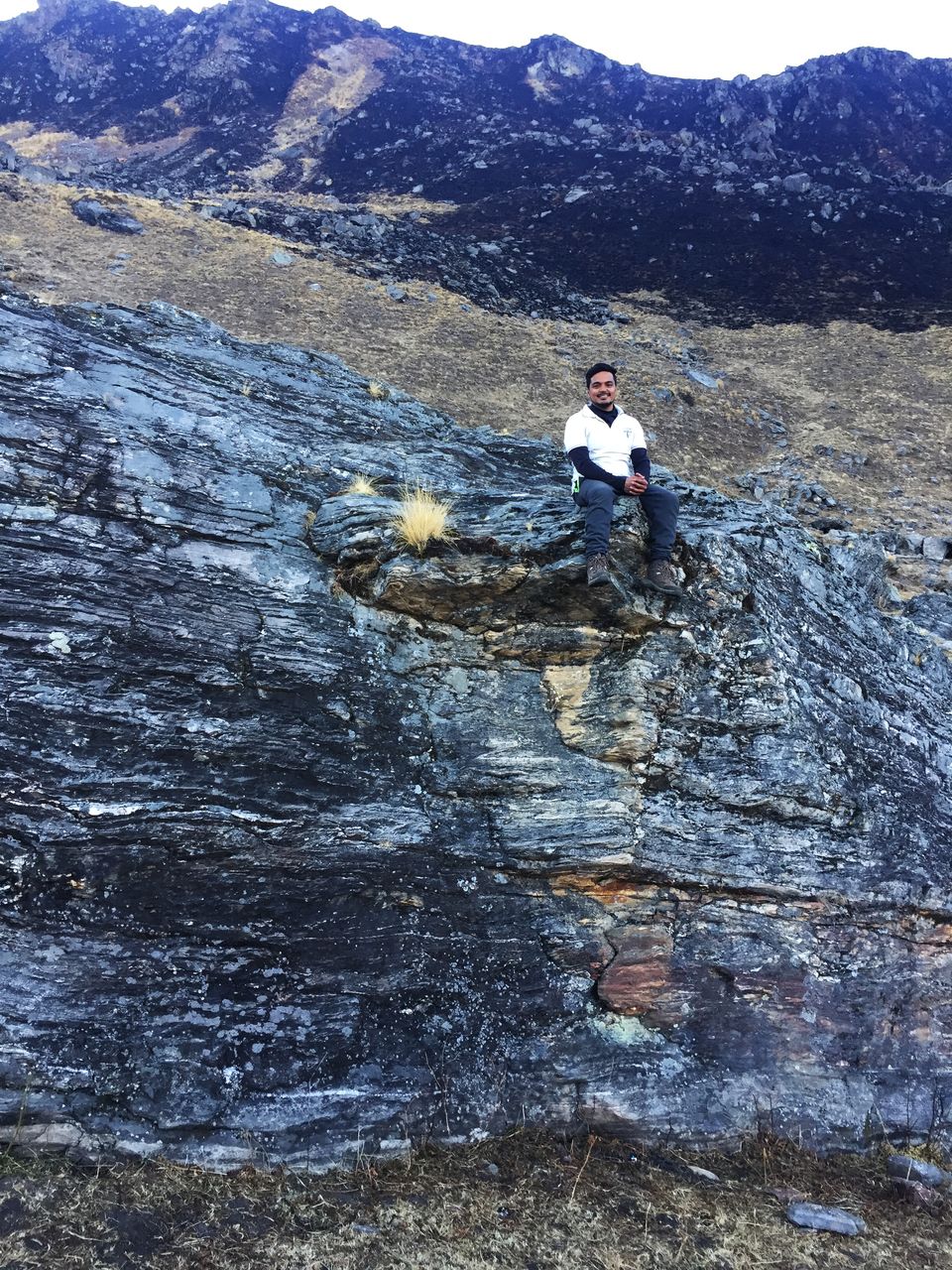 Day 4:- The day I climbed that Goddamn mountain.
Tali top to Kuari pass and back to Tali top - 16 kms of trek
The day started as usual with Kahwa and a breakfast and then all of us were geared up with our day packs and a lunch box packed with all the refreshments and the energy bars. This was the longest day of our trek and was challenging. Me and many more first time fellow trekkers were worried about the day initially but we boosted one another and took off for the day. Initially we crossed the oak and pine trees and then entered a bugyal which spread too wide leading into the horizon of mountains. From here after 11:00 a.m. it was only mountains and mountains wherever we saw till the end of the day. After a 2 hours of trek we were at the Khullara top where you can find a museum of Mountains all over the place. From here our next stop was at a broken bridge. This place had a major amount of snow to see and was really challenging for us to get down to the broken bridge and again trek to the steep mountain next to it. From there we could see Kuari Pass summit, and this was a difficult part of the day to walk. By 1:00 p.m. almost everyone from the group was on the summit sharing hugs and smiles to each other and patting each others' back for the achievement. I was happy and this was the time I found the actual meaning of the trek quote I was coming across with, many times in my life "Climb the mountain not so the World can see you, but so you can see the World". The wind was blowing crazy at this point and we had half an hour to finish our packed lunch at the summit. After our lunch it was our way back to the camp and this took 3 hours. I was fine till Khullara top, but as soon as we left from there I started developing feel of nausea and vomiting and light headache. My head was thumping and making all sort of irritation for me to go further. But didn't wanna give up at this stage and kept moving further as going to the lower altitude is the best medicine for acute mountain sickness. This trek taught me to embrace the uncertainty you face, well that also followed on my next trek to Rupin pass. All of us were safe and healthy and reached the camp at Tali top by 5:30 to have the delicious samosa prepared for us by the kitchen staff. That night I slept with full of happiness and joy dreaming of many more treks and summits to conquer.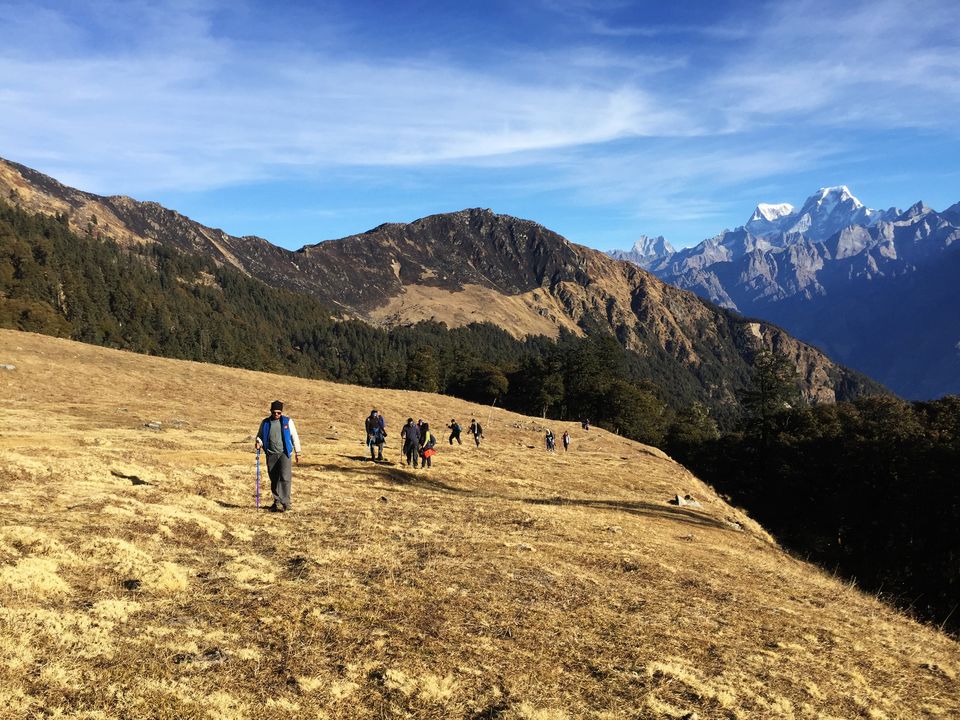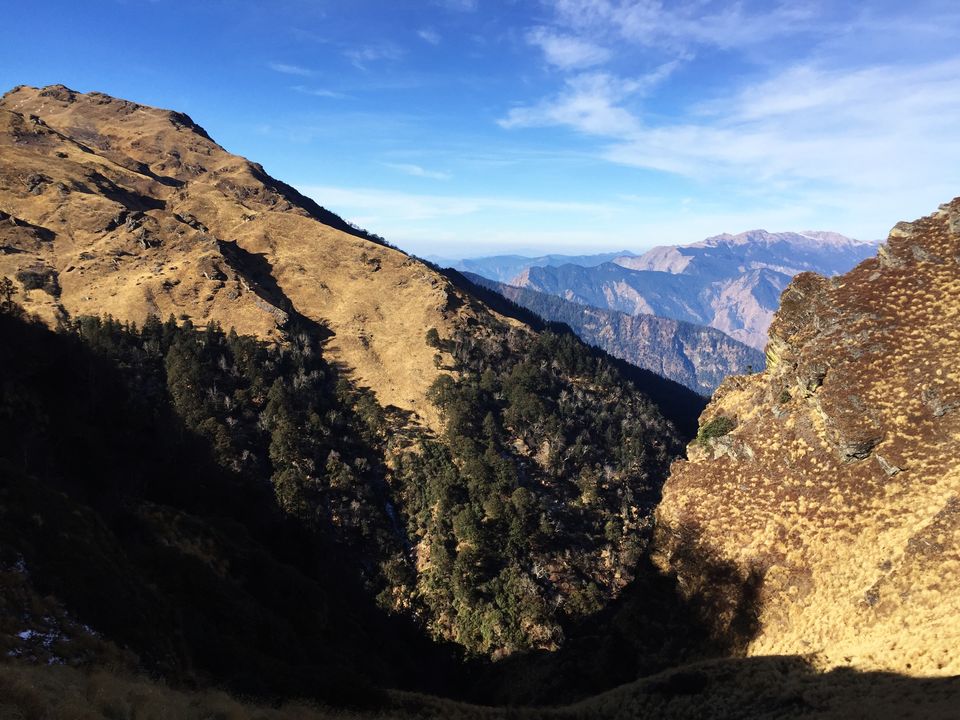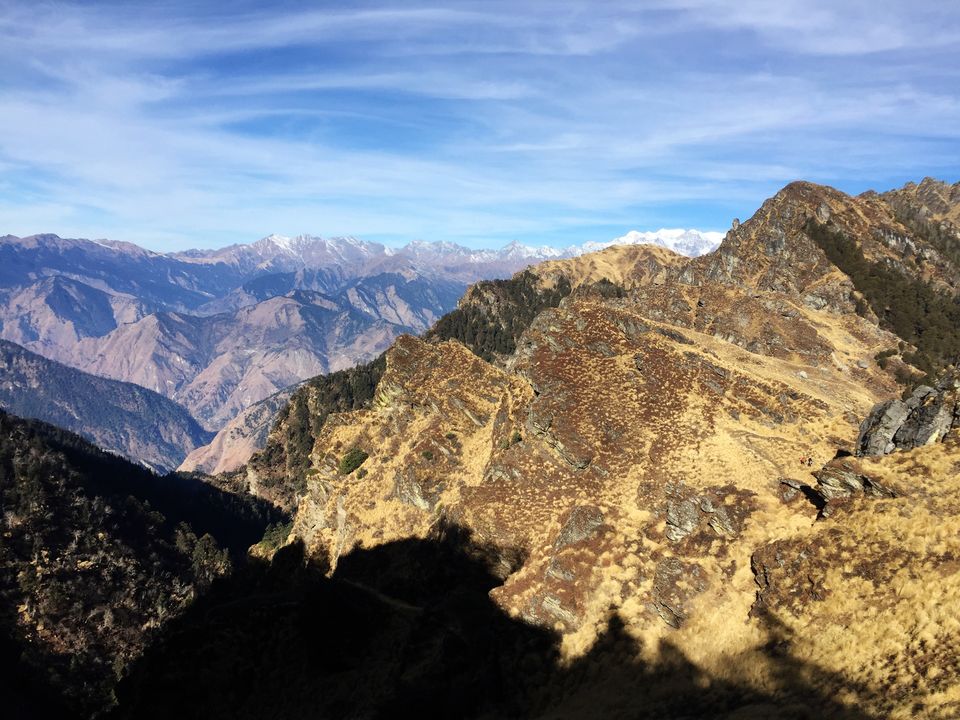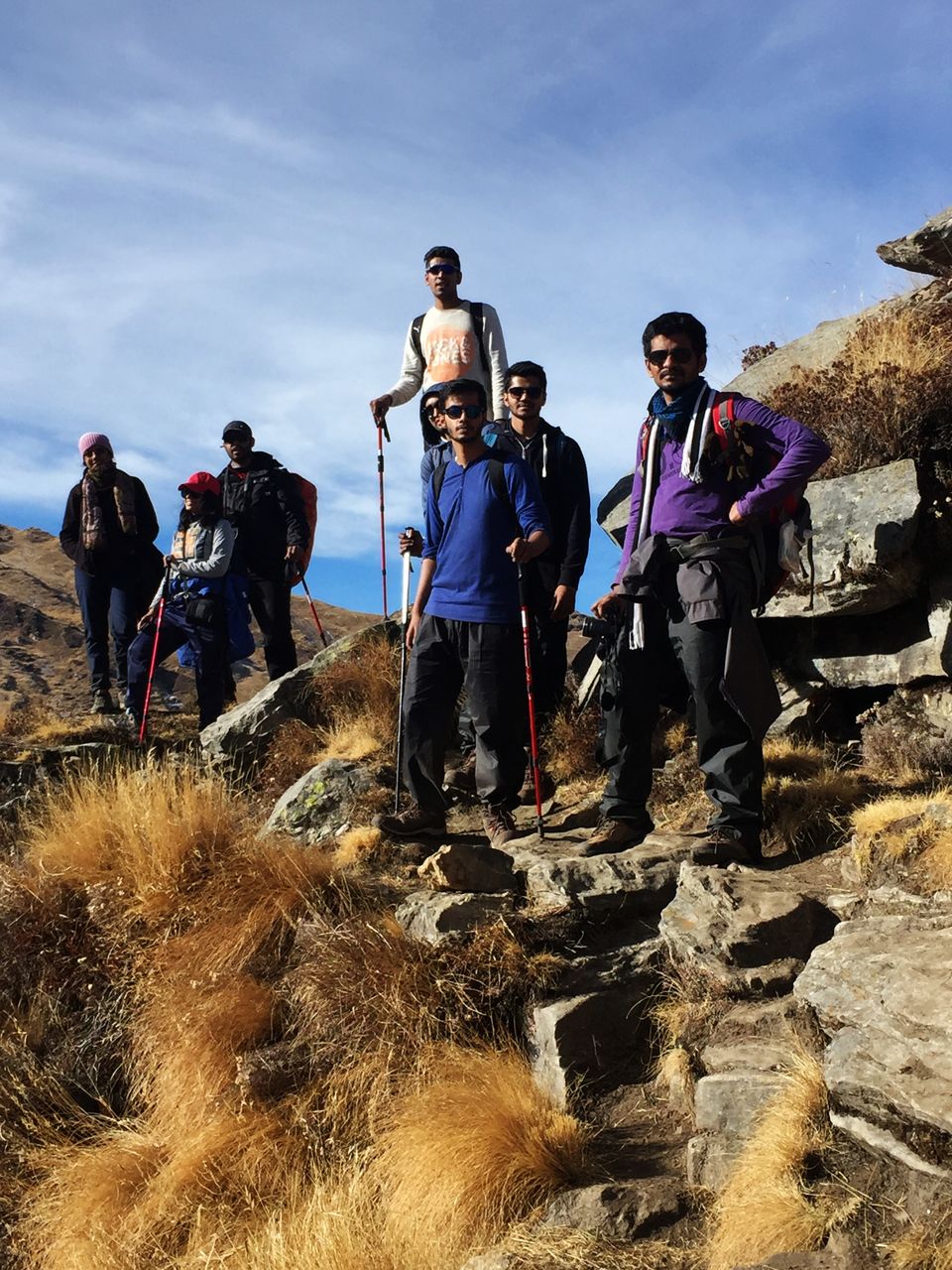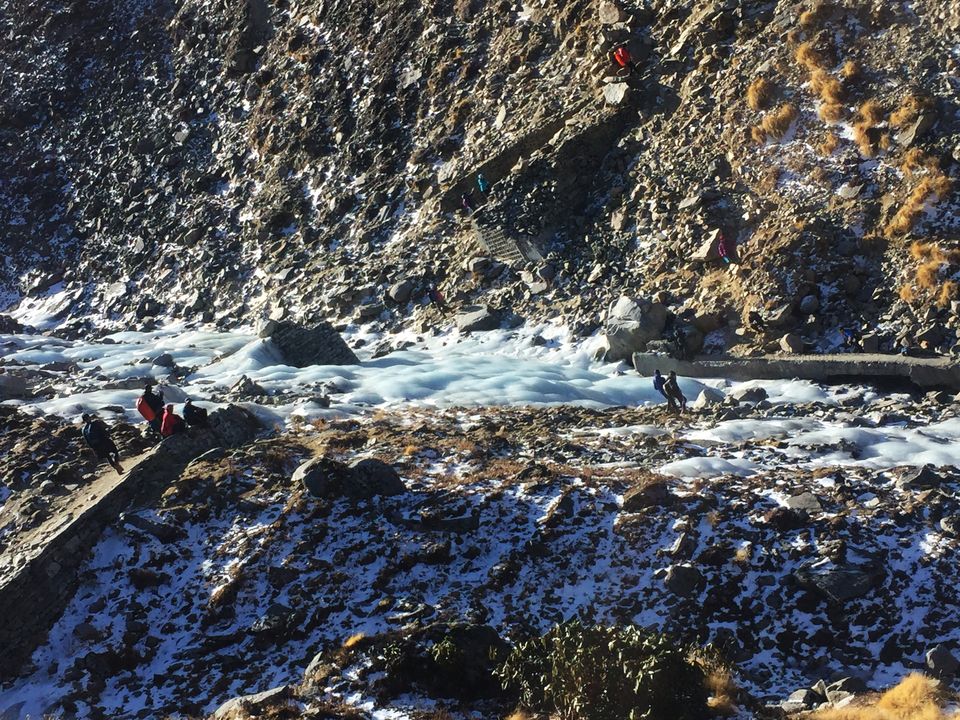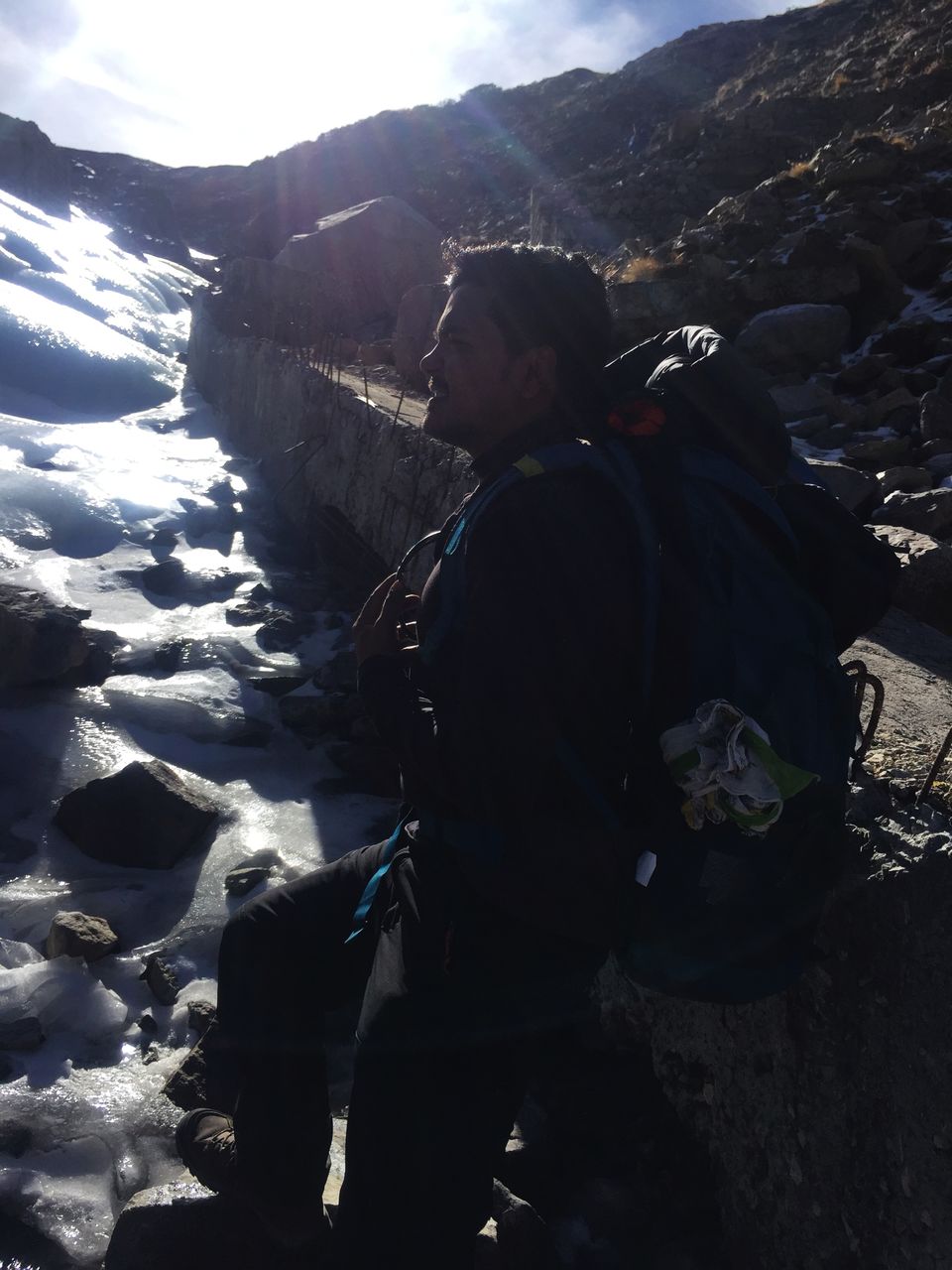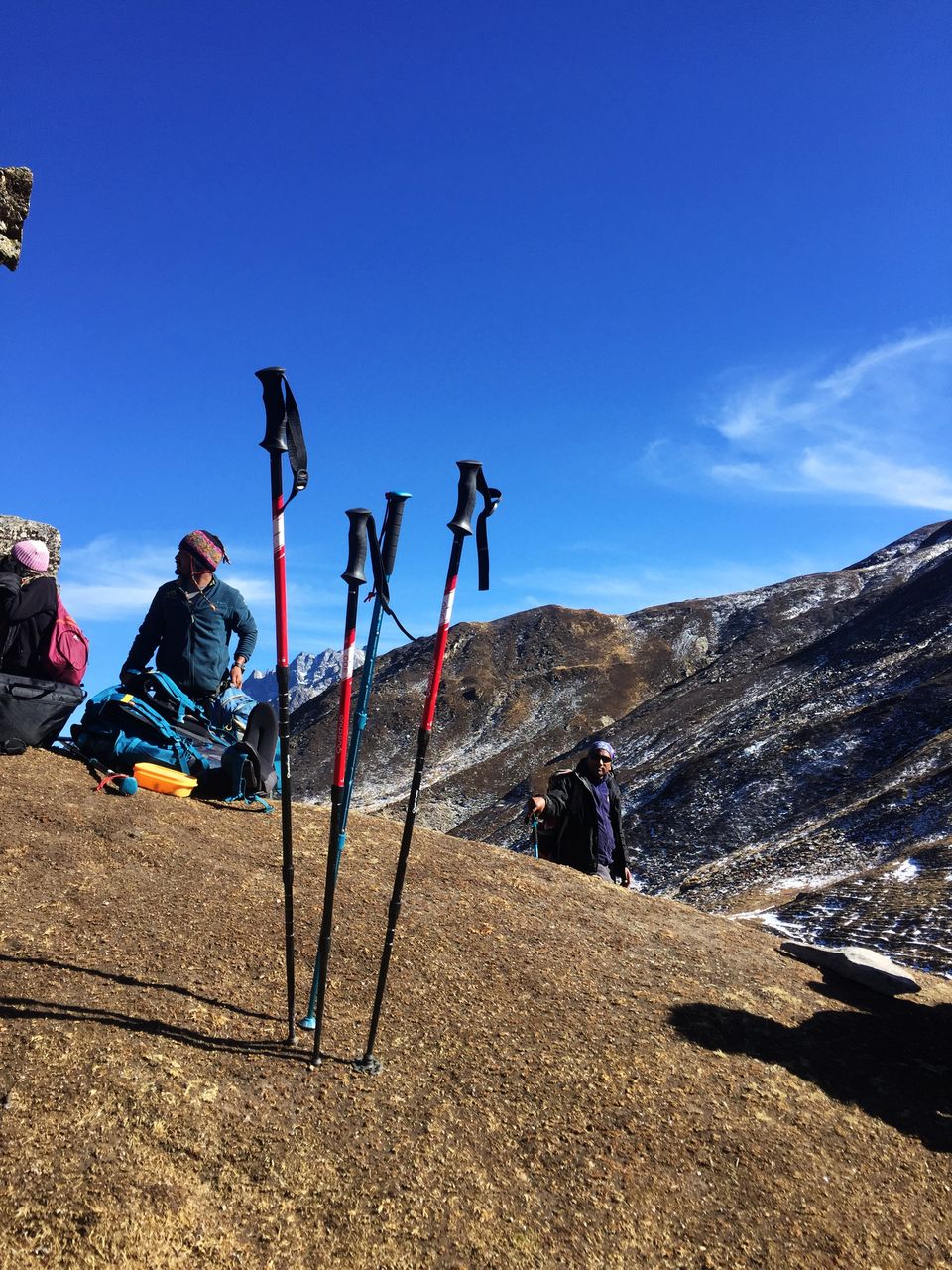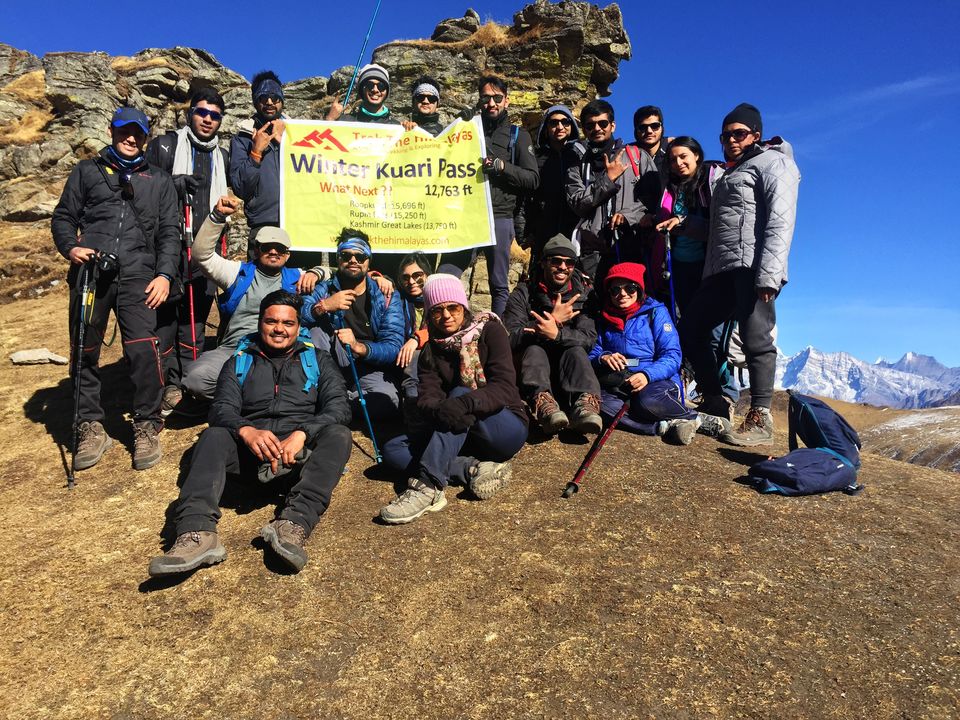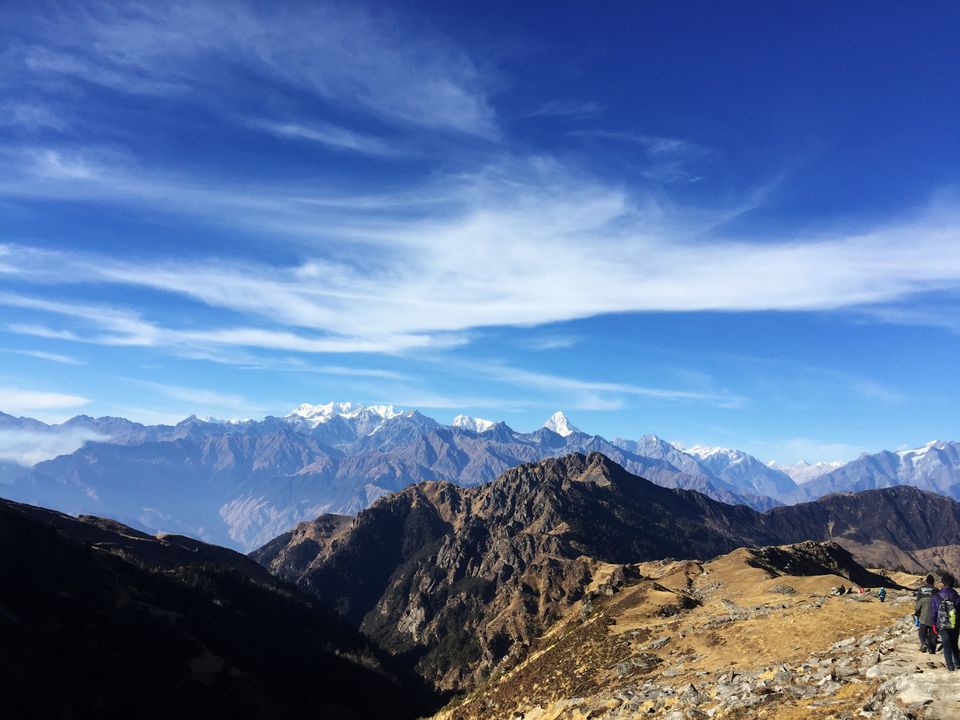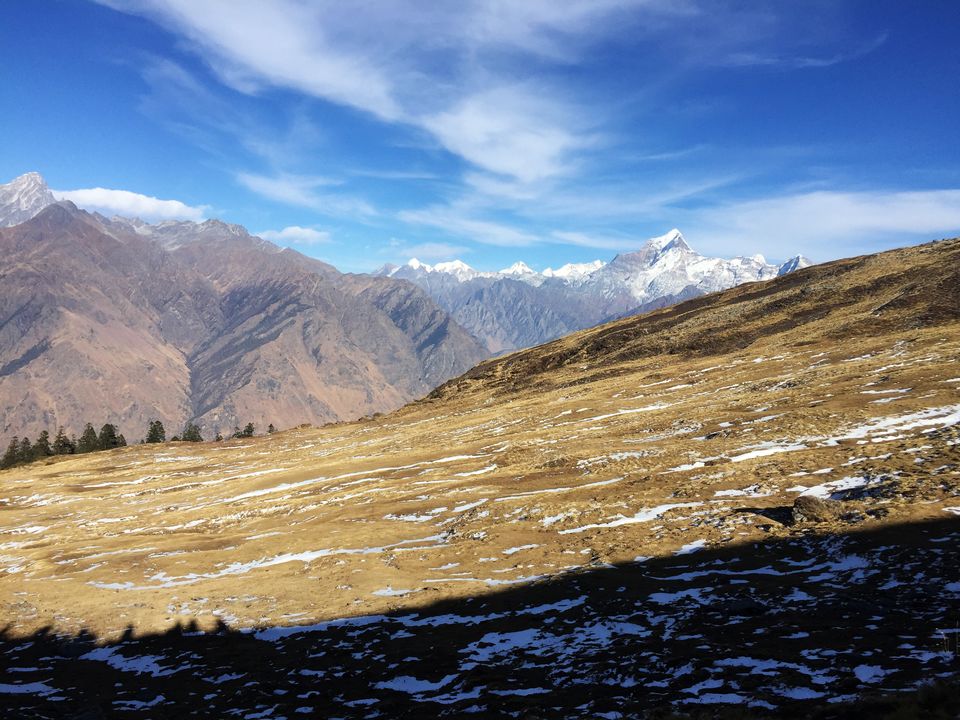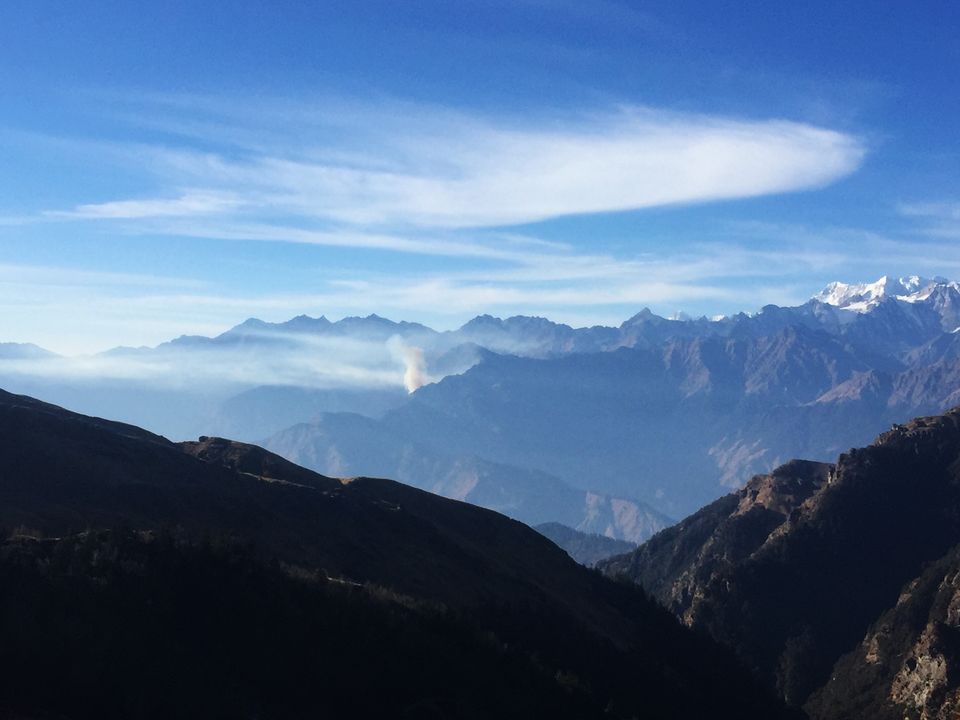 Day 5:- The Day of Self-Realization.
Tali top to Auli - 13 kms of trek
This day was a lazy day for many of us as we had done with the Kuari pass, but still had a trek for a whole day to reach to civilization at Auli. After having tea and breakfast all of us left the camp with our backpacks and a packed lunch. We had a small break at the beautiful Tali Lake site and again started our trek towards gurson bugyal. We had to trek on a steep sliding trails all along till we reach bugyal. it was very risky to stay focused on the trail through this stretch. After 3 hours of trek we were shown a special mountain one could find on this day of the trek, The Mount Neelkanth. That was the time of my extensive blissfulness for me witnessing that majestic mountain in front of me. This day I self realized that If you dream something and work upon it with your full soul you can achieve it in some point of time in your life and prove yourself what are you capable of. After crossing the bugyal we had a lunch break just before 3 kms of our trek to Auli. By 4:00 p.m. all of us reached Auli and had a great view of Mt. Nandadevi from here. I had a hot water bath once I was back into the hotel and it gave an immense happiness. Later that night they distributed certificates for all of us for successfully summitting to Kuari Pass.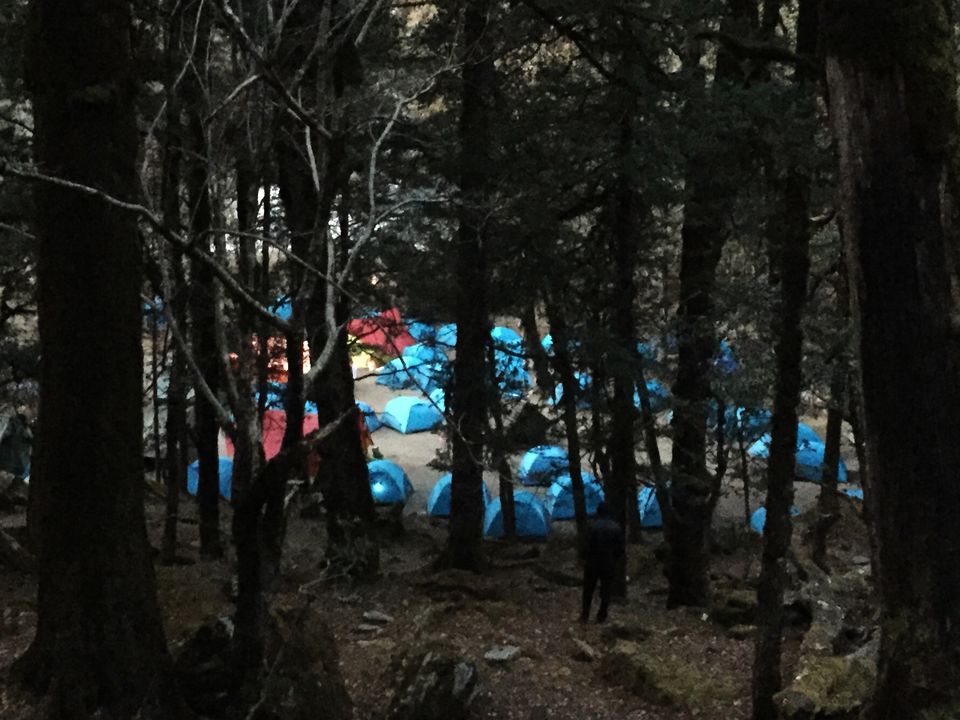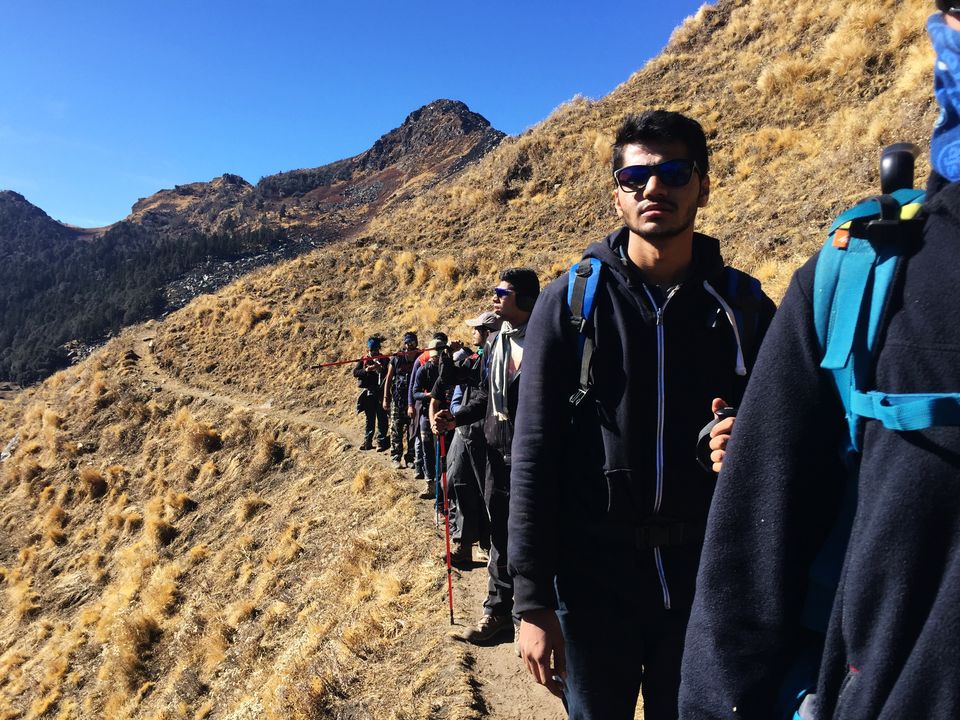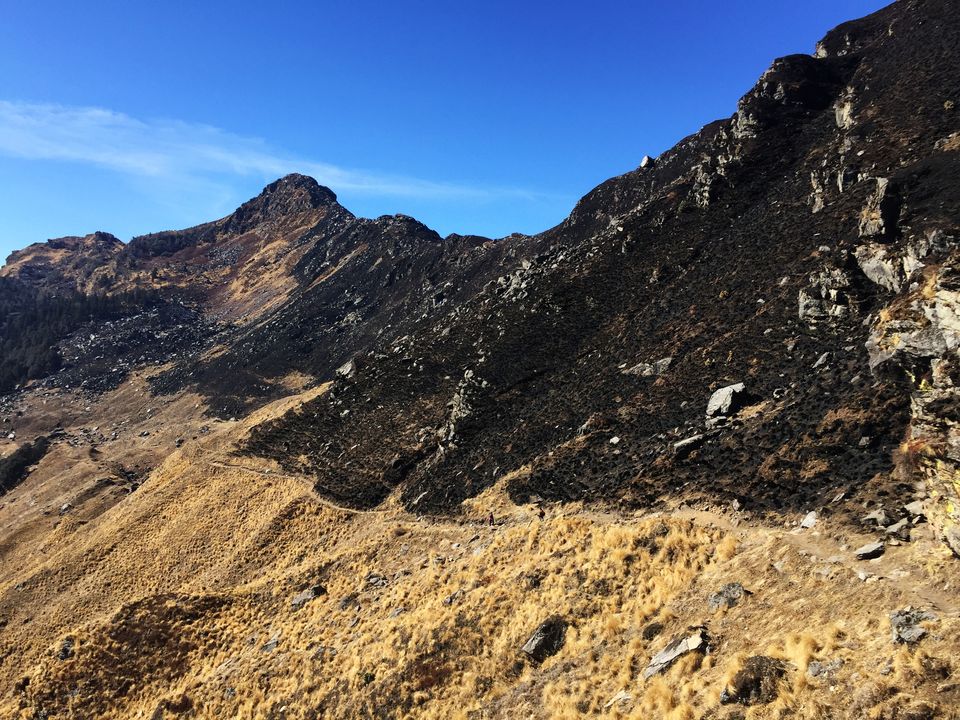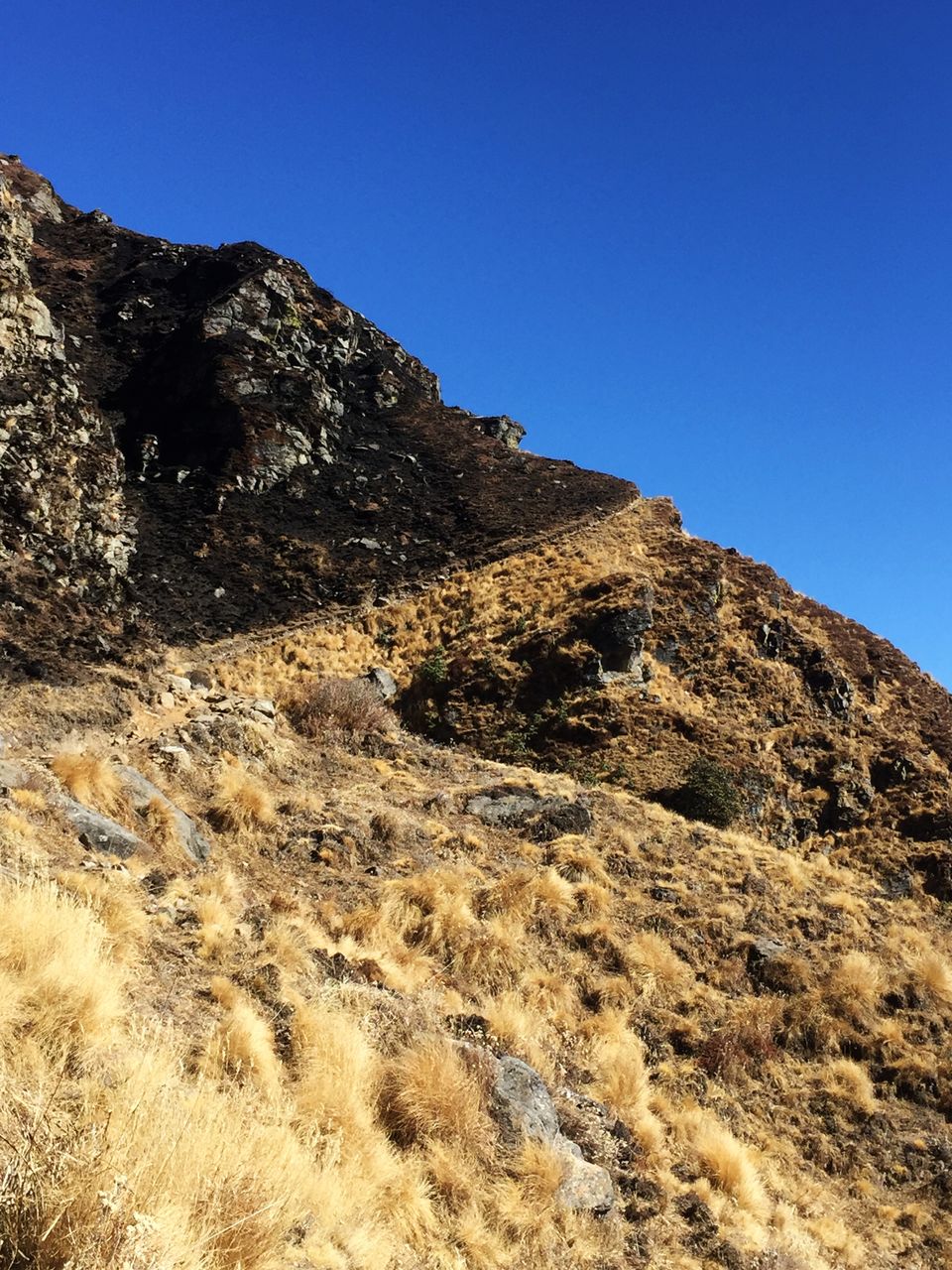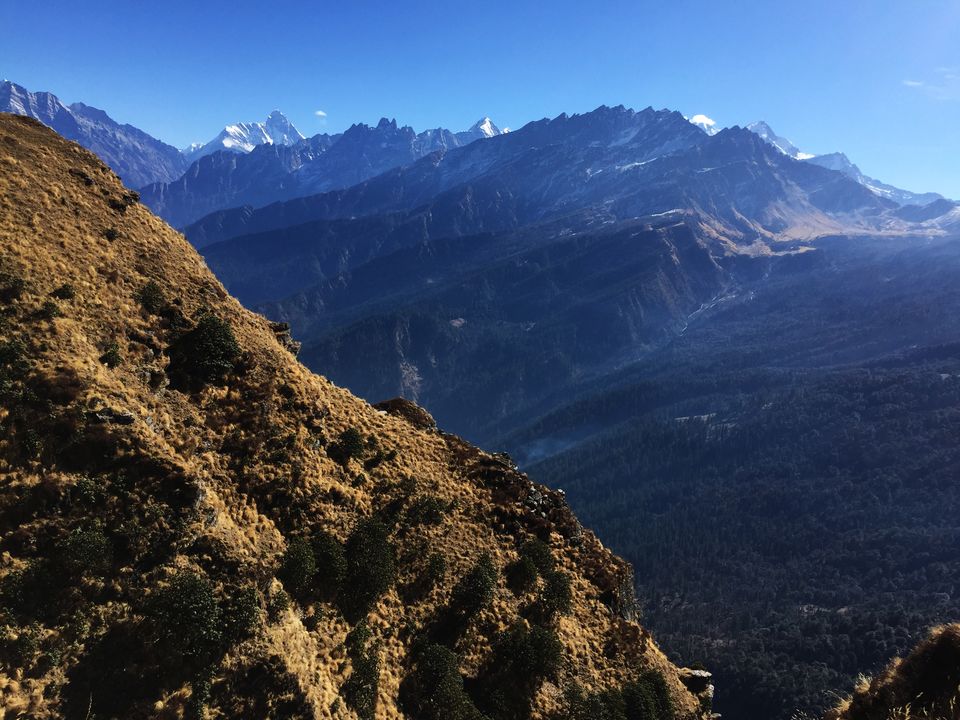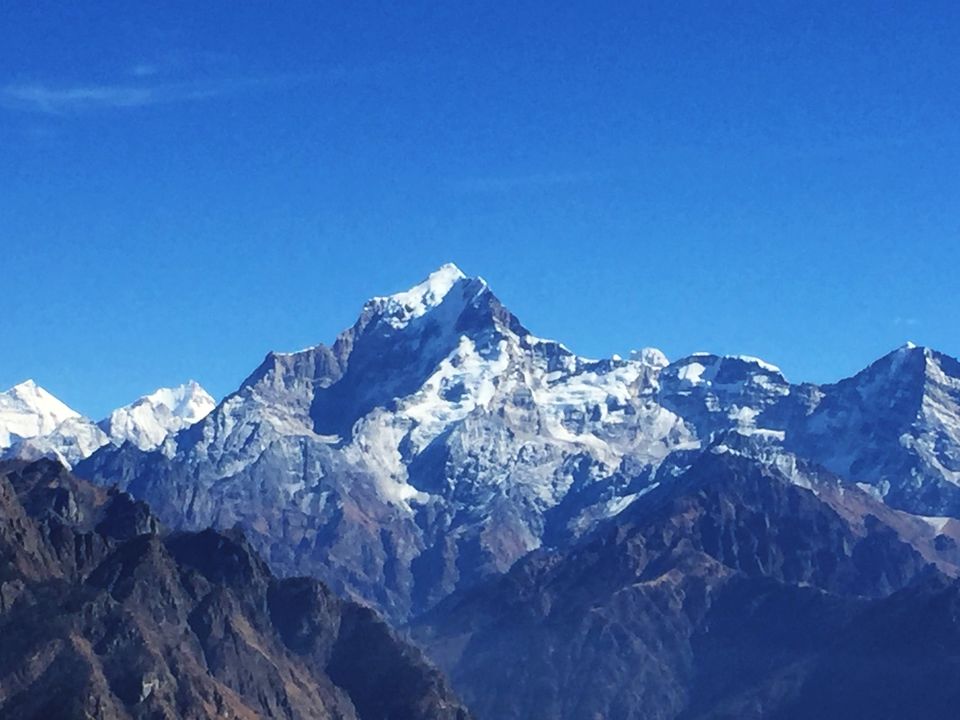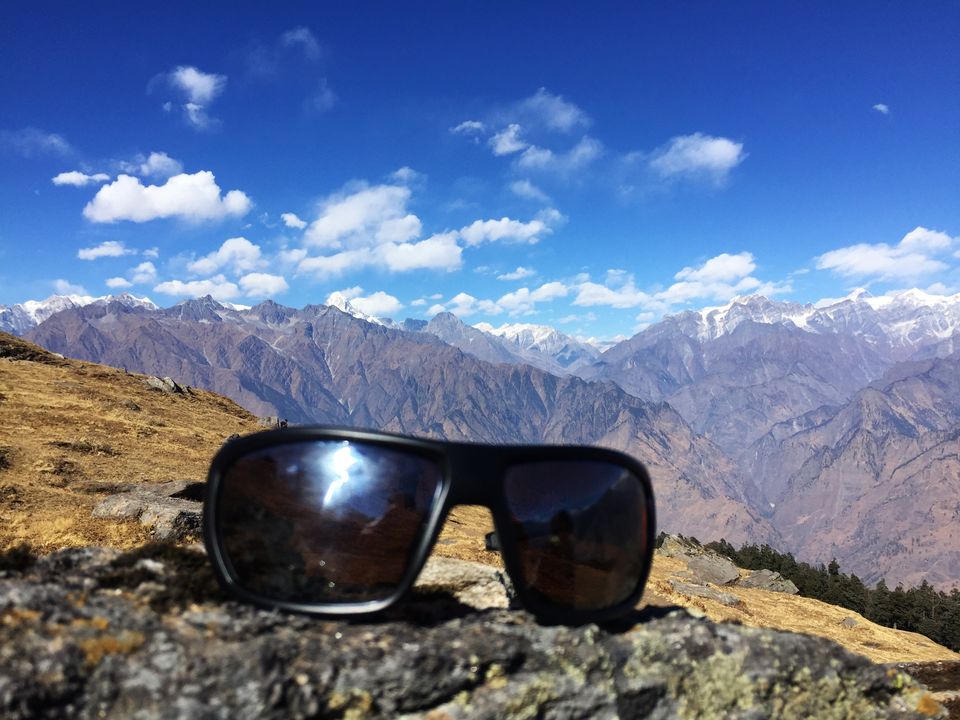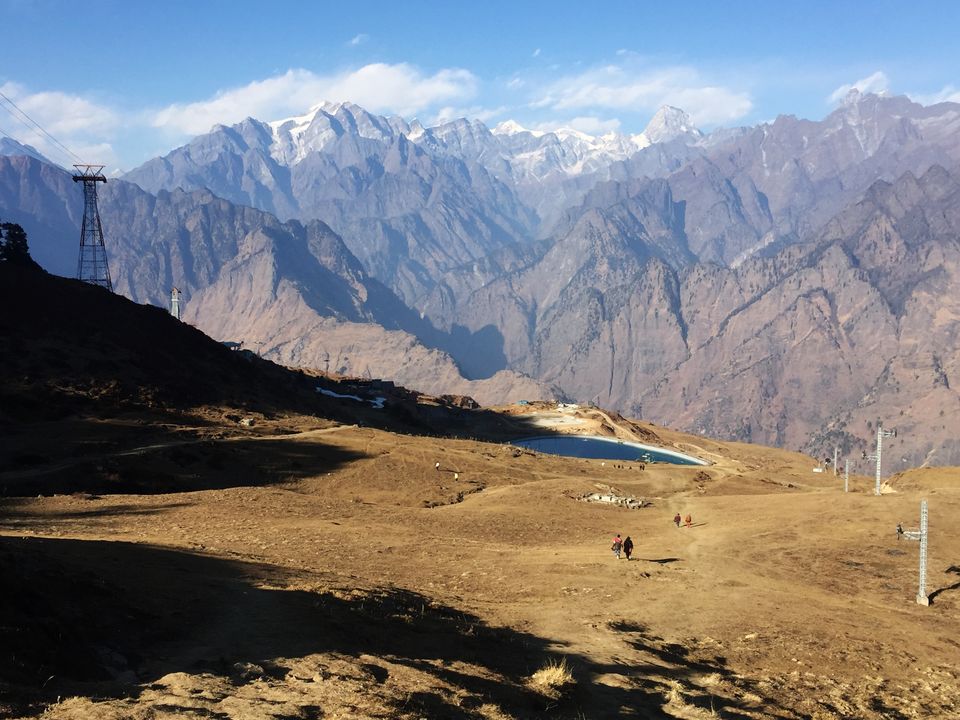 Day 6:- The day of bidding Adieu.
Back to Haridwar through cab for 12 hours.
This day was to say goodbye for all who took care of us including our trek leader and guides. We started by 8:00 a.m. in the morning and reached Haridwar railway station by 7 p.m.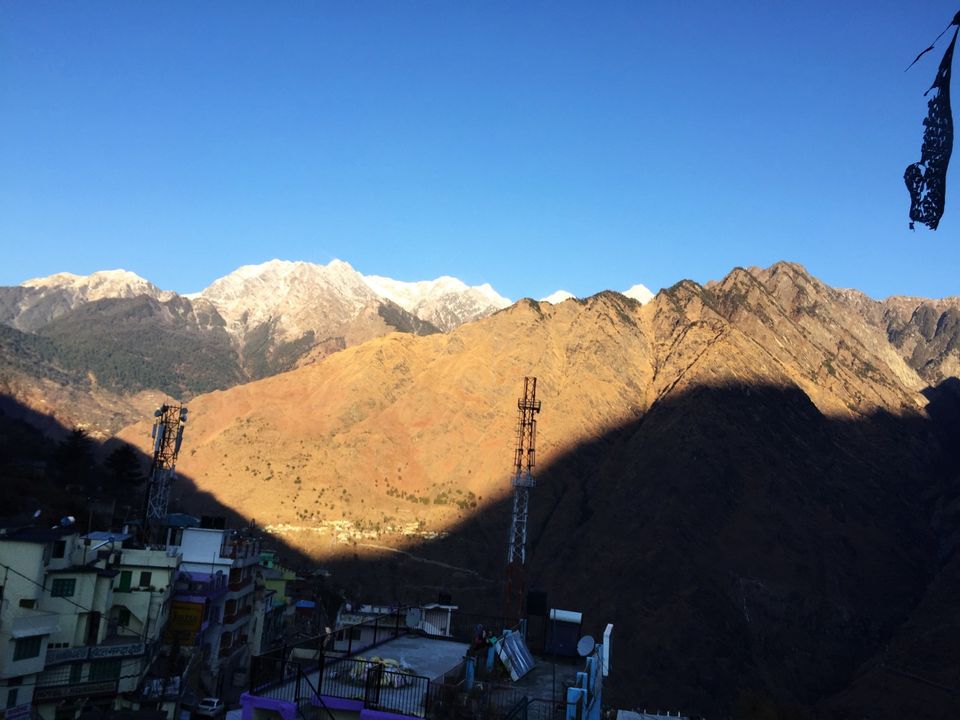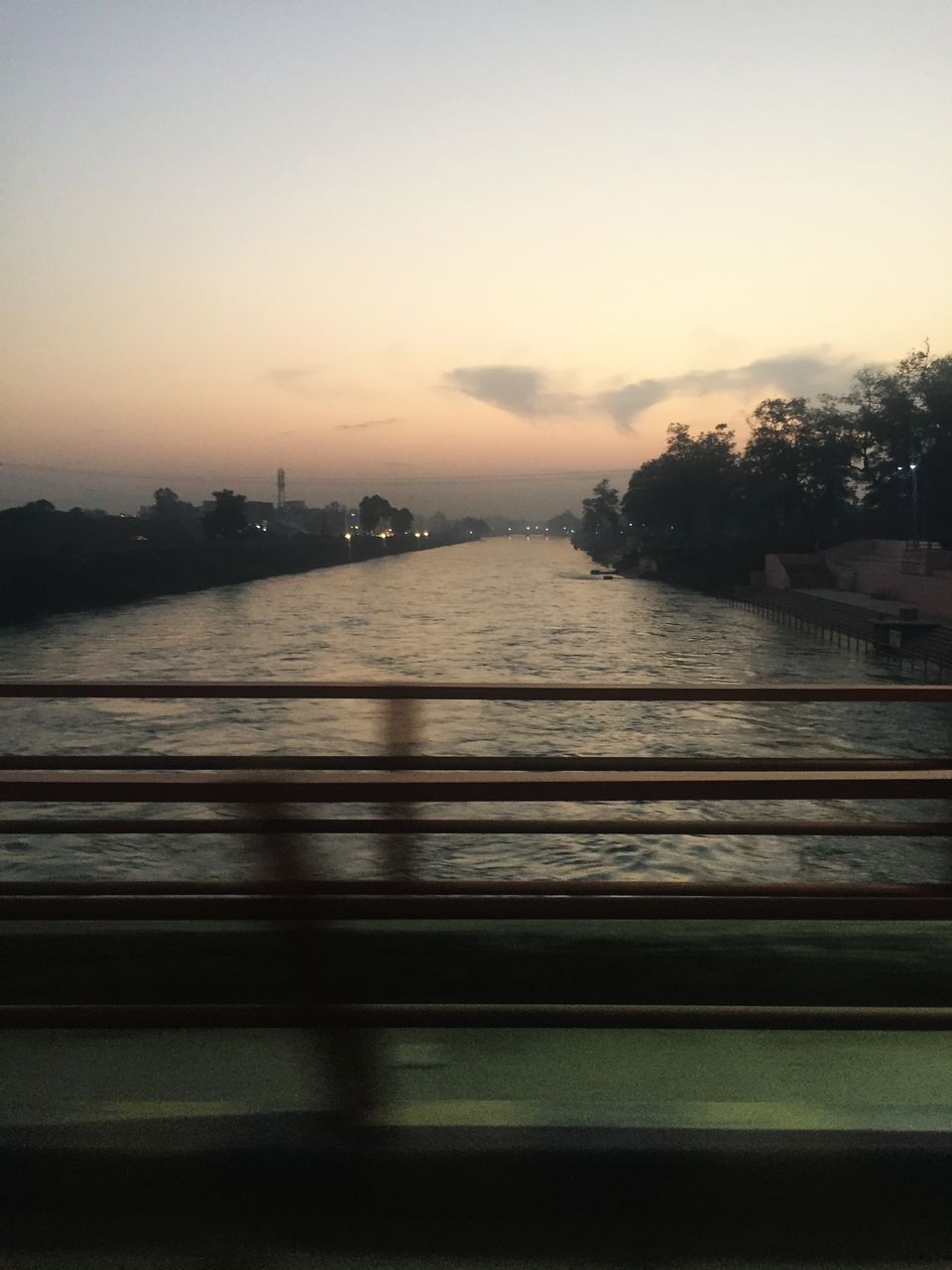 This entire trek was life changing to me and was happy for myself for achieving something new in my life. The list of mountains I saw in this trek included - Hathi, Ghodi, Barmal, Neelkanth, Neelgiri, Dronagiri, Nanda Devi, Pangarchula, Pangarchula baby, Chakhamba, Phalki, Nanda ghooti, Sleeping queen, Chang wang, Kamet, Trishul, Kedar dome, megh dhooni and many more to name. This trek is very much suited for the first time trekkers and it also poses it's own challenges for an experienced trekker too.
Happy Traveling!!!