The Moment was calm, the water is splashing with the wooden bilge. The darkness is fading and the morning mist is just melting by the warmth from rising Sun. I opened my eyes to the penetrating beam of sun light reflection from the moving water and realized Damn, I slept on the deck. I raised my head and the sight was so beautiful that I wished to hold this time for ever. The dense mangrove forest floating on river, kids are travelling on river, people carrying goods on rivers. Not a life I ever lived in. It was my first morning in the kingdom on floating vessels. I was in Sunderbans.
The primary objective of my travel was to find different perspective of the place. We often discuss Sunderban as a topic with friends and colleagues, but collecting what we talk about, I got nothing. Majority of people knows that it's a tiger reserve and you could spot many wildlife. Of course you do but if we learn little more about the place we will know that it's a day-to-day fight for territory between men and tigers.
It is a place so serine that we feel like we could hold time with our thoughts and resume it back whenever we want. No doubt man is forcing his limits into nature. But I feel calm. The life is very simple here yet filled with thrill and excitement. Both excitement and thrill is of spotting a tiger. The only difference is spotting from which side of the fence? Because my journey goes through the heart of the Tiger's den of mangroves - Sunderbans.
I wouldn't say it's enough to spend 2 night here, but I choose 2 night, if I get a chance, I would like to spend a month or two in this islands. Primarily because the hospitality here is judged on how much the customer is eating in his lunch. Secretly like an old lady folds her money in her blouse, Sunderbans from Bengal, India is a hidden treasure of beauty and beast.
I always had a plan in my @naturewalkers that I will record an itinerary from this place. Hence, I planned this trip just after my engagement with @amrita in Kolkata. I knew after a heavy trek of Sandakphu, a trip to Sunderbans would be perfect gateway for 2 nights before we make our journey back to Bangalore. We boarded a train from Kolkata to Cannings. It's a fun 3 hours Journey I spend while noticing everyone discussing with very distinctive facial expression. Small things I like to observe on my travel. After reaching Cannings we hired a Magic auto to reach our destination, Gosaba.
Sir Daniel Mackinnon Hamilton, a Scotsman, he bought 40 square kilometres (10,000 acres) of deltaic islands in south Bengal in 1903 from government – it included islands such as Gosaba, Rangabelia, and Satjelia. With an intention of developing this habitat suitable to adivasi to live safely, Sir Hamilton with his people dared struggle against nature as well as predators that lived there – tigers, crocodiles, sharks and lizards to develop the region. His initiatives also helped in decreasing the human casualty rate of Tiger attack in this region. After 30 years of efforts, he invited Sir Rabindranath Tagore to visit his creation. A Gosaba fruit seller told me a story, that Rabindranath Tagore loved this place so much that he stay here for months to meditate with the beauty and simplicity of Sunderban.
I must say, I loved his pond by his cottage.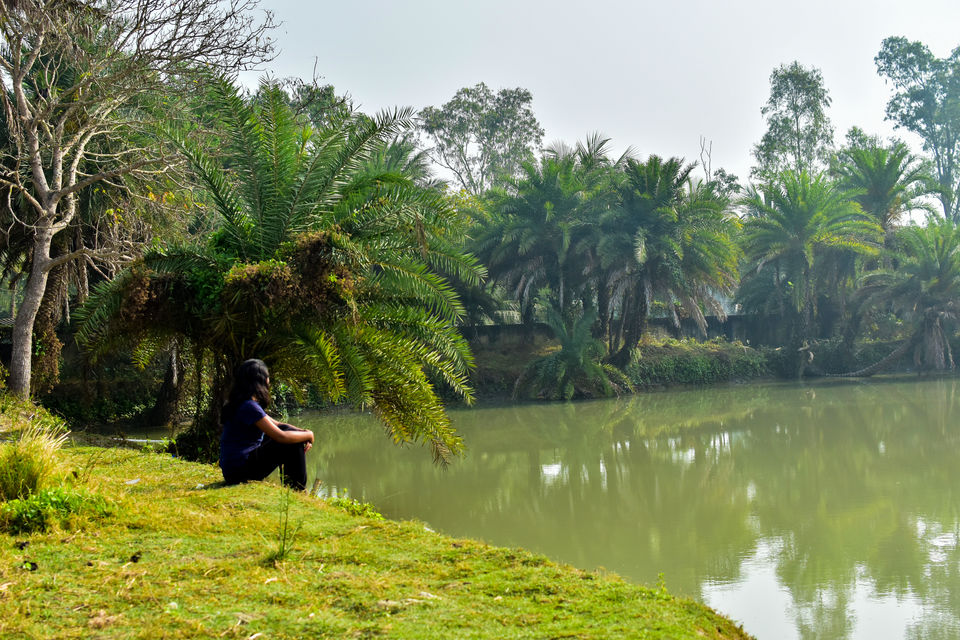 and also enjoyed the Chai near the pond from a tea seller just outside the gates of the cottage.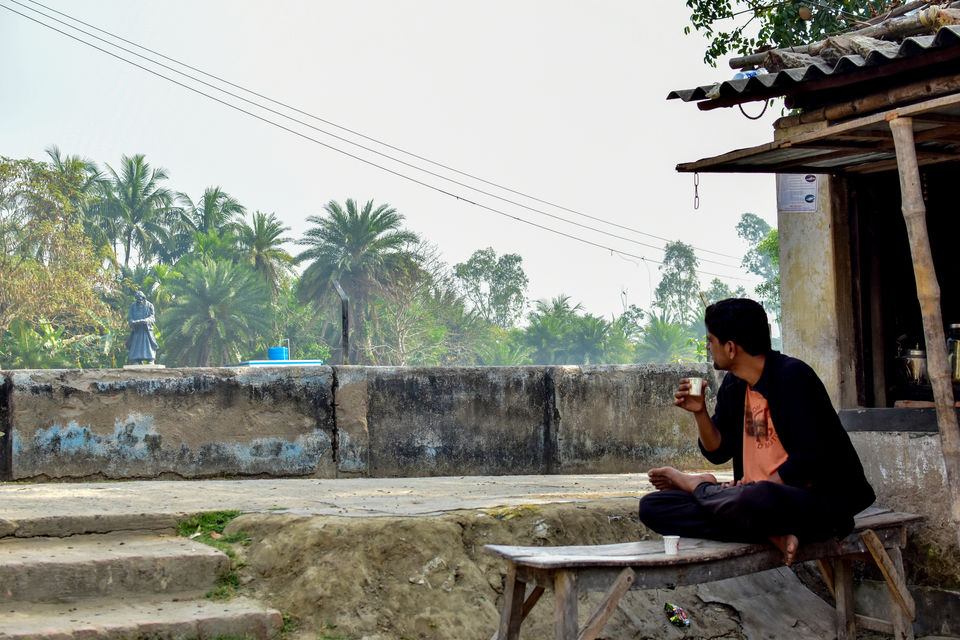 Beside Tiger, the next beautiful thing to notice in Sunderban would be Kingfishers,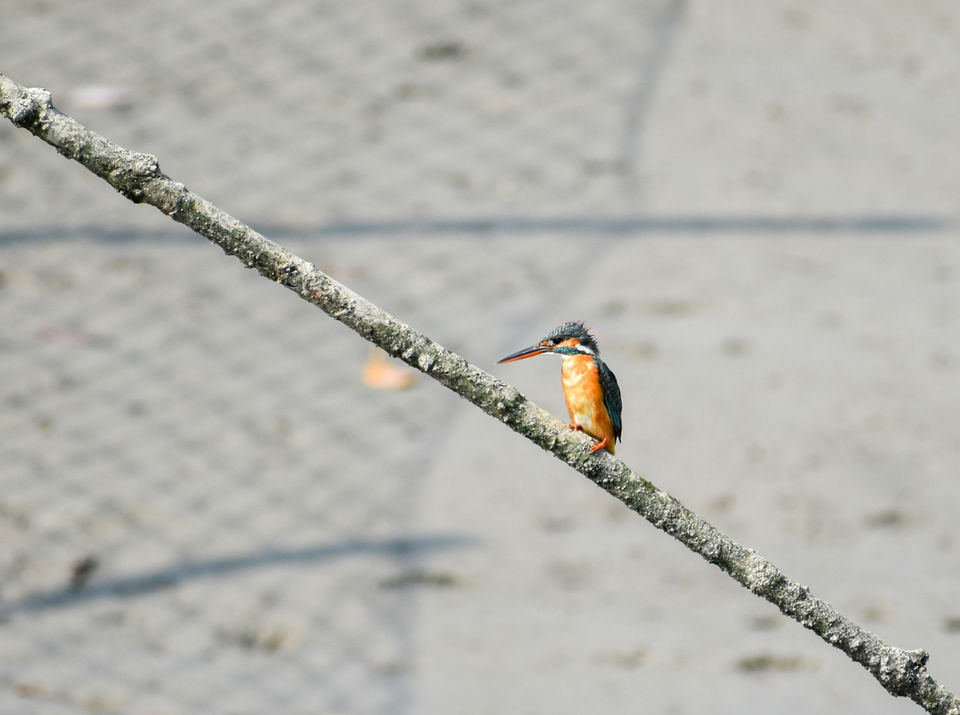 You would spot about 11 varieties of Kingfishers here. It's one hell of scene when the Lesser Pied Kingfisher hovers 12ft above the river just before making her straight dive for the fish in the water. Exciting incident to watch, wish I could record it in my camera. For my collection, I spotted 4 types of Kingfishers. Lesser Pied Kingfisher, Black-Capped Kingfisher, Common Kingfisher & Collared Kingfisher. I also spotted some Sand Martins and Ioras but the show stopper was the 4 feet long Lesser Adjutant Stork. Longs beak, half covered in mud, ugly looking legs but yet beautiful. This stork is one of the best traveller bird in world.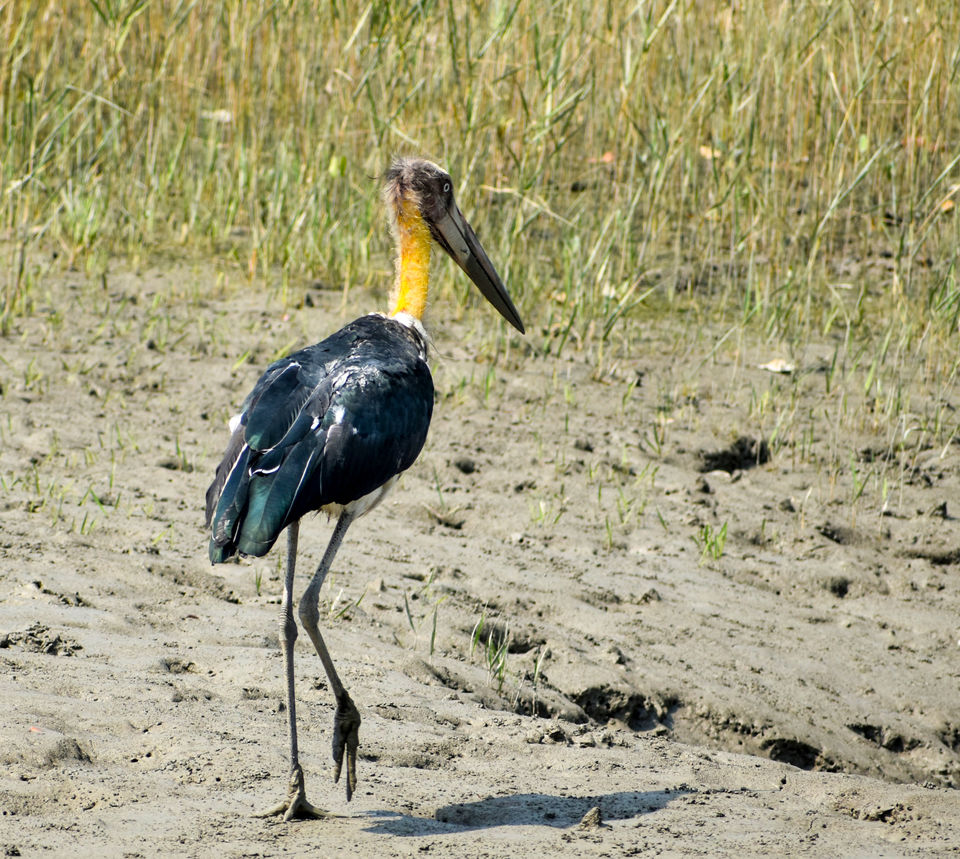 The locals here are very optimistic about education, but because of long travel through boat and frequent tiger attacks on way, restricts this adivasi to reach good education centres. But still the community delivers rich art and culture. The place connect you with your own thoughts and help you merge with its natural beauty, the Bhajangs at night from the nearby temple echoes through the whole bay, converging with the sound of water, creating a perfect meditating atmosphere for you to relax. Who says, you need luxury to relax? The simplicity this place offers is incomparable with any luxury from the world.
Creative structures of the boats easily displays the efforts of the craftsmen in making them, besides watching them carve their next beauty by the shore, you could also visit the Gosaba Bazar (known to be biggest bazaar in this region) to observe more about their creative art at the local museum or the ashram near Sir Rabindranath Tagore's cottage. Thanks to our captain Mr. Rana, we got lucky to attend one cultural function organized by the local adivasi. We had a fun evening with singing and dancing on local handmade instrumental music. Although the beats were from old Hindi songs, the native words surely depicted the fear these people live in.
Beside agriculture, the places needs a strong means of income to develop. Tourism could prove vital in helping to reform this region for good, as the places offers tremendous natural reserve and jest to develop. But the corporate banks in the region do not consider the tourist house boat as liability to sanction loan because of which the locals have to wait their turn to finance their project by gram panchayat funds loans. It often takes 6-7 years for one to start building his boat, and 2-3 years to operate considering the few craftsmen in the region. It take way long time for one to depend his lively hood on it. Still with a good number of 2000 tourist boat and couple of resorts in this region, the place could perform exceptionally well with tourism. Cheap and best hospitality, good food, good music, in wild natural beauty, singing your song with the birds while waving the time pass by, is what every traveller wish from his travel.
But this travel is about to get over, I didn't wish the journey to end so fast but I know every trip should end for a new trip to shape. I take calmness from here and will practise its experience to feel calm every time I feel restless or to focus on my thoughts. I wish more and more people come here to spend their holidays, because this place definitely give stability to control thoughts and progress ideas.
Do make your next trip to this beautiful wonderland of floating vessels and mangrove forest – "Sunderban". If you like my experience of perspective hunt from Sunderban, Please add this blog in your Wishlist and share with your friends to help them make their travel plan to this Natural Creativity.
Frequent Searches Leading To This Page:-
sundarbans west bengal, sunderbans west bengal tourism, sundarban tour west bengal, sundarbans tiger reserve west bengal india, west bengal tourism sundarban package