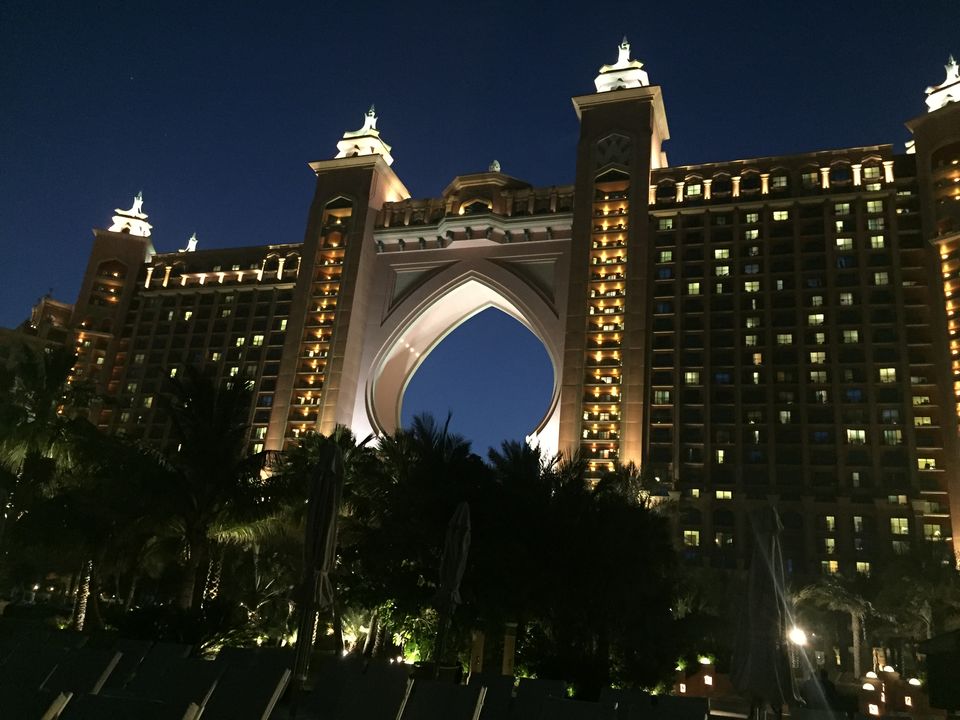 On a mildly heated day of May, I entered the Indra Gandhi International Terminal (IGIT) to go for a trip which changed the way I perceived the human potential. Booked, scanned and boarded the plane. Had some complimentary drinks, ate some weird stuff and dossed off just to open my eyes in the man-made marvel. The second I stepped off the plane, I could feel it.

Hopped onto a taxi directly towards my hotel. On the way, I saw Dubai Frame. Majestic it was. Talking to my cabbie, I got to know that it's made up of gold like many other things in Dubai. He told me about places to visit, lives of different classes of people and the best places to shop.
I'm structuring this experience into 3 parts: The good, the bad and the Dubai.
The good:
The second you step on the turf, you'll start appreciating the cleanliness around and all the security measures in place. Maybe that is because of the strict laws but every place was neat and tidy.
Majority of the people I met were very friendly. Dubai is a tourist place and the culture has developed which compliments it. People are happy to help you with directions, best places to go and where to eat. Language wise, English and Hindi worked for me. Nowhere I felt that I'm having communication issues.
If you are a fan of cars, well you're sure up for a treat. Being a car enthusiast myself, seeing all those insanely beautiful cars took my trip to a level higher.
Burj Khalifa: The world appears so small from the 148th level of the masterpiece. Everything about Burj Khalifa was amazing, the ambience, the hospitality and obviously the engineering behind it.
Burj Al Arab Jumeirah is yet another piece of art. Officially a 5 star hotel but popularly known as the "world's only 7 star hotel", is designed in a sail type structure. Stay aside, visiting the place is also an experience in inself.
I stayed at Atlantis for a night and what a treat it is for all of your senses. Atlantis is an epitome of luxury and peace. After spending 2 days there, I left the place with amazing memories and great mental photographs.
If you're an adrenaline junkie, sky-diving, water sports, Ferrari world, desert safari are just few of all the choices available for to test your limits. Ferrari world houses the world's fasted roller coaster and it's fast would be an understatement.
For shopping, Dubai mall is so huge that I couldn't cover it in a day. Local markets gives you a great experience but don't forget to bargain.
People from multiple countries and following various religions practises live together and work for the better tomorrow. Everyone is contributing and making this manmade heaven a reality.
The not so good:
Millions of people have migrated to Dubai in search of better job opportunities and life. This has resulted in congestion and sky rocketing rent charges. 4-5 People are forced to share one room or travel in the traffic for 2+ hours one side.
If you're a vegetarian, well get ready. You won't find much options in vegetarian dishes but when it comes to non-veg dishes, you'll get confused which one to choose because there will be so many. The flavours and fragrance still lingers in my head from time to time.
The Dubai:
With all the goods and not so good, Dubai sits between the two, working everyday to disturb this balance more and more towards the good. Dubai is a perfect example to look at for the world. The trip ended with all of my expectations met and a mental note, which said "I'm coming back here for sure."