It all started a few years ago, when I sat down to prioritise my travel plans. Having travelled far and wide already, I started craving visits to unique and offbeat destinations. That's when I landed on the idea of visiting Rann of Kutch. At that point all I knew was there was an ongoing popular advertisement on Gujarat tourism by veteran actor Amitabh Bachchan wherein he said, "Aapne Kutch nahi dekha toh kuch nahi dekha". A year later though, my interest piqued even more when I came across the Rann Utsav annual festival on the internet.
Although it took another couple of years for my plans to fully materialise, it remains to be one of my most culturally enriching trips yet.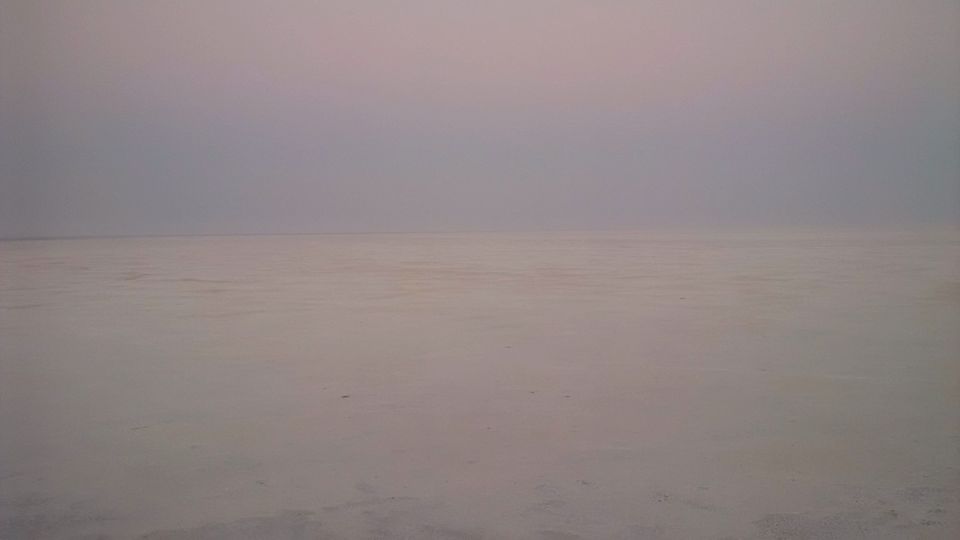 About the Rann of Kutch a.k.a White Desert -
'Rann' comes from the Hindi word signifying 'desert'. The White desert is a salt marsh located on the Thar Desert of Kutch district of Gujarat. It has the reputation of being the largest salt desert in the world and has an area of 7,505 square kilometres. The northern boundary of Greater Rann of Kutch forms an international border between India and Pakistan.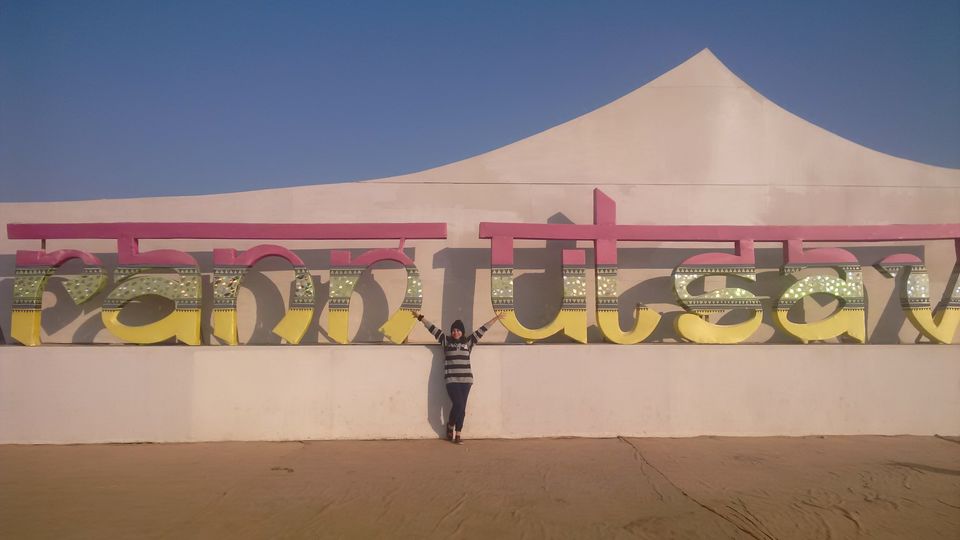 About Rann Utsav -
In 2005, Narendra Modi (the then Chief Minister of Gujarat) decided to host a festival known as 'Rann Utsav' annually in the winter months, which was to be a carnival of folk music, dance, art, handicrafts and the natural beauty of the White Rann.
It's said that some 25-30 years ago, Narendra Modi visited this area as a RSS Pracharak. At the time, the locals avoided venturing out into the white desert especially during the night for the fear of getting lost in the wilderness. But Modi ventured out into the white dessert on a full moon night wherein he discovered the grandeur of Rann - the salt crystals that sparkled like diamonds under the light of the full moon. He spent a few solitary hours on the desert and the experience left a deep impact on him. Thus when he became the Chief Minister of Gujarat, he chose to promote the tourism of Kutch.
Rann Utsav Itinerary -
Drive to Dhordo from Bhuj station/airport (2 hours)
Check-in at Tent City - Dhordo is a small village on the farthest corner of Kutch district and serves as a gateway to the Rann of Kutch. Every year literally an entire city of tents is built for the Utsav. There are more than 400 tents, all arranged in beautiful clusters, with 2 dining halls, club house, art gallery and a market area all built within the Tent city. There is also a huge built in stage space for everyday cultural activities.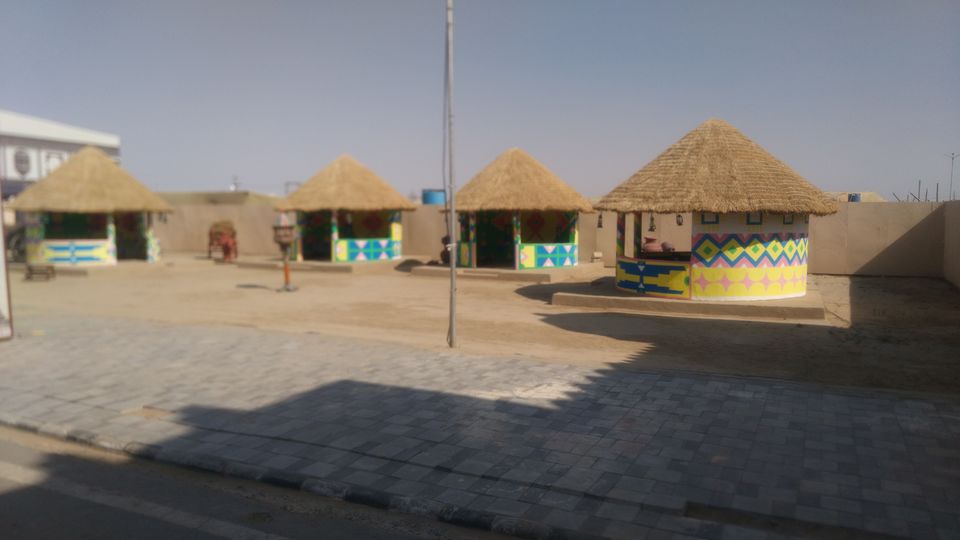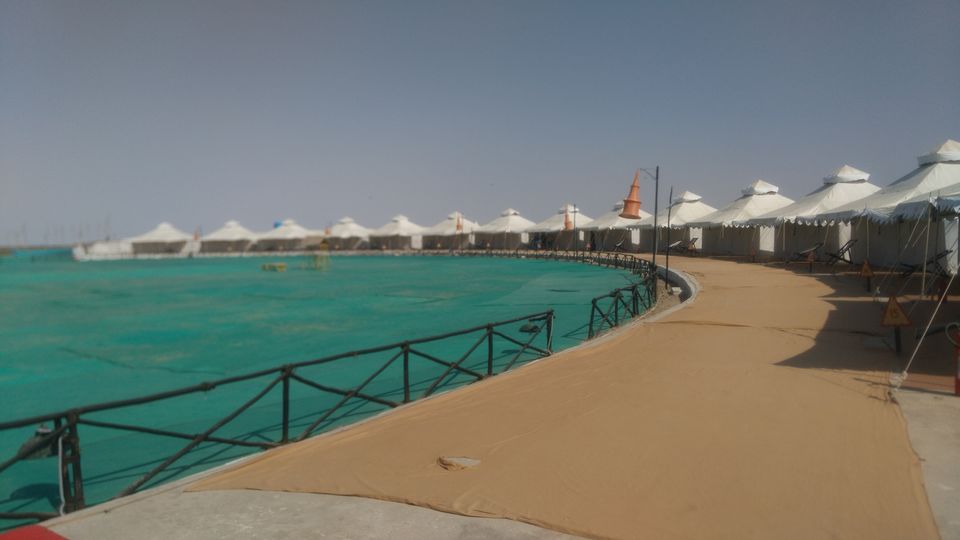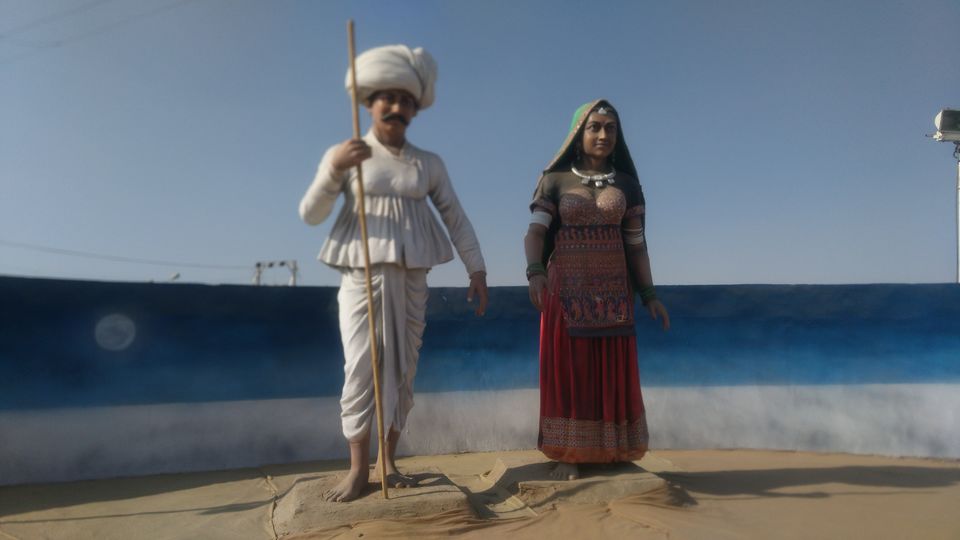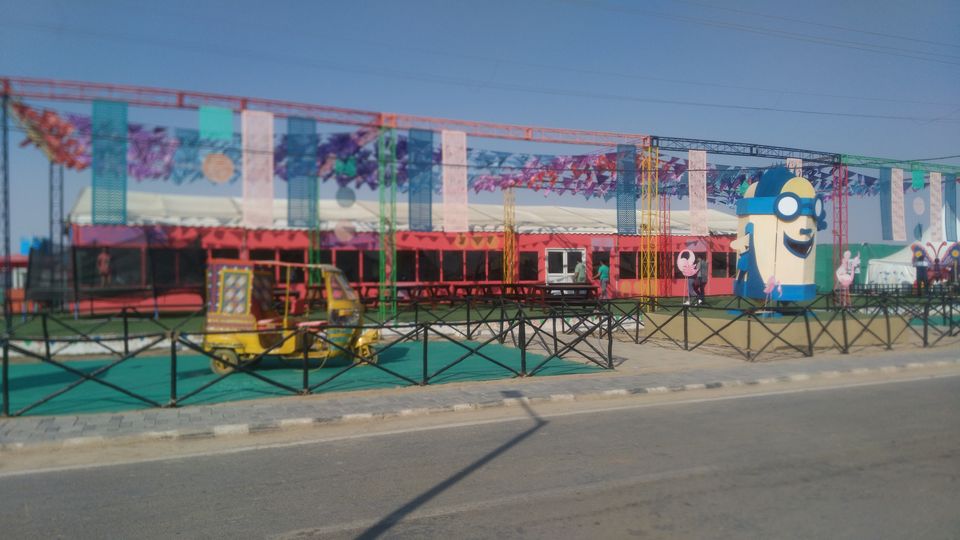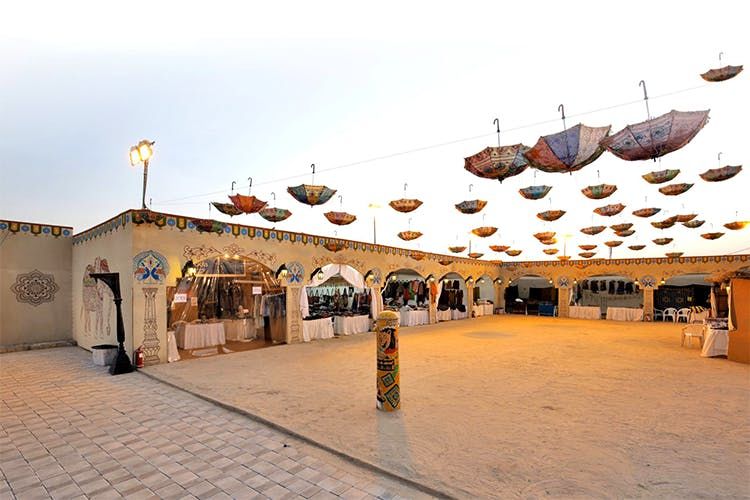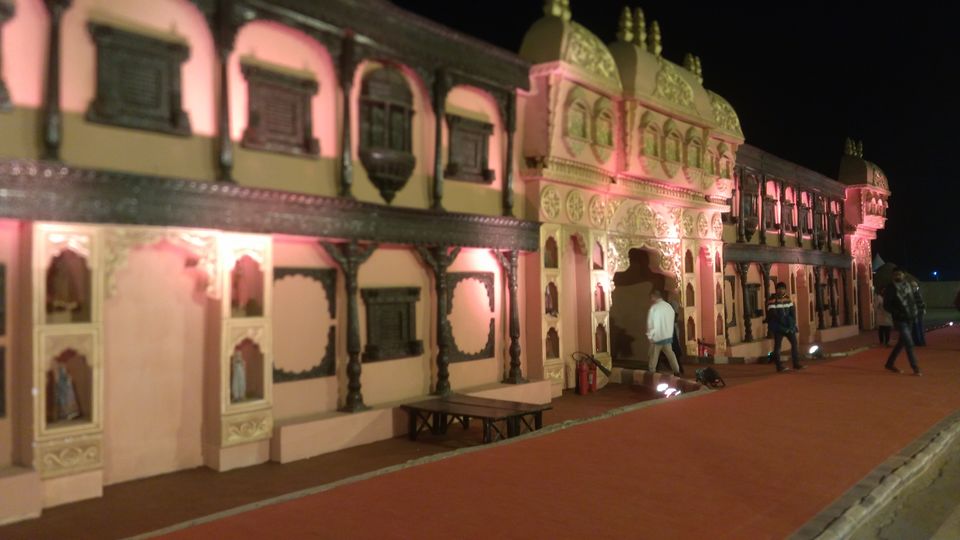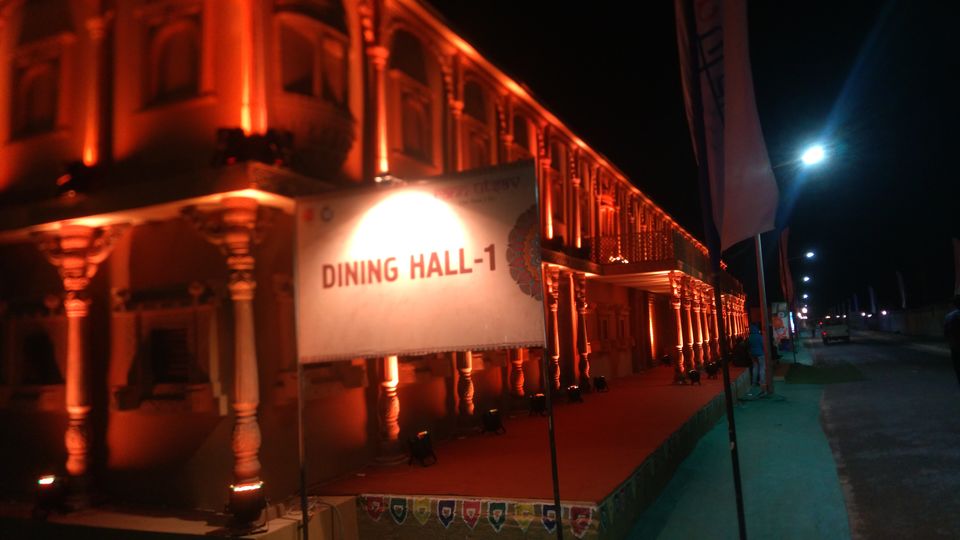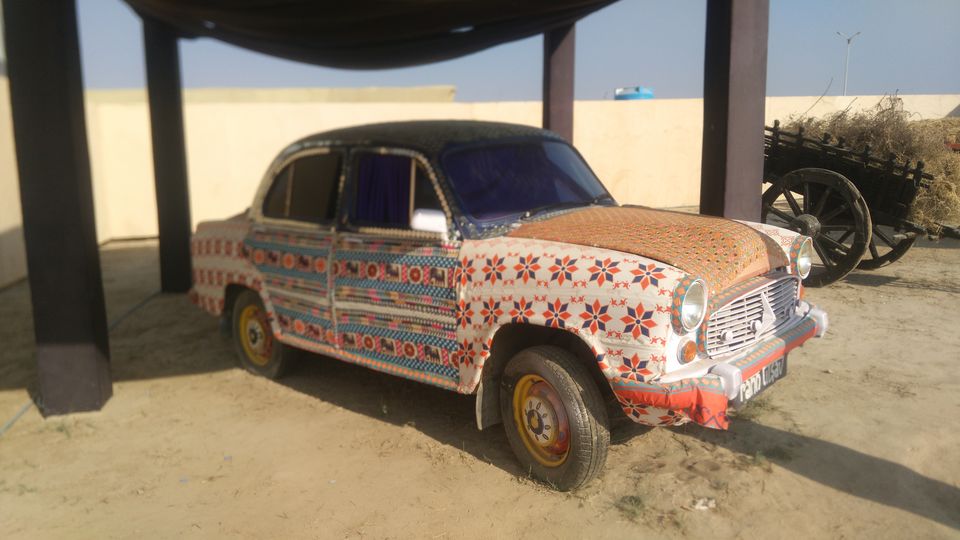 Sunset at White Rann - Enjoy a beautiful sunset on the white desert complete with a ride on a camel cart right till the entrance of the desert. Wander off as far as you can and watch the setting sun create a beautiful cornucopia of colours that is the evening sky!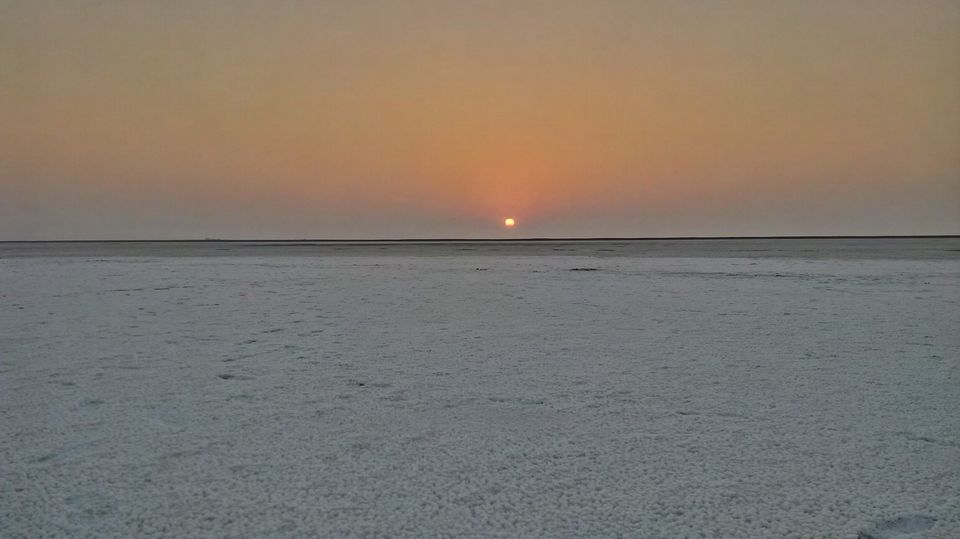 Enjoy the festival - Cultural activities of the Utsav are held between 8.30-10.30 pm at the stage area in tent city wherein a variety of folk musicians and dancers perform every night. Grab a glass of kathiawadi kaava or hot kesar doodh (sweet saffron milk) and relax on a old school village cot and enjoy the resplendent show.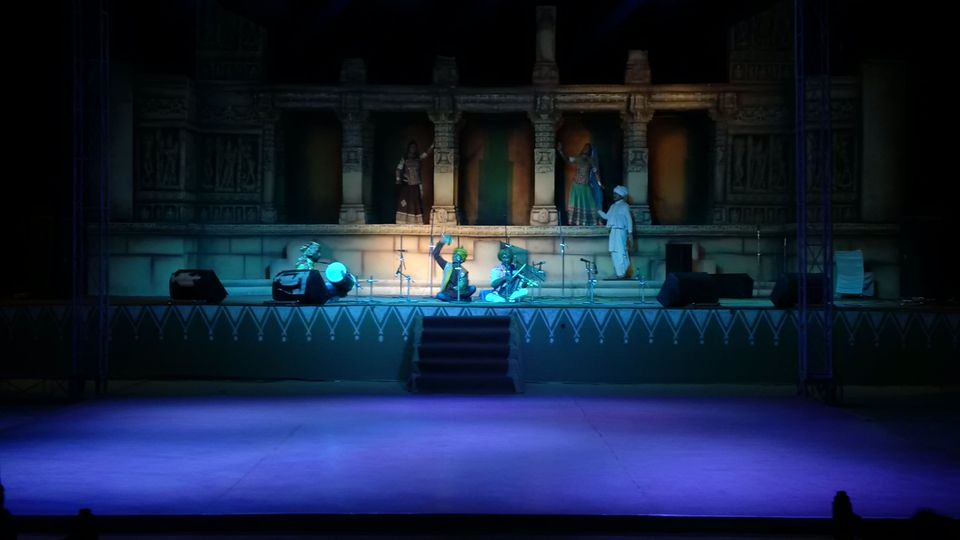 Special night excursion to White Rann - Arranged only for those who manage to book their trip on a full moon, I was lucky enough to visit during a super-moon week.
At 10.30 pm, tourists are transferred in the same manner as before to the entrance of the white desert. Going into this, I was highly skeptical. As I sat on my camel cart, I wondered whether I'll be able to see anything or anybody in such pitch darkness in the middle of a cold desert. But wrong I was and how!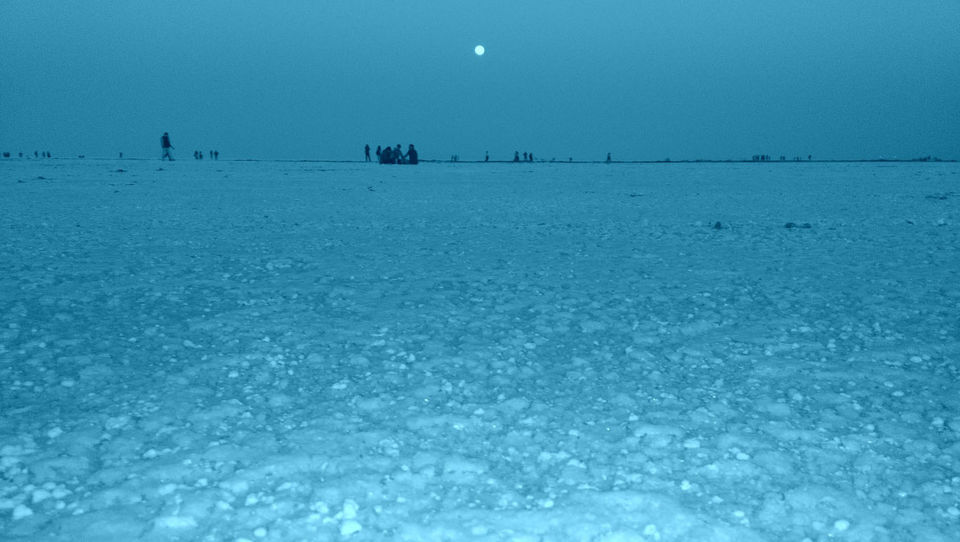 Shivering away on a cold January night, I made my way onto the desert impatiently. And stopped dead. The view in front of me was nothing short of magical. There are very few experiences that touch the soul and a super cold night on a stark white desert under a beautifully lit full moon sky was one of them. There is something so serene and magnificent about the way the endless expanse of white shines and comes through in the moonlight. And one never really appreciates the beauty of the moon the way you will on this desert!
I highly recommend booking a trip to Rann of Kutch during full moon because it is one of the things you absolutely shouldn't miss.
Spend a day in the old port town of Kutch. Located 3 hrs from Dhordo, Mandvi is known for its beaches and also for its 400 year old shipbuilding industry.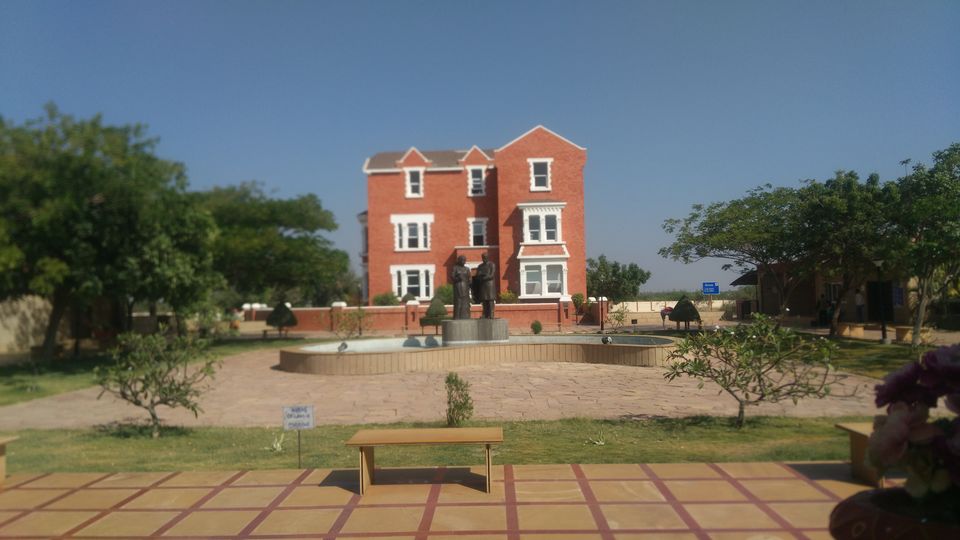 Shri Shyamji Krishna Varma Memorial - It is a replica of the freedom fighter's 'India House' of London. His ashes which were finally brought back are in display at this memorial.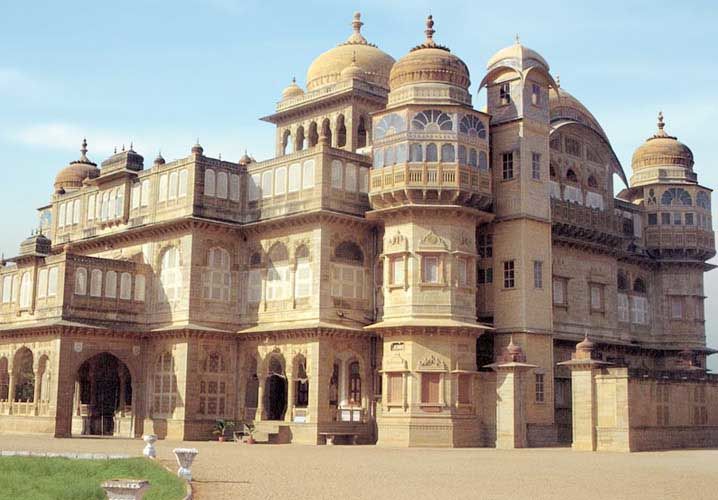 Vijay Vilas Palace - Built near the sea as a summer palace for the Maharao of Kutch in 1929, it houses a Museum inside. It has elements of Rajput architecture done by craftsmen from Rajasthan. Sizeable portions of Bollywood films like 'Lagaan' and 'Hum dil de chuke sanam' have been shot here.
Sunset on the beach - Eat and relax on Vijay Vilas Heritage resort's very own private beach and watch the sun go down.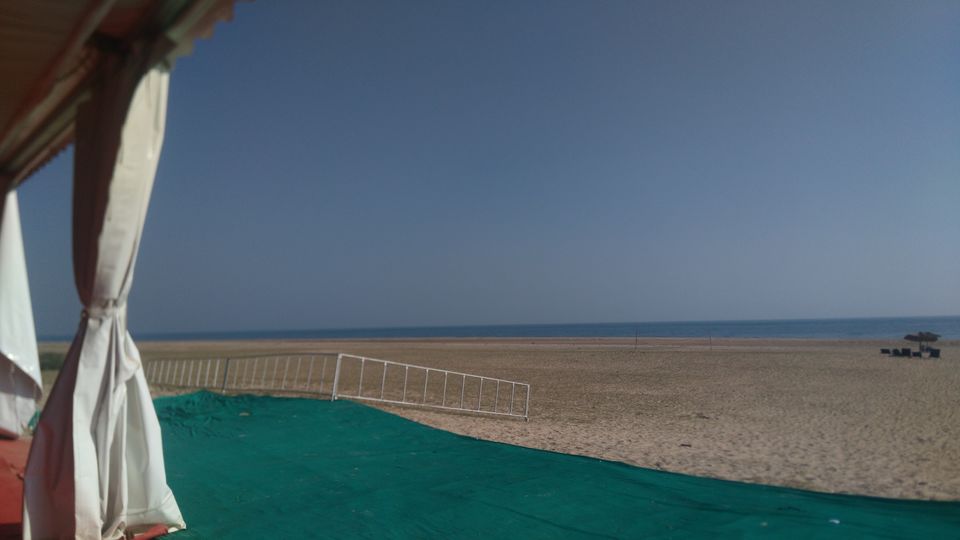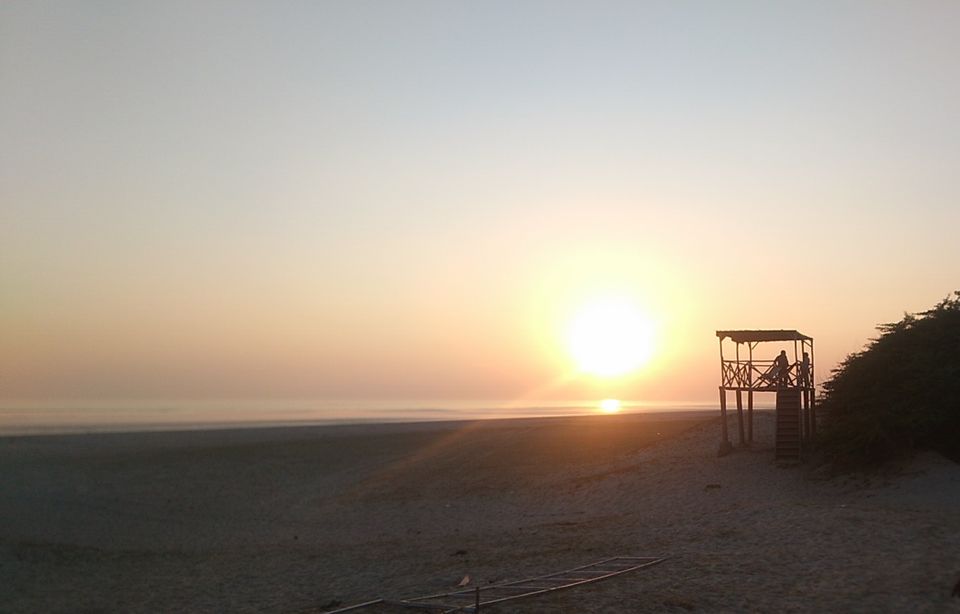 Sunrise at White Rann - Hop onto a bus from tent city to visit sunrise point in the wee hours of morning (6.30 am to be precise) and watch the break of dawn over the beautiful White desert. A different spot altogether, it has a structure to climb upon and get a bird's eye view of the Rann. Perfect place to experience sunrise over the desert.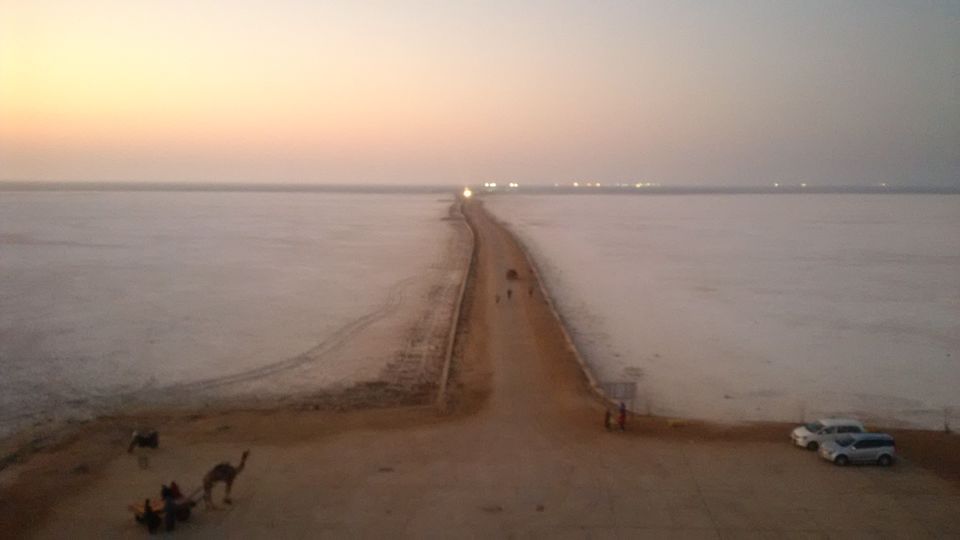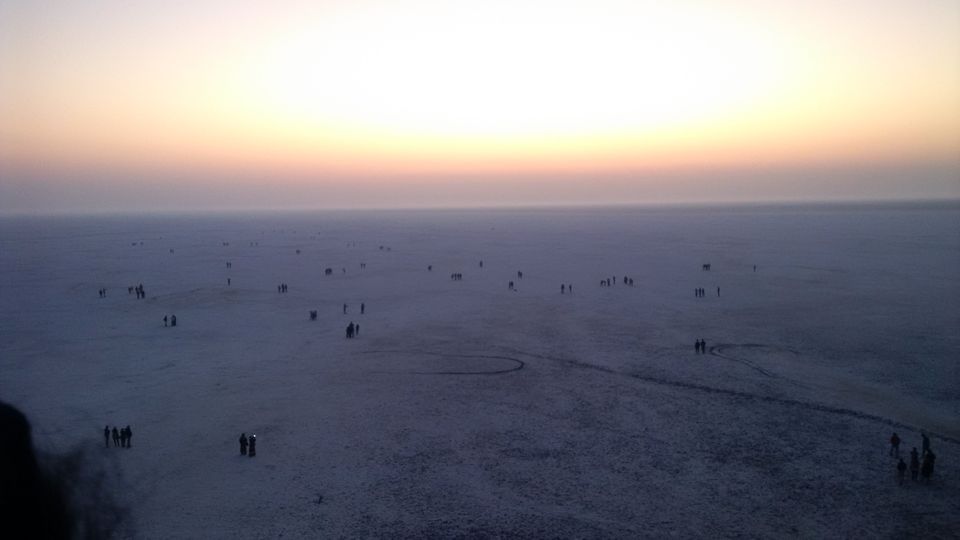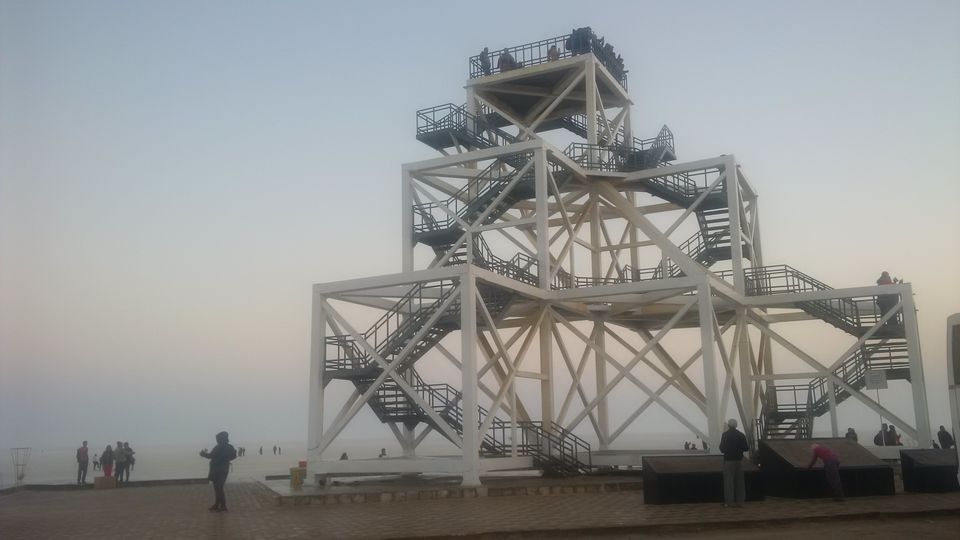 I absolutely advice not to miss this, as you get a 360 degree view of the Rann from the top as well as one of the most unique sunrise experiences!
Activities - Tent city offers activities like paramotoring (morning & night both), ATV rides, rifle shooting, archery, skyzilla, stargazing and various indoor games at the clubhouse. Choose any activity/ies for the rest of the morning or grab a bicycle and go around the tent city.
Note - All activities are chargeable and not included in the itinerary. However, bicycles are free for the first 30 minutes!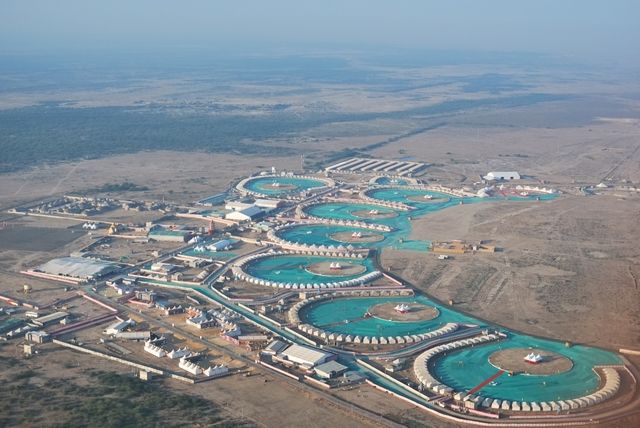 Visit Gandhi nu gaam - Visit this unique village which was re-built by VSF foundation after it was destroyed by the earthquake of 2001. Buy authentic handicrafts made and sold by locals as well as be sure not to miss the intricate woodwork done by them which is unique to this region.
Sunset at Kalo Dungar - Also known as 'black hills' , it is the highest point in kutch district and has a famous 400 year old Dattatreya temple as well as a sunset point for panoramic views of the Rann.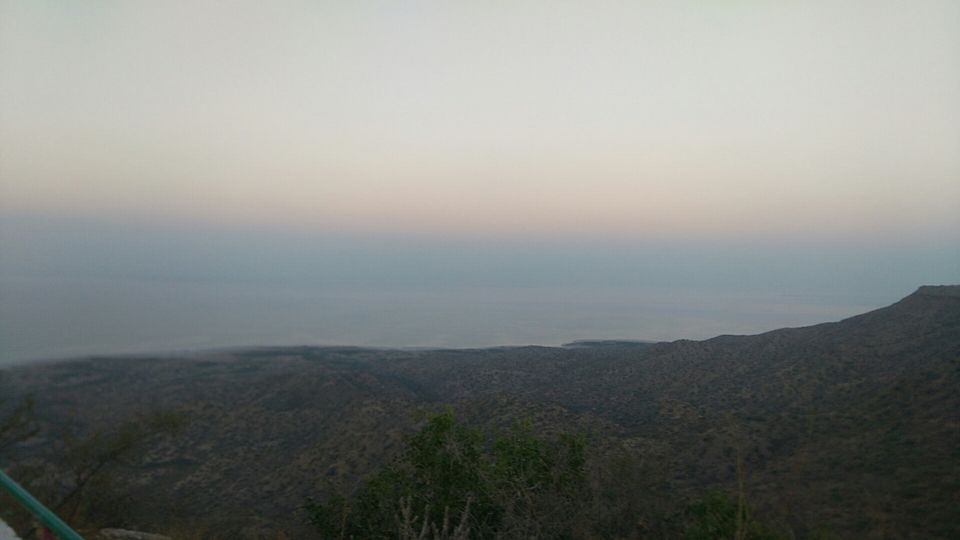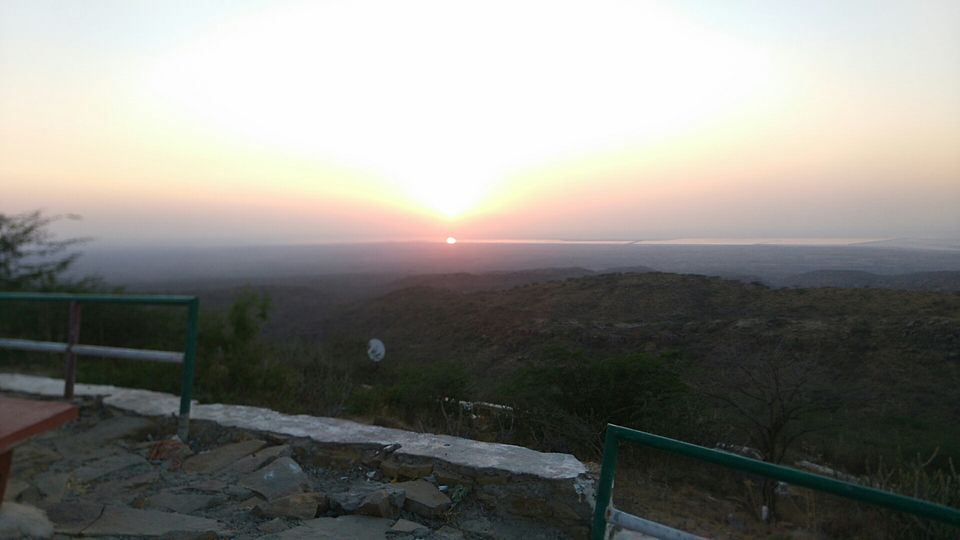 checkout of tent city and visit a few places on your way back to Bhuj airport/station.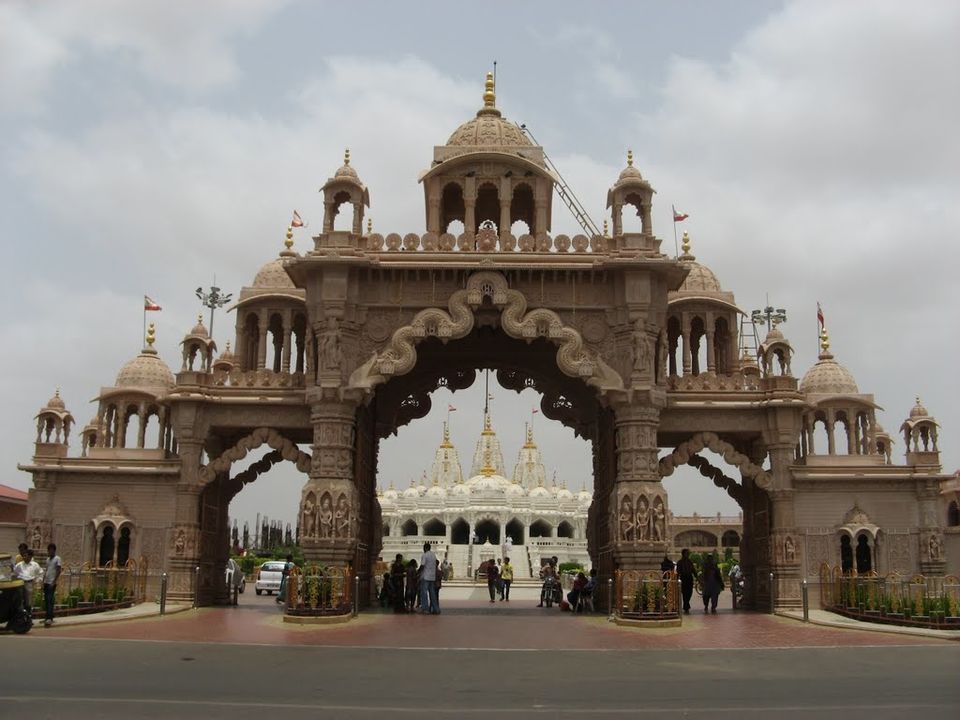 Swaminarayan Mandir - A very beautiful and big temple in Bhuj. Temple lovers must visit this one.
Kutch Museum - A huge museum dedicated to the local and tribal cultures.
Bhujodi - Local handicraft village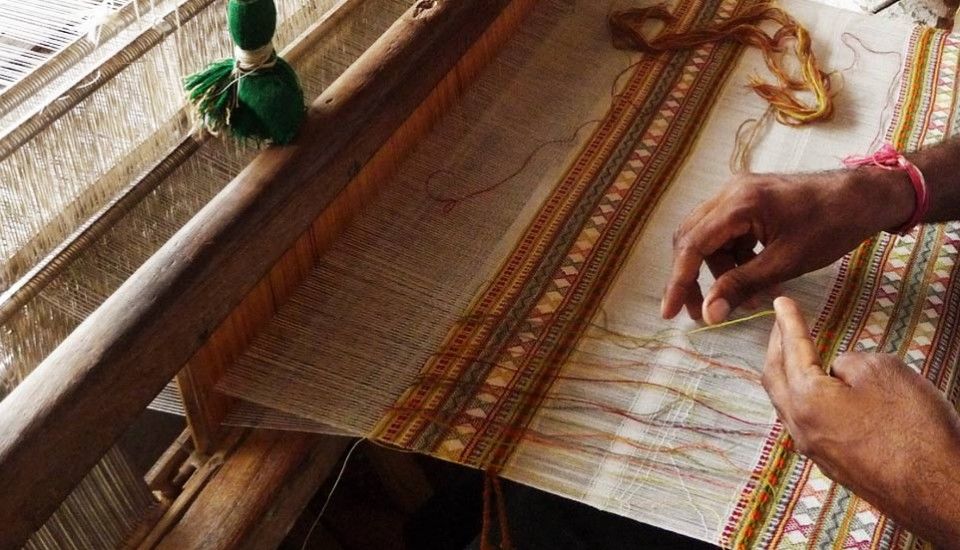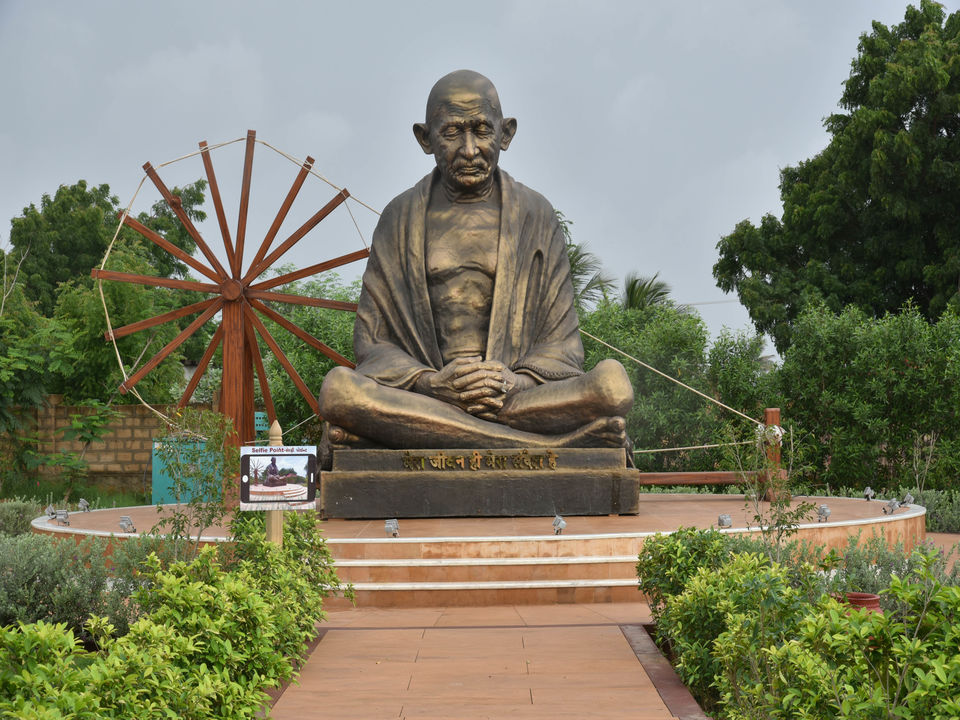 Explore local food - Venture out into Bhuj city and visit Umiyaji restaurant for an authentic kathiawadi thali experience. It's an ordinary pure-vegetarian dining hall but the food is an absolute delight !! And really cheap too. (Rs.140 for unlimited thali).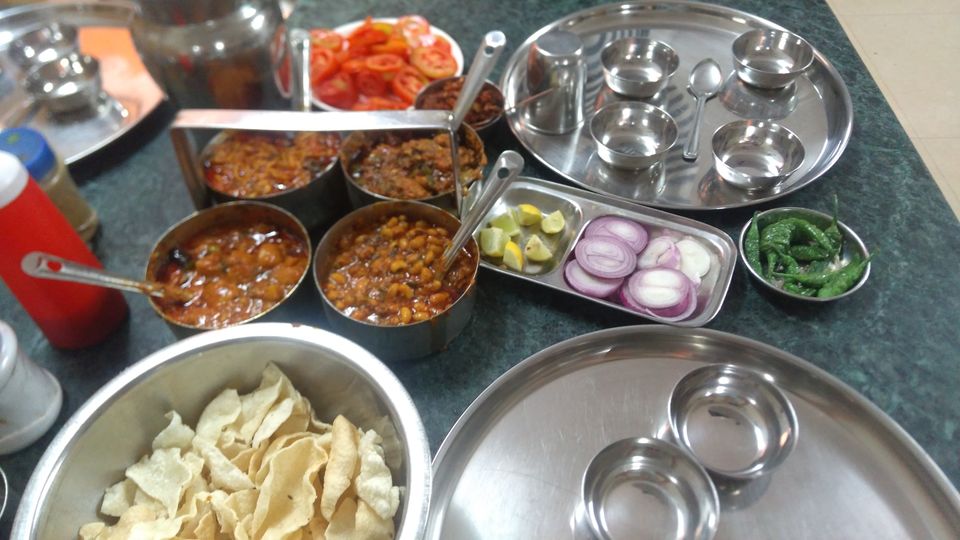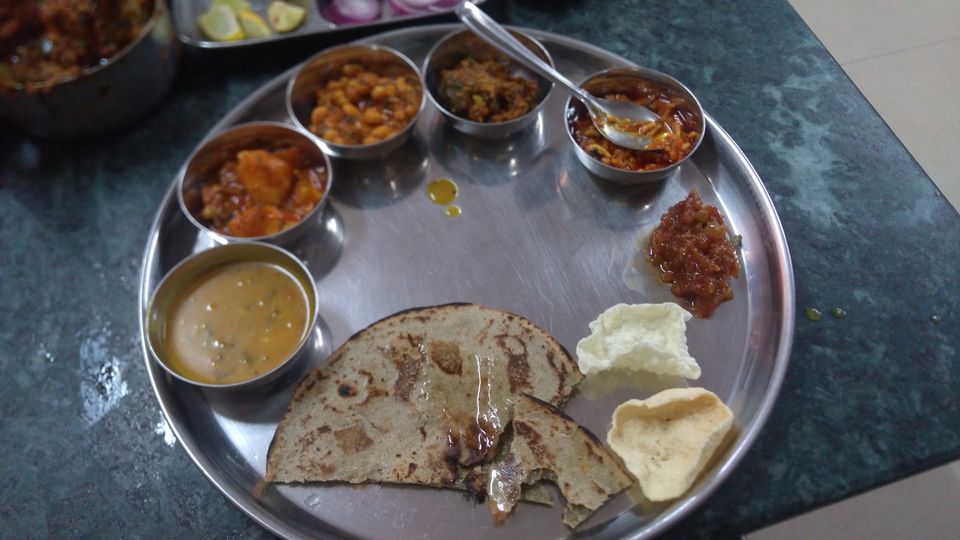 Tour Booking details -
Nearest railway/airport - Bhuj
I booked the 3 nights Rann Utsav package from www.smartstay.in which included -
* to and fro pick-up and drop - Bhuj station/airport
* sightseeing on all days and complimentary sightseeing in Bhuj on the way back
* All meals for 3 days (except lunch in Bhuj)
Total expenditure - Rs.25000 (3 nights package+train tickets)
Additional expenditure (if any) - shopping/ activities at rann utsav/ additional meals or snacks.
My experience -
I was extremely impressed by the way everything was arranged and managed by Rann Utsav. My trip went very smoothly post online booking, right from my pick-up at the train station in Bhuj till the drop at the very end of the trip.
I happened to miss the sunrise excursion on day 3, so they arranged for me to do it on day 4 before checkout (upon request) without hesitation. The tents in tent city cannot be locked, but it was perfectly safe and all our belongings were perfectly taken care of. Having never lived in a tent before, it was a lovely experience! Very spacious, hygienic and artistically built, it qualified as a full fledged hotel room, hardly a tent. Quite impressed by the management, they were extremely warm and accommodating. It's a once in a lifetime type experience!
Frequent Searches Leading To This Page:-
Gujarat Affordable Tour Packages, Places to Visit in Gujarat, Best Travel Packages for Gujarat, Best Gujarat Trip Packages, Gujarat Holiday Tour Packages, Top Holiday Packages from Delhi to Gujarat, Best Budget Trip to Gujarat