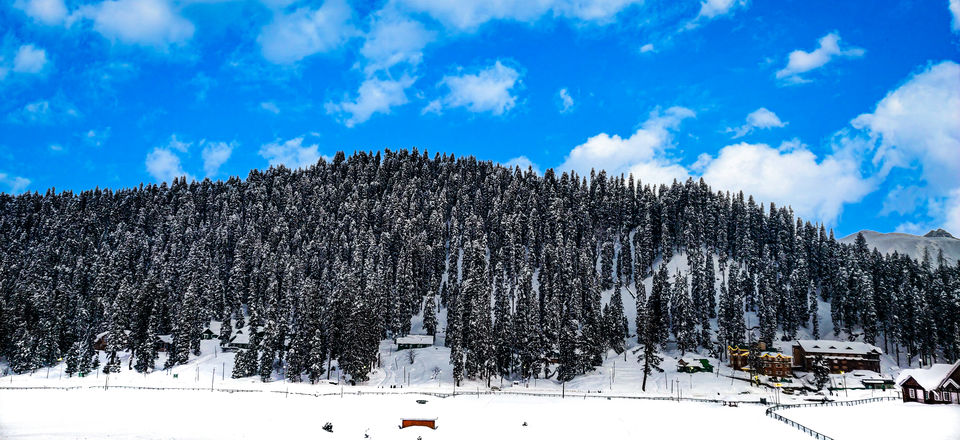 Want to fill your "bucket"-list with loads of snow, adventure, and excitement? The 'Heaven on Earth', has it all for you. Many of you might have guessed the place I am talking about. For those who have not - YES, this blog is about 'GULMARG- The Crown of Jammu & Kashmir'.
Asia's best Skiing destination, Gulmarg, formerly known as 'Meadow of Flowers' is the home for World's Highest Cable car 'Gondola' as well as Highest Golf Course, but for me, it was definitely "The Land of Snow".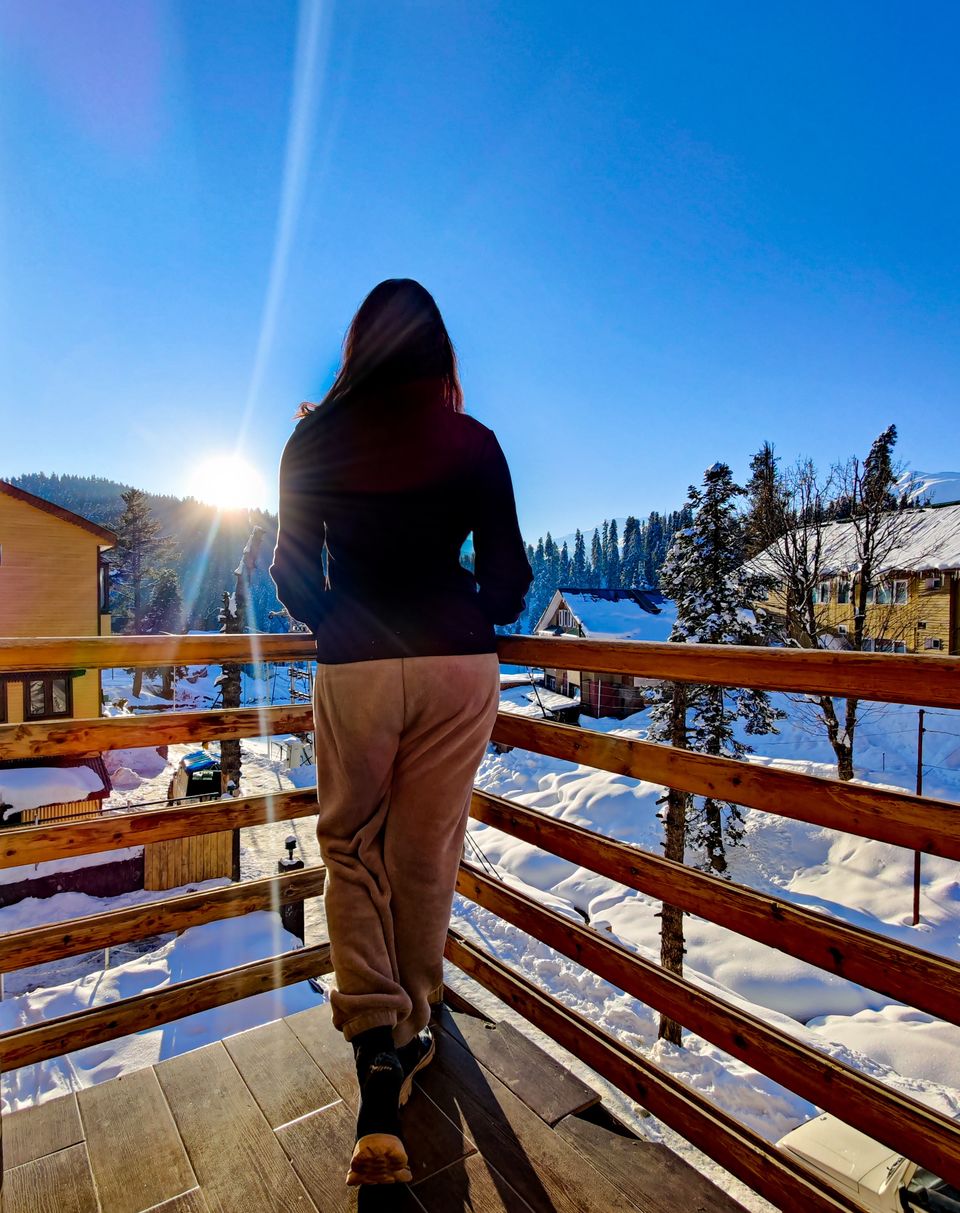 Reaching Gulmarg: We took a flight till Srinagar, and then a taxi till Gulmarg (2-2.5 hrs). From Tangmarg, one has to take either car with 4 wheel drive or has to attach snow chains to prevent the car from skidding on snow.
Beauty of Gulmarg
It is a little difficult for me to explain the beauty of the place in words. What a picture-perfect destination it is!! A delight to one's eyes. The breathtaking views covered with snow took my heart.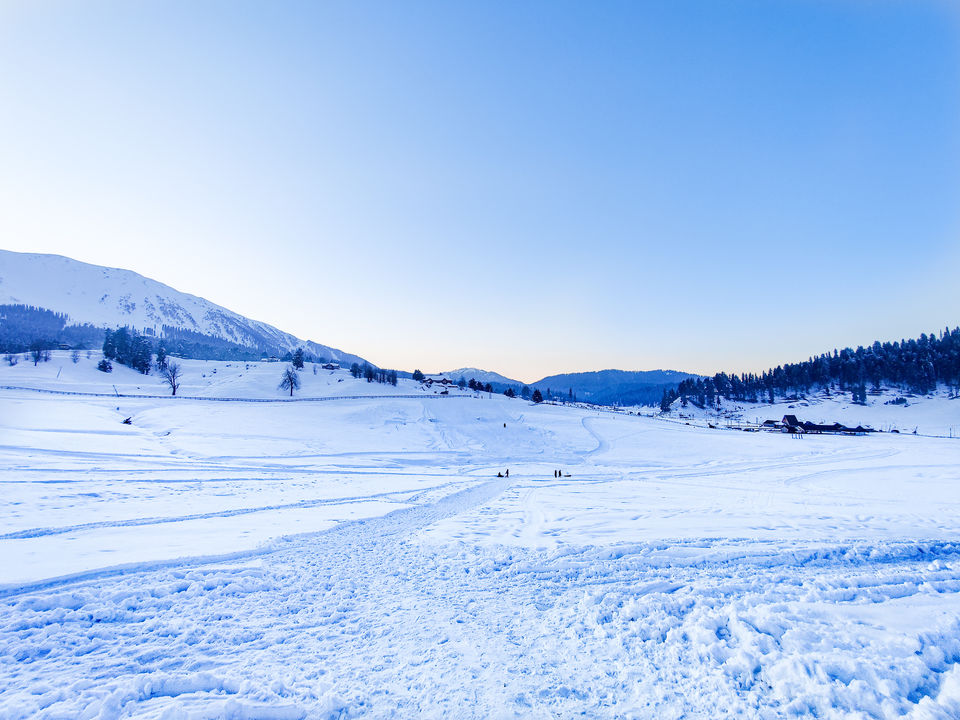 Snow Adventures
Since it becomes very difficult/slippery to walk on the snow-covered roads, we took a sled ride from our hotel to the ski place.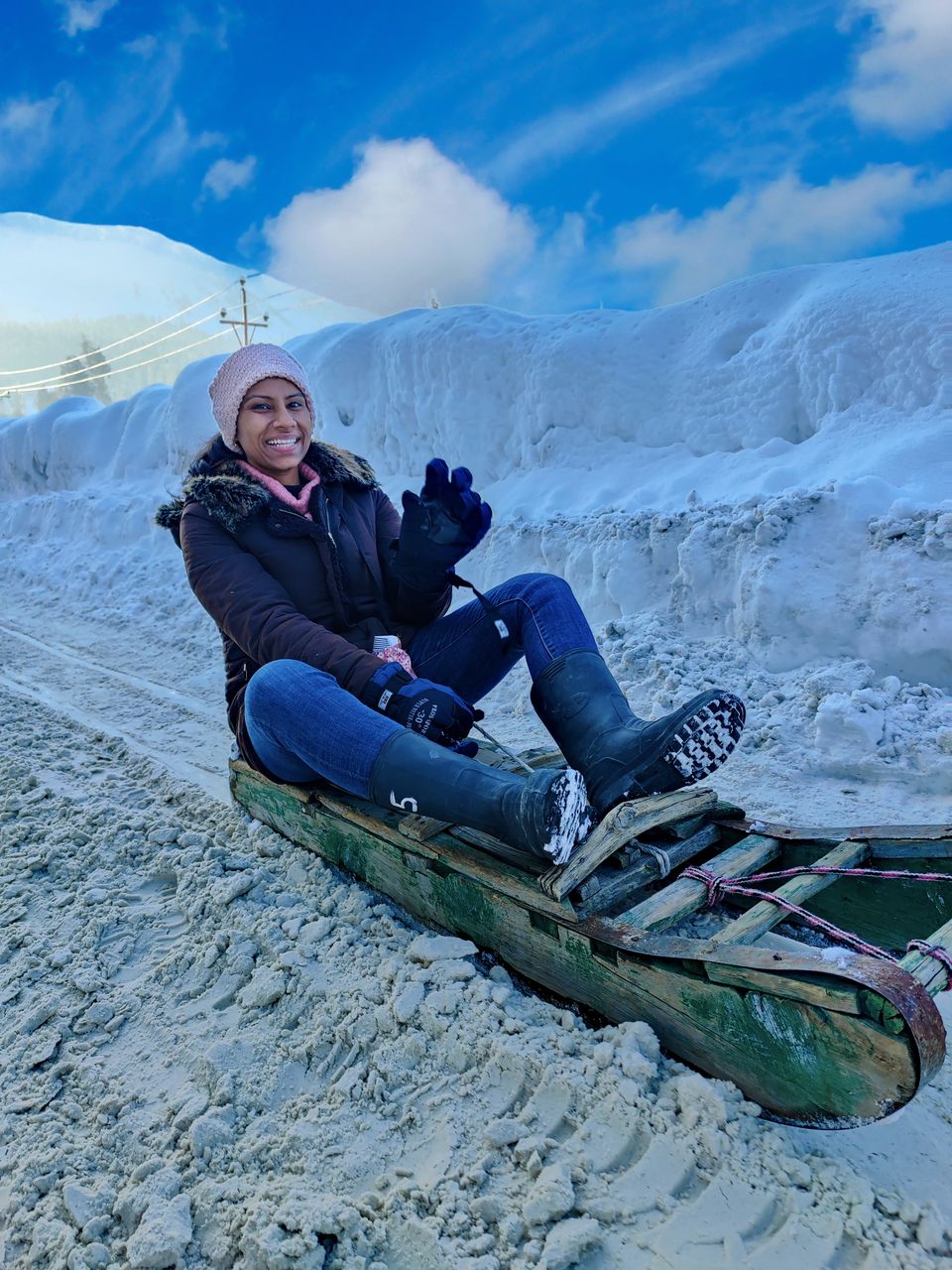 Skiing: There were different paths for beginners and for professionals/trained people. It took me 15-20 min to hold the grip over my skiing equipment. And then I was free to ski around the place. "Main udna chahti hoon, daudna chahti hoon, girna bhi chahti hoon...bas rukna nai chahti" - this completely defines my experience.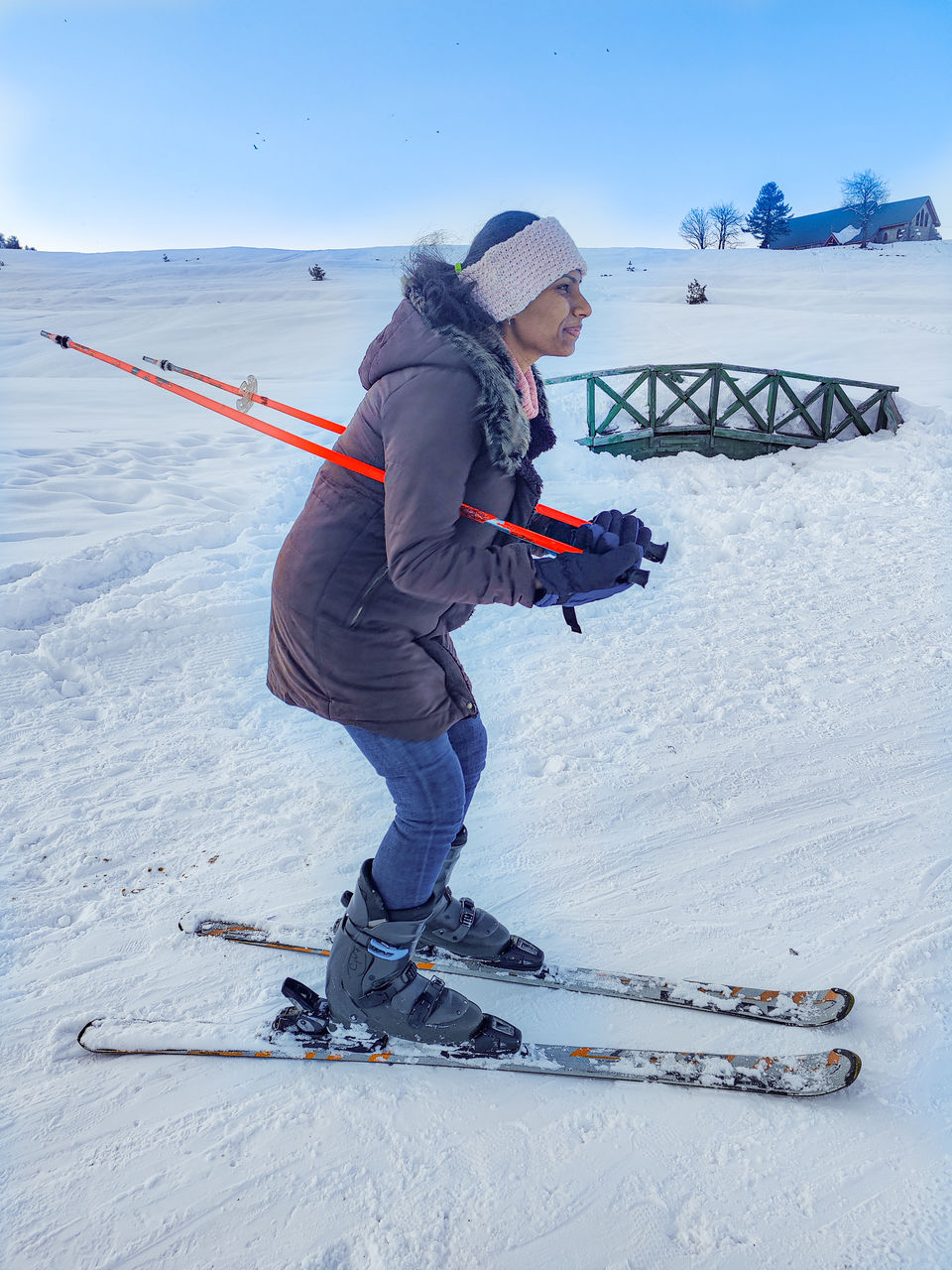 The joy and thrill skiing can offer cannot be described, it can only be experienced. Now when I think about it, I feel I wasn't just skiing, I was absorbing the mesmerizing beauty of the place in my heart. It was my first experience of Skiing, and I am glad I chose the best place to do that.
The Church and Jai Jai Shiv Shankar Temple - Yes, where the iconic song Jai Jai Shiv Shankar was shot, were so quite and free from any disturbance. That offered me inner peace.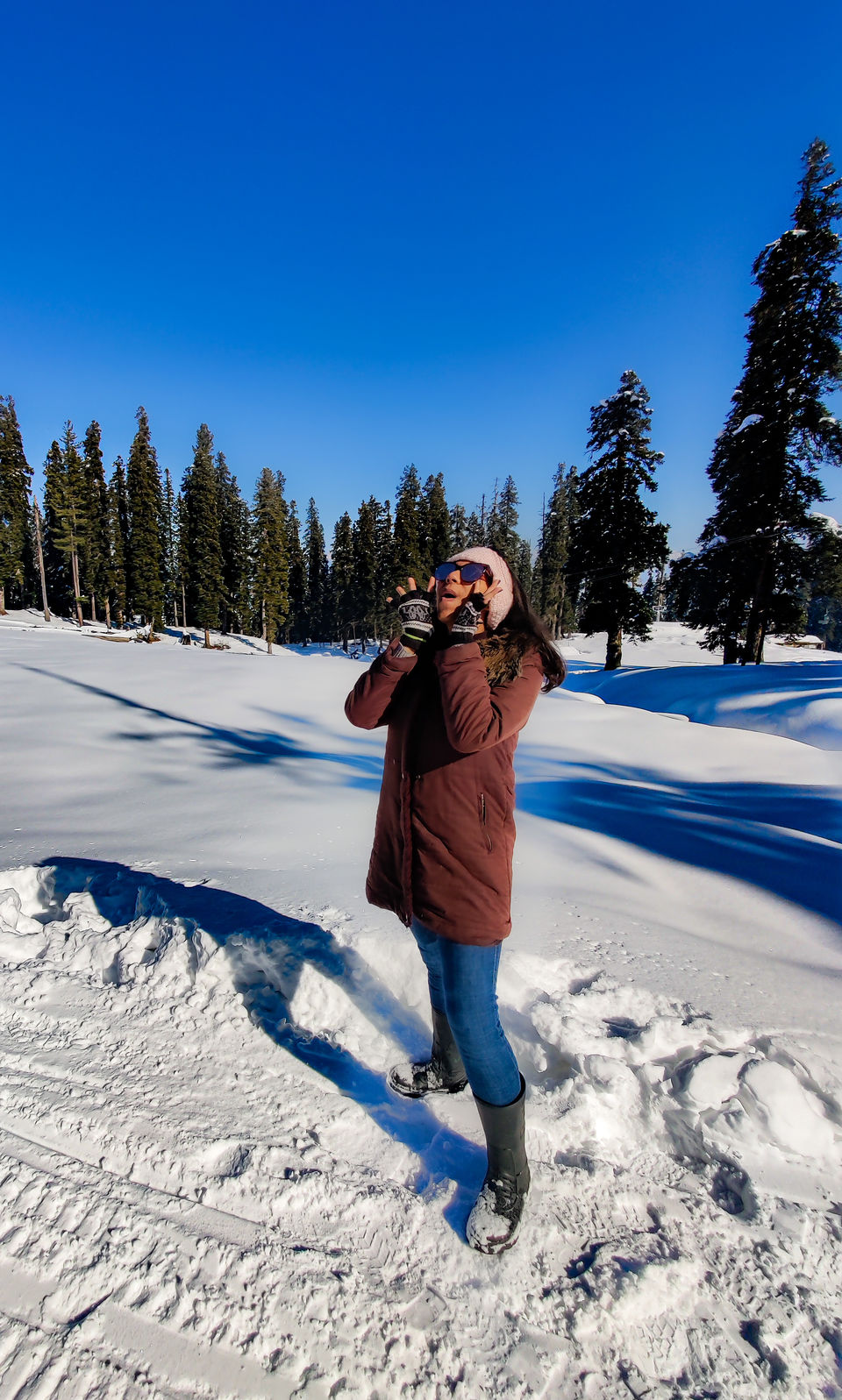 Gondola Ride: The Gondola lift operates in two phases -
Phase 1 – Kongdoori
Phase 2 – Aphharwat
Although I have experienced many ropeway rides, the Gulmarg Gondola ride was quite an exhilarating experience. It's thrilling and spine chilling when you are thousands of feet above the ground and all you see around yourself are the snow-covered mountain peaks and tips of pine trees. The views offered by this ride are breathtaking.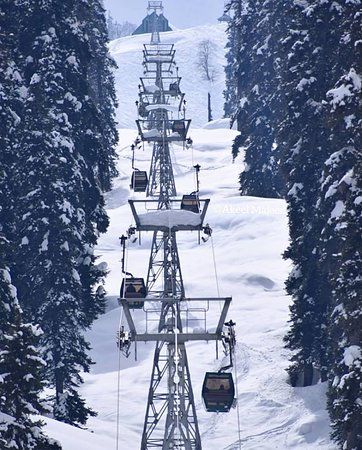 We did not go to phase-2 as phase-1 was already covered with plenty of snow.
Snow Scooter/ Snowmobiling: It is like riding a motorcycle on snow. This experience for 1 hour offers an adventurous escape into the heart of Gulmarg, with miles of perfectly groomed trails and endless powder-filled bowls and meadows to explore. We covered three points - K1, K2, and K3, K3 being the highest point.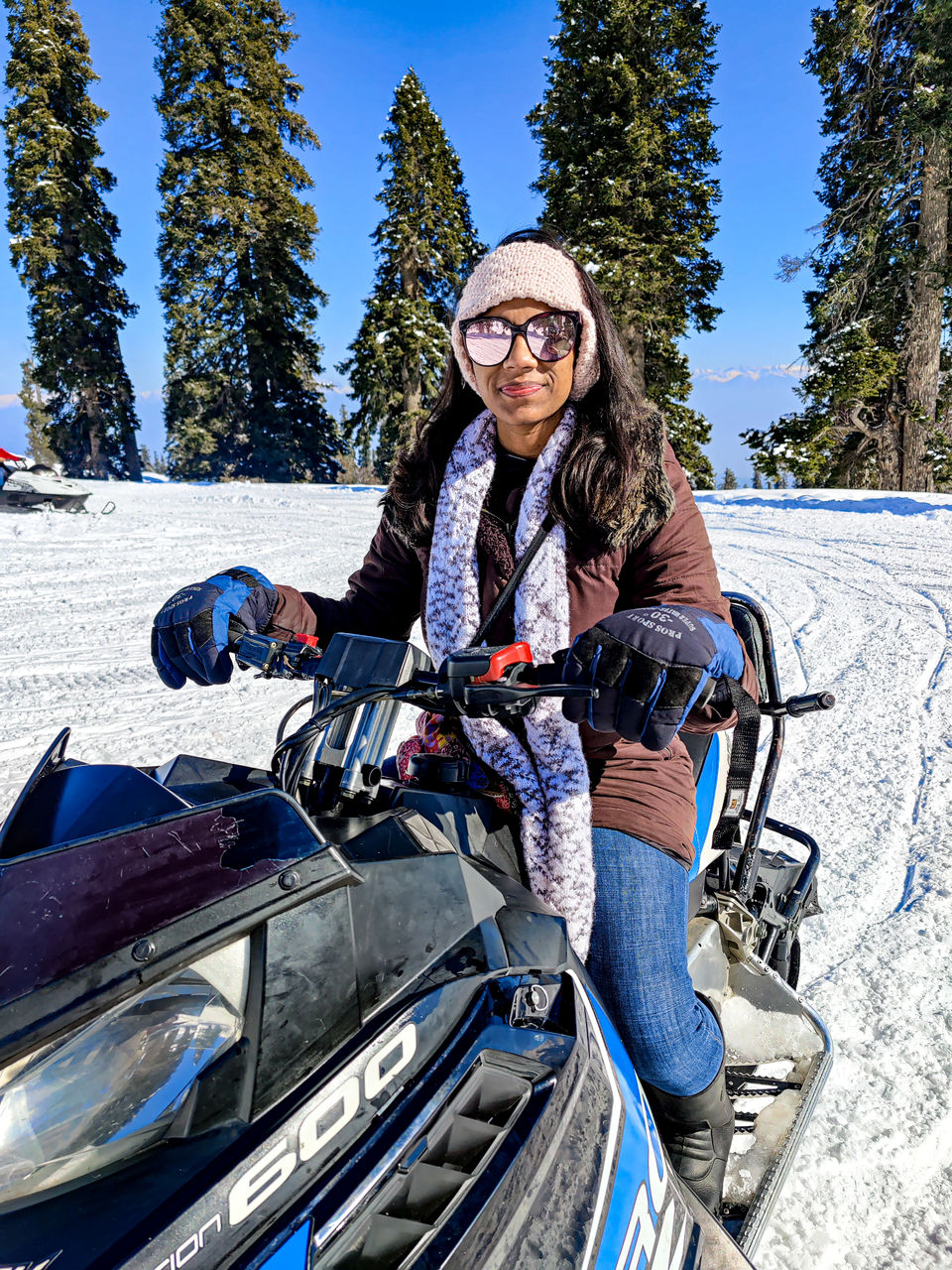 One guide will accompany you and you can ride the bike by yourself after K2 point if you want to. It was super fun to ride the scooter on snow with amazing views. If you want to experience some amazing, fresh, and breathtaking views, this one is highly recommended.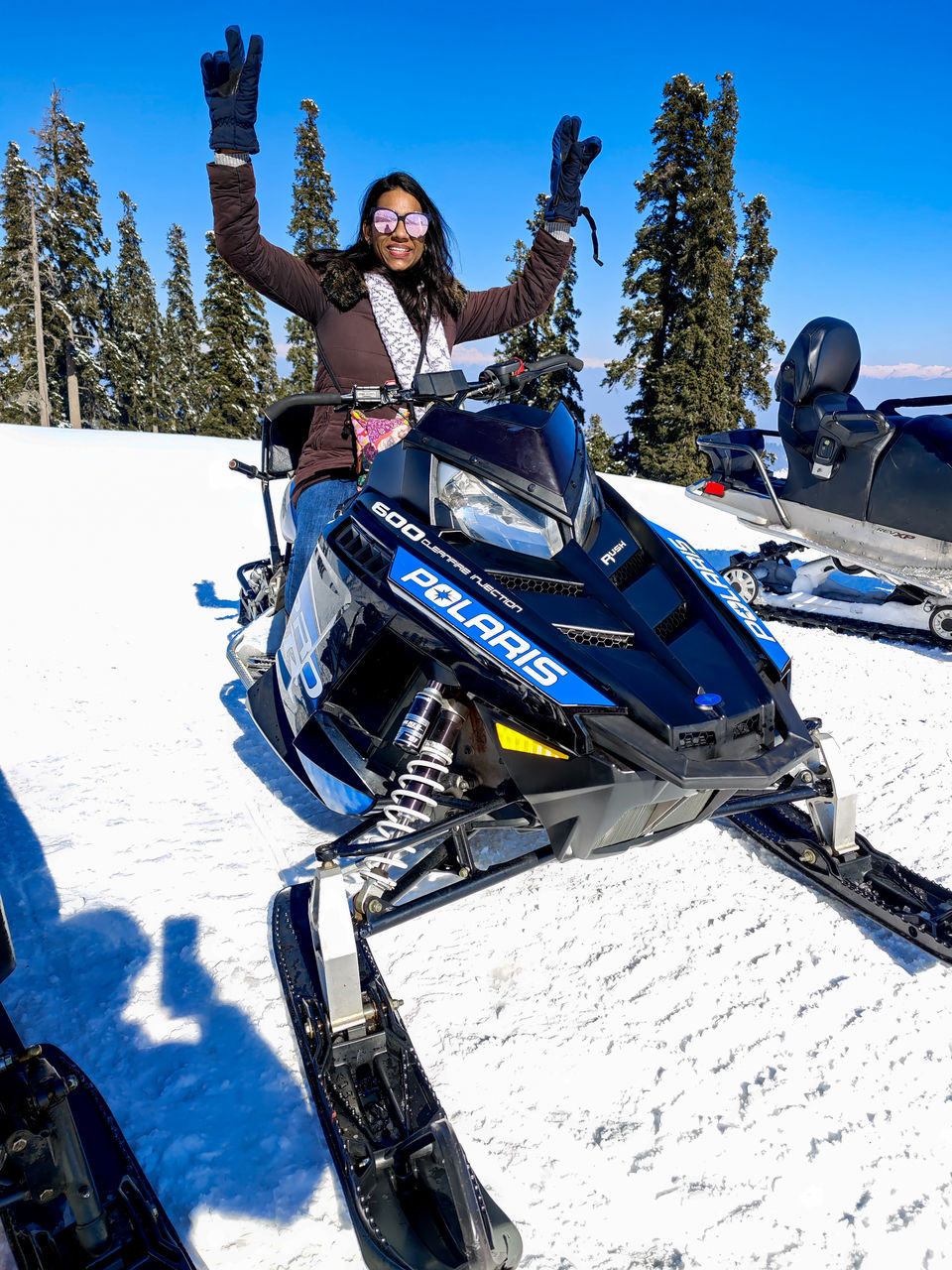 'Kashmir aaye aur Kahwa (Kashmiri Tea) nai piye, to kya kashmir aaye'. And Kahwa tastes more amazing in those 'Haseen Wadiyaan' of Gulmarg.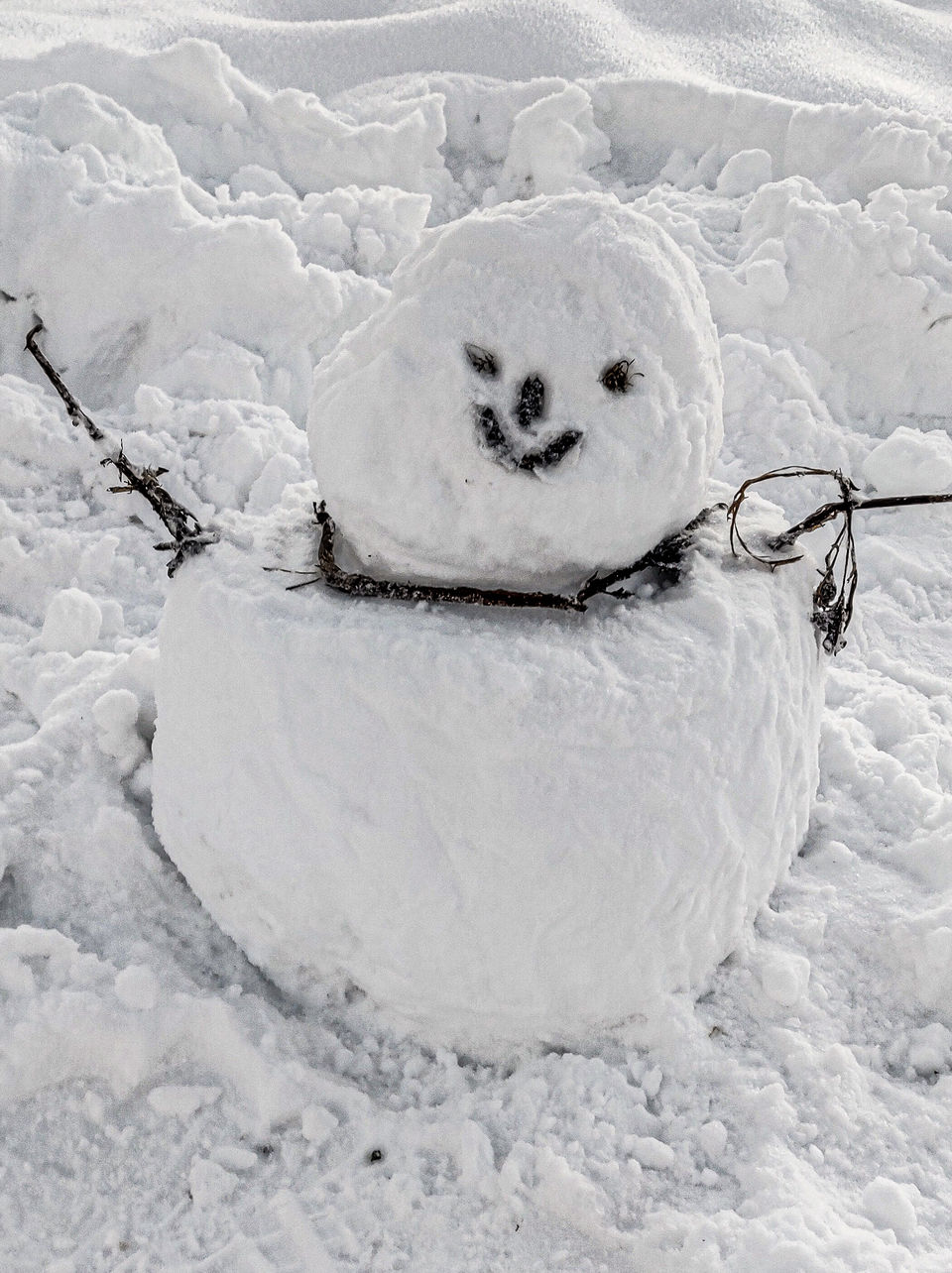 For coming back from Phase I, the options are - Through Gondola ride, Skiing, Snowboarding, Sledge, Snow Cycle. I opted for Snow cycle - it was a trek of 7km from Kongdoori and pleasing, exciting, and thrilling at the same time.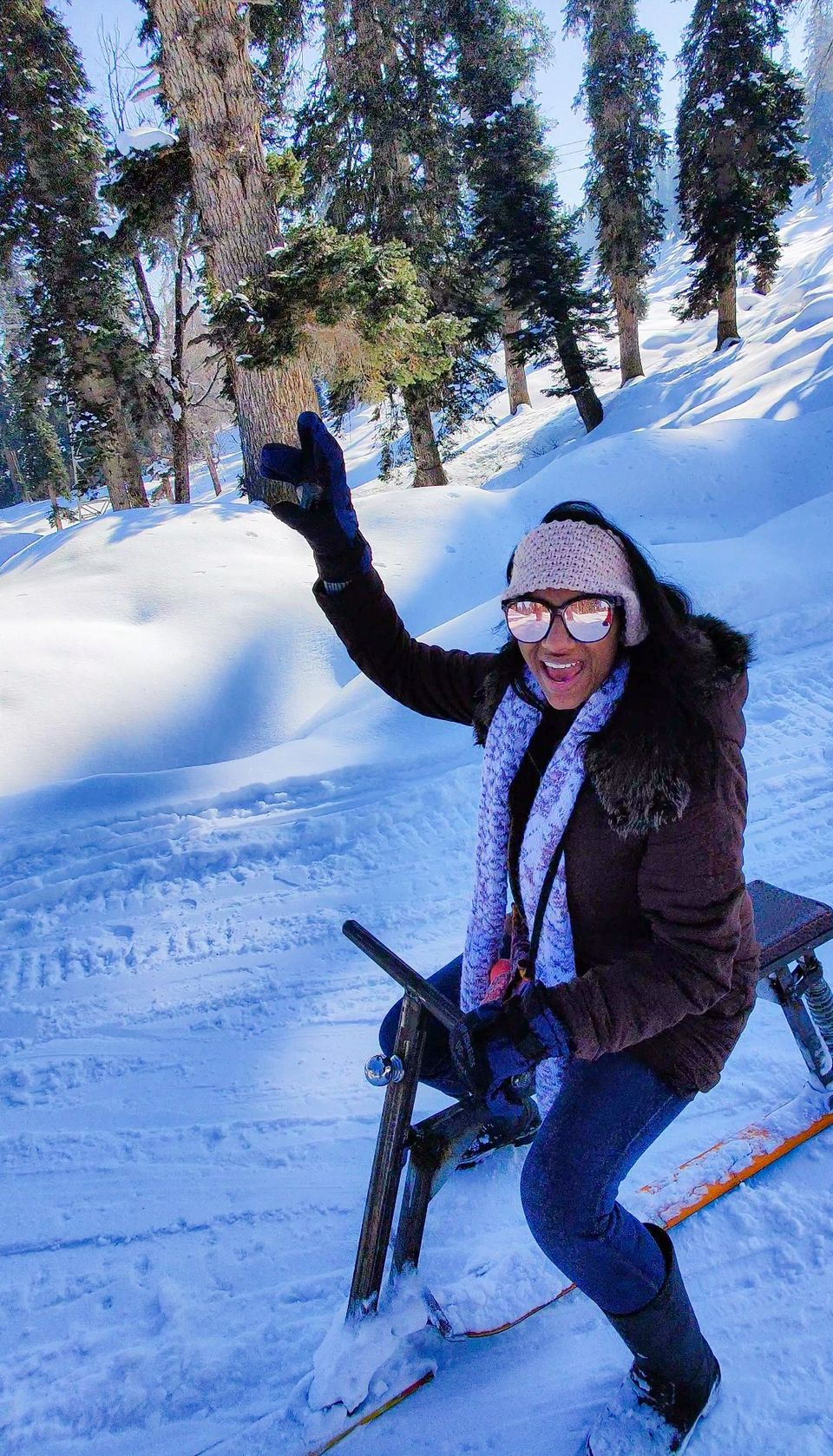 "GULMARG - JANNAT HAI TO YAHI HAI"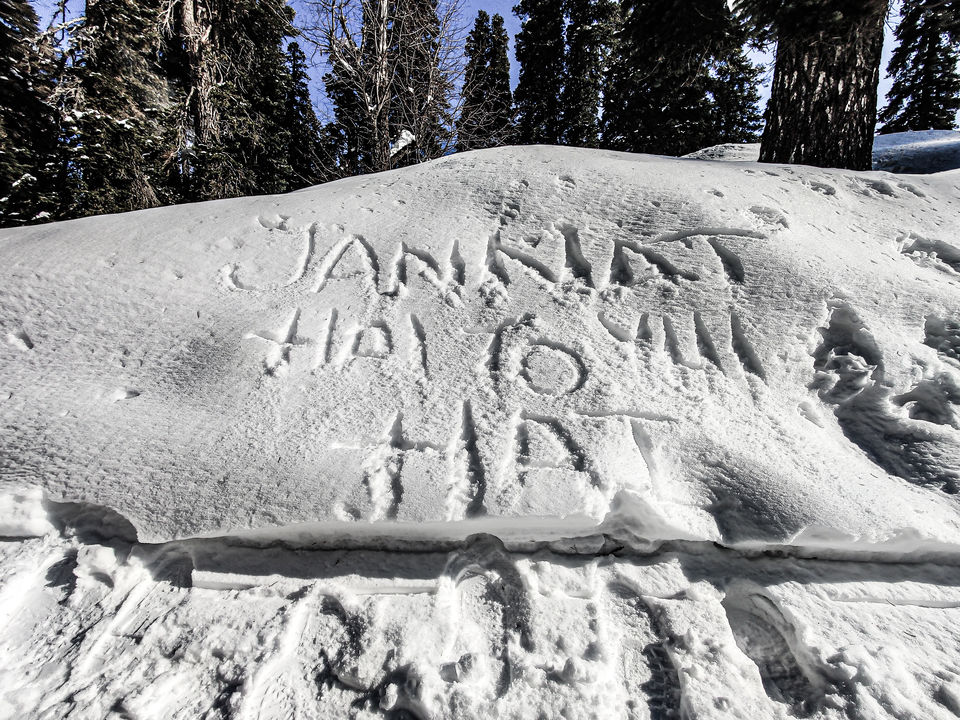 Srinagar Sightseeing
Shankaracharya Temple: It is at a height of 1100 ft. above surface level of the main city at the peak of the hill. The temple is dedicated to Lord Shiva and is thought to be the oldest shrine for worship in the Kashmir Valley. Mobile phones are not allowed and around 250 steps are leading to the temple area. You can get a bird's eye view of Srinagar from the top.
Shikara ride on Dal Lake: It is a fun adventure for anyone who is seeking a mix of nature and adventure in Srinagar.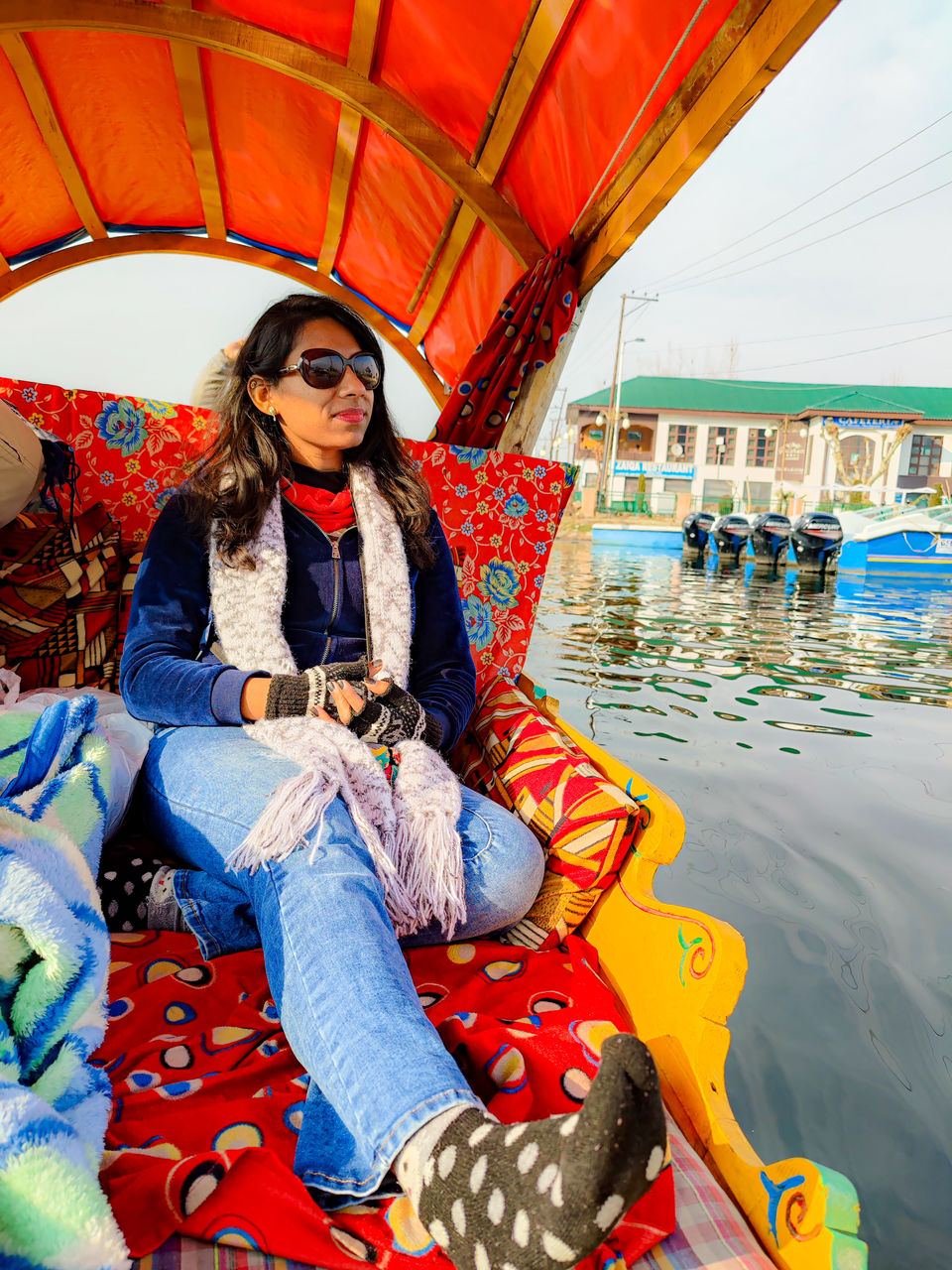 Houseboat in the Nigeen lake for the night. Nigeen Lake is not as big as Dal lake but it offers more peace and is cleaner.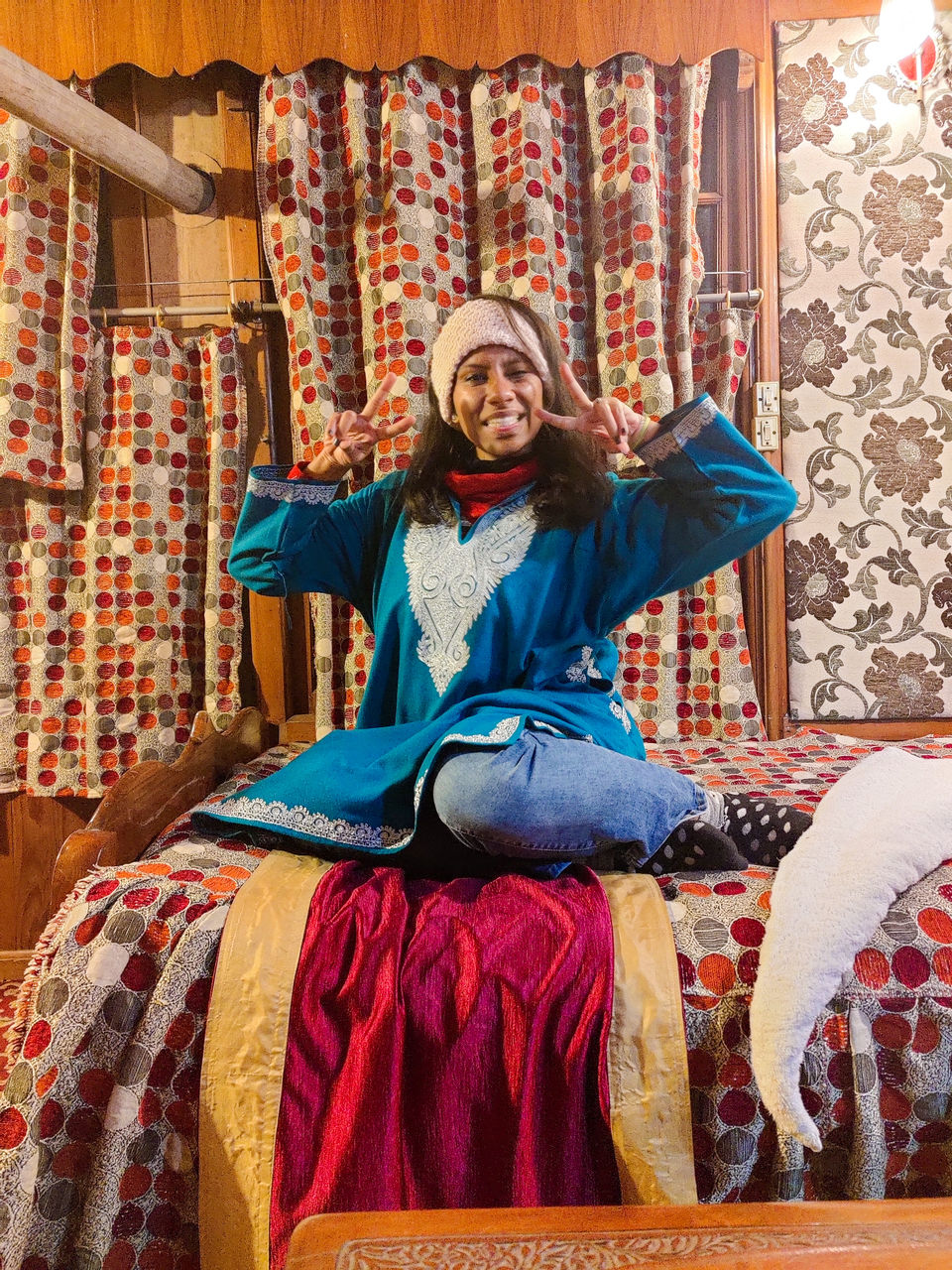 Staying in a houseboat was a completely different experience in itself. You can get everything at your comfort - breakfast/dinner menu and timings of your choice. One houseboat has 3-4 rooms and each room has DESI heaters since it becomes extremely cold at night. People normally wear Pheran with Kangri inside it to keep themselves warm.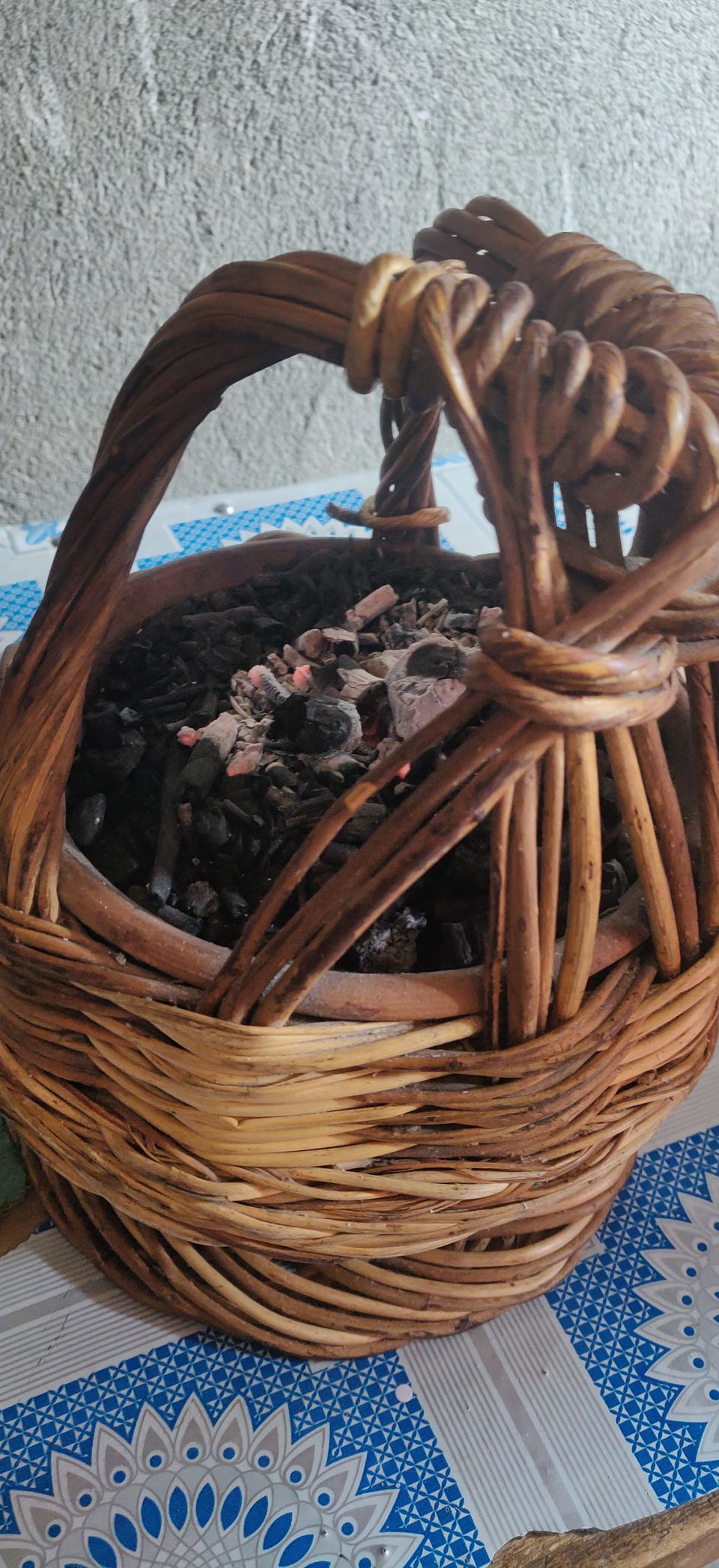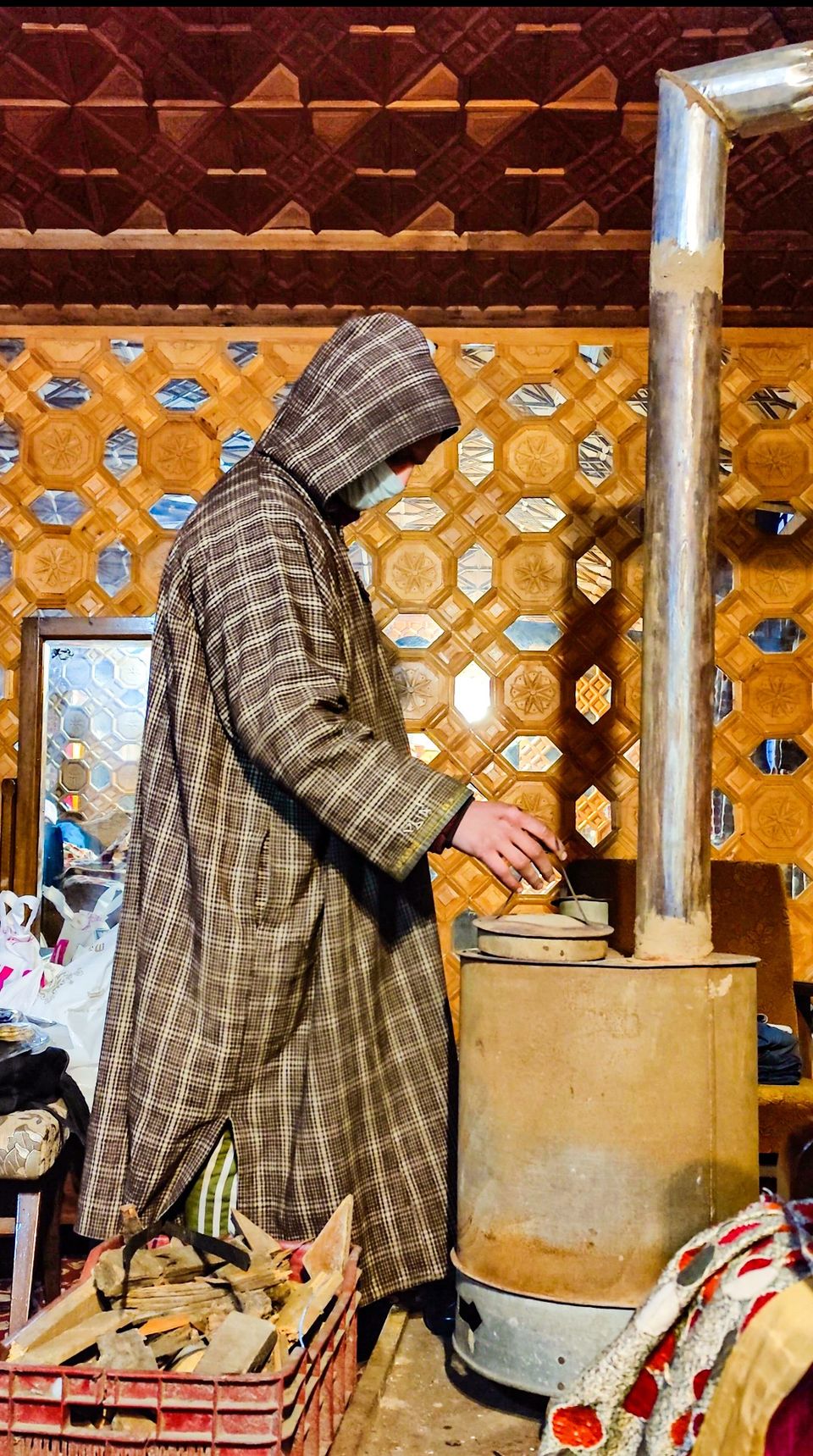 Nishat Bagh, Chashme Shahi: In Chashme Shahi, "Royal Spring" is a small garden with a natural spring within it. The water of the spring is believed to have some medicinal properties. The former Premier of India, Pandit Jawahar Lal Nehru, used to get the water of the spring to Delhi. If you want to experience the beauty of Gardens with amazing flowers, greenery, tulips - then do plan your trip in Summers.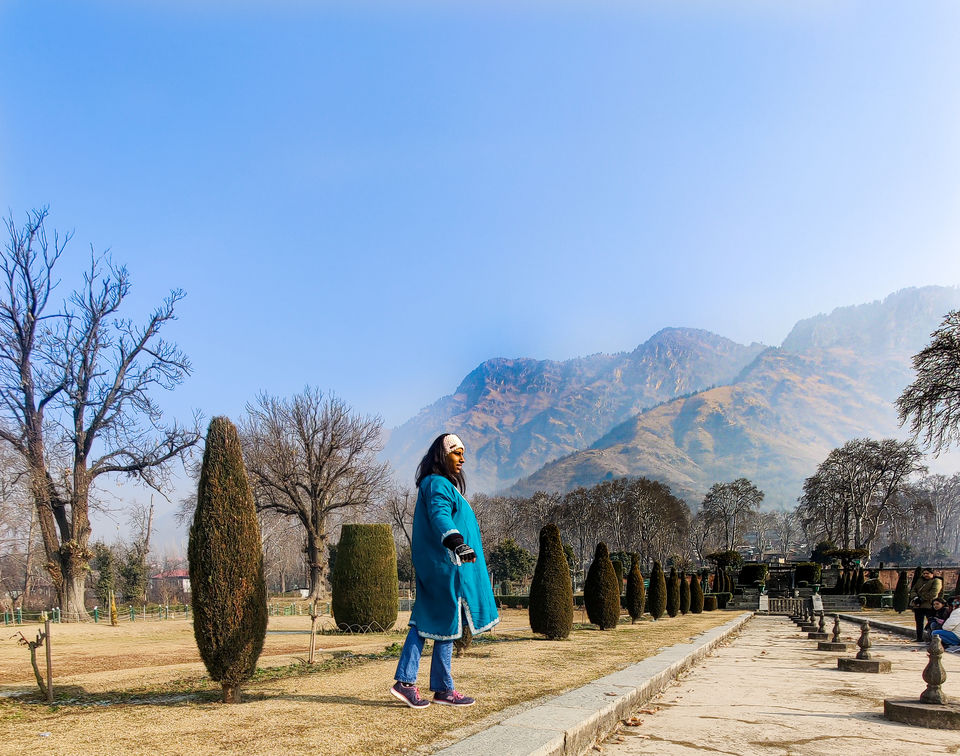 "WAHA US PAHAD KI HAWA ME EK NASHA SA THA, AUR VO NASHA ISHQ THA - FALL IN LOVE WITH MOUNTAINS"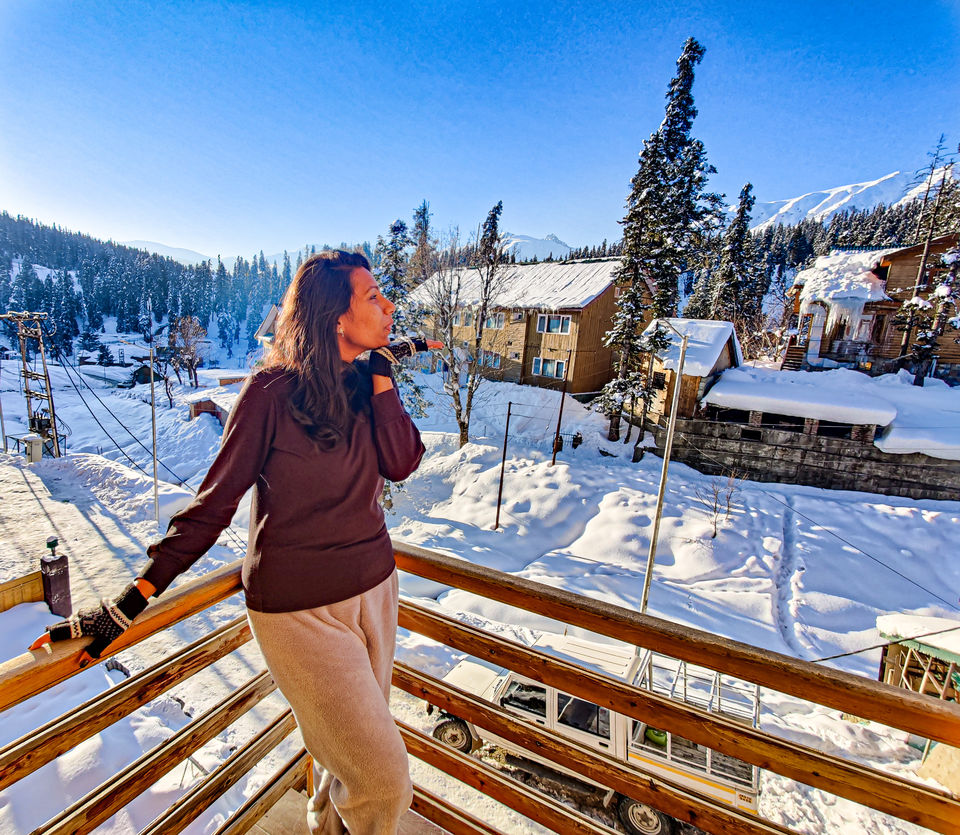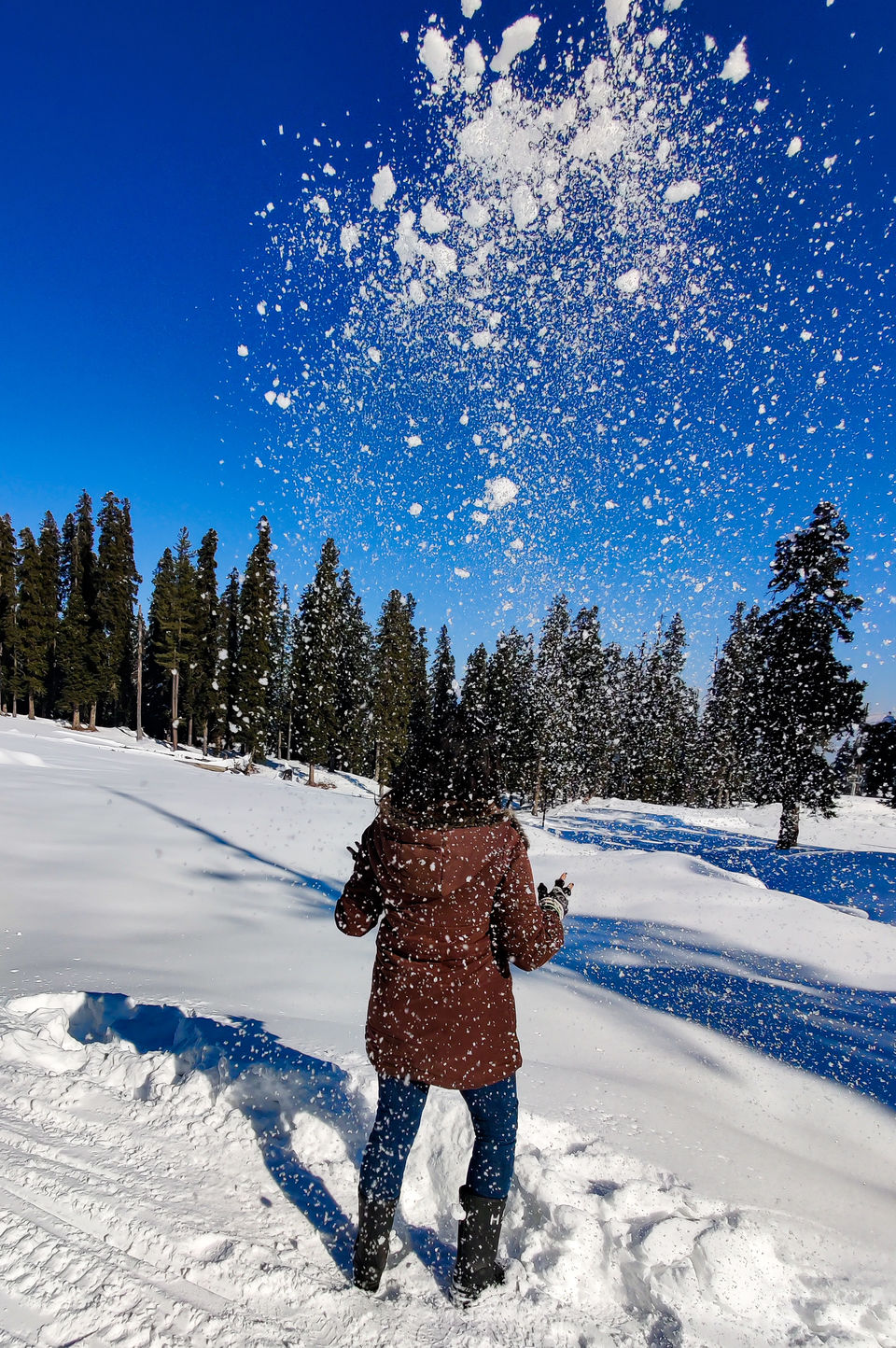 REMEMBER:-
1. To bargain as much as you can because most of the things are overpriced. In Shikara, you can bargain up to 5-6 times the price quoted. For adventure activities too, bargain at least half of the price.
2. To take coats, boots, gloves, sunglasses (also available on rent in Tangmarg) and guide from Tangmarg only otherwise you are going to be in a mess in Gulmarg and phase-1 and 2. Guide will accompany you and will arrange gondola tickets, will help you to bargain to the right price, will update your knowledge about the place.
3. CAUTION: To hold the grip on snow, otherwise there are high chances that you will slip and hurt yourself.
4. Pack winter wears properly as it is chilled out there - in Winters.
5. There is a tradition of giving tips in Kashmir.
6. To reach the airport at least 3 hours early, because of the strict checking.
7. There is a mandatory Rapid Test on Srinagar airport - though it will not be time-consuming. It will just take 10-15 minutes extra.
8. Carry sufficient cash, since online payments and finding ATMs can be a difficult task.
9. Prepaid phones don't work there, so carry postpaid SIMs - majorly JIO or AIRTEL.
10. Do try Mughal Darbar, if you want to experience good non vegetarian food.
Shopping : Reasonable Price with Good Quality
Dry Fruits and Saffron: A to Z Dry Fruit Corner(Tanmarg)
Kashmiri clothes and handicrafts: Shah Jee & Co. (Srinagar)
We stayed in -
1. Pine Spring in Gulmarg (*****)
2. Ennco Resorts in Srinagar (***)
3. Wangnoo Sheraton Houseboat in Nigeen Lake (*****)
Overall, Gulmarg is a Real Gem. And believe me, Gulmarg is way too beautiful than it appears here.
GULMARG = WINTER WONDERLAND