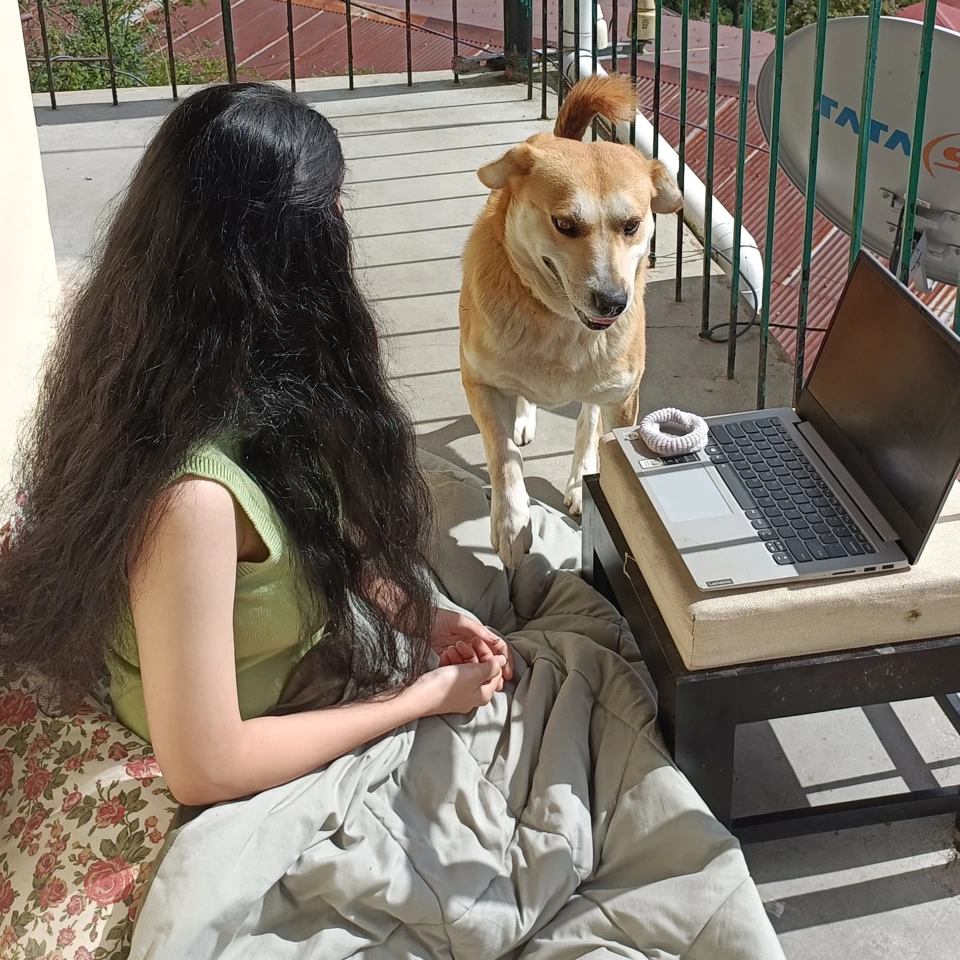 We landed in the Queen of Hills early in the morning at 7.24 am and were living in the Panorama Homestay listed on AirBnB. Here is the link for the Homestay :
https://abnb.me/iHFjbJqvxmb
Honestly I only cared about the view and the balcony, the rest weren't as important to me. I saw that the kitchen was messy and unkept and the rest of the rooms were just fine.
We were greeted with rainfall the day we arrived and me being me had to step out to explore Dehradun right then.
A friend of mine lived there and offered to pick me up half way down the road. I was scared as usual with my anxiety hitting the roof but I had faith in the mountains and kept my travel affirmations game strong.
Interestingly Dehra dun was a beautiful experience because my friend took me around in his car and we visited cafés, met his family and friends and I got to be a local in Dehradun for a day!
After coming back to Mussoorie, I had the opportunity to interact with our neighbour who I had a small thing for but he was out of bounds as he was already seeing someone.
I then decided to focus on figuring out the WiFi connection, dinner and exploring Mall Road in Manali which is so populated I'd rather die.
After raining the entire day and not catching a glimpse of the view, I decided to cuddle up and go to bed.
Woke up to my morning routine - the typical SAVERS ritual mentioned in the Miracle Morning by Hal Elrod - definitely recommend you to read it if you're into personal development and stuff. Then I sat down to attend my French Class and my French teachers were done with me attending classes from different parts of India they kept pulling my leg but I guess that's what insecurities do to you.
Anyway, working from the mountains is a beautiful experience as long as you don't get anxiety when the WiFi goes off or there isn't any Internet or you don't have anything to eat.
It's basically testing your mental strength over your physical strength - well that's important too so I'd suggest you definitely add some physical activity to your routine and turn towards habits which conserve energy.
I made friends with all the local shopkeepers, almost got chased by 3 local dogs, had my own dog guarding me and made maggi and slurped it down my throat.
Today there was no water so I decided to go down to the local well and pick some up in a bucket. Then one of my travel buddies told me that's not a great idea so we decided to quit the place and head south to Dehradun.
There was also a landslide in Nainital, the Ganga was overflowing and alot of natural calamities coming onto us altogether but we managed to keep going honestly that was the best part. Jumping from one hostel to another and one room to another and travelling vicariously I learnt more about life than any classroom could ever teach me.
It reminded me the importance of having no expectations and letting go of things that are no longer serving you.