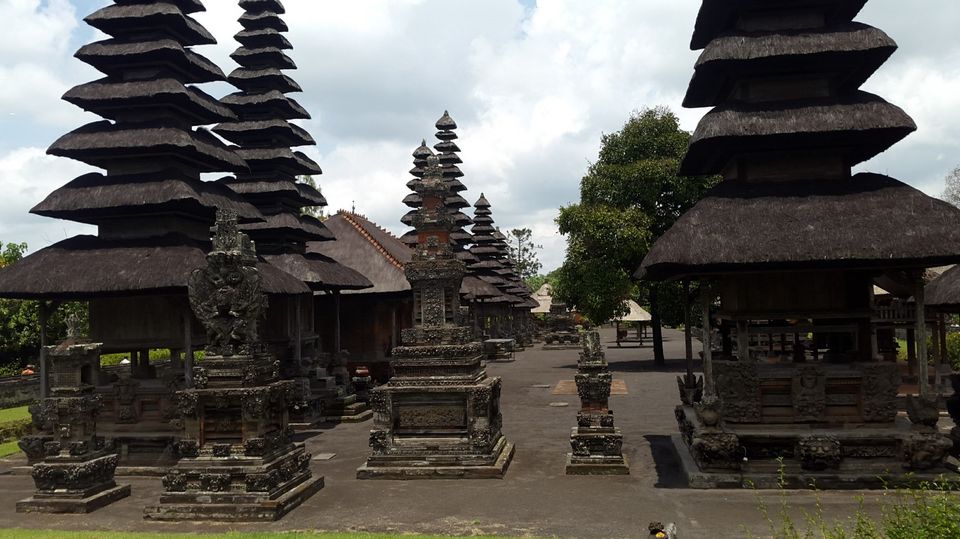 We have been travel-deficient for a long time now. Summer is the time when kids have schools off and we travel somewhere. With the Pandemic on us, no other choice than to look at the old pictures and virtually going to the places we had been and refresh some of the travel memories. Here is our trip to Bali in 2017, hope some of the info will be useful when you travel next. We have a travel arranger because of whom everything was preplanned including tickets, travel visa, stay, food, vehicle, and most importantly a local guide who was one of the best guides I have come across. I did not have to spend any time on logistics and could able to spend the vacation as a proper vacation. This article only includes the places we had been to, does not cover the entire Bali. Bali is a beautiful place and we have kept few places for next time (not sure when that will be?)
Day1
We stayed in Tanjung Benoa. It is a small peninsula in the south of Bali that's famous for its many water sports.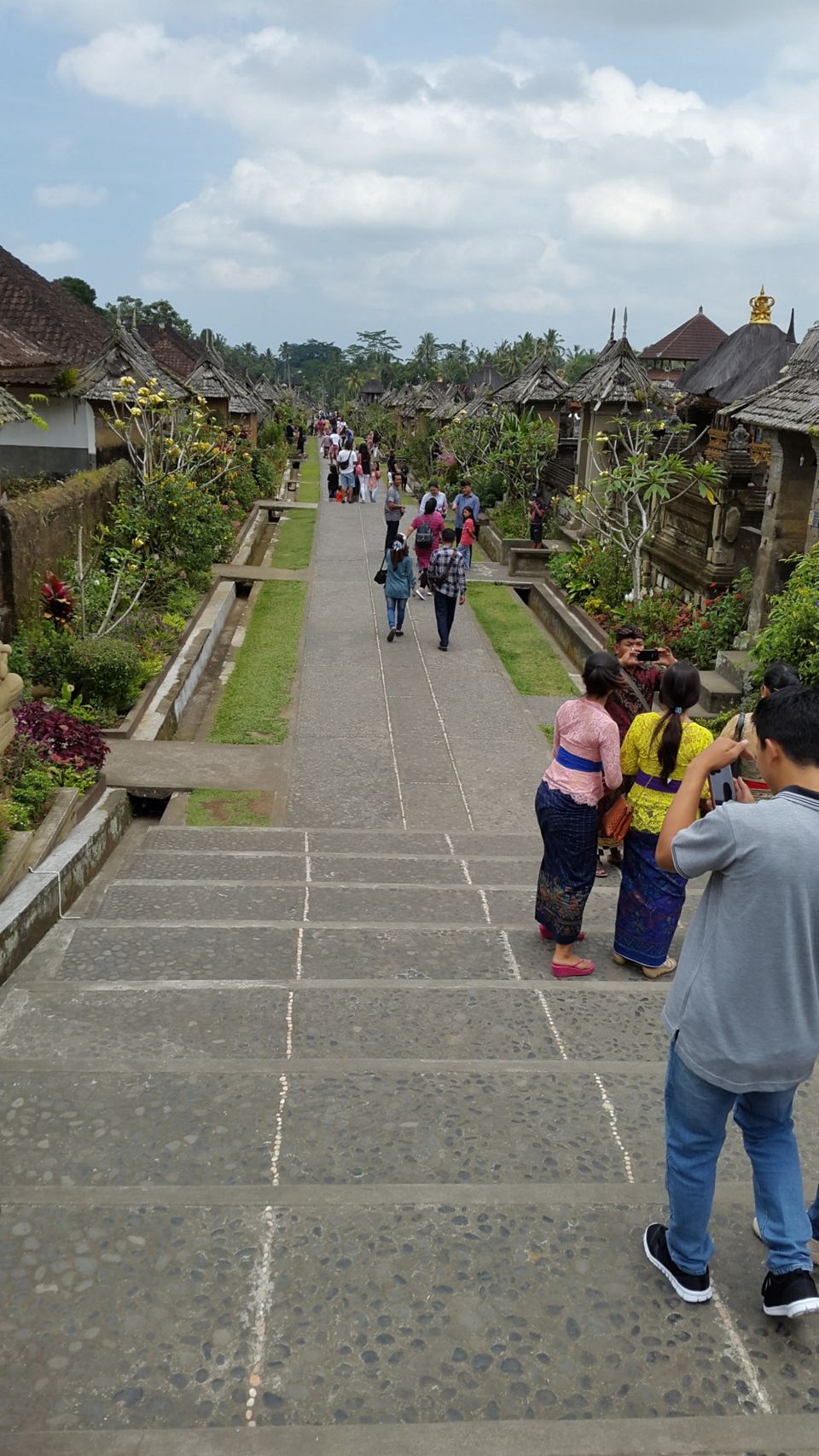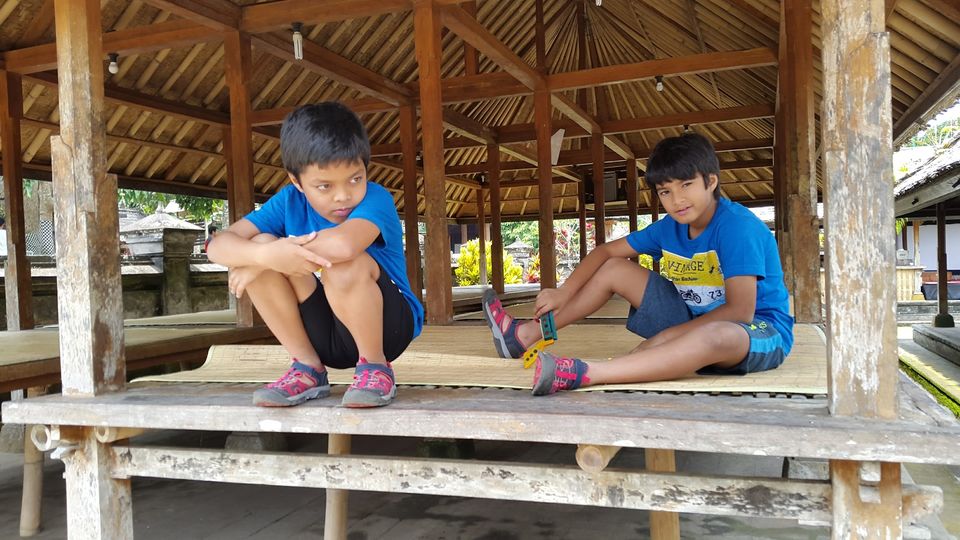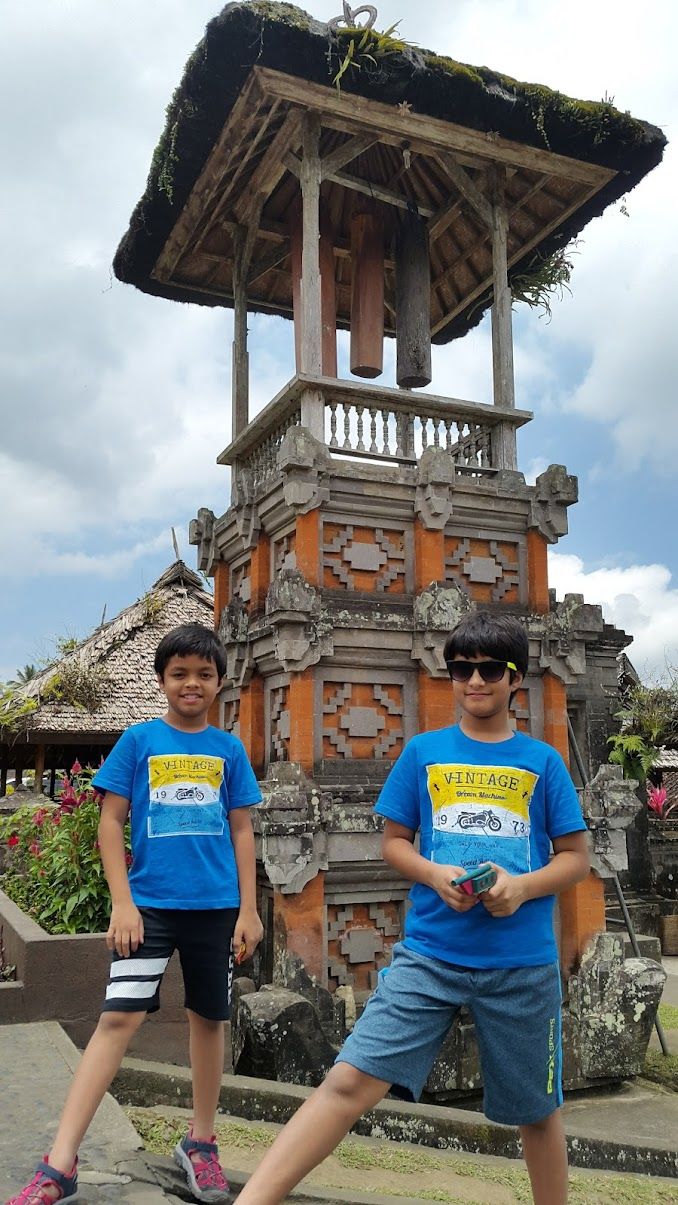 Kintamani tour
Our first visit was Penglipuran village, a traditional countryside village well known for its neat row of traditional Balinese entrance gates and its unique architectural traditions, then on to Kintamani. There we had a scrumptious lunch with views over the crater lake of Batur. In the afternoon, we visited Tirta Empul Temple where Balinese worshipers still come to bathe and pray in its sacred waters. Then went to see the well-known Tegallalang rice terraces. The last destination was the Ubud's Royal Palace: built in the 16th century, the place is the home to the current Ubud's king. Right across is the Ubud central art market where local artisans hawks their wares and a great place to buy some mementos to bring back home to remember your Bali trip.
Day2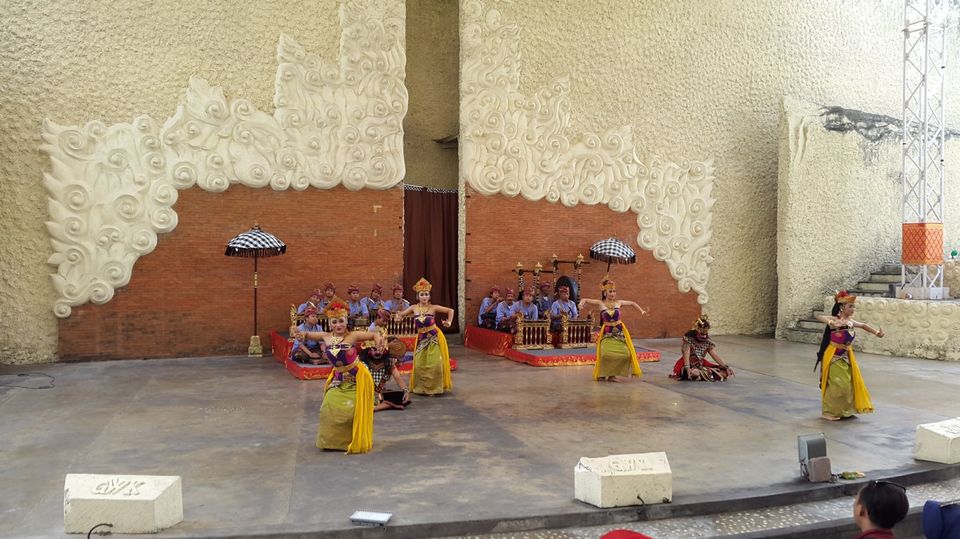 Watersports, GWK — Uluwatu Tour
Kids enjoyed watersports at Tanjung Benoa beach: parasailing, Jetski & banana boat, etc. It was our first experience with Banana Boat, enjoyed it. Then we had our lunch at the 60-hectare Garuda Wisnu Kencana cultural park that features a 66m-high statue of the Garuda bird. Then, visited Uluwatu Temple perched precipitously on the southwestern tip of the peninsula, and watched the world-famous 60-minute Kecak dance, performed by around 50 bare-chested men swaying while chanting the unique sounds of this dance. Had an awesome grilled seafood candlelight dinner at Jimbaran Bay after the performance. It was an amazing experience sitting right in front of the ocean and having dinner served with musicians playing music — They played some songs upon the kid's request. Kids loved the setting more than the food.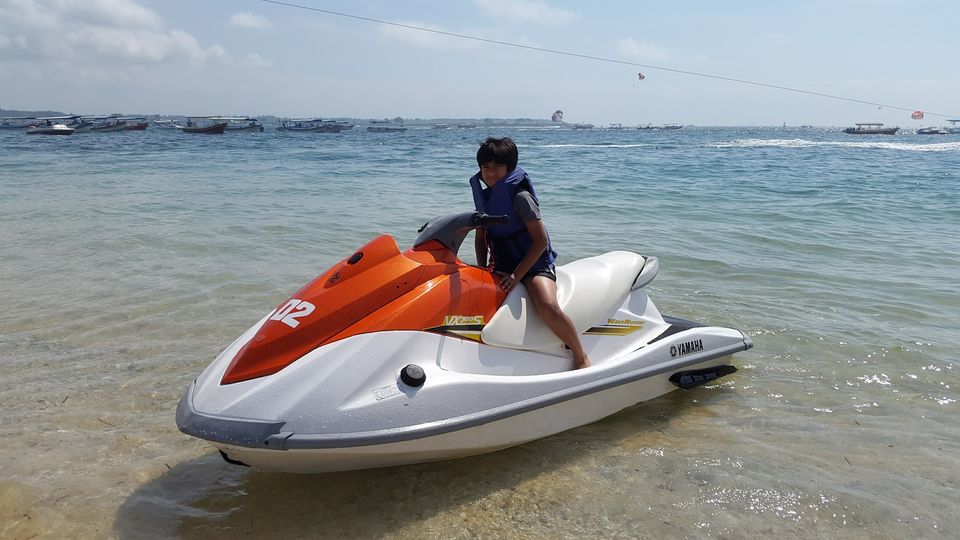 Day3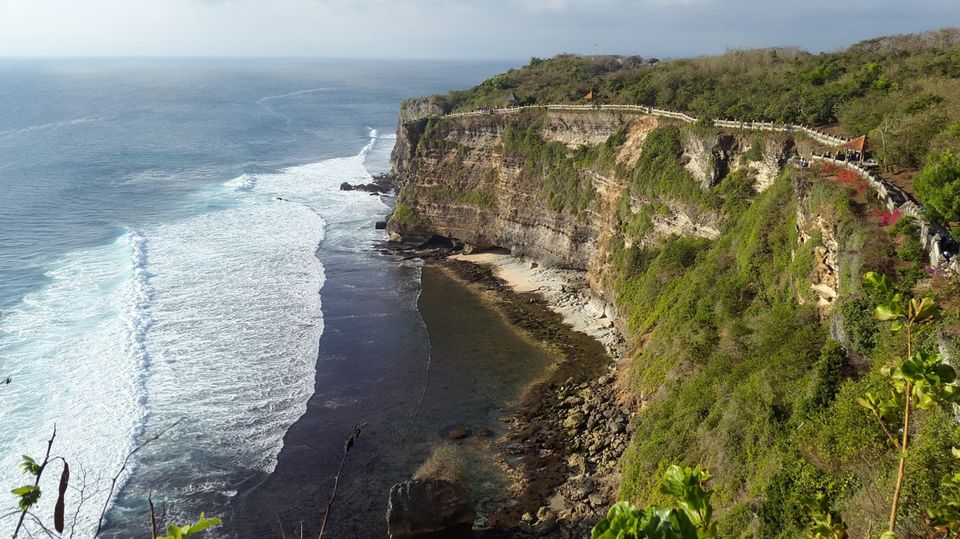 Bali Water Temples
We went to see the famous Bali Water Temples and watched a 45-minute Barong & Keris Balinese cultural dance, depicting the Mahabarata story of the good Barong versus the evil Rangda. Afterward, we drove to Taman Ayun where we saw stone sculptures from the 17th century which is a sight to behold. Next, proceeded to Ulun Danu Temple in Bedugul, which is situated on the calm Lake Bratan. Last but not least, we visited Tanah Lot, one of the world's most famous temples and definitely a sight not to be missed. The temple is situated on rocks set in the ocean and during low tide, visitors can walk across to the main temple. Coupled with scenic cliff views, spectacular ocean views, and the beautiful Balinese sunset, it was a great cultural experience.
Day4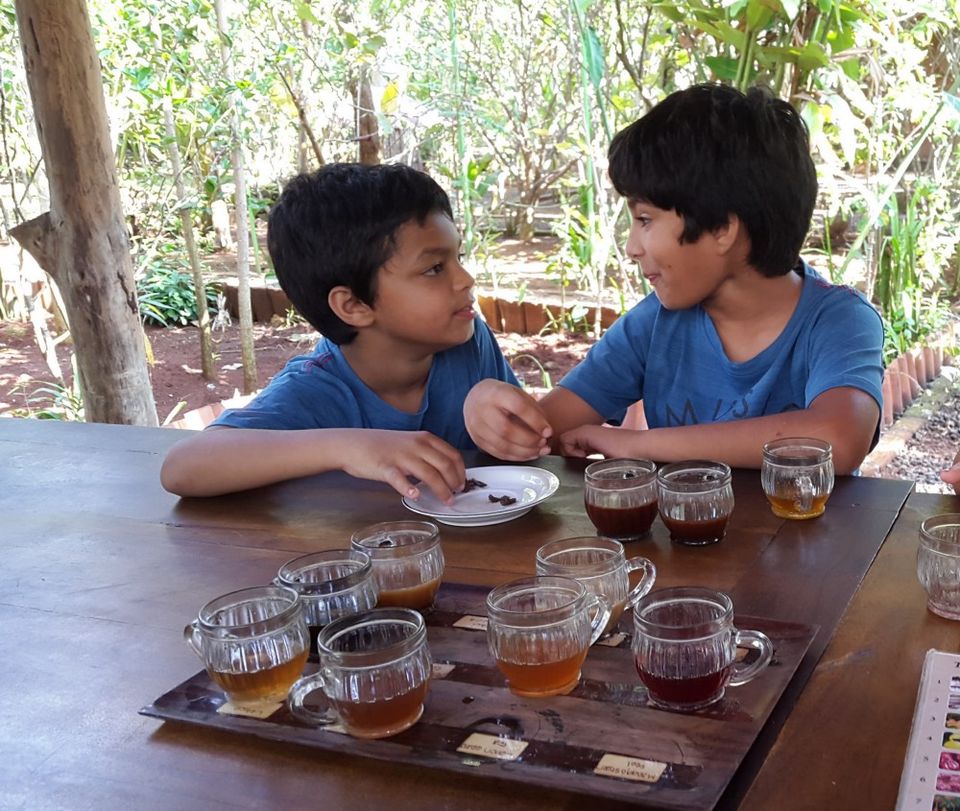 How can we not taste the famous Luwak Coffee before leaving Bali?
Fun Fact: Luwak, the Asian Palm Civet, eat only the prime kopi (coffee) cherries chosen by itself: intact, ripe, and clean. The Kopi (coffee) cherries eaten by the Asian civet pass its digestive tract with its natural fermentation. In processing The Kopi Luwak, standard sanitation and hygiene are applied but its natural, exotic taste and aroma are preserved.
Choosing the Arabica variety of Kintamani Coffee makes Kopi Luwak the preferred and prime choice of Kopi Luwak lovers around the world. My family enjoyed the superb exotic taste & aroma of this coffee. We also tried many other exotic varieties like Mangosteen Peel, Lemon Grass Tea, Ginger Tea, Lemon Tea, Rosella Tea, Red Ginger Tea, Ginseng Coffee, Bali Coffee, Vanilla Coffee, Coconut Coffee, and many more.
Also kept part of this day for some rest at the hotel. The hotel was adjacent to the beach and we had a great time playing on the sand. Then spent some relaxing time at the swimming pool and other inside hotel activities with great food and drinks.
Day5
Departed Bali with a lot of memories to be cherished.
Some Info about the mentioned places from Wikipedia:

Tanjung Benoa is a peninsula that is a subdistrict of Kuta South District of Badung Regency on Bali. It is famous for its beaches. Tanjung Benoa is also a location of various water sports like banana boat, scuba diving, parasailing, rolling donuts, seawalker, flying fish, snorkeling.
Kintamani is a district, and a village within that district, on the western edge of the larger caldera wall of the Mount Batur caldera in Bali, Indonesia. It is on the same north–south road as Penelokan and has been used as a stopping place to view the Mount Batur region
Penglipuran Village is one of the traditional villages located in Bangli Regency, Bali Province, Indonesia. Penglipuran village is famous as one of the tourist destinations in Bali because of its society who still preserve their traditional culture in their daily lives.
Lake Batur is a volcanic crater lake in Kintamani, Bali, Bangli Regency of Bali, located about 30 km (19 mi) northeast of Ubud in Bali. The lake is inside of the caldera of an active volcano, Mount Batur, located along the Ring of Fire of volcanic activity.
Tirta Empul temple is a Hindu Balinese water temple located near the town of Tampaksiring, Bali, Indonesia. The temple compound consists of a petirtaan or bathing structure, famous for its holy spring water, where Balinese Hindus go to for ritual purification.
Tegallalang rice terraces: In agriculture, a terrace is a piece of sloped plane that has been cut into a series of successively receding flat surfaces or platforms, which resemble steps, for the purposes of more effective farming. This type of landscaping is therefore called terracing. Graduated terrace steps are commonly used to farm on hilly or mountainous terrain. Tegallalang is one of the many rice terraces in Bali.
Ubud Palace, officially Puri Saren Agung, is a historical building complex situated in Ubud, Gianyar Regency of Bali, Indonesia.
Uluwatu is a place on the south-western tip of the Bukit Peninsula of Bali, Indonesia. It is home to the Pura Luhur Uluwatu Temple. The name Uluwatu comes from ulu, meaning 'lands end', and watu, meaning 'rock'.
Garuda Wisnu Kencana Cultural Park, or GWK, is a tourist destination and attraction located at Ungasan, Badung on the island of Bali, Indonesia about 10–15 minutes' drive from Ngurah Rai International Airport. It is devoted to the Hindu god Vishnu, and his mount, Garuda, the mythical bird who became his companion.
Uluwatu Temple is a Balinese Hindu sea temple located in Uluwatu. The temple is regarded as one of the sad kahyangan and is dedicated to Sang Hyang Widhi Wasa in his manifestation as Rudra.
Kecak, known in Indonesian as tari kecak, is a form of Balinese Hindu dance and music drama that was developed in the 1930s in Bali, Indonesia. Since its creation, it has been performed primarily by men, with the first women's kecak group having started in 2006.
Jimbaran is a fishing village and tourist resort in Bali, Indonesia. Located south of Ngurah Rai International Airport, the beach has seafood restaurants and luxury hotels.
Tirta Empul temple (Indonesian: Pura Tirta Empul) is a Hindu Balinese water temple located near the town of Tampaksiring, Bali, Indonesia. The temple compound consists of a petirtaan or bathing structure, famous for its holy spring water, where Balinese Hindus go to for ritual purification.
Barong dance is a style of traditional Balinese and Javanese dance from Bali and Java. The dance demonstrates about the mythological depiction of animals that have supernatural powers and could protect humans. Barong is the king of the spirits, leader of the hosts of good, and enemy of Rangda, the demon queen and mother of all spirit guarders in the mythological traditions of Bali. The Barong dance featured battle between Barong and Rangda to represent the eternal battle between good and evil.
Pura Taman Ayun is a compound of Balinese temple and garden with water features located in Mengwi subdistrict in Badung Regency, Bali, Indonesia.
Pura Ulun Danu Beratan, or Pura Bratan, is a major Hindu Shaivite Shiva temple in Bali, Indonesia. The temple complex is on the shores of Lake Bratan in the mountains near Bedugul.
Tanah Lot is a rock formation off the Indonesian island of Bali. It is home to the ancient Hindu pilgrimage temple Pura Tanah Lot, a popular tourist and cultural icon for photography.
A Pura is a Balinese Hindu temple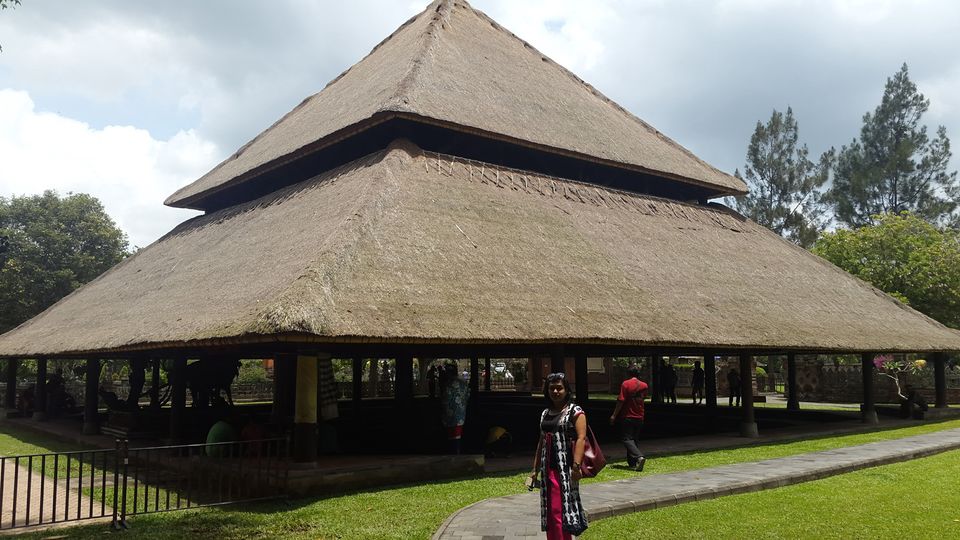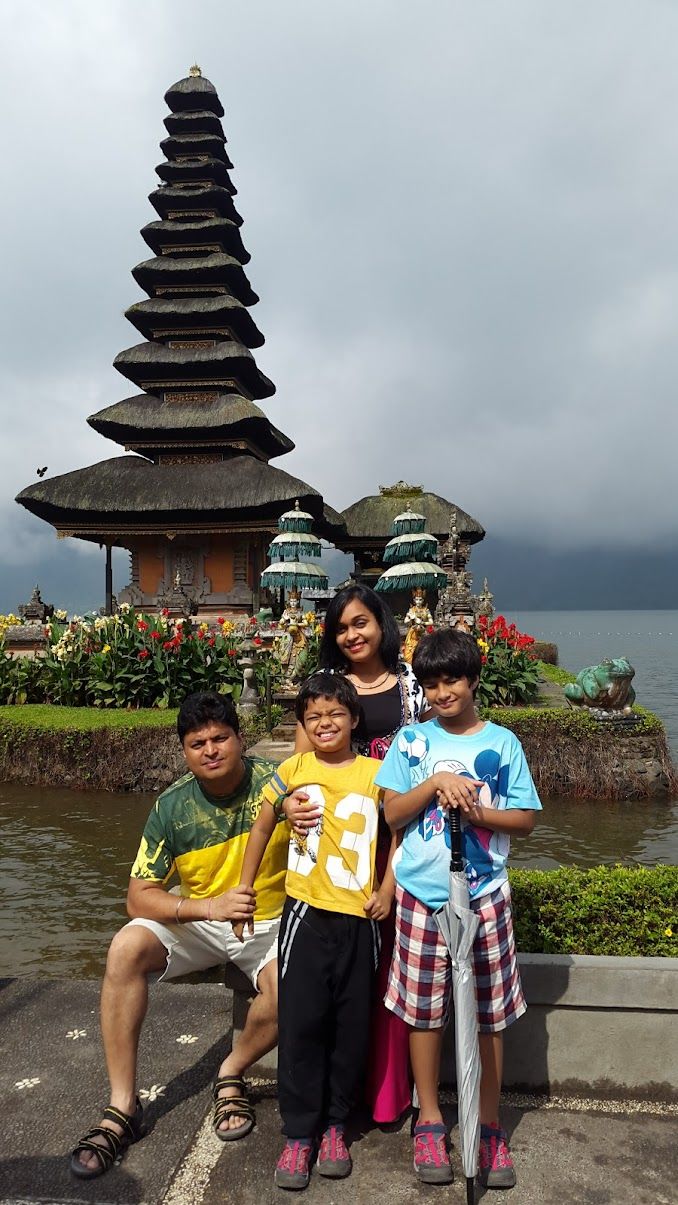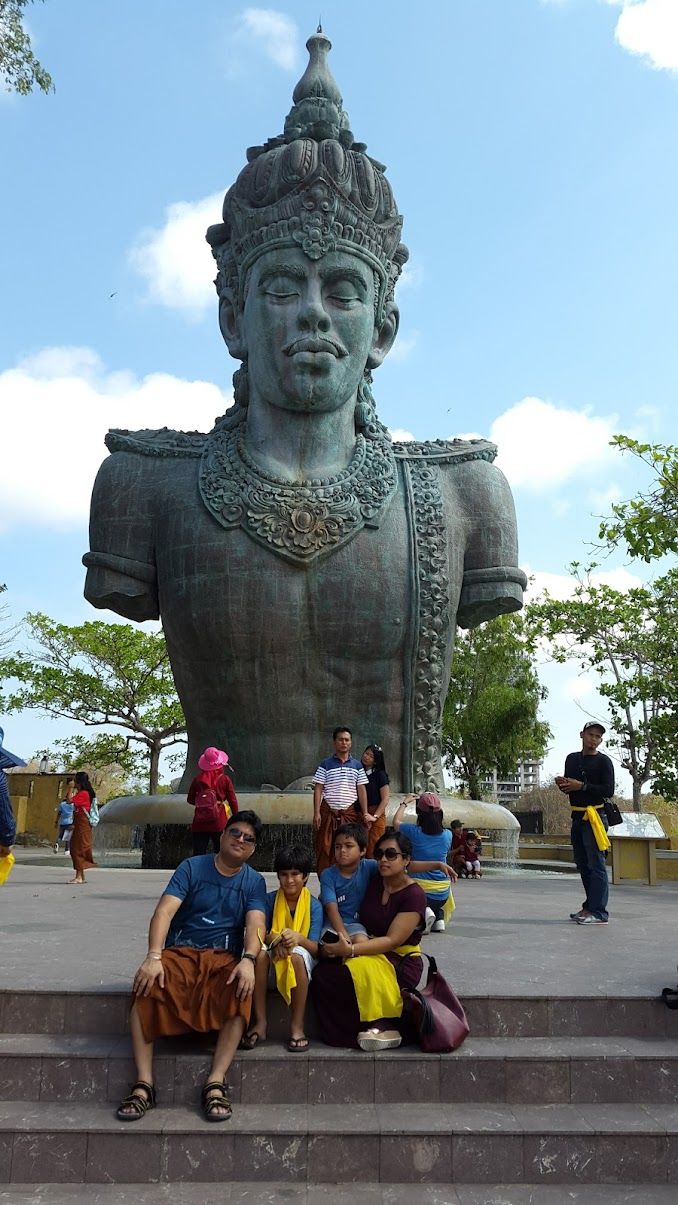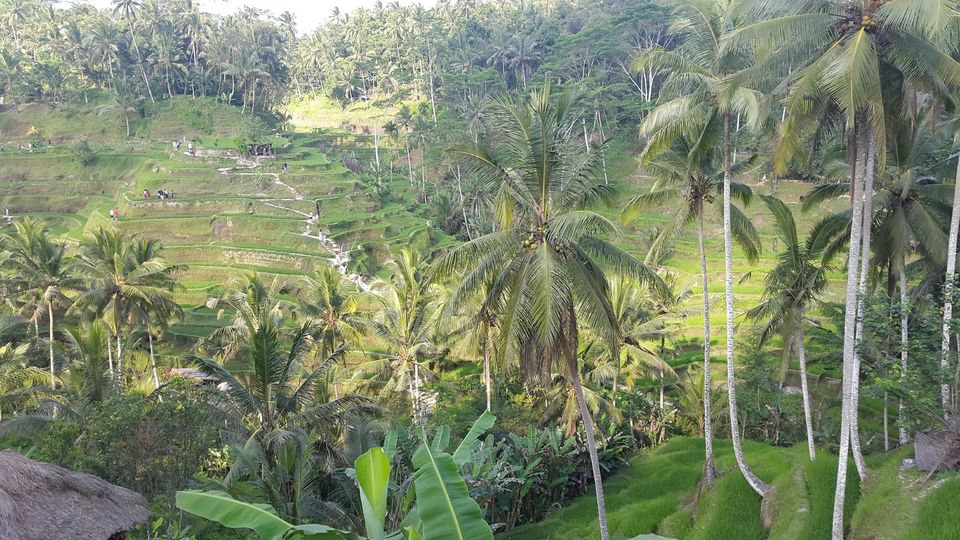 Hope this is helpful ..